Hey there! Are you someone who deeply believes in God and wants to showcase your faith in a unique way? Then a heaven gates tattoo might be the perfect choice for you! These tattoos have a lot of significance for those who want to connect with their spirituality and pay homage to their loved ones who have passed away.
A heaven Gate tattoo can mean different things to different people. It can be a way to remember a loved one who has recently passed away, or it can be a source of inspiration and positive energy from God. For many, getting a heaven gates tattoo is a way to show their respect for Lord Jesus and express their faith in Christianity.
These tattoos can also feature heavenly angels and other symbolic elements that represent spirituality and faith. Each tattoo has its own unique meaning, which makes it even more special and personal for the wearer.
The design of these tattoos can vary depending on the wearer's preferences. They can be inked on the upper arm, chest, forearm, wrist, or even the entire torso. No matter where it's placed, a heaven gates tattoo looks absolutely magical and can enhance one's spirituality in a beautiful way.
If you're interested in getting a heaven gates tattoo or have any other ideas in mind, don't hesitate to reach out to a tattoo artist who can help bring your vision to life!
Open Gate Heaven Tattoo On Forearm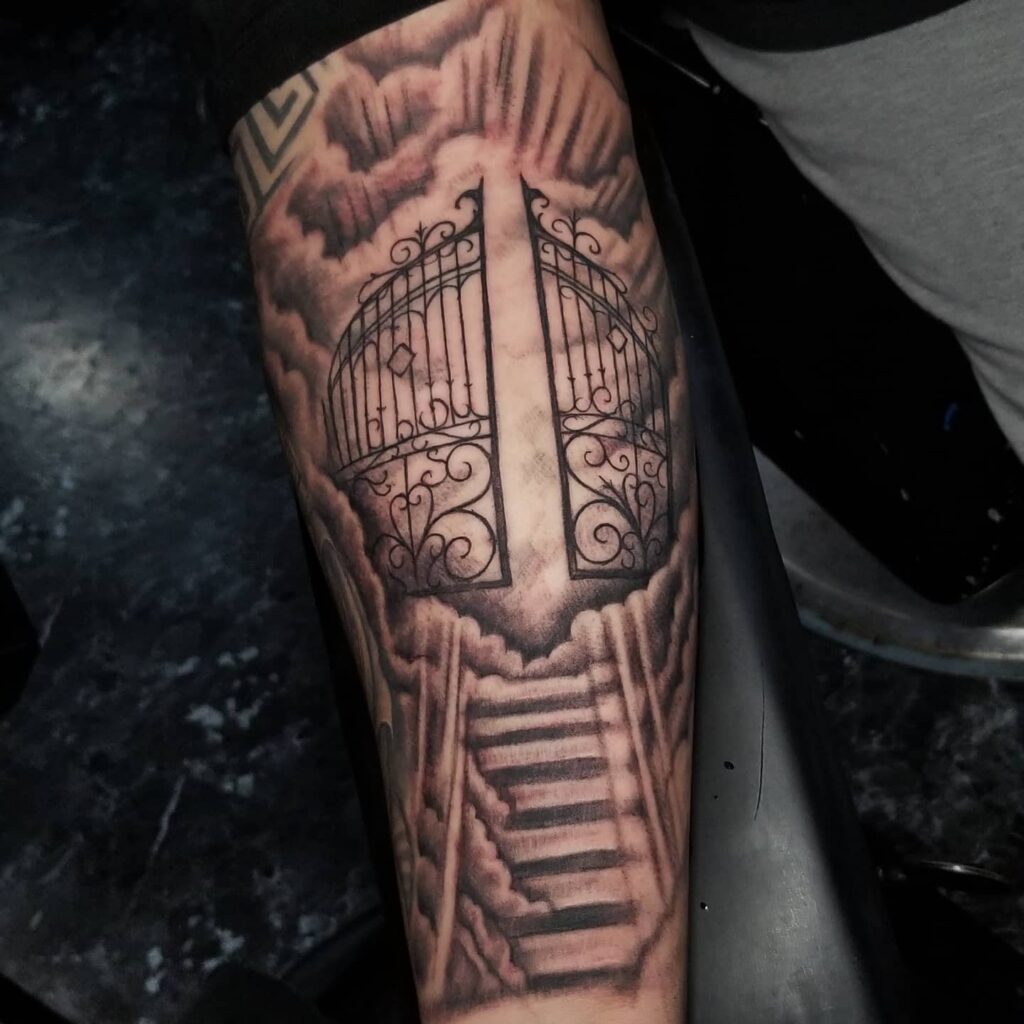 The forearm is a great location for tattoos due to the low amount of nerve endings in that area, which can make it a less painful spot to get inked. Now let's talk about the design itself. The gates of heaven are done in a traditional format, but what really stands out are the intricate designs on the top of the gate that give it a unique and beautiful look. The halo surrounding the gate adds to the overall stunning effect, and you'll notice that there is a white bird depicted trying to enter the gate, which symbolizes the wearer's desire to enter heaven.
In addition to the gates of heaven tattoo, you'll notice that the wearer also has a tattoo of praying hands underneath it. This is a classic symbol of divinity and holy spirits, which reaffirms the wearer's faith in Christianity and demonstrates their commitment to seeking the Lord's mercy in their life.
Overall, this tattoo is a true beauty, and I highly recommend it to anyone looking to express their faith in a simple yet striking way. If you're considering getting a tattoo like this, I'd be happy to answer any questions you may have and provide additional guidance on the design and placement. Thanks for reading and happy tattooing!
Gates Of Heaven Tattoo Designs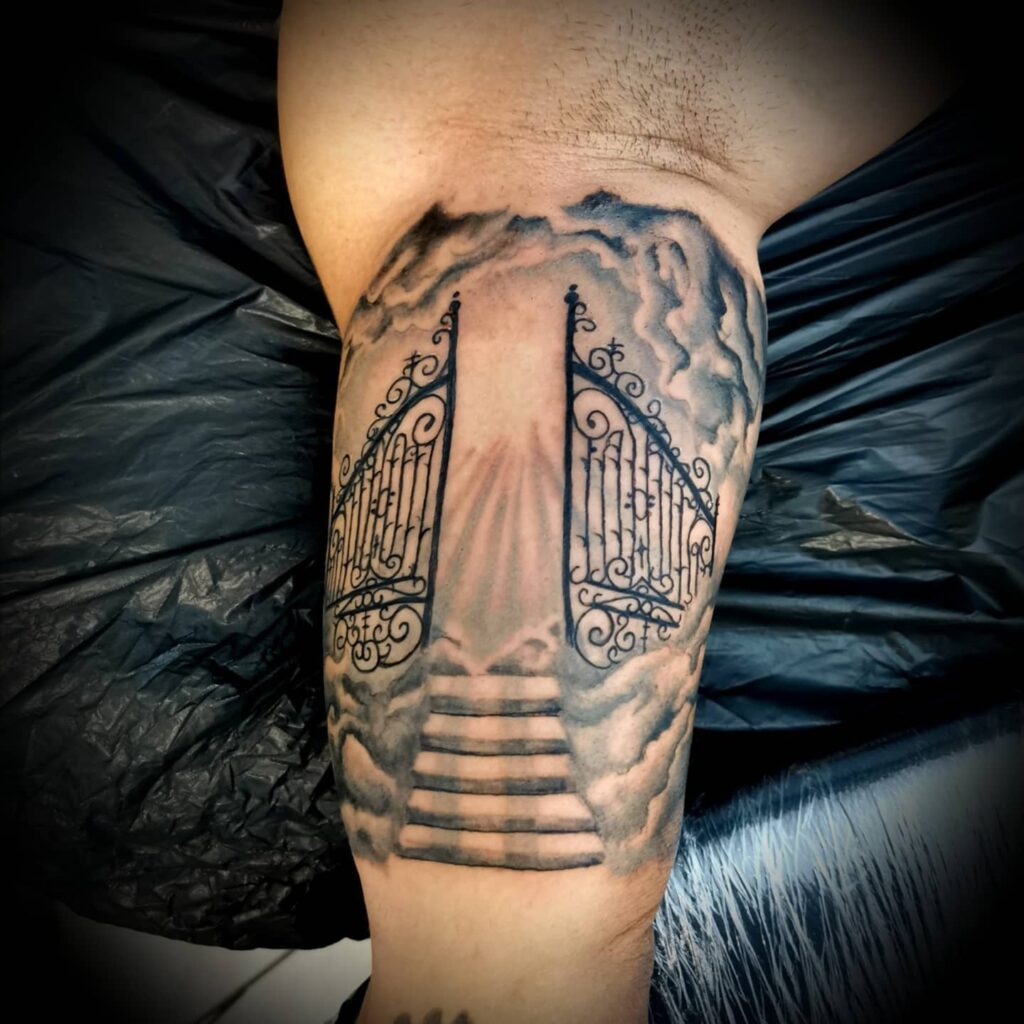 It's an intricate piece featuring the Cloud Gates of Heaven, beautifully designed in a traditional style with incredible attention to detail. The clouds are also gorgeously depicted with stunning shades of grey ink. The stairway that leads up to the gate is particularly impressive, with incredible hues of black and grey that really bring it to life. This tattoo has a deep meaning for the wearer, as upper arm tattoos often symbolize inner strength. The wearer is likely using this tattoo to reaffirm their faith in Christianity and their allegiance to Jesus Christ. It's a beautiful expression of their beliefs and the commitment they have to their faith. As a tattoo artist, I take great pride in my work and always ensure that every piece I create is done with the utmost care and cleanliness. This tattoo is no exception – it's a real showstopper and a testament to the power of religious belief.
Gates To Heaven Tattoo Arm Sleeve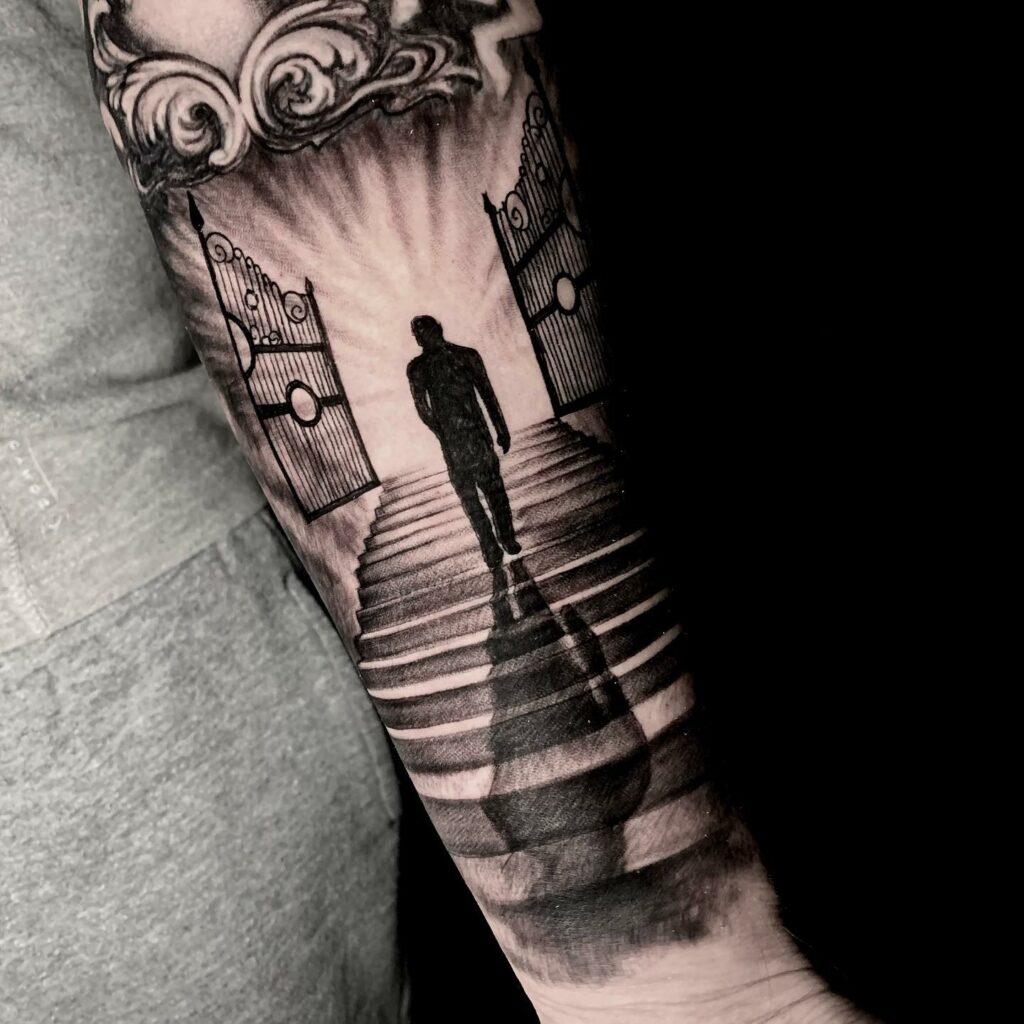 This tattoo features a man entering the gates of heaven, beautifully designed with traditional elements that you often see in these types of tattoos. The shading in the staircases is just perfect, creating a really realistic effect that just draws you in. The tattoo is done entirely in black ink, which gives it a beautiful silhouette style that really stands out. It's clear that the wearer has experienced some kind of deep sorrow or loss, and this tattoo is helping them to process those feelings and move forward. It's a beautiful expression of their faith in Christianity, and a reminder of the hope that awaits us all in the afterlife. If you're a fan of tattoos that are both visually striking and deeply meaningful, then this one is definitely for you! It's a testament to the power of art and faith, and I'm honored to have been able to bring it to life for my client.
Heaven Gates Tattoo Designs With Birds
It's a beautiful representation of the Gates of Heaven, featuring two birds that are often seen as messengers of God. The tattoo is really something special – the gates themselves are adorned with intricate traditional designs that give it a really unique look. It's one of the best ideas for a heaven tattoo that I've ever seen! The stairway that leads up to the gates is also particularly impressive, and I'm really proud of the work that I did on it. This tattoo is so versatile, too – it could easily be turned into a full sleeve design that would look just as beautiful. For the wearer, this tattoo is a powerful symbol of their faith in Christianity and their belief in Jesus Christ. It's a reminder of the divine and a testament to the strength of their conviction. If you're looking for a tattoo that is both visually stunning and deeply meaningful, then a heaven gates design like this one could be just the thing you need.
Heaven Gates Tattoo Drawing From Shoulder To Chest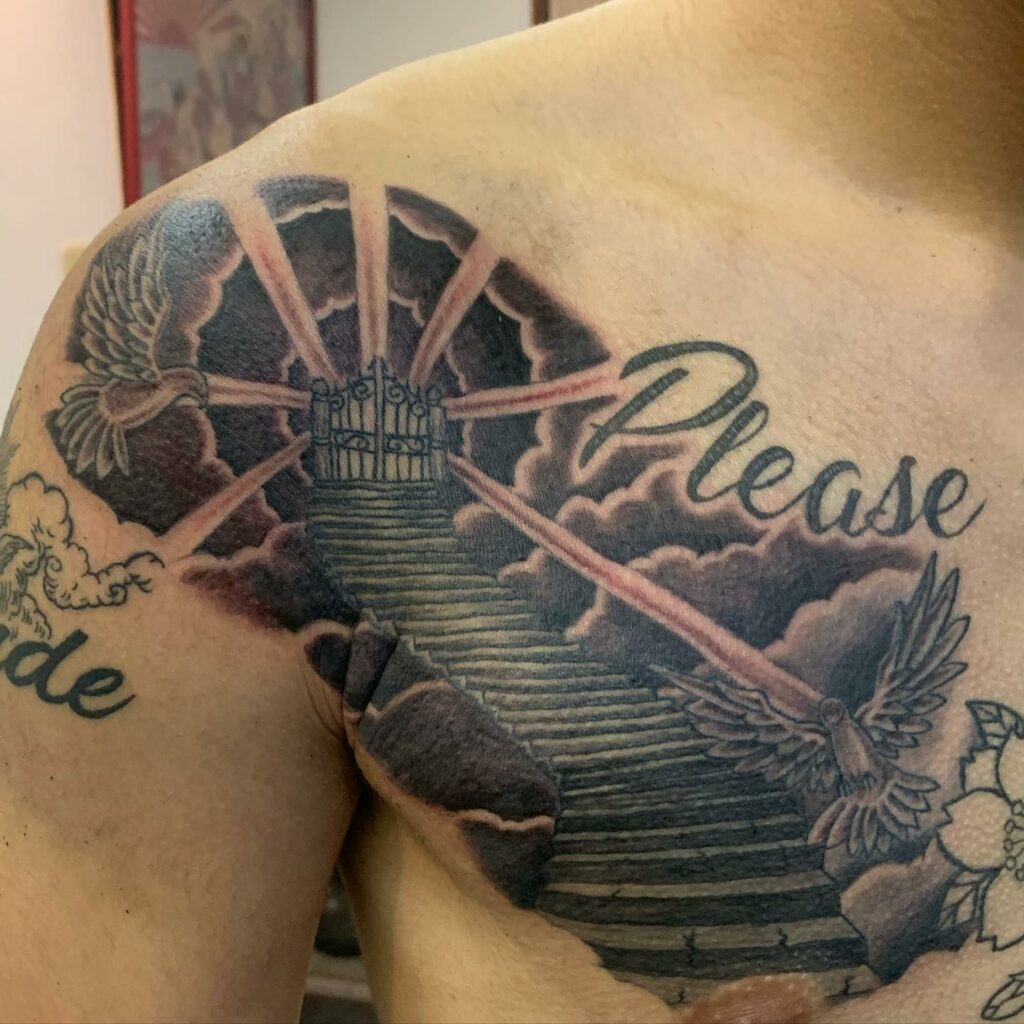 This type of tattoo is really common, but it's always a pleasure to work on a design that's as special as this one. When it comes to shoulder tattoos, they're often seen as a representation of inner strength and confronting your fears. On the other hand, chest tattoos are all about embracing that strong, masculine energy. The design itself is truly exceptional and looks absolutely stunning. Two birds are depicted in the tattoo, sending a message to God about the arrival of a good soul. The clouds are shaded with black ink to give a really cool effect. The stairway to heaven is incredibly unique and really makes the design stand out. It's been executed with absolute precision and looks absolutely gorgeous. If you're a devout Christian who believes in the divinity of heaven, then this tattoo is an absolute must-have. It's a beautiful reminder of your faith and a testament to your belief in a higher power.
Heaven Gates Tattoo Full Sleeve On Arm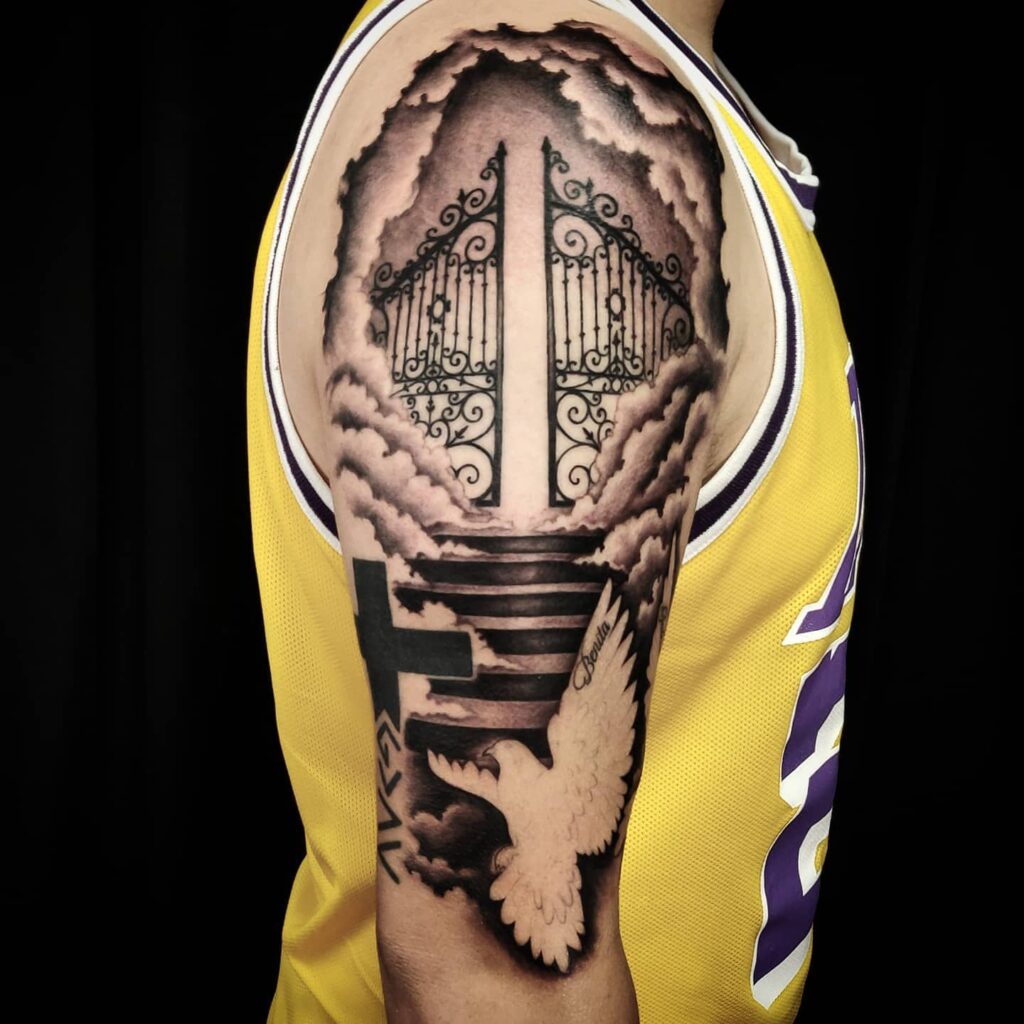 This heavenly tattoo design is a work of art and a great representation of the popular trend in fashion for heaven tattoos. This particular tattoo is designed to be a sleeve tattoo and can also fit into the concept of punk Christian tattoo design. The artist used black and white ink to create a stunning visual effect. The stairs of heaven are made with black ink that looks both stunning and awe-inspiring. The clouds are made with shades of white ink, which gives them a majestic and heavenly appearance. The gates of heaven are embellished with exquisite traditional designs that are a feast for the eyes. The bird in the tattoo is also made with great attention to detail and looks amazing. Overall, this tattoo is a masterpiece that anyone who loves the concept of heaven would be proud to wear.
Heaven Gates Tattoo Chest And Full Torso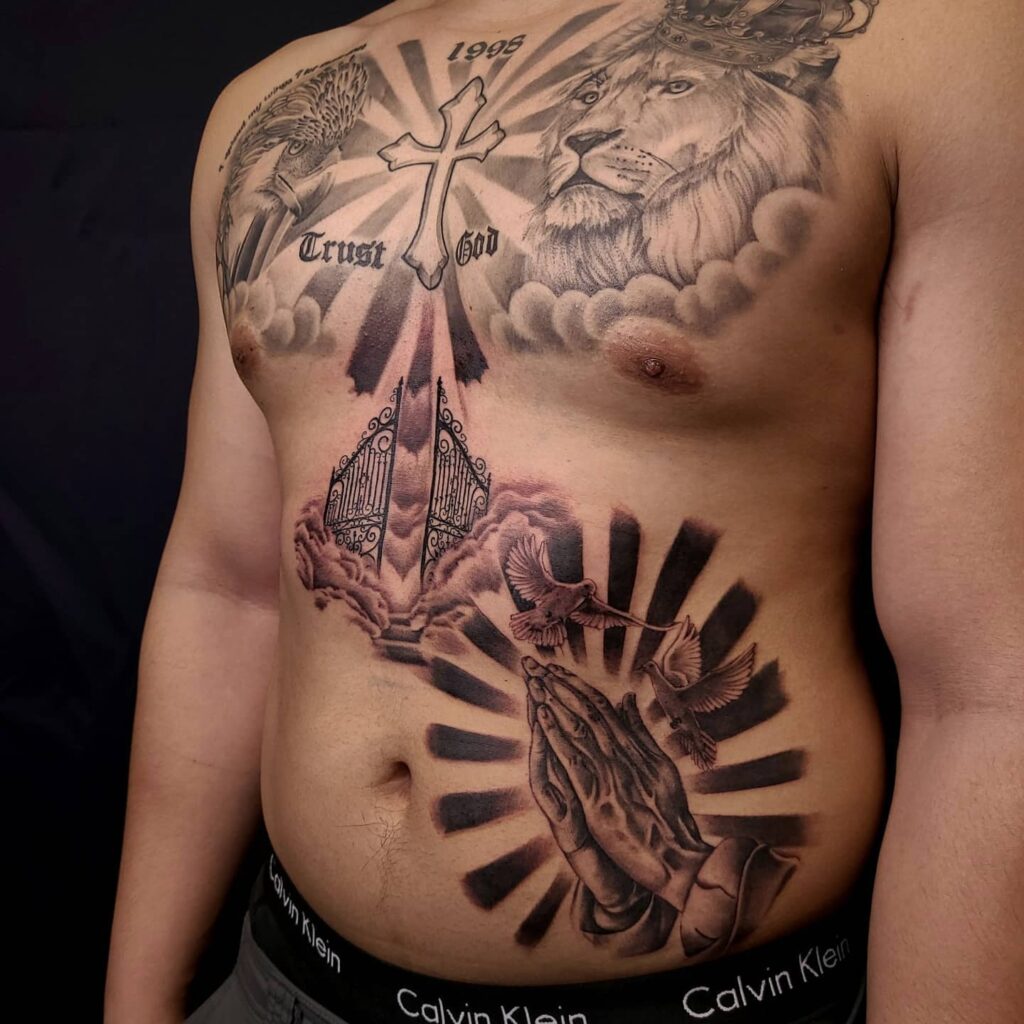 Full torso tattoos often represent a deep connection to Christianity, and this particular tattoo is a great example of how this faith can be expressed through body art. At the top of the torso, just below the chest, a beautifully designed heaven gates tattoo can be seen. Directly below that, a pair of praying hands can be seen with a halo above, and two birds flying together. This design was inspired by Justin Bieber, who is also a devout Christian. The tattoo serves as a testament to the wearer's unwavering trust in God and is a beautiful representation of their faith. While it may resemble other heaven tattoos, the symbolism and personal significance behind this particular design make it truly unique and special.
Modernized Gates Of Heaven Tattoo On Forearm
This particular design showcases a modern take on the classic heaven gates tattoo. Instead of the traditional sunlit day sky, the artist has created a stunning night sky filled with sparkling stars. This adds a unique and creative touch to the design, as stars are often associated with spiritual enlightenment and divinity. The clean lines and attention to detail show that the tattoo artist is a true master of their craft. By choosing this modernized version of a classic tattoo, the wearer is showing that they embrace both modernity and their faith in Christianity. It's a beautiful and meaningful tattoo that is sure to be admired by many.
Heaven Gates Tattoo Behind The Knee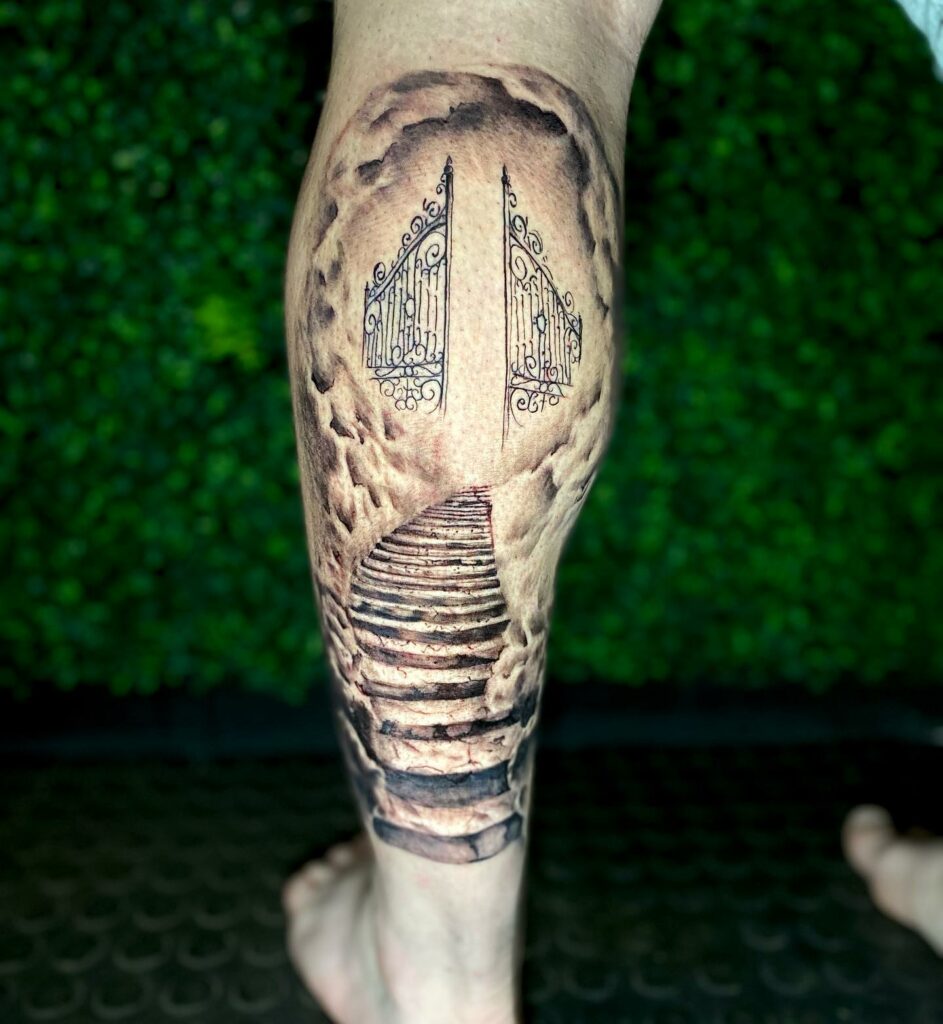 Behind the knee, tattoos do not have a specific concept of symbolism. However, this tattoo looks really nice and symbolic. The heaven tattoo in this particular picture looks like a normal heaven gate tattoo. The gate looks perfectly embellished with amazing designs. The clouds are really made with amazing hues of clouds. The stairs look really ragged and original. The tattoo represents that the wearer is ready to face any obstacle and finally reach their destination to heaven. This assured their Christian faith and makes it look really nice. The tattoo is really stunning.
Stairway To Heaven Couple Tattoo Inspiration
The popular song by Led Zeppelin and a South Korean television series of the same name has also added to its charm. If you're a romantic couple looking for a religious tattoo idea, this is perfect for you. The design is of a couple, represented by a beautiful silhouette, ascending to the stairway of heaven. The tattoo is truly inspiring and breathtaking, making it an excellent choice for a couple tattoo.
Heaven tattoo designs are a wonderful way to showcase your Christian faith and beliefs. As a tattoo artist, I've seen how these designs can serve as a reminder of your spiritual journey and your path towards divinity.
Still looking for inspiration, then checkout this blog post about st michael tattoos
feature image from Pinterest – Want your tattoo to look brighter? Try "Tattoo Balm"
Last reviewed and updated on May 15, 2023