Searching for a charming hedgehog tattoo, whether for its symbolism or sheer cuteness? Look no further! We've gathered 10 delightful hedgehog tattoo designs that you're sure to adore.
Hedgehog tattoo designs are taking the tattoo world by storm these days.
Whether it's their meaningful backstory or undeniable charm, hedgehog tattoos are more sought-after than you might think. Keep reading to find out why a hedgehog tattoo could be the perfect choice for you.
Interestingly, hedgehogs have been depicted in both positive and negative lights in myths and fairy tales across the globe. In Mesopotamian religion, they're associated with the Goddess Ishtar, while Christian interpretations take a less favorable view. Meanwhile, in Asia and Africa, hedgehog quills are linked to the sun's rays. Hedgehog-inspired tattoos carry various meanings and are believed to bring good fortune to their bearers. Whether it's a chest or forearm piece, hedgehog tattoos are a versatile option for people of all ages and complexions. In this article, we'll explore 10 tattoos with intriguing symbolism.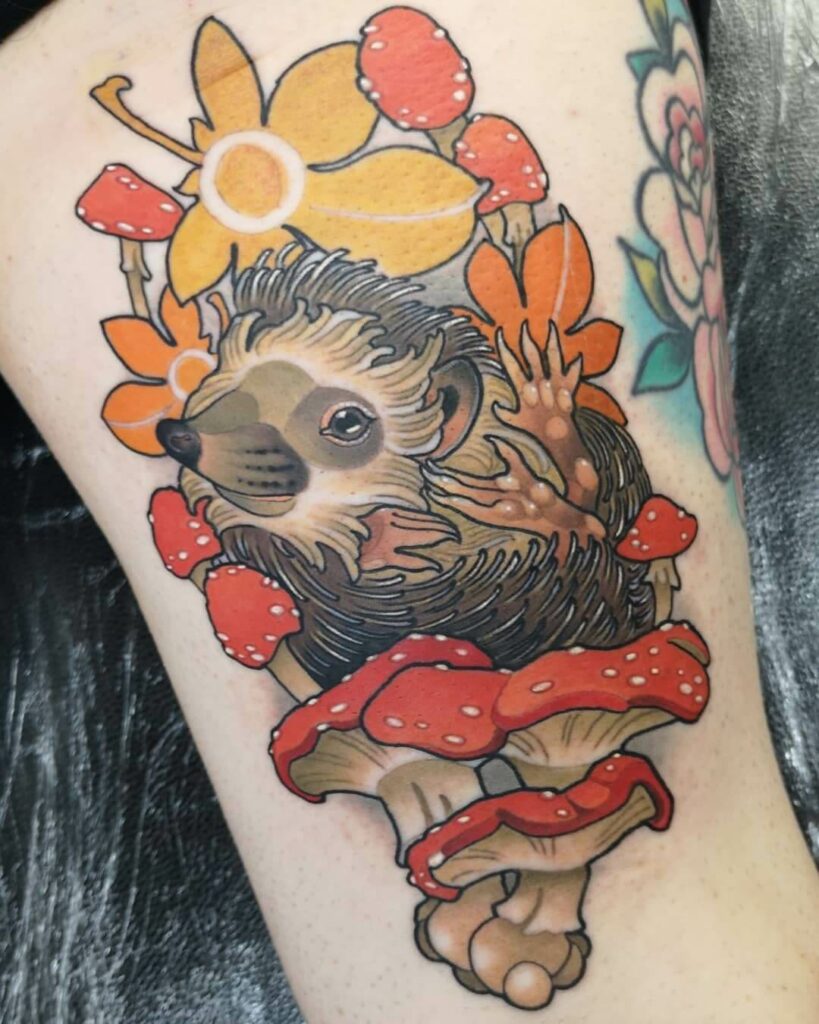 Minimalist Hedgehog Tattoo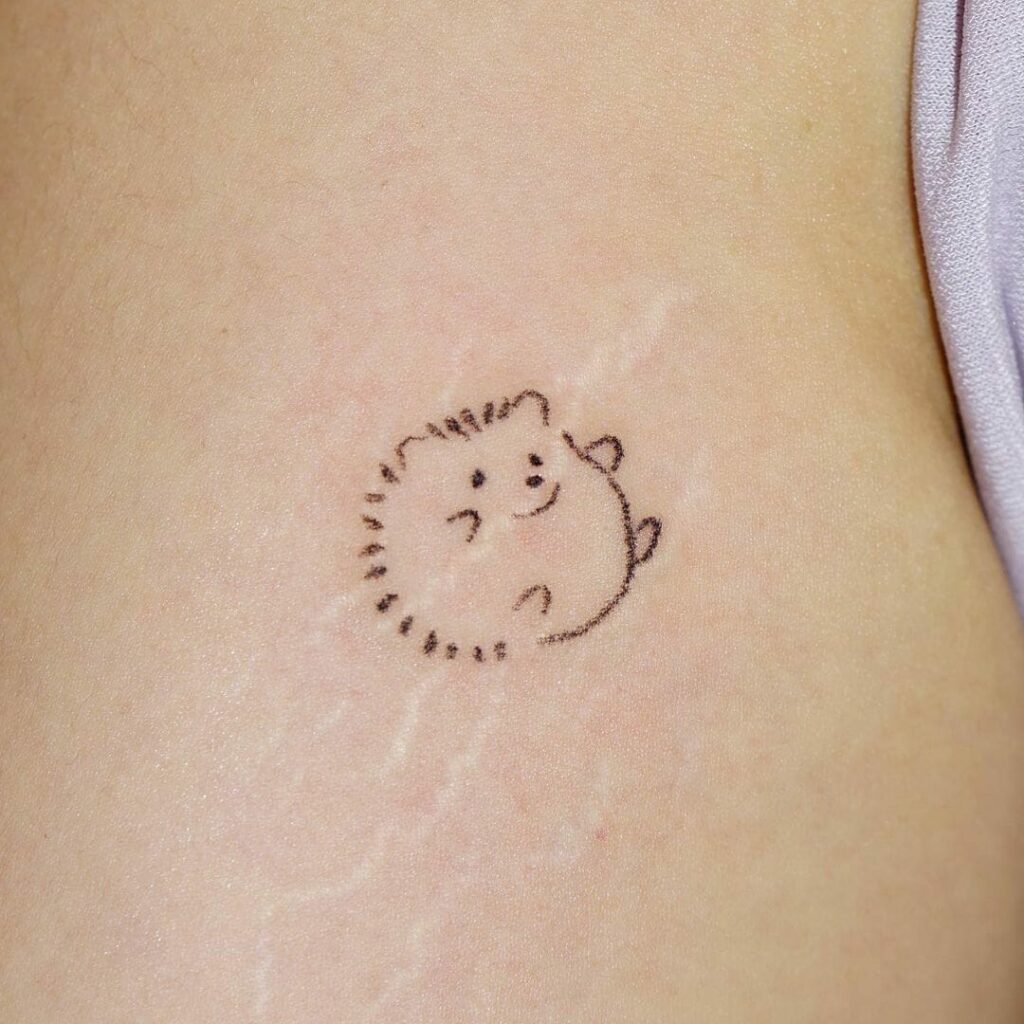 Hedgehog tattoos are often chosen for their deep symbolism. The spiny creature represents a quiet strength and resilience, showing that even those who appear harmless can still stand up for themselves. With the help of a skilled tattoo artist, a minimalist hedgehog tattoo can be achieved with ease. The simplicity of this design allows for a clean and timeless look that can be appreciated for years to come.
Hedgehog And Avocado Tattoo
Avocado tattoos have been popular in recent times, but did you know that it could be an interesting choice for a tattoo design featuring a hedgehog? While avocados can be harmful to these animals, this tattoo still makes for a great aesthetic statement. It can serve as a reminder to live life to the fullest despite the toxicities that may surround us. With a skilled artist, this tattoo can be designed in various ways, so go ahead and give it a try if you're drawn to its unique appeal!
Tiny Hedgehog Tattoo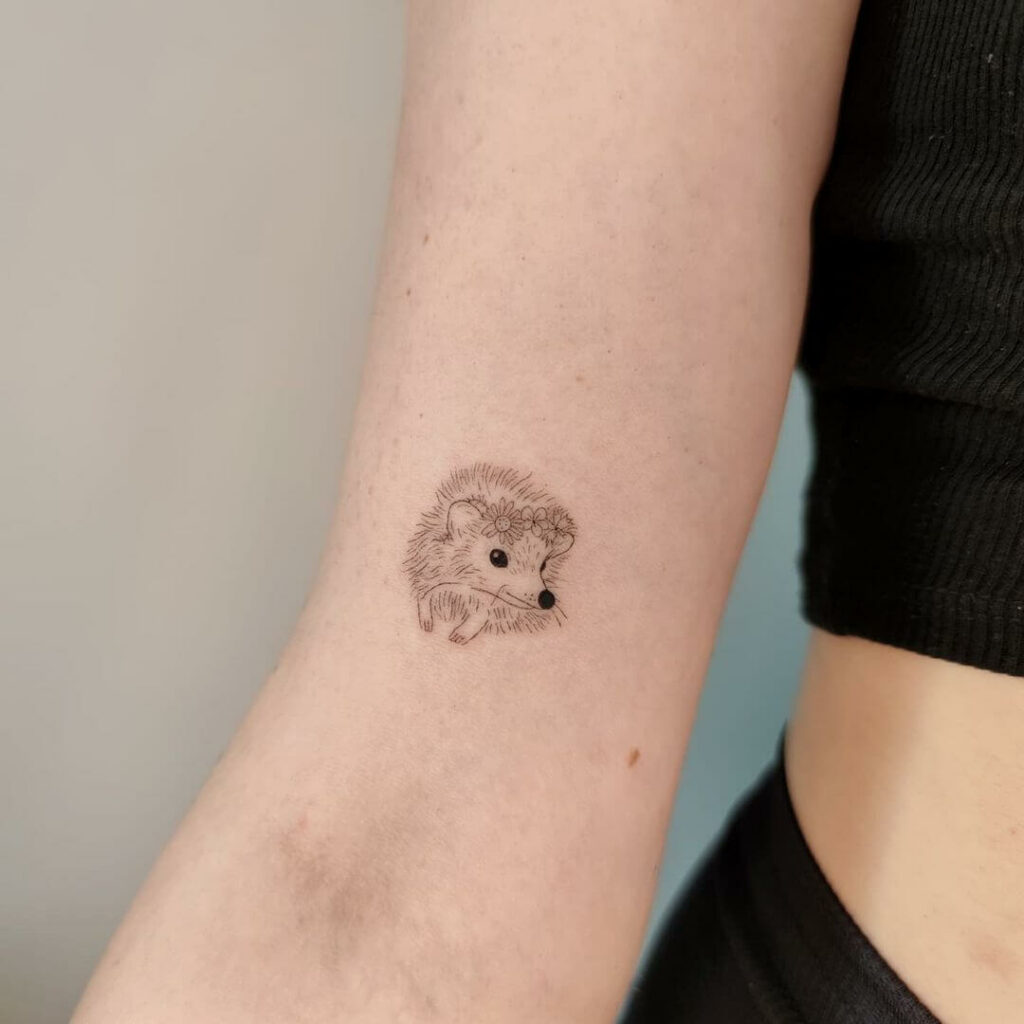 The hedgehog tattoo is a meaningful symbol of independence and freedom that can serve as a great inspiration. These adorable creatures lead their own path, making them an excellent choice for a tattoo design. The hedgehog tattoo looks best on upper body parts like the shoulder blades, neck, or upper arm. The intricate detailing and natural shape of the hedgehog make it a popular choice among those who love small tattoos with big meanings. So, if you're ready to showcase your independent spirit, find a skilled artist and get this design inked on yourself today!
Neo-Traditional Hedgehog Tattoo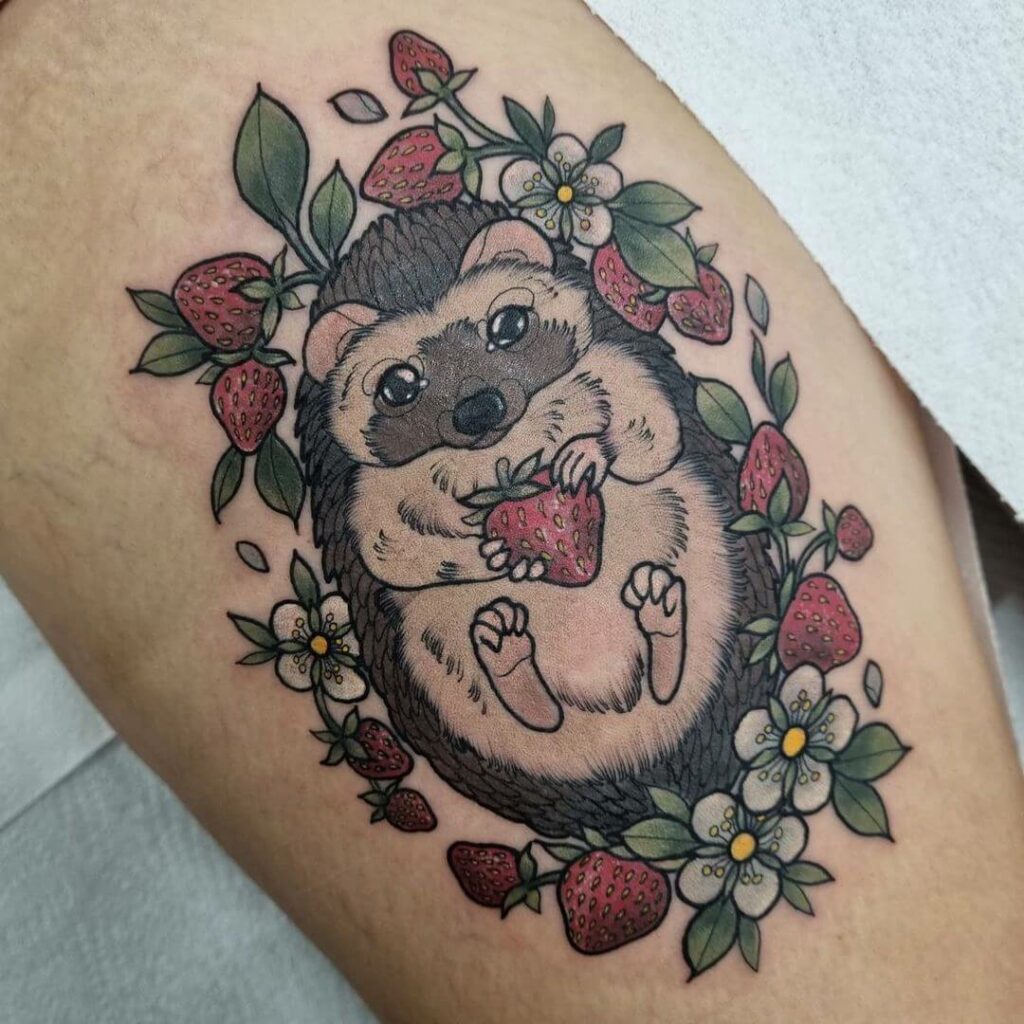 This neo-traditional tattoo design features a cute hedgehog enjoying a strawberry, making it a delightful and meaningful choice for those who value self-reliance and bravery. While the size of this tattoo may make the experience slightly uncomfortable, the end result is guaranteed to be worth the temporary pain. So if you're seeking a unique and charming tattoo that embodies your spirit, consider getting this beautiful hedgehog and strawberry design inked by a trusted artist.
Cute Hedgehog Tattoo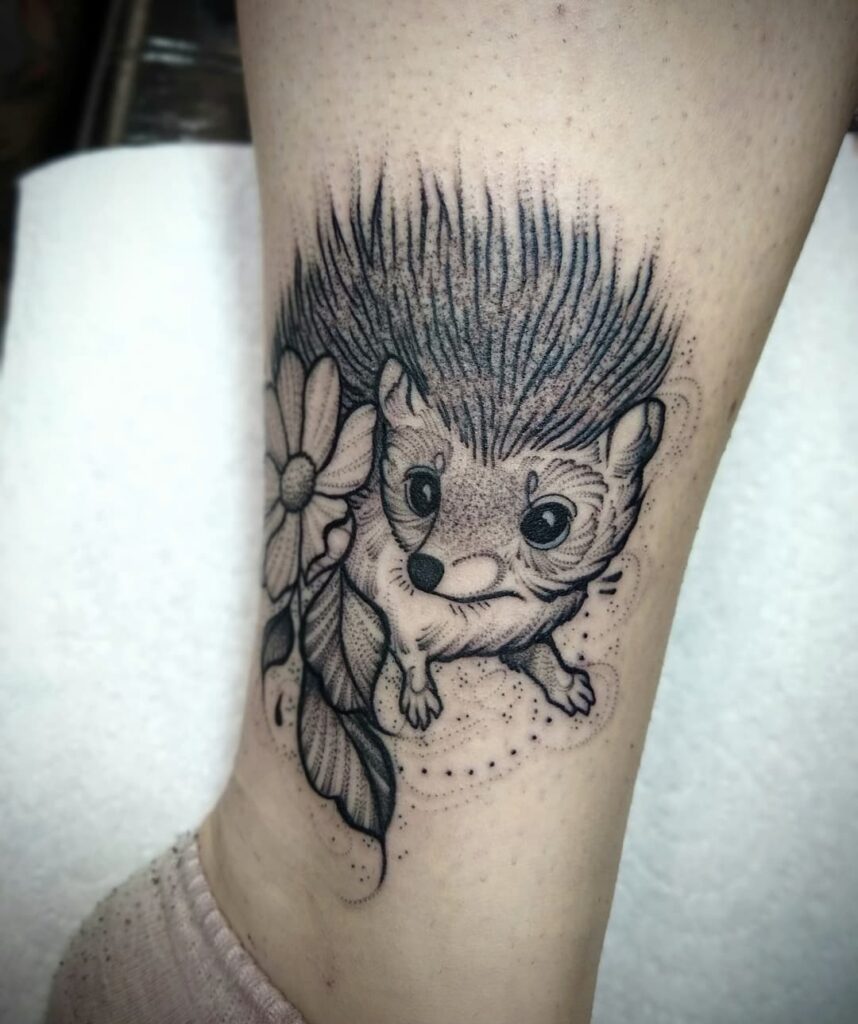 This hedgehog-themed tattoo design is more than just a cute piece of body art. It carries deep meanings and can serve as a reminder to the wearer to protect themselves and stand up for their rights, even if it means being tough. The adorable hedgehog in the design adds an element of playfulness to the overall message. So if you resonate with the symbolism of the hedgehog and want a tattoo that's both cute and meaningful, this is the perfect choice for you.
Snuggly Hedgehogs Tattoo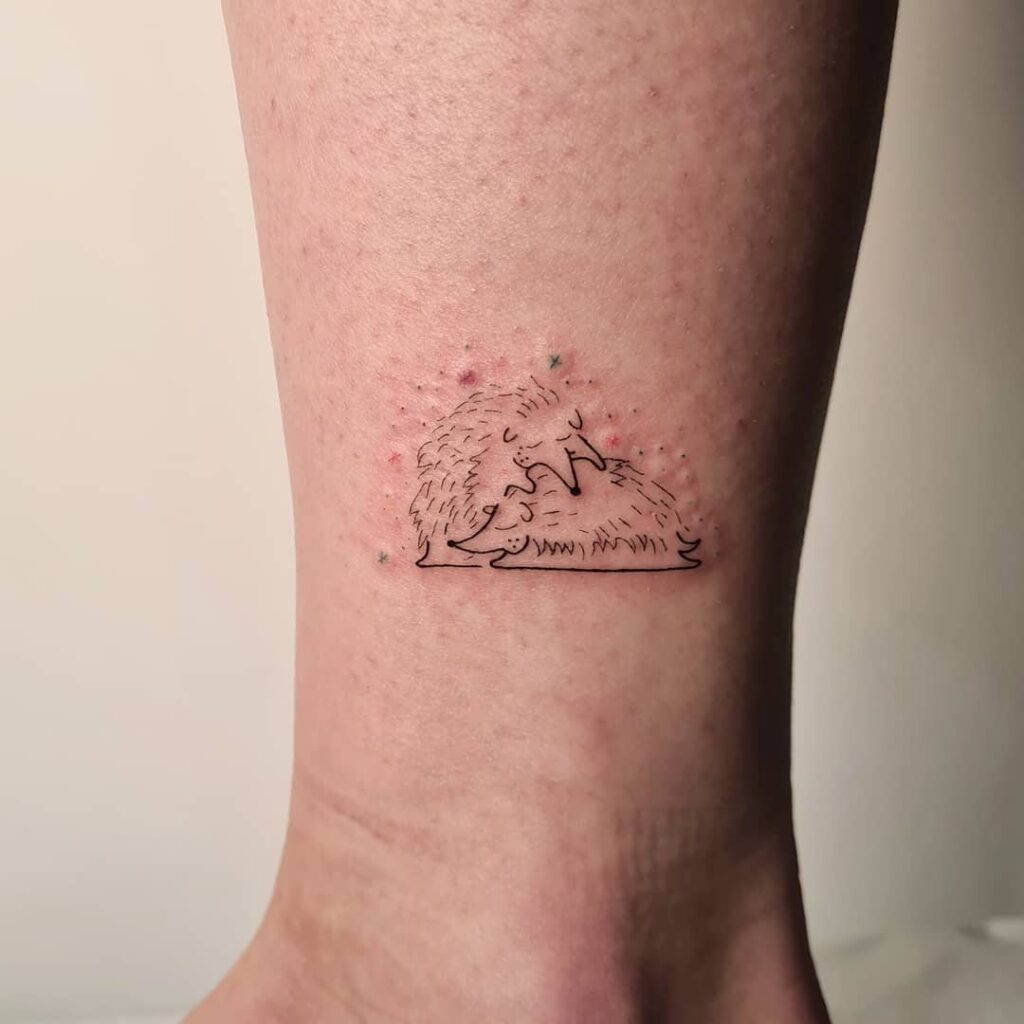 This adorable hedgehog tattoo is an artistic representation of one of the most beautiful things in life – the comfort of another being's embrace. The cuddling hedgehogs make for an excellent tattoo design that could symbolize any relationship between two individuals. Whether it be with a best friend, significant other, or family member, this tattoo is a beautiful way to immortalize a special bond. Additionally, this tattoo design is relatively painless to ink, making it a great choice for those who are nervous about the pain of getting a tattoo.
Floral Hedgehog Tattoo
This stunning tattoo design features a hedgehog with its spines replaced by flowers, conveying the message that even if one seems tough on the outside, they may have a softer side as well. The intricate details of the floral design make this tattoo a true work of art. While it may require some patience during the inking process, the end result will definitely be worth it.
Hedgehog In Ice-cream Cone Tattoo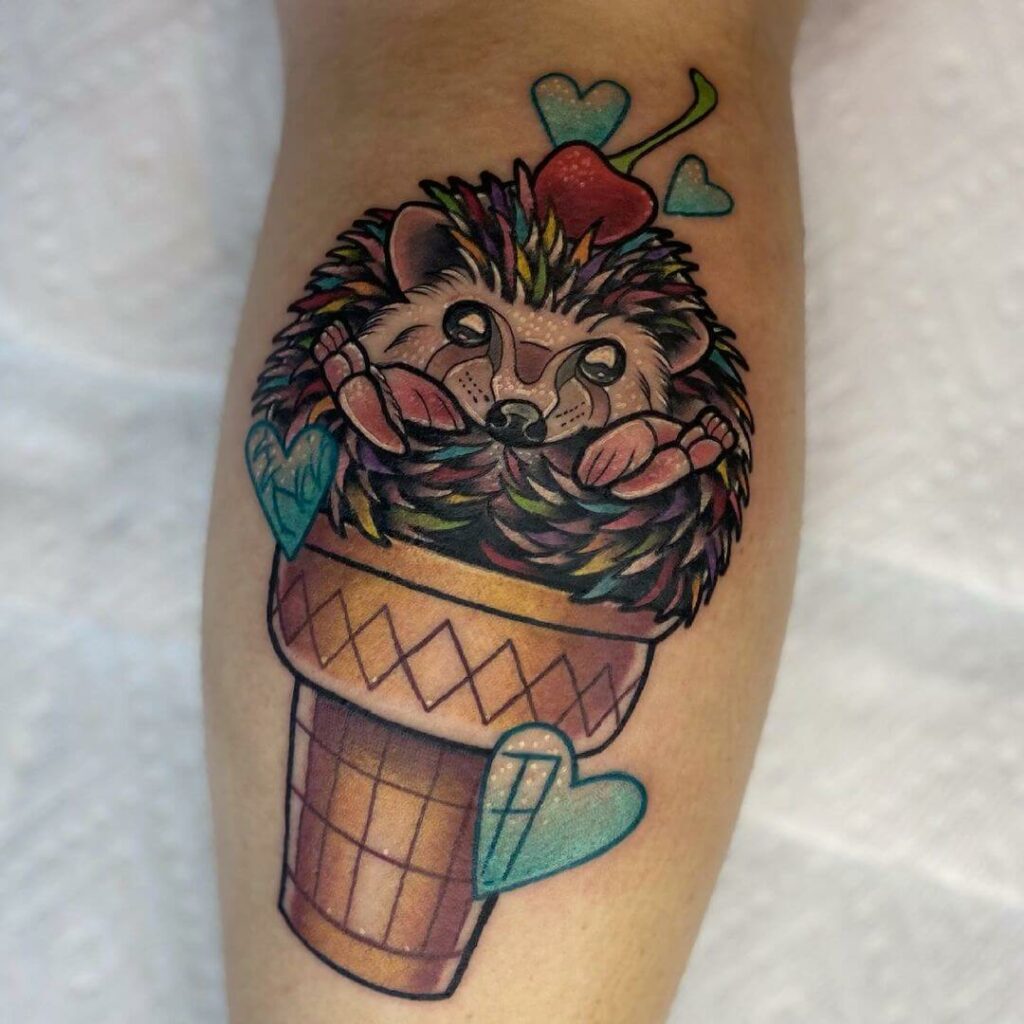 Hedgehogs are undeniably adorable creatures, and if you can't resist their charm, why not immortalize them on your skin? This tattoo is a perfect way to capture their cuteness and add a touch of whimsy to your body art. But be warned, this design is highly detailed and intricate, so finding an experienced artist is essential to achieve the best possible result.
Black And White Japanese Hedgehog Tattoo
Japanese tattoos are known for their striking contrast and bold line-work, and this black and white ink tattoo is a prime example of this style. Drawing from traditional Japanese art techniques, the lines in this tattoo are thick and clear, making it an eye-catching addition to your body art collection. If you're interested in getting this type of tattoo, be sure to do your research and find a skilled tattoo artist with fair pricing to bring your vision to life.
Fruitcake Hedgehog Tattoo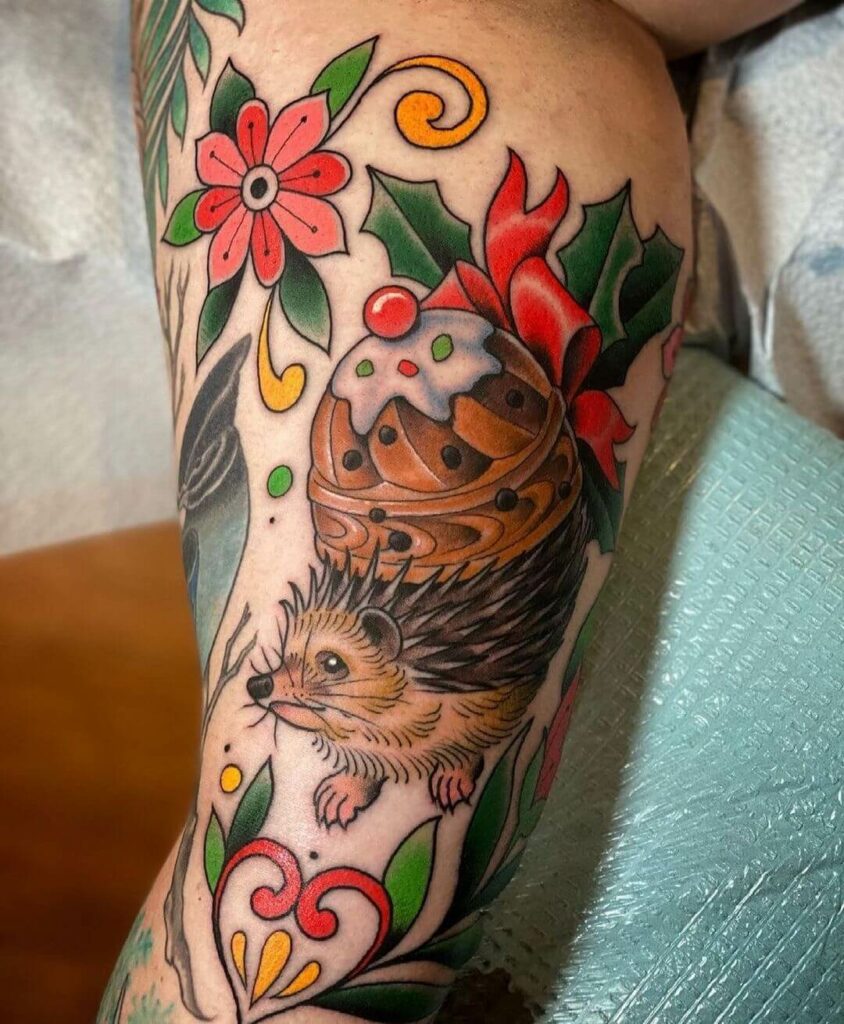 Hedgehogs represent many admirable qualities such as independence, adaptability, and patience, making them an excellent spirit animal for those who embody these traits. This hedgehog tattoo design, featuring a hedgehog surrounded by food, is perfect for the foodies who identify with these values. Remember to choose an experienced tattoo artist to bring your design to life and ensure that your tattoo lasts a lifetime. We've provided a diverse selection of hedgehog tattoo designs to help you find inspiration, but remember that tattoos are permanent, so take the time to choose a design that truly speaks to you. Adding symbols or other elements can also help make your tattoo unique and personal.
Feature image from Pinterest – Want your tattoo to look brighter? Try "Tattoo Balm"
Last reviewed and updated on April 30, 2023