In search of the latest illustrative tattoo designs? Check out these illustrative tattoo ideas, and get inked with the one you like best!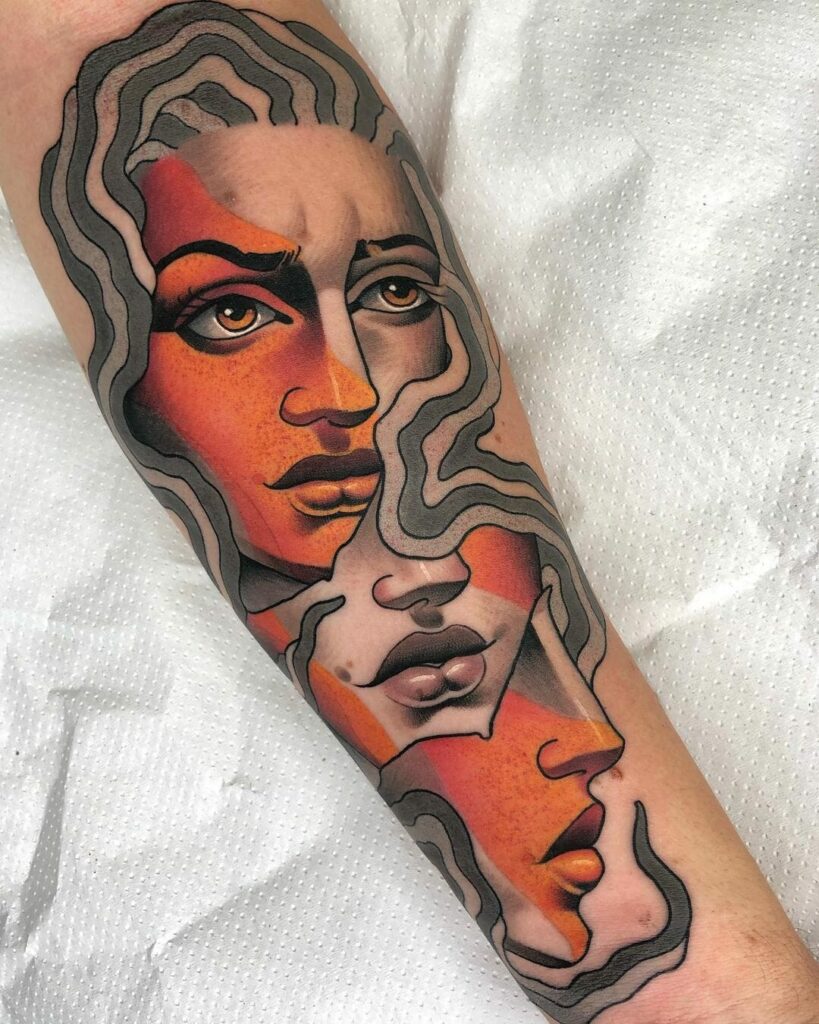 Over the years, different styles and techniques of tattooing have been made popular, providing a refreshing alternative to classic and traditional tattoo styles.
One such style of tattooing is known as the illustrative tattoo style. Out of all the tattoo styles, the illustrative method of tattooing is seen most often, incorporating a variety of different elements and many designs, which are not usually done in traditional tattoos.
What Is An Illustrative Tattoo?
The American Academy of Dermatology classifies tattoos into five major types, namely, natural, amateur, professional, cosmetic, and medical school of tattoos. Illustrative tattoos fall under the professional category and is a broad term to describe any kind of tattoo that might resemble a drawing or an illustration in some book or magazine. Illustrative tattoos are much like art on skin. There are many artistic concepts used to make such tattoos. From a realistic sketch to an abstract mixture of shapes, an illustrative tattoo covers a whole range of subjects. To add to that, illustrative tattoos include many different tattooing techniques and styles, as well. Blackwork, Japanese, ornamental, neo-traditional, and Chicano schools of tattooing are only some of the styles which are utilized by illustrative tattoo artists to work their magic.
Now that you have a basic knowledge related to illustrative tattoos, continue reading this article to find images of some of the best designs done using this tattoo style.
Sculpture Illustrative Tattoo
As can be seen in the image, this neo-traditional tattoo exhibits the powerful combination of royalty and diplomacy. The tattoo comprises the face of a lady with an extravagant bun, a snake coiled around her neck, a bunch of flowers, and a prominent sun. The extensive waves of the bun make the otherwise simple face stand out. Overall, the outlines of this tattoo are done in a dark and bold fashion, making this whole tattoo a statement of fine art. Given the size of this tattoo, it would look good anywhere on the body.
Window Illustrative Tattoo
This tattoo is capturing a still description of a morning on a regular day. There is a lady sitting beside a glass window looking outside with a cup of hot coffee in her hand. There are a handful of cookies on the table beside her. There is a hanging garden below the glass window with a bunch of flowers in it. A cat tree house can be seen in one corner of the room beside a closed wardrobe. This tattoo seems like a still photo from an animation movie that describes the perfect morning which everyone yearns for. This black ink tattoo has a simplistic touch that would look great on your forearm as can be seen in the image, or on your shoulder.
This piece is indeed a work of art. In the tattoo, it seems as if there is a window in outer space surrounded by heavenly bodies and illuminating stars. With a wooden bar at the edge of the glass window, steel rods between the pieces of glass, and a number of scattered bricks on the wall, this tattoo looks rustic, with bold and dark ink outlines. The bold prominently shaded moon alongside the other planets and numerous stars capture the scene of outer space at best. A dash of colour to this tattoo design will make it all the more beautiful. This tattoo can be worn anywhere on your arm or just below the neck.
Tarot Illustrative Tattoo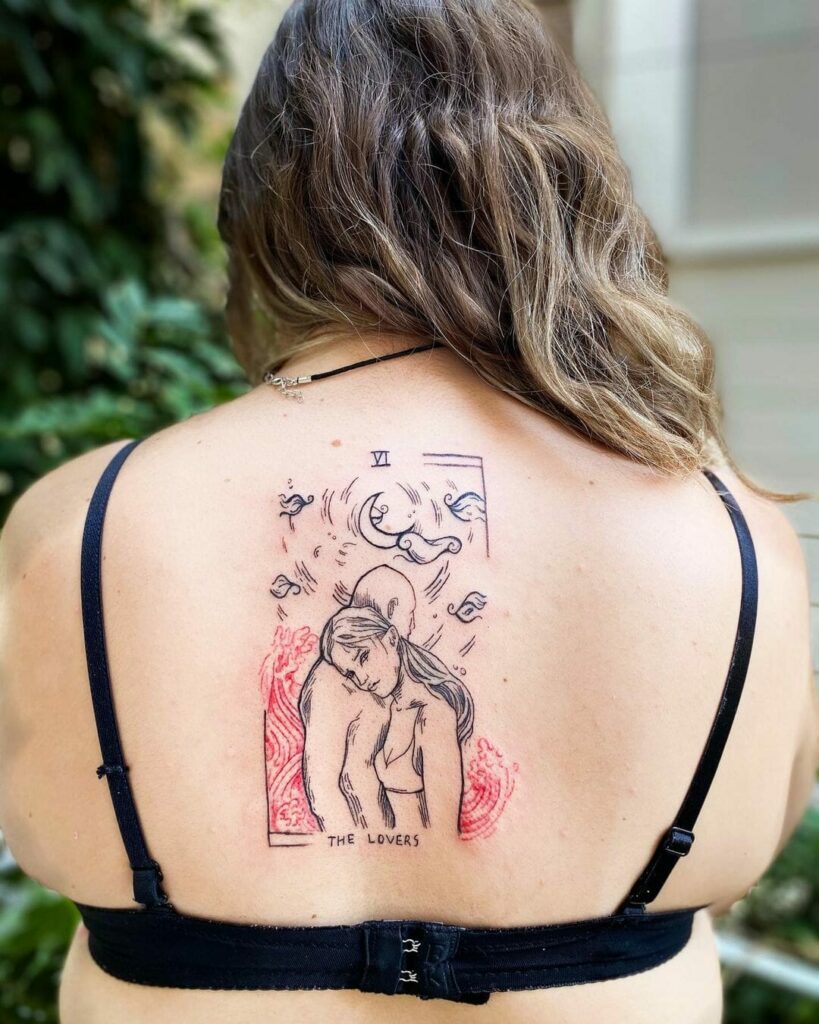 This tattoo has been inspired by The Lovers (VI), the sixth trump of a traditional tarot deck. This trump card represents the importance of relationships and choices that people are faced with ever so often in their lives. In this tattoo design, a woman with an upsetting face is seen laying her head on a man's shoulder. The red ink shading in the form of waves found behind the human figures portrays realism while the moon and the floating clouds, an aura of faith and imagination. This tattoo looks great on the back as is pictured in the image above. It will also look beautiful on your arm or on your calf.
This tattoo is also inspired by the traditional tarot deck, The Star (XVII), which represents hope, inspiration, faith, and opportunities. In the tattoo, a naked woman with long, beautiful hair is sitting on the cloud with her feet dipped in water. She is seen holding a vase with water flowing out of it symbolizing the fountain of hope. Bright, illuminating stars can be seen shining behind the woman. This tattoo is for those who await inspiration and prosperity in life. This tattoo will look best on your arm or on your back.
Trippy Illustrative Tattoo
This monochromatic tattoo is the perfect example of tattoo techniques used to create a variety of effects. Here, a woman with white eyes has been depicted inside a heart-shaped frame. The eyes of the woman have been inked twice to create the perfect trippy effect. You will also notice in the image, the intricate and precise detail work that has gone into creating the face, making it quite a new school tattoo, away from traditional tattoo styles. The mushrooms all over the heart are further adding to the psychedelic vibe in this tattoo.
Botanic Illustrative Tattoo
In this tattoo, a bunch of irises can be seen, where some have bloomed and the rest are on the verge of maturing. The beautiful shading of grey and black in the petals accompanied by fine line tattooing style in the leaves indeed looks mesmerizing. If you want, you could ask your tattoo artist to use some coloured ink to make this simple tattoo design look more vibrant. The elongated, artistic strokes in this design demand a large surface area, and hence, it would look great on your calf or anywhere on the body that can provide enough space for this tattoo to unfold to the fullest.
Geometric Illustrative Tattoo
This tattoo design with the use of geometric shapes is indeed a work of art on skin. The shapes or rather the pieces of a puzzle are fitted together at the right places to form the face of a woman. The intricately drawn eyes speak volumes. The use of black ink to draw the hair accompanies by white lines in between makes it look extremely real. This tattoo art will look amazing on the chest or on either side of it. it would also look great on your back or lower waist.
Cat Illustrative Tattoo
Cats have got to be one of the cutest animals on this planet. Hence, a cat illustrative tattoo will not only look cute, but if you decide to recreate this idea on your skin, it will look funky, as well. In this illustrative tattoo, the cat is quite literally looking like a rough illustration, due to the apparent careless way in which it has been inked. It almost looks like a child has scribbled this drawing on someone's arm. The lines around the cat and every other element in this illustrative tattoo style are far away from realism or traditional techniques. You could get this tattoo inked on your arm, as pictured, or even on your back.
A more abstract and eye-catching cat tattoo would be this one, which is featuring the diagram of half a cat's head and half its skull. The whole piece has been inked within a square outline, to further underline that it is an illustration. Such tattoos are often opted for by those who love to experiment with various tattoo styles and techniques.
Little Prince Illustrative Tattoo
As kids or even as adults, most people have read The Little Prince. Like many others, if you are a fan of this popular novel as well, you can take an illustration from the book and turn it into body art like, like pictured above. Here, a very common drawing has been illustrated, depicting the backs of the little prince and the fox. This imagery is undoubtedly well-recognised by most people. A quote has also been inked on the top and bottom of the centrepiece, to give it an artsier vibe. The tattoo has no shading and the tattoo artist has made the use of outline tattoo styles to create this one.
Illustrative Blackwork Tattoo
If you treat your body like a canvas, then this black lines tattoo is perfect for you. As you can see, curved lines have been used to create this abstract style of tattoo, which is depicting two women. The tattoo is spanning over the entire back and forming the perfect example of a modern and new school of tattooing, which is in contrast to old techniques or realism tattoos. Such tattoo styles are not seen often, so if you are in search of an elaborate tattoo, you should definitely opt for this one.
Fine Lines Illustrative Tattoo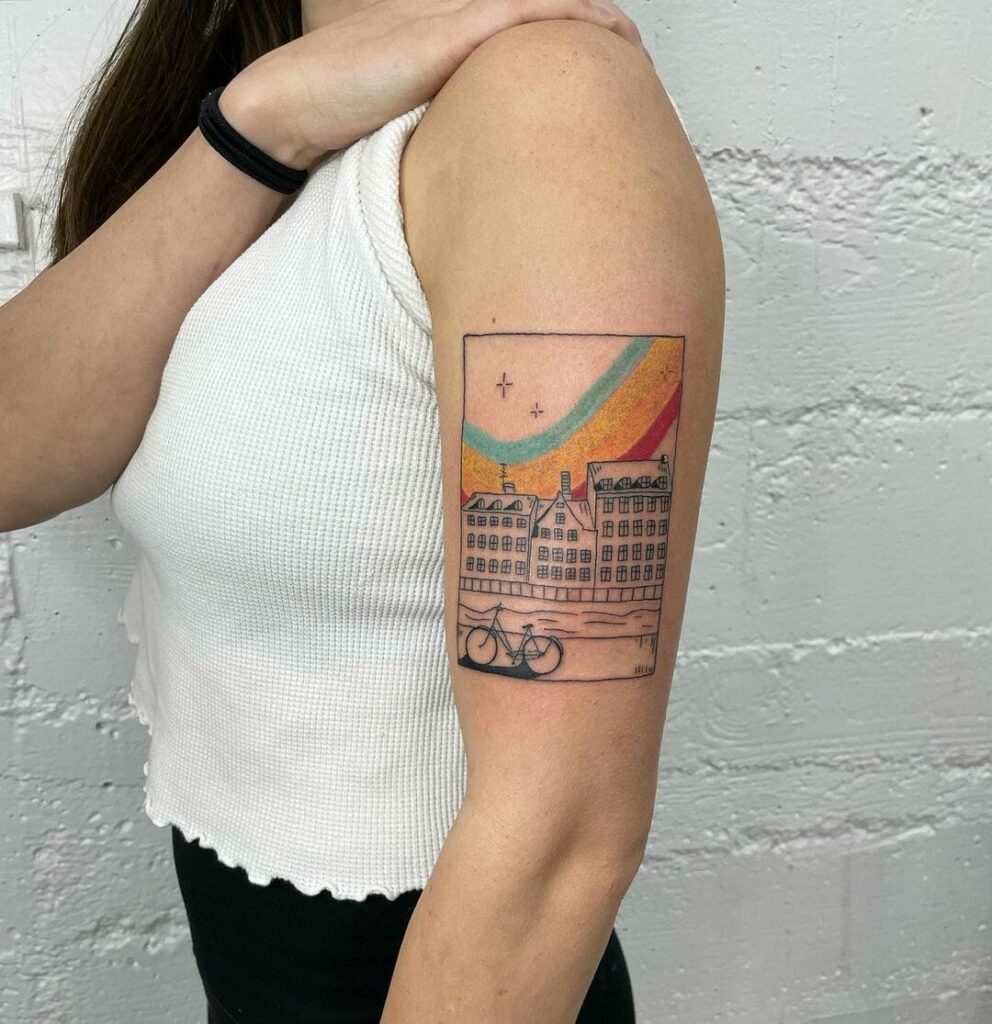 All over the world, fine line techniques have evolved into a niche school of tattoo style. For example, in Japanese culture, fine line techniques and tattoo styles are usually used to depict prominent Japanese symbols. Setting that aside, as you can see in the image, this illustrative realism tattoo is portraying a scenic setting of a cityscape. The outlines of the building, cycle, and other elements are in perfect contrast to the band of three different colours in the sky. Once again, here also, a square frame has been added to make this tattoo resemble actual drawings. The beauty of this illustration is lying in its simplicity and realistic nature.
While an American traditional tattoo has its own beauty, with the evolution of tattoo styles, illustrative tattoos have become a predominant style and school of tattoo to look out for. If you treat your body like a canvas, you would certainly not mind putting this tattoo style, which looks like drawings, to use.
Feature Image from Pinterest – Want your tattoo to look brighter? Try "Tattoo Balm"
Last reviewed and updated on March 18, 2023