Are you looking for inspiration for your initial tattoo on your finger? Look no further! Finger tattoos of initials have been a popular tattoo choice for everyone from the common man to celebrities.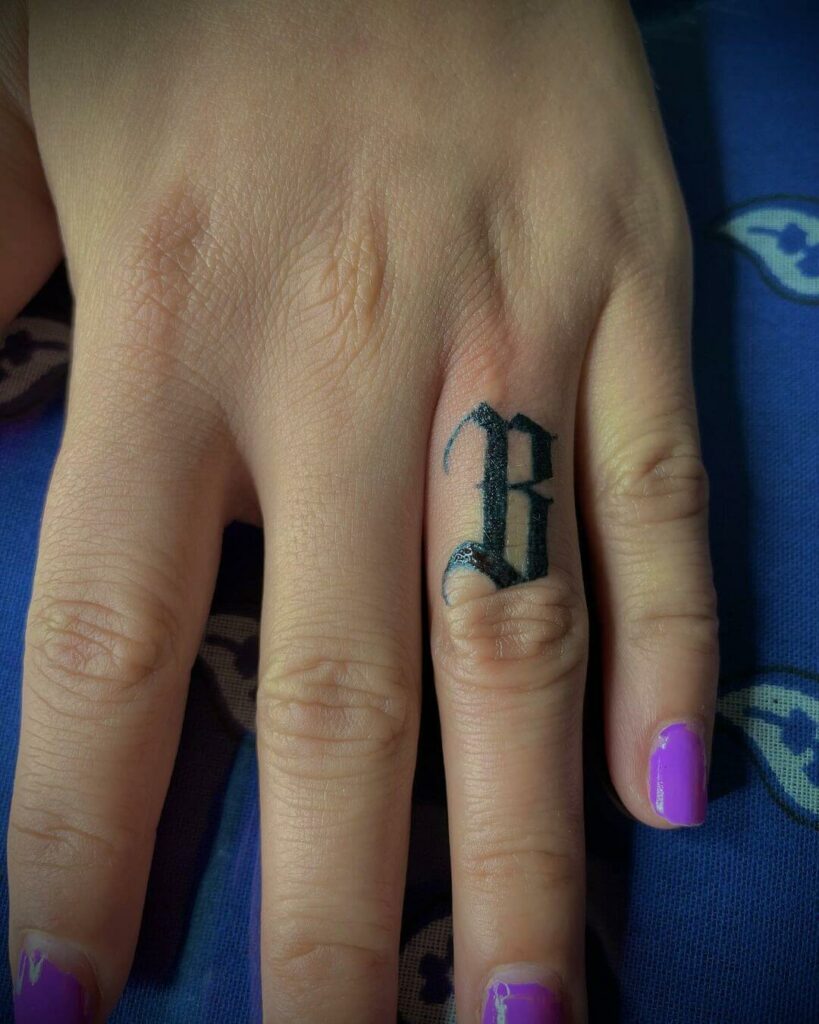 These small and meaningful tattoos look cute and hold personal value to the person themselves. What makes an initial tattoo on finger special is that despite the size, they can hold an ocean of meaning in them. Tattoos on fingers can be of many sizes and shapes, from a finger word tattoo to a finger flower tattoo. They can take any style, as finger tattoos can accommodate small and subtle details regardless of the topic of the tattoo. Different patterns and initials and numbers can be tattooed on fingers. Another common idea adopted all over the world is wedding-themed finger tattoos. These wedding tattoos range from wedding dates to wedding rings or initials of the partners tattooed on each other. Dots and dashes and other minute elements like a cross can be added to make your wedding ring tattoo even better. You can even extend an arm sleeve tattoo to fill your wrist, palm, and fingers. Tattoo designs like this add a punk look to your personality and enhance your body language.
Japanese Kanji Initial Tattoo on Finger
Kanji is a set of characters in Chinese script that forms a major part of the Japanese script as well. These logographic characters are visually stunning and the Japanese take their calligraphy very seriously, making Kanji initials a great option for anyone looking for an initial tattoo on their ring finger. The deep black color of the Kanji character in this tattoo design inked on the ring finger looks amazing and is sure to make a statement. You can research or translate your name to form cool Kanji initials for your finger tattoo. The symbol looks amazing and is a great way to add a touch of elegance to your body art.
Name with Heart Tattoo on Finger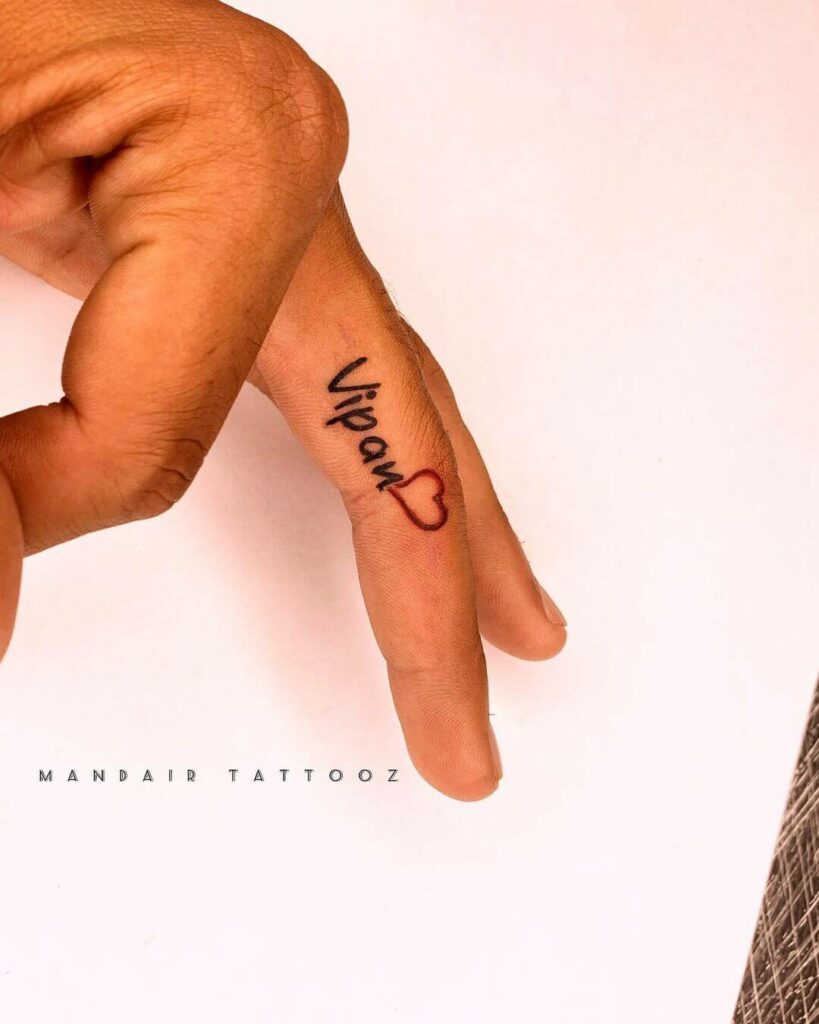 This middle finger tattoo is a great example of heart finger tattoos. The tattoo artist has done an excellent job with the black ink work, which provides a great contrast to the red heart. Although done on the middle finger, you can opt to get it on any other finger as you like. You can choose to add other elements to this finger tattoo design, but sometimes it is best to keep it simple and not clutter the design as the area available is very small. A cleaner tattoo design fits perfectly in that space. This is a great tattoo design for anyone looking to get their own or their loved ones' names inked as a finger word tattoo design.
Devnagari Initial Tattoo on Finger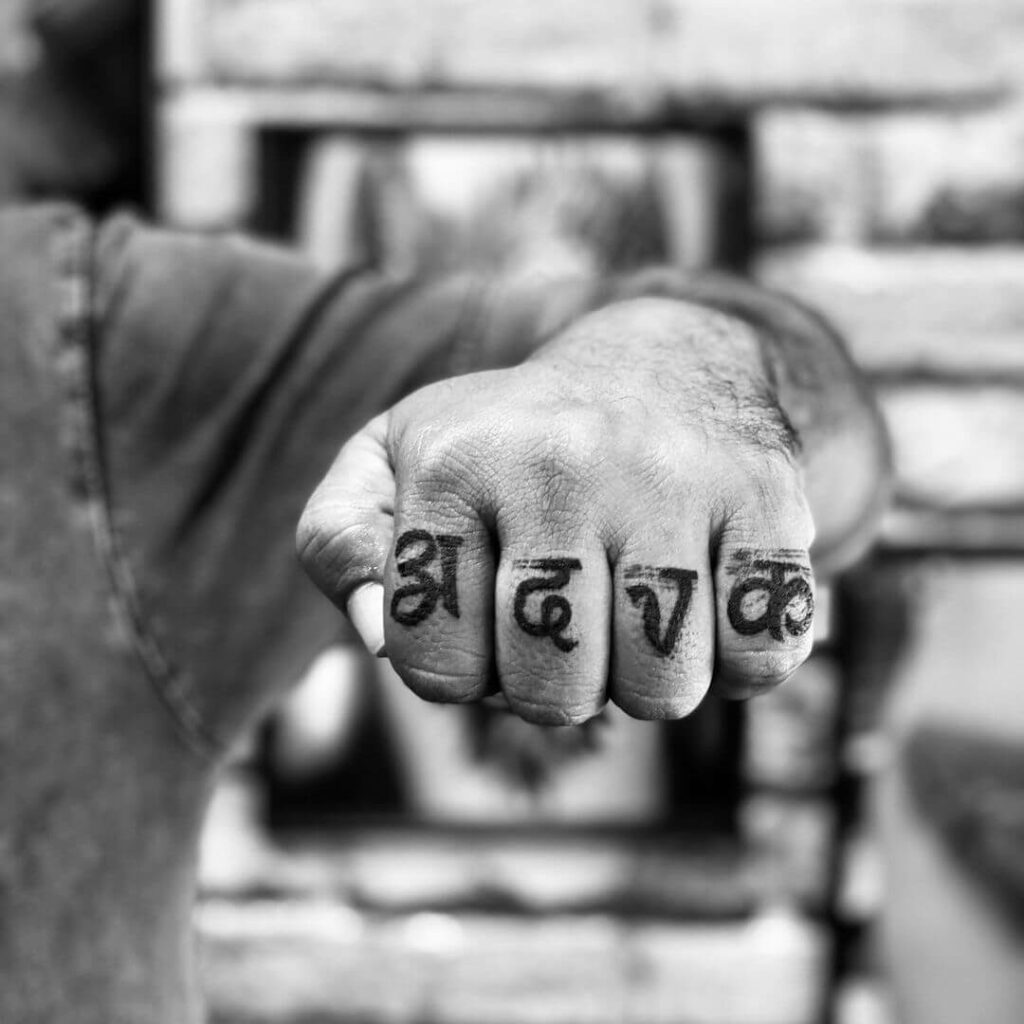 Devnagari is another ancient script that forms the scripts of many major languages today, notably Hindi and Sanskrit. The symbols of this script are logographic and have very distinct and noticeable shapes. The script also includes dots and other shapes like dashes and colons. Bold and eye-catching, this script and its symbols are a great source of inspiration for ideas for a finger tattoo or finger word tattoo design. We love the fade effect that the tattoo artist has put in this finger tattoo design. Although this tattoo is in bold black, you can definitely try other colors for this finger tattoo design. Finger tattoos are great for both women and men, and this tattoo design is sure to catch your attention if you are looking for finger tattoo designs.
Simple Lettering Initial Tattoo on Finger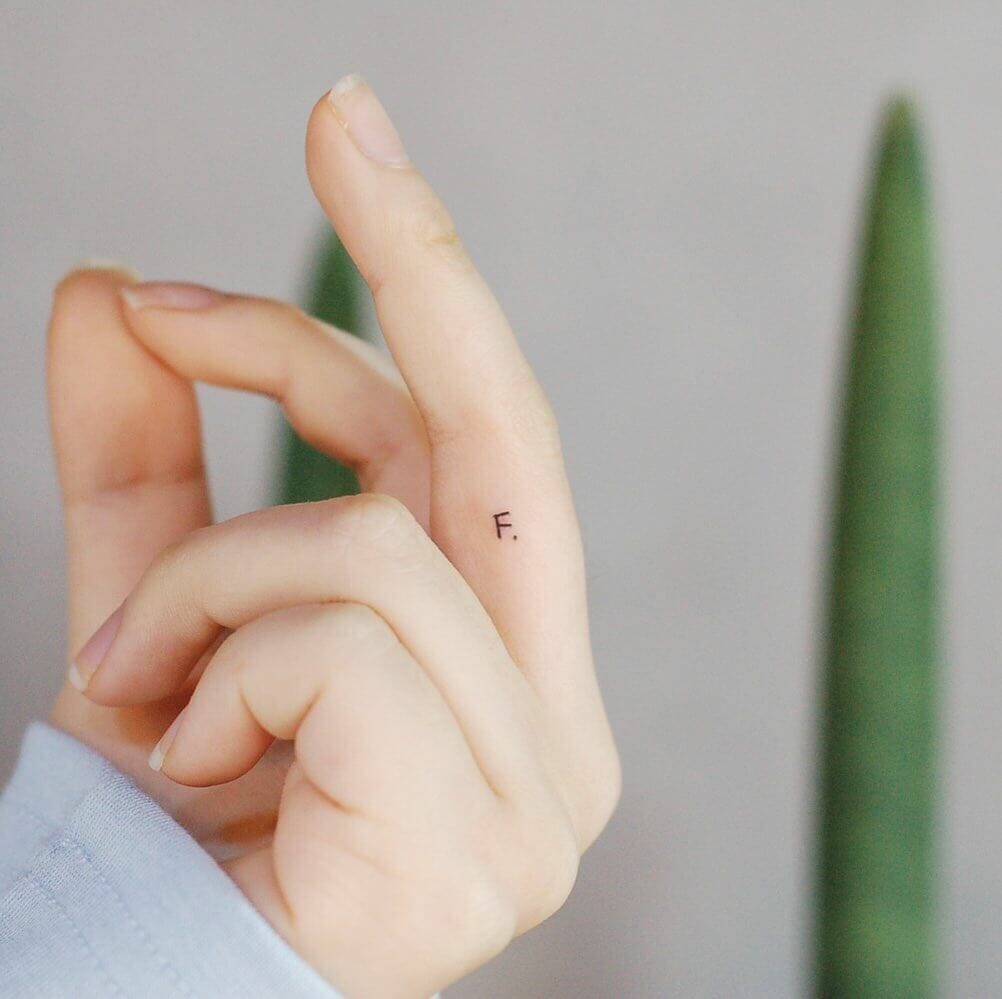 Simplicity is key, tattoo ideas or otherwise. This middle finger tattoo is a prime example of that. We don't know if the person got their initial tattoo or otherwise (you know what we mean), or coincidentally enough both. But one thing is for sure, this finger tattoo looks absolutely gorgeous. A delicate tattoo design like this might make you think if finger tattoos fade easily or not. The reality is, yes they do. The skin around the finger is more fragile and does not have much fat around it. Also, finger tattoos are usually tiny and hence easier to erode. But with proper tattoo care, you can show the world that not all finger tattoos erode easily. You can definitely manage to make them last long enough and get your finger tattoo designs retouched if and when needed. This is a great subtle initial tattoo on the finger for anyone who is looking for an out-of-the-box finger tattoo design.
Cursive Lettering Initial Tattoo on Finger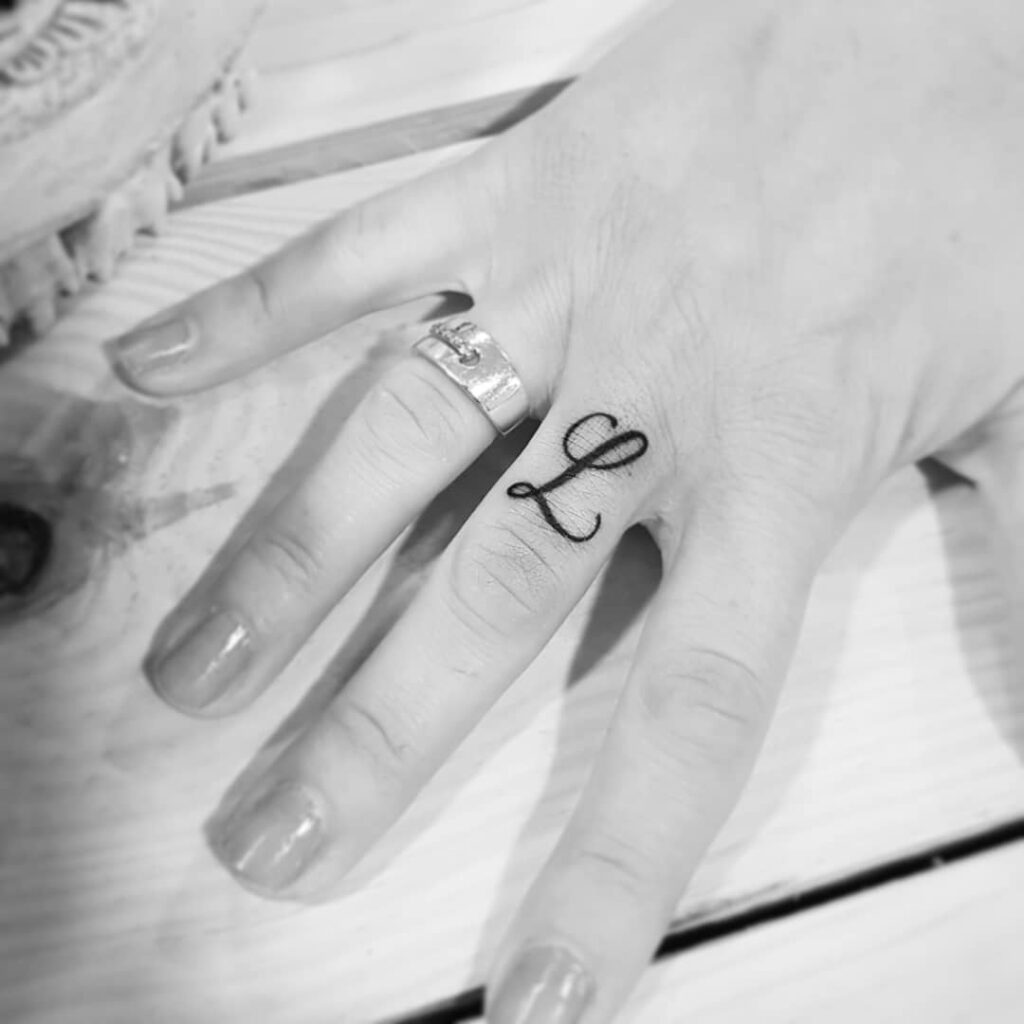 Cursive letters look really beautiful and are one of the first things that children learn when they start writing in English. The gracious lines and curves in a cursive letter are what make it look beautiful. Finger tattoo designs have to include cursive letters as they are very popular body art for fingers all over the world. This cursive L can be an initial for your name or any other word like life, love, or the name of your loved ones. Cursive tattoo shapes are very gracious, which is evident in this finger tattoo design. You can also consider getting a tattoo initial B on your ring finger or a tattoo initial S on your ring finger as well. A fine needle and an experienced tattoo artist are required so that the curves are drawn as gracefully and neatly as possible. This is a great tattoo design for anyone looking for tattoos for their fingers.
Anniversary Initial Tattoo on Finger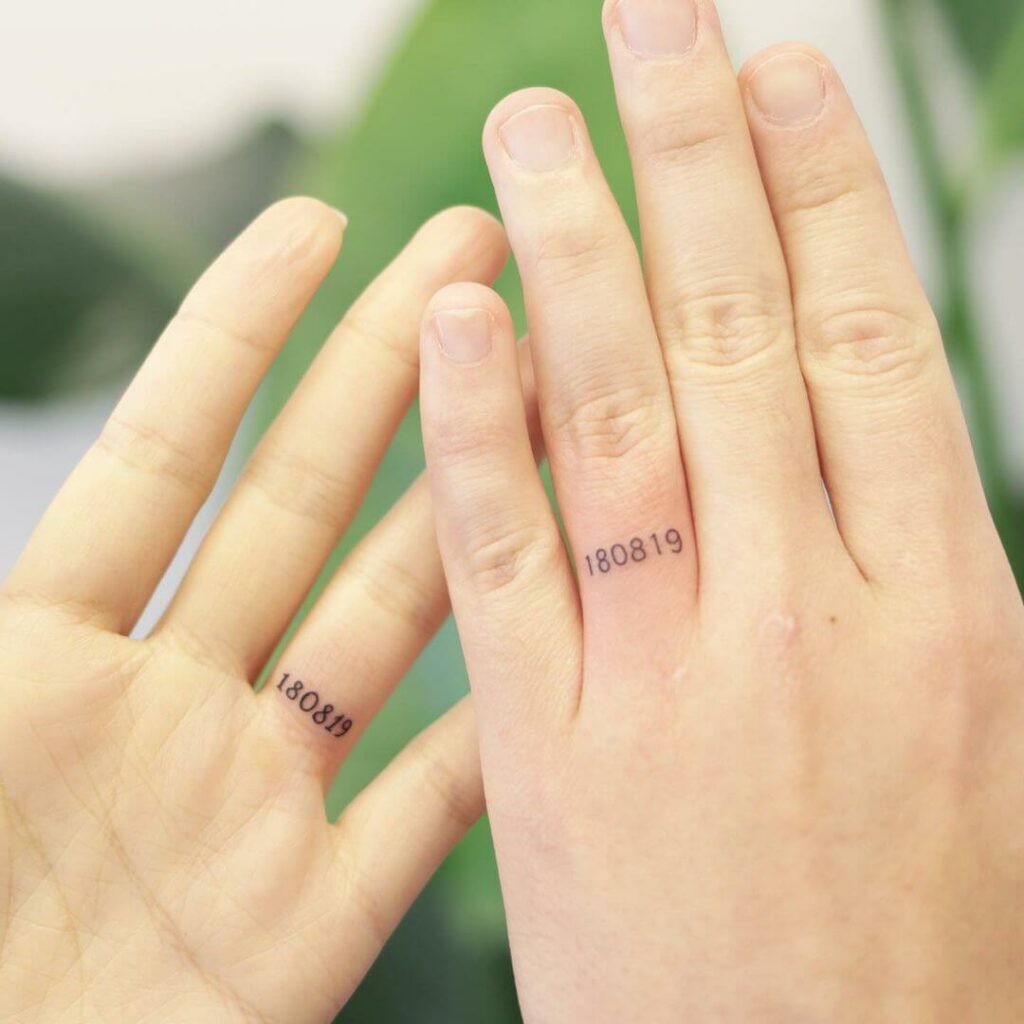 The ring finger is considered the wedding ring finger across most major cultures on the planet. This finger tattoo demonstrates how you can get your memorable day tattooed on your fingers as a sign of eternal love. Tattoos like these look really beautiful and are a sign of everlasting love for your significant other. We love the delicate ink-work done by the tattoo artist. If you are not a fan of initials as a tattoo, then this wedding date finger tattoo design is surely an option that you can consider. You can also get any other memorable date tattooed on your ring finger. Ring tattoos like this are full of meaning if you like your tattoos to have meaning. This is a great example of finger tattoos (men and women) if you are looking for an initial tattoo on your ring finger. You can also consider getting a couple anchor tattoo with initial on finger along with the memorable date.
Memorable Day Initial Tattoo on Finger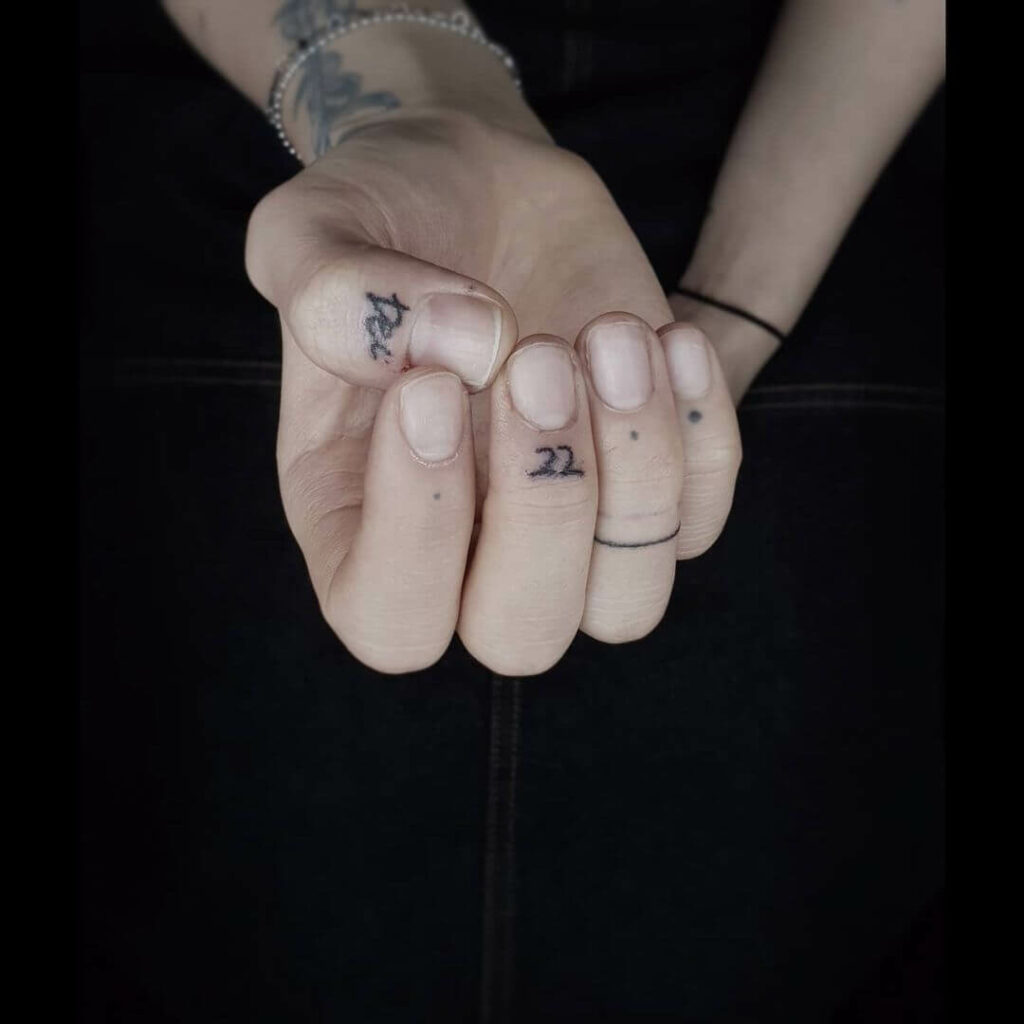 This December 22 tattoo on fingers is also another great example of alternatives to a finger tattoo design. It might be any day of significance that you want etched on your skin for your life. Meaningful finger tattoos like these add depth to your finger tattoo design. Small finger tattoos are definitely a safe option for anyone looking to get inked for the first time. The only downside is that finger tattoos are really painful. The pain is caused due to the negligible muscle or fat present in the finger and the machine working directly around the bones. If you can bear the pain and go for it, it will surely be a valuable effort to get your memorable day inked on your fingers. This is a great tattoo idea for anyone looking for finger tattoo images for an initial tattoo on their finger.
Ring Initial Tattoo on Finger for Him and Her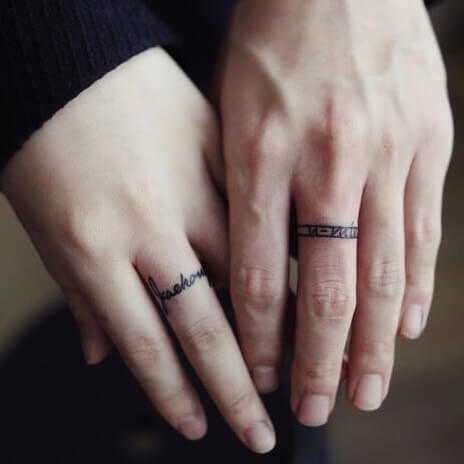 Wedding ring tattoos have been one of the more popular tattoos on fingers. The lifelong commitment to a tattoo mimics a marriage and is a symbol of long-lasting commitment for each other. Among symbols of everlasting love, a finger tattoo or ring tattoos are surely top contenders. You can choose different patterns and bands for your ring tattoo or get the names of your partners written in a font that gives it a uniform ring-like appearance. This tattoo design is a great recommendation for couples who are looking to get inked with an initial tattoo on their finger. Small finger tattoos cost very little and look really cute. You can also add the initials of each other around the ring.
Greek Initial Tattoo on Finger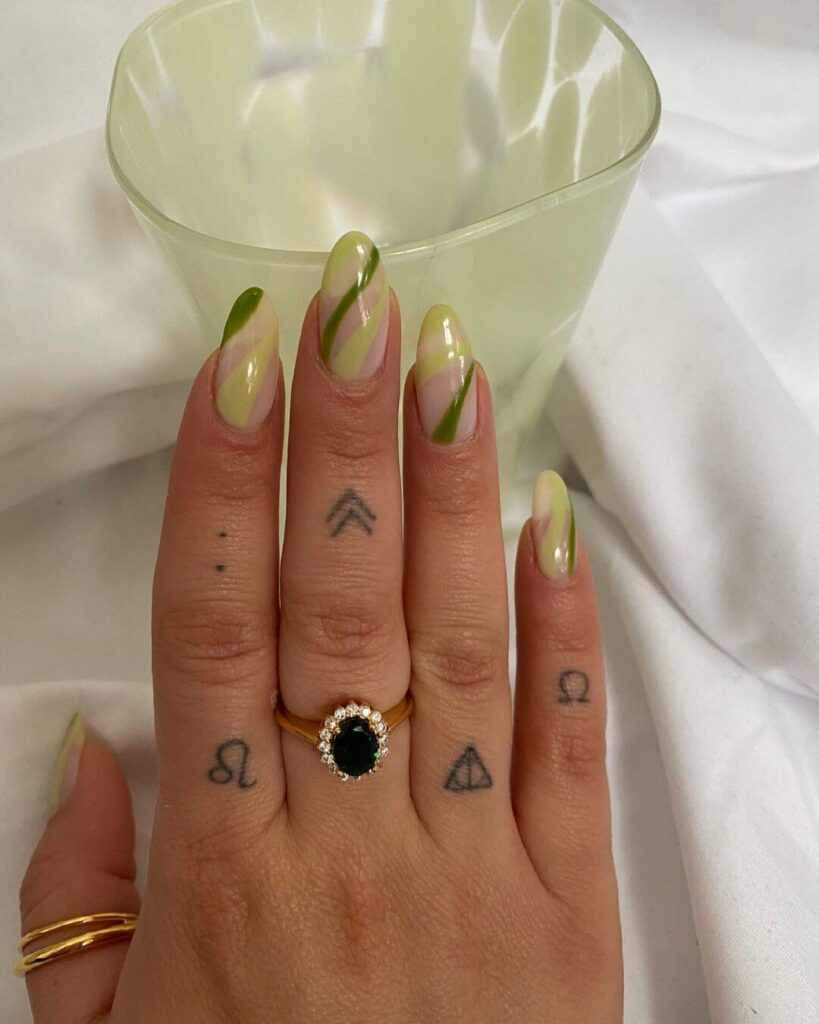 Greek symbols are one of the most popular scripts on the planet. Many of them have been used in science, mathematics, engineering, pop culture and virtually everywhere that needed a symbol to represent an idea or a value. Instead of getting an initial tattoo on your finger which might look boring, a Greek initial looks much cooler. You can also see the deathly hallows sign and a horoscope sign inked on the client's fingers. This adds to the punk look. Tiny symbol Greek tattoos like these look really impressive and intriguing as the viewer always tries to decipher the reason behind it. This punk style of finger tattoos is a great recommendation for anyone who is considering putting their faith into getting a finger tattoo.
Queen of Hearts Initial Tattoo on Finger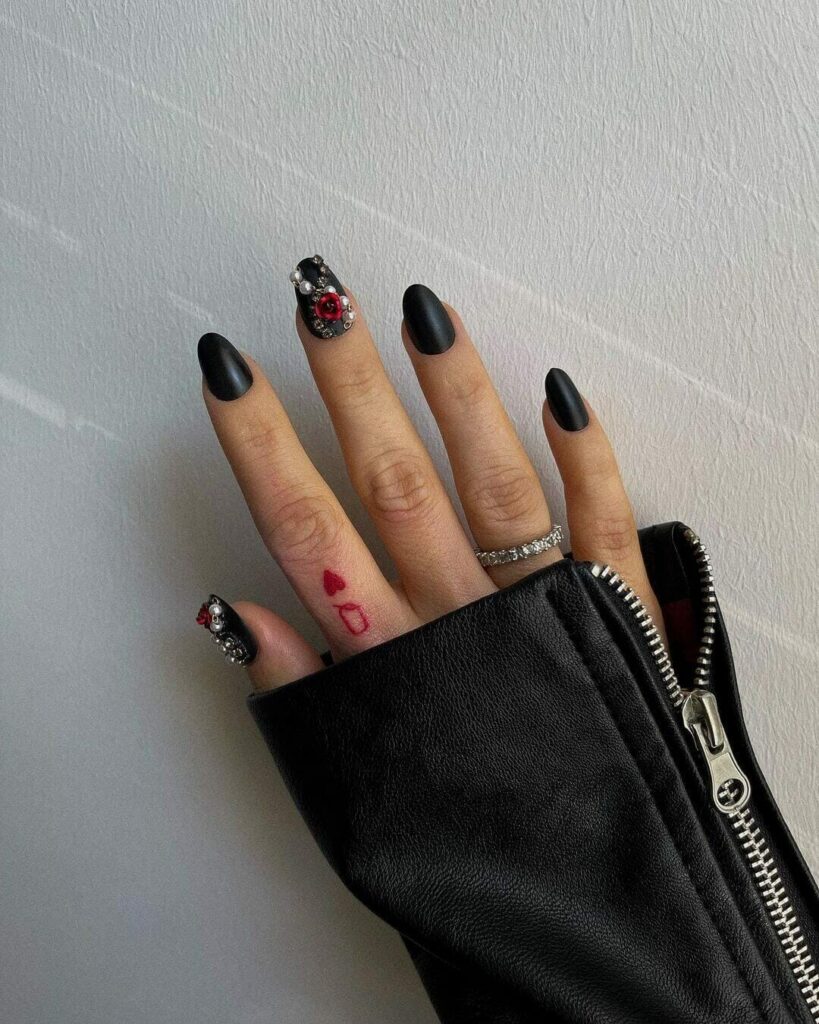 One of the best designs for an initial tattoo on your finger that we have come across, this takes witty tattoos to another level. We love the subtle queen of hearts tattoo on the finger. We love the playing cards theme here with the playing cards style font and symbol that make this tattoo design flawless. People take initials and letter tattoos too literally and rarely try to think out of the box but this tattoo artist exercises the freedom of their mind and shows otherwise. This is a great recommendation if you are looking for an initial tattoo on your finger.
Conclusion
Finger tattoos are a great way to express yourself and show off your personality. However, it is important to note that finger tattoos tend to hurt a little bit more than other placements because there is less muscle and fat tissue1. As with any other tattoo, finger tattoo cost depends on the design, placement and tattoo artist's expertise. Typically, however, your finger tattoo could be around $50 to $10023. But even if the initial price is something you're willing to drop, you have to remember that retouching costs add up. So in general, having such a small tattoo may require more maintenance than larger tattoos2. It is also important to note that finger tattoos are more prone to fading than other tattoos due to the constant use of hands and fingers1. Therefore, it is important to choose a reputable tattoo artist who can provide you with proper aftercare instructions.
Feature image from Pinterest