Ready to take your relationship to new heights? Celebrate the unique bond you share with your partner through these matching tattoos!
Getting a couple's tattoo is a fantastic way to stay connected with your significant other and express your love in a truly meaningful way. Love is a powerful feeling that, when shared with the right person, can be an incredible experience. When you know you've found "the one," matching tattoos can be the perfect way to celebrate your connection.
Although love can be described in countless ways, there's something universal about falling in love – that feeling of being swept off your feet, a racing heartbeat, and butterflies in the stomach. What could be more romantic than getting matching tattoos with your partner to show your commitment to one another? Choosing the right design can be tough, but we've gathered some amazing couple tattoo ideas for you to browse through with your other half.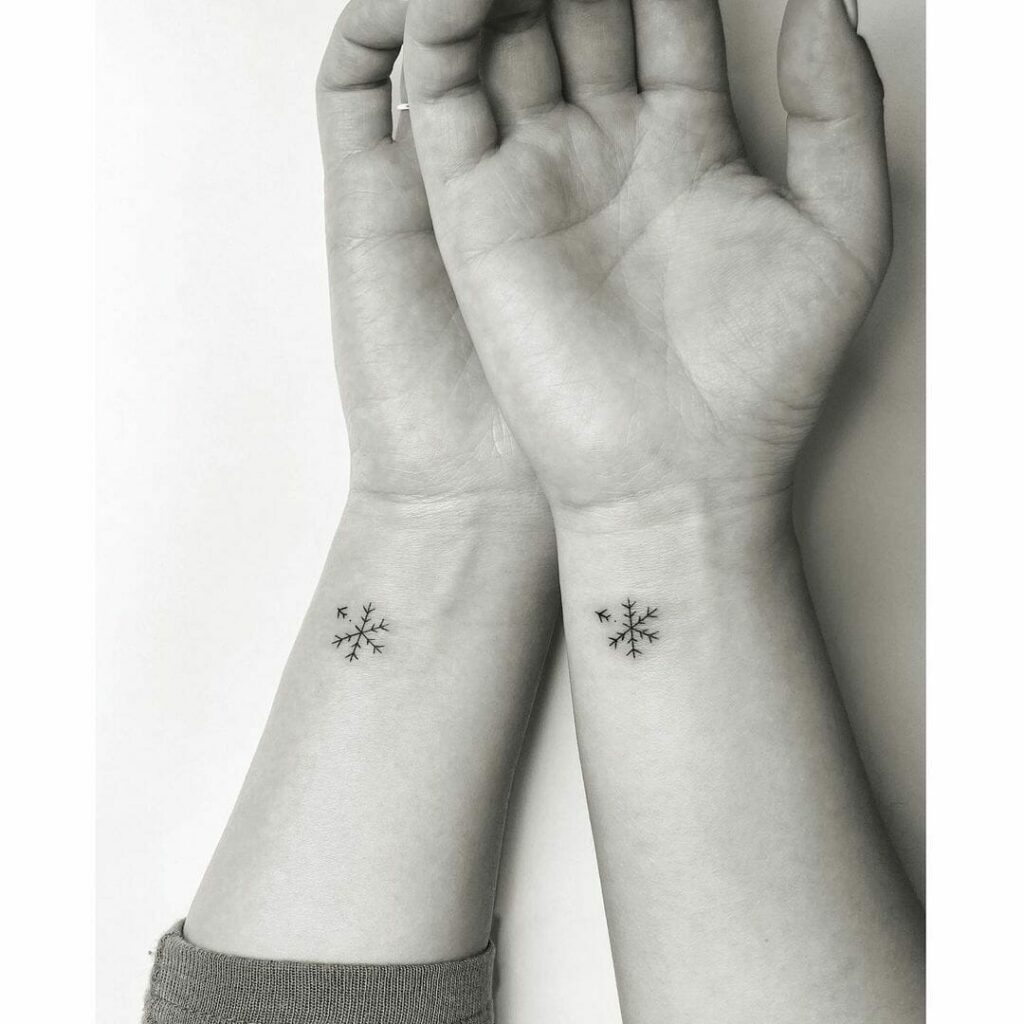 Unique Ring Finger Tattoo
Finger tattoos are a creative way to exchange wedding vows and show your commitment to each other. This unique design features a matching tattoo on the ring finger instead of a traditional engagement ring. The simple, yet elegant design is inked in black and shaded perfectly to create a flawless finish. The tattoo design is filled in black to give it a monochrome look that stands out. If you're looking for a fresh and unconventional way to express your love for each other, this couple's tattoo is a great option to consider.
Minimalistic Matching Tattoo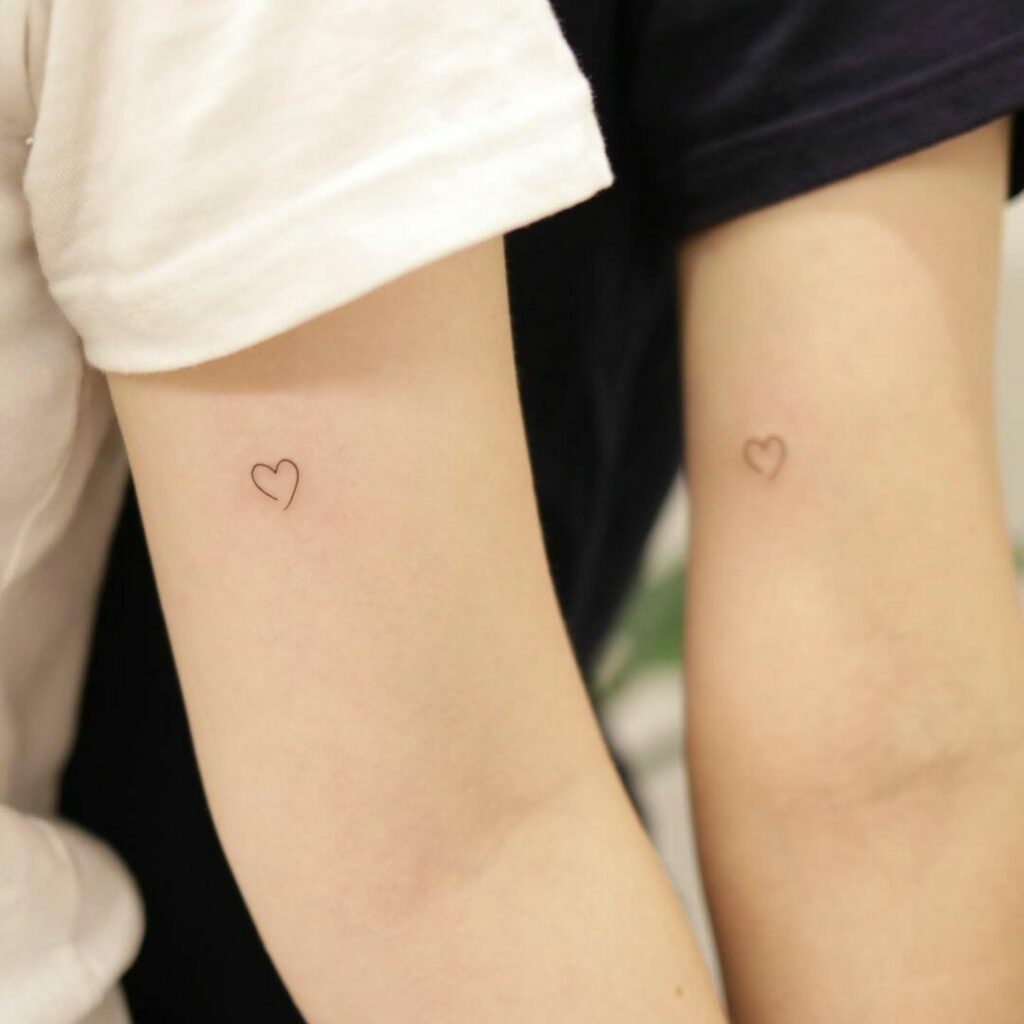 This tattoo design is the perfect example of minimalism at its finest. It features a small heart created with a single continuous line, and it is designed to be a matching tattoo. This type of tattoo not only looks cute but also provides a classy appearance. The symbol used in this design is a small heart, which is universally recognized as a symbol of love. The artist has intentionally left a small gap between the ends of the heart, giving it a unique and distinctive appearance. This tattoo is an excellent way to strengthen your bond with your loved one, and it is definitely worth considering.
Serpent Couple Tattoo
This tattoo features two serpents on the hands. One serpent contains shading and filling with black ink, while the other one has shadings that make it look like the back portion of the snake. The drawing of this tattoo on the skin makes it gook bizarre and magical. The angles on the snakes are also done patiently to indicate that they are moving forward, just like you would move ahead with your lover in the future. The fine lines and shading on the snake are done perfectly making the tattoos look complementing to each other, just like you and your partner. If you want to get inked with your better half, then this tattoo will look adorable on both of you.
King and Queen Tattoo
If you're looking for a way to showcase your love and partnership, this tattoo design is a great choice. It exudes power and royalty, and features a lion and lioness, both crowned as king and queen. The tattoo also includes beautiful roses, with a vibrant blue rose under the lion and a pink rose under the lioness, adding a touch of romance. The shading on this tattoo is expertly done, giving it a realistic and impressive appearance. This tattoo is perfect for couples who want to show off their love in a unique and regal way, and it's sure to make you feel like royalty.
Tiny Burning Match Tattoo
Looking for a minimalist tattoo design? Look no further than this unique and creative matchstick tattoo! The design features two matchsticks with their flames, executed with delicate and fine line work. The shading is also well done, capturing the look of the burnt matchsticks. This monochromatic design gives off a chic yet sweet vibe, making it a great choice for a simple, yet meaningful couple tattoo. The artist's sketchy style adds character and depth to the design, making it stand out. Whether you're a fan of lighters or simply want to light up your relationship, this matchstick tattoo is a great choice.
Penguin Couple Tattoo
This tattoo design showcases two adorable penguins that symbolize the eternal bond between two individuals. Penguins are known for their loyalty and devotion towards their partner, and this tattoo design captures that essence perfectly. The artist has used shading techniques to create a monochromatic effect, while the strategic use of white ink highlights certain aspects of the design. The penguins are facing each other, representing a strong commitment and love between them. This cute and meaningful design is perfect for couples who want to express their love and devotion through body art.
Simpsons Matching Tattoo
This playful tattoo design showcases the beloved characters of The Simpsons. In this tattoo, a girl is playfully hitting a boy with a long hammer, capturing a comical moment between them. The shading is expertly done, bringing these iconic characters to life. The expressions of the characters are captured in perfect detail, making this tattoo a real work of art. This tattoo is not just for couples, it's also a great option for siblings who want a fun way to express their bond. So, whether you're a fan of The Simpsons or just want a playful and unique tattoo, this design is definitely worth considering.
Meaningful Couple Tattoos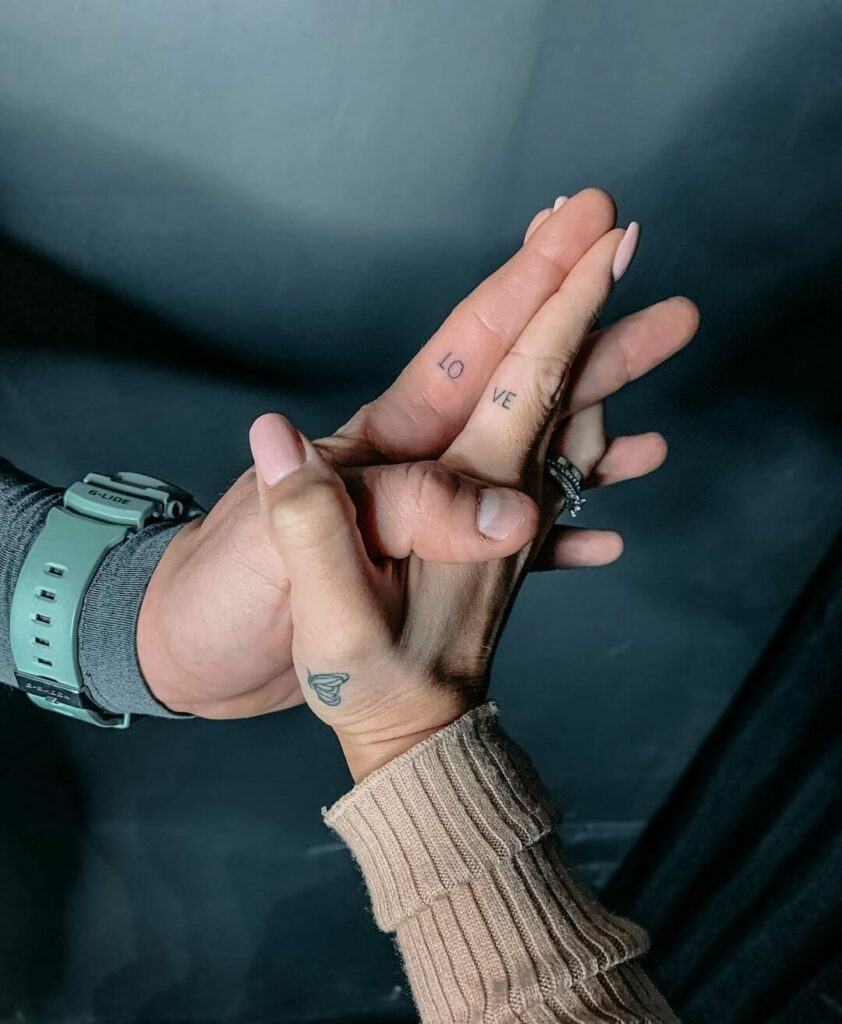 This beautiful tattoo design truly captures the essence of love with its minimalistic approach. The word "LOVE" is spelled out when the couple joins hands, with the first two letters "LO" inked on one person and the next two letters "VE" on the other. The simplicity of the design makes it look pure and spiritual, and it truly speaks volumes about the deep love shared between the couple. With just four letters, this tattoo holds all the emotions and feelings of love, making it the perfect way to express your love for your significant other.
Matching Tea Small Tattoo
This charming tattoo design depicts two teacups brimming with tea. The simplicity of the teacup design is complemented by the masterful shading, which gives the impression that the cups are filled with tea, with hot steam rising from them. One cup is placed on the finger while the other is positioned on the upper wrist, creating a perfect visual balance. The clean lines and minimalist approach make this tattoo look chic and sophisticated. If you and your significant other share a love for tea, this would be a delightful way to celebrate your bond and start your day with a cup of tea together.
Butterfly Cute Couple Tattoos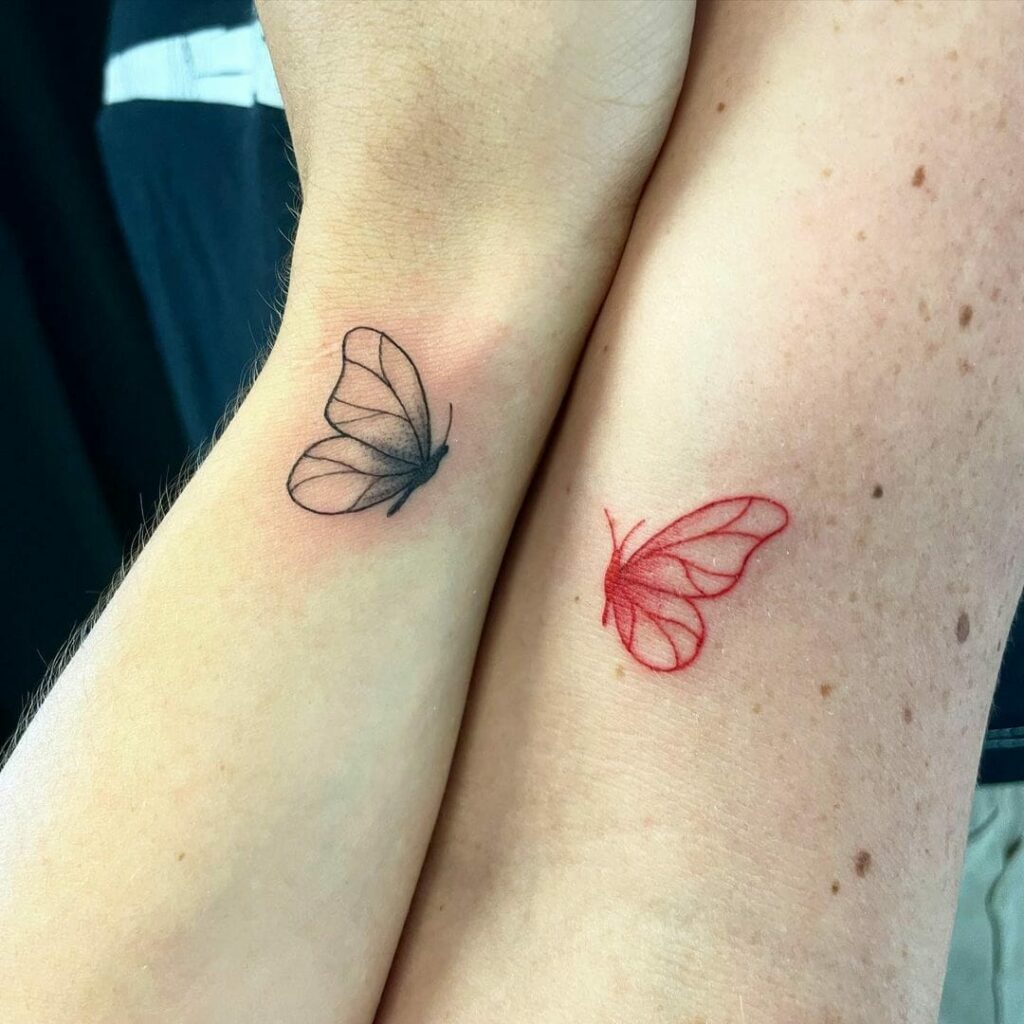 These butterfly tattoos are a stunning way to express your love and connection with your partner. The artist used fine lines to create intricate designs on the wings of these black and red butterflies. The shading is carefully crafted to give the wings a beautiful and natural look. In Celtic culture, butterflies are symbolic of good luck, joy, and hope, making this tattoo a meaningful and positive addition to any relationship.
When you find that special someone who completes you, it's important to celebrate your love and commitment in a meaningful way. Matching couple tattoos are a great way to do just that. It's a sweet gesture that shows the world your love and devotion to each other. If you're still searching for the perfect tattoo design, take a look at our list of other great tattoo ideas to inspire your next ink. Remember, love is precious and finding someone to share it with is a gift, so cherish it and show it off!
Feature image from Pinterest