Orchids, with their exotic allure and elegant beauty, have captured the hearts of botany lovers and tattoo aficionados alike. But it's not just about their bewitching aesthetic – these flowers also bear a symbolism as diverse as their species. Intrigued? Stick around as we dive into the essence of these fascinating floral masterpieces.
Over the next few paragraphs, we're going to journey together through orchid-dappled jungles of ink and imagination, sifting through the varied significations these flowers hold across different cultures, and how they translate to body art. Whether you're a seasoned tattoo connoisseur or an eager newbie, I promise there will be something here for you.
From color to species, and even placement, every aspect of an orchid tattoo can change its connotation. But fret not, your friendly neighborhood tattoo artist is here to guide you through the web of meanings and inspirations. By the end of this post, you'll have a profound understanding of why orchid tattoos are adored globally, and maybe you'll be inspired to adorn your own skin with these botanical beauties.
So, brace yourself for an enchanting exploration of a tattoo motif that's as mysterious and charming as its natural counterpart. If you're excited as I am, let's embark on this petal-filled journey together, navigating the captivating world of orchid tattoos!
Orchid Tattoo Meanings
So why are orchid tattoos such a big deal? For one, they stand out in the crowd with their unique shape and spectrum of colors. You've probably seen more orchid tattoos on women, but let me assure you, men can rock them just as well. I've tattooed an impressive black and grey orchid on a bodybuilder once, and trust me, it looked fantastic!
Orchid tattoos are rich in meaning, often associated with fertility, making them a common choice for those looking to start families or express their desire for children. And then there's the concept of rare beauty. Let me tell you a little story. A few years back, I came across an extraordinary orchid in a remote part of Asia. It was like stumbling upon a secret. The moment was unique and ineffable. That's the kind of rare beauty an orchid tattoo encapsulates.
Orchid tattoos also signify refinement. If you are the type who turns heads with your impeccable style, you might just be the perfect candidate for an orchid tattoo. Lastly, an orchid tattoo can symbolize inner strength – not the muscle-flexing kind, but the sort of resilience that keeps you going when life gets tough. The symmetry of the petals is also seen as a sign of balance and perfection.
The Meanings of Orchid Tattoo Colors
One of the great things about orchid tattoos is the multitude of color options available. Think of it as the buffet at your favorite restaurant; there's a lot to choose from, and each has its unique flavor. The color of your orchid tattoo can subtly change its symbolism. Let's break it down:
White Orchid Tattoos
If you're the kind of person who takes extra care with your appearance and values elegance and purity, a white orchid tattoo might just be your match. I once tattooed a white orchid on a professional ballet dancer. She wanted something that embodied her discipline, grace, and dedication to her art form. It was a perfect fit.
Pink Orchid Tattoos
A pink orchid tattoo is often seen as an emblem of femininity and beauty. But don't let the traditional symbolism limit you. Remember, your tattoo's meaning can be as unique as you are.
Purple Orchid Tattoos
The color purple has always been associated with royalty, thanks to its rarity and cost in ancient times. So, a purple orchid tattoo is seen as quite regal and classy. It's like the crown jewel of floral tattoos!
Orange Orchid Tattoos
If you're a lively and bold person, the sunny hue of an orange orchid tattoo might resonate with you. This color reflects vibrancy and enthusiasm.
Yellow Orchid Tattoos
Just like the bright, cheerful flower, a yellow orchid tattoo symbolizes friendship and new beginnings. It's the perfect choice if you're celebrating a friendship that's stood the test of time, or embarking on a new chapter in life.
Blue Orchid Tattoos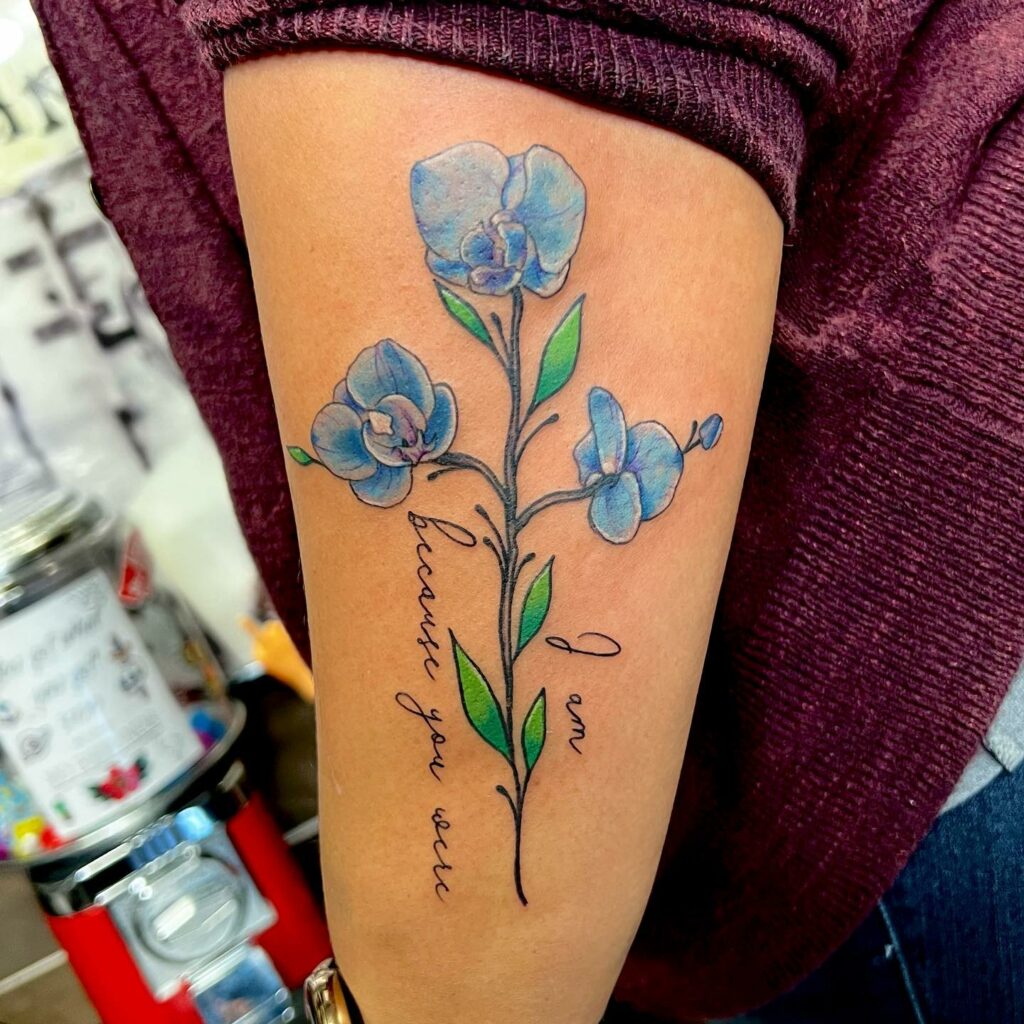 Blue orchids are rare in nature, and a blue orchid tattoo symbolizes that rare, inner beauty and free spirit. Plus, it's just visually stunning.
Black Orchid Tattoos
A black orchid tattoo is all about elegance, refinement, and status. If you're a lover of fashion or hold a prominent position in your community, this might be the perfect choice for you.
Orchid Tattoo Styles to Fall in Love With
Now that we've covered the colors and meanings, let's talk style! Orchids are incredibly versatile, and with the right tattoo artist (wink, wink), you can translate this beauty into a variety of styles.
Black & Grey Orchid Tattoos
If you're into a classic, sophisticated look, a black and grey orchid tattoo might be the perfect fit. They can capture the intricate details of the flower, and there's just something romantic about the monochrome palette.
Watercolor Orchid Tattoos
Watercolor tattoos are a wonderful option if you're a fan of vibrant colors and love the fluid, painterly style. Just like a watercolor painting, these tattoos have a unique, creative flair that can beautifully translate the soft, delicate colors of an orchid.
Black-work Orchid Tattoos
Black-work orchid tattoos offer a dramatic contrast, with large areas of rich black ink highlighting the delicate lines of the orchid. Think of them as the little black dress of tattoos – always stylish, always impressive.
Single Needle Orchid Tattoos
For a truly delicate design, a single needle orchid tattoo might be the way to go. It's like carrying a piece of sketchbook art on your skin. But remember, it needs a skilled artist to pull it off.
Illustrative Orchid Tattoos
The illustrative style gives an artistic, hand-drawn effect to your tattoo. It's an excellent way to highlight the natural elegance of the orchid.
Dot-work Orchid Tattoos
Dot-work orchid tattoos, also known as the stippling technique, create dynamic shading and texture. It adds a beautiful depth to the orchid, almost like the velvety feel of its petals.
American Traditional Orchid Tattoos
These bold, vibrant tattoos pay homage to the classic style of tattooing, often featuring a bird's eye view of the orchid.
Graphic Orchid Tattoos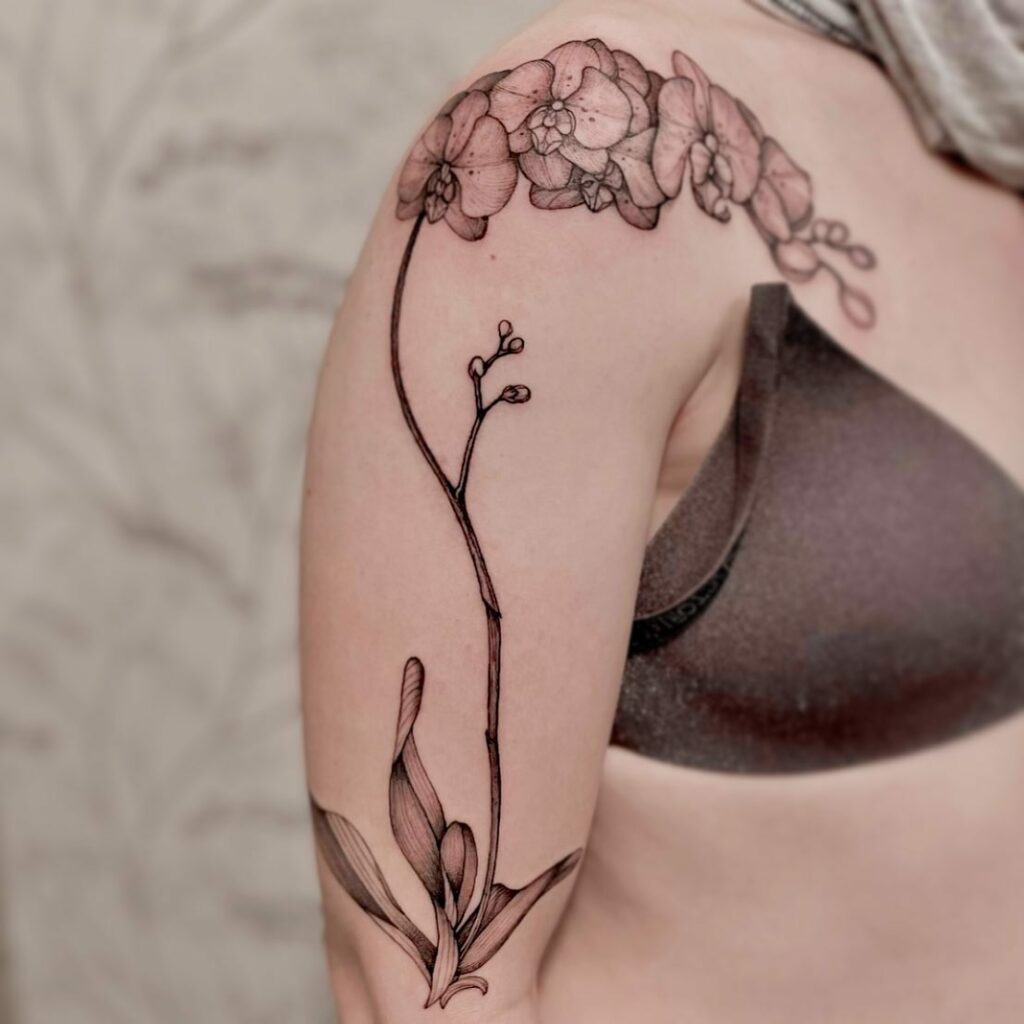 Finally, we have the graphic orchid tattoos, which often incorporate geometric designs, giving a contemporary twist to the natural beauty of the flower.
Neo-Traditional Orchid Tattoo
Imagine an orchid, all its curves and colors rendered in bold, confident strokes. That's the beauty of Neo-Traditional tattoos – they're made to bring out the very elements we love about flowers. Orchids, in particular, lend themselves so well to this style, their dazzling variety of colors and interesting shapes serving as an open canvas for creative exploration. As a tattooist, I always appreciate the freedom of expression Neo-Traditional style allows. An orchid tattoo in this style could be your very own masterpiece!
One-Line Orchid Tattoos
Let's talk about minimalism. There's a unique charm in a one-line orchid tattoo. Just as its name implies, it's all about creating an image with one continuous line – no frills, no extras. It never ceases to amaze me how recognizable, and expressive a flower tattoo can be when it's stripped to its essence. I recall one of my clients, a young writer, who chose a one-line orchid tattoo as a symbol of her dedication to simplicity and clarity in her writing. What a unique interpretation, right?
Realistic Orchid Tattoos
Realism in tattoos allows us to celebrate the object as it is. No wild creative liberties, just the gorgeousness of the orchid, replicated in ink as faithfully as possible. It's like a portrait of the flower. I vividly remember a couple who came to get realistic orchid tattoos, each with the other's name hidden subtly within the petals. A tribute to love and a shared love for orchids. Now, isn't that special?
Contemporary Orchid Tattoos
Tattooing is a dynamic art form, and the influx of young, innovative artists ensures there's always a new style on the horizon. The term "Contemporary" acts as a wide canopy, housing all the novel approaches to the craft. From bold and striking designs to subtle, almost dreamy renderings, a contemporary orchid tattoo is bound to be as unique as you. Don't hesitate to ask your artist about the latest techniques they've been honing. You might just end up with a tattoo that surpasses your wildest imaginations!
Orchid Tattoos with Butterfly Tattoos
Butterflies symbolize beauty, good luck, and transformation, and they form a beautiful complement to the symbolism of orchid tattoos. One of my clients, a woman in her 40s, came in for an orchid and butterfly tattoo, and she explained that it was a way for her to celebrate her personal transformation and newfound self-confidence. It was her way of saying that her beauty was not just physical but also born out of her journey and the changes she had experienced in her life. So if you resonate with this idea of transformation and self-discovery, an orchid and butterfly tattoo might be a great choice for your next ink adventure!
Orchid and Dragonfly Tattoos
Have you ever thought about the spiritual transformation that an orchid and a dragonfly together can signify? It's a tattoo that can imply a profound, beautiful change taking place within you, coupled with the promise of good fortune. Dragonfly tattoos, in particular, signify self-realization. I once tattooed a young woman who chose this design after a significant turning point in her life. She said it symbolized her newfound understanding of her potential and her newfound belief in her abilities.
Lily and Orchid Tattoo
The lily flower has always been a symbol of purity and devotion, often associated with fertility as well. Pairing it with an orchid creates a powerful fertility charm. Now, I don't guarantee that this tattoo will help you have children or ensure your lineage! But it does represent a deep appreciation for the concept of fertility, growth, and generational bonding. I always remember this one couple who got this tattoo as a celebration of their family – from their ancestors to their future generations. They saw it as a way of acknowledging their familial bonds and the love that flowed through their lineage.
Orchid Tattoo with Name or Quote tattoos
Adding a name or a quote to an orchid tattoo provides an opportunity for further personalization. I remember a customer who got a quote from his favorite poem as the stem of the orchid, with the flower at the end. It was a beautiful way of blending his love for poetry and orchids. You can choose a quote that resonates with the various meanings of the orchid tattoo and creates a unique symbolism that's personal to you.
Orchid Vine Tattoos
Imagine an elegant vine, twisting and turning, and at every curve, a beautiful orchid blooming. That's an orchid vine tattoo for you! It's a symbol of elegance, beauty, and class. One of my clients, a ballet dancer, chose this design as a celebration of her graceful movements and the beauty of her art form.
Orchid and Cherry Blossom Tattoos
Combining a cherry blossom tattoo, which represents courage, good fortune, love, and determination, with an orchid can create a potent symbol. One of my clients, a successful entrepreneur, chose this design to represent her journey, a combination of luck, determination, and the courage to dream big.
The Timeless Choice: Orchid Tattoos
Floral tattoos never go out of style. Orchid tattoos, although less common, can be quite stunning in the hands of a gifted tattoo artist. Whether you want a simple design that emphasizes the orchid's elegance or a grand tattoo that explores its details, there's an orchid tattoo for you. Over the years, I've seen many clients honoring the beauty of orchids through tattoos in different ways – some as a symbol of strength, others as an embodiment of class, and some just for the sheer love of these flowers.
Orchid Tattoos Placement
Lastly, the placement of your orchid tattoo matters as much as the design itself. Whether it's on the forearm, echoing your confident style, or on your wrist, serving as a small but significant marker of your femininity, the placement of your orchid tattoo can add to its beauty and meaning. Or maybe you'd like it on your shoulder or thigh, adding a statement of class and boldness. Even your foot can serve as a perfect canvas, the orchid design flowing gracefully along its curves. Ultimately, your body is your canvas, and an orchid tattoo can make it an even more beautiful work of art.
Conclusion
In conclusion, choosing to honor the beauty and symbolism of orchids with a tattoo is a meaningful personal journey. From the classic elegance of Neo-Traditional tattoos to the powerful simplicity of one-line designs, or the realistic portrayal and contemporary interpretations, there's an abundance of styles to reflect your unique preferences. You can add a touch of personalization with a name or a quote, blend other elements like butterflies, dragonflies, or cherry blossoms, or keep it simple and elegant with an orchid vine design. Remember, the placement of your tattoo adds another layer of significance, so think about where it would resonate with you most. However, it's important to remember that getting a tattoo is a significant decision, one that comes with both risks and rewards. You should choose a professional tattoo artist who maintains a clean, safe environment and follows all necessary health regulations. Also, remember that tattoo removal can be costly, painful, and not always completely effective. So, take your time to decide, to ensure the design you choose is something you'll be happy with for a lifetime. With a clear vision and the right artist, your orchid tattoo could become a beautiful addition to your life's canvas, encapsulating your stories, your values, or simply your love for this exquisite flower.