Looking for something that reminds you of childhood? You are at the right place, as we have the best paper boat tattoo ideas for you!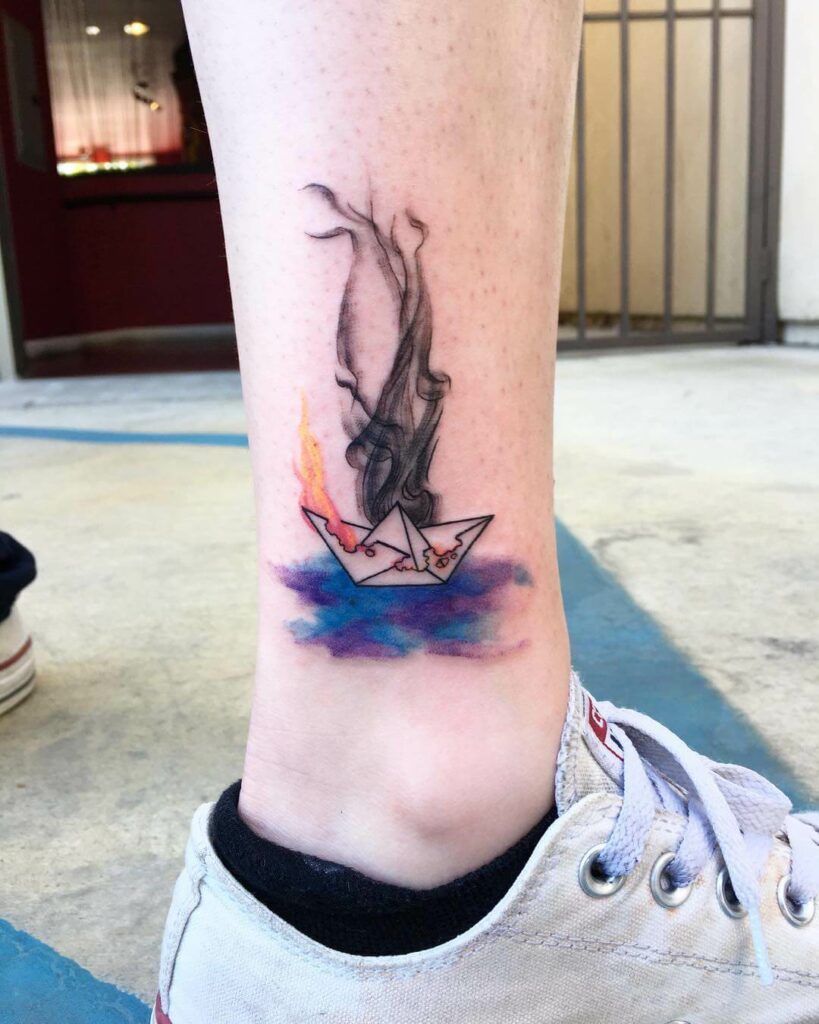 Paper boat tattoos come under the heading of origami.
The paper boat tattoo idea is one of the most adopted ideas. These meaningful tattoo ideas will make your day!
Origami is an art of folding paper, often related to Japanese art. Using origami, people, usually, children make many toys like paper rabbits, paper boats, and paper aeroplane models. Among these, the paper boat origami is the most represented symbol.
Paper boats get vanished after a short time, so it is a symbol for life, which passes too fast. Paper boat tattoos are most desired by people working in the sea. Sailors are more often seen using these tattoos.
Apart from other origami ideas like a paper plane tattoo, meaning various things, sailors also use a paper boat tattoo (meaning) for their secret code language as well. For example, under a full sail ship means a sailor needs help for he is being surrounded, etc. Many sailors used paper boat tattoos as an amulet for their protection and safe journey in the sea.
Paper boat tattoos are a sign of childhood. These are memories and feelings. These are a symbol of a clean heart, love, affection, and cuteness. Paper boat tattoos are also a symbol of your love for children and childhood.
Still want to be convinced? Here are the 10 best paper boat tattoo ideas you will be amazed by!
Determined Paper Boat Tattoo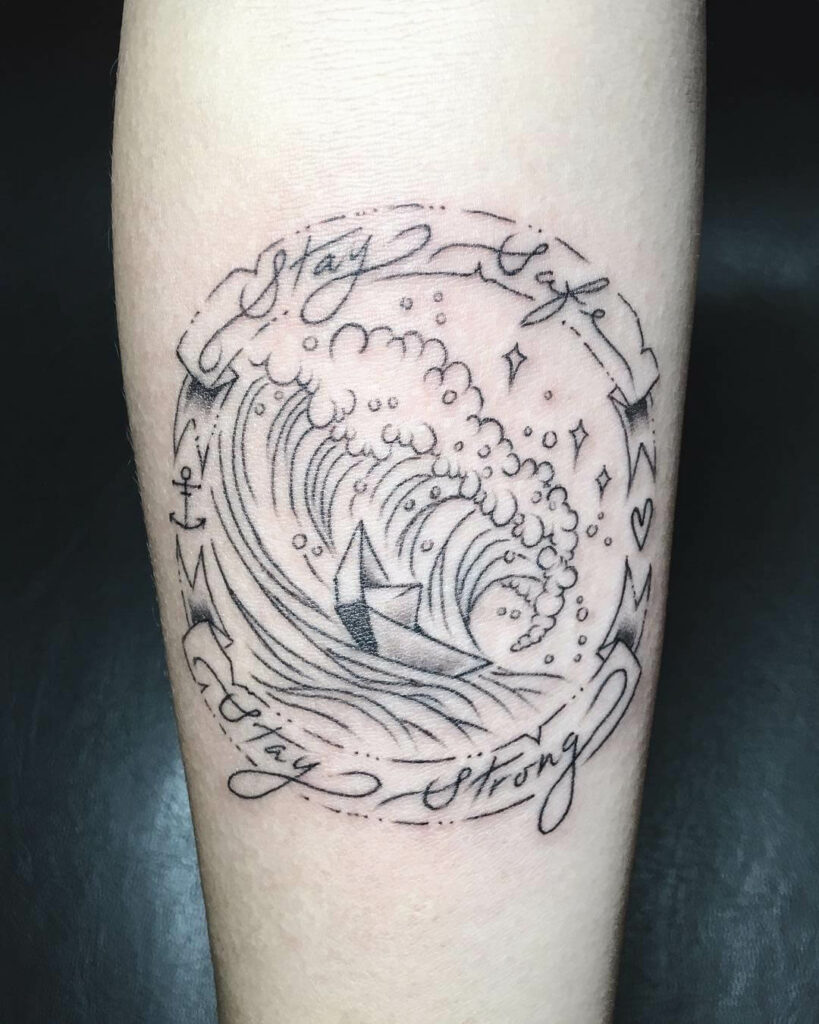 Here comes the first paper boat in a storm powered by a determined captain. This tattoo idea shows determination and enthusiasm in hard times. This is a simple but unique idea. It is less time-consuming, made of lines. You can fill it with natural colours for more elegance and charm. You can see calligraphy in the tattoo as well, which is "stay safe, stay strong". Its meaning is that it keeps enthusiasm and determination but takes care of yourself as well. This paper boat idea will suit your arms and legs. Good luck!
Night Scene Paper Boat Tattoo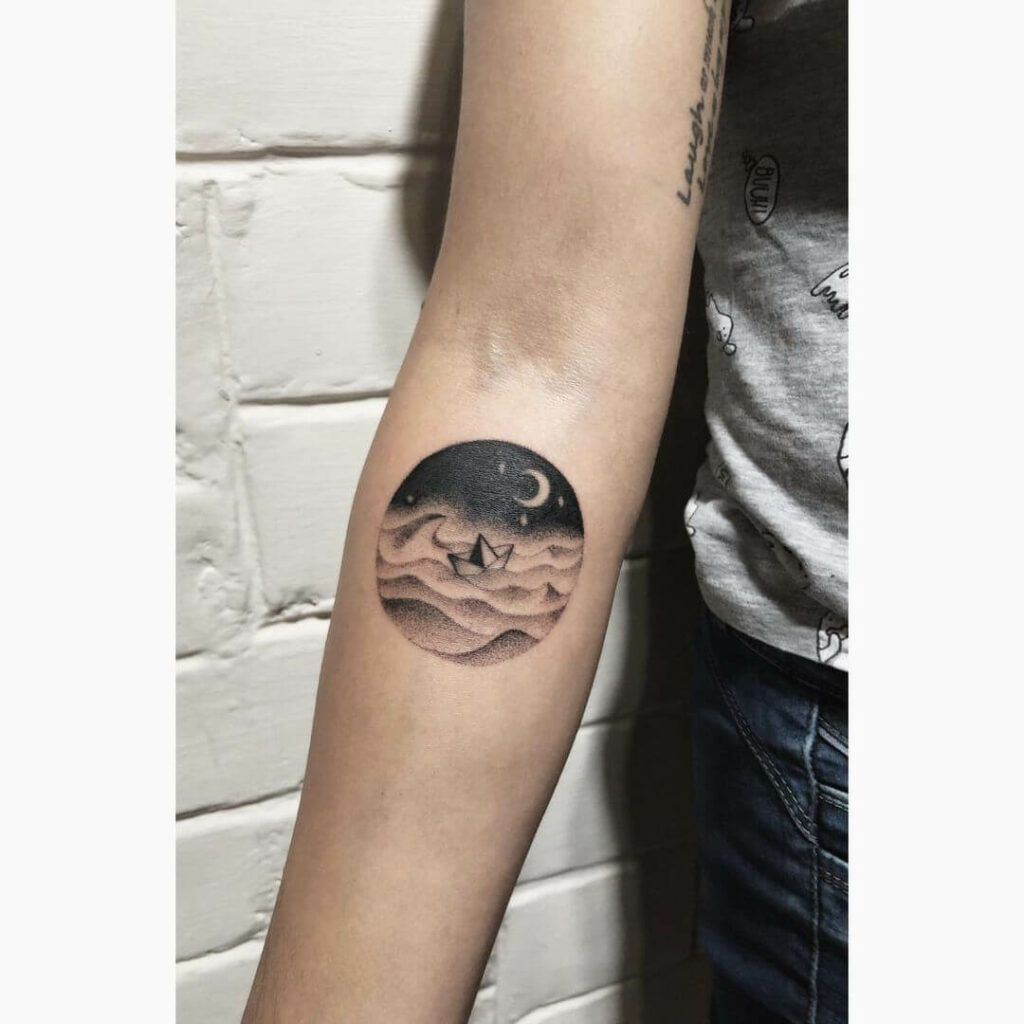 Now it is a view of the night in the sea paper boat idea. The crescent and stars with a ship in the sea is an amazing tattoo idea. Amazing dark colour with white contrast is giving stunning night view: everyone dreams to be there. This tattoo shows that you can make your way in the darkness easily, so you can tackle any problem in life. You can place it on any part of your body. Just search for a tattoo artist to get it inked.
Hand And Paper Boat Tattoo
Look at this paper boat tattoo with a hand making the boat sink. Unlike other boats that float with immense freedom, this one is bounded. Or we can see this from another angle in the sense that some people are controlling others. You can imagine some superpower fuels the ship as well. Its meaning depends on the way we look at it. Whatever the meaning is, this tattoo looks awesome. You can try it in vibrant colours as well. This will enhance its beauty. Never wait for something; just go to a tattoo shop and get tattooed!
Large Anchor Paper Boat Tattoo
This is one of the amazing paper boat tattoos, with an anchor that is best for the legs. The large rope of anchor makes it suitable for legs. You can try this on arms as well. A large rope of anchor means deep water. So this tattoo best describes your deep and surprising personality. The amazing colours of the paper boat design add to the beauty of the tattoo. You can change rope size according to your desire. Ship design can be replaced by other ones as well; it depends upon the artist inside you.
Forearm Paper Boat Pair Tattoo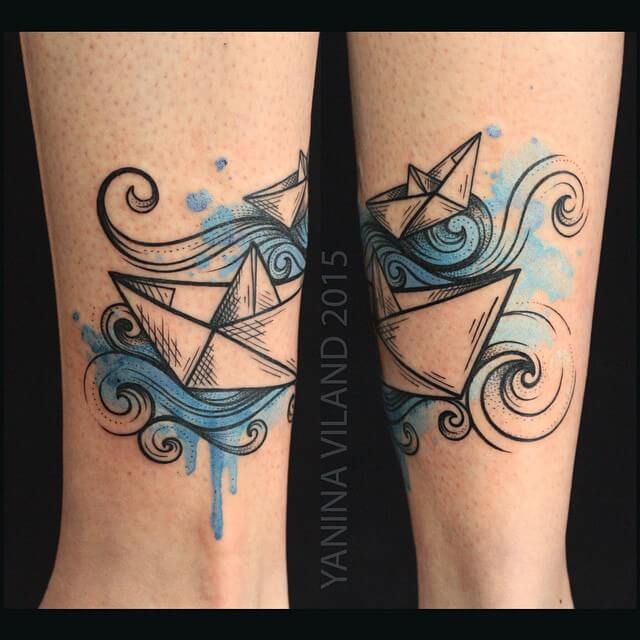 Looking at this list, this paper boat design will stop your scrolling. Similarly, this will stop your eyes and keep them fixed on you. Its vibrant and amazing colours, as well as design, are beautiful enough to be adopted. Moreover, these paper boat tattoos with a pair of paper boats make it more attractive. Though this is for the forearm, you can try this on the legs as well, or you can go for other parts as well. This tattoo can be used as a symbol of love or friendship by both mates. This tattoo has its unique place in the world of tattoos. Do not ignore this idea and search for a tattoo artist now!
Paper Boat in Tringle Tattoo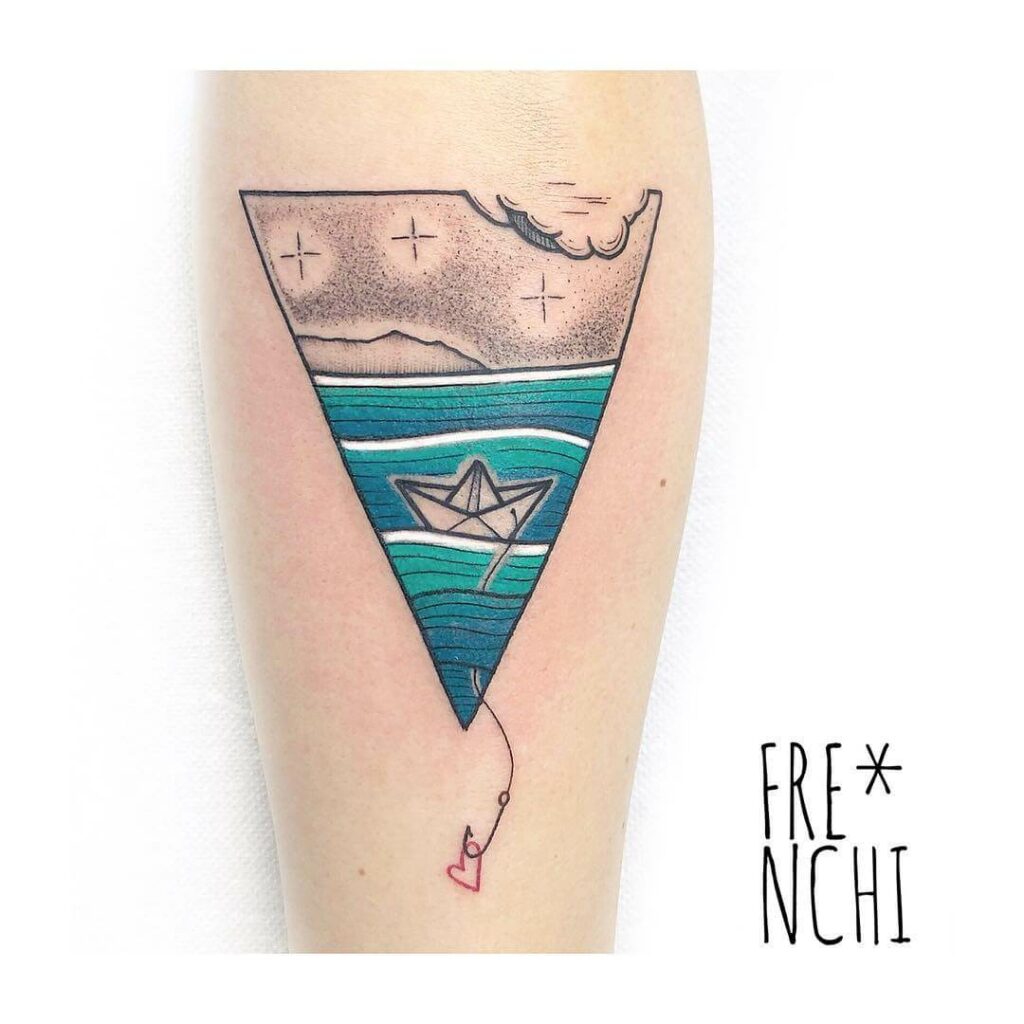 The smoothness, uniqueness, and attraction of this paper boat idea are not less than others. Take a glance at the smooth and beautiful lines and designs containing a paper boat inside. Moreover, a little heart is connected to the bottom corner of the triangle. Skilled drawing credit goes to the artist. You can place it freely anywhere you want to create an amazing look. Just search for the best tattoo artist to get this tattoo that is as beautiful as it is smooth, which is key to the beauty of this tattoo. Good luck!
Vibrant Colours Paper Boat Tattoo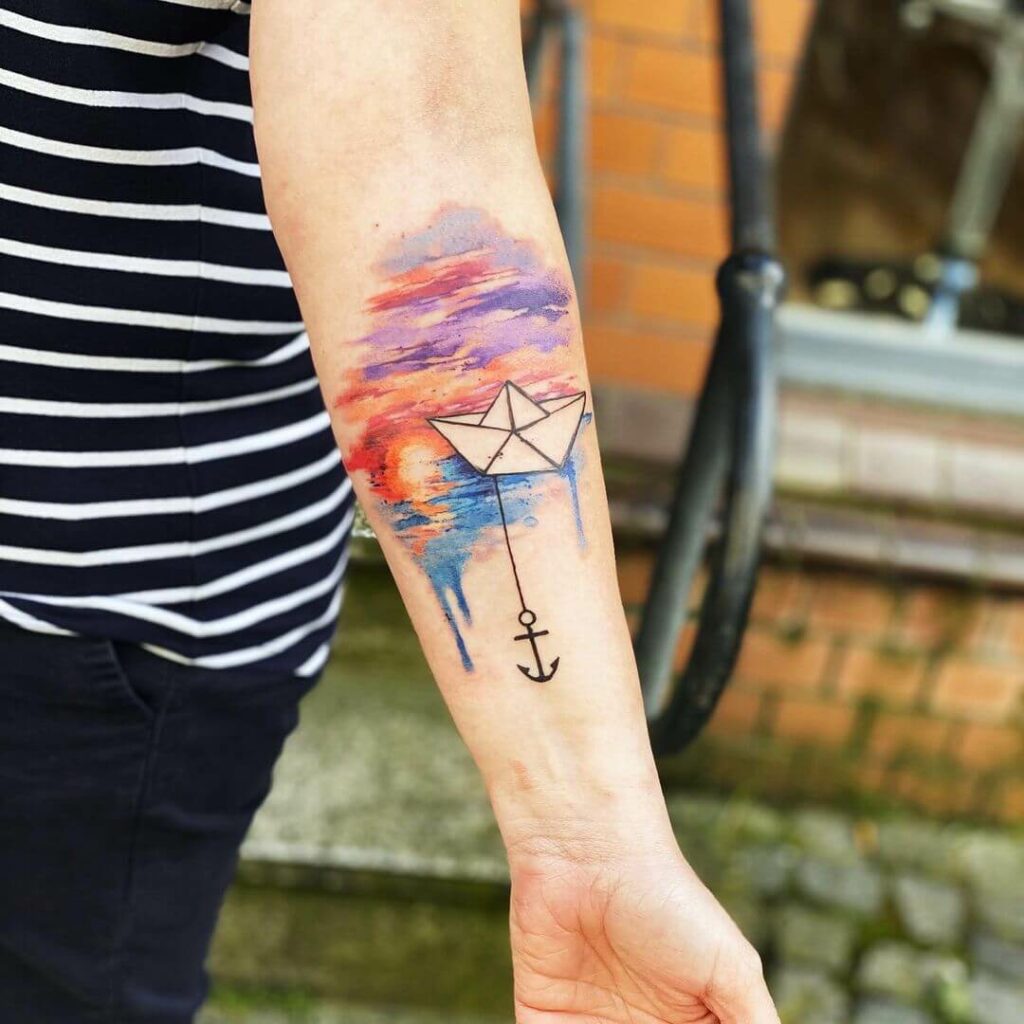 Colourful tattoos are a demand of many, and when a paper boat design like this is available, no other choice remains in mind. The beauty and charm of this tattoo need no definitions, just take a glimpse of it, and you will be amazed. Colours on its body while drawing brings a sense of soul to it. This tattoo is charming due to the freehand colours in it. Moreover, the colours give a natural sunset view, which everyone loves to see and capture. Best of luck!
Paper Boat In Circle Tattoo
This is a simple but unique and very beautiful tattoo idea. This is a less time-consuming and unique tattoo. It is a great work by the artist for it is made simple. Still, it attracts the gaze. Moreover, the stars and small circles inside the circle add to the beauty of the tattoo. This classic tattoo will be suitable at any place you want to place it. You can change its colours and create more vibrant and elegant colours as well. But this tattoo without colours is not less than coloured ones. Hope you will like it.
UFO Paper Boat Tattoo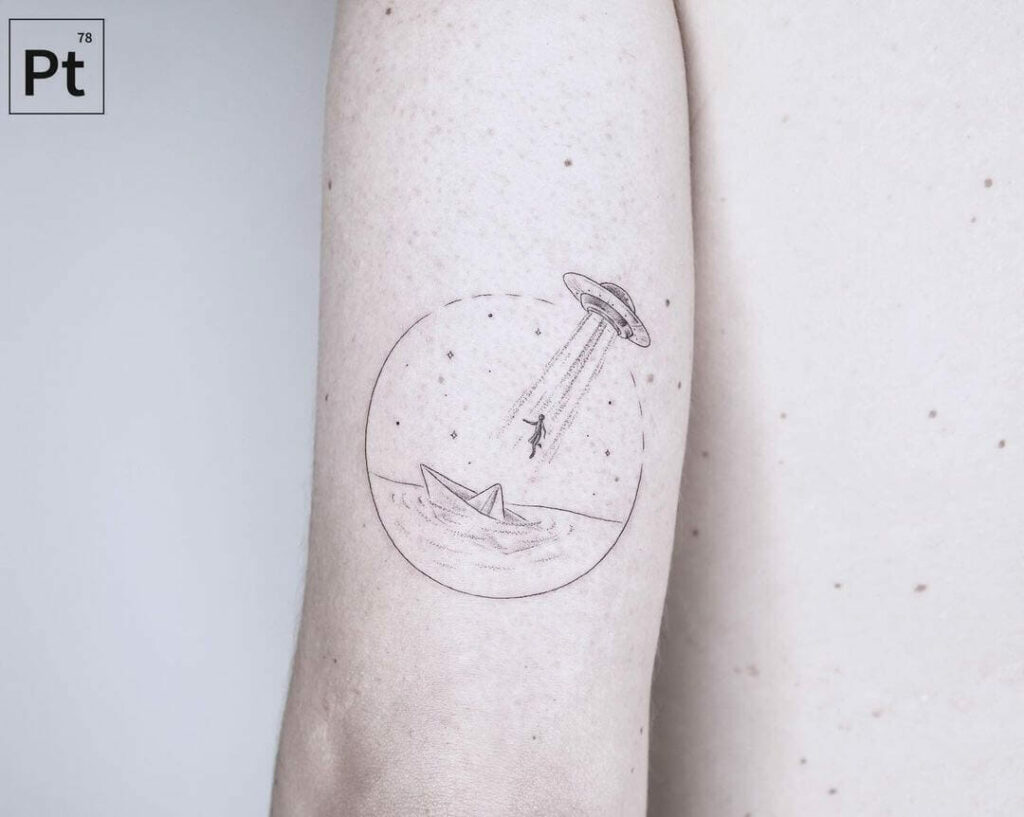 When UFO (unidentified flying object) comes under discussion, everyone gets alert, as everyone loves to know. This means using UFO in paper boat ideas will also get attention and will make you look more attractive: hats off to the artist for such amazing art. There is a ship that is going to sink, and a person (captain) is attracted by UFO, so someone can relate it with myths of the Bermuda triangle as well. Or, from a different angle, a very similar meaning for the tattoo is that the captain's life is saved from a sinking boat. So UFO is the last hope for him. Whatever the meaning is, this tattoo is indeed attractive.
Deserted Paper Boat Tattoo
Last but not least, the paper boat tattoo art with contrasts in the image. Since the boat is related to seas, and in the boat, the desert is shown. So this tattoo shows your ability to adjust to any environment and situation in your life. Let it be your paper boat bicep tattoo. This tattoo can be inked mixed according to your desire and routine of life. This tattoo is stunning and unique for its contrast. It is a small but deep tattoo. You should not ignore it. Let's float boats in the desert!
You can go through colour changes, size variations, letter changes, font changes, and various design changes, etc. You can also combine these with other tattoo ideas like underwater tattoo ideas, roses tattoos, etc.
Feature image from Pinterest – Want your tattoo to look brighter? Try "Tattoo Balm"
Last reviewed and updated on March 8, 2023