Today, we're embarking on a tantalizing tour into the colorful world of poppy flower tattoos. Now, if you're thinking, "Aren't poppies just pretty little flowers?" prepare to have your mind thoroughly tattooed with a fresh perspective.
In the realm of tattoos, poppies are so much more than merely "pretty". They are striking symbols, bearing a plethora of meanings that have evolved and intertwined over centuries, like a complex, vibrant tapestry. Poppies dance the line between sleep and awakening, peace and remembrance, resilience, and mortality. They are as multi-dimensional as the individuals who wear them on their skin – now that's a thought to tickle your tattoo buds, isn't it?
In this riveting journey, you'll uncover the deeper cultural and artistic influences that have woven together the diverse symbolism of poppy flower tattoos. We'll dive into their historical roots that stretch across continents and eras, from the opium dens of Ancient China to the poignant fields of Flanders resonating with remembrance. Through a heady blend of history, folklore, and symbolism, you'll see how these fiery flowers have left their indelible ink stain on cultures worldwide.
So, whether you're contemplating adding a poppy to your personal gallery, or you're simply a history buff with a soft spot for symbolic storytelling, you're in for a treat. We're not just discussing design choices here; we're talking about encapsulating entire civilizations' narratives into a single, beautiful bloom on your skin.
What Does A Poppy Tattoo Mean?
Poppies aren't just for show or a pleasing addition to your grandma's garden; they're drenched in historical significance, dating back to the world wars. They've been inked onto skin, facing outwards, as an homage to the brave souls of World War I. These are not just pretty petals, but poignant reminders of sacrifice and resilience.
But that's not all! Poppies are also perfect to represent those of us with free-spirited, yet anchored personalities. Much like my wild-at-heart friend, Lily, who's not just the life of every party but also a nuclear physicist. Lily got her poppy tattoo as an emblem of her independent, carefree spirit, tempered with a strong sense of responsibility.
Then there's the poppy's association with sleep, peace, and death from classical times. Much like my first poppy tattoo, etched in memory of my beloved grandma, it's a token of remembrance for those who have passed on.
And let's not forget the Roman belief that poppies signify eternal beauty, fertility, and supernatural powers. Your poppy tattoo might just be the little nudge that keeps you focused on your aspirations.
Poppy Tattoo Ideas
Red Poppy Tattoo Meaning
Red poppy tattoos are the ideal fit for adventurers, echoing a spirited, passionate persona. This tattoo signifies an adventurous spirit, like my good friend Marco, a globetrotter and humanitarian worker, who sports a vibrant red poppy on his arm.
Yellow Poppy Tattoo Meaning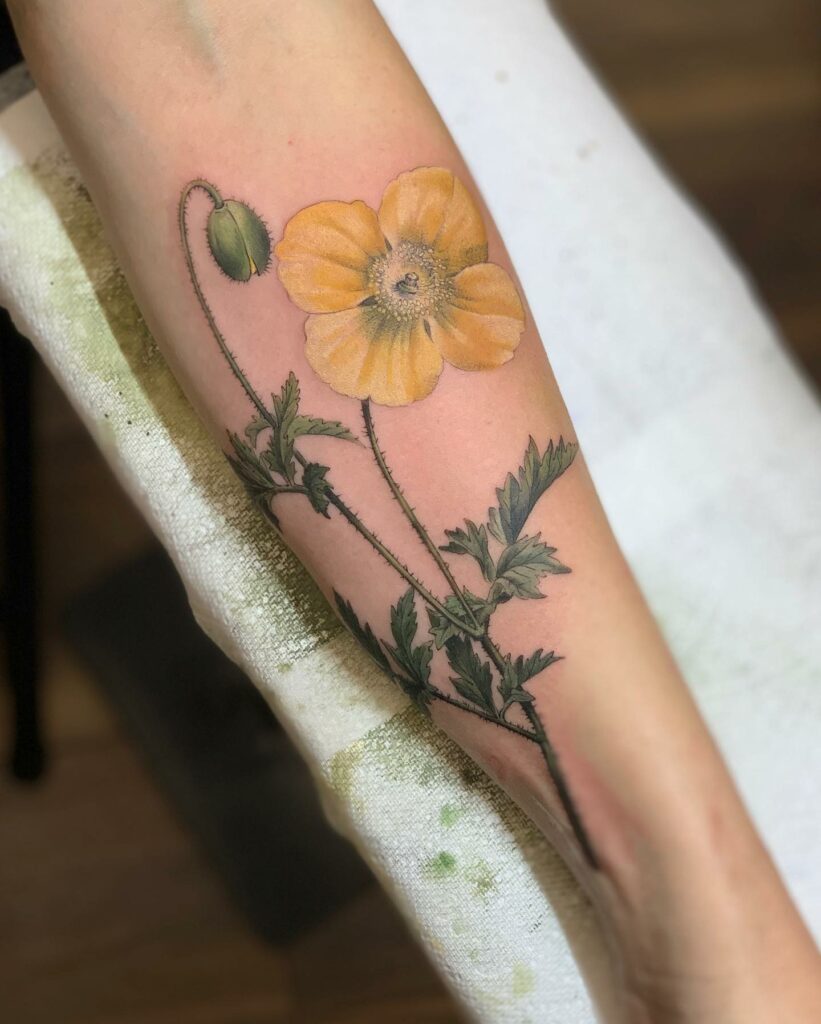 A yellow poppy tattoo illustrates the desire for success and appreciation for life's finer pleasures. It's perfect for those driven by the ambition to achieve their dreams.
Blue Poppy Tattoo Meaning
The blue poppy tattoo walks the line between symbolizing sadness for a loved one lost and a yearning for inner peace.
Purple Poppy Tattoo Meaning
The purple poppy is the embodiment of wealth and prosperity. In ancient Rome, purple poppies were seen as lucky charms, promising affluence. Want to feel like royalty? This might be your ink of choice.
California Poppy Tattoo Meaning
The California poppy tattoo, with its radiant orange petals, encapsulates a spirit of joy, strength, and passion. If you're someone brimming with confidence and positivity, this flower is just for you!
Hand Holding A Poppy Tattoo Meaning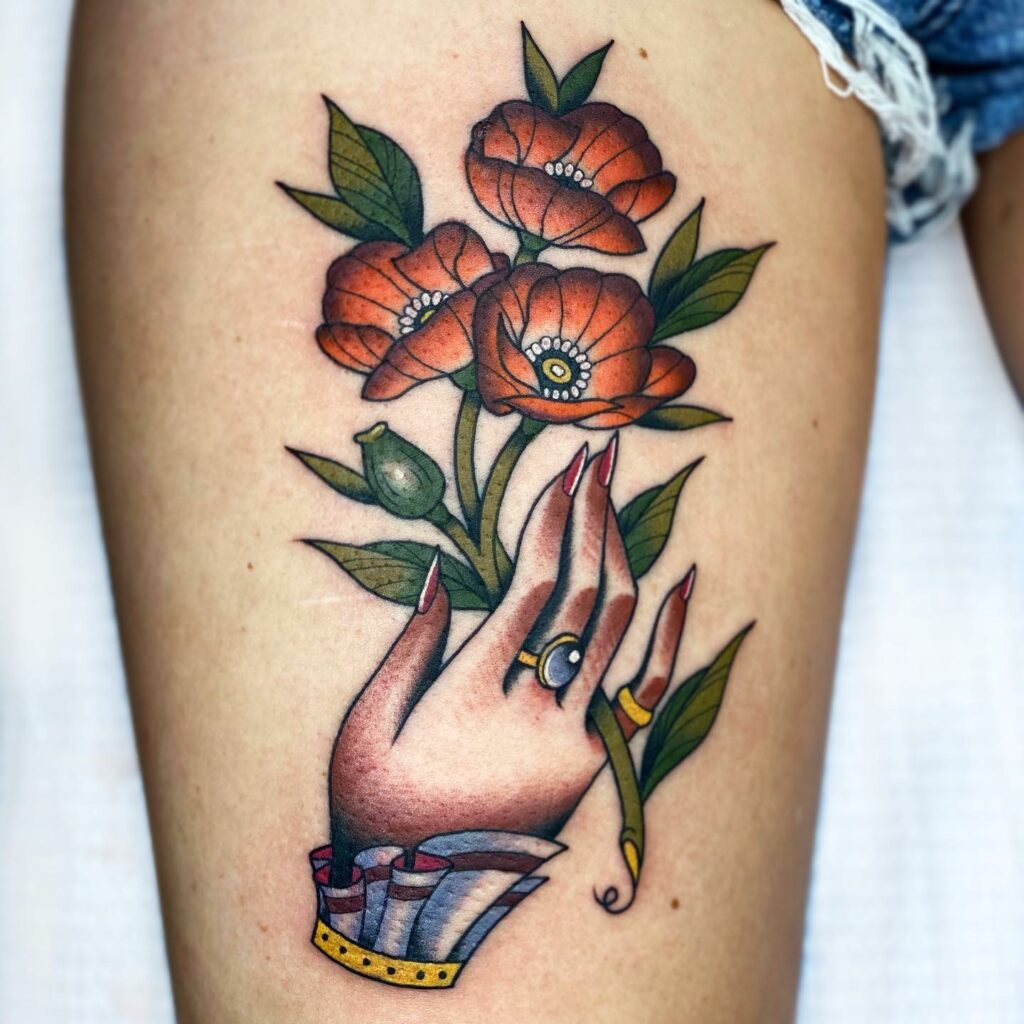 Emulating the style of American traditional tattoos, a hand holding a poppy often represents peaceful acceptance of mortality, possibly honoring a loved one who has passed.
Butterfly and Poppy Tattoo Meaning
Pair a poppy with a butterfly, and you've got yourself a vibrant testament to eternal beauty and life's cyclical nature.
Poppy and Lavender Tattoo Meaning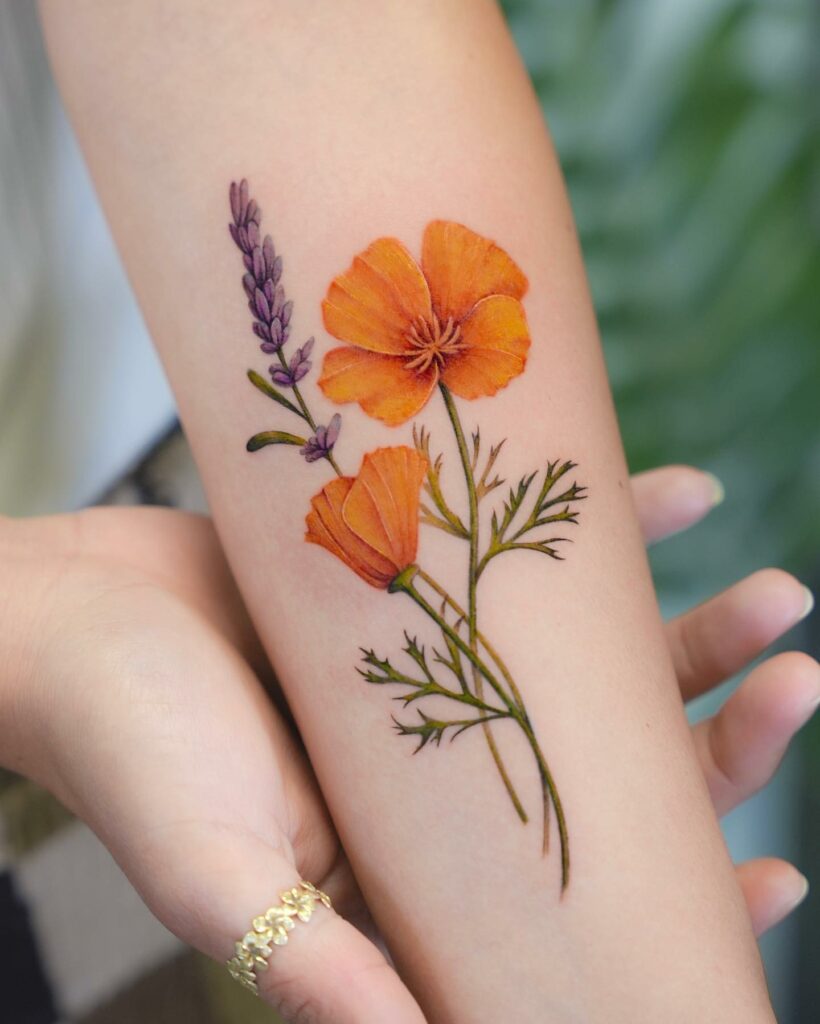 Pairing a poppy with lavender symbolizes a longing for peace and serenity. This soothing tattoo combination might just be the tranquil touch you need.
Gladiolus and Poppy Tattoo Meaning
Pairing a poppy with a gladiolus is all about celebrating beauty, grace, elegance, and love. A favorite among women who love to turn heads with their style!
Poppy and Rose Tattoo Meaning
A poppy and rose tattoo embodies fertility, passion, and romance. It's the ultimate inking choice for lovers and hopeless romantics!
Poppy and Daisy Tattoo Meaning
The combination of a daisy and a poppy symbolizes a free-spirited, joyful, and innocent persona. Just like my cousin Emma, who sports this duo to express her fun-loving personality.
Sunflower and Poppy Tattoo Meaning
Sunflower tattoos, paired with a poppy, stand for faith, hope, happiness, and loyalty. Perfect for those who draw joy from faith and loyalty.
Poppy Field Tattoo Meaning
A field of poppies represents a strong, adventurous spirit with a love for the open air, much like my adventurous friend, Jake, who sports a vibrant poppy field on his forearm.
Poppy Tattoo Ideas
Small Poppy Tattoo
Despite its size, a small poppy tattoo can convey a range of meanings, from eternal beauty to remembrance of veterans. A small token that packs a punch!
Watercolor Poppy Tattoos
Watercolor poppy tattoos are a testament to eternal beauty, celebrating the unique beauty within everyone.
Black & Grey Poppy Tattoos
Black and grey poppy tattoos can pay homage to loved ones lost or symbolize a respect for history.
American Traditional Poppy Tattoos
American traditional poppy tattoos can honor and respect women, as well as emphasize the subjective nature of beauty.
Simple Poppy Tattoos
Simple poppy tattoos often signify prosperity or eternal beauty.
Geometric Poppy Tattoos
Geometric poppy tattoos are perfect for the carefree, artistic souls among us who believe in the supernatural.
Realistic Poppy Tattoos
Realistic poppy tattoos symbolize the beauty and intellect of women, making a powerful statement about women's empowerment.
Neo-traditional Poppy Tattoos
Neo-traditional poppy tattoos encompass belief in inner beauty and life after death, making them ideal for spiritual thinkers.
Matching Poppy Tattoos
When two individuals share matching poppy tattoos, it signifies a bond of eternal friendship or familial solidarity, a shared belief in each other's beauty and success.
Whichever poppy you choose, remember that your tattoo is a personal narrative. It's not just about the art; it's about your unique story and the journey you're on. So, poppy patrons, are you ready to share your story with the world?
Conclusion
In the vibrant world of tattoos, the humble poppy has emerged as a multifaceted bloom, its symbolism as varied as its vibrant palette. Whether you identify with its remembrance symbolism or are drawn to its connections with freedom, passion, and prosperity, the poppy can translate your life's narrative onto your skin in the most beautiful of ways. Placement can make a significant impact too, consider intimate spaces like the wrist or ankle for a small, elegant poppy, or larger areas like the back or thigh for a more audacious design. The cost can range widely depending on the size, complexity, and the artist's expertise, anywhere from $100 to a few thousand dollars. As always, ensure your tattoo journey takes you to a reputable, licensed artist to avoid potential risks such as skin infections, allergies, or sub-par artwork. Tattoos are permanent, personal works of art; your poppy tattoo deserves to be a masterpiece. Here's to discovering the perfect poppy that resonates with your unique story.