Looking for a small and cute tattoo that holds a special meaning for you? Check out our list of random small tattoo sleeves below!
Many people are drawn to small tattoos, but struggle to come up with a design that holds personal significance. However, even the smallest things can hold special meaning for us. For example, a memorable first date, a significant gift, or a cherished family heirloom. These meaningful moments can be commemorated with a small, random tattoo that serves as a reminder of these special memories. Some people choose to get a specific date tattooed on them, while others opt for their partner's name or another significant symbol. The options are endless!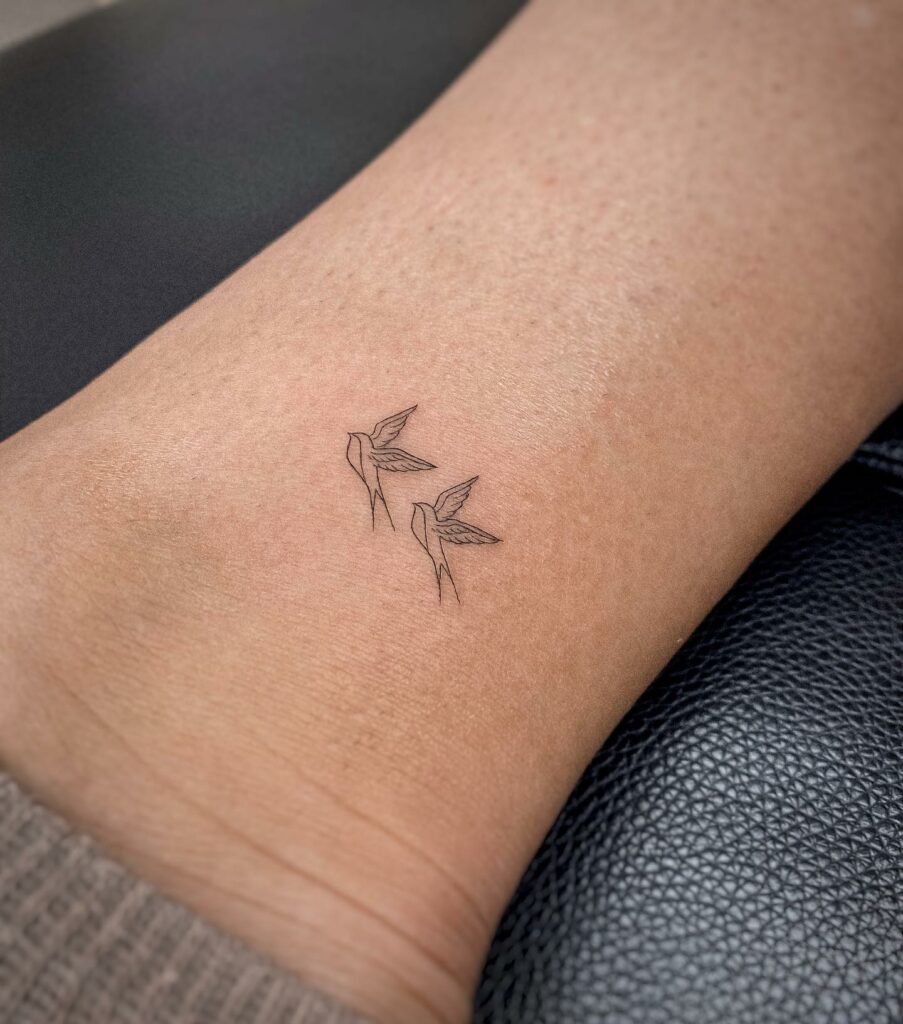 Random Patchwork Tattoo Sleeve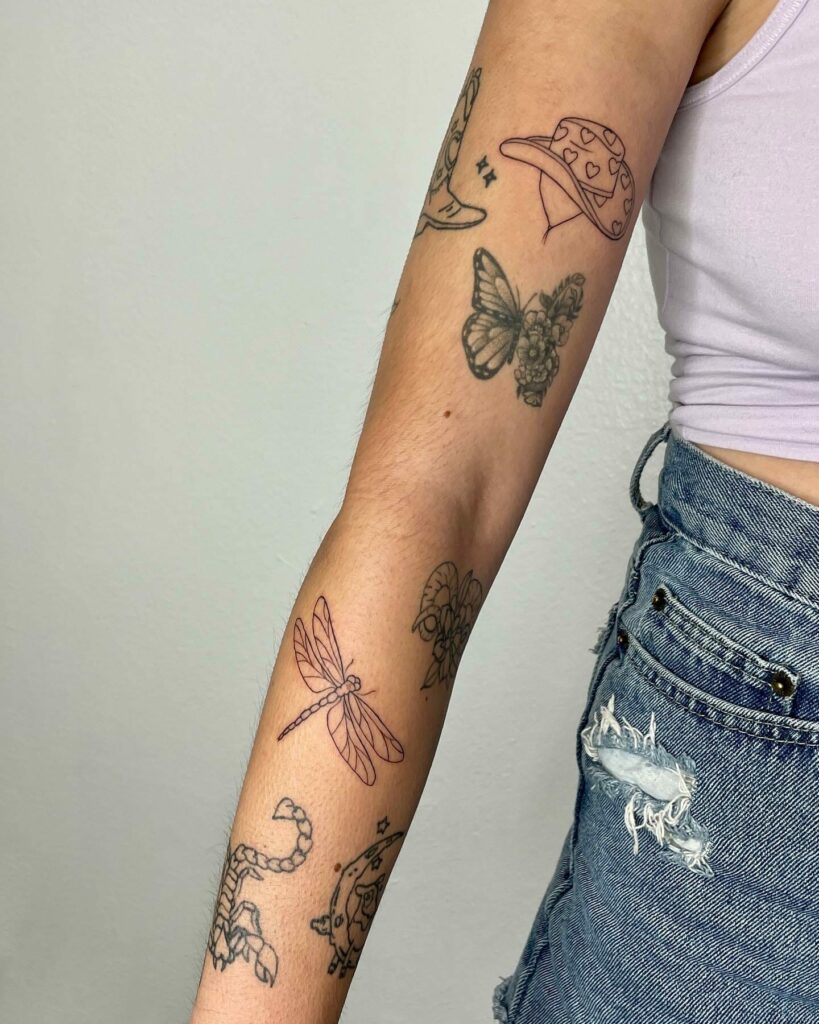 The tattoo is a compilation of many small tattoos, featuring various designs such as a grasshopper, scorpion, boot, horseshoe, sun, and more. You'll find that each separate tattoo has its unique significance, and together, they create a stunning work of art.
One of the most detailed tattoos in this patchwork sleeve is the butterfly-shaped tattoo. The butterfly has a unique design with half of its body forming the shape of a butterfly, while the other half features flowers that form the shape of the butterfly. The tattoo artist has done a fantastic job with this tattoo by incorporating both light and dark shades of black ink, creating a beautiful contrast. The veins of the butterfly are intricate and precisely made, giving it a realistic look.
All of the tattoos in this sleeve are made of black ink, with most of them having only outlines. However, the tattoo artist has added some details to make the sleeve stand out. For example, there is a random tattoo of a cowboy hat on a balloon, and the hat has a heart design on it. It's these small details that make the patchwork sleeve tattoo unique and interesting.
This is a full sleeve tattoo that almost covers the whole arm, making it a great option for those who want to make a bold statement. So, if you're looking for a tattoo that is both unique and full of character, then this patchwork sleeve tattoo is a perfect choice for you!
Small Sun Tattoo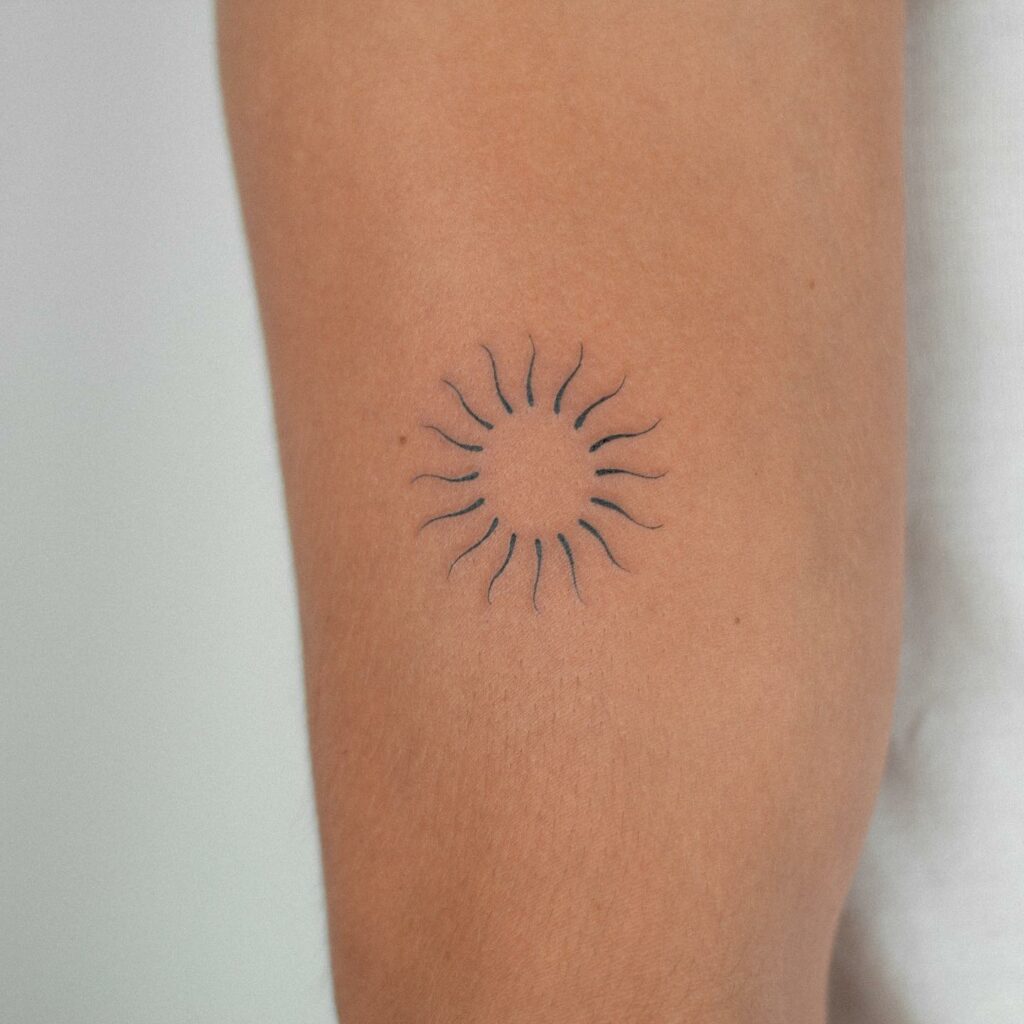 The tattoo is made up of the rays that come from the sun, but instead of the traditional straight rays, the artist has made them in an elongated "s" shaped pattern that encircles the sun. It's a beautiful and unconventional take on the traditional sun tattoo.
The sun itself, or the "fire," is not colored in, but instead, the rays encircle an invisible circle to denote the sun. One end of the "s" shaped pattern is thick, while the other end is thin, just like real sun rays. The tattoo is entirely made of black ink, giving it a classic and timeless look that is sure to stand the test of time.
This small sun tattoo is perfect for those who want a subtle yet unique design. It looks sweet on the skin and is a great option for an upper arm tattoo. So, if you're looking for a tattoo that is both creative and charming, this small sun tattoo may be the perfect choice for you!
Small Tattoos Of Butterfly
The design is made up of black ink and blue ink, with the border of the butterflies in black and the veins in a vibrant bright blue. The center region of the wings, around the body of the butterfly, is a lovely light blue color.
Despite its small size, this tattoo is incredibly eye-catching and gives off a cool, cute vibe. The blue color in this design is what really makes it stand out and adds to its overall attractiveness. The use of color also adds a sense of depth and dimension to the design, making it look more dynamic and lively.
Whether you're a fan of butterflies or simply looking for a small and cute tattoo to add to your collection, this design is definitely worth considering. It's a great way to add a touch of whimsy and beauty to your skin, while also showcasing your unique sense of style. So why not give it a try and see how it looks on you?
The Waning And Waxing Of Moon Tattoo
The moon designs in this tattoo are so cute and will definitely catch your eye! The tattoo features five different shapes side by side, starting with a thin crescent moon on the left, followed by a thicker crescent moon, a full moon in the center, and then another thicker crescent moon, and finally a thin crescent moon on the right.
This tattoo design is made entirely of black ink, and only the outlines of the different moon stages are drawn. To add a little extra detail, dashes are made on both sides of the tattoo, along with a dot.
If you're looking for a small and cute tattoo, this moon design is definitely worth considering. It's perfect for the hand or any other small area, and the black ink makes it a classic and timeless design. Plus, the unique and creative use of different moon shapes will definitely make your tattoo stand out!
Random Small Tattoo Sleeve Of Anime Characters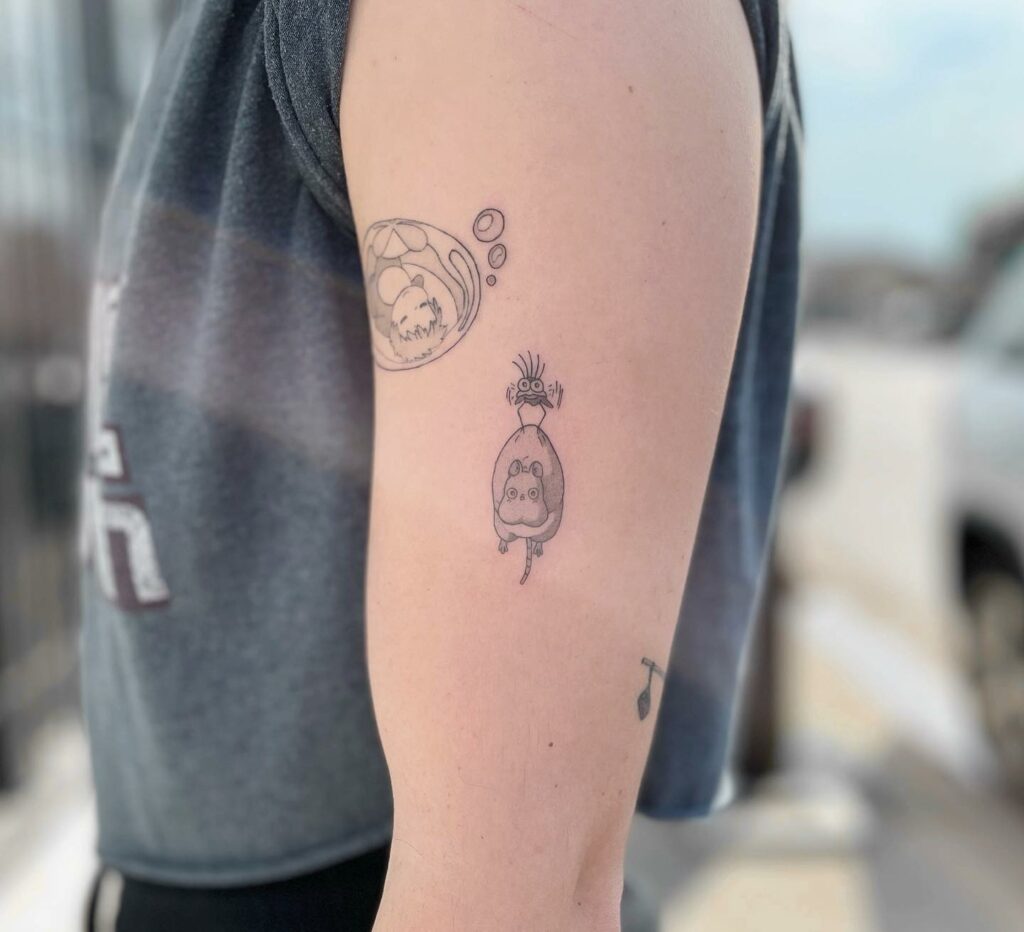 Anime is a beloved style of Japanese animation that has captured the hearts of people all over the world. With its intricate and beautiful designs, it's no wonder that anime tattoos have become so popular! This particular tattoo features two separate designs, both made of black and grey ink. The outlines are created with black ink while the details are shaded with grey. The first tattoo depicts an inverted infant in a bubble that floats in the air. Three smaller bubbles surround the larger one to give the impression of weightlessness. The second tattoo is of two characters from the famous anime movie "Spirited Away". The tattoo features a thin crow carrying a very heavy and fat mouse with its toes. The detail in this tattoo is hilarious, as the eyes of both the crow and the mouse are so cute. This fun and funny tattoo is perfect for a wrist placement and is sure to bring a smile to anyone's face.
Small Dice Sleeve Tattoo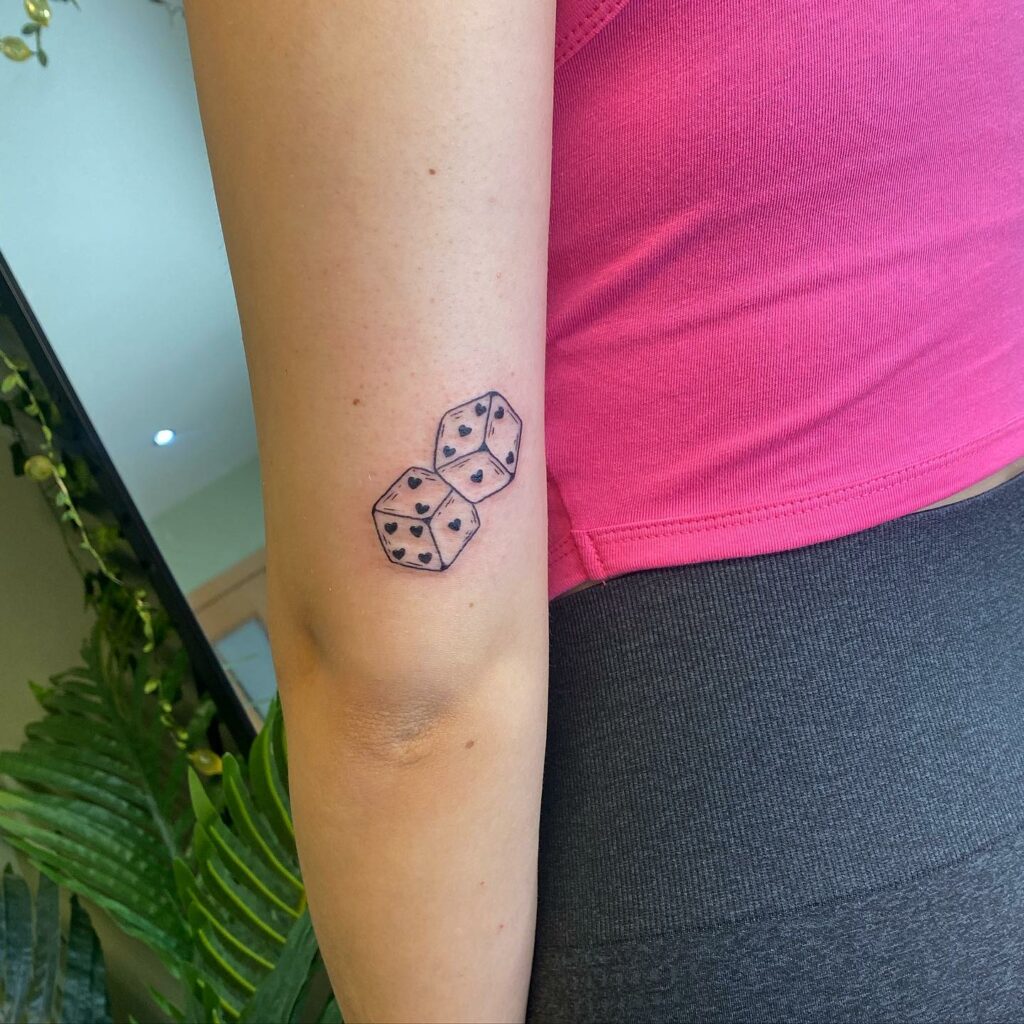 This small dice sleeve tattoo is definitely not your average dice design. The two dice are outlined in black ink, but what sets this tattoo apart is the heart-shaped dots on each of the dice faces. The dice appear to be in motion with some dynamic lines added to the design. The use of black ink gives the tattoo a bold and sleek look, making it perfect for either the upper arm or wrist area. The heart-shaped dice design is a great conversation starter and is sure to leave an impression on anyone who sees it. Don't miss out on the chance to add this cool and unique design to your tattoo collection!
Small Random Colorful Tattoos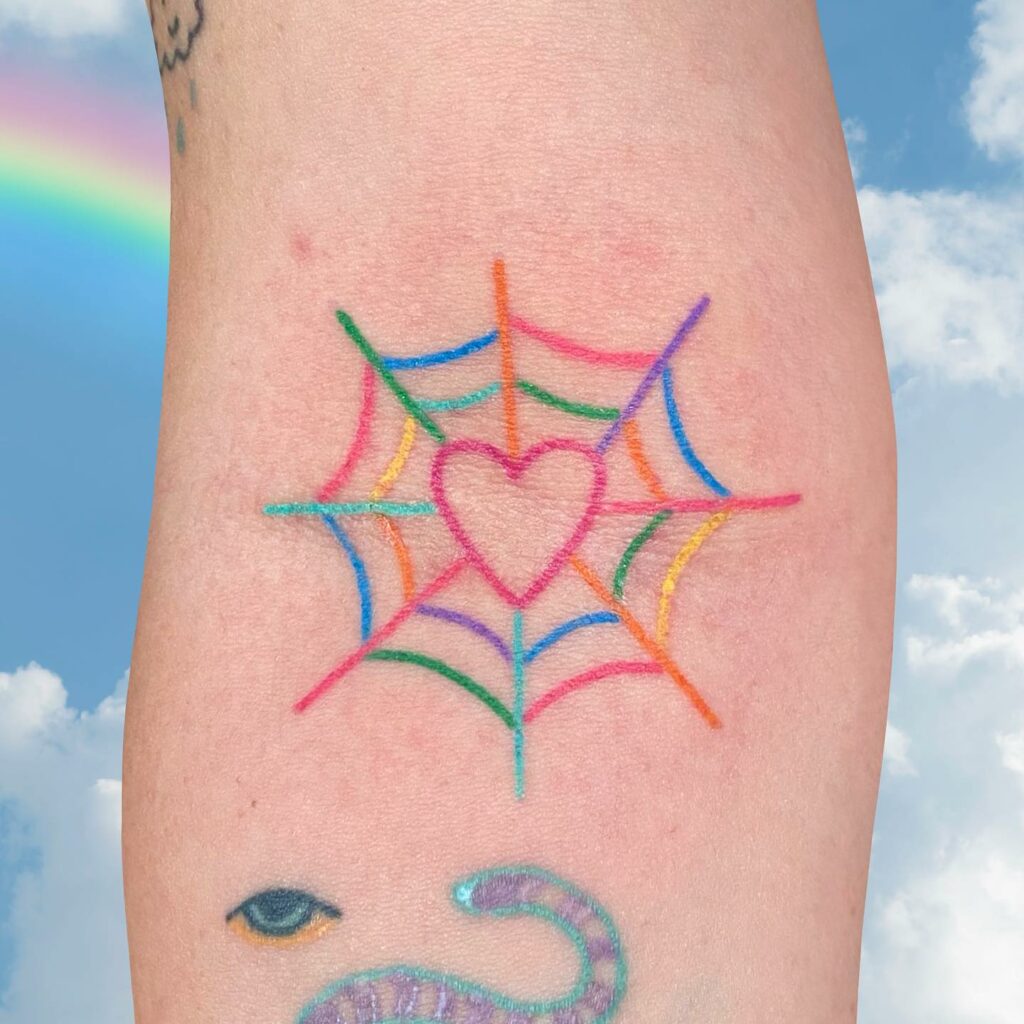 The design is a spider web, but with a twist: it's bursting with every color of the rainbow! This spider web is truly a work of art, as the talented tattoo artist has managed to capture all the colors in one stunning design.
In the center of this colorful web, there is a large pink heart with a simple outline. The heart provides a nice focal point and adds a touch of sweetness to the otherwise bold and striking design. This tattoo is sure to make a statement wherever it's placed on the body.
What's more, there's an additional design on this tattoo – a tiger with colorful eyes in shades of purple, yellow, and red. It's a great contrast to the spider web and adds even more vibrant color to the overall look. This tattoo would look great on the lower arm and is sure to catch everyone's eye.Regenerate response
Small Colorful Tattoos Of Animated Characters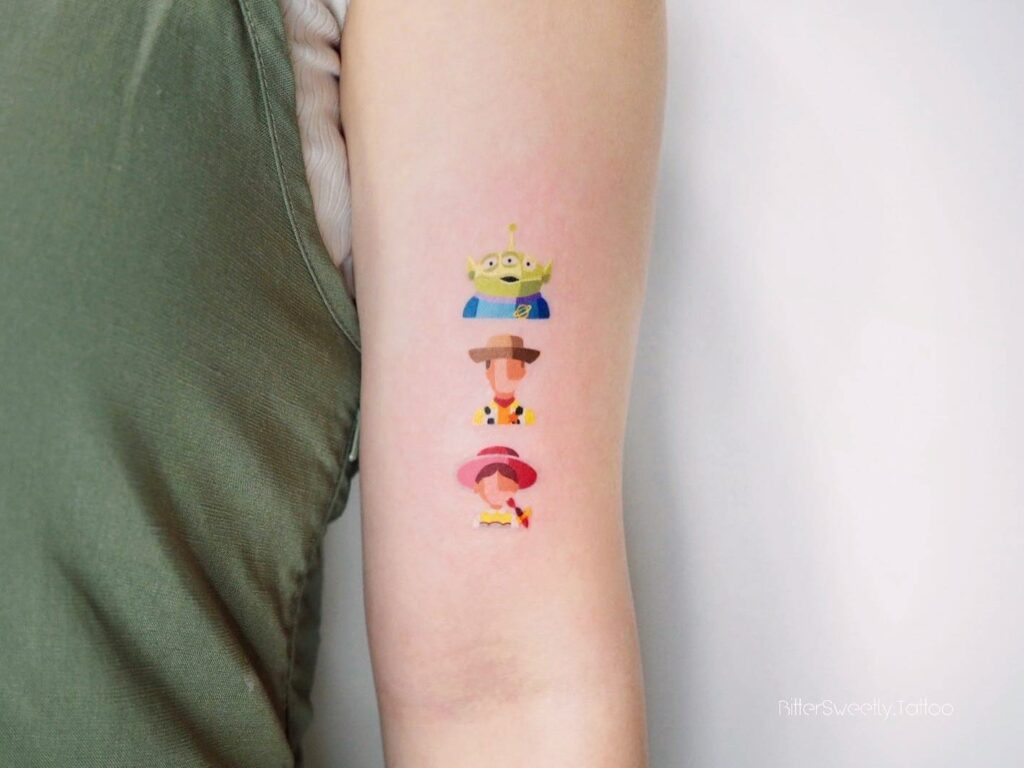 This fun and colorful tattoo features three beloved characters from the iconic animated movie "Toy Story". The first character is a cute little alien with three eyes and an adorable antenna on its head. The second character is a male cowboy, while the third is a cowgirl. Interestingly, the cowboy and cowgirl in this tattoo are depicted without eyes, giving them a unique and intriguing look. The colors used in this tattoo are bright and eye-catching, with each character sporting their signature style. If you're a fan of "Toy Story" and want to showcase your love for these characters, this tattoo is a perfect choice for your wrist.
Random Sleeve Tattoo Of Galaxy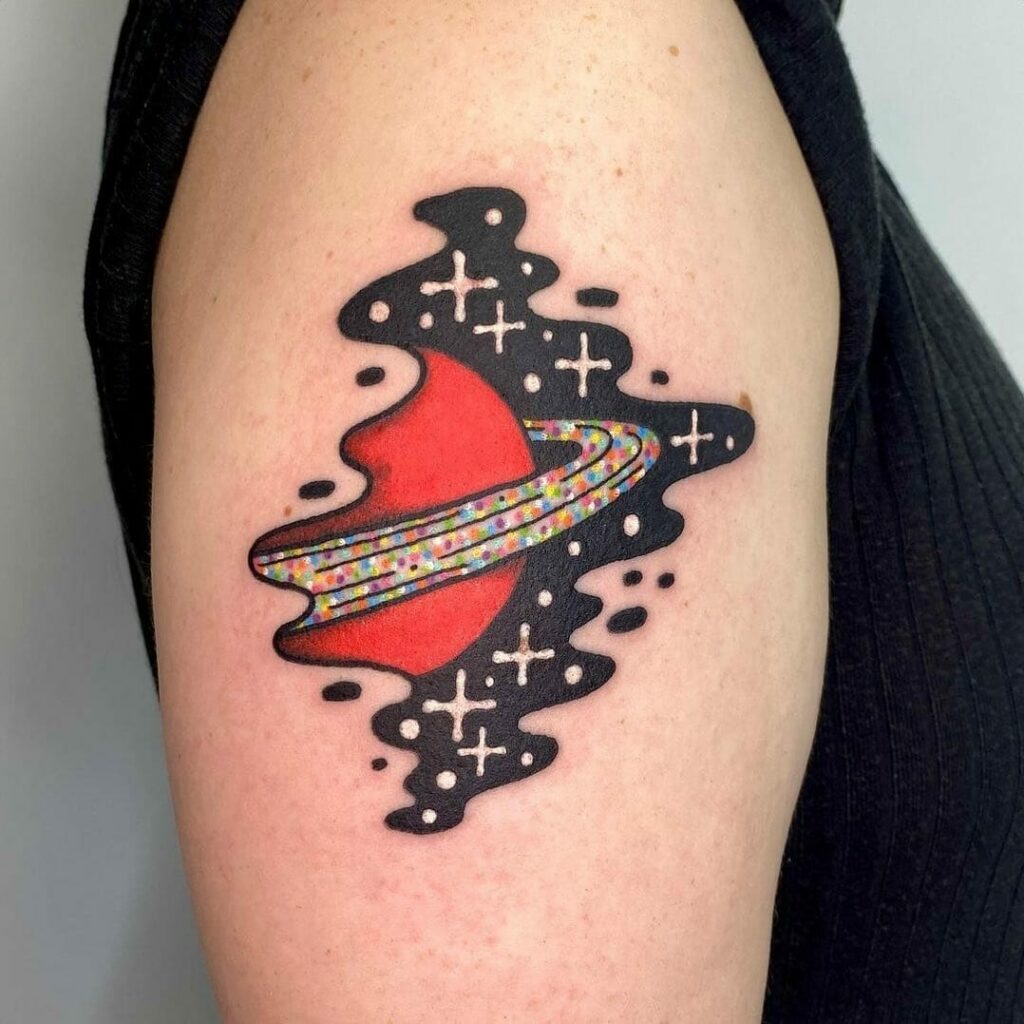 The shape of this tattoo is like a one-of-a-kind patchwork piece, resembling the shape of water droplets on a surface. The tattoo artist has incorporated the planet Saturn, parts of a plant, and the galaxy in this piece.
The rings of Saturn are drawn in a multicolored pattern with colorful dots while the planet itself is a bright red color. The galaxy is made with black ink and has intricate designs to create a beautiful and unique effect. To depict the stars, the artist has added white crosses in the galaxy region of the tattoo.
This tattoo is perfect for those who appreciate unique art and want to showcase their love for the galaxy and its wonders. It's a beautiful piece that can be worn as a sleeve tattoo and is sure to be a conversation starter.
The Random Small Tattoo Sleeve Of Flowers And Moon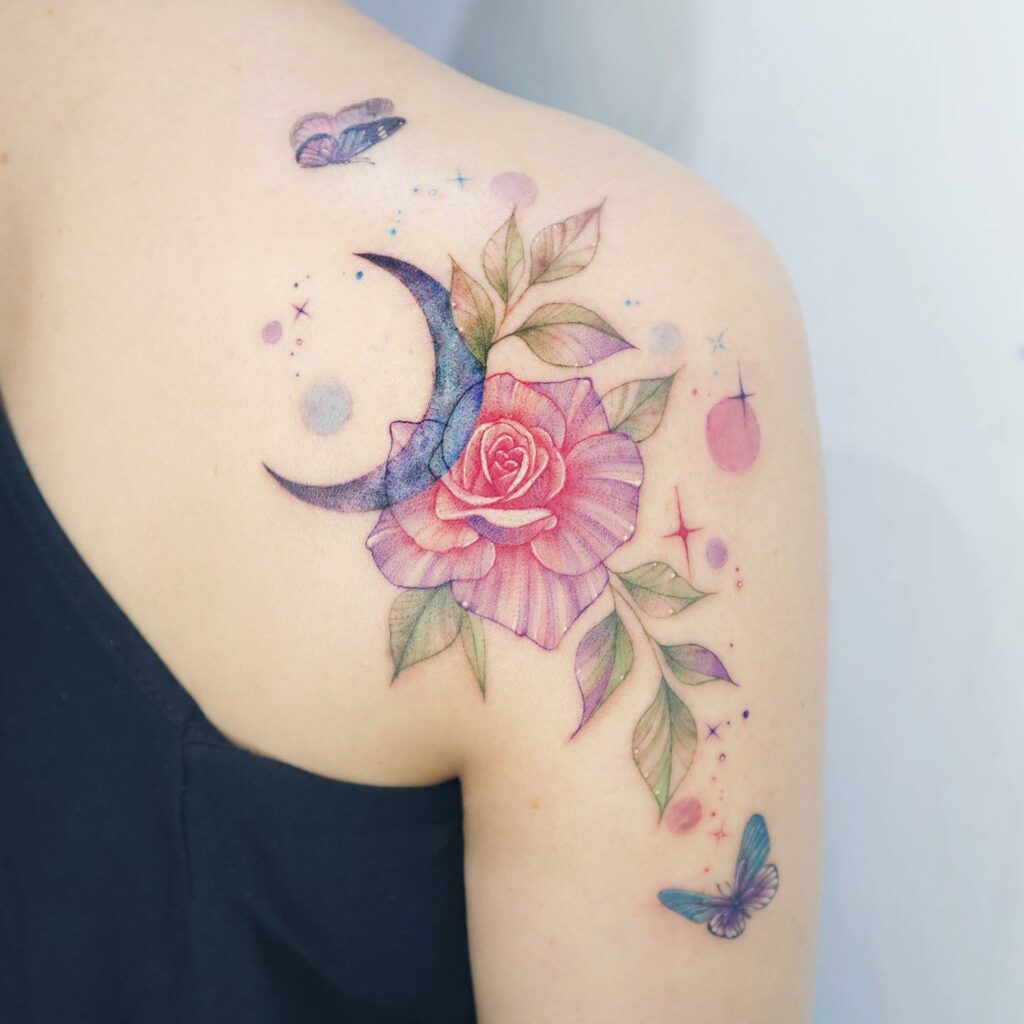 If you're looking for a small yet colorful tattoo that represents beauty and nature, let me introduce you to this lovely design. This tattoo features a beautiful rose with intricate pink petals and a touch of violet shade, accompanied by delicate green leaves, two graceful butterflies and a stunning crescent moon in a dark blue shade. This combination of elements makes for a lovely composition with plenty of details and colors that will stand out on the skin. This design is perfect for the upper half of your arm or the wrist area, making it a versatile option for any tattoo enthusiast. If you're still undecided about your tattoo design, don't worry, we can help you find the perfect tattoo that matches your style and preferences.
feature image from Pinterest – Want your tattoo to look brighter? Try "Tattoo Balm"