Howdy, partner! If you are a fan of the Wild West and everything that comes with it, you might want to show it off with a cool Western tattoo. The era of cowboys, horses, and guns may have lasted only for thirty years, but its impact on popular culture is still palpable. The Wild West has inspired countless movies, books, fashion, and even a lifestyle. If you want to join the ranks of Wild West enthusiasts and sport a small Western tattoo, we have got you covered. Check out our collection of the best small Western tattoo designs that will make you feel like a true cowboy or cowgirl.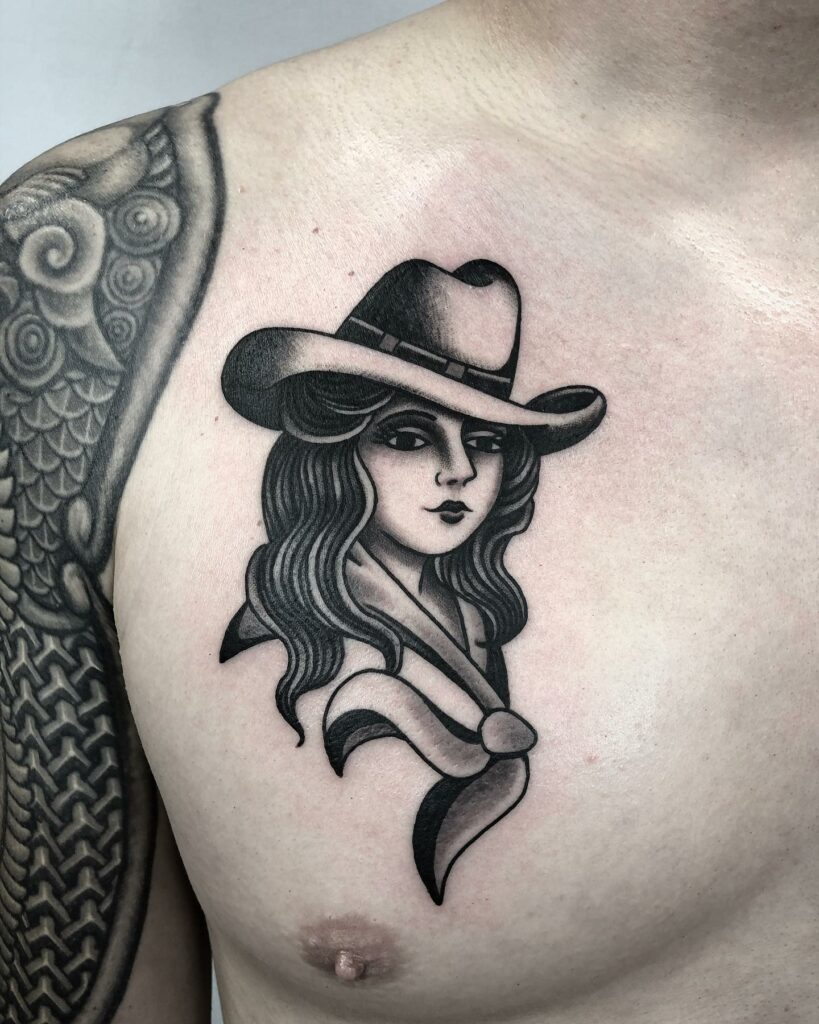 Amazing Cowboy Boots and Snake Tattoo Designs
If you're a fan of Toy Story and cowboys, you'll love this tattoo design! It's an American Traditional style tattoo that perfectly captures Woody's catchphrase "There's a snake in my boot!" The tattoo features a highly detailed cowboy boot with an ornate snake head peeking out from the inside of the boot. There's also a beautiful flower design that you can opt-out of if it's not your style. The use of bright colors in this tattoo design gives it a vivid and eye-catching appearance that is sure to turn heads. Whether you're a fan of Western-themed tattoos or just looking for a unique design, this one is definitely worth considering!
Beautiful American Traditional Cowgirl Tattoo Ideas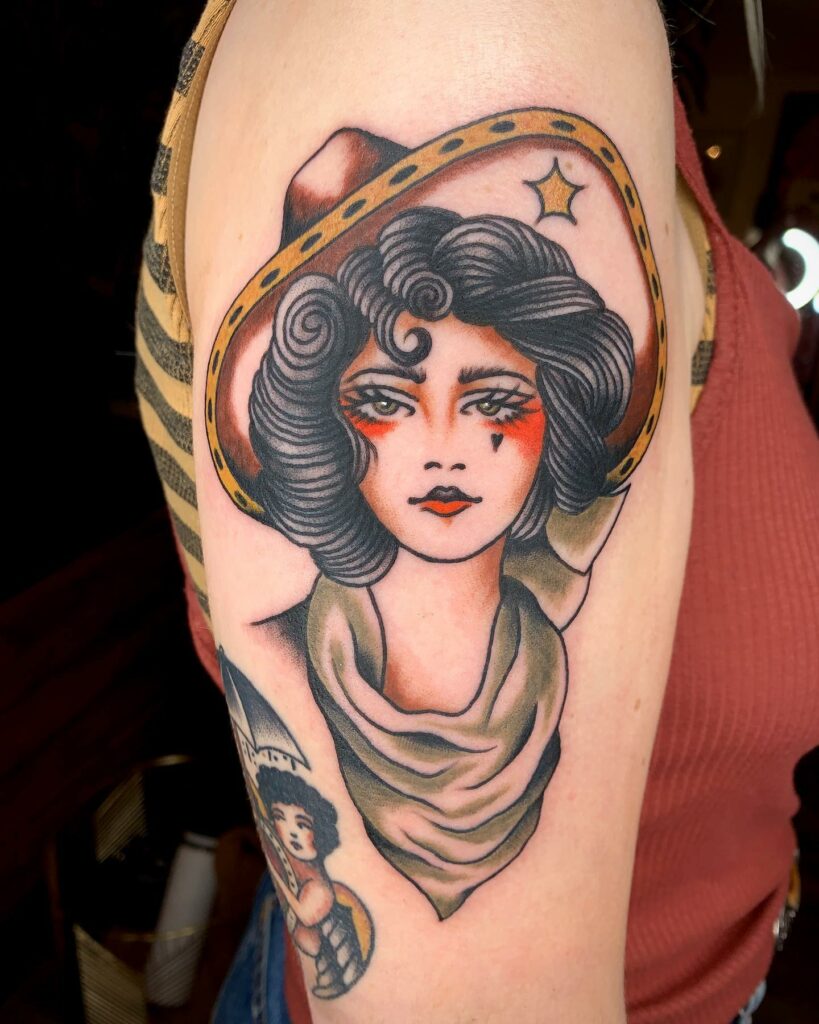 Cowgirl tattoos are a classic and timeless choice for tattoo lovers, especially those who appreciate the American Traditional style. This style has a unique charm that has captivated people for generations. American Traditional tattoos were popularized in the United States and have a rich history that dates back to the early 1900s. Although the original designs were limited to a few bright colors, modern artists have incorporated new techniques and colors to keep the tradition alive. This cowgirl tattoo is a stunning example of the American Traditional style. The portrait captures the beauty of a cowgirl perfectly, complete with a cowboy hat and bandana around her neck. The bold black outlines and bright colors bring the image to life, making it an eye-catching and timeless design.
Fantastic Western Skull Tattoo Designs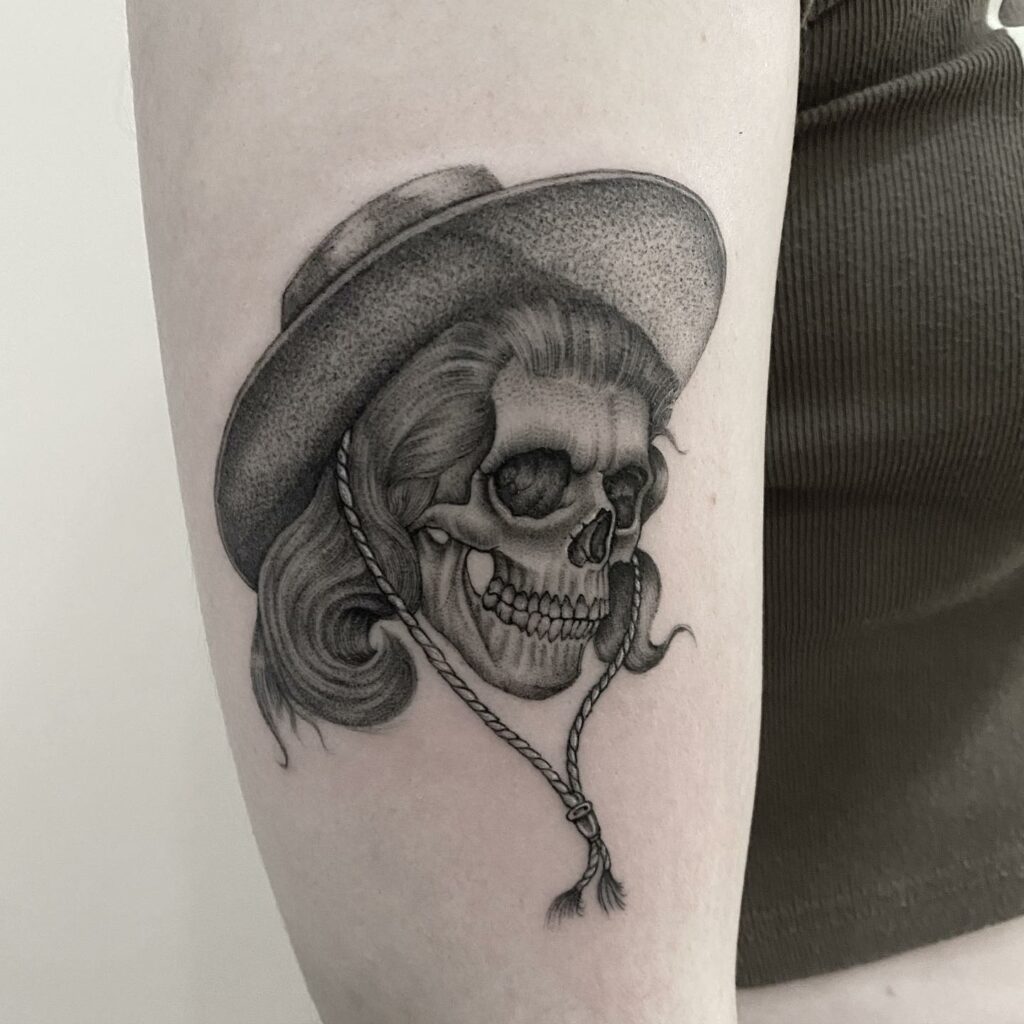 Skull tattoos have been an evergreen theme in Western and American Traditional tattoos. This particular design takes a Western approach, featuring a cowboy hat on the skull. Created in a semi-realistic style with black ink, the details on this tattoo are outstanding. The skull itself has a full head of hair, a popular cowboy style. For a simpler version without the hair, the artist can easily accommodate your preferences. If you are looking for a skull tattoo in the American Traditional style, you should seek out an artist with specialized skills. You can opt for a black and grey or colourful design. This tattoo would make a great addition to anyone's arm or forearm.
Beautiful Cowboy Hat Tattoo Ideas for You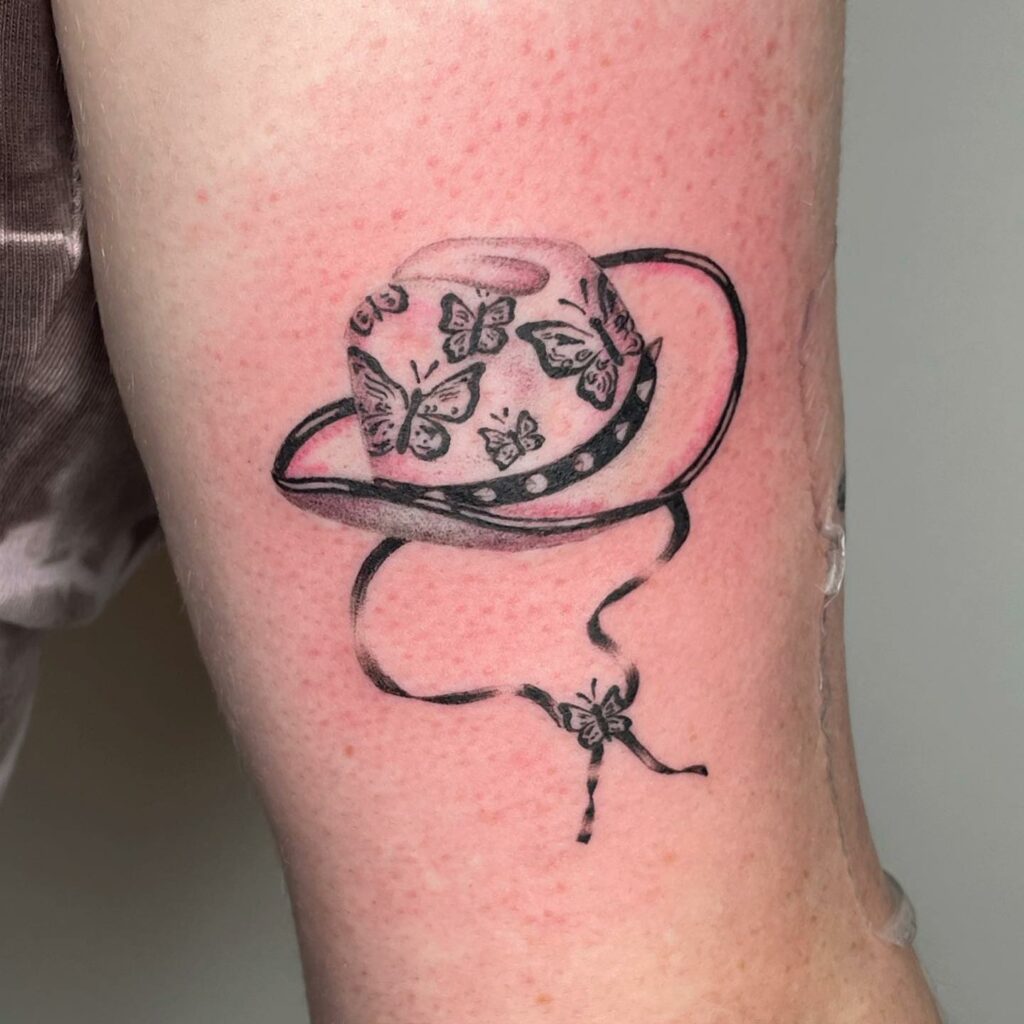 Cowboy hats have been a symbol of western fashion for many years, and they still hold that reputation today. They come in a wide variety of sizes, designs, and decorations, making them a great addition to any tattoo design. This particular tattoo features a beautiful cowboy hat with intricate butterfly detailing, adding a touch of femininity to the traditionally masculine accessory. The black and grey shading adds depth and dimension to the design, but you can always customize it to your liking by adding some color. Cowboy hats have a long history in southern culture, and are often associated with country music and the southern way of life. Your tattoo artist can add additional elements to the design to create a personalized piece that truly reflects your style and interests.
Fantastic Cowgirl with A Horse Forearm Tattoo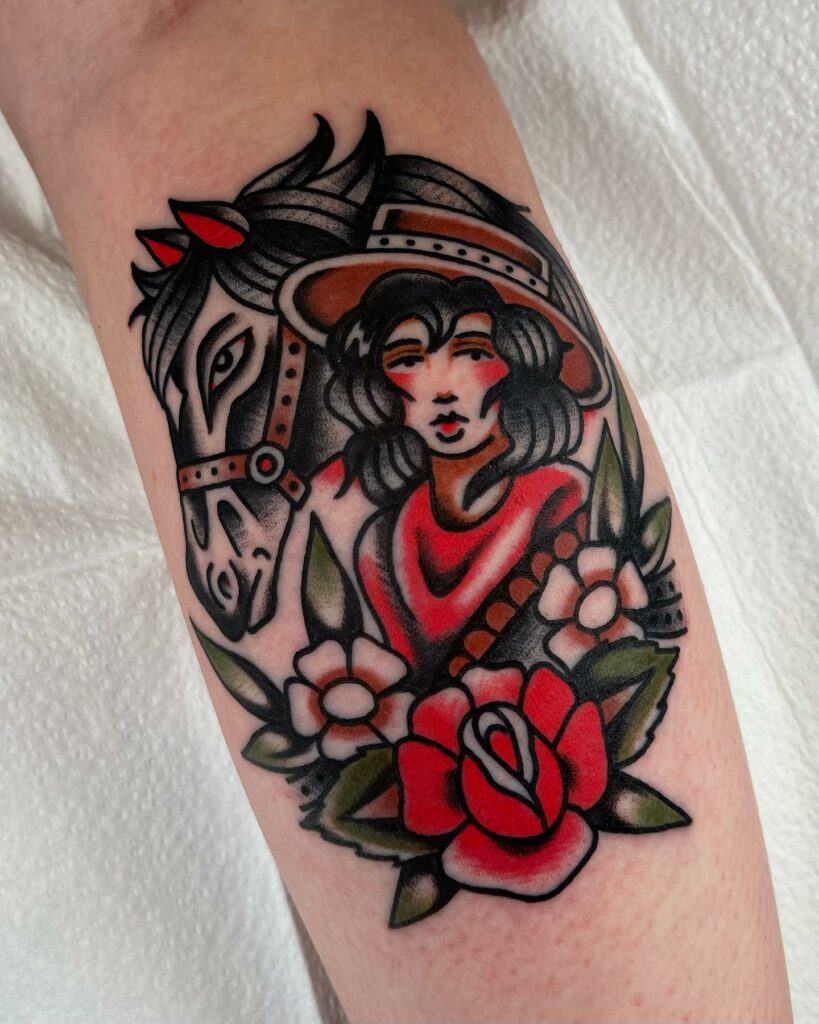 The wild west is often associated with cowboys, cowgirls, and their trusty steeds. Horses were essential to life in the west, used for transportation, work, and even sport. This stunning American traditional tattoo perfectly captures the spirit of the west with a beautifully rendered cowgirl and her horse. The limited use of color brings the design to life, with intricate details that really make it stand out. One of the highlights of this tattoo is the delicate flowers at the bottom which add an elegant touch. However, if you're a fan of horses and just want a horse tattoo in the same style, your artist can create a design tailored just for you. Consider adding a meaningful quote to the design to give it even more depth and personality.
Small Western Desert Cactus Tattoo Ideas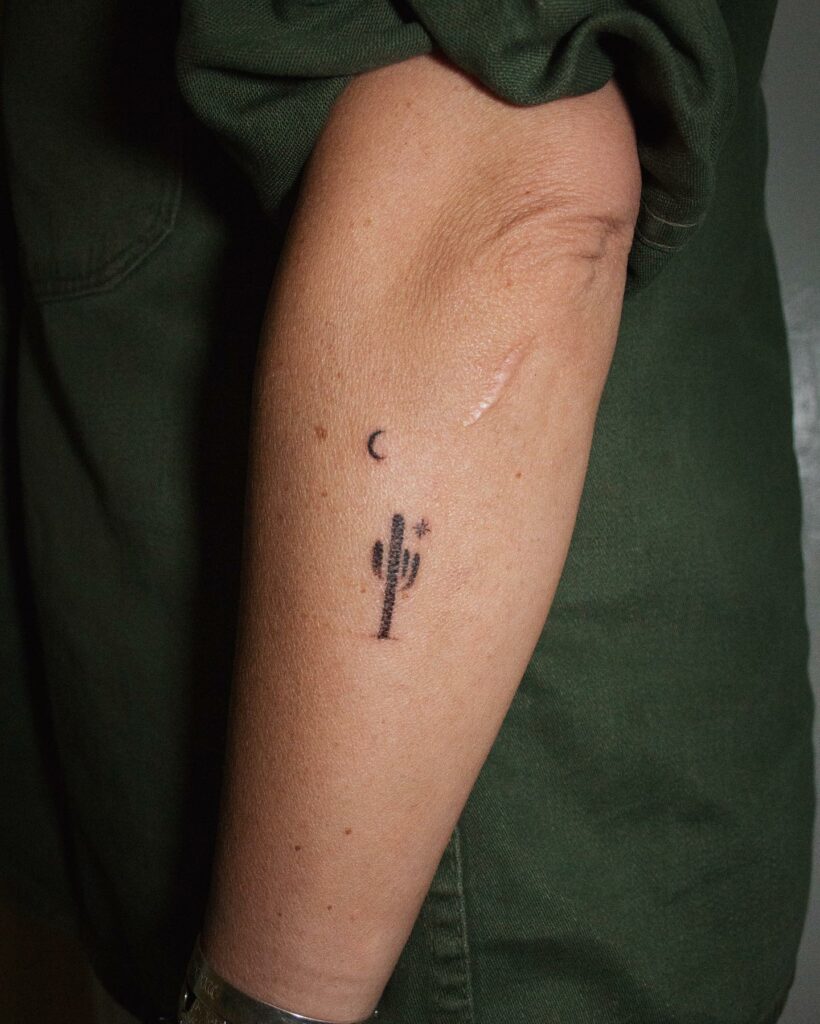 Cacti have always been a staple of Western tattoos, and it's not hard to see why. This minimalist design is perfect for anyone who loves the desert, and the beauty of cacti. This small and elegant tattoo features a black ink cactus done in a minimal style. The tattoo artist has included a small black crescent moon above the cactus to give it a sense of context. If you want, you can ask your artist to add a red sun instead of the moon to give it a little more color. The inking here is perfect, even though the tattoo is pretty small. But if you want to make it more interesting, you can always ask your artist to add more details to the tattoo.
Stunning Western Bull Tattoo Designs
Bulls have always been a symbol of strength, masculinity, and fearlessness, which is why they make for popular tattoo designs. The watercolour style of this particular bull tattoo is nothing short of breathtaking. Achieving this style is no small feat, but the artist has done an amazing job. The colours in this design are blended so seamlessly that they make the bull look almost lifelike. The level of detail is impressive and truly stands out. If you're a fan of colourful tattoos, this one is sure to be a hit. If you prefer a different animal, don't worry! An experienced tattoo artist can create a unique watercolour design just for you. This tattoo would look particularly impressive on your chest.
Colourful Western Gun Tattoo Design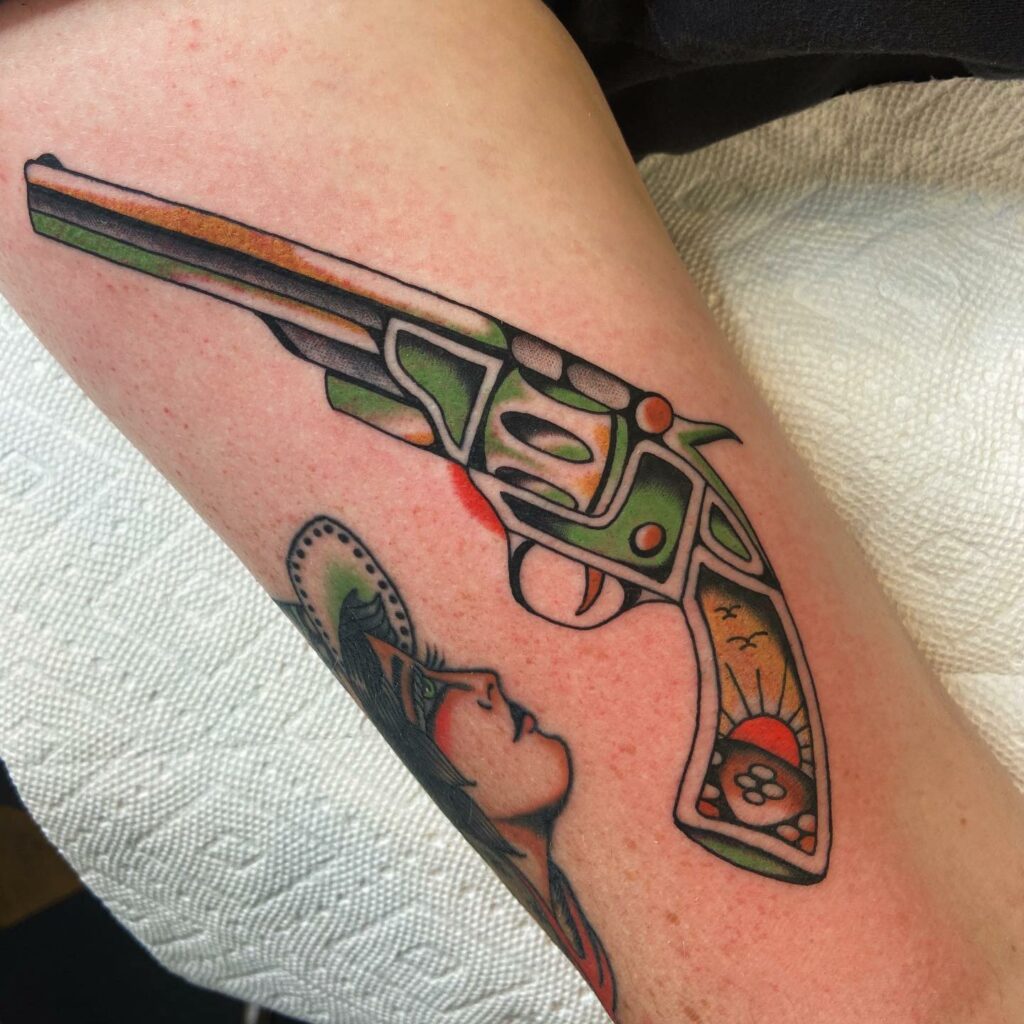 The Western culture has a deep-rooted fascination with guns, which is often reflected in Western-inspired tattoos. This particular design features a beautifully crafted gun in the iconic American traditional style, complete with bold outlines and bright colours. The handle of the gun is particularly impressive, featuring a gorgeous sunset scene that adds a touch of natural beauty to the otherwise gritty design. Of course, if you prefer a more subdued look, a black and grey version of the gun tattoo is always an option. Whether you're a die-hard Western movie fan or simply drawn to the aesthetic of guns, this tattoo is sure to make a statement and catch the eye of all who see it.
Colourful Western Postcard Tattoo Design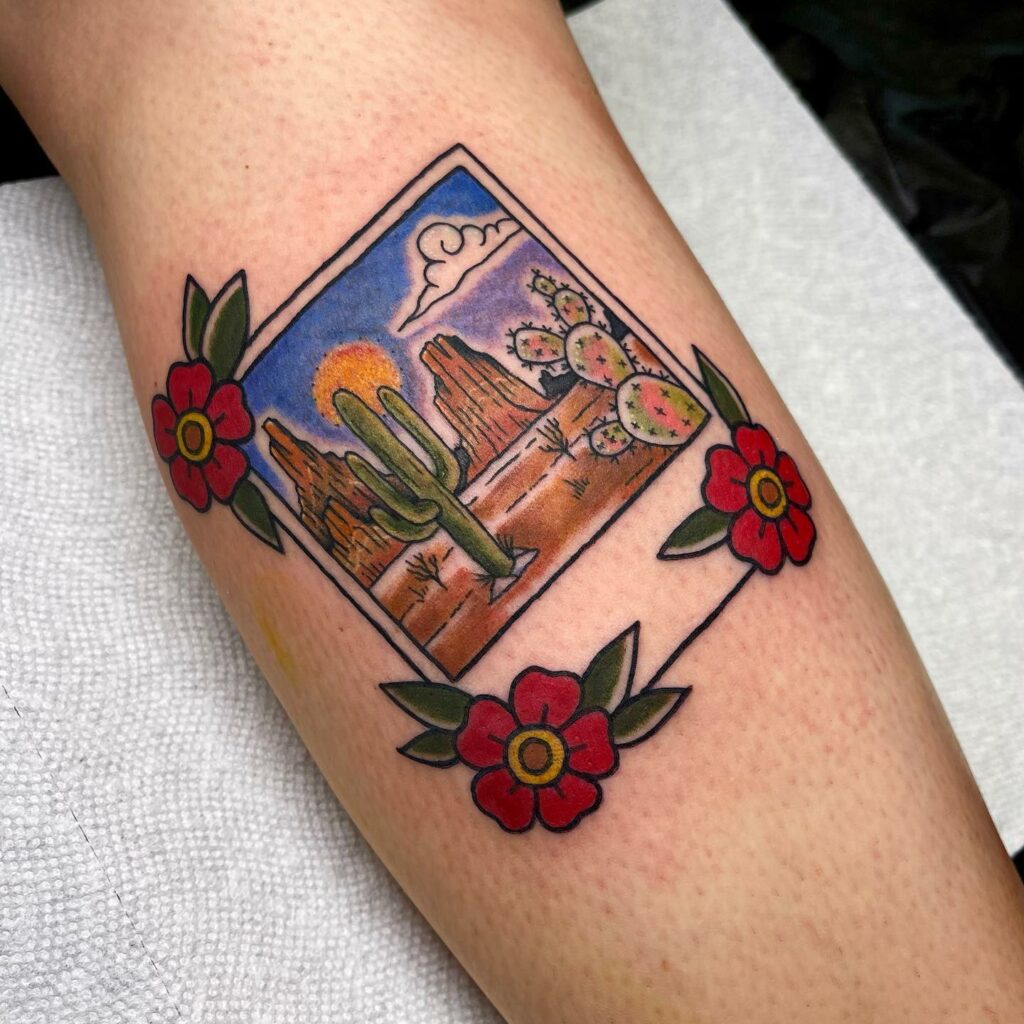 This stunning tattoo design captures the essence of the awe-inspiring landscapes of the West in a polaroid postcard style. The design seamlessly combines the desert, mountains, sun, and cacti in one beautiful image, complete with intricate floral details that add vibrancy and color. Postcard tattoos are a popular choice among tattoo enthusiasts because they offer a vintage and personal touch. If you're looking to pay homage to the scenic beauty of the desert, this tattoo design is perfect for you. You can even customize your design by adding elements or landscapes that hold special significance to you. Your tattoo artist can help you bring your vision to life, creating a personalized and unique tattoo that speaks to your individuality. Whether you choose to showcase it on your arm, leg, or chest, this breathtaking tattoo is sure to be a conversation starter.
Small Western Cowboy Tattoos for You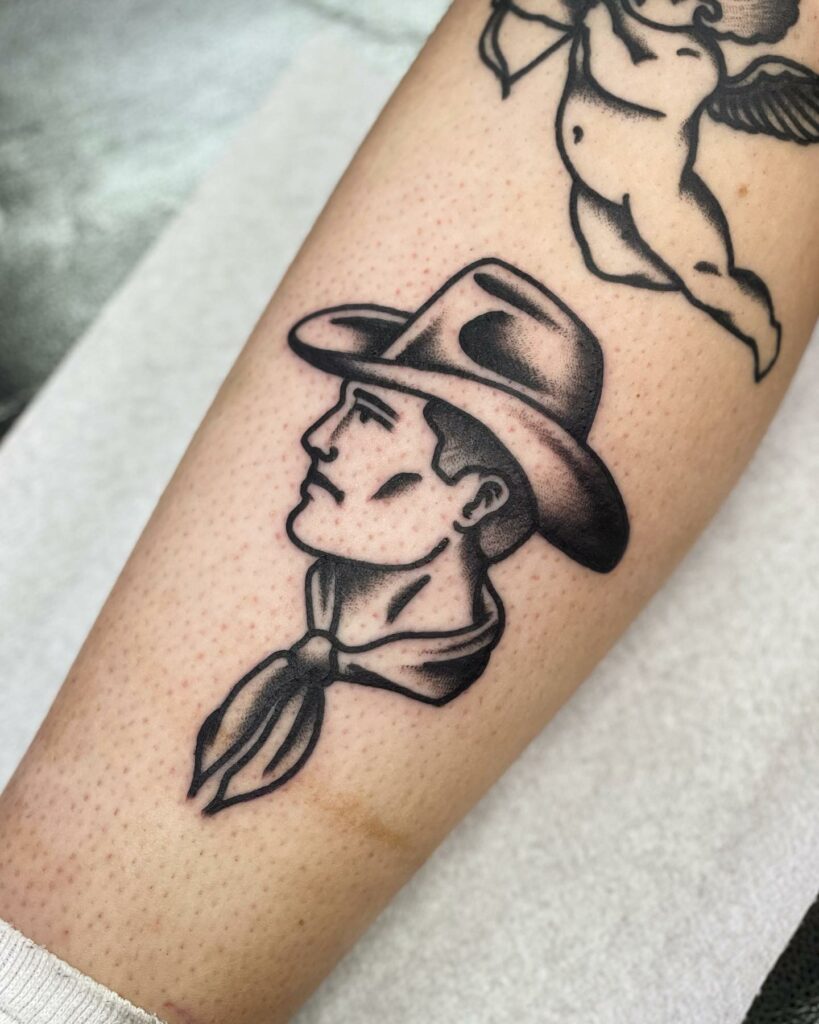 If you're a fan of the Wild West and looking for a classic cowboy tattoo, this design captures the essence of cowboy culture perfectly. With just a simple yet effective side profile of a cowboy wearing his hat, this tattoo is an ideal choice for any Western enthusiast. The black and grey shading is expertly done with bold outlines, making the tattoo stand out. You can also add a splash of color with a colored version of the tattoo, or customize it further with additional elements that reflect your personal style. No matter how you choose to personalize it, this cowboy tattoo is sure to be a timeless addition to your collection.
Still looking for inspiration, then checkout this blog post about japanese snake tattoos
feature image from Pinterest – Want your tattoo to look brighter? Try "Tattoo Balm"