Are you looking for some Rob Zombie Tattoo Ideas? Look no further because this is a curated list of tattoos that you can customize and flaunt around!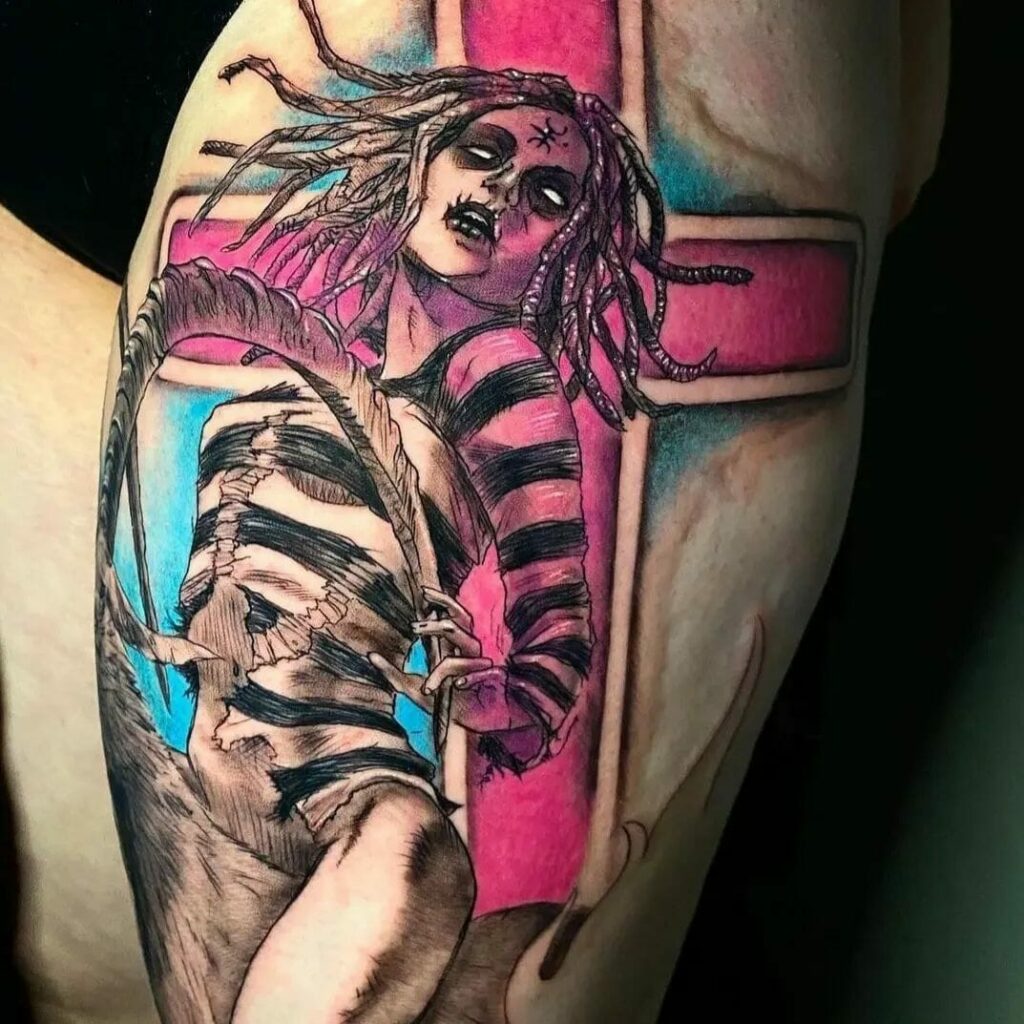 Rob Zombie Tattoos are a trend right now. It is symbolic of evil and death.
Usually made around Halloween for people who have a love for spookiness. It is also liked by the fans of the bloody genre.
The love for these tattoos is so real that it has now become a fashion rage on Instagram. It can be inked in various shapes, sizes, and designs which makes it even more appealing.
Rob Zombie Tattoos are very famous among men and women. The youth is majorly attracted to these kinds of tattoos. The reason why they are so popular is that the amount of blood and guts in the tattoo adds to its attractiveness of it.
In case you're looking for some rob zombie tattoo designs, then you're at the right place. You can customize various zombie tattoos and get them inked and upgrade your style quotient.
Rob zombie Clown Tattoo
This is a colorful clown version of the rob zombie tattoo. It can be customized according to the color or design of your choice. This tattoo is inked on the hand but you can get it inked on the leg, chest and back as well. It is just a twist to the entire zombie tattoo idea. The detailing of the tattoo and the fine artistic drawing makes it even more appealing.
The clown aspect of the zombie makes it more ghostly and adds a scary touch to it. This is one of the most sought after designs.
Black and White Zombie Tattoo
These are another kind of zombie tattoos that can be inked which is in the black and white edition. The black and white version is classic yet has a definite touch to it. It is definitely more fiery and conveys the evil symbol prominently. The tattoo is of Otis Driftwood with a scowl. One can get a picture of their choice and style and get it inked accordingly.
It can definitely be done in various shapes and sizes, in monotones or dual tones. This will just add to the beauty of it.
Tribal faced Rob Zombie tattoo
This is a rare kind of zombie tattoo which has a different aspect to it. It is of a tribal man's face with beautifully colored strokes. The color combination is what makes this one stand out. This is best done on the arm. This will highlight that area and be easier to flaunt it. This kind of a tattoo has a connect with the entire zombie tattoo idea. The tribal feature of the tattoo makes it even more vivid and intense. These tattoos in a way are related to the entire idea behind rob zombie tattoos.
Funny Rob zombie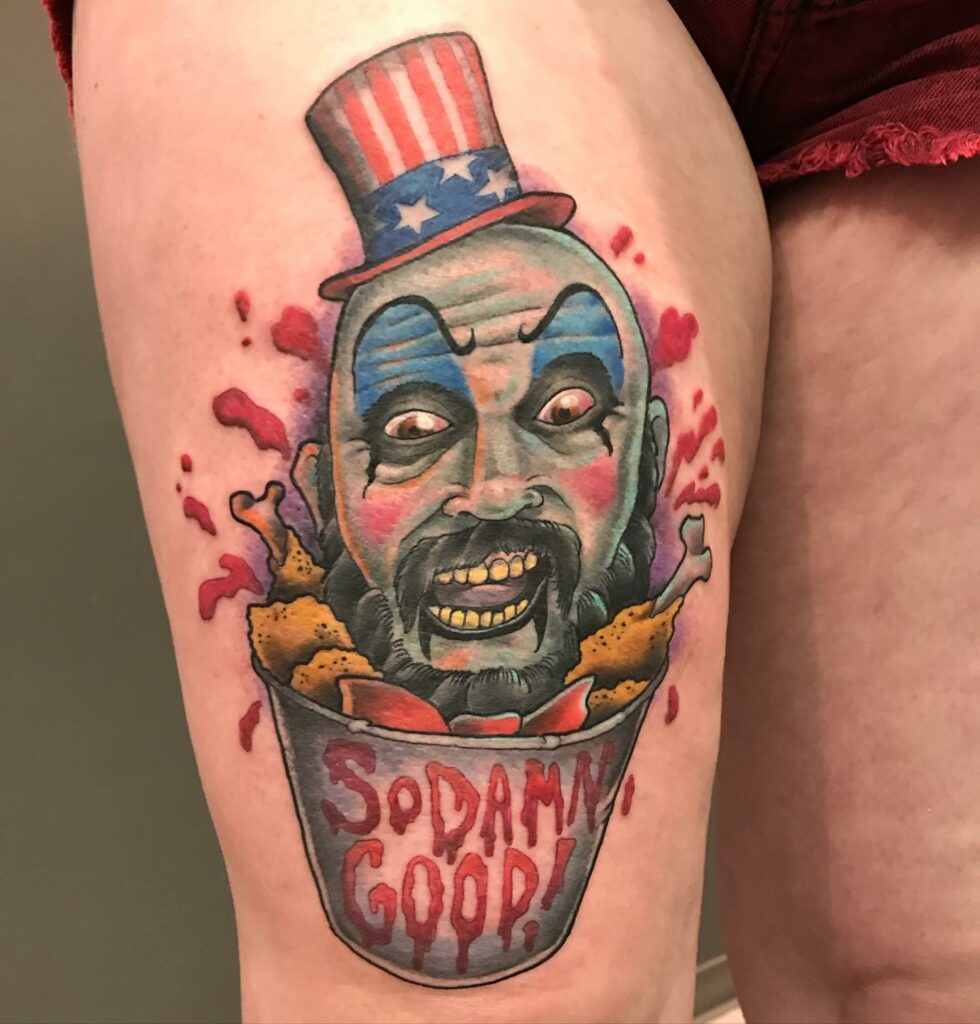 This is a funny customization of the otherwise dark themed zombie tattoos. This can be a great choice in case you do not want to go in for the scary version. The customization can take place in very unique ways that adds quirk to the tattoos.
This tattoo is inked with the zombie crowned with a hat painted as the American flag and emerging from a chicken bucket. This can be an inspiration for rob zombie Halloween tattoo. You can get it inked from a professional artist who can bring your imagination to life.
It's time to create your own style with a mix and of your own charm and persona and create a unique kind of zombie design suited to your fashion game.
Captain Spaulding Tattoo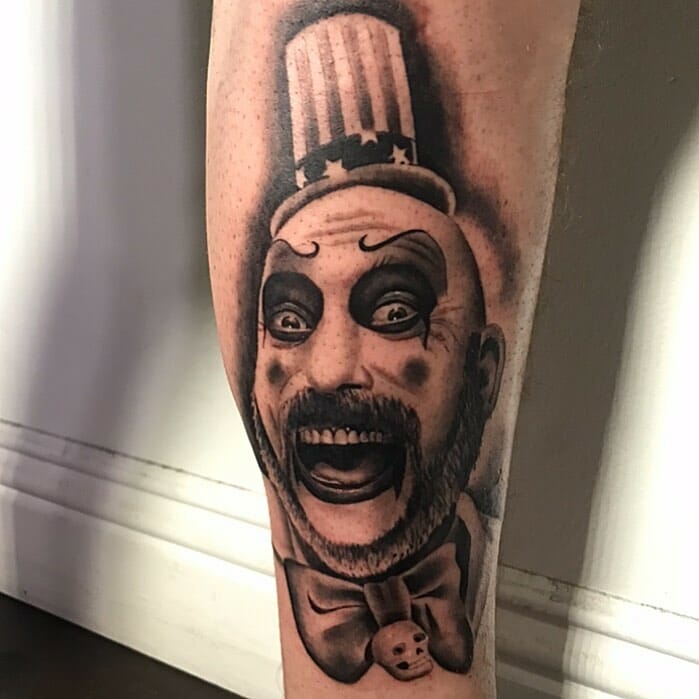 This kind of portraits are usually done in monotone to make it stand out in the crowd. This idea can be an unique version of rob zombie chest tattoo. Captain Spaulding tattoo is one of the most famous zombie tattoos which is done by men and women alike in various shapes and sizes.
The black and white strokes and shading gives it an even look and adds to its darkness and depth. One can use various other portrait designs and images for this kind of tattoos and get it on inked on various parts of your body to be able to flaunt it. This shows your love for such zombie tattoo.
Zombie leg tattoos
Captain Spaulding Tattoo can be one of your most go to Halloween tattoo done on the leg. The linked tattoo showed a colorful yet fierce design on the leg. The shading of the tattoo is unique which makes it fashionable and stunning. This is just another type of monster tattoo. You can use various photos and colorful characters to ink this on your body and can give it your personal touch. The tattoo can be highlight using various colors and designs or use of animals or insects to add to the Halloween feel.
Zombie tattoos can be designed using human form with modifications in the form of missing body parts, blood stains, feeding on the living, broken tooth, etc.
Portrait of the incredible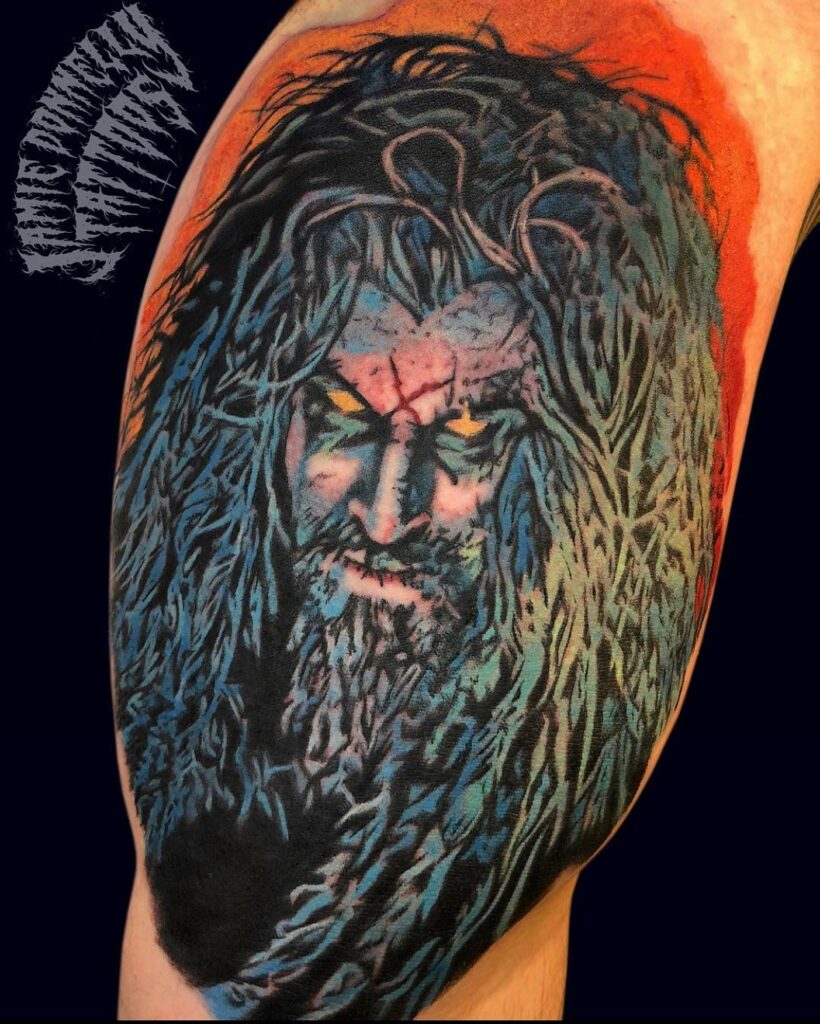 This distinctive zombie tattoo is of a different dynamic. This is a modern take on the zombie tattoos. It is very simple yet very definite in conveying the message. The colored artistic drawing makes it even more fiery. This kind of tattoos are mainly done by men in order to showcase their inner boldness. The size of the tattoo makes it striking.
You can go ahead and get portraits of your favorite characters in the form of zombies and give it a personal touch. It can be accompanied by designs of birds, animals, flowers, sharp objects, phrases etc.
Tutti Fruity Zombie Tattoo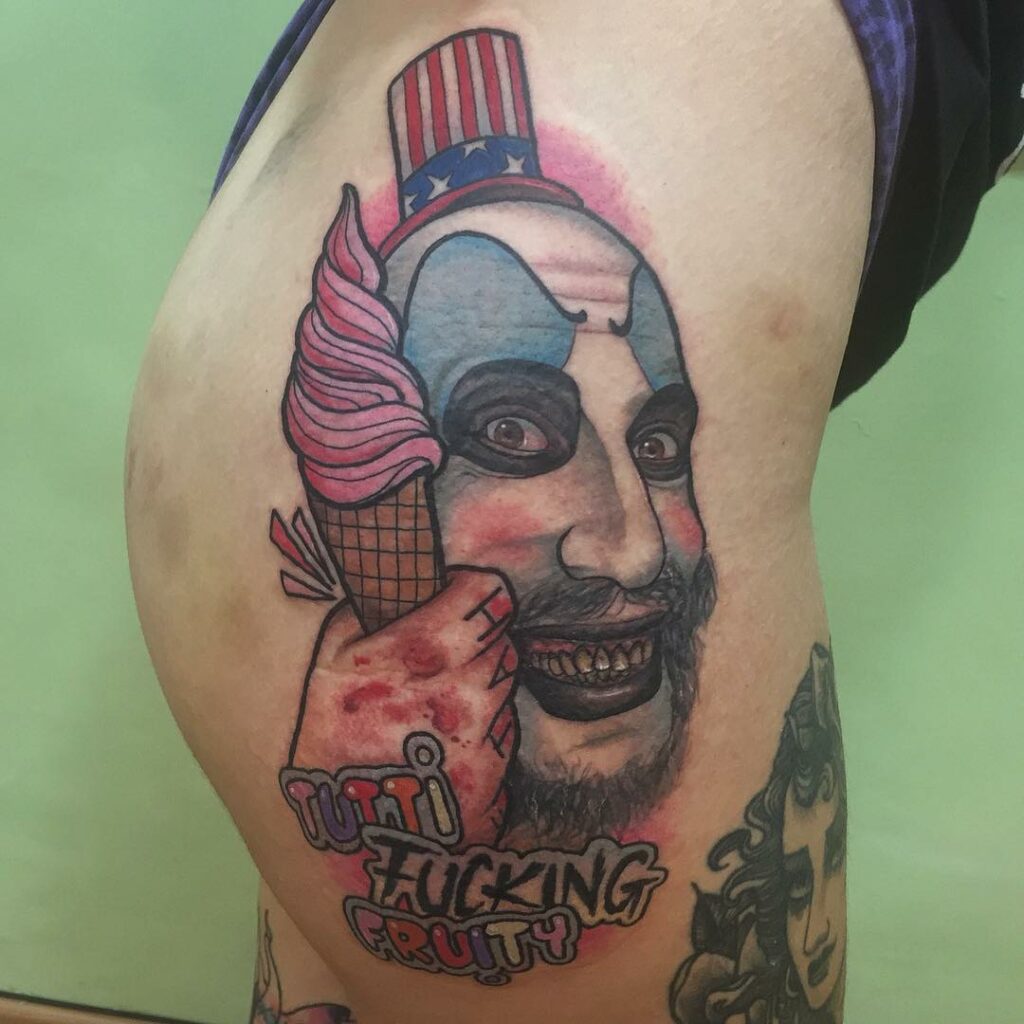 This trendy zombie tattoo can be your pick if you are into something quirky and goofy. This tattoo has been vividly drawn using black, blue and red shades making this very much in line with the American flag. A pictorial ice cream has been added to make it even more striking yet fashionably stunning. This is a modern take on the zombie tattoo and can be done if you are into something different this Halloween!
You can add your own catch phrase in it to customize it and make it your own along with changes in face design to make it look more scary or more funny. This tattoo ideas is quite fun and one can add more quirky designs to it to give it a fun yet evil look. one can also play with various shades and coloring styles.
Yellow Rob Zombie Tattoo
Yellow Rob tattoo is a very rare and can be inked on the arm, legs, chest or back in case you want something that is different and uncommon. You can change the color and design if you want to add a personal touch in it. The detailing on this tattoo is very bold and vivid and can help you make a strong fashion statement among your friend circle.
This Halloween, choose this striking rob zombie tattoo design to add color and intense touch to up your fashion game.
Riggs Monster Tattoo
This tattoo can be done if you want something appealing and enigmatic. The monster head has been designed with a lot of minute details to make it look more evil and ghastly. The blue shade has been chosen to make it stand out and easily grab the onlookers' attention. The artistic work on this tattoo makes it a go-to choice for people who want something out of the box.
There are a lot of monster tattoo designs available on the net can one can source and style the tattoo. One can also twist and turn the tattoo with a modern take using skeletons and skulls in bold contrasting colors.
These rob zombie tattoos which are various kinds and dimensions of monster tattoos are quite famous in the western world. This is usually done by people in the spooky season to live up to the vibe of it. This can just be an artistic celebration showcasing the love for Halloween. These tattoos are usually done by men to convey a kind of image that they wish to set. The beauty of this tattoo is that it is artistic yet ultra modern.
The craze for rob zombie's are increasing and you can hop onto this trend too. These rob zombie tattoo designs will not disappoint you.
feature image from Pinterest – Want your tattoo to look brighter? Try "Tattoo Balm"
Last reviewed and updated on March 10, 2023