Are you wary of the power of roses? You can tattoo patterns of roses to help you direct the emotion towards a healthier outcome.
Rose tattoos have been around since time immemorial.
Whether it is a single rose tattoo signifying elegance or a red rose tattoo featuring dominance, rose tattoo ideas always take the limelight. Realistic rose tattoos are a great choice for tattoo-getters.
A tiny rose tattoo created using a beautiful design also gives out the same effects as a realistic rose tattoo. Surely, different flowers carry symbolism akin to their types. However, it is us who add ink to magnify the meaning.
For instance, a black rose tattoo may be a symbol of uniqueness since it is only grown in a region in Turkey, aloof from the rest of the Western world. But for Gothic-fiction lovers, it is one of the many symbols for death and despair.
Moreover, it signifies a sense of mourning in many works of fiction. A red rose, on the other hand, displays a deep-lying sense of beauty and passionate love. A red rose could very well depict the color of blood, thereby signifying death at instant.
At times, we add geometric shapes to the flower or add line art with black ink. Doing this does not ensure good fortune of any kind but rather an artistic feel to the body art. For ages, rose tattoos have been the subject of fascination of tattoo artists around the world. When one speaks about flower tattoos, what is the first flower that pops up in your mind?
Classic Rose Tattoo
This flower tattoo is depicted by a traditional design that implements both the visual reality as well as photo-realistic effects of a rose. This tattoo is reminiscent of a classic red rose tattoo that may take diversions when it comes to the color.
Apart from these features, it can be seen that the tattoo is drawn over the forearm and has taken quite some spacing. Tattoo designs such as this one are built on rose tattoo ideas of the highest kind.
Gleaming in its glory, this flower tattoo represents the attempt that man makes to copy nature. At times, he is successful and at other times, he ensures to try his best. A simple rose tattoo goes below the time and effort that is put into such a tattoo.
You can also see green leaves around the rose that offer it a realistic touch. Red roses can act as symbolism for loved ones. An interesting fact about this tattoo is that it avoids thorns and simply holds onto the life of the beautiful rose.
Highlighted Garland Rose Tattoo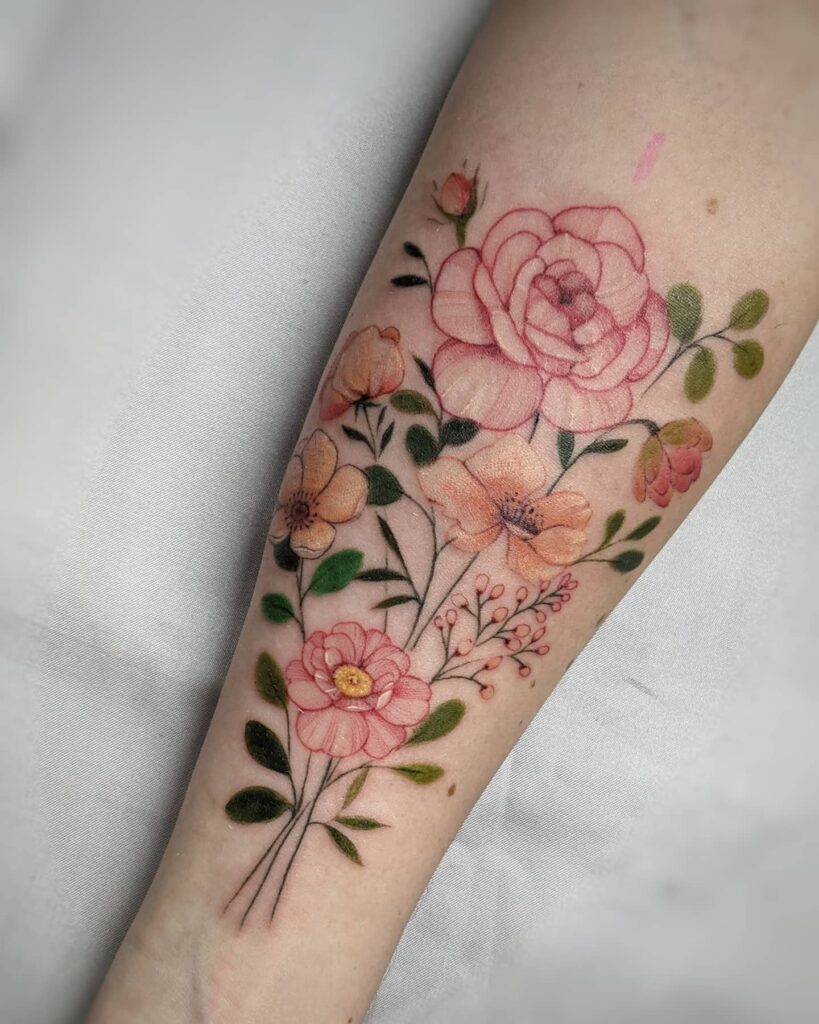 A tattoo artist would love to make such a tattoo even though it has been in the trend since a long time. Is there a reason why? Fine-line art has been around for quite some time now. It represents perfection and indulgence of the highest kind.
Ideally, when you look at a fine line tattoo, you would only expect it to tell a tale. This rose tattoo design does that job of weaving a story and spreading the body art for the world to see. Besides a rose tattoo, we can see other forms of flowers which look like either the cosmos variety or the day lilies kind. This tattoo style is rather unique for its usage of fine lines and delicate leaves alongside a bouquet of flowers.
Another feature you can go for while getting this tattoo is adding water droplets of suitable size to freshen the look. Overall, it creates a symbolism of abundance and perfection.
Rose Tattoo Serving as a Bookmark
If you're looking for a rose tattoo design to unveil as body art, you can go for this one. This rose bush comes with a cup and a saucer alongside a book to which it serves as a bookmark. It appears to be a novel to which the rose flower offers a pause.
It can surely be counted as one of the best tattoos out there. To be able to use a rose without its thorns, you will have to create a strand that outgrows the protective feature. Although red roses can serve as pristine choices for bookmarks, you can also go for a purple rose.
Rose in Full Bloom and Thorns Tattoo
Would you go for a red rose or just use some black ink to emulsify the process? The person in question has chosen to go for black ink when it comes to tattoo styles.
In doing so, they have shown the world what it takes to display a tattoo on the forefront. Choosing tattoo designs can be a laborious process especially when you are not sure of the placement of the tattoo. For instance, this rose tattoo makes its way to the front from the nape which might have required additional spacing below the ear.
It is a symbol of resilience and showcases meaning and life that has been derived from the style. We can also see voluptuous thorns surrounding both the roses which have been inked in a very efficient manner.
Simplistic Strand of Rose Tattoo
A simple rose can bring all the change that you would want in this world. To substantiate this claim, we would like to point at this tattoo. What does it bring to the table? It is only a single strand, allegedly with thorns and a few leaves to surround it.
But think of the meaning that it renders to the body. This rose tattoo is a perfect example of minimalism and its effects when it comes to finding meaning in life.
It could be that the person resonates with the single flower tattoo. On the other hand, it could mark a flower that was presented to the said person by a beloved. Similarly, one can decipher a can of meanings out of the rose tattoo. It is only fair to say that whatever the reason might be, the person has made it a point to carry the flower with them in the form of a rose tattoo.
Medieval Sword Piercing Through Rose Tattoo
While the lower leg can be a painful area to get an extended rose tattoo, this person has made the most of the placement and presented a rose tattoo that boasts a medieval nature. If you're looking for rose tattoo designs that specifically feature a medieval object, you can go for this one.
These tattoo designs come with superior outlining and shading both of which you can utilize for the betterment of your rose tattoo. For instance, this one has a sword piercing a rose tattoo which serves as a form of symbolism. This is a tale that tells us that betrayal may lie just behind the curtains or in this case, the rose.
Forearm Rose Tattoo
This forearm is one of the most perfect places to get a rose tattoo. A rose tattoo design such as this one is as elaborate as it comes. It peaks the imagination with its glorious shading and even introduces tassels in the form of jewels.
Such a rose tattoo can only be held in the highest regard since it even displays a mandala which is meaningful when it comes to certain cultures. Another observable aspect about this tattoo is the placement of the tattoo. The forearm is the perfect place to get such tattoo designs since it surrounds the whole arm. You can also get it done on the calf.
Rose Tattoo on the Thigh
As you can see, this tattoo art has utilized the classic rose colors. You can also see the mention of two sepals which have carefully surrounded the flower. The rose also seems to be in its fading era where the petals have acquired a faint color.
This can be attributed to the fleeting nature of life. While one may be on their utmost high, the downsides of life may always await them. The placement of the tattoo seems to be on the thigh which can be an ideal place to get a rose tattoo. You can also get rose tattoo designs on the knee which can have a 3d affect on the rose.
Semicolon Black Rose Tattoo
This semicolon tattoo is an insinuation that the person carries untold stories. Primarily a symbol of elegance, a rose tattoo can also imply other meanings such as thoughtfulness. It can also imply a need for a listening ear, especially when paired with a semi-colon.
This tattoo, for instance, speaks of the endless battles that one has gotten through to reach a more stable place in life. In saying so, the tattoo depicts the struggles of a person who is still making the necessary efforts to make it work in life.
Ram's Skull Rose Tattoo
As you can see, rose tattoo designs such as this one have a creative touch to them. This is the best way to portray innovative designs in the rose tattoo. Besides, there are imageries of rebirth. You can see the flowers and weeds engulfing the skull, little by little.
The skull is that of a ram which can represent either the nature of Aries or a man. This is a reminder that in order for life to evolve, one must rid themselves of certain attributes or memories.
In the contrast, it can also imply stagnation of some sort. Overall, the rose tattoo carries a deep meaning and can be gotten just about anywhere.
feature image from Pinterest – Want your tattoo to look brighter? Try "Tattoo Balm"