Today, we're diving deep into the ever-trendy world of black coffin nails—a style that's as versatile as bold. From the red carpet to your next girls' night out, this look is taking over, and I'm here to tell you why you need to get on board. In this post, we'll cover everything from achieving that perfect coffin shape to the must-have shades of black you'll want to try. And let's not forget the finishing touches—decals, gems, or even some matte options to elevate your style.
Trust me, after years in the nail game, I can confidently say that black coffin nails are not just a fad but a mood and a statement. So, stick around whether you're new to nail art or just looking for a fresh update. I'll guide you through all you need to know to nail this look (pun absolutely intended).
Louis Vuitton Coffin Nails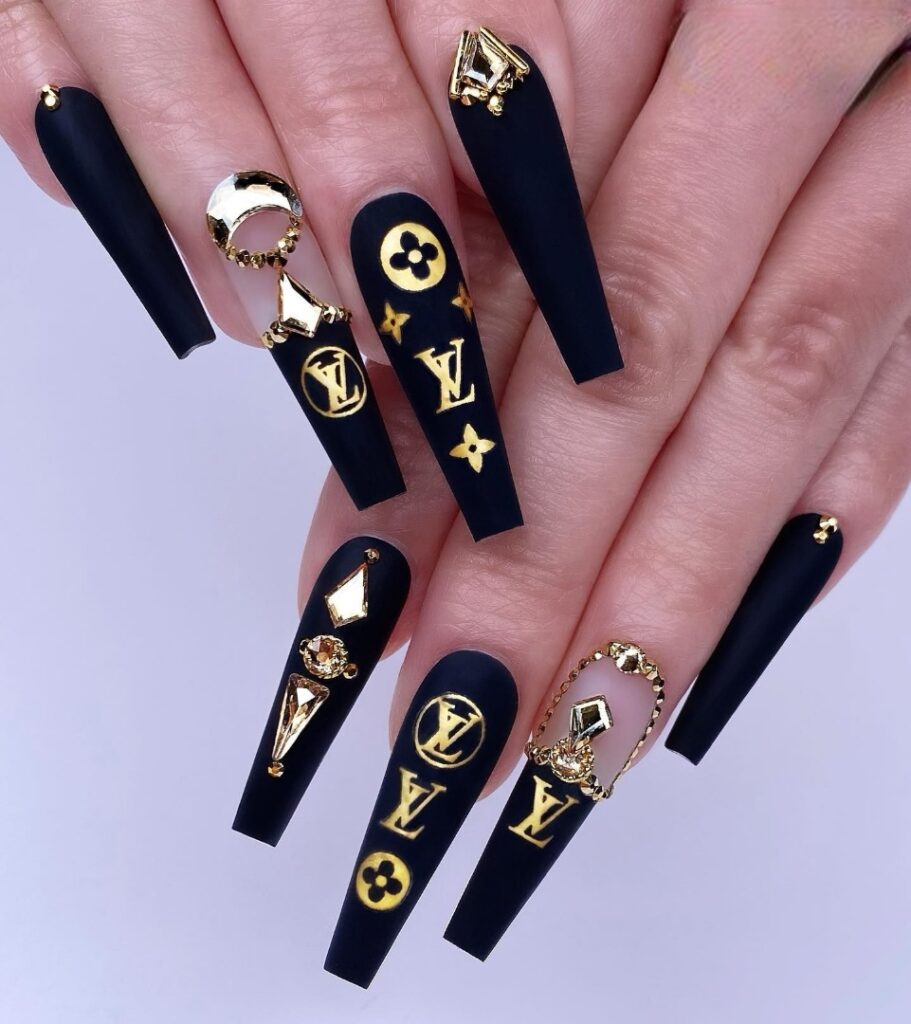 Louis Vuitton Coffin Nails are a luxurious twist on the classic coffin nail shape, featuring the iconic LV monogram or logo as part of the design. These statement nails are the epitome of high-fashion meets beauty, turning your fingertips into tiny canvases of designer art.
Sprinkle Magic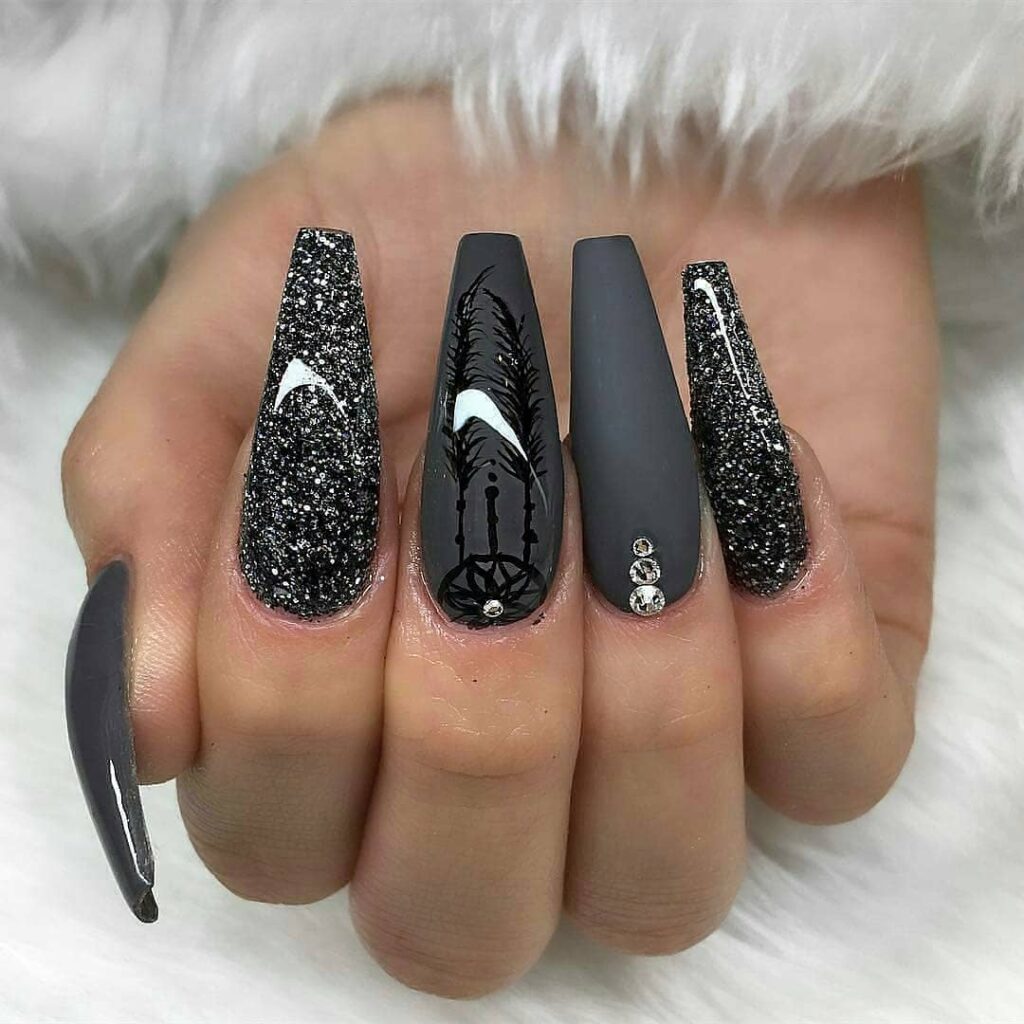 Okay, let's be honest, who doesn't love sprinkles? Add some colorful beads to a black base, and you have a playful yet sophisticated design that you can rock anytime.
Heartfelt Tips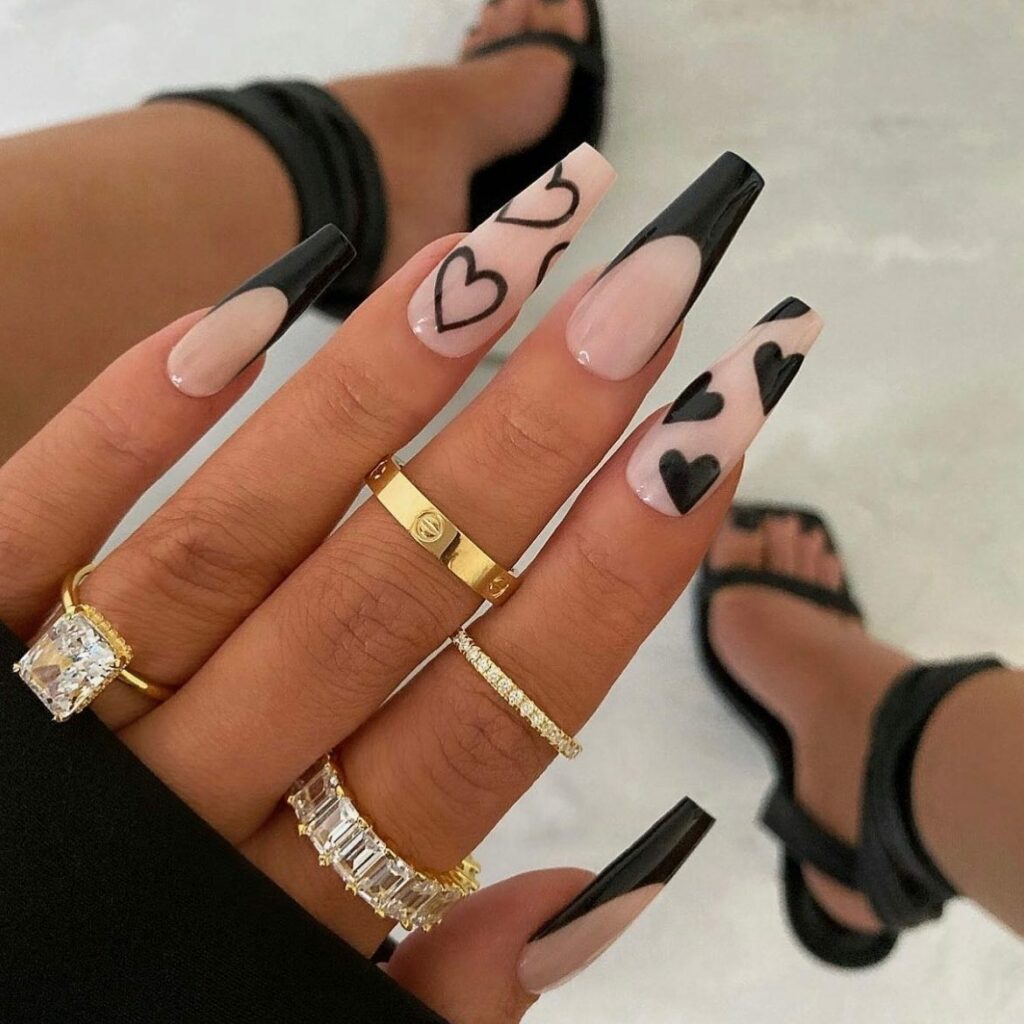 Consider a nude base with black V-shaped French tips if you're after something cute, and throw in a tiny black heart near the cuticle. It's so darling it'll make your own heart skip a beat! I wore this on a date night, and let's say it got noticed—in the best way.
All About That Bling
Prom nights, weddings, or just a Friday night—go wild with the glitz and glam! Black coffin nails can carry everything from tiny jewels to intricate ribbon charms. My go-to? Black 3D flowers. They add a luxurious feel without overwhelming the look.
Fly Away With Butterflies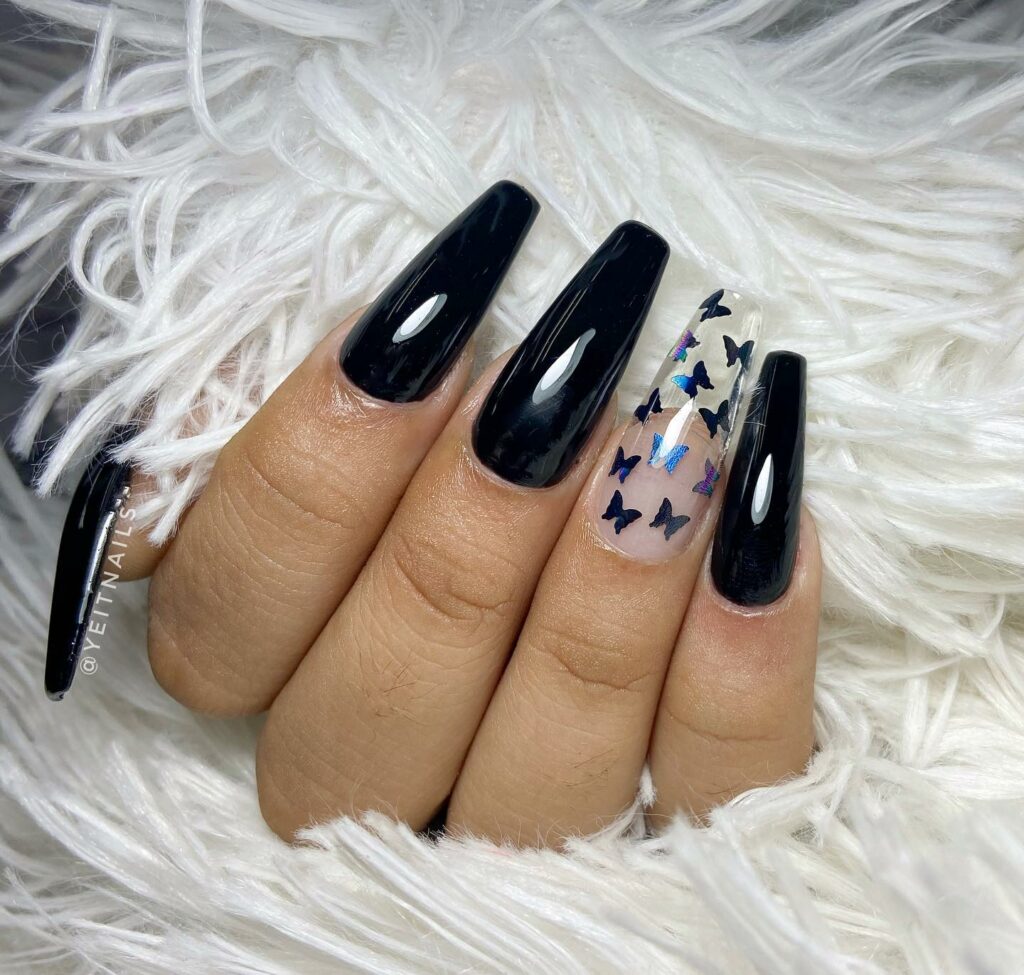 Timeless, easy, and oh-so-gorgeous—butterfly nail art on black coffin nails is a win in my book. Whether running errands or heading to a fancy dinner, this design has your back. It's just that adaptable.
Textured Black Magic
Play with textures for a look that grabs attention. Alternate between glossy black, matte black, and nails covered in black glitter. It's like having three different styles in one manicure. I tried this last New Year's Eve, and let me tell you, I was the life of the party!
Matte Black French Tip Coffin Nails
Matte Black with Gloss French Tip Coffin Nails offer a chic and edgy contrast that's perfect for those who love a modern twist on a classic look. The understated matte black serves as the perfect backdrop for the high-shine French tips, making these nails versatile enough for both day and night.
Black Coffin Nails With Silver Highlights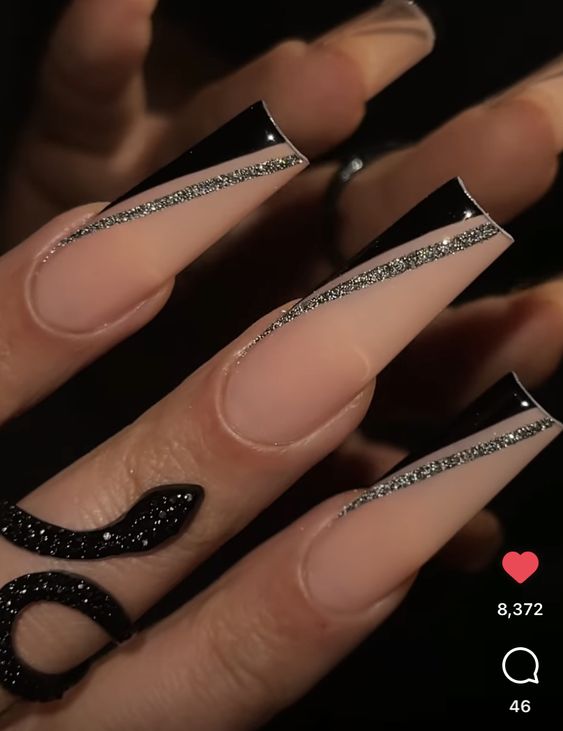 Black Coffin Nails with Silver Highlights add a dash of sophistication and a touch of sparkle to your edgy black base. The silver elements, whether they're delicate stripes, glitter, or small jewels, elevate the whole look, making your nails not just a beauty statement, but a conversation starter too.
Black Coffin Nails With Spiders Web Tips
Black Coffin Nails with Spider Web Tips are the perfect mix of gothic charm and seasonal flair, making them a hit for Halloween or any time you're feeling a bit edgy. The intricate spider web design at the tips adds a unique and eye-catching detail to the classic black coffin nails.
Black Coffin Nails With Love
Black Coffin Nails with a Love Heart design offer a blend of edgy darkness and romantic whimsy, making them perfect for date nights or when you're in a sentimental mood. The singular heart detail, often placed on an accent nail, adds a tender touch to the bold black canvas, creating a look that is as complex as it is charming.
Mix 'n' Match Designs
Matte black nails are like a little black dress: endlessly versatile. Spruce them up with rhinestones, and don't be shy about mixing in some leopard or floral prints on nude nails. It's a fun way to add variety without going overboard.
Euphoria Vibes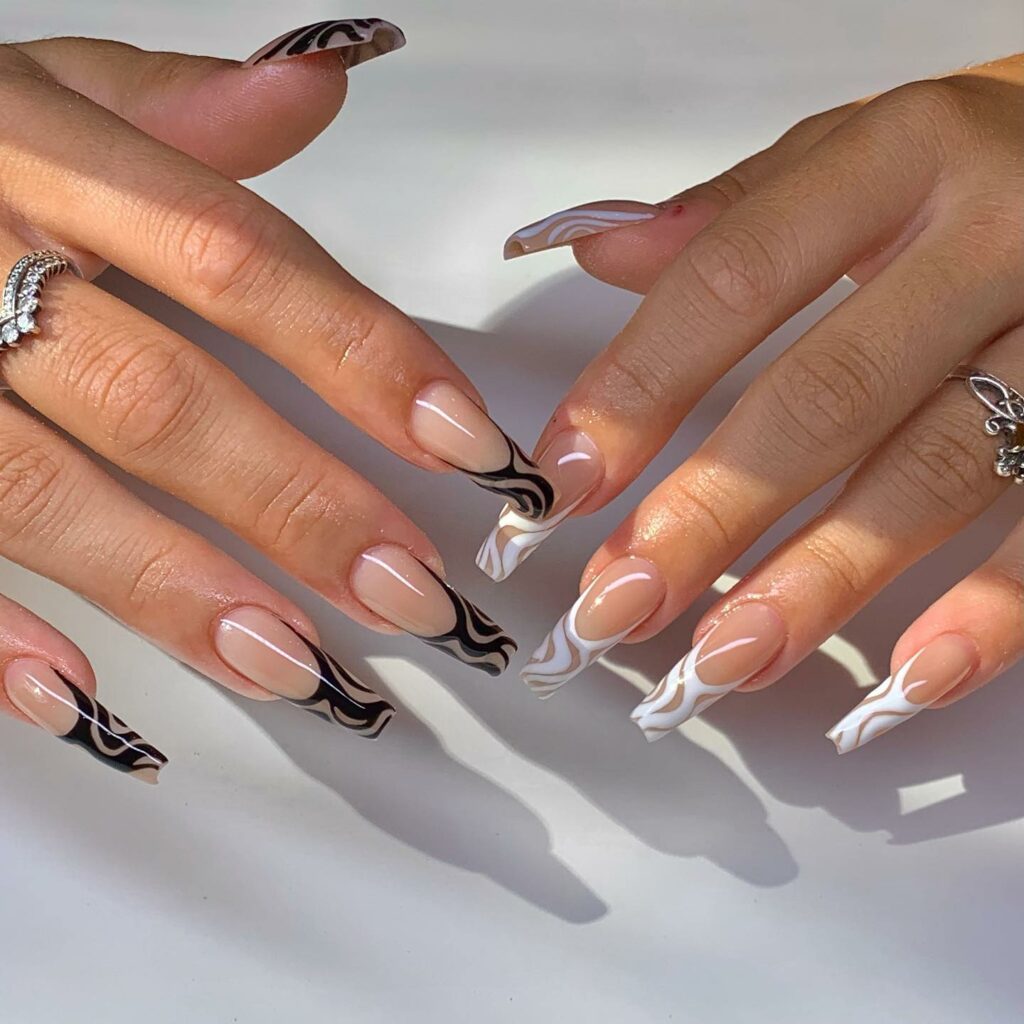 Have you ever watched "Euphoria" and wanted Maddy's Mugler nails? Me too! Get that high-fashion edge with wavy, negative space art on your black beauties. This look is so hot right now, and it's simpler than it looks. Promise!
Tortoiseshell Coffin Nails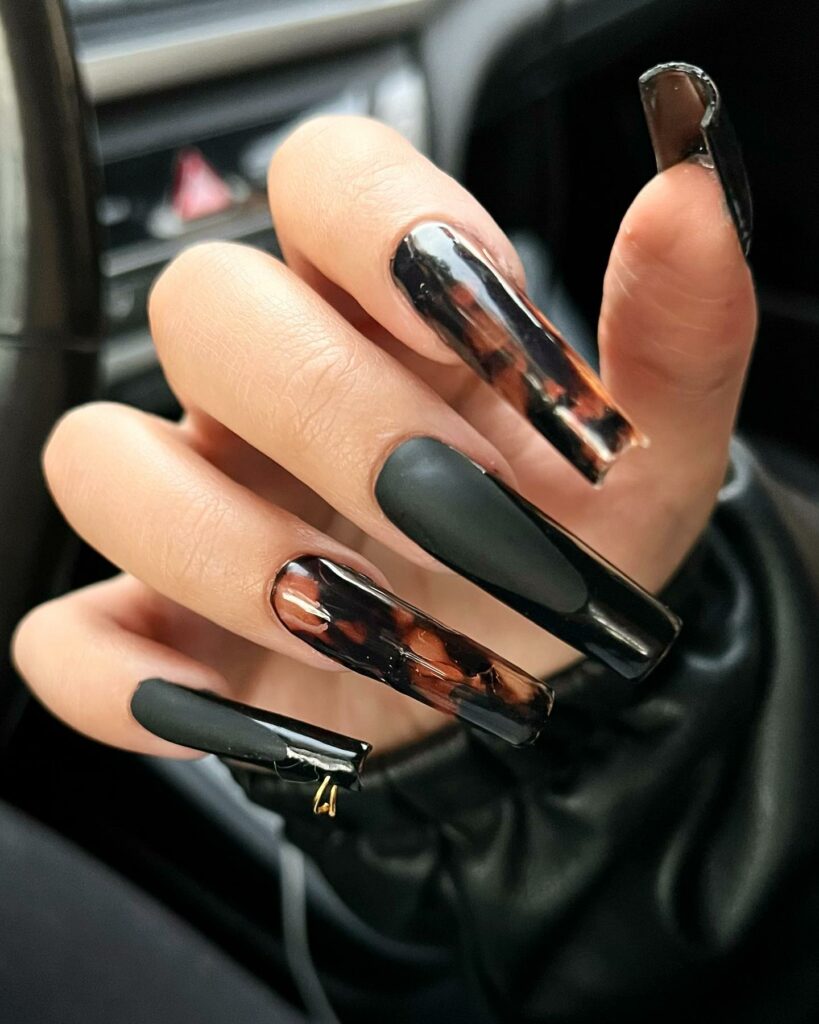 I was skeptical about the tortoiseshell trend, but I was sold once I tried it on my black coffin nails. It's like the sultry, mysterious cousin of the classic animal print, and it's definitely worth a try at your next mani appointment.
Edgy Yet Subtle: Long Black Coffin Nails
Who says you can't mix nail shapes? Go for primarily coffin-shaped nails and throw in a stiletto nail for an unexpected twist. It's edgy but subtle enough for everyday wear. I sported this look at a recent music festival, which was a total vibe!
A Little Extra: Black And Glitter Coffin Nails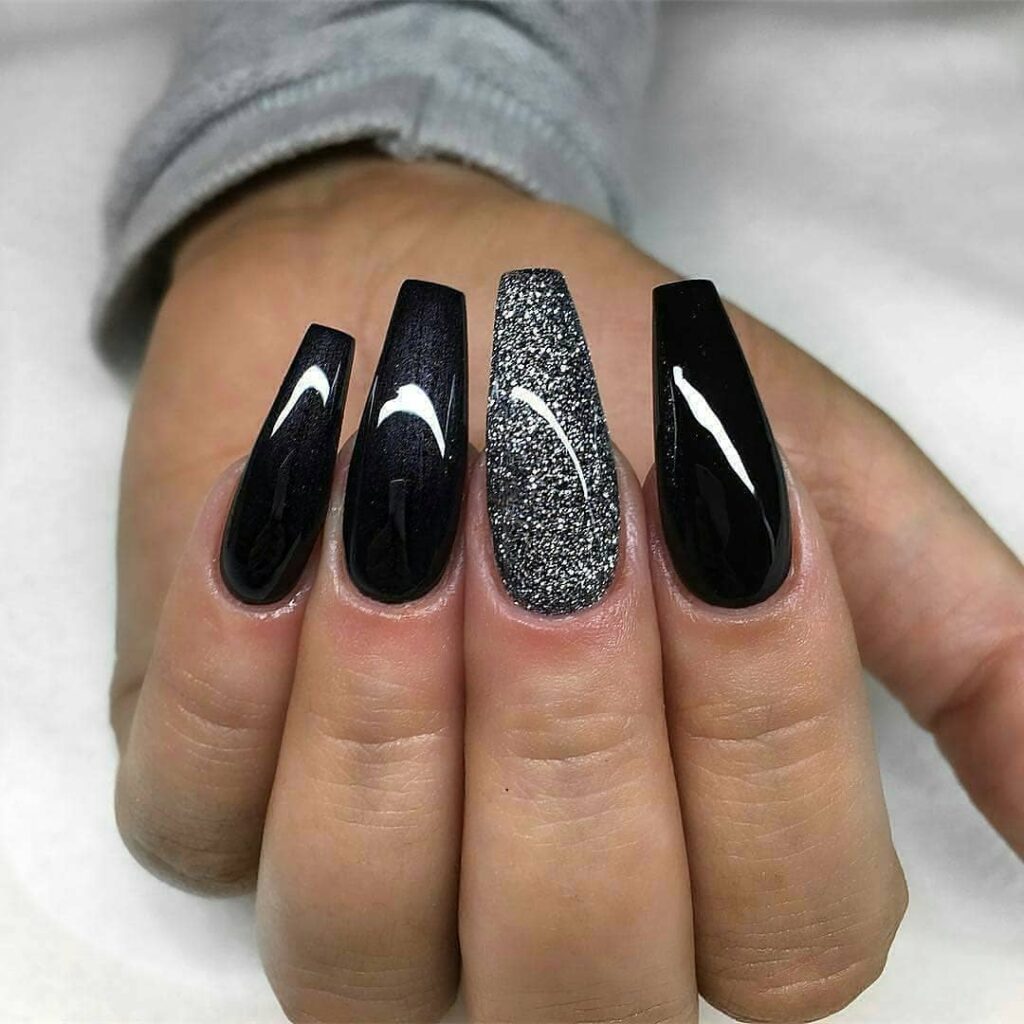 If you're a fan of glossy black nails, you'll adore this upgrade. Add a glitter and jelly nail to the mix for a trendsetting look. The glitter and marble effects are hot right now, and I can't get enough!
Gloss vs. Matte Coffin Nails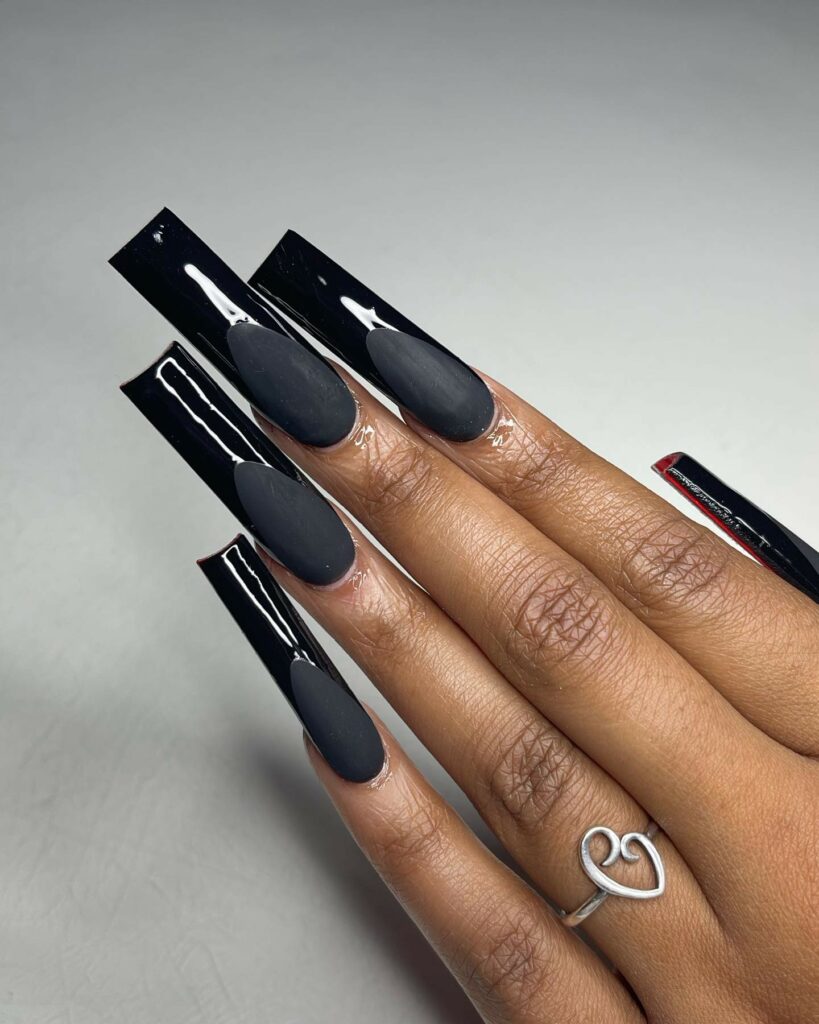 Why pick one when you can have both? I love the playful contrast between glossy tips and a matte base. It's especially eye-catching when holding a glass of wine on date night. Just saying.
A Splash Of Gold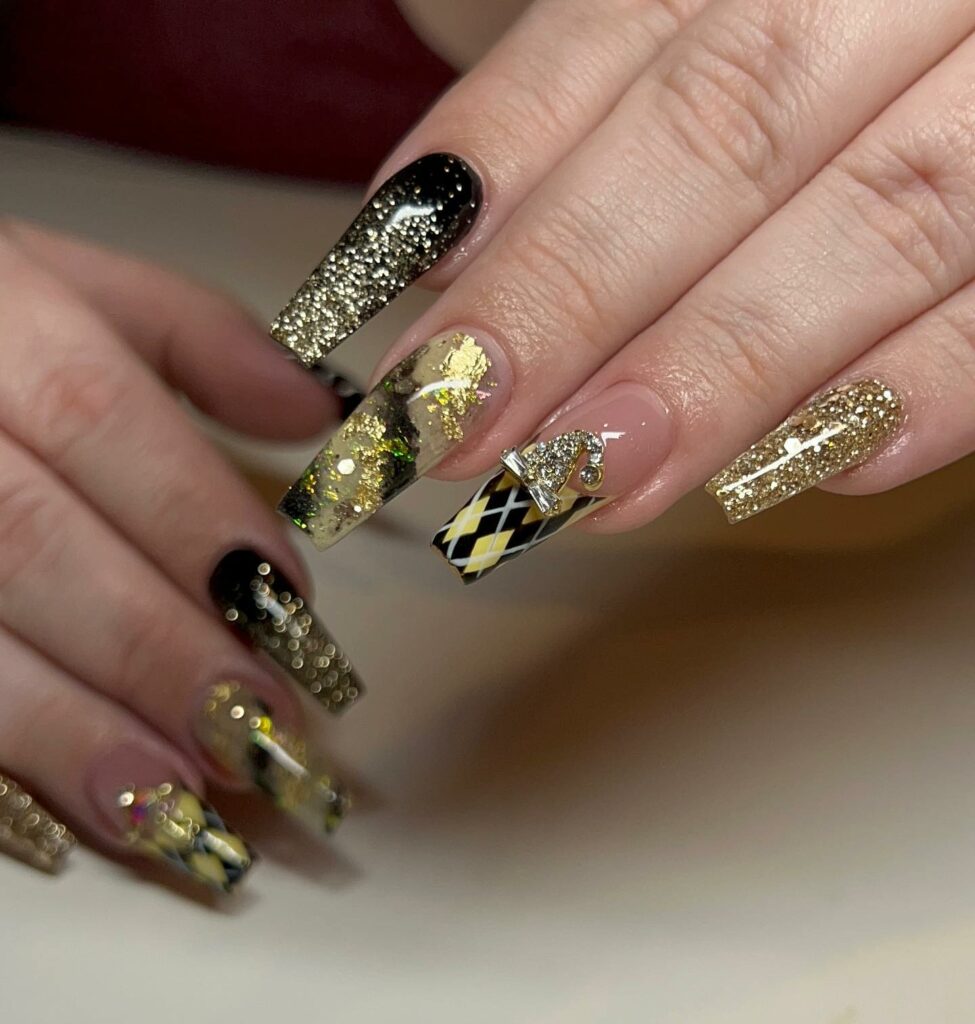 Long black coffin nails are already a showstopper. But a streak of glittery gold? Total game changer. It elevates your mani to a new level of glam, making it perfect for special occasions or when you want to feel like a queen.
Fiery Tips
Black coffin nails offer the perfect base if you're still riding the flame nail art wave like me. I usually throw in some gold accessories to make the flames really pop. So, go ahead, light up your nail game!
Glossy Vs Matte: Round Two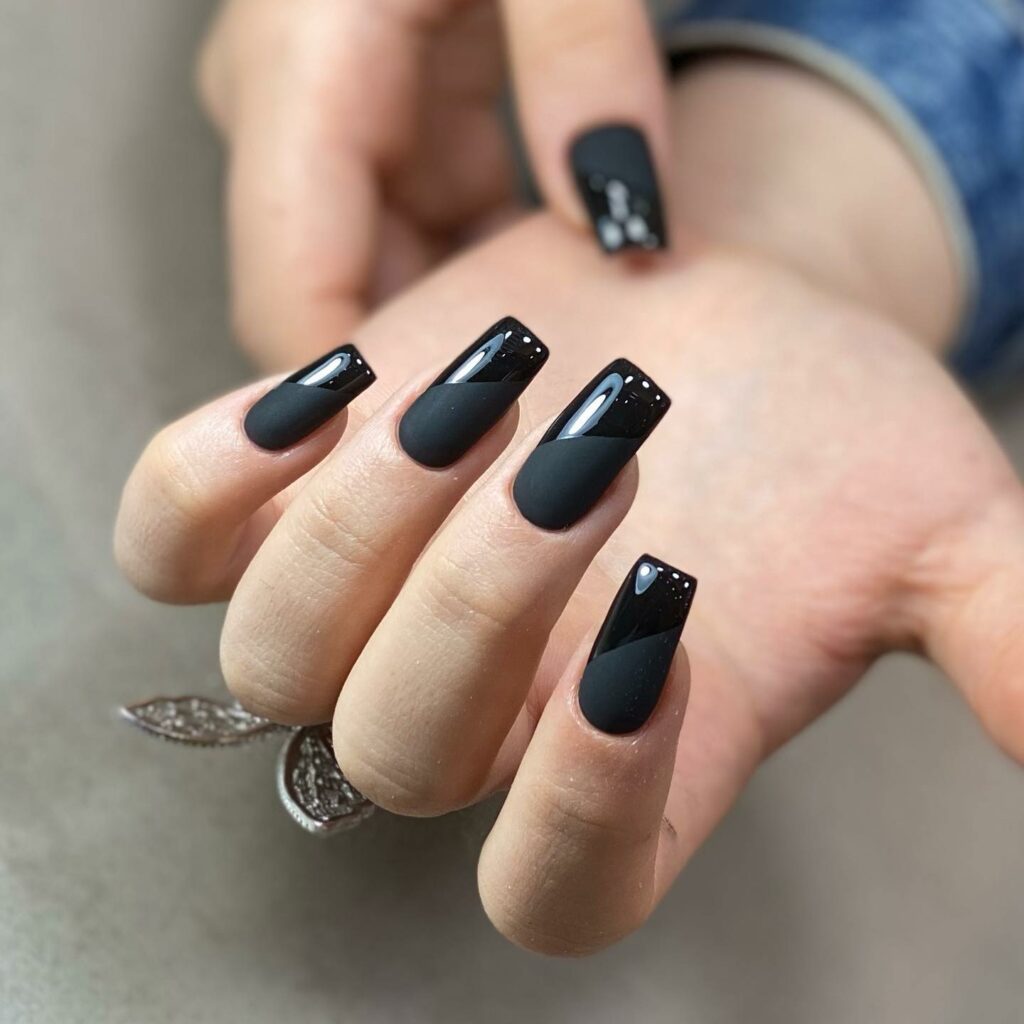 Matte nails are in the mood for this year, but who says you can't add some glossy French tips for a twist? It's the best of both worlds and works beautifully on black coffin nails.
Sleek Black & White Tips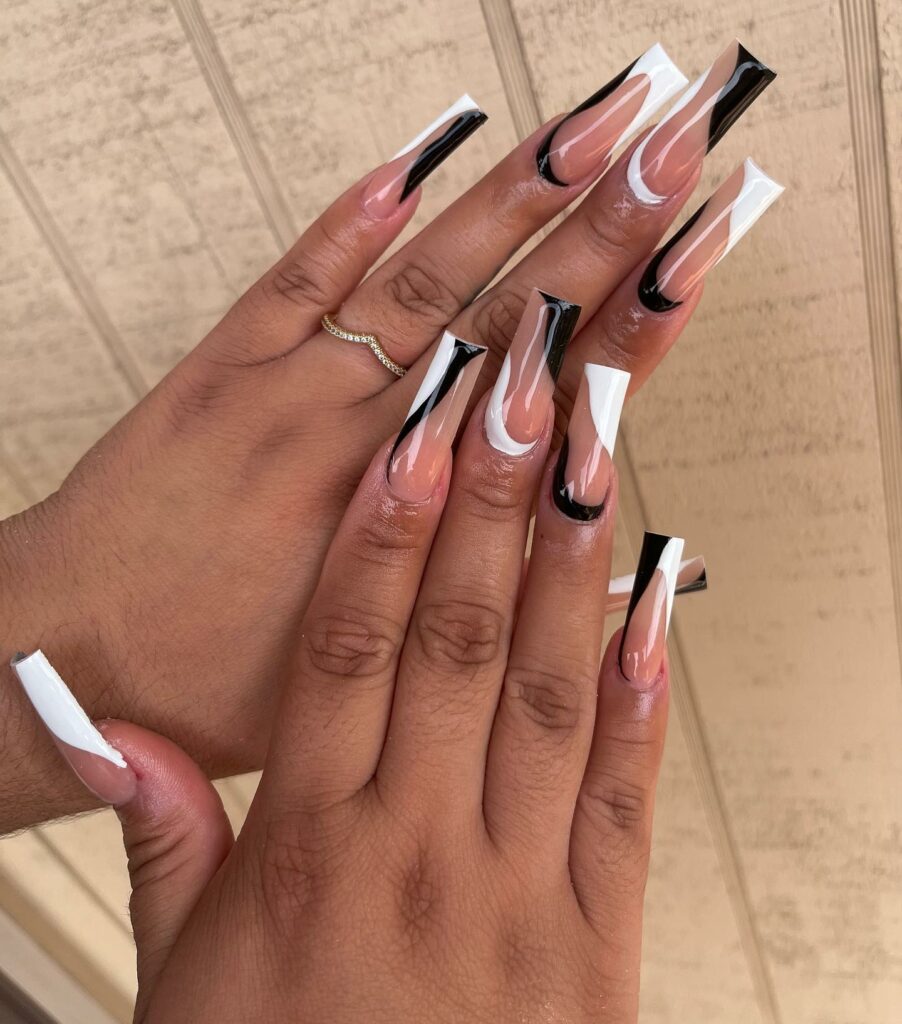 Want to keep it classy and professional? A black-and-white V-cut French tip on coffin nails is a game-changer. Keep the length manageable, and you've got a look that can go from the boardroom to happy hour. Trust me, it's that versatile.
Black and Gold Coffin Nails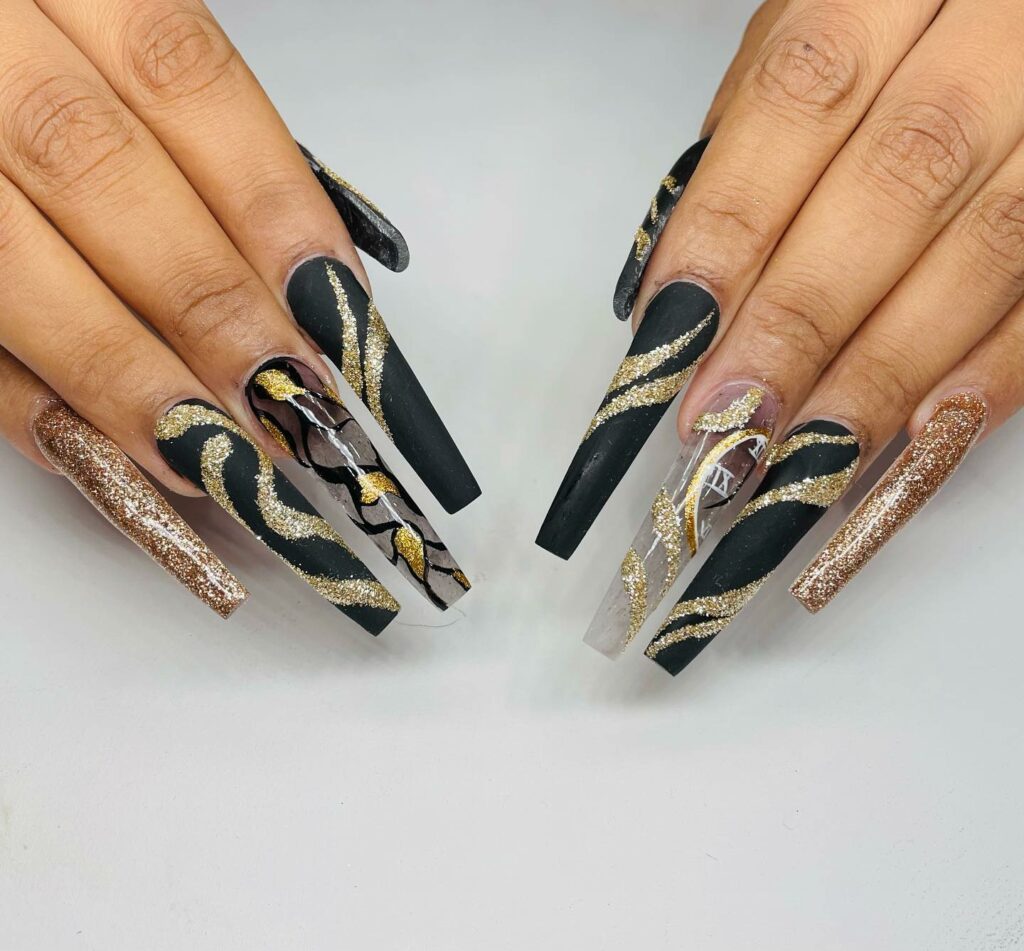 Why settle for basic when you can go glam? Imagine glossy black nails with sparkly gold and a hint of blue. I wore this look to a holiday party, and it was like having little ornaments at my fingertips!
Matte Black Coffin Nails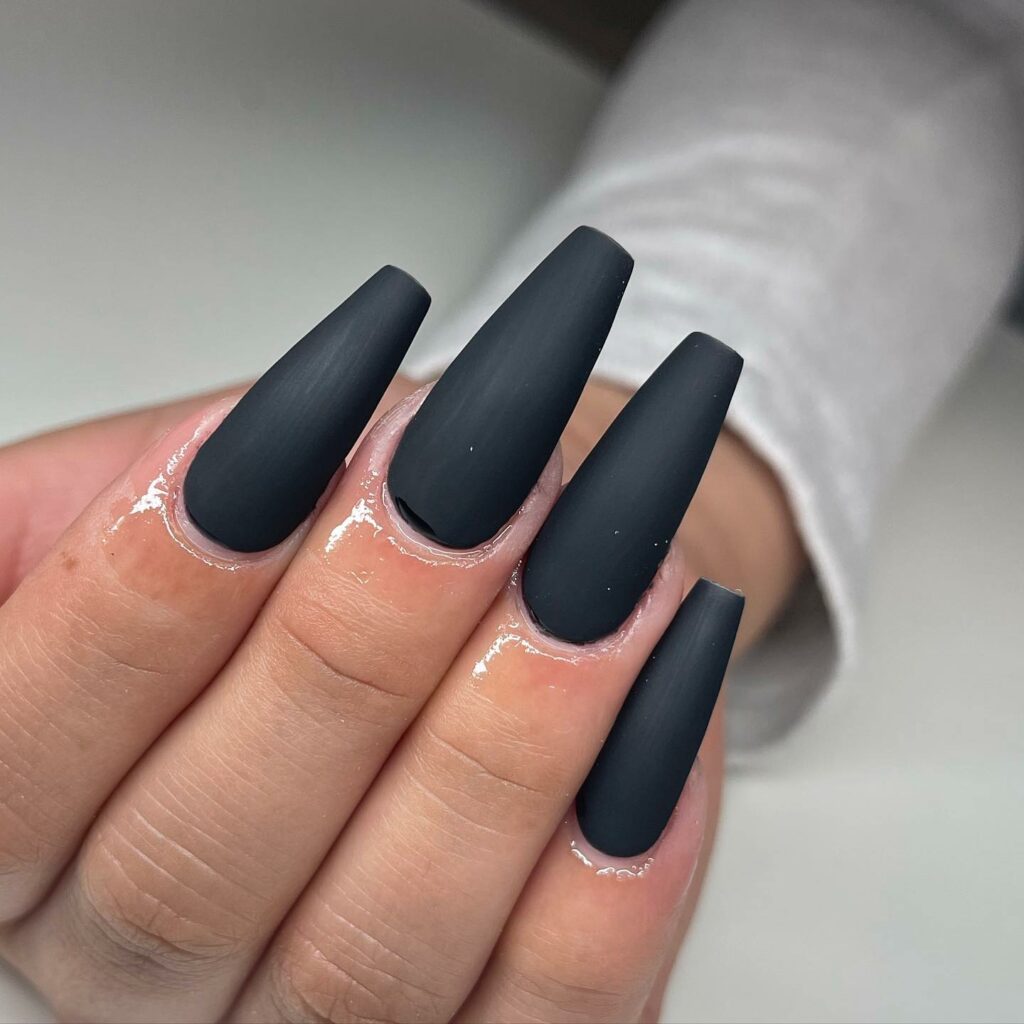 Try matte black nails with for an elegant twist on a classic look.
Bedazzled: Sparkly Black Nail Design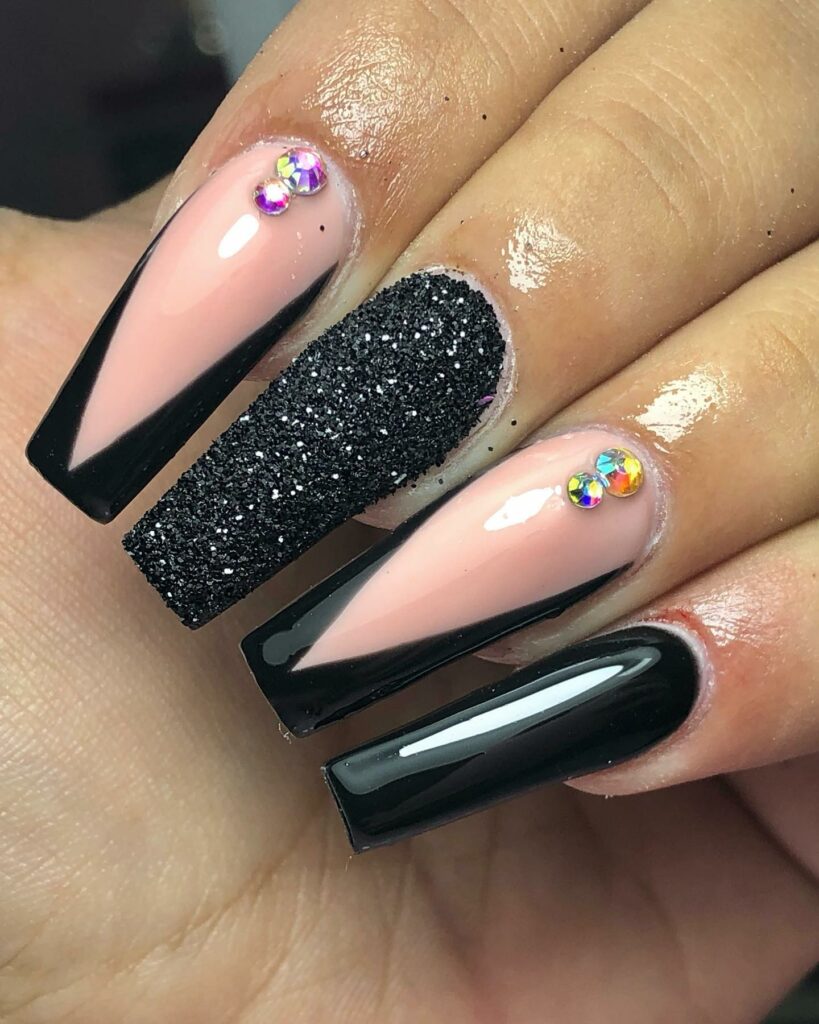 Black polish doesn't have to be basic! Make your manicure stand out with a holographic stripe and crystal accents. Cut holographic nail sheets into strips and place them on your nails. Trust me, you'll shine brighter than a diamond!
Jewels On Nudes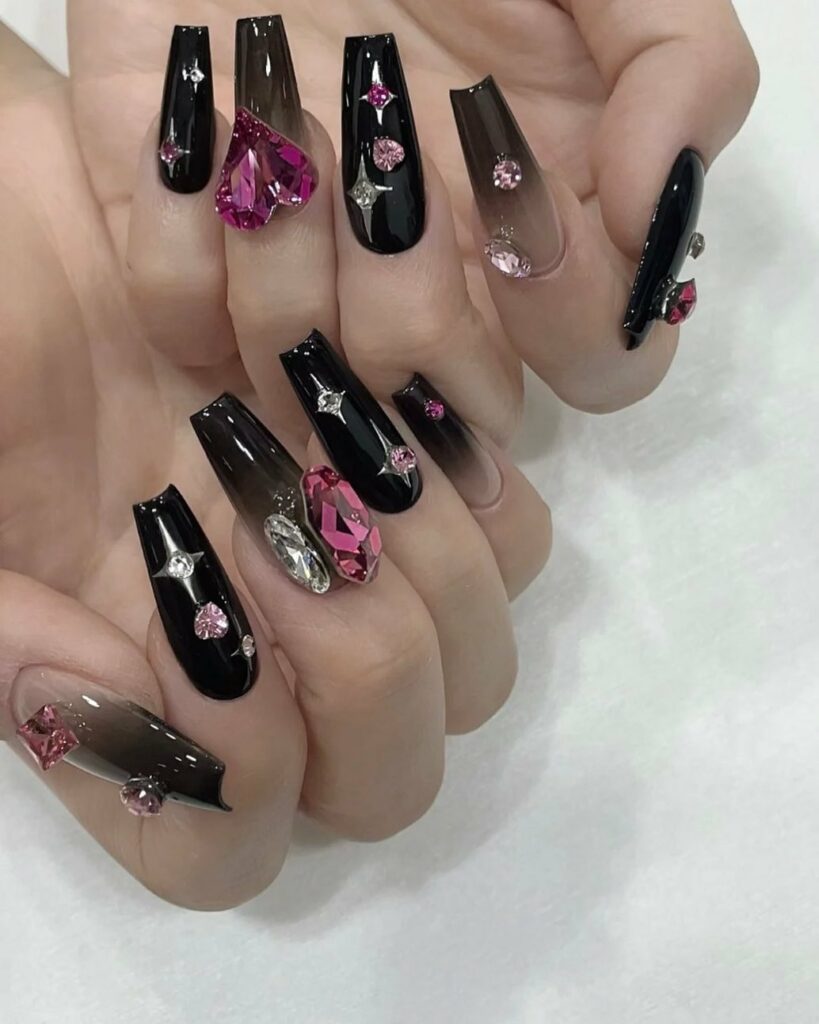 Think nude nails with black French tips are too plain? Add some sparkle with gems and rhinestones on selected nails. Adding a bejeweled accent nail takes the design from 'nice' to 'WOW' with minimal effort.
Glammed Up: Black And Jelly Coffin Nails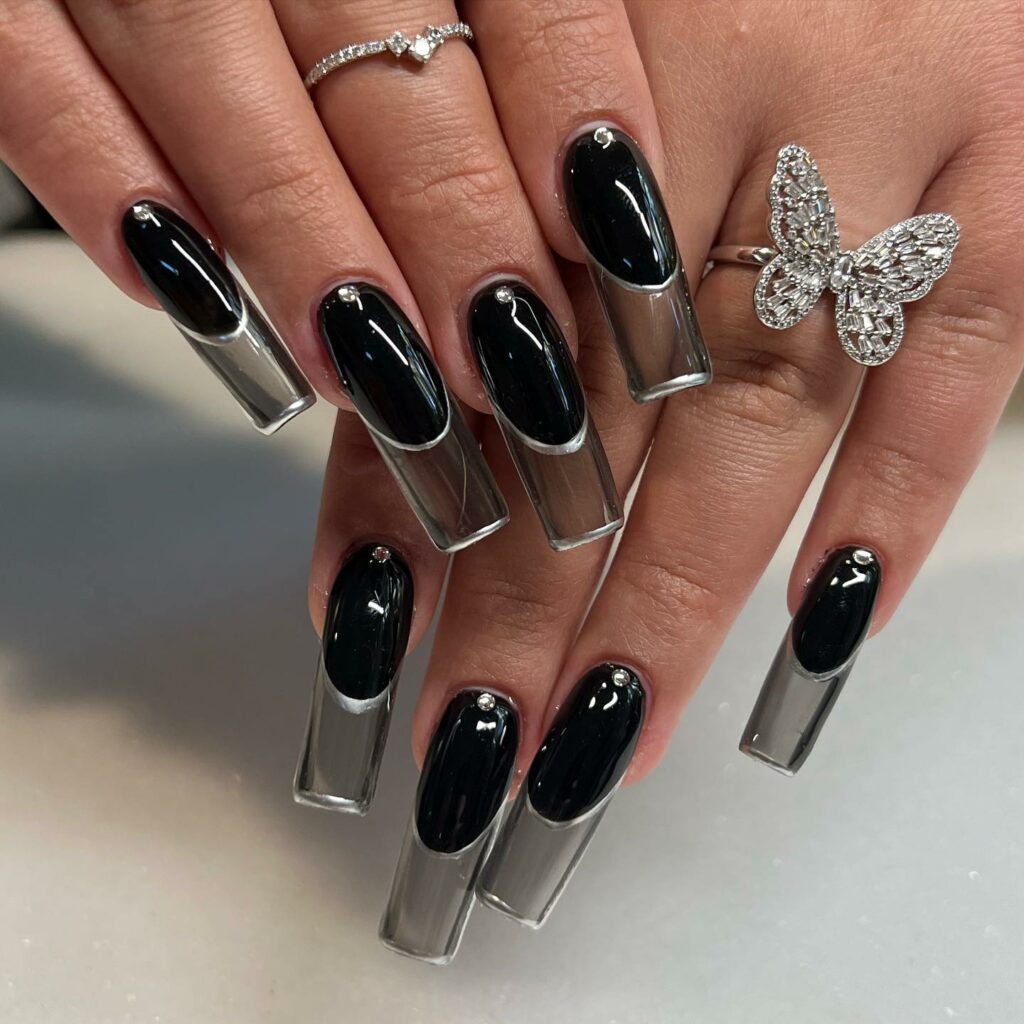 Up your nail game with this glamorous twist on black coffin nails. Opt for two accent designs: one with gold and the other with sparkling crystals on a clear nail. Feel free to swap the clear nail for a total gold one—I've tried it, and it's just as fab!
Understated Elegance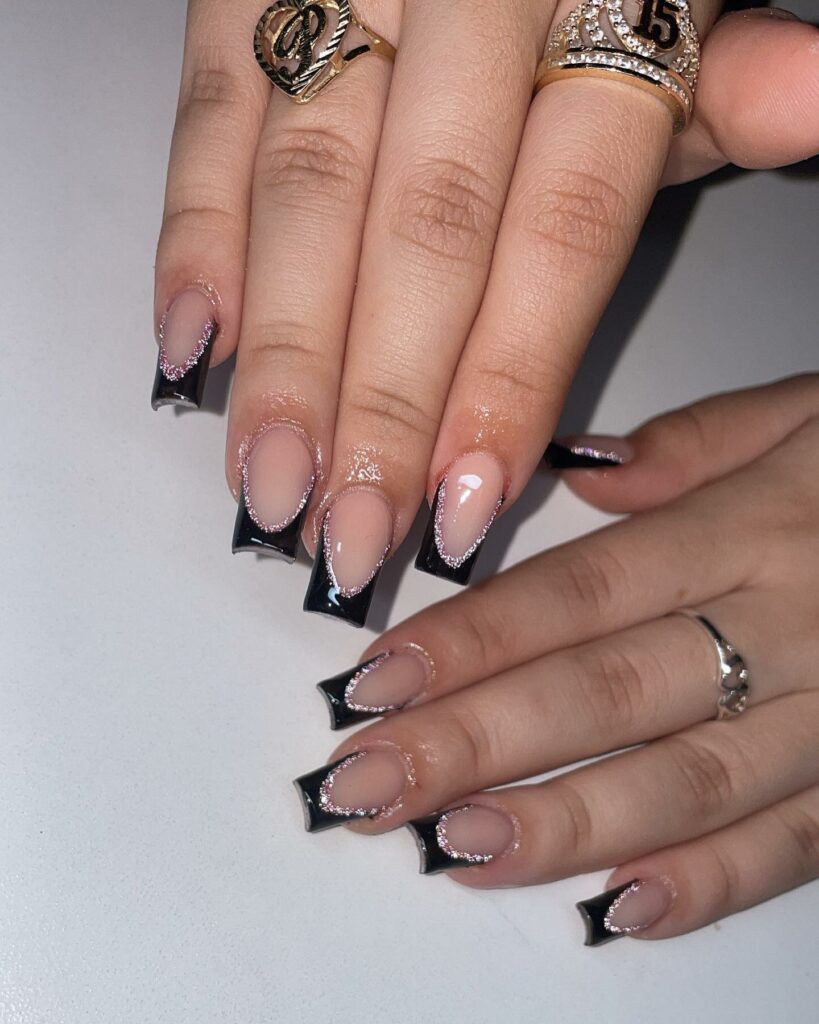 Sometimes, less really is more. A simple gold outline on glossy black tips has a luxurious vibe without being too flashy. If you lean towards understated elegance, this style is a must-try.
The Cow Print Craze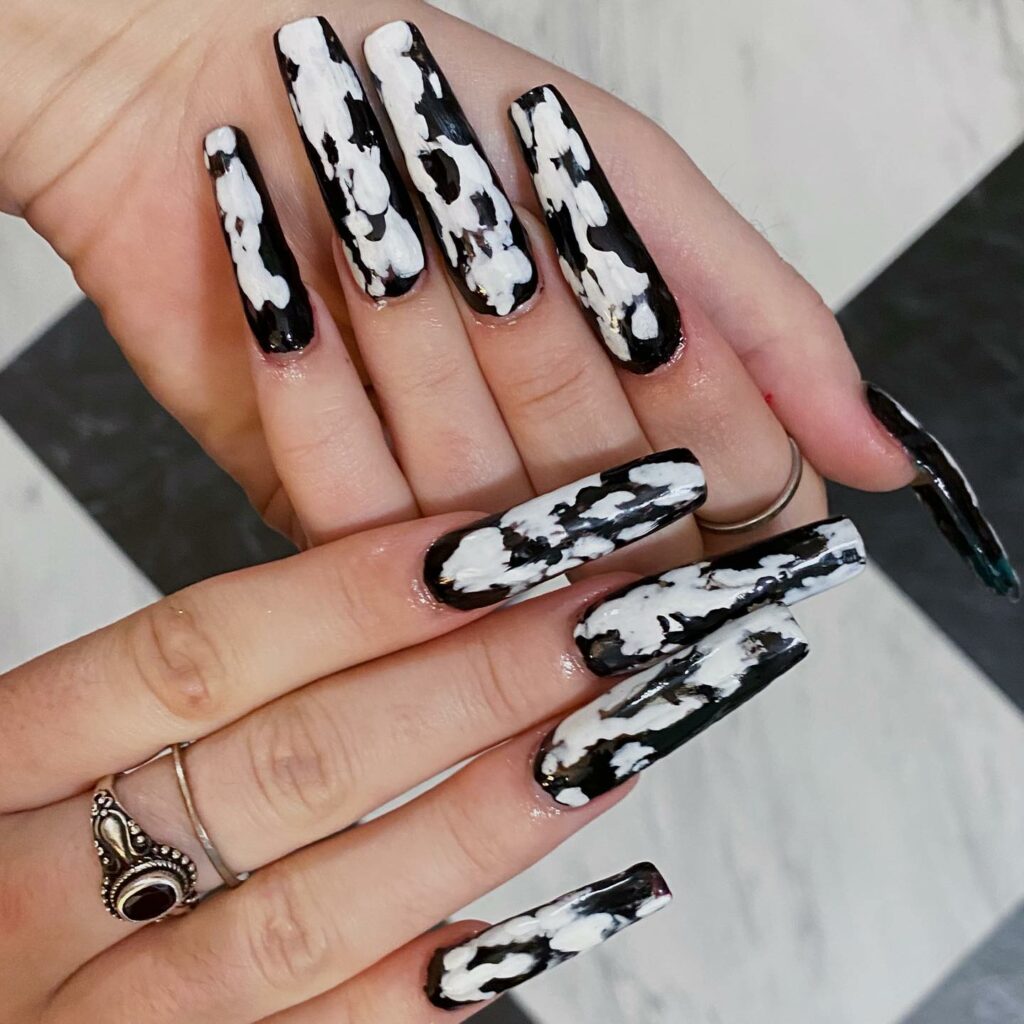 Nail aficionados! Ever wanted to unleash your inner cowgirl? Try cow print on matte black coffin nails. Seriously, it's adorable and perfect for casual outings with friends. I wore this look to a recent BBQ, and let's say it was utterly unique!
Modern Elegance
Tired of the standard French manicure? An ultra-thin black French tip is both romantic and sophisticated. This design perfectly matches those dressy occasions—yes, including weddings! I wore these to a friend's wedding, and they were a hit.
Silver Linings
Need to get into gold? Silver accents on black nails are just as stunning. Outline your black French tips with silver glitter, and maybe add some 3D floral accents. I popped some silver gems on each nail, and voila—red carpet worthy!
The Art Of The Bow
Who knew a neutral palette could be so fun? Try 3D ribbons, dotted black French tips, and hand-painted florals on a nude, white, and black backdrop. I did this for a tea party and felt like an absolute princess.
Classy Meets Glam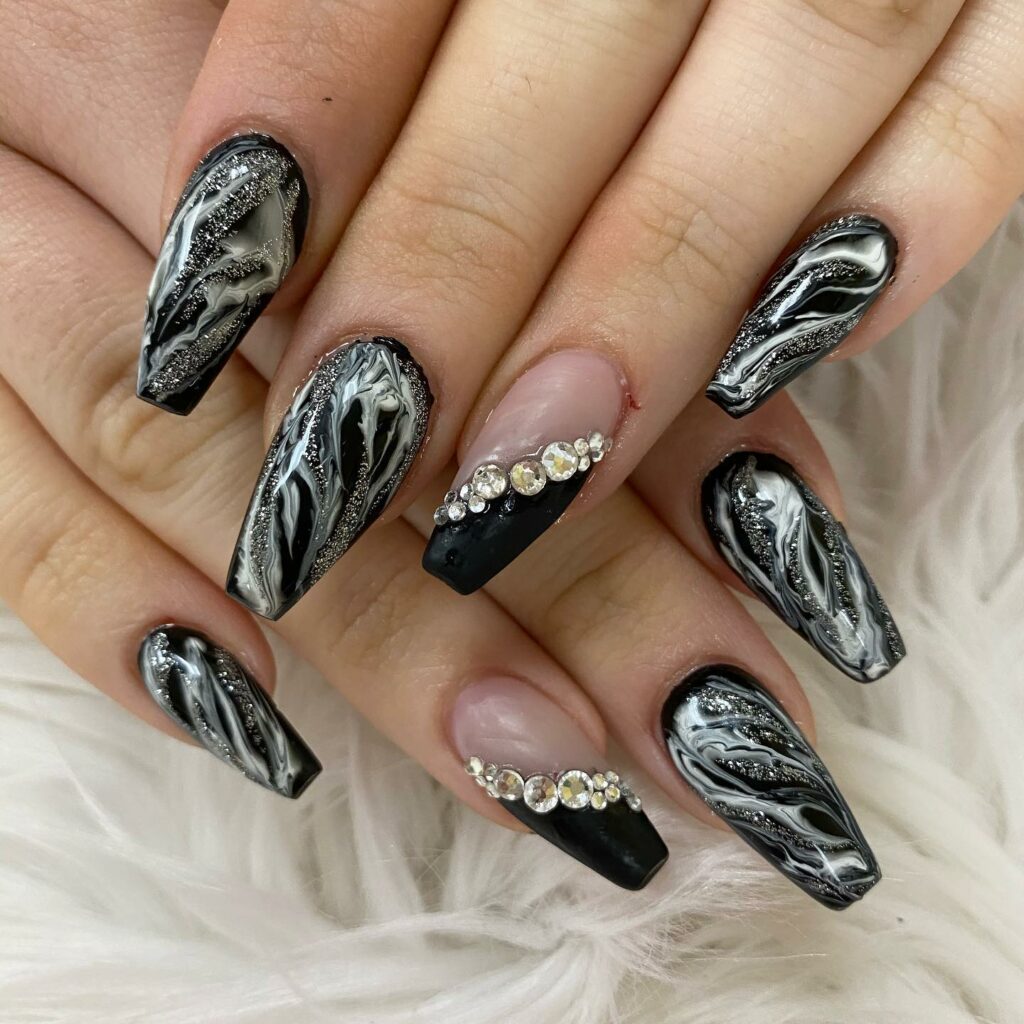 Go full glam with nails fully coated in black polish adorned with luxury accessories. Opt for nails with thin V-tips and gold gems along the cuticles for balance. It's glamorous yet toned down, and trust me, you'll be the talk of any event.
Unleash Your Wild Side: Edgy Leopard Print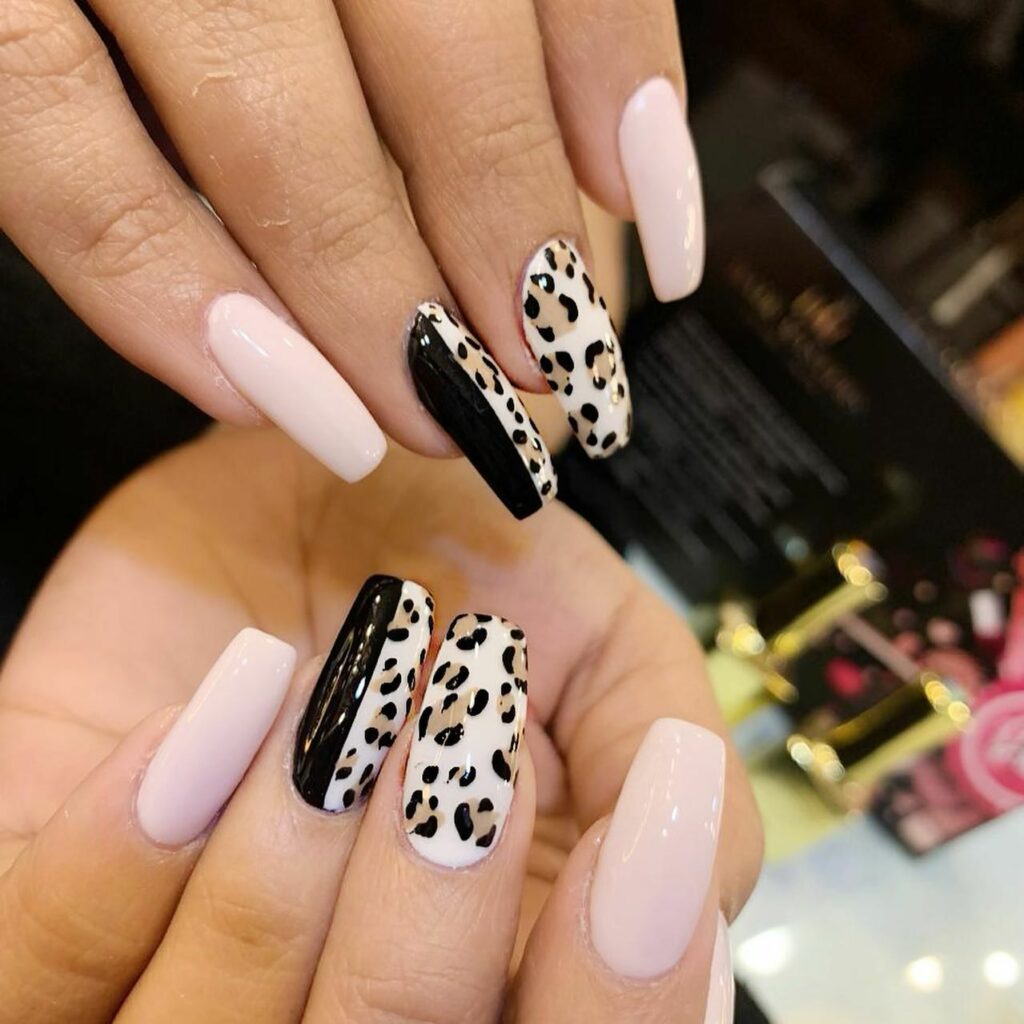 Leopard print is a timeless classic that, believe it or not, can make your black coffin nails look even more stunning. I recently rocked this print at a girls' night out, and it was an absolute hit. Add a leopard accent nail to spice things up!
Make It Pop: A Speck Of Neon
If you think a line can't make a statement, think again! Add a neon stripe down the center of each nail to turn heads. The neon adds a pop of color that contrasts beautifully with the black. I tried neon pink last summer and got so many compliments
The Showstopper: Black And Rainbow Shard Nails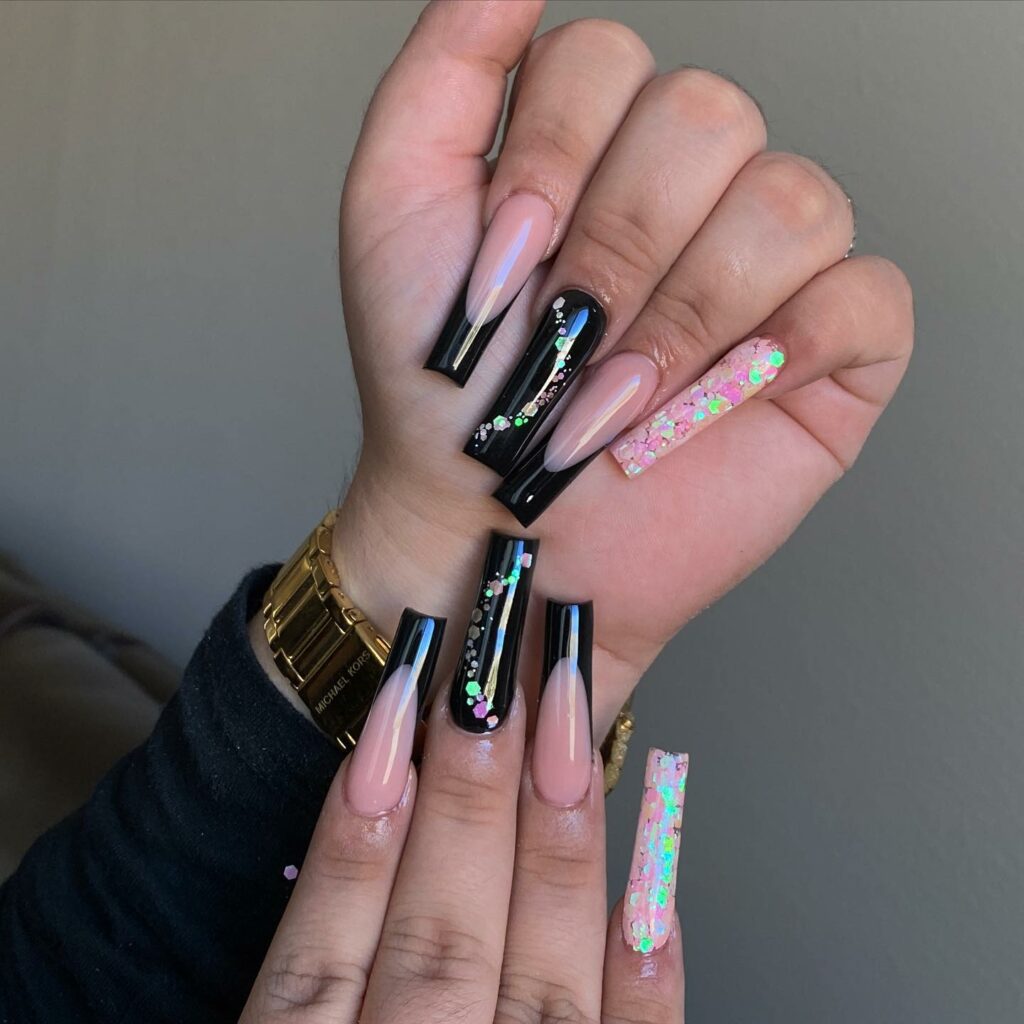 Let's get bold, shall we? Imagine a different design on each nail: rainbow shards, vibrant gems, and glitter. I wore this for a birthday bash and felt like an absolute queen. Get creative with holographic nail sheets to recreate those rainbow shards.
Galaxy Glam Coffin Nails
Dark and mysterious is how I like my space—and my nails. A black base is the perfect canvas for some cosmic glitter art. I went full-on Galaxy Queen last Halloween, and the compliments were endless. You've got to try this out-of-this-world look.
Subtle Yet Chic Marble Coffin Nails
Who says you need long nails to make a statement? Medium-length black coffin nails are just as stunning. I like to mix it up with some monochrome argyle patterns. It's sophisticated yet simple, perfect for office wear or casual outings.
All That Glitters: Shimmery Black Coffin Nails with Crystals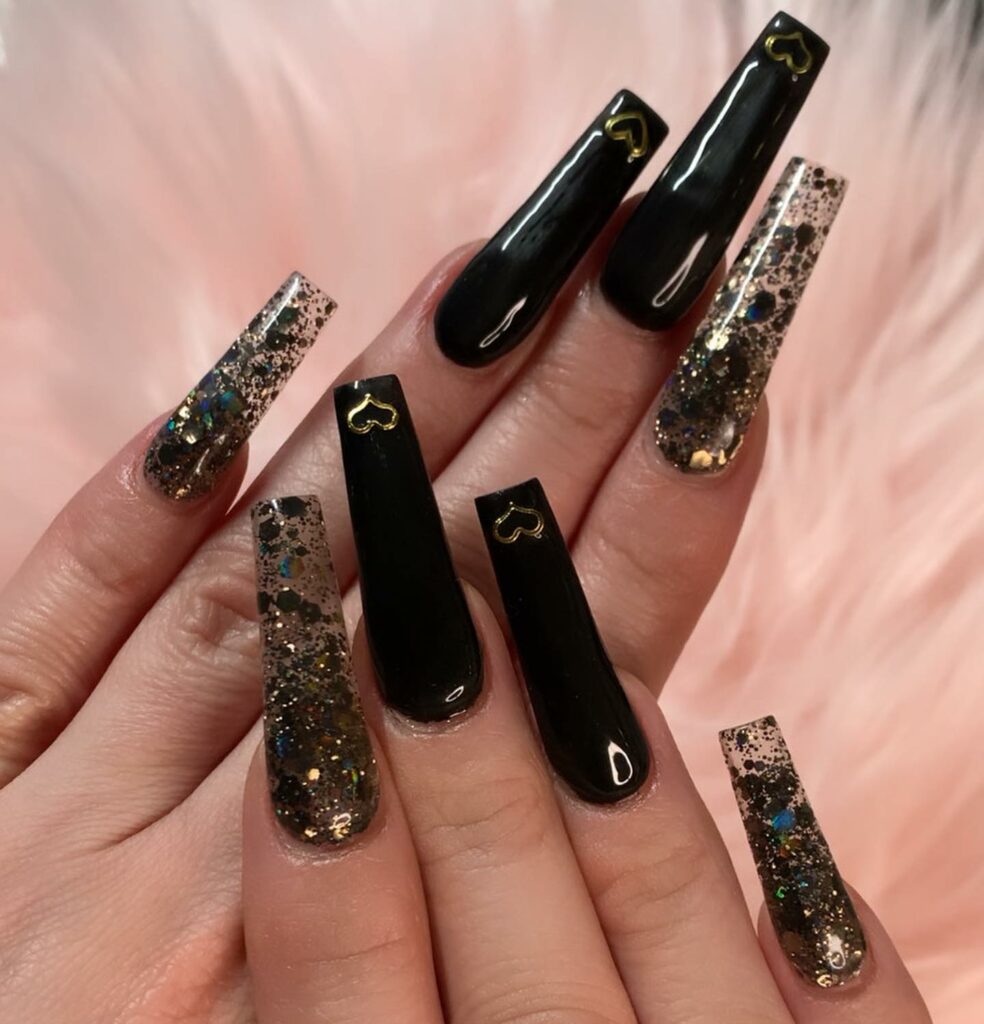 For those who live for the sparkle, this one's for you. Coat your black nails with silver shimmer and finish off with a crystal. This design screams chic and would be perfect for a special occasion or a glam night.
3 Brands Of Black Nail Polish That I Recommended?
When it comes to black nail polish, you can't go wrong with OPI's "Black Onyx" or Essie's "Licorice." Both are highly pigmented, offer great coverage, and are super long-lasting. Deborah Lippmann's "Fade to Black" is a must-try for those who are into clean beauty.
As for decals, I absolutely adore the ones from Olive & June. Their designs are trendy yet timeless. If you're feeling a bit adventurous, the decals from Nailicious are top-notch and offer a wide variety of designs, from intricate patterns to cute, cheeky images.
Lastly, Swarovski crystals are the gold standard for some good old bling. They catch the light beautifully and add that extra sparkle. For everyday looks or more minimalist designs, Sally Hansen's nail art kits are also super handy and come in various styles.
8 Tips For Achieving The Perfect Black Coffin Nail Shape
Start with a Good Foundation: Make sure your nails are clean, dry, and old polish-free. Use a nourishing base coat to protect your natural nails.
Get Your Tools Ready: Invest in a good-quality nail file and clippers. The finer the grit of the file, the smoother the finish. Trust me, your nails will thank you.
Map It Out: Before filing away, visualize the shape you're aiming for. Some folks find marking the mid-point on the tip of the nail as a guide helpful.
File in One Direction: It's tempting to go back and forth but resist! Filing in one direction prevents splitting and gives you better control over the shape.
Start from the Sides: Begin by filing the sides of your nails toward the center. Gradually work towards the tip, angling your file to get that tapered coffin look.
Check as You Go: It's easy to get carried away, so take frequent breaks to check your progress. Hold your hand out before you to see if the shape looks symmetrical.
Fine-tune with a Buffer: Once you're happy with the shape, smooth the rough edges with a nail buffer. This will also prep the nail for polish, helping it adhere better.
Seal the Deal: Finish off with a top coat to seal your hard work, and you're rocking those coffin nails!
Remember, practice makes perfect. If you're new to shaping your nails, start on a weekend when you've got plenty of time to get it right. And if all else fails, there's no shame in seeking out a pro. After all, we can't all be experts in everything—except maybe for choosing the perfect Netflix series to binge while our nails dry! Happy shaping!
How Can One Easily Remove Black Nail Polish Without Staining Their Nails?
Prep Your Nails – First, get a good quality nail polish remover, preferably acetone-free, so it's less harsh on your nails. Grab some cotton balls, a nail file, and maybe even a skin-protecting cream or petroleum jelly for extra precaution.
Buff Before You Wipe – A quick tip: use a nail file to gently buff the top layer of your polish. This breaks the seal and allows the remover to penetrate more easily. Just a gentle scuff, nothing more, or you'll risk damaging your natural nail.
Protect Your Skin – Before you go in with the remover, swipe a thin layer of petroleum jelly or a specialized cuticle cream around your nail bed. This creates a barrier that prevents the polish from staining your skin.
Soak and Swipe – Soak a cotton ball in your nail polish remover and press it against your nail. Hold it there for a good 10–20 seconds. This softens the polish and makes it easier to wipe off. After that, swipe the cotton ball down the length of your nail. Repeat if necessary.
The Roll Technique – If you're still finding it hard to get the last remnants of black off your nails, try the roll technique. Press a remover-soaked cotton ball against your nail and roll it from side to side instead of swiping.
Rinse and Nourish – Once all the polish is off, give your hands a quick rinse. Follow up with a nourishing nail oil or a rich hand cream to replenish lost moisture.
Extra Credit: The Whitening Paste – Make a quick paste from baking soda and water if you notice any residual staining. Brush it over your nails using an old toothbrush and let it sit for a few minutes before rinsing off. This should help to remove any lingering stains.
Still Looking for Inspiration, Then Check Out This Video
Conclusion
And that's a wrap, lovelies! As you can see, black coffin nails are the ultimate canvas for your nail art dreams. From the timeless leopard print to eye-popping neon stripes, there's a style for every mood and occasion. My top tip is to feel free to mix and match textures and accents. Throw in glitter, gems, or even a contrasting nail shape for that extra oomph. Just remember, the only limit is your imagination. So, channel your inner nail artist and have a blast creating your next show-stopping look. Until next time, keep those nails fabulous!
Feature Image Photo By @calypsobeautyepoch on Instagram
Last reviewed and updated on October 25, 2023