Hey there, I've got some exciting news to share – we're diving deep into the stylish world of black pedicures today! In the dynamic sphere of beauty, it's refreshing to shake things up and bask in the timeless allure of a black pedicure – a splash of sophistication and depth that never goes out of style.
In this upbeat guide, I'm here to lead you step by step on how to ace that salon-quality black pedicure right at home. You'll discover the essential tools and hacks to nail that glossy, flawless finish and keep it looking fabulous over time. Whether you're a beauty aficionado or just getting started, this piece will be your go-to source, lighting the way towards achieving that potent blend of style and grace that a black pedicure brings to your overall look. So gear up, because we're about to redefine chic, one toe at a time. Let's up your beauty game, what do you say?
Geometric Delights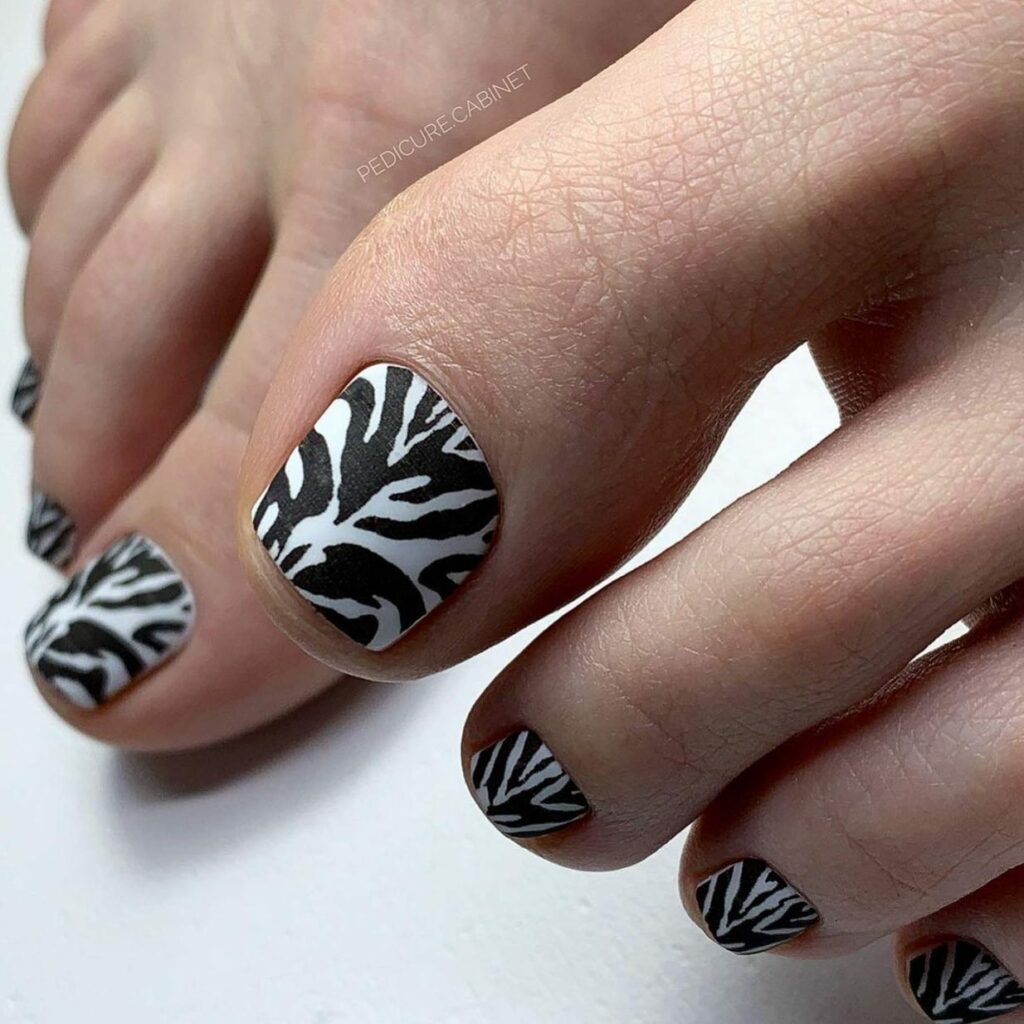 Sleek lines, defined shapes, and the chicness of black and nude – this design is a conversation starter. Trust me, I've had strangers ask about my toenails!
Red and Black: Dramatic Duo
Something is spellbinding about pairing the fiery passion of red with the depth of black. It's like when I tried those sizzling red heels with a chic black dress. Black perfectly tempers the intensity of red, making your nails look refined and stylish.
White and Black: Classic Contrast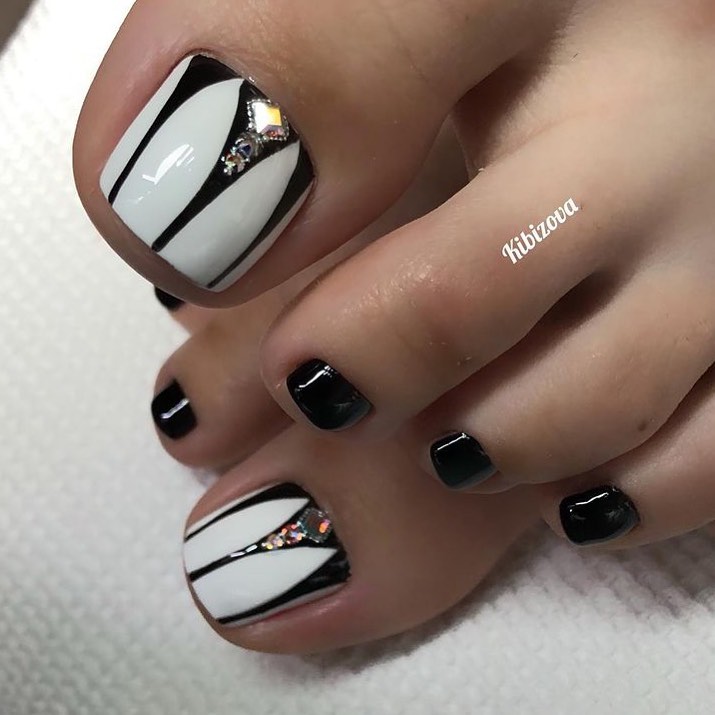 This combination always stays in style. From zebra stripes to geometric designs, the possibilities are endless. I recall the time I replicated the pattern of my favorite black and white scarf on my toenails – talk about fashion harmony!
Pink and Black: Balancing Act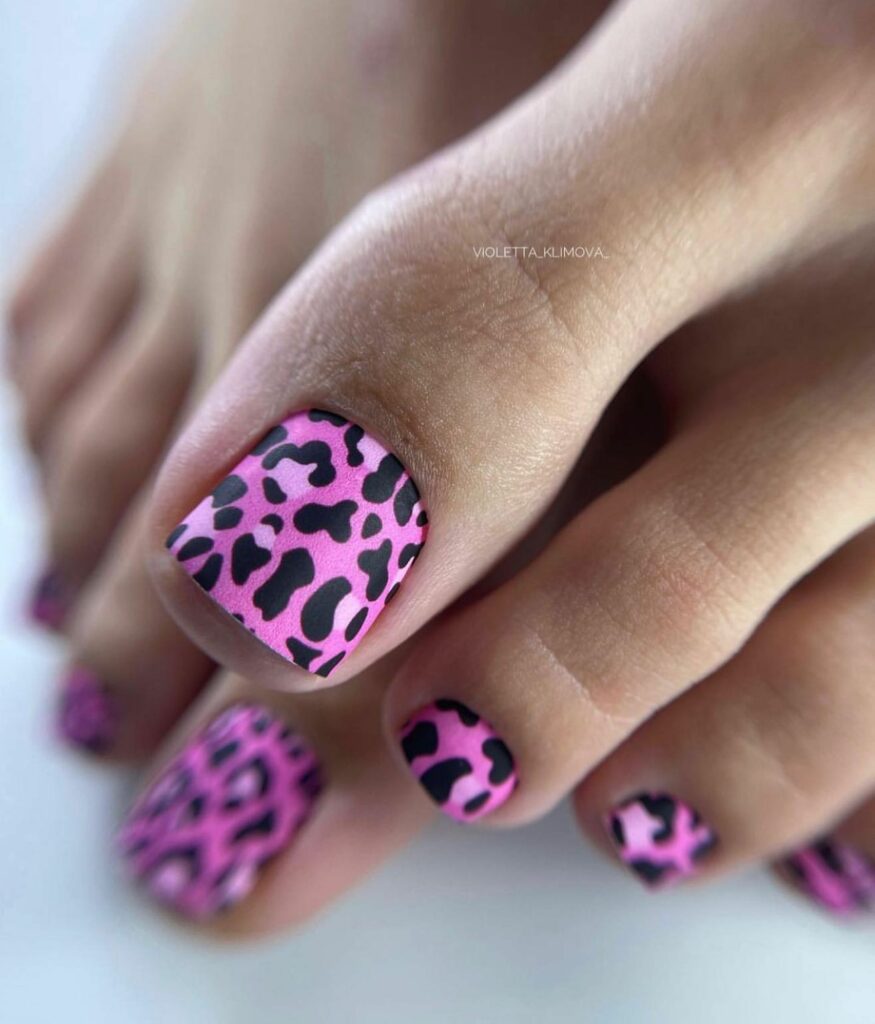 Delicate yet dynamic, this duo requires a careful hand. It reminds me of my favorite vintage photo filter, with black adding depth and pink providing that soft glow. Decorate wisely to keep the elegance intact.
Dive into Designs: The Art of Black Pedicure
French with a Twist
Oh, the French pedicure! Always in vogue. Instead of the usual white tips, why not go with black? Add glitter, foil, or even a motivational word (I once had "Hustle" on my big toe).
Geometric Patterns: Timeless Trend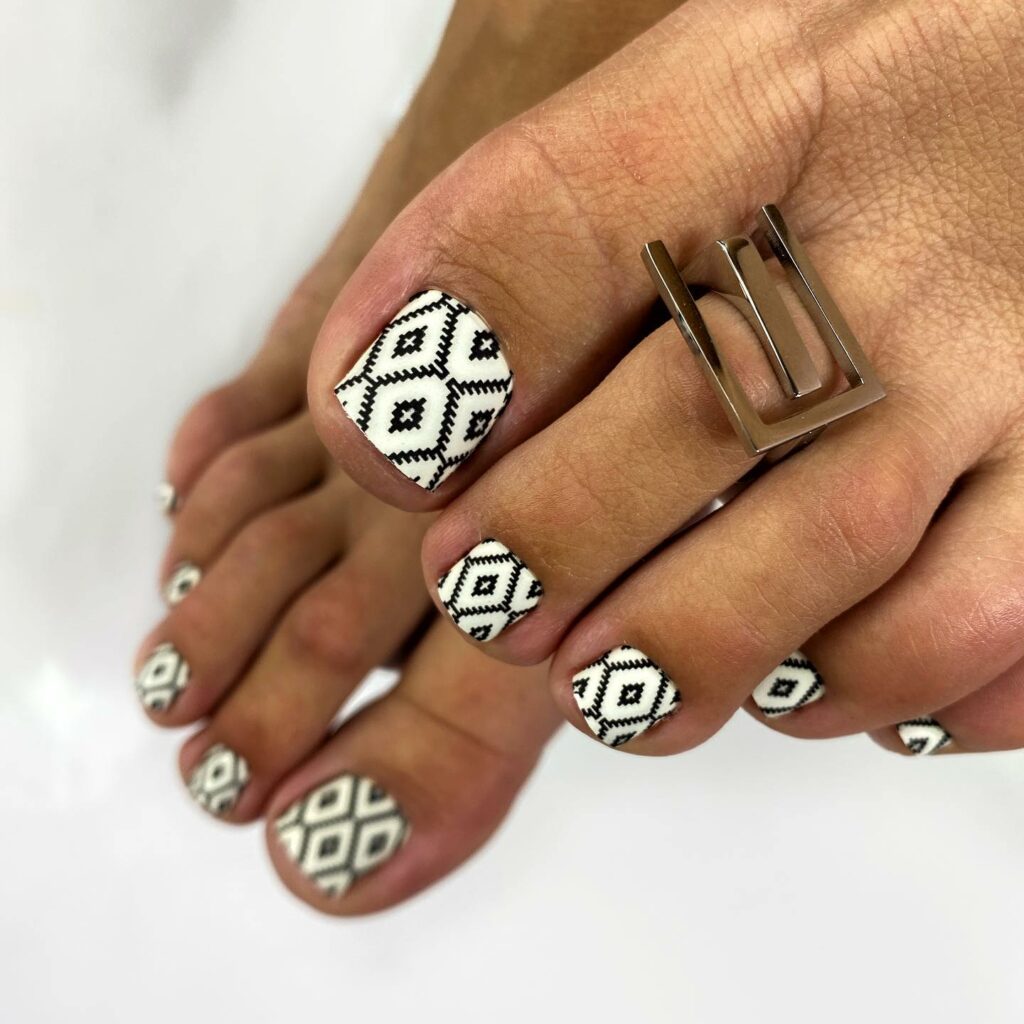 From triangles to zigzags, geometric patterns are evergreen. I've often paired a striped black pedicure with striped sandals, and it's a showstopper every time.
Rhinestone Royale
Add a dash of sparkle with imitation gemstones. My go-to strategy? A single rhinestone in the center of my nail for that understated elegance.
Starry Nights with Silver
Whether using silvery foil or mirror powder, black combined with silver evokes images of a night sky. Perfect for those romantic beach outings!
Golden Glamour
Elevate your black pedicure with touches of gold. From foil to rhinestones, your toes will gleam with sophistication.
Foil Frenzy & Confetti Carnival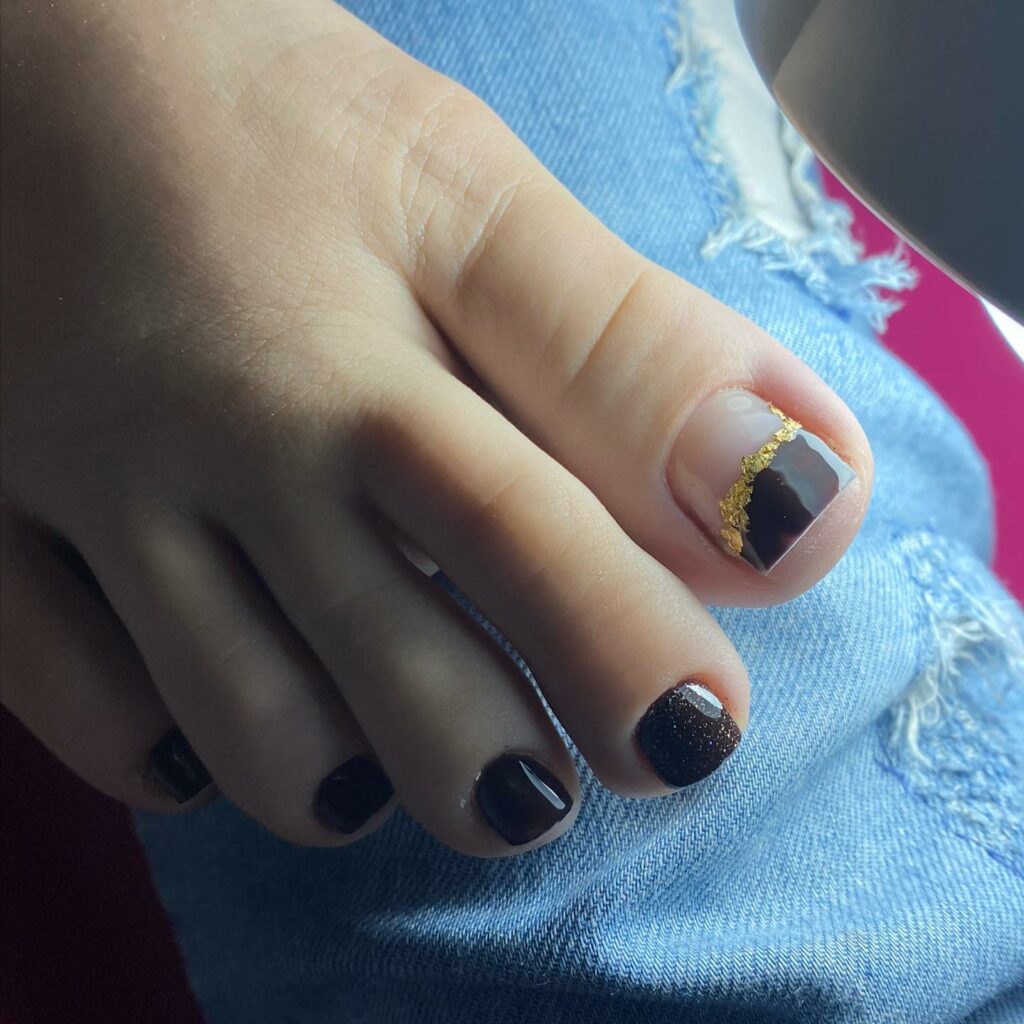 From neon to holographic, the variety of foils can make your pedicure pop. And if you're feeling festive, add colorful confetti.
Matte Black: A Different Dimension
Swap out the shine for a sultry matte finish. I've been obsessed with this since I tried it during a spa weekend with friends. Pair it with simple stripes or dainty rhinestones, and you're golden!
Glossy Cut-Outs: The Modern Classic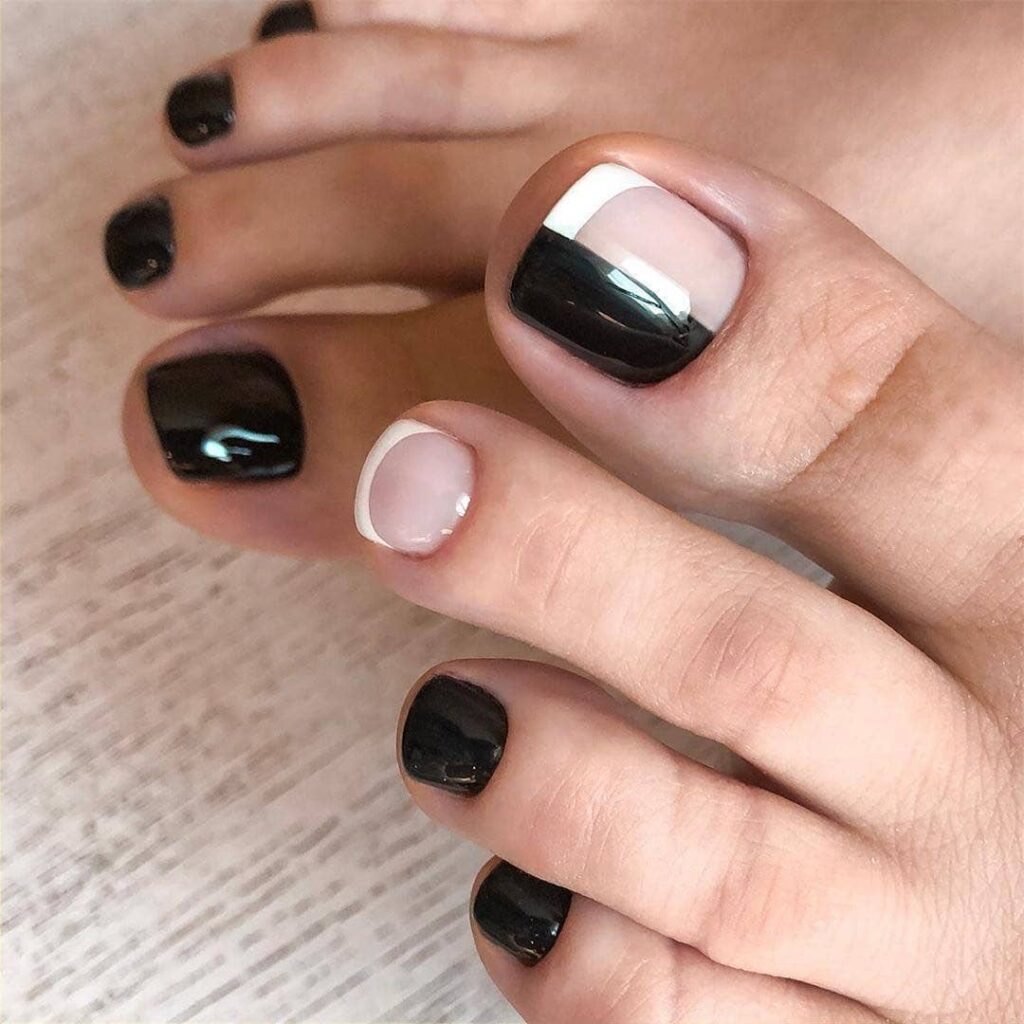 Remember that iconic look of glossy cut-outs in magazines? Well, it's even better on your toenails. It's the perfect fashion-forward touch for the autumn season.
Smokey Dimensions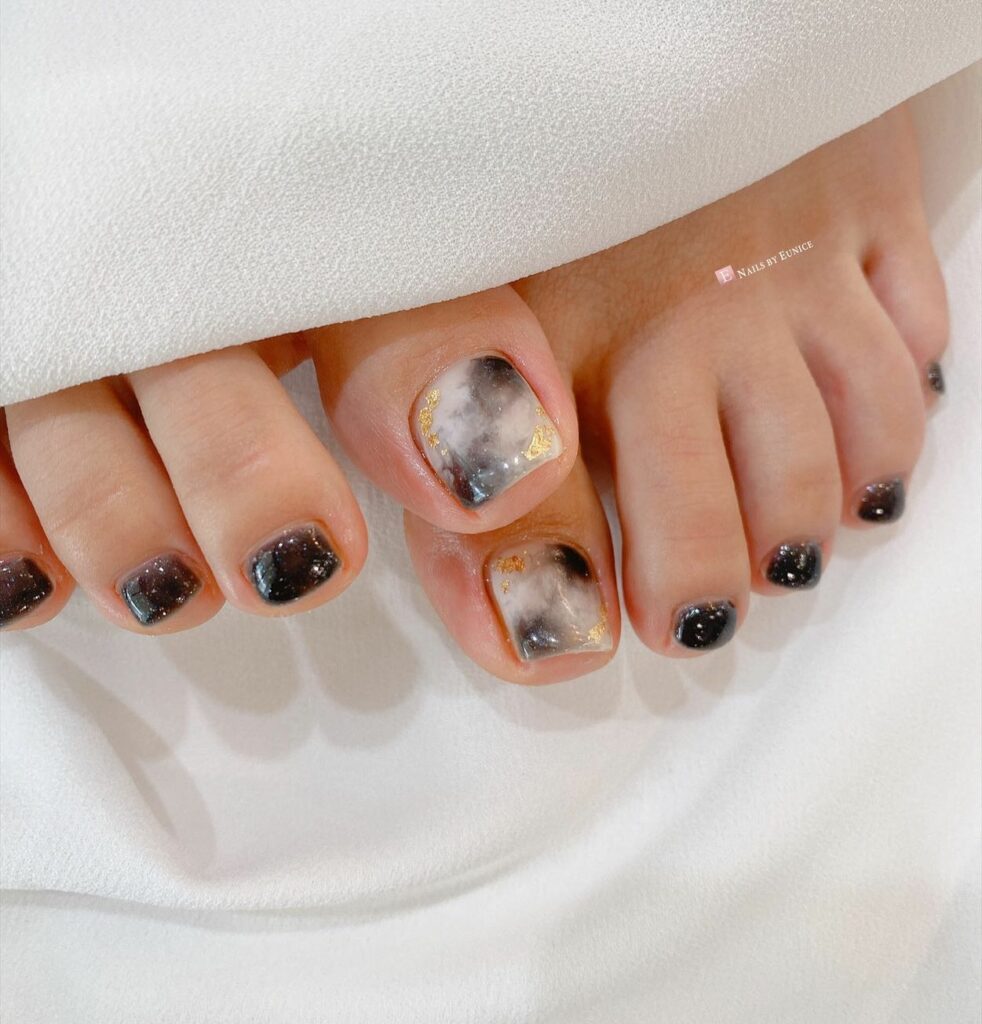 Smoke effects on black nails are mystically chic. It's like transforming your toes into a mini artwork, each telling an enchanting tale.
Prep School Chic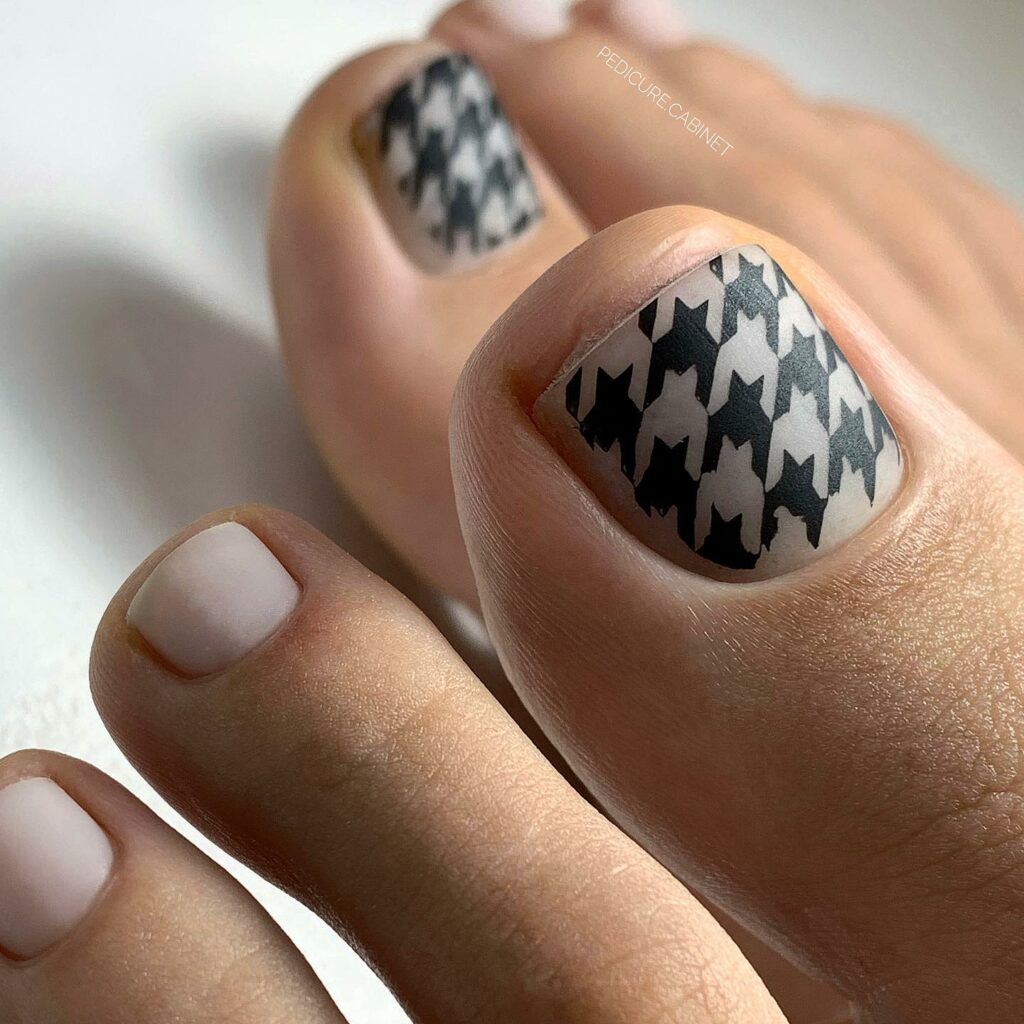 Oh, the nostalgia of Gossip Girl! Channel that prep school charm with stylish black designs. A nod to the Upper East Side, right at your feet.
Starry Night
Invite the beauty of a starlit night onto your toes with a black base adorned with tiny silver or white star decals. This style brings a touch of whimsy and celestial charm to your pedicure, perfect for both casual outings and elegant evenings.
Minimalist Chic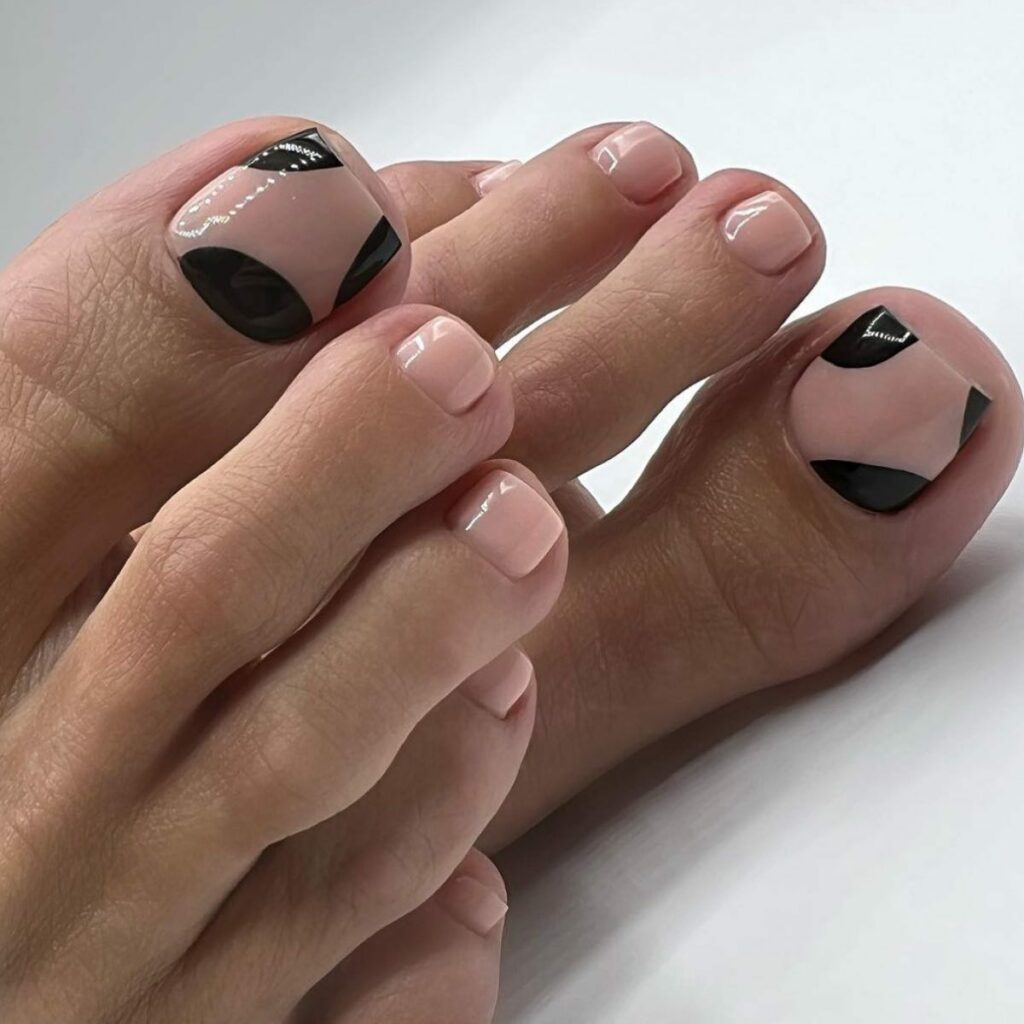 For those who adore simplicity, consider a minimalist design with a pure black coat, possibly accentuated with a single gold or silver stripe on each nail. This classy and straightforward look showcases sophistication and a modern aesthetic.
Marble Magic
Incorporate the elegance of marble patterns into your pedicure by combining black and white swirls for a marble effect. This technique adds depth and an artistic touch, transforming your toenails into miniature art pieces.
Metallic Accents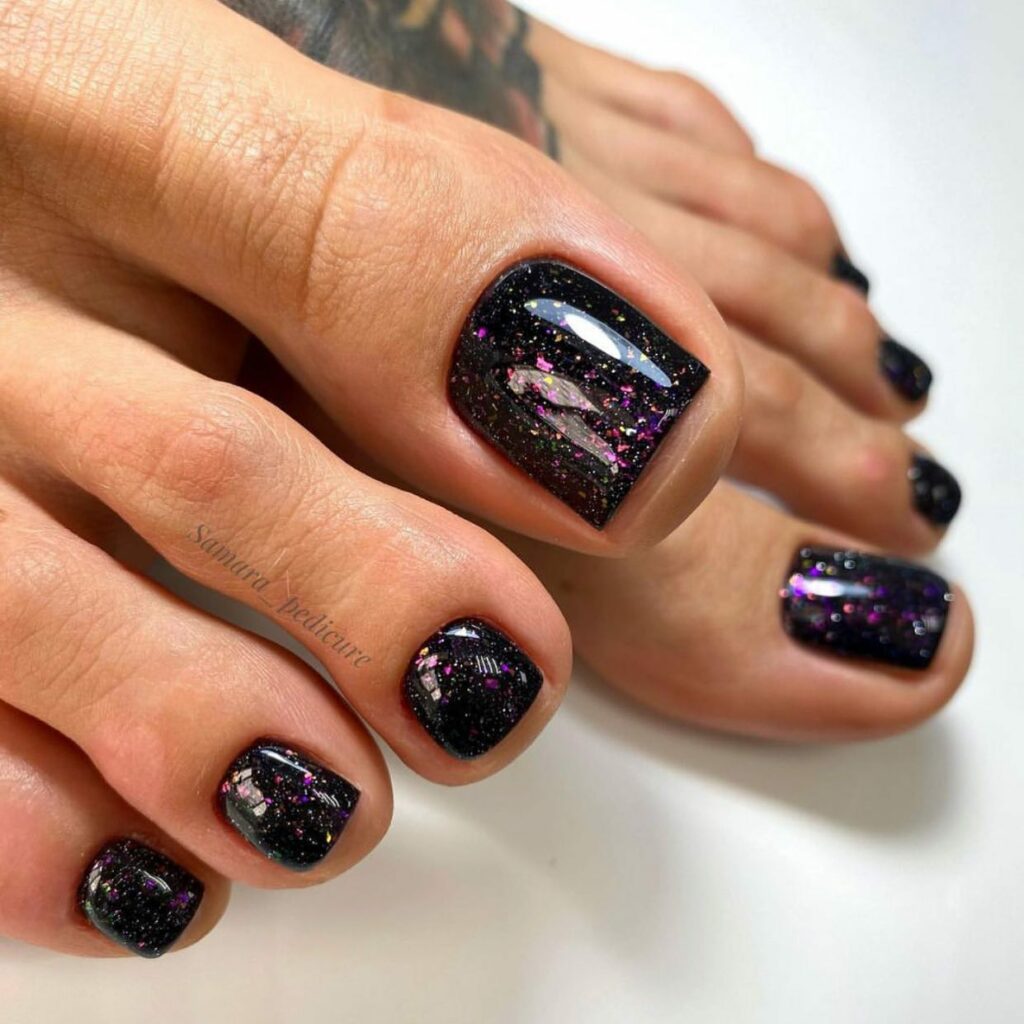 Enhance the black base with metallic accents like gold or copper dots arranged in patterns or random placements. These metallic touches add a luxurious finish and can elevate the entire look of your pedicure.
Chic Animal Prints
Unleash your wild side with a chic animal print pedicure, combining black with another complementary color to create patterns like leopard spots or tiger stripes. This idea brings a fun, bold element to your look, showcasing your adventurous spirit.
Glow-in-the-Dark Fun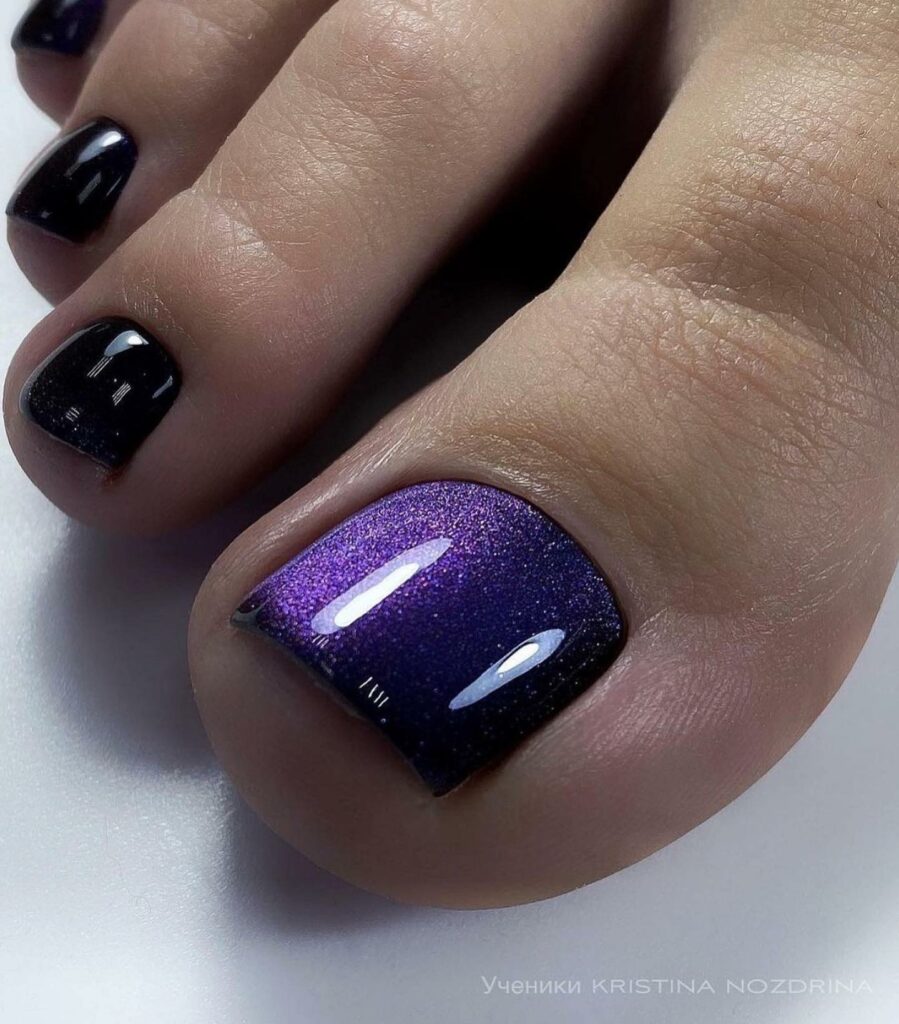 Why not add a playful touch with a glow-in-the-dark top coat over your black polish? This unique idea promises a burst of nighttime fun, adding an element of surprise to your pedicure.
Botanical Bliss
Decorate your black pedicure with delicate botanical patterns or floral decals. This approach creates a fascinating contrast, combining the depth of black with the delicate and vibrant touches of nature-inspired designs.
Lacey Elegance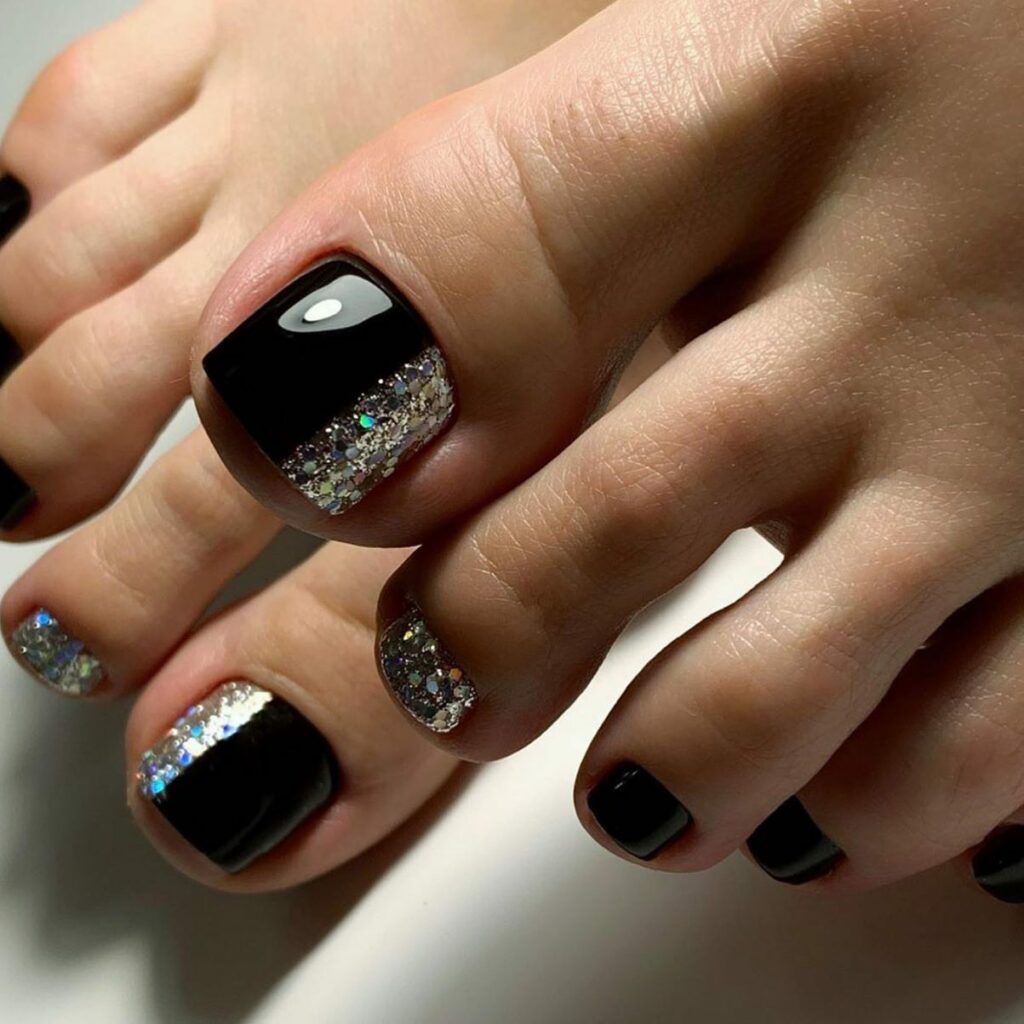 Infuse a feminine touch with lace patterns over a black base, creating a pedicure of sophistication and delicacy. This elegant approach makes for an excellent choice for special occasions and romantic dinners.
Pop of Neon
Bring in a vibrant contrast by incorporating neon colors with black, maybe as polka dots or stripes. The vivid neon colors pop brilliantly against a black background, adding a modern and energetic vibe to your pedicure.
The Classic Monochrome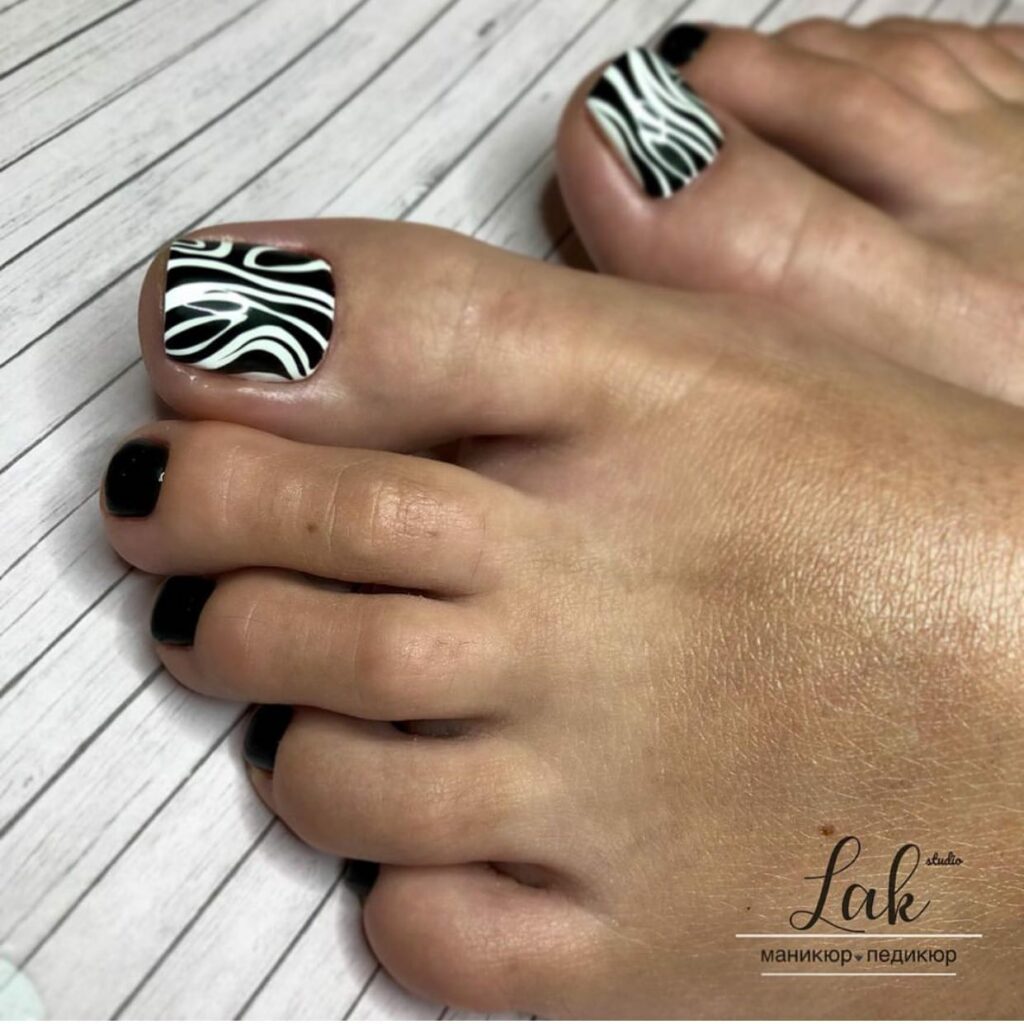 Experiment with shades of black and grey to create a monochrome gradient effect, presenting a classy, subdued, yet visually appealing pedicure versatile enough to match any outfit.
Crystal Encrusted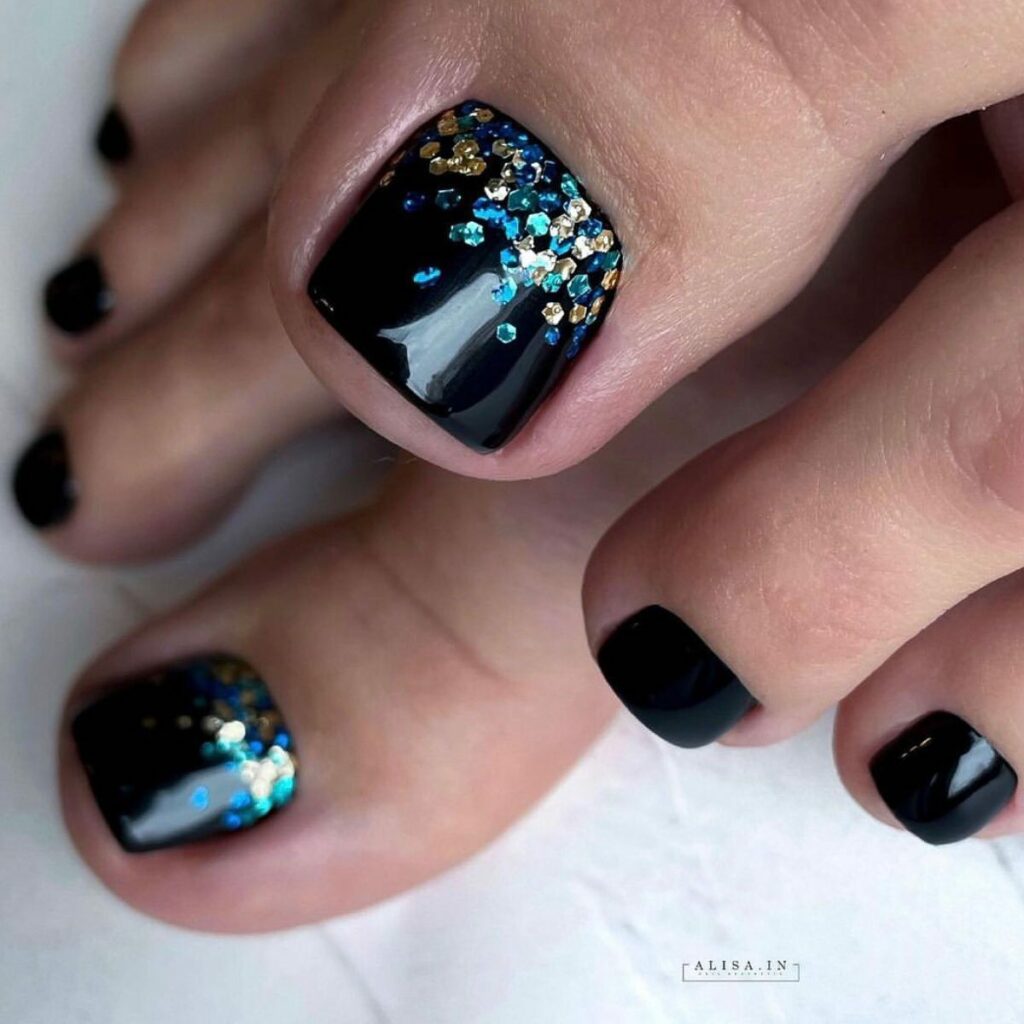 Add a bit of bling by encrusting your black pedicure with tiny crystals or gems, creating a pedicure that shimmers and shines with every step, adding a touch of glamour to your style.
Abstract Artistry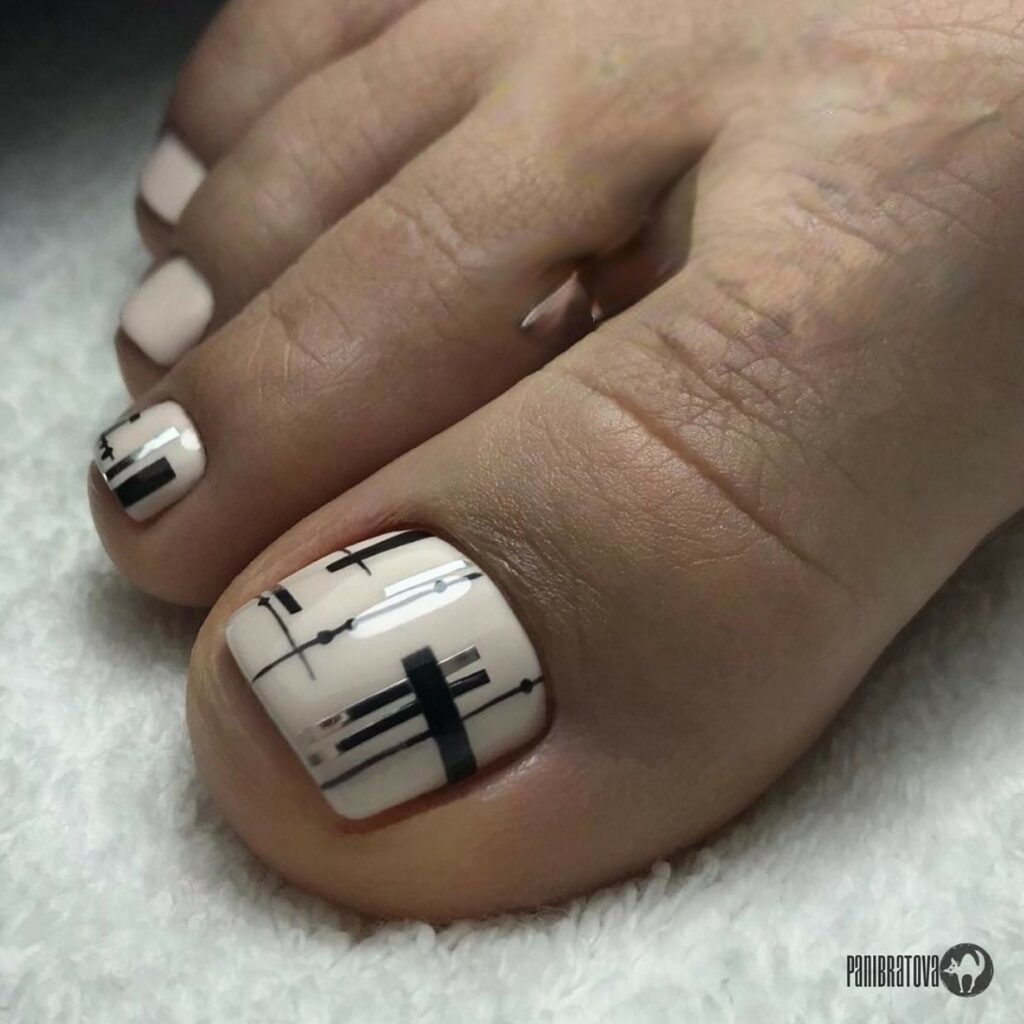 Unleash your inner artist by creating abstract designs with black polish, using brushes or sponges to create textures and patterns that are uniquely yours, and turning your toenails into canvases for artistic expression.
Half-and-Half Designs
Create striking half-and-half designs using black combined with another vibrant color, delineated with a sharp, clean line for a modern, graphic look that captures attention.
Black French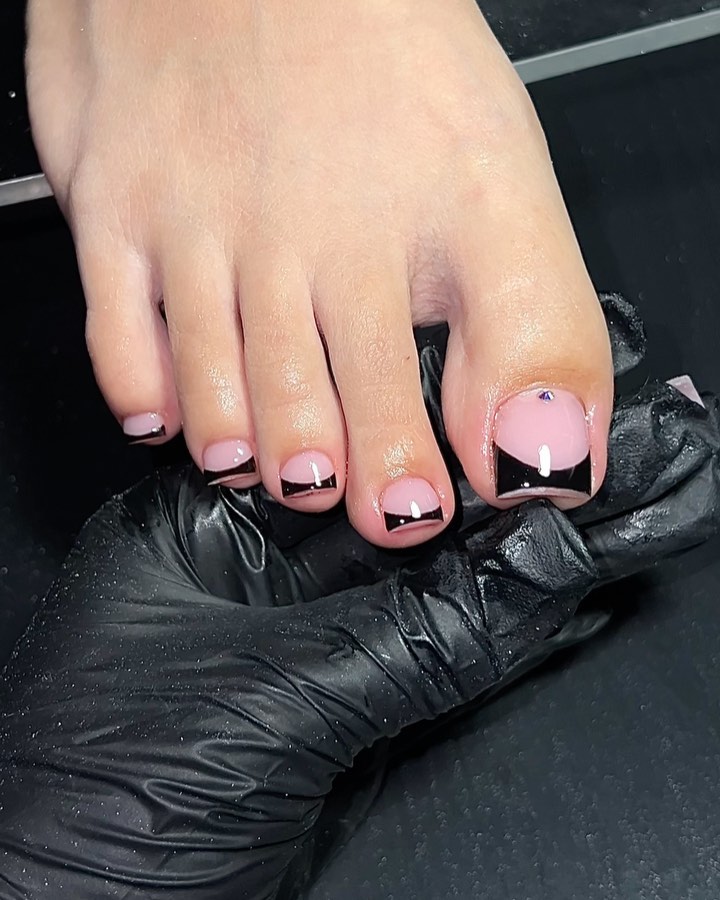 Reimagine the classic French pedicure using black for the tips instead of the traditional white. This updated take on the classic style adds a bold, contemporary edge to your pedicure.
Nautical Vibes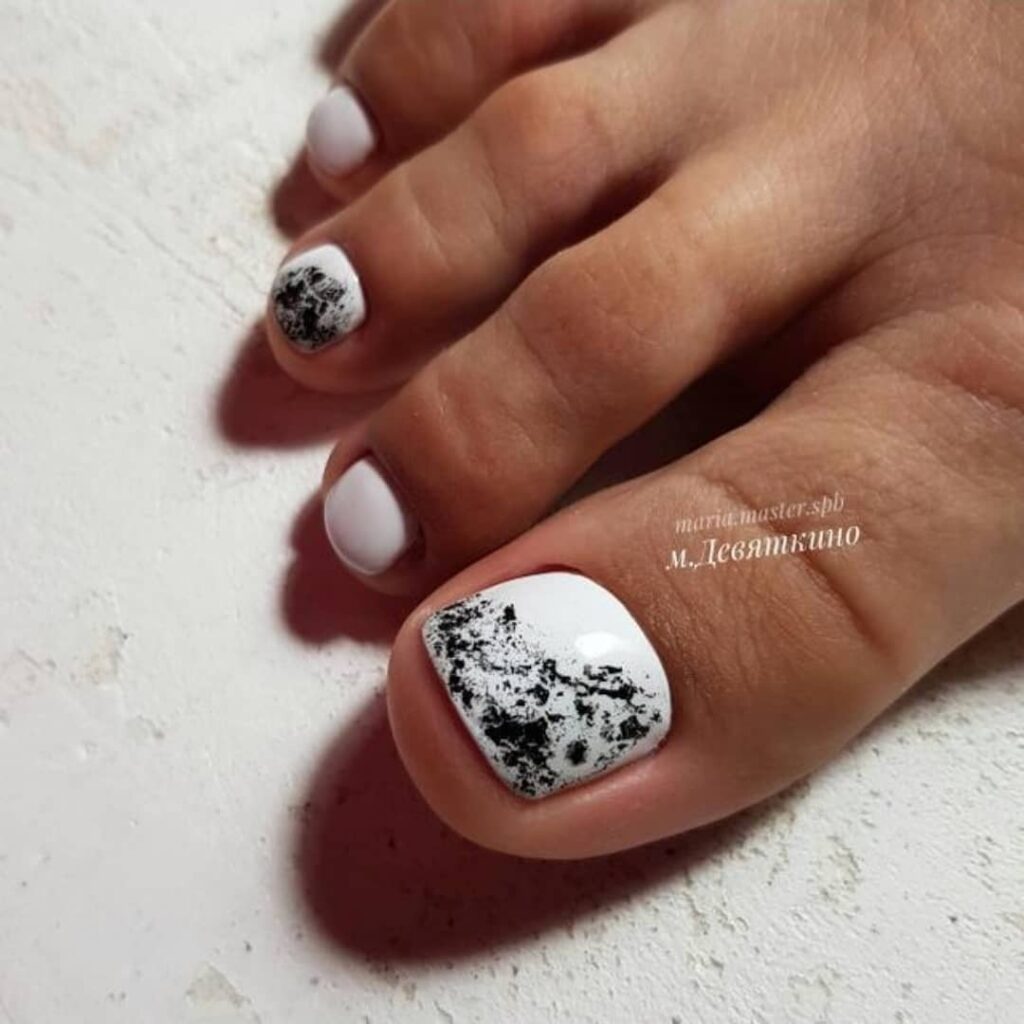 Invoke nautical vibes with a black and white striped pattern, perhaps accentuated with tiny anchor decals or maritime symbols, bringing a nautical charm to your pedicure that's both fun and stylish.
Metallic Stripes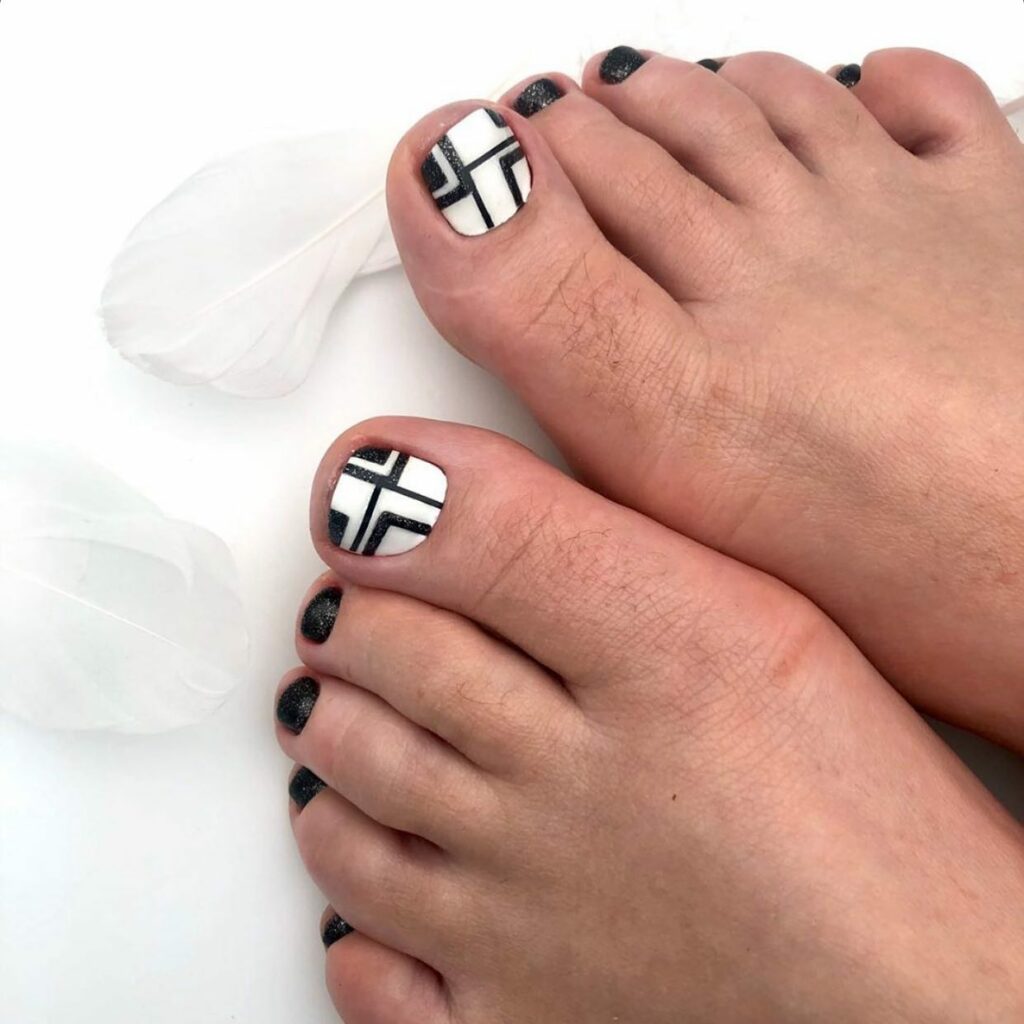 Adorn your black pedicure with thin metallic stripes for a modern and luxurious look. This simple yet sophisticated addition can transform a plain black pedicure into a glamorous statement.
There you have it! A dive into the world of black pedicures. Remember, your toes are a canvas – be bold, be creative, and most importantly, have fun!
12 Essential Tools And Products For Achieving A Salon-Esque Black Pedicure At Home
Nail Polish Remover and Cotton Pads: Remove old polish and prep your nails for a fresh coat.
Foot Soak and Scrub: To soften the skin, removing dead skin cells is easier. You can even use a homemade soak with warm water and Epsom salt.
Pumice Stone or Foot File: To gently remove calluses and rough spots on your feet.
Nail Clippers and File: To shape your nails to your preferred length and shape. A good tip here is to opt for a crystal nail file as it's gentler on the nails.
Cuticle Remover and Pusher: Clean up the nail bed and give your polish a smooth surface to adhere to.
Base Coat: Protect your nails from staining, especially with dark polishes like black.
Black Nail Polish: Choose a high-quality black nail polish for a rich and even color. You should explore various textures like matte, glossy, or gel.
Detailing Brushes and Dotting Tools: Create intricate designs or patterns, especially if you plan for some art or geometric patterns.
Accent Elements: Think rhinestones, foils, or glitters to add that extra sparkle or detail to your pedicure.
Top Coat: To seal your design and add a salon-like finish, opt for a quick-drying formula to prevent streaks.
Quick-Dry Spray or Drops: To speed up drying and avoid mishaps.
Moisturizing Foot Cream: Hydrate and pamper your feet after the pedicure, giving you that salon-esque feel right at home.
Remember, setting up a comfy space with good lighting will make your at-home pedicure session even more enjoyable. Keep some nail polish remover handy for quick fixes during your pedicure. Happy pampering!
9 Tips To Maintain Your Black Pedicure
Maintaining the allure of a black pedicure over time requires a bit of dedication and TLC, but the result is well worth it! Here's a friendly guide to keeping that chic and sultry look fresh for as long as possible:
Step 1: Invest in a good quality black nail polish and top coat. Higher quality products often offer a longer-lasting finish, which means your pedicure will maintain its allure for a more extended period.
Step 2: Regular Touch-ups: In the world of pedicures, a little upkeep goes a long way. Apply a fresh layer of top coat every few days to add a protective shield and revive the shine, maintaining that freshly painted look.
Step 3: Moisturize Daily: Keeping your feet moisturized can really preserve the look of your pedicure. Use a nourishing foot cream daily, focusing on the cuticles and the heels to prevent dryness and cracks.
Step 4: Be Gentle: Remember to treat your feet gently. When wearing open-toed shoes, be mindful of not bumping your toes or engaging in activities that might cause chips or smudges in your beautiful black pedicure.
Step 5: Quick Fixes: Have a small brush and your black polish ready for quick fixes. If you notice a tiny chip or imperfection, you can easily touch it up without redoing the entire pedicure.
Step 6: Hydration and Nutrition: Remember the role of hydration and nutrition. Sometimes, your pedicure's allure is affected by your nails' health. Incorporate vitamins like biotin into your diet to maintain healthy and strong nails.
Step 7: Rotate between different footwear to prevent any pressure or friction that can cause the polish to wear off quickly.
Step 8: Spa Sessions at Home: A little pampering can rejuvenate your spirit and maintain the allure of your pedicure. Soak your feet in warm water with olive oil to keep the skin soft and supple.
Final Tip: Be Creative! Feel free to refresh the look with new patterns or accents. Adding new elements like a glitter top coat or some nail art can revive the allure of your black pedicure, making it look brand new again!
Remember, maintaining the allure of a black pedicure is not just about preserving the polish but also taking care of your feet. So, put on some relaxing music, grab your favorite foot mask, and give your feet the love they deserve! It's all about enjoying the process and keeping that glamour alive.
Conclusion
As we wind down our fabulous journey through the majestic world of black pedicures, remember that this hue offers a canvas for boundless creativity. From pairing with vibrant or subtle shades to experimenting with textures and patterns, black provides a rich and versatile palette. It's essential to approach this with a balance to avoid overwhelming your beautiful nails, and of course, don't shy away from seeking professional advice if needed. At that time, I went a tad overboard with glitter, and my nail expert friend guided me to a more chic outcome! Remember, the goal is to complement your personal style while having fun. So, go ahead and unleash your inner artist, experiment with new looks, and, most importantly, enjoy giving your toenails a trendy transformation. Here's to stepping into the world with toes that look fantastic and echo your unique style and confidence. Happy painting!
Feature Image Photo by colorsbysassy on Instagram