Today we are diving right into the buzzing trend that's making a grand comeback – the mesmerizing cat-eye nails! In this feature, I'll unveil a medley of 42 variations that seamlessly blend vintage charm with modern elegance, ready to spice up your style. We're venturing into an enticing domain where a dash of magnetism adds that captivating depth and sparkle to your nails, offering a playground where creativity knows no bounds.
As we navigate through this exciting trend together, both nail art veterans and newcomers will find something to adore and experiment with. So, gear up to sprinkle some magnetic allure to your fashion statement, one nail at a time. Ready to embark on this sparkling adventure? Let's dive in!
Starry-Eyed Celestial Sky
Ah, the magical dance of green and blue. It reminds me of when I gazed up at the Northern Lights during my trip to Iceland. The deep, almost celestial hues on cat-eye nails? Absolute perfection! I've personally been sporting this on my almond-shaped nails recently. But, honestly? It's a versatile pick for any nail shape. So, no worries if almonds aren't your thing!
Dynamic Duos: Two-Toned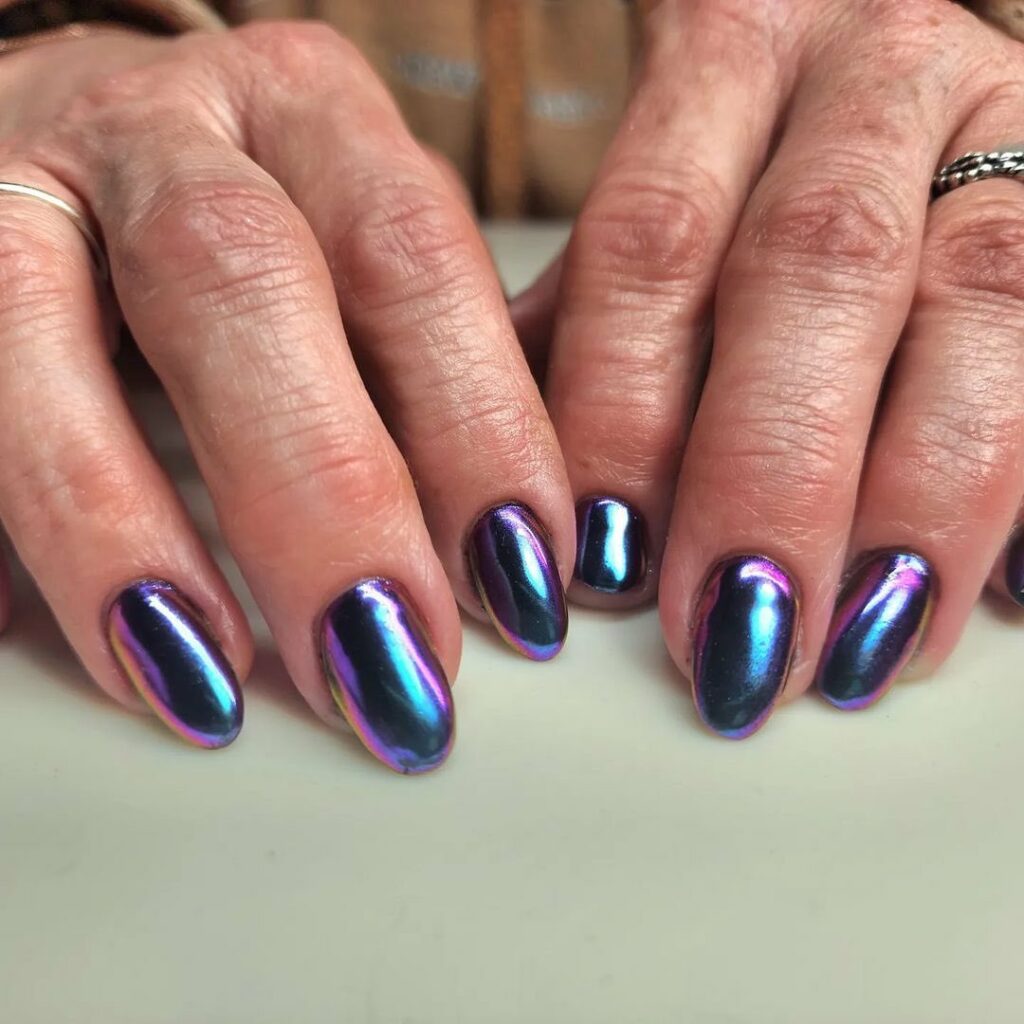 Have you ever stood before your nail polish collection, unable to choose between two favorite shades? Been there! Why pick one when you can blend both? Seeing how complementary colors can vibe together is thrilling, especially in cat-eye art.
Subtle Elegance: Pink Shimmer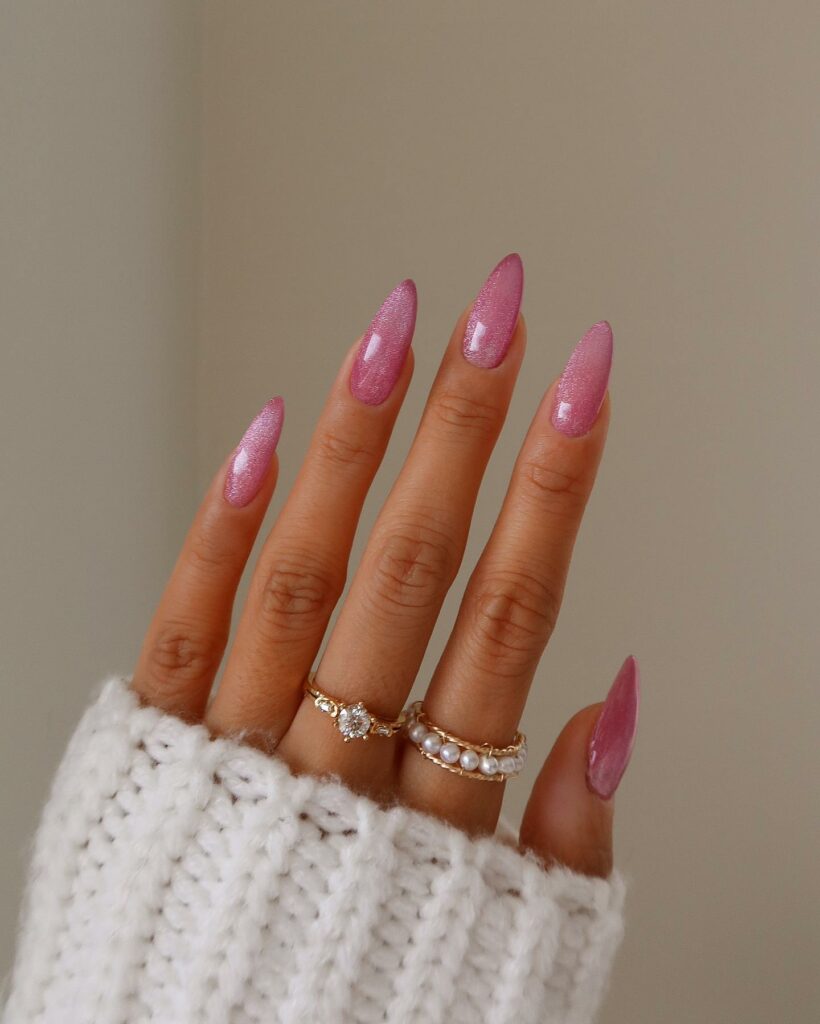 Short nails unite! Having short nails myself for a quick typing spree, I've realized they're the ideal canvas for some artsy endeavors. A dash of pink shimmer on an almost-black base? Striking and oh-so-chic.
Glistening Touch: 24 Karat Gold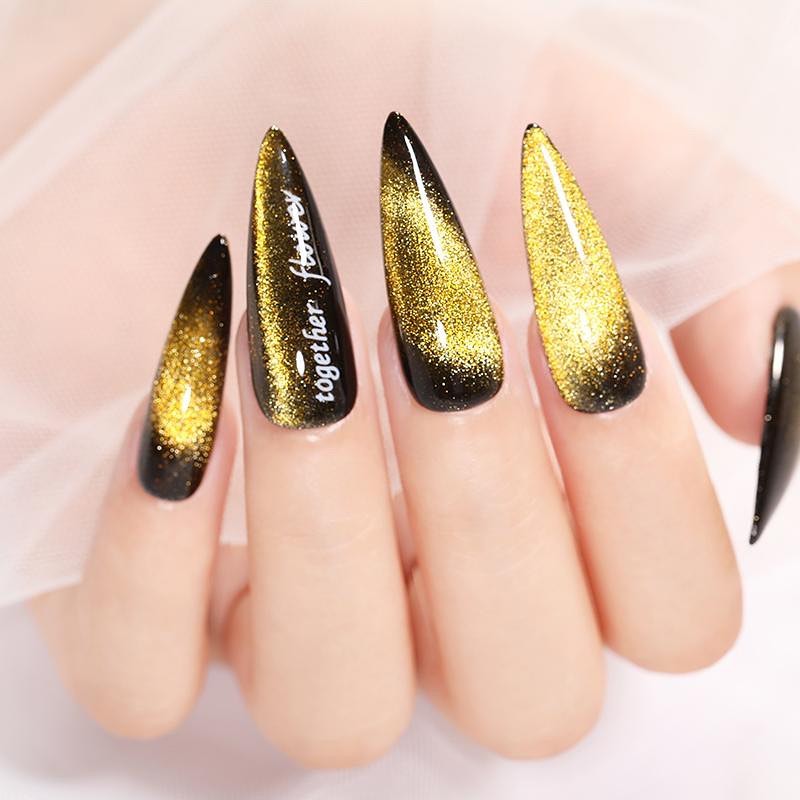 Nothing screams luxury like a shimmering gold cat-eye mani. I recently tried out Mooncat Treasure Trove, and let me tell you, it's every bit as opulent as it sounds. Pro tip: Layer with a top coat to maintain that pristine finish.
Between Tones: Mauve Madness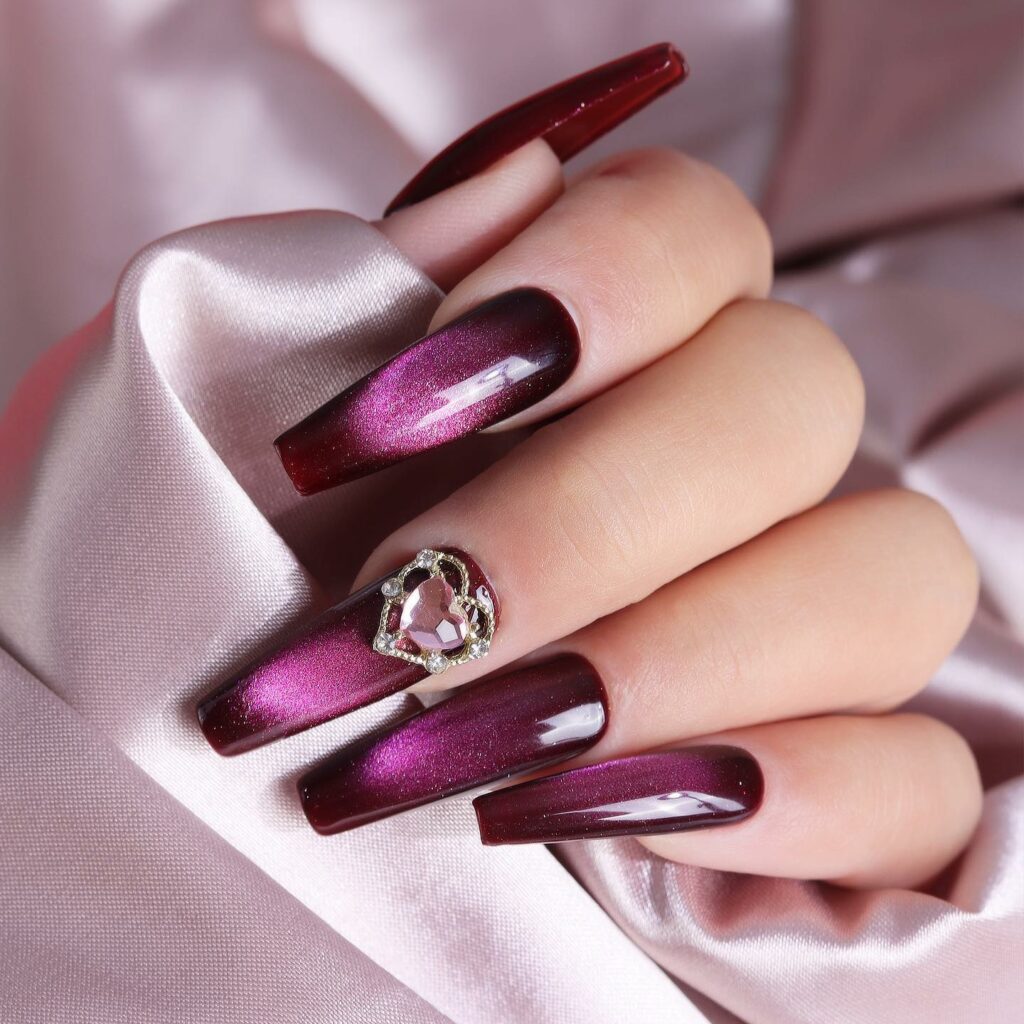 Mauve – the sophisticated cousin of pink and nude. It's the perfect balance. A subtle hint of elegance without being too overpowering.
Bold & Blue-tiful
I once had a cerulean phase (remember that "The Devil Wears Prada" reference?), and these blue cat-eye nails give me all those vibes! Remember that a no-shine top coat is essential if you're venturing into matte territory.
Artistic Flair: Dipped In Gold
Elevate your classic French manicure with a gold-dipped twist. The dripping gold tips remind me of Salvador Dali's surreal art. A delightful blend of traditional and quirky!
Cosmic Allure: Black Cherry
This combo? A celestial journey! The black cherry shade on long, square nails is a nostalgic nod to the Y2K era. But with the magnetic polish touch? It's refreshingly contemporary.
Shades of Drama: Multichromatic
Black polish gets a vibrant facelift with a streak of green cat-eye. I like to think of it as a multicolored masterpiece. Elegant with just the right hint of drama.
The Minimalist's Choice: Lines Only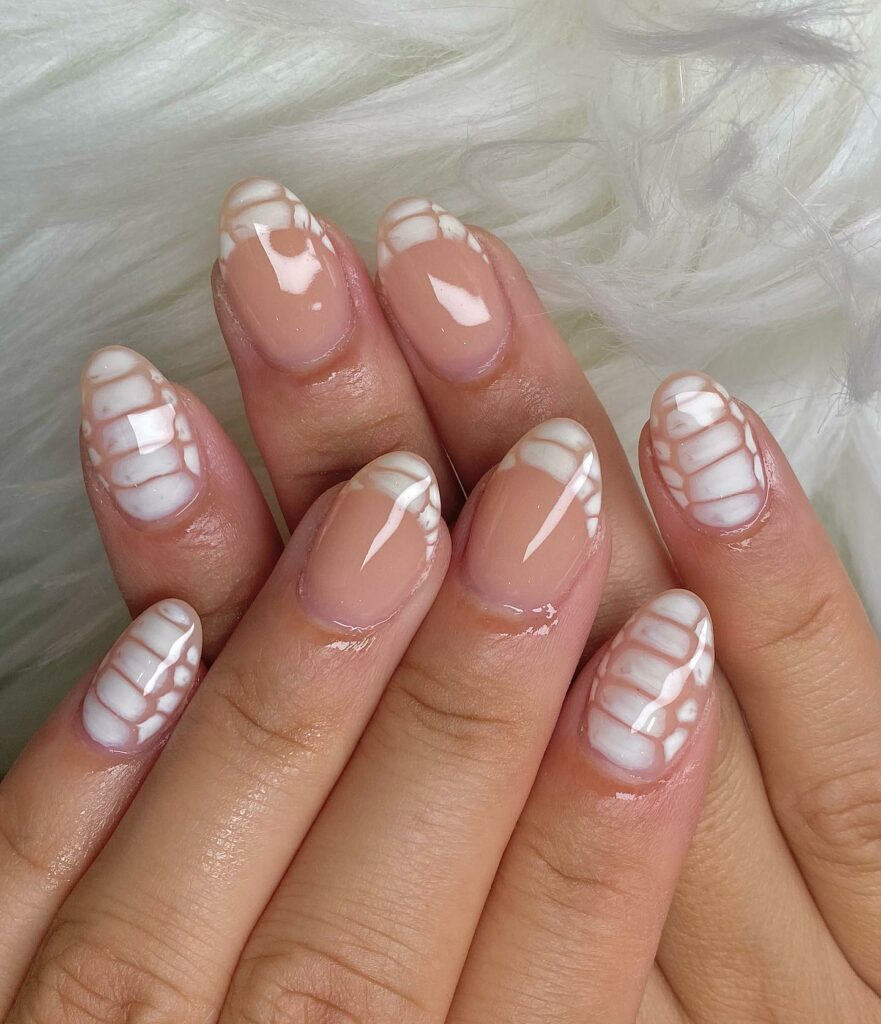 Remember the first time I tried the minimalist design? It's all about precision. With just a nude base and marbled lines, this style is a testament to 'less is more.' And for those delicate lines, I recommend the 10-piece Mod Podge Detail Brush Set.
Twinkling Stars: The Speck Effect
They are taking the cat-eye inspiration up a notch! Reflective specks on a black and blue base add a unique dimension. Perfect for those days when you're feeling a bit extra, but also versatile enough for any occasion.
Playful Pinks: Barbiecore Galore
Embrace the playful side of fashion by blending two vibrant shades of pink. Every time I sport this, I can't help but feel a burst of positive, fun energy. Perfect for when you want your nails to do all the talking!
Dazzling Journey: Shimmery Rainbow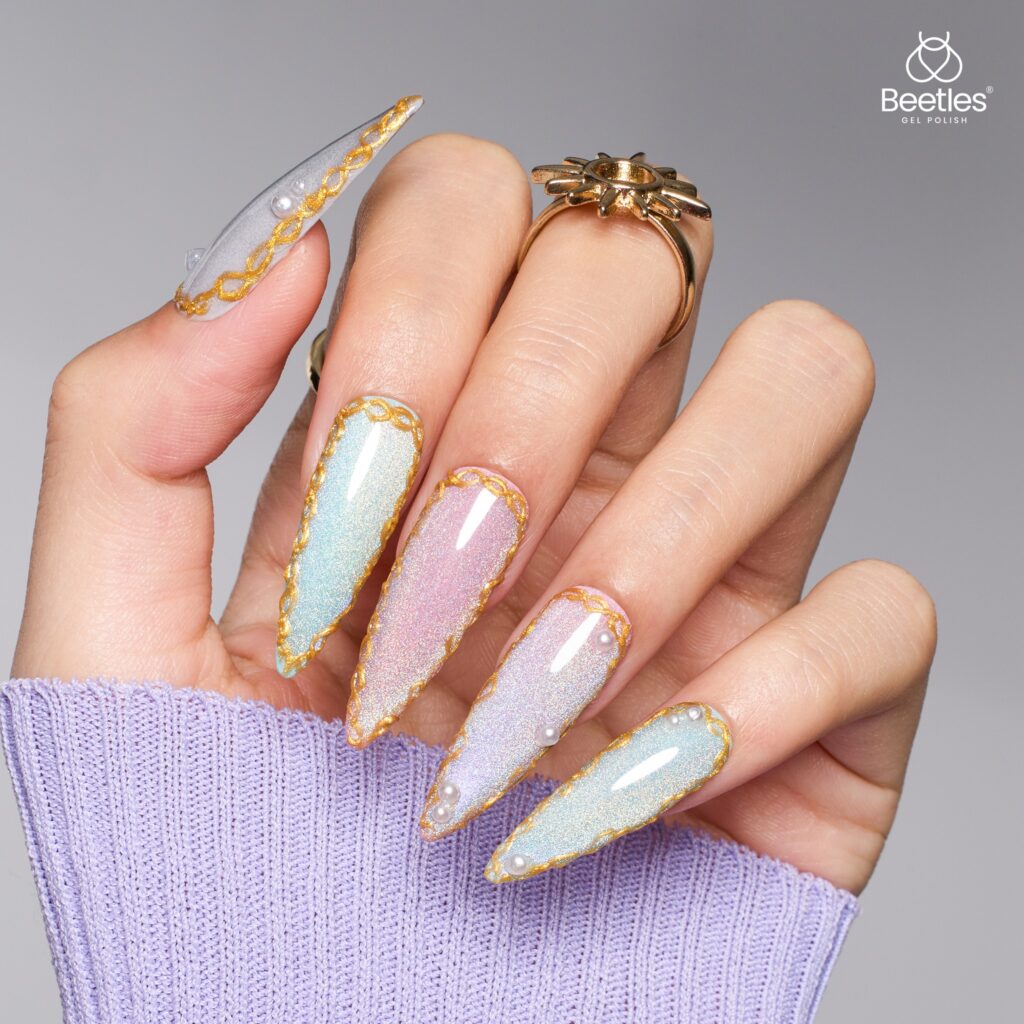 I remember witnessing my first rainbow as a child and being enchanted. This cat-eye mani is bringing all those vibes back, playing around with not just the jewel tones but embracing the entire vibrant spectrum of the rainbow! Oh, and let's not ignore the fascinating multidimensional shimmer that adds glamour to the whole affair.
Dreamy Skies: Head in the Clouds
Sometimes, less truly is more. A beautiful reminder of a serene sky, this nail art requires nothing more than a streak of blue to elevate the ordinary grey nails to an ethereal level. I recently tried the Mooncat Head in the Clouds, and the results were simply dreamy. I can't recommend enough!
Sleek Elegance: Modern French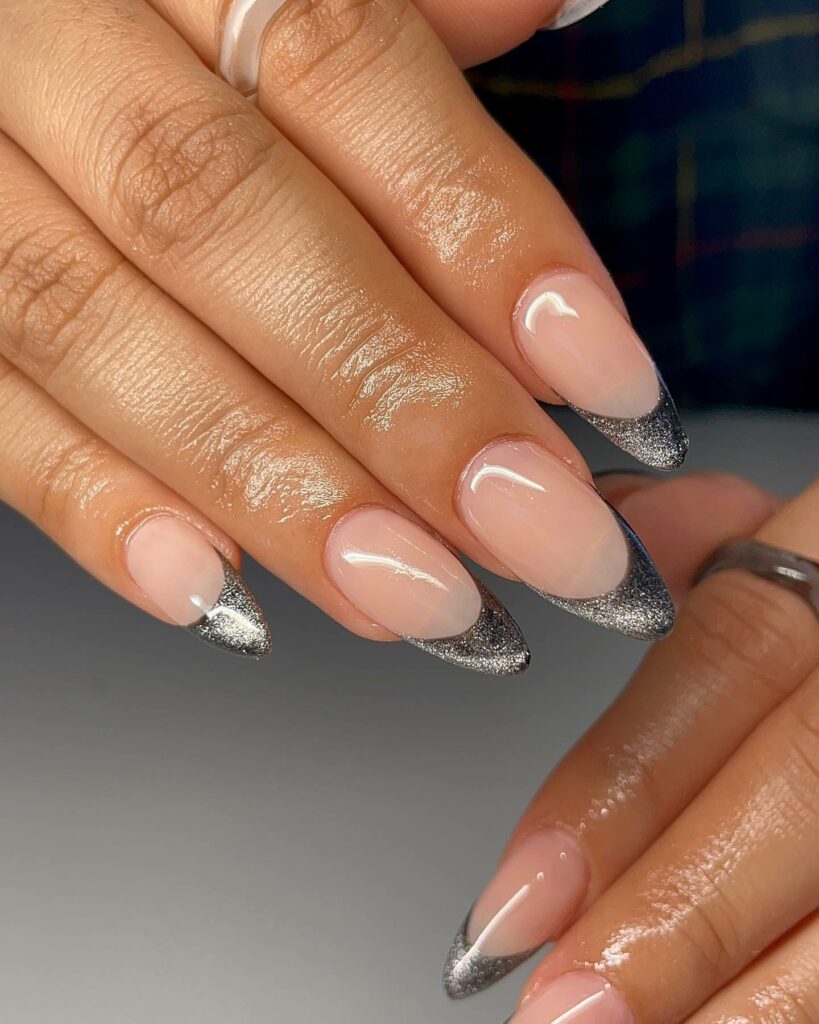 For those who have a soft spot for minimalistic designs (like yours truly), this modern take on the French manicure is your calling. The understated elegance of a silver half-moon at the base and cat-eye French tips in a neutral shade make for a trendy yet timeless look.
Enchanting Hues: Radiant Red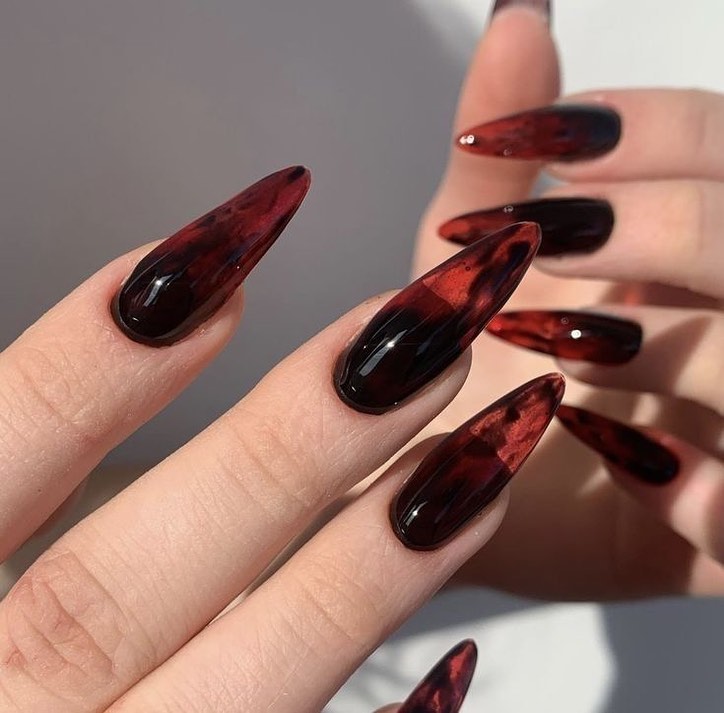 Moving a shade or two darker than the classic red transports you to an enchanting realm of richness and depth. The faint rainbow-like cat-eye flair it brings makes this style perfect not just for the fall but any season that calls for a splash of charisma on your nails.
Glimpses of Beauty: Mirror Image
Remember the childhood delight of gazing at iridescent bubbles reflecting the sunlight? This nail art style mirrors that very beauty, offering an iridescent polish that is a testament to intertwined color and beauty. And who can resist a sprinkle of nail gems to amp up the glamour?
Mystic Charm: Purple and Polished
Venturing into the deeper shades, this purple concoction is hypnotic. If you're contemplating diving into the purple hues, I would vouch for the OPI Empowerment Set to begin your journey. Trust me, it's a delightful road to travel!
Nature's Whisper: Green Almond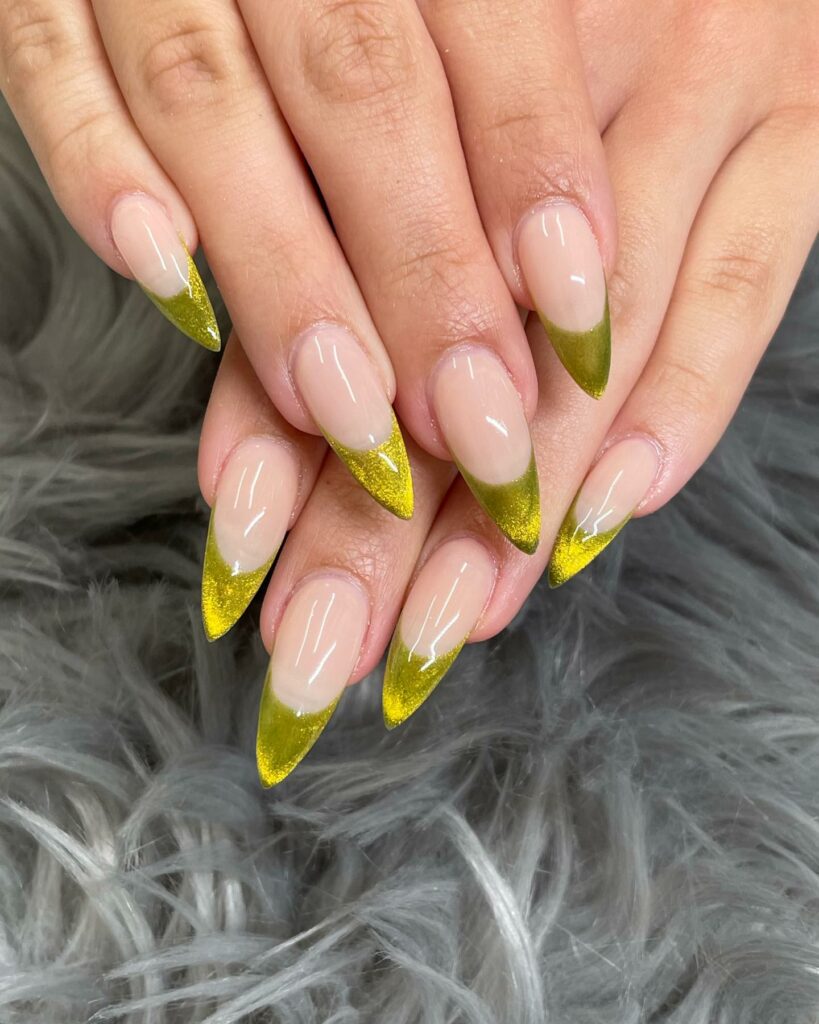 I am utterly obsessed with this style. The harmony of the almond shape, glittery accents, and cat-eye design is irresistible. And let's talk about the trending olive green, It whispers tales of nature's enchantment.
Vibrant Play: Colorful Combos
Now, who doesn't love a bit of experimentation? The Cirque Colors Bubbly Collection Set is your playground to mix and match, creating a cat-eye masterpiece that's uniquely yours. And adding a diamond accent nail? A sprinkle of glam to elevate your style quotient!
Palette of Fun: Multicolored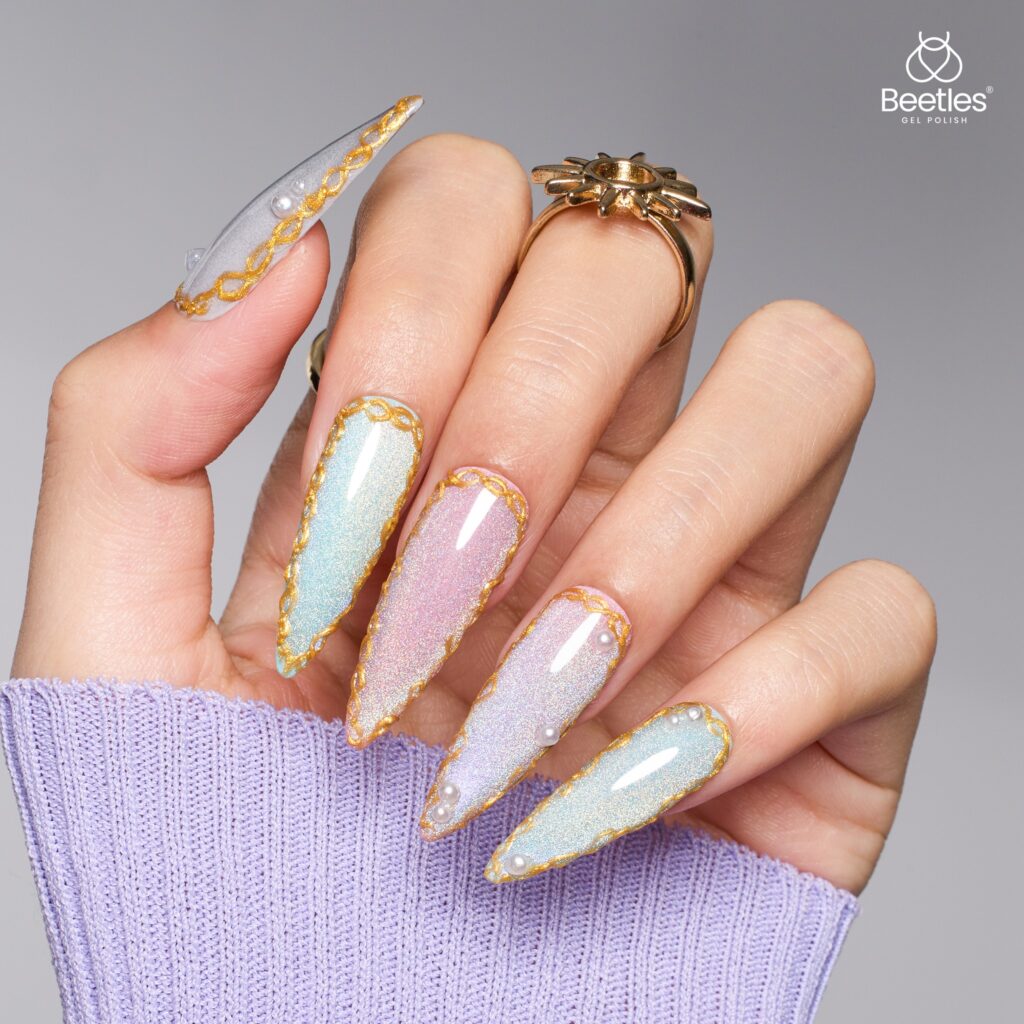 Decision paralysis while choosing a color is a real thing, I know! So why opt for a multi-hued mani that brings out the funky and fun side and gives each nail a distinct personality?
Vintage Flair: Brown Shimmer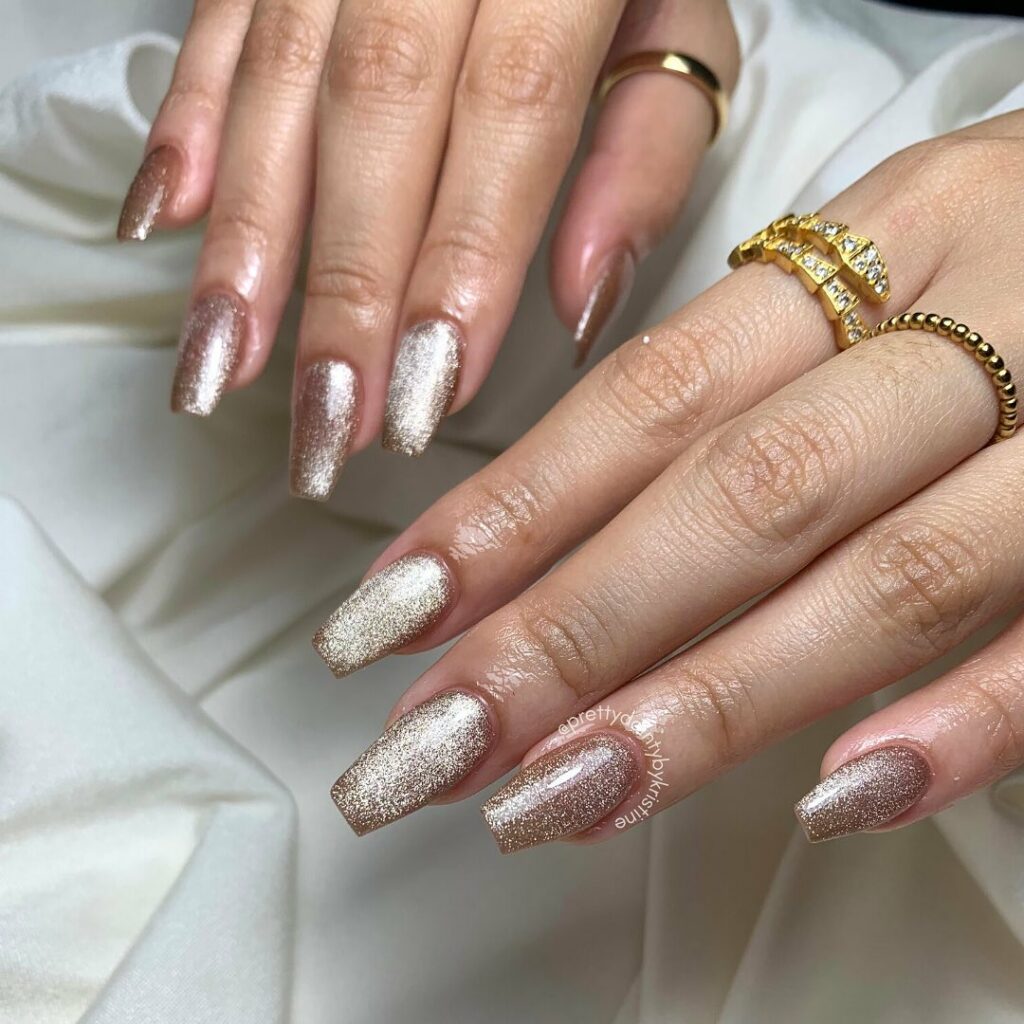 Who said brown was boring? This shade, coupled with a shimmer, adds a sprinkle of '90s nostalgia to your nail art collection. If you're usually a nude nail aficionado, this brown cat-eye variation might be the refreshing change you need.
Artistic Harmony: Negative Space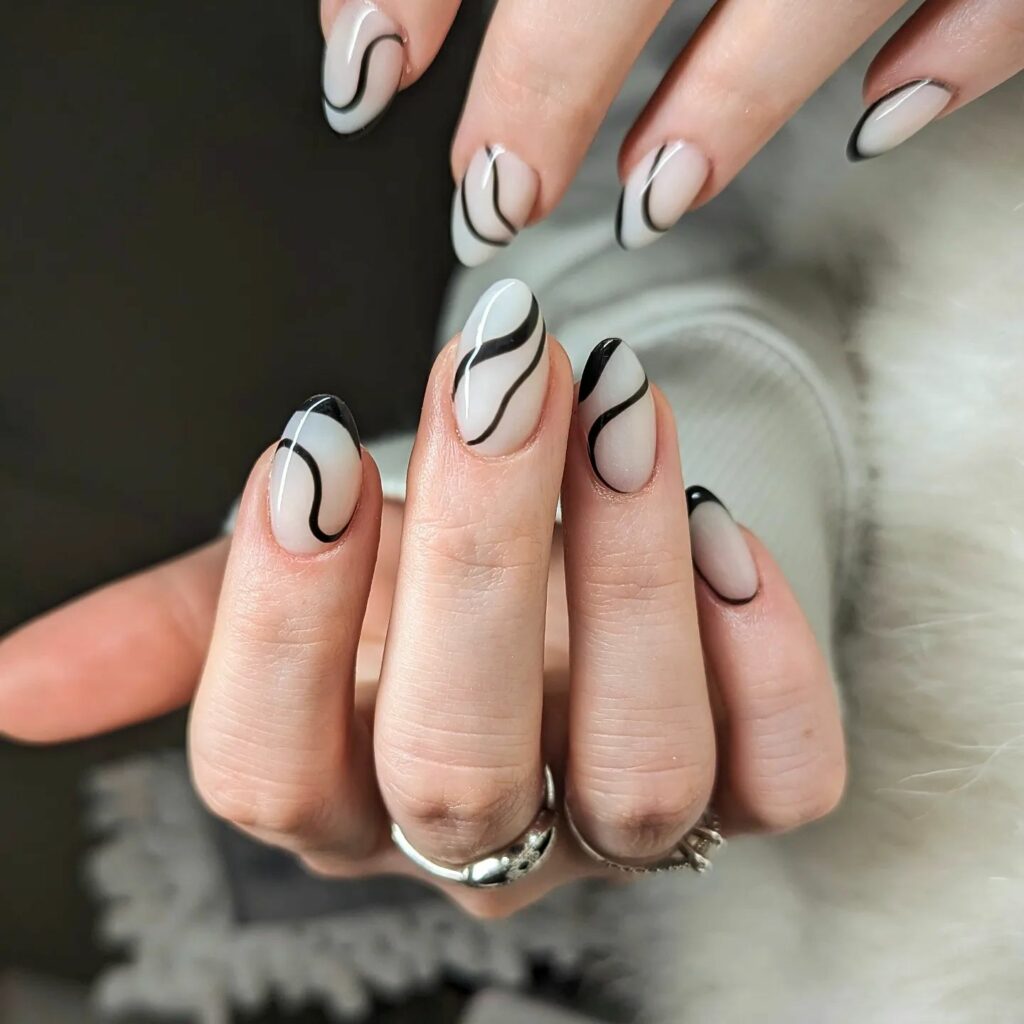 Beholding this nail art style feels like walking through an art gallery, where each nail tells a different story, yet together, they create a harmonious narrative. The playful dance between color and negative space is pure poetry on your nails.
Whimsical Waves: Cotton Candy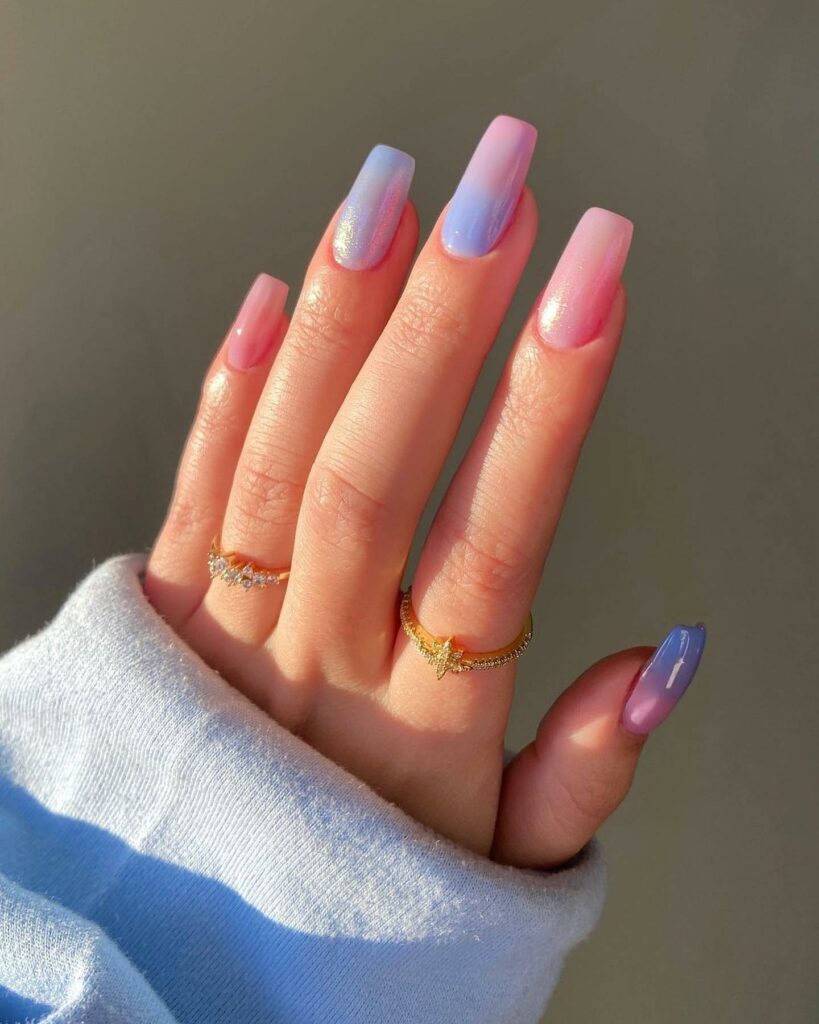 Let's end this on a sweet note, shall we? Delve into a world of whimsy with a cotton candy palette that promises to be a head-turner. A playful interaction between blue and pink, facilitated by Mooncat If Frogs Had Wings, is your ticket to nail art Wonderland.
Golden Whisper: Gold and Taupe
Dive into the serene combination of yellow-gold and taupe for a manicure that whispers sophistication. I recently embraced this unusual combo, and trust me, the compliments haven't stopped coming in! It especially brings out the beauty in warm or neutral undertones – a little insider tip for you!
Enchanting Depths: Green With Envy
Step into a world where your nails reflect the depths of an enchanting forest. The vibrant and deep emerald green catches and plays with light, creating a spectacle that is nothing short of cat-eye nail dreams. I adore the effect Cirque Colors Canabliss achieves, especially on oval-shaped nails – a match made in heaven.
Bold Statement: Reputation Era
Embrace the darker, moodier shade of green that screams confidence and assertiveness. When I wore this shade to a recent evening event, I could feel a noticeable shift in the energy around me. It's a color that commands respect and lets people know you mean business.
Galactic Adventure: Expedition Atlantis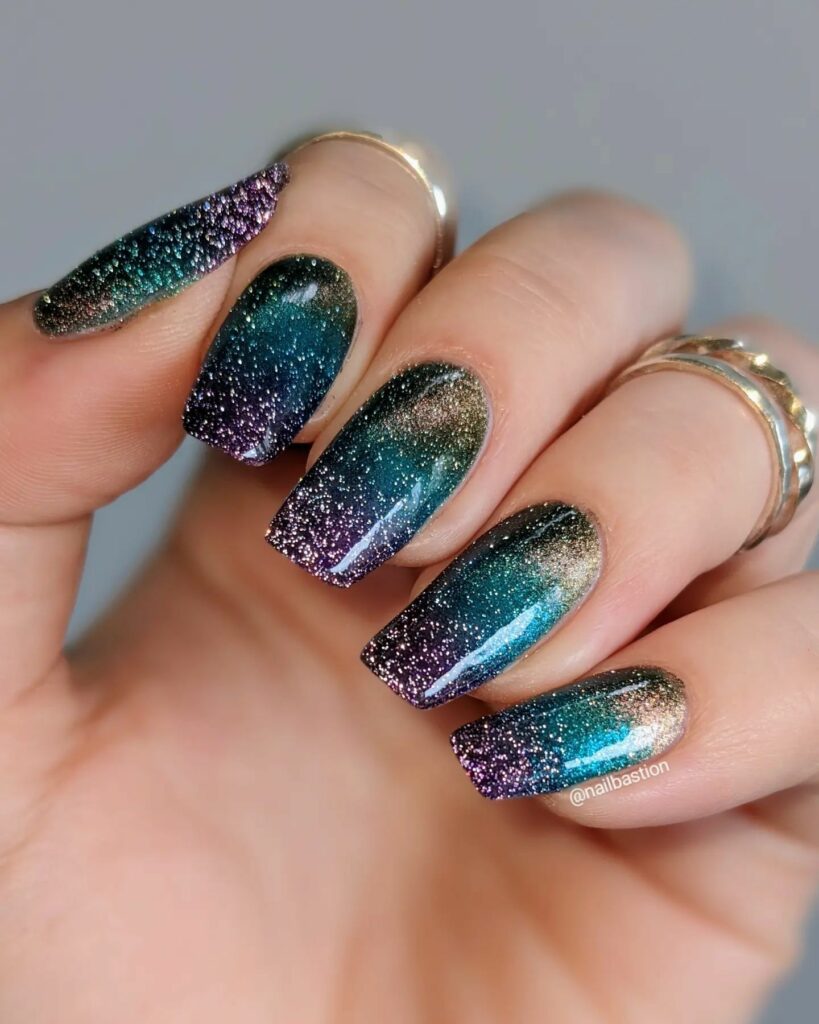 If you're a fan of cosmic wonders like me, you'll adore this look inspired by the captivating influence of Melanated Mani. The Mooncat's reflective polish creates a multichromatic cat-eye spectacle that makes you starry-eyed. Crafting your galactic adventure is just a Sally Hansen Magnetic Nail Color away!
Optical Illusion: Moody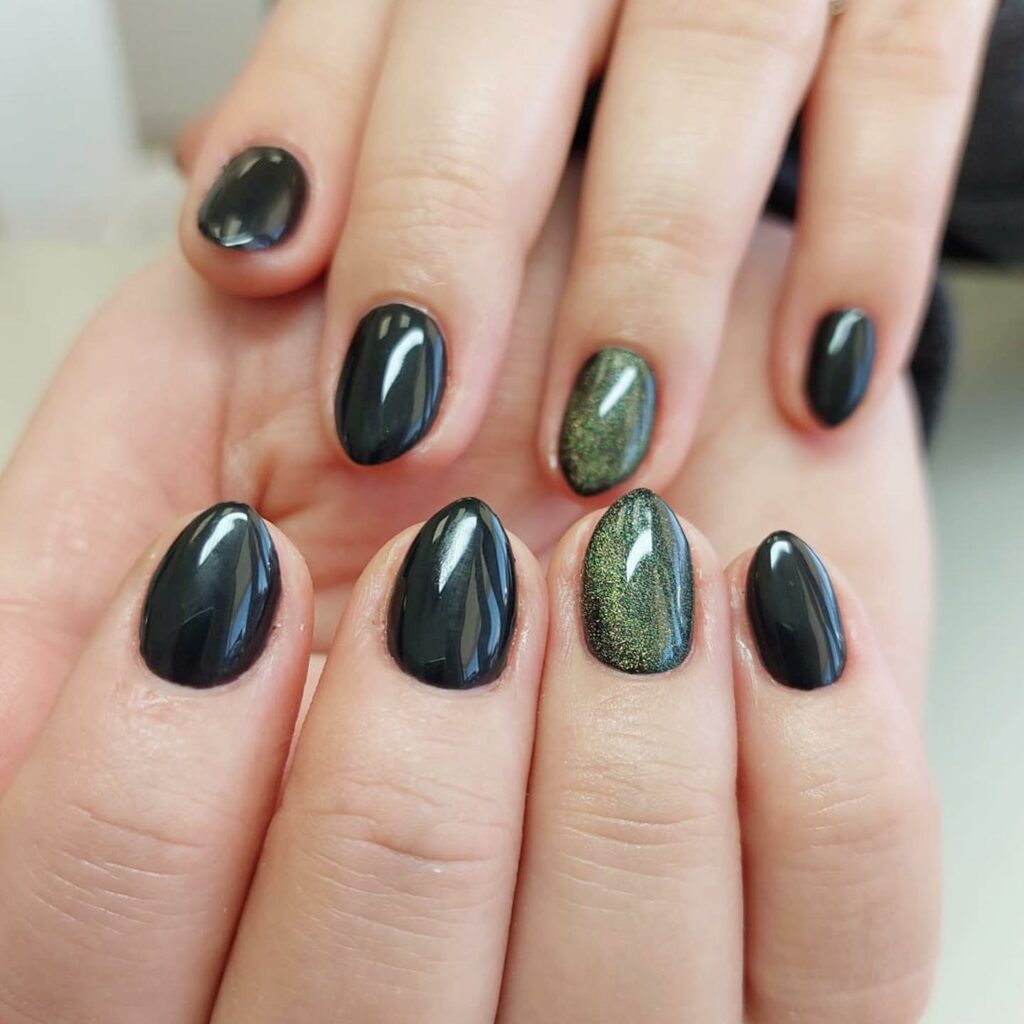 Indulge in a manicure that combines cat-eye mystery and gemstone allure. I was mesmerized by how the black, gold, and purple blended to create a real-life optical illusion. While the polish is unconventional, the classic oval nail shape brings a touch of timeless elegance.
Night Sky Mystery: Jewel-Toned
Imagine gazing at a starlit night sky; this is what these jewel-toned colors embody. These shades have a magical affinity with cool or neutral undertones, but a deeper shade can also create a harmonious balance for warm tones.
Seasonal Harmony: Moody Jewel Tones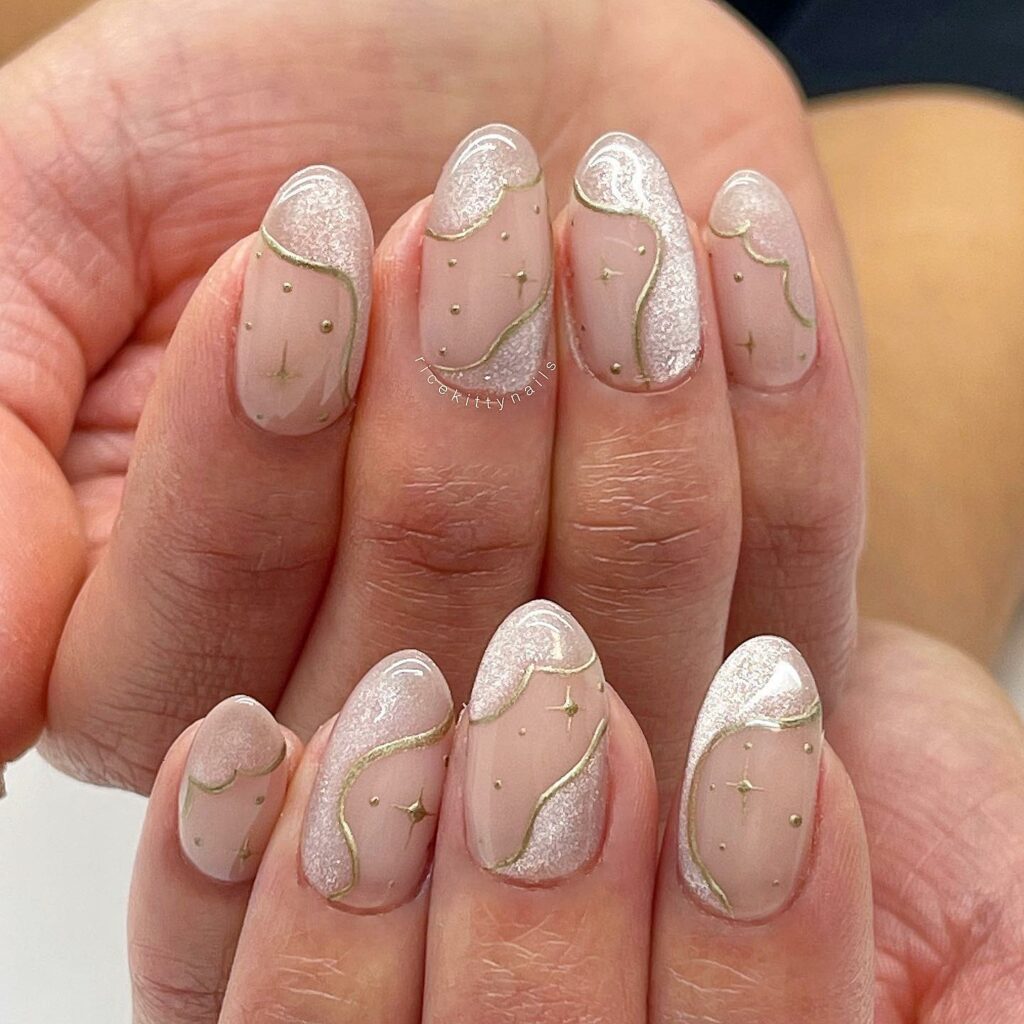 As the leaves turn and the chill sets in, your nails can echo the deep jewel tones of the season. It's a personal favorite for the autumn and winter, adding a coordinated and rich hue to your style.
Violet Vibrance: Purple Haze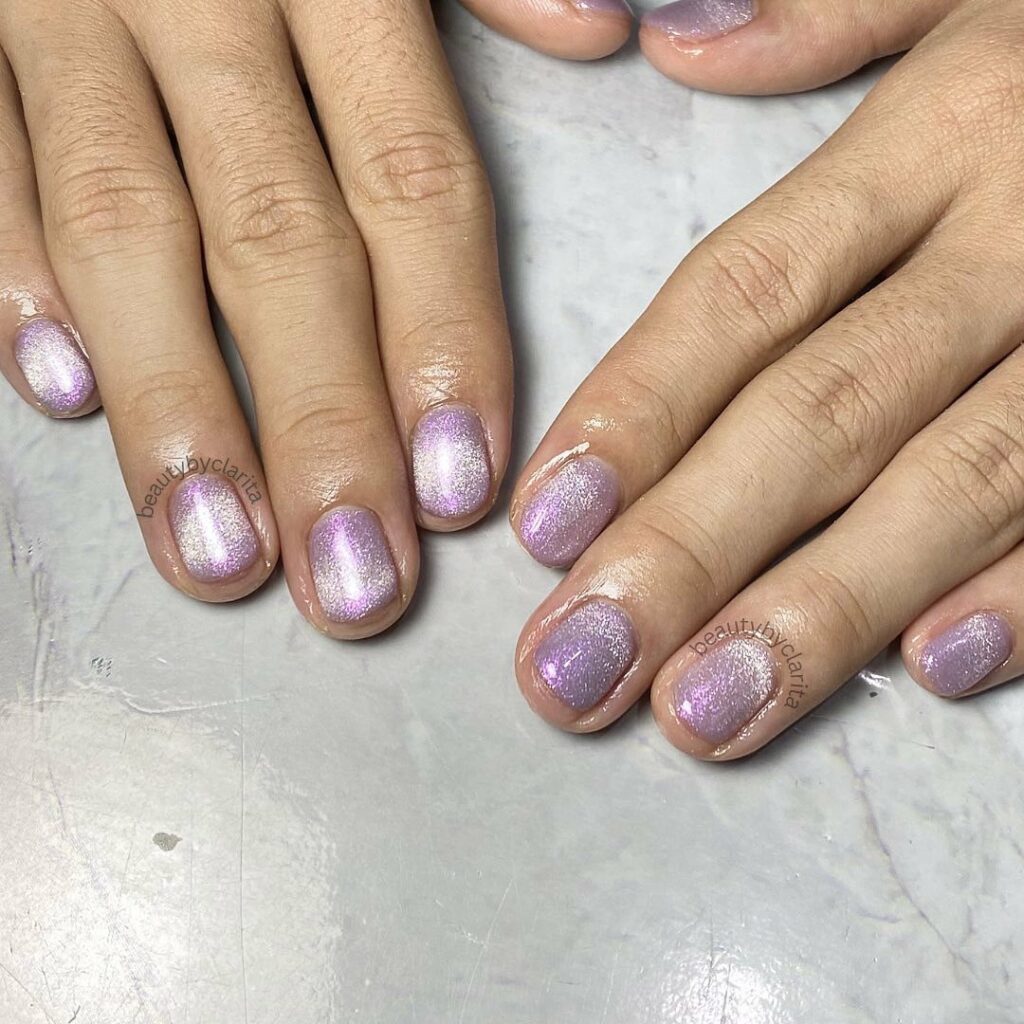 Experience the versatility of deep purple nails with a lighter cat-eye accent that adds a splash of intrigue. The Mooncat Beware, The Kraken, will guide you to achieve this vibrant, luminescent streak in your nail art repertoire.
Playful Innovation: Seeing Stars
Why settle for uniformity when you can mix and match to create a manicure that is uniquely you? Adding designs in similar shades brings a playful and youthful touch, maintaining a well-put-together look.
Earthly Elegance: Brown and Teal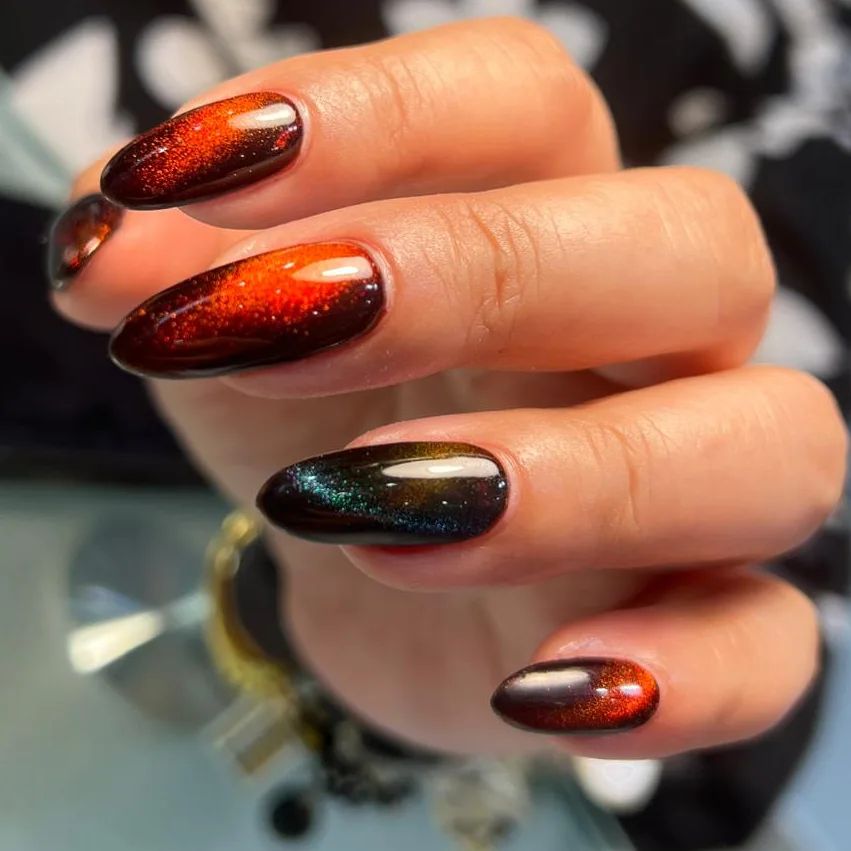 I was pleasantly surprised when I tried this rich brown base color that vividly made the teal cat-eye accent pop. This palette creates a harmonious blend that suits everyone, adding a touch of elegance to your style.
Oceanic Allure: Breathtakingly Blue-tiful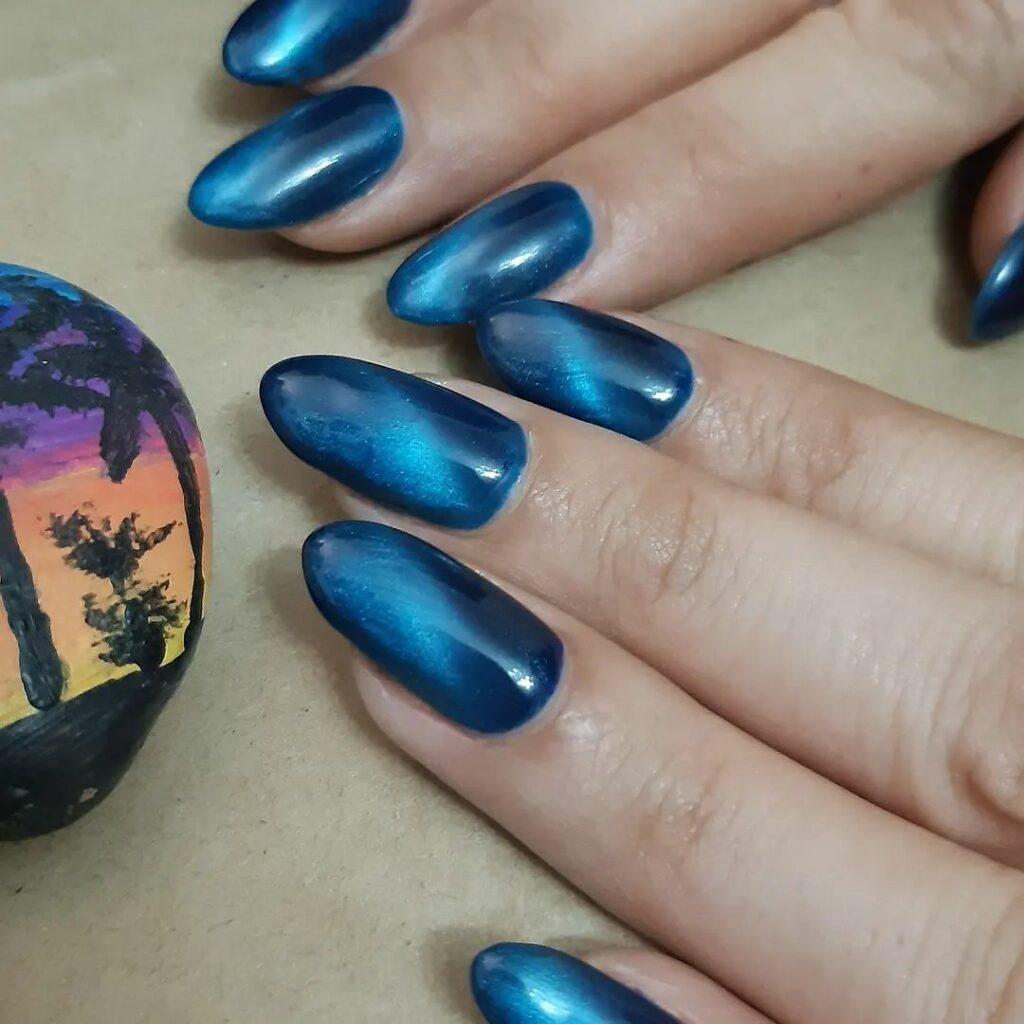 Unleash the potent allure of the prettiest blue shade that promises to be a head-turner. Whether you prefer the glossy finish or a matte look, this manicure adapts beautifully, making it a must-try in my book!
Magical Glimmer: Unicorn
If you want something magical, this sparkly, iridescent cat-eye manicure is your perfect match. It's a delightful complement to your unicorn makeup, adding a touch of magic to your look.
Cosmic Elegance: Stardust
Step out with nails resembling a starry night sky. This manicure is ideal for a formal night or dressing up a casual look, bringing a touch of the cosmos to your fingertips.
Sparkling Charm: Pretty in Purple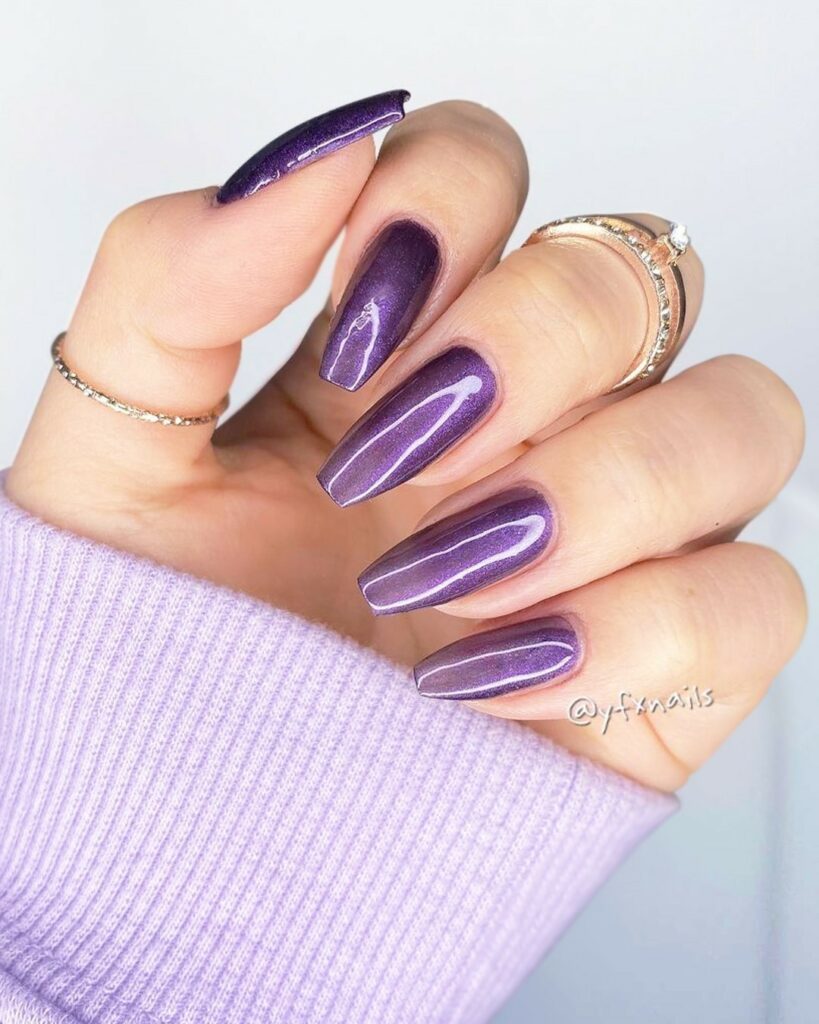 Swipe a glitter top coat onto your amethyst nails for a dazzling finale. It elevates your look and adds a delightful dimension and sparkle, promising an eye-catching result.
Golden Hour Glow
Picture the golden hour, that beautiful time just before sunset – now imagine capturing that on your nails. Utilize a golden cat-eye nail polish to create a soothing yet striking effect. Pair it with a nude or soft pink base to make that golden shimmer stand out. I recently tried this look for an evening soiree, and it was a total hit!
Twilight Sparkle
For those who have a penchant for everything glittery, a twilight sparkle manicure is your go-to option. Use a dark blue or black base and adorn it with a cat-eye effect using a glittery polish. The sparkling streak creates a mesmerizing twilight sky on your nails, making them look enchanting in the night light.
Aurora Borealis Mirage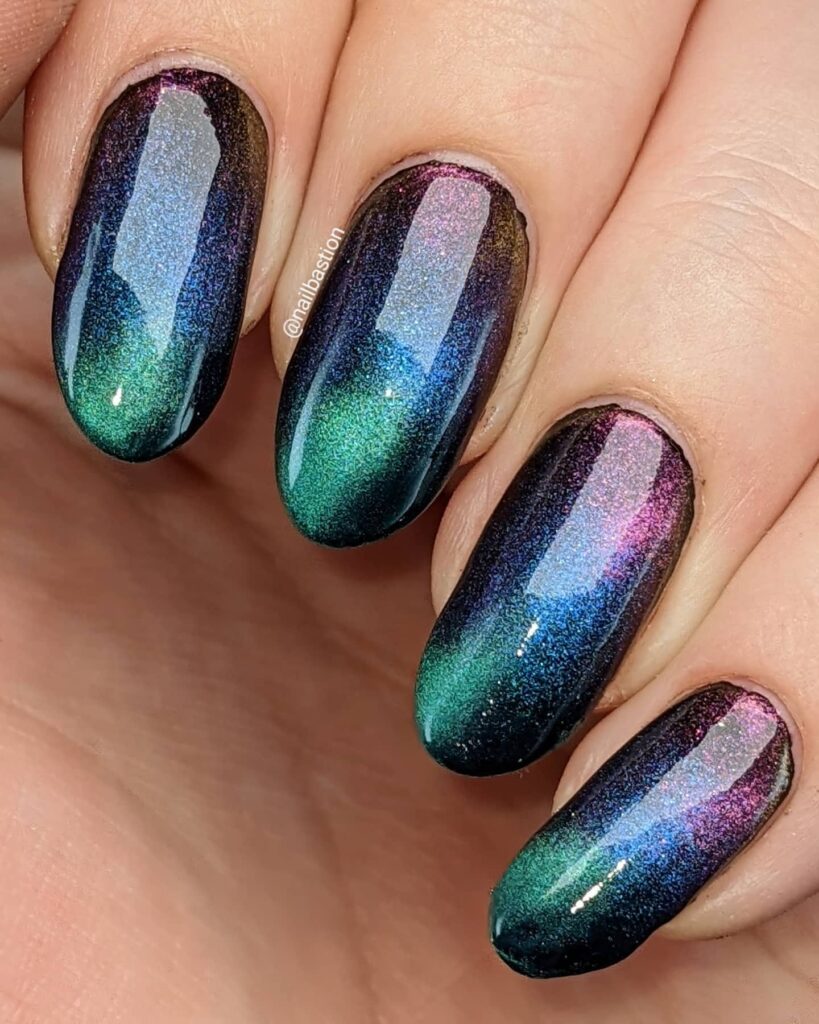 Inspired by the magnificent Northern Lights, this idea uses a blend of green, purple, and blue cat-eye polishes to create a stunning aurora borealis effect on your nails. This can be tricky to pull off, but the results are worth it. The first time I tried this, it was a nail art adventure, but the results were spectacular!
Sunrise Serenade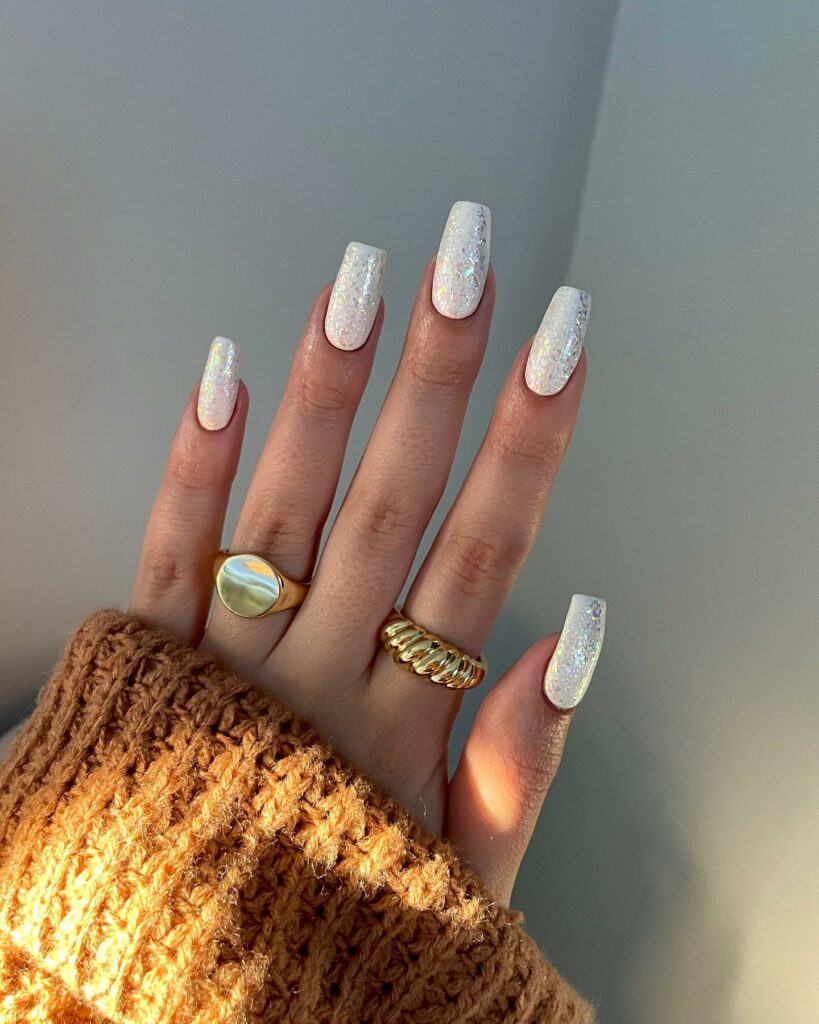 Imagine the soft hues of a sunrise gracing your nails. Using soft pastel shades like peach or rose, create a subtle cat-eye effect that brings a serene yet vibrant start to your day. This manicure is perfect for spring and echoes the refreshing vibes of a new beginning.
9 Essential Tools & Techniques To Create Cat-Eye Nails
Techniques:
Magnetic Pull: The most significant part of achieving the cat-eye effect is using a magnet to manipulate the magnetic particles in the polish. Holding an appeal over the wet polish creates that distinctive, concentrated light line.
Layering: Layering different polishes can create a more pronounced or complex effect. It's all about experimenting with different layers and seeing how they interact.
Gradient Effect: Creating a gradient effect can enhance the depth of the cat-eye effect. You can achieve this by using more than one color and blending them seamlessly on the nail.
Extra tip: when using the magnet, the closer you hold it to the nail, the more pronounced the effect will be, but be careful not to touch the wet polish. It might take a few tries to get the hang of it, but with a bit of practice, you'll be a cat-eye nail pro in no time!
Tools:
Magnetic Nail Polish: This is a special nail polish infused with magnetic particles that respond to a magnet's force, enabling you to create a distinctive cat-eye effect.
Magnet Wand or Stick: You'll need a magnet wand or stick to create the desired effect. It's used to pull the magnetic particles in the polish into a line or other designs, depending on how you hold the magnet.
Fine Brushes: Fine brushes are a must-have to add intricate details or clean up edges. These can help in creating additional designs alongside the cat-eye effect.
Top Coat: A good top coat is necessary to seal and protect your design, ensuring it lasts longer without chipping.
Dotting Tools: If you wish to embellish your cat-eye nails further, dotting tools can be handy for adding small decorative elements like gems or dots of contrasting polish.
Remember to get that mesmerizing effect, the right tools are your best friends. Invest in a good quality magnet and don't forget, the stronger the magnet, the more defined your cat-eye effect will be. Hold the magnet as close as possible to the nail without touching it, for about 10-15 seconds, to allow the magnetic particles in the polish to create that dazzling line.
Now, onto the canvas for your artwork – your nails! Before you start with any polish, make sure your nails are clean, dry, and well-shaped. A smooth base coat is crucial; it not only protects your nails but also provides a flawless canvas for your polish. Remember, patience is key here. Allow each coat to dry thoroughly before you apply the next one to avoid any smudges or bubbles.
When it comes to choosing colors, the possibilities are endless! But, a pro tip here: darker hues tend to showcase the cat-eye effect more vividly. Don't be afraid to experiment with different shades to find the one that perfectly suits your style and personality.
Here comes the fun part – playing with designs! You can either go for a full nail design or create dazzling effects by combining the cat-eye polish with regular nail polish. Play around with different patterns and textures to create a look that is uniquely you. If you're unsure, start with simple stripes or dots and gradually move to more complex designs as you get the hang of it.
And let's face it, we all make mistakes, but they are just opportunities to learn. If you find that the effect isn't as pronounced as you'd like, don't hesitate to give it another go. Sometimes, it takes a few tries to get it just right. Remember, the beauty of nail art is in the joy of creating, so enjoy the process!
Last but not least, seal your artwork with a top coat to protect it and add a glossy finish. A top coat will not only enhance the cat-eye effect but also make your manicure last longer.
How Long Does a Cat-Eye Manicure Typically Last?
The longevity of a cat-eye manicure can depend on several factors, including the quality of the products used, the proficiency of the application, and how well the nails are maintained post-manicure. On average, here's what you can expect:
Regular Polish: A cat-eye manicure using regular nail polish can last 5 to 7 days before you notice some wear and tear or chipping. However, with proper care, like wearing gloves while doing household chores, you might squeeze a couple more days out of your manicure.
Gel Polish: If you opt for a gel polish version, you're looking at a much longer lifespan for your manicure. Gel cat-eye manicures can last up to 2-3 weeks without chipping. The glossy finish remains intact for a more extended period, and you won't have to worry about frequent touch-ups.
Acrylics or Enhancements: For those who prefer acrylic nails or other types of enhancements, your cat-eye manicure can last as long as the enhancements themselves, often between 3-4 weeks. However, you'd still need fills every 2-3 weeks to maintain the look.
To extend the life of your cat-eye manicure, make sure to:
Apply a top coat daily to protect the design and add a glossy finish.
Avoid using your nails as tools, which can cause chipping or breaking.
Wear gloves while doing chores to prevent premature chipping.
Keep your hands and nails moisturized to avoid nail breakages.
Remember, a well-cared-for manicure is a long-lasting manicure!
Celebs Rocking the Cat-eye Nail trend
The cat-eye nail trend is taking the celebrity world by storm, offering us ample inspiration to don a similar avant-garde look. The multifaceted Rihanna recently showcased a bold version of this trend on the red carpet, adding a new layer of glamour to her ensemble. Meanwhile, the graceful Zendaya opted for a softer hue, gracefully flaunting a subdued yet mesmerizing cat-eye effect on her social media, proving that this trend has both bold and soft sides to explore. Beauty guru Huda Kattan didn't hold back either, unveiling a vibrant and dynamic take on her YouTube channel that had followers eager to replicate the look. Not to be left behind, the timeless Michelle Pfeiffer demonstrated the trend's versatility with a classic and understated version, illustrating its appeal across all age groups. For a sprinkle of personal style, keep a watch on trend-setting influencers across platforms like Instagram and Pinterest, who are constantly offering fresh and innovative approaches to this ever-evolving trend. Ready to dive in? Let's draw inspiration from these stars and start experimenting to find our unique expression in the world of cat-eye nails!
Conclusion
Well, there you have it, style aficionados! Venturing into the cat-eye nail art world is a voyage filled with vibrant hues and sparkling creativity. It's crucial to remember while you're having fun experimenting with different shades and techniques, maintaining nail health should remain a priority. Always use good quality products to avoid any adverse effects on your nails. Moreover, if you're a beginner, don't shy away from seeking professional help to nail the look perfectly (pun intended!). As we bid adieu to this illuminating discussion, I hope you feel energized and ready to embrace the cat-eye nail trend with both hands! Till our next style expedition, stay fabulous and keep those nails twinkling with personality!
Feature image @vettsystore via Instagram