Get ready to raise your brow game because today, we will explore a thrilling trend taking the beauty world by storm—eyebrow stamping! Gone are the days when you needed a professional artist or a steady hand to achieve perfectly symmetrical, Instagram-worthy eyebrows. We're living in the era of eyebrow stamps, where we can shape and fill our brows to perfection within seconds. And trust me, this isn't a gimmick—this is the next frontier of simplified beauty routines.
This post will delve deep into this trend and help you master the art of eyebrow stamping. From the rationale behind its soaring popularity to a step-by-step guide on using eyebrow stamps and, most importantly, a carefully curated list of the top 3 eyebrow stamp sets out there—we're covering it all. We're aiming not just for perfect arches here but to revolutionize your brow routine, one stamp at a time!
So put down your tweezers, forget about that precarious pencil, and bid goodbye to the intimidating brow pomade. Welcome to a world where power brows are just a stamp away. So, buckle up, lovelies, it's time to achieve those flawless brows you've been dreaming of. Let's explore the eyebrow stamp trend and find your ultimate brow match!
Diving into the Viral Eyebrow Stamp Trend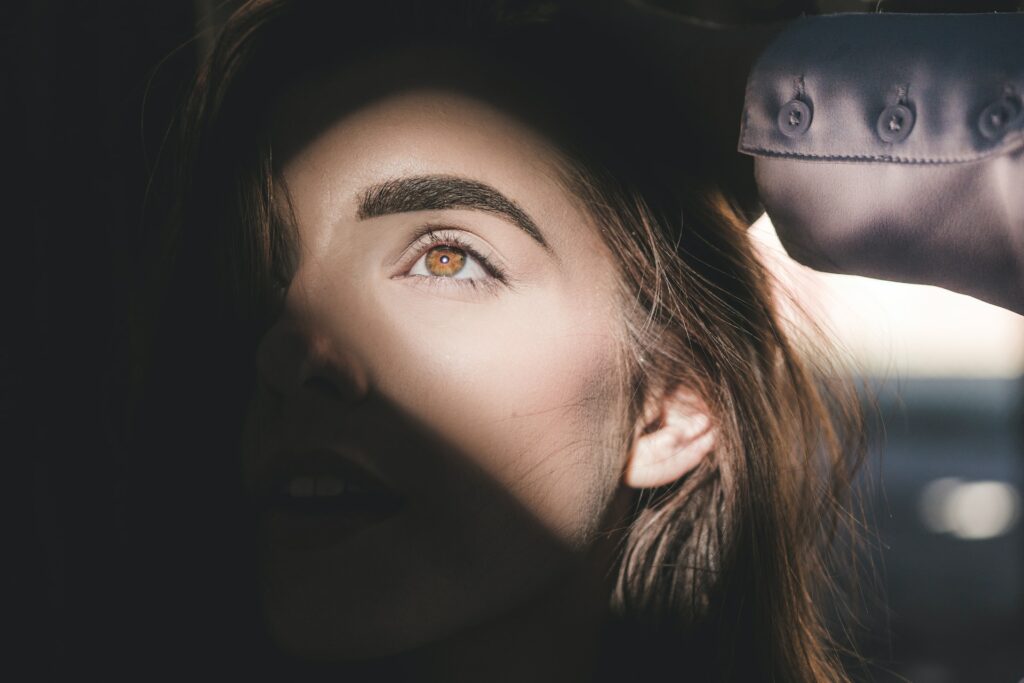 You know what they say, lovelies; if it's buzzing on Tik Tok, it's worth a try! Recently, I've been caught up in the whirlwind of a trend that's all the rage on the app—the eyebrow stamp! Oh yes, your favorite beauty influencers are trading their precise brow tools for these quirky kits, and for a good reason. Each kit comes with an array of differently shaped stencils and a cushiony, ink-filled stamp that instantly promises even, flawless brows.
It brought me back to my childhood days of playing with my mom's ink stamp. Who would've thought that one day, I'd be using a similar concept to nail the perfect eyebrows, right?
The Struggle Is Real: The Eyebrow Edition
Let's talk about our natural eyebrow struggles and why this trend resonates with so many of us. Eyebrows, my friends, can be one of the trickiest parts of our makeup routine. We've all been there—spending what feels like an eternity trying to match the arch, the length, the thickness… you name it! It's like solving a complex puzzle every morning. As we often say, "eyebrows are sisters, not twins," but let's be honest, sometimes they can feel more like distant relatives!
These eyebrow stamp kits aim to eliminate these pesky problems, promising to correct discrepancies and fill those sparse areas. I vividly remember the first time I tried the eyebrow stamp—I was skeptical. But lo and behold, in less than a minute, I was looking at even, well-filled brows that would've otherwise taken me at least 15 minutes to achieve!
Your Eyebrow Stamp Starter Kit: The Best in the Biz
So, you're sold on the idea and ready to hop on the eyebrow stamp bandwagon, but you need help figuring out where to start. Fret not, beauty explorer, your quest ends here. I've taken it upon myself to sift through the internet's vast beauty scape and compile a list of the most popular, crowd-approved eyebrow stamps just for you.
Meet the Viral Sensation: Madluvv Brow Stamp Kit
Browsing the beauty aisles of Tik Tok (yes, that's a thing), you've likely stumbled upon the Madluvv Brow Stamp Kit—the sweetheart of eyebrow enthusiasts everywhere. Believe me when I say it's as good as the hype. Remember that day I was running late for a crucial meeting and couldn't leave the house without my brows done? The Madluvv kit was my savior.
Boasting a spectrum of seven shades, it caters to all of us—from platinum blondes to sultry brunettes and everyone in between. With its selection of five unique stencils, you can get just the right shape that best flatters your face. Accompanied by a generously sized, product-filled stamp, you can fill your brows swiftly and without fuss.
Getting those glam brows is as easy as picking a stencil that matches your brow shape, stamping the product onto your eyebrows, and using the bonus spoolie brush to tame any stubborn strands. Like that, you have eyebrows ready to make a statement in seconds!
Unleash Perfection with The Brow Fixx Brow Stamp and Stencil Kit
Next in line is The Brow Fixx Brow Stamp and Stencil Kit, a favorite of mine on those humid summer days when my usual eyebrow products won't stay put. With its water-resistant formula, you can keep those brows on point, rain or shine.
This kit comes in five distinct shades, catering to warm and cool undertones, lights, and darks to find your perfect match. It also includes six stencils to ensure the best fit for your unique brows. The stamp brush is more minor, perfect for those who love precision and control over their brow game. And, of course, it also comes with a trusty spoolie brush.
The application is a breeze—align the stencil with your brow, stamp on the product, and voila! Effortless, enviable brows every single time.
Break the Mold with Kiss I Envy Brow Stamp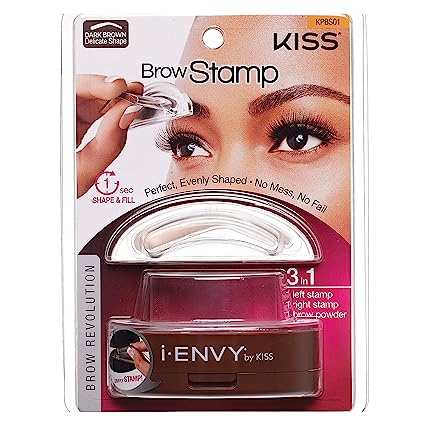 Finally, let's talk about the Kiss I Envy Brow Stamp, a kit that diverges from the traditional path. I remember trying it out during one of my fun self-care Sundays, and I was pleasantly surprised at how straightforward and convenient it was.
Instead of a range of stencils, Kiss offers two distinct stamps: one for the left brow and one for the right. Along with this, you get a pot of pigmented brow powder. The stamp designs are straightforward—one arch and one curve—making the kit incredibly user-friendly.
You prep the stamp with the powder, stamp it over your eyebrow, and in seconds, you'll have symmetrically filled brows that will turn heads. With this kit, there's no fuss, no mess, and, most importantly, no chances of failure. It's the perfect solution for those busy mornings when every minute counts.
The Perks of Embracing the Eyebrow Stamp Trend
The eyebrow stamp trend brings many benefits that are hard to ignore. For starters, it's a game-changer for those who struggle with the traditional brow pencil or pomade, making filling in and shaping eyebrows swift and straightforward. For time-pressed beauties or makeup newbies, it's a dream come true!
Moreover, eyebrow stamps offer consistency, giving you symmetrical, identical brows every time. No more worrying about uneven arches or mismatched thickness. And let's remember how this handy tool comes to the rescue when dealing with sparse brows, filling in gaps with a natural-looking finish.
5 Tips On How To Use An Eyebrow Stamp
If you're new to the eyebrow stamp trend, fear not. I've got you covered. Here's an in-depth guide on how to use these handy kits for flawless, enviable brows every time.
Step 1: Picking Your Stencil
First things first, let's find the perfect stencil. Eyebrow stamp kits usually come with several stencil shapes. Look for the one that best mirrors your natural brow shape. Remember, the goal is to enhance your natural beauty, not completely overhaul it. Take your time—hold each stencil over your brow to see which one aligns best.
Step 2: Load Up the Stamp
Once you've picked your stencil, it's time to prepare the stamp. Dip the stamp into the cushion or powder, making sure it's evenly coated with product. Too much can make your brows look unnatural, while too little might not give you the desired effect. A little practice goes a long way in finding the perfect balance.
Step 3: Positioning and Stamping
Now for the fun part—stamping! Align the stencil with your brow. Hold it firmly but gently in place, making sure it doesn't move around. Once you're satisfied with the positioning, press the loaded stamp onto the stencil.
Pro-tip: Start from the inner corner (near your nose) and work your way to the tail of your brow. This gives a more natural look as the inner corners of brows are usually lighter than the tails.
Step 4: Perfecting Your Look
After stamping, use the spoolie brush to blend and set. This is your opportunity to make small tweaks and get that flawless finish. Gently blend the product into your brows and brush the hairs into place. And there you have it—brows that wow!
Avoiding Common Pitfalls
To avoid smudging or uneven application, always ensure that your skin is clean and dry before you start. If you're prone to oiliness, a touch of translucent powder over your brows before stamping can help the product stay in place. Remember, practice is key. The more you use your eyebrow stamp, the better you'll get at achieving your perfect brow look.
The Pros and Cons Of Eyebrow Stamps
As with any beauty trend, it's essential to consider potential drawbacks or concerns alongside the benefits. Eyebrow stamps are no different. Let's take a balanced look at some aspects you might want to consider before jumping in.
Longevity of Stamped Brows
While eyebrow stamps can deliver quick, impeccable results, the longevity of your stamped brows can vary based on factors such as the brand of the product, your skin type, and your daily activities. Some high-quality, water-resistant brands promise to last all day. However, excessive sweating or touching your face might shorten this duration. Using a setting spray or translucent powder can help seal the deal and extend wear time.
Suitability for Sensitive Skin
When it comes to sensitive skin, always take a cautious approach with new products. Most reputable brands ensure their products are dermatologically tested and hypoallergenic. However, if you have particularly sensitive skin or a history of reactions, it's always best to perform a patch test before using the product on your eyebrows.
Potential Risks or Side Effects
As with any cosmetic product, there's a chance of experiencing side effects such as redness, irritation, or even an allergic reaction. It's essential to check the product's ingredients list before use—especially if you're aware of any specific allergies.
Moreover, the accuracy and aesthetic outcome largely depend on your technique. If not applied properly, you might end up with unnatural or uneven looking brows. But don't worry! This is where practice comes into play. Over time, you'll be stamping your way to flawless brows with ease.
Conclusion
And there you have it, my beauty-loving friends—our journey through the fabulous world of eyebrow stamps. Whether it's the viral sensation Madluvv, the resilient Brow Fixx, or the straightforward Kiss I Envy, each kit has its unique charm and practicality. Remember, practice makes perfect, so don't worry if you don't nail it on the first try. As we've adapted to curling wands and liquid liners, the eyebrow stamp is another fun tool to add to our beauty repertoire.
There's always a slight risk of the shade or shape needing to be right on the first go. But remember, makeup is all about experimenting and discovering what suits you best. Don't be disheartened—every misstep is a step towards becoming a brow-stamping pro.
Above all, have fun with this trend! It's about simplifying your routine while still feeling fabulous. You're already beautiful; these tools enhance your natural features. So, get out there, pick the eyebrow stamp kit that calls to you, and let's revolutionize how we do our brows together. Here's to stepping up our beauty game—one stamp at a time!
Feature image by Pesce Huang on Unsplash