Hello, nail aficionados! Let's get straight into the glittery realm of nails, shall we? Today, we're diving deep into a specific yet stunning topic—59 White Glitter Nails For A Stunning Mani. Now, white nails have always been a classic, a blank canvas that exudes sophistication. But what happens when you sprinkle a dash of glitter into the mix? Pure magic, that's what! In this post, we'll journey through a curated list of the very best designs that will make you reconsider white as not just a color but an entire mood embellished with sparkle.

From subtle shimmers to full-on glam, we'll cover the multitude of ways white glitter nails can be both an everyday staple and a show-stopping statement. We're talking texture, pattern variations, and even how to pair these luxe looks with your outfits for that extra oomph! Whether you're new to the nail game or a seasoned pro looking for fresh inspiration, this guide has something for everyone. So grab your topcoat and brace yourself; we're about to elevate your nail game to celestial heights.
Nails in Neutral Shades Accentuated by White Glitter
The nail design showcases a sophisticated blend of muted pinks and a dazzling glitter accent. The gentle curves and glossy finish bring a modern yet timeless appeal to the overall look.
Elegant White Glitter Tips on Classic French Nails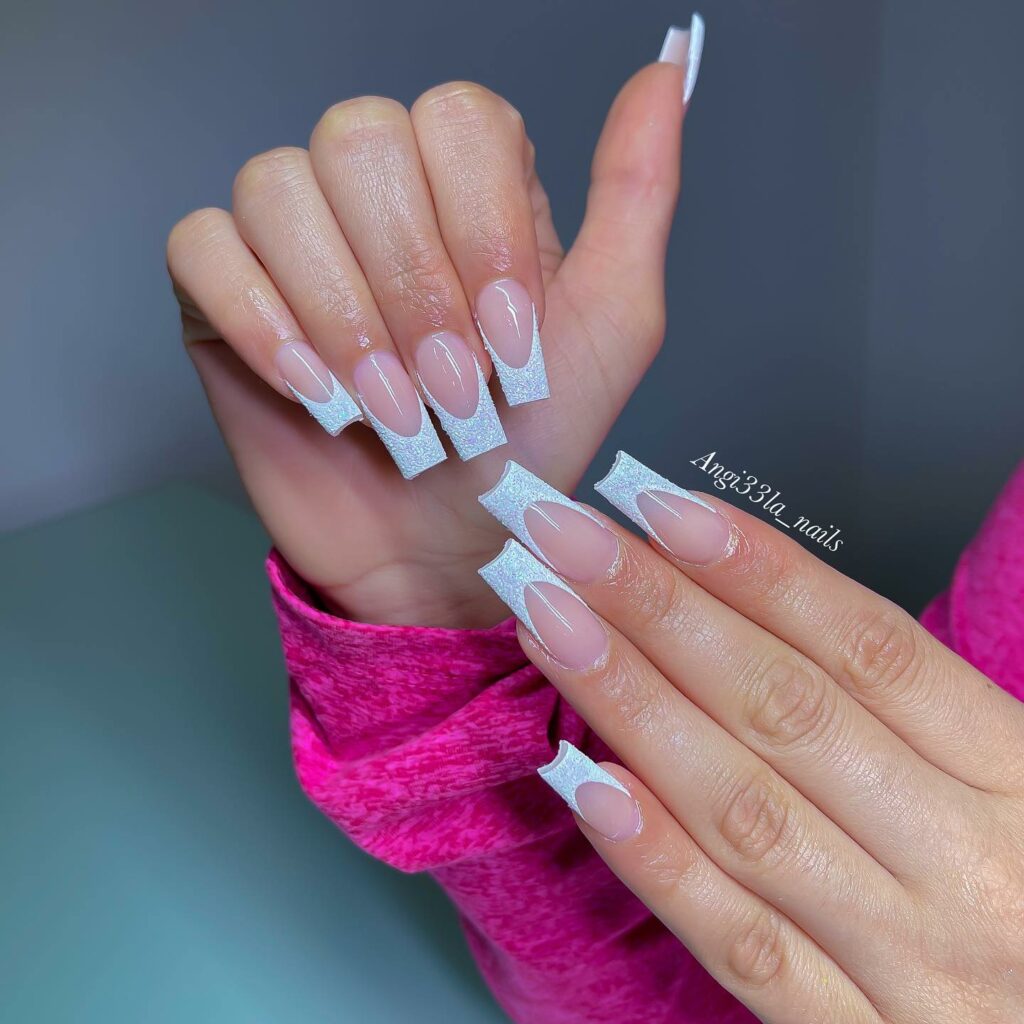 An exquisite fusion of traditional French manicures with white glitter tips that bring an added dash of glamour. Perfect for formal occasions or simply elevating your daily look.
White Glitter French Manicure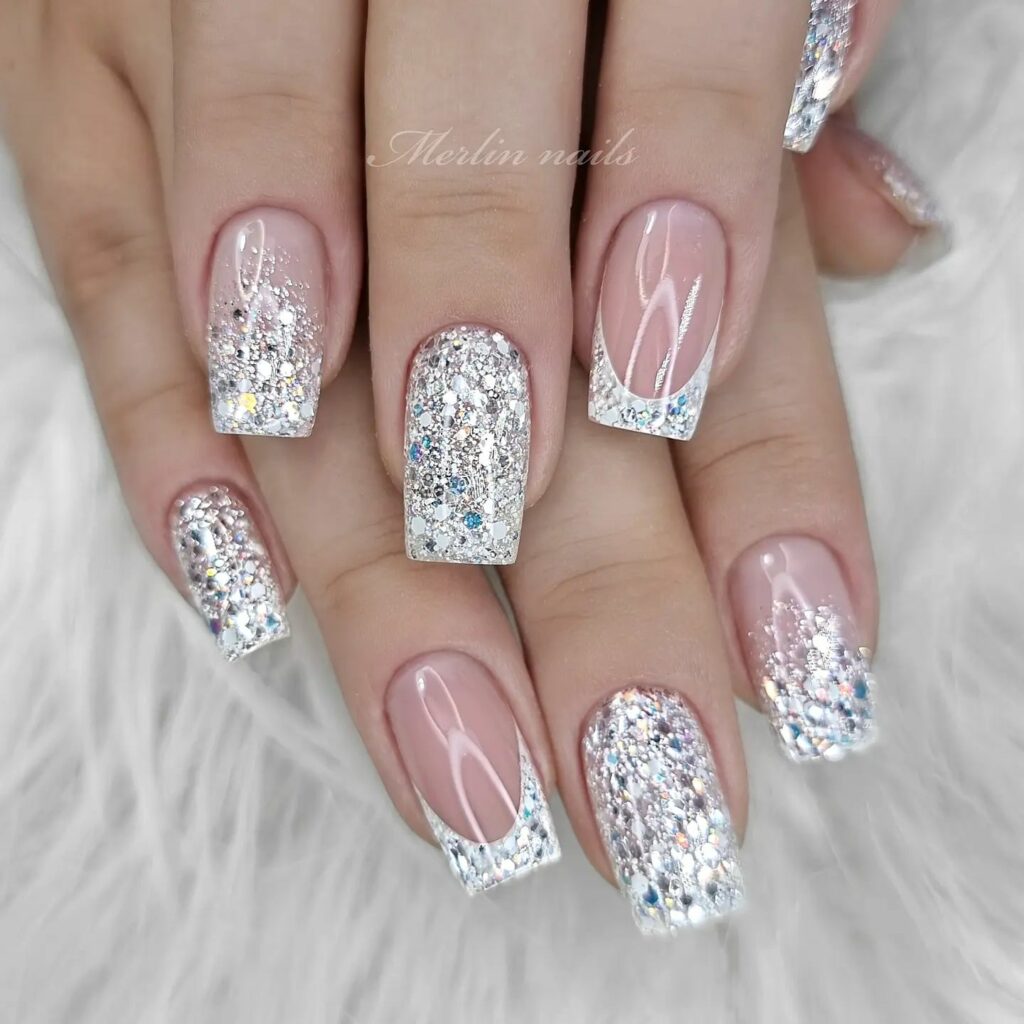 Marrying the elegance of a French manicure with the frosty allure of white glitter. This look radiates a wintry sophistication suitable for any chic event.
White Glitter Nails with Floral Accents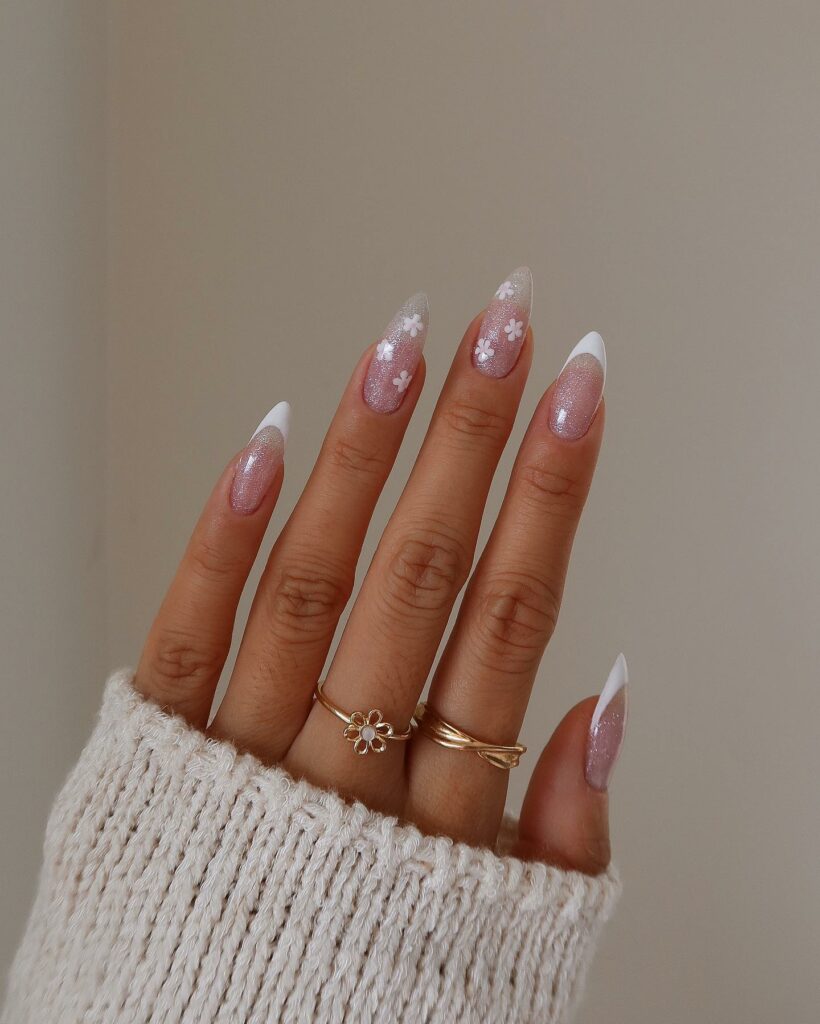 Celebrate nature with delicate floral patterns set against white glitter nails. A fresh and vibrant look that's perfect for spring and summer outings.
Frosted French Nails Adorned with 3D Florals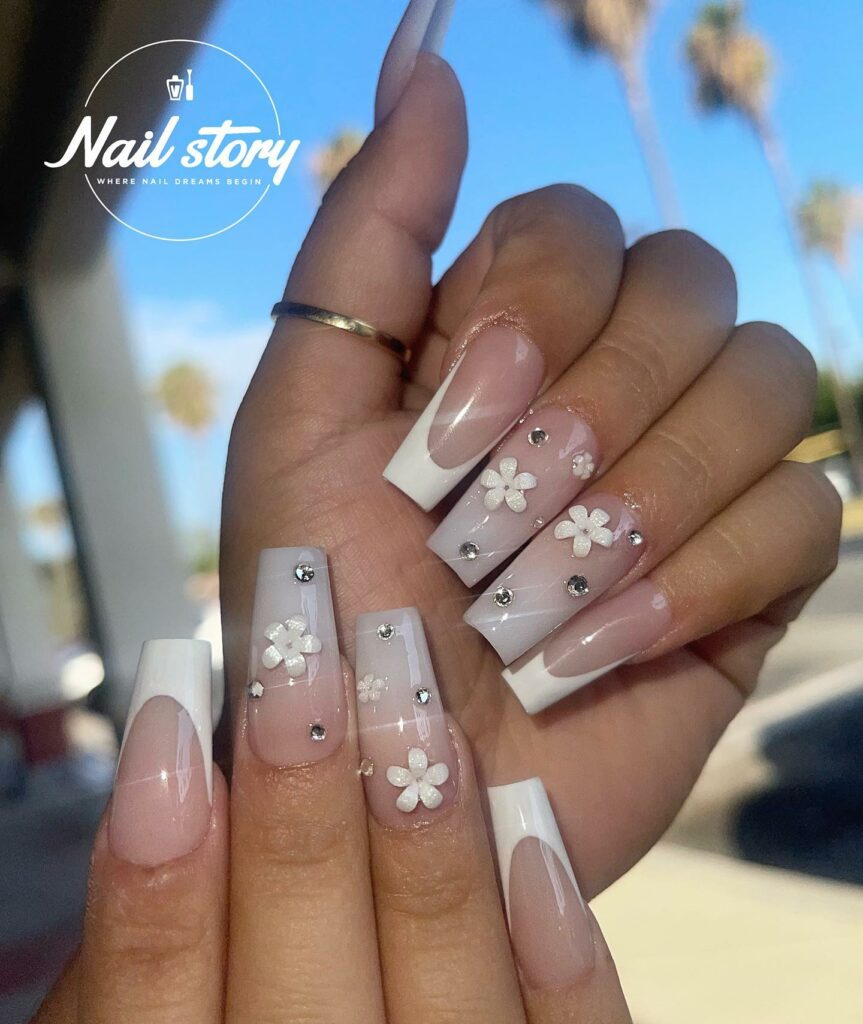 Classic frosted French nails are elevated with the addition of 3D floral designs. The added depth and dimension make for an eye-catching and unique manicure.
Classic French Manicure Enhanced with White Glitter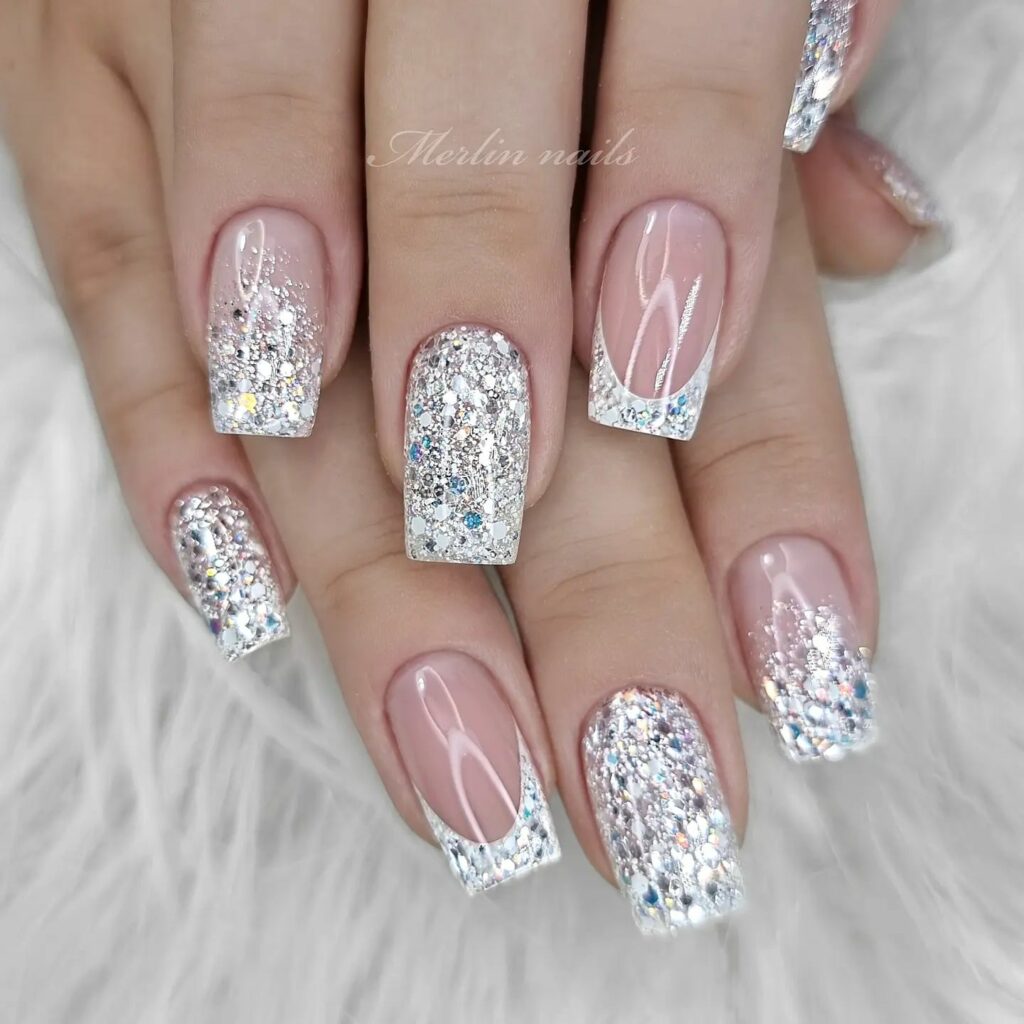 The timeless elegance of a classic French manicure is given a modern twist with subtle white glitter accents. A delightful balance between old-world charm and contemporary chic.
Animal Print on White Glitter Nails
Unleash your wild side with striking animal prints against a shimmering white glitter canvas. It is a bold choice for those looking to make a statement.
White Glitter with Hints of Pastel Pink on Stilettos
Stiletto nails get a romantic upgrade with pastel pink shades blending into a white glitter finish. It is ideal for those who love to merge edgy with delicate.
Glitter White Nails for Winter Vibes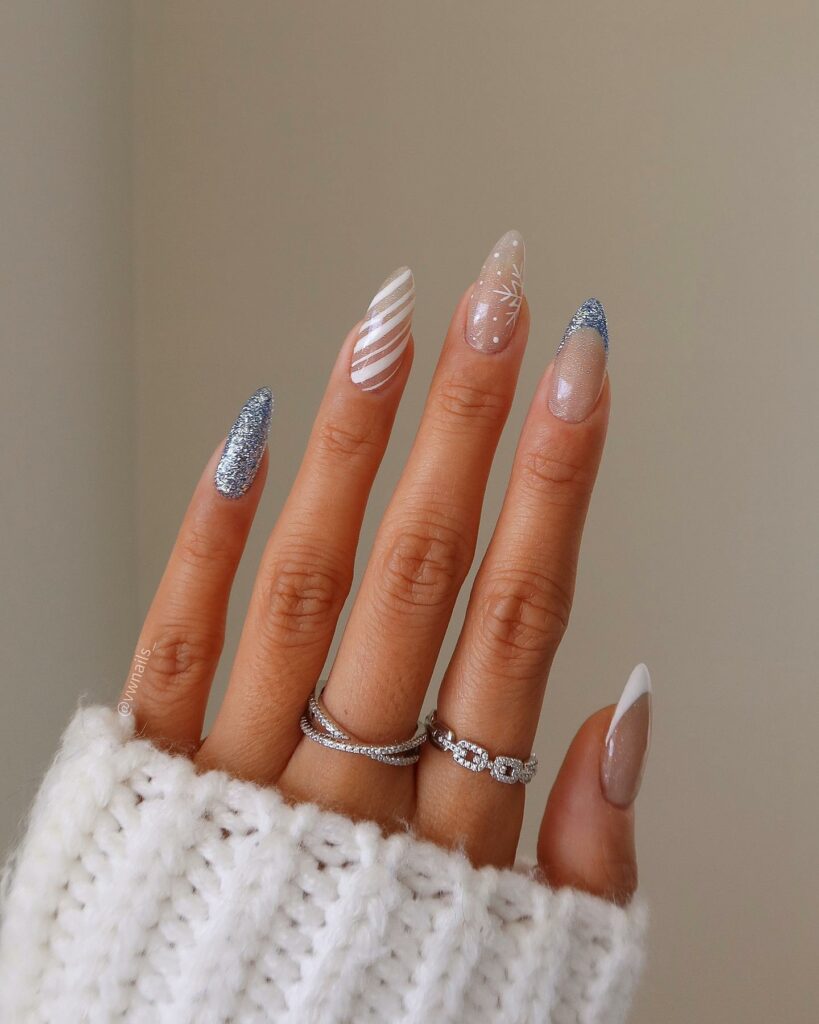 Embrace the winter season with nails that mimic the sparkle of fresh snow. This glittery white nail design is the perfect accessory for chilly days and festive nights.
Pastel Pink Meets White Glitter Magic
Experience the soft allure of milky pastel pink nails, elevated with specks of white glitter. It is a subtle yet stunning choice for daily wear and special occasions.
Classic French Manicure on Almond-Shaped Nails
The ever-popular almond nail shape has a luxury touch with a classic French manicure design. The added white glitter offers a dash of sparkle for an elevated appearance.
Milky White Nails with a Glittery Sheen
Dive into the serene beauty of milky white nails, complemented by a subtle glitter overlay. Perfect for those who adore simplicity with a hint of shimmer.
Bold Streaks and White Glitter Fusion
Make a statement with contrasting streaks set against a backdrop of white glitter. A dynamic look for those who love to stand out.
White Nails with Rose Gold Glitter Accents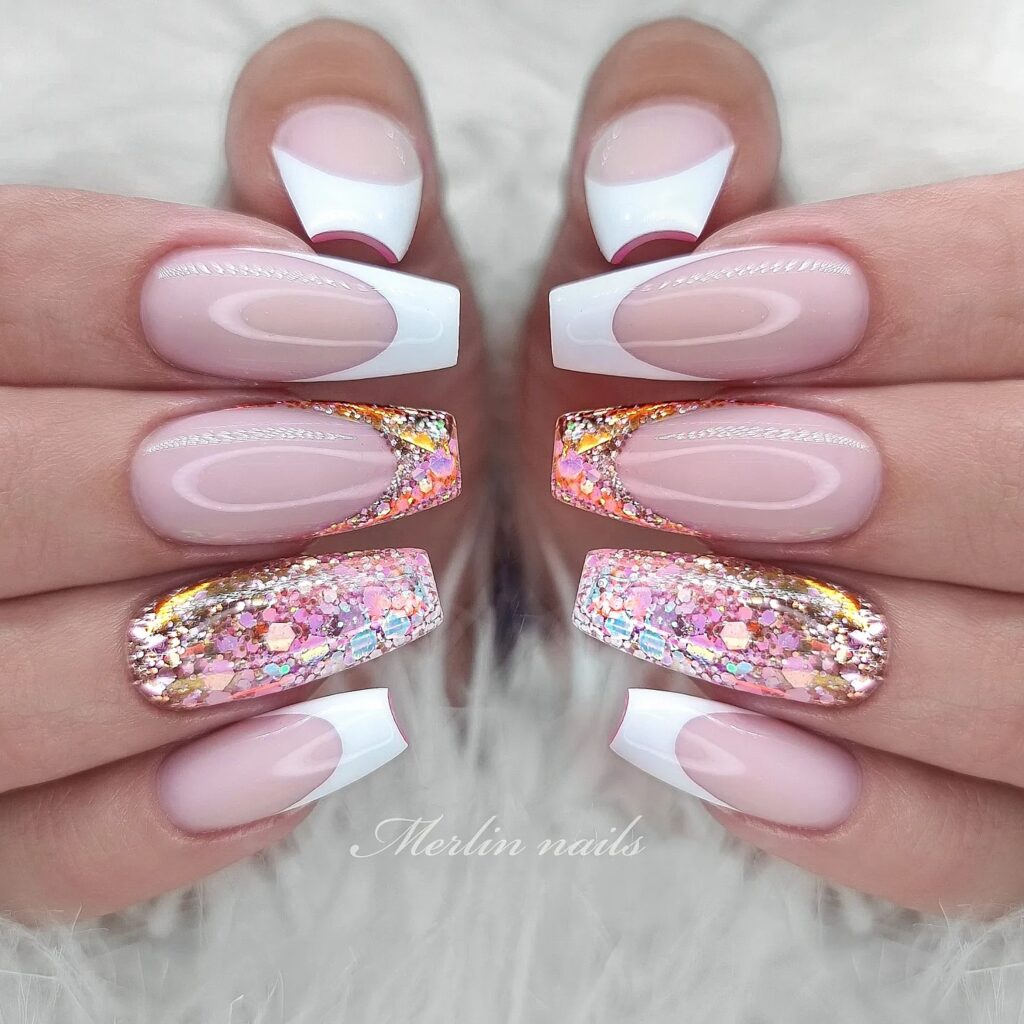 Indulge in the refined blend of pristine white nails enhanced by the warm glow of rose gold glitter. A sophisticated and modern look is perfect for any glamorous affair.
Neutral Nails with Snow Melt Glitter Highlights
Experience the calm allure of neutral shades complemented by white glitter, reminiscent of melting snow. This design evokes serene winter mornings and is perfect for those who love subtle drama.
Sheer White Nails with Gradient Glitter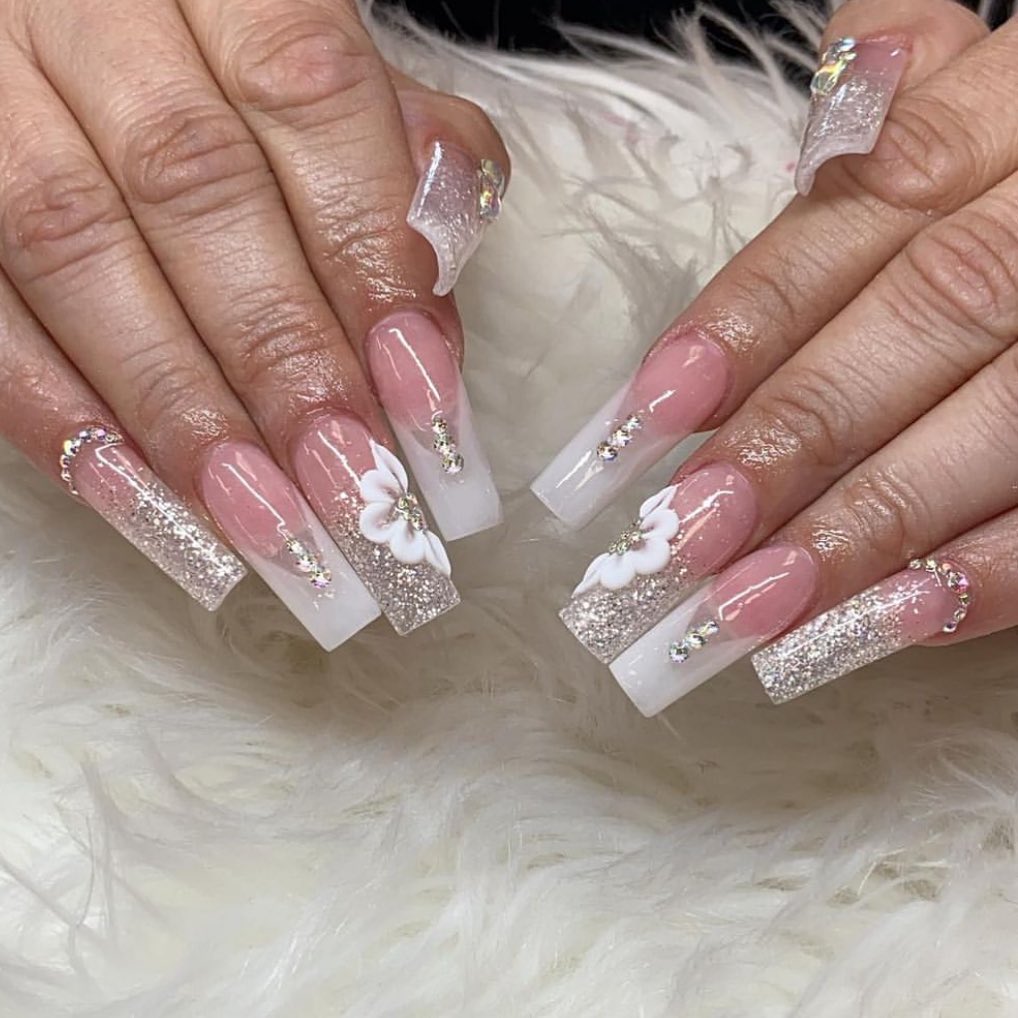 Dive into the mystique of sheer white nails gradually transitioning into a mesmerizing ombré glitter finish. It is ideal for evening events or whenever you want to sprinkle a bit of magic.
White Nails with Bronze Glitter
Let your nails tell a tale of opulence with a pristine white base adorned with hints of shimmering bronze glitter. A rich and elegant choice for any occasion.
White Nails Accented with Wine-Red Glitter
A harmonious marriage of pure white and deep wine-red, highlighted with glitter. The design brings an air of sophistication, making it a favorite for elegant gatherings.
White Nails with Abstract Glitter Patterns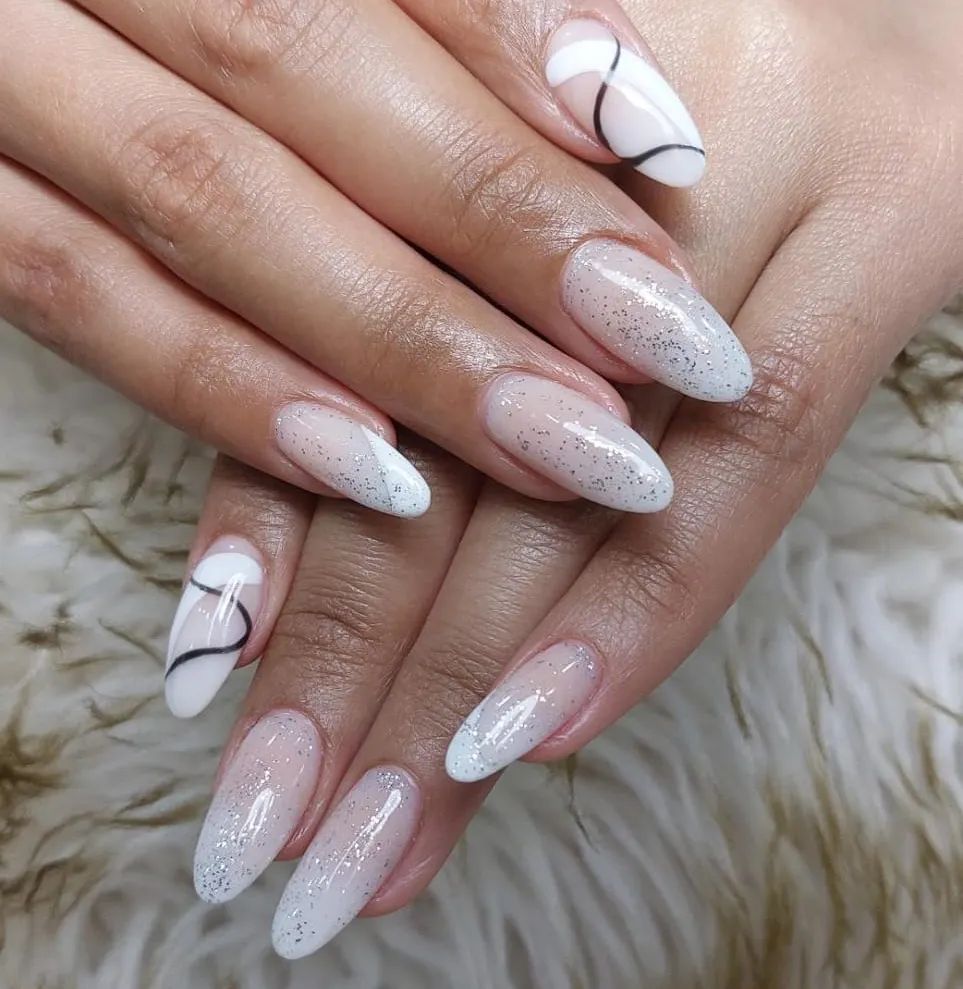 Express your artistic side with this unique combination of white nails and whimsical abstract glitter designs. A conversation starter and a true testament to individuality.
Classic White Nails with Glitter French Tips
Relish in the eternal charm of the French manicure, amplified with glittery tips. Perfect for those who cherish timeless elegance with a modern twist.
White Nails with Gold Glitter Overlays
Celebrate luxury with nails that shimmer in gold glitter set against a flawless white canvas. A design that exudes opulence, perfect for grand events and celebrations.
Sparkling White Nails with Glittery Floral Motifs
Let your nails bloom with intricate floral designs set on a canvas of sparkling white glitter. It is an enchanting choice for spring or garden-themed events.
Gleaming White Glitter on Coffin Nails
Experience the sheer elegance of coffin-shaped nails coated with a pure white glitter. This look is a perfect blend of modern form and classic shimmer.
Pure White Nails with Subtle Glitter
These nails glisten in white with an understated glitter shimmer, capturing the essence of a snowy day. It is an elegant choice for those who appreciate minimalist beauty.
V-French Design with White Glitter Accents
Reimagine the classic French manicure with a V-shaped design, all adorned with white glitter. A contemporary twist on a beloved classic, ideal for fashion-forward individuals.
Pure White Nails with Silver Glitter Accents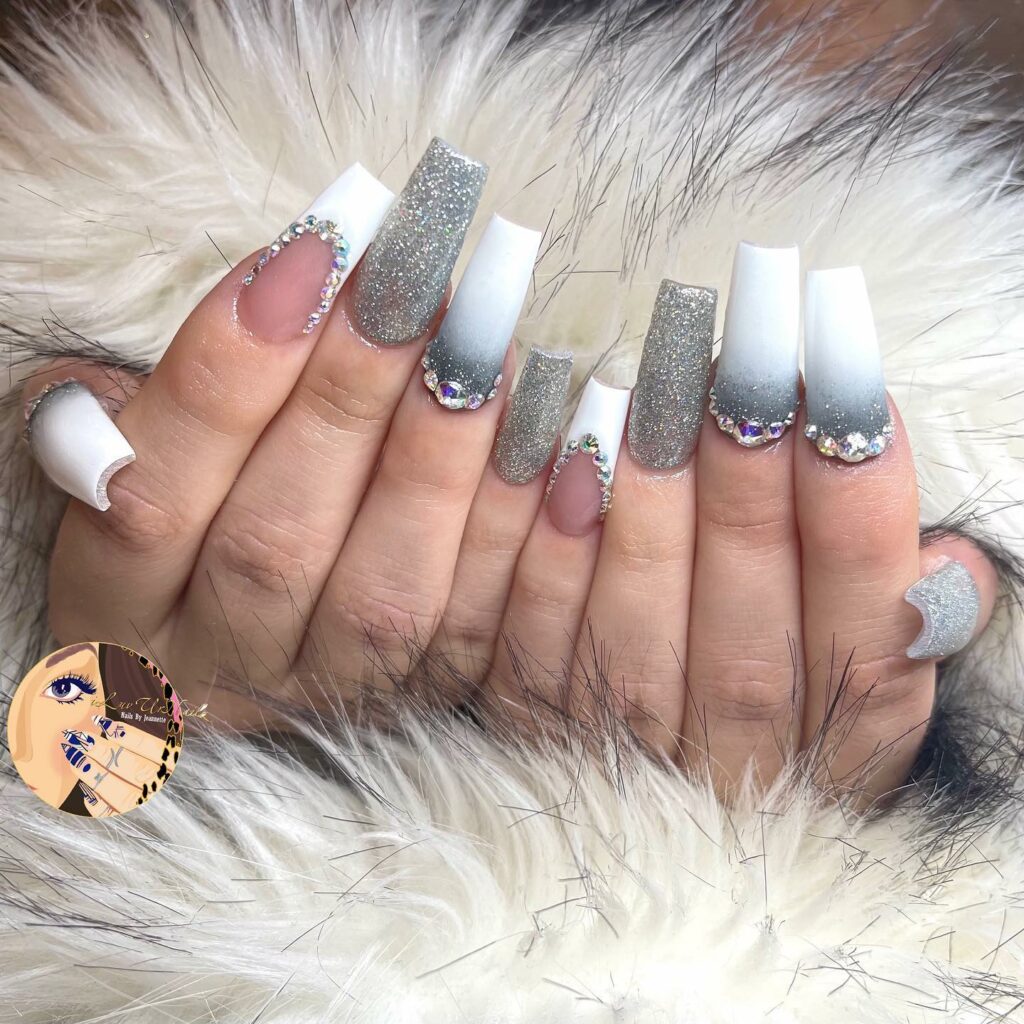 Dive into the timeless elegance of pure white nails delicately adorned with sparkling silver glitters. A chic design that effortlessly captures attention and complements any ensemble.
White Nails with Purple and Silver Shimmer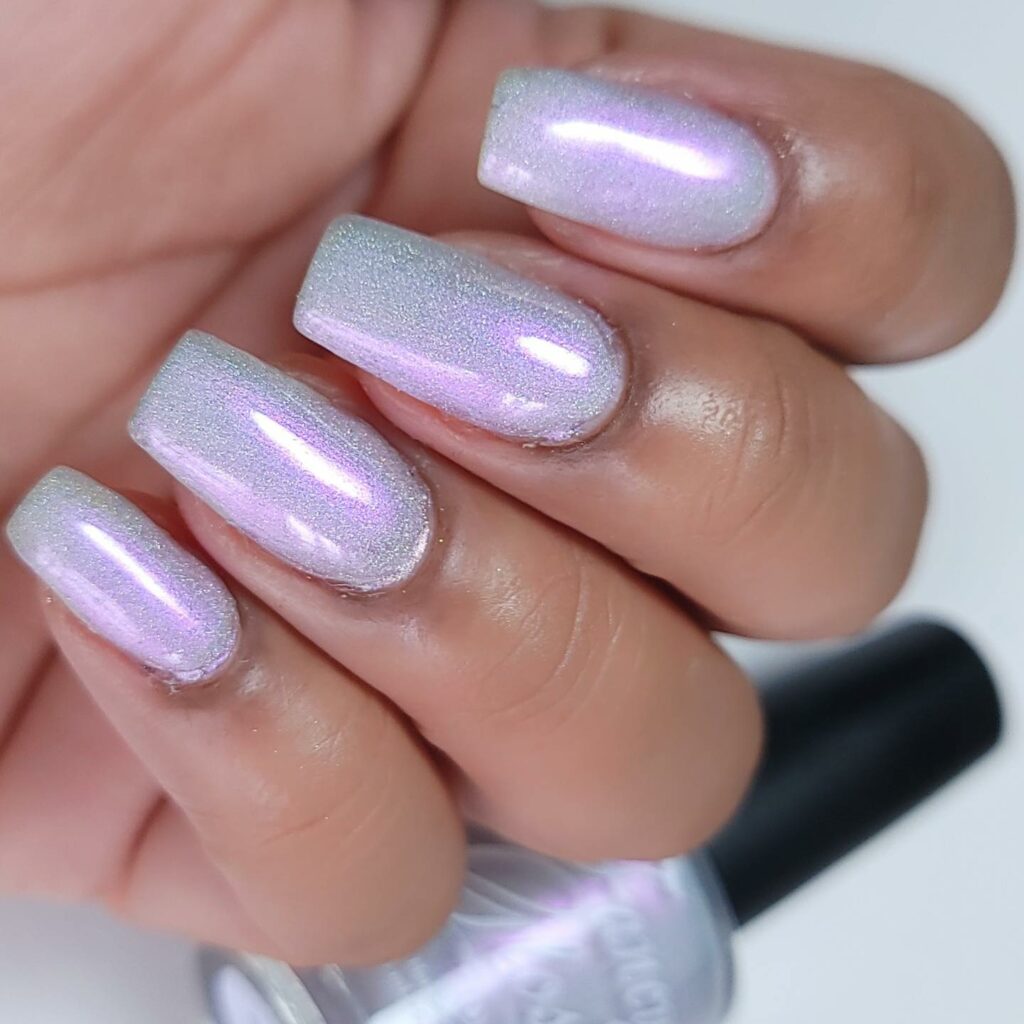 Experience the magical allure of white nails graced with hints of purple and silver shimmer. A dreamy design that marries the serenity of pastels with the sparkle of precious metals.
White Glitter Coffin-Shaped Nails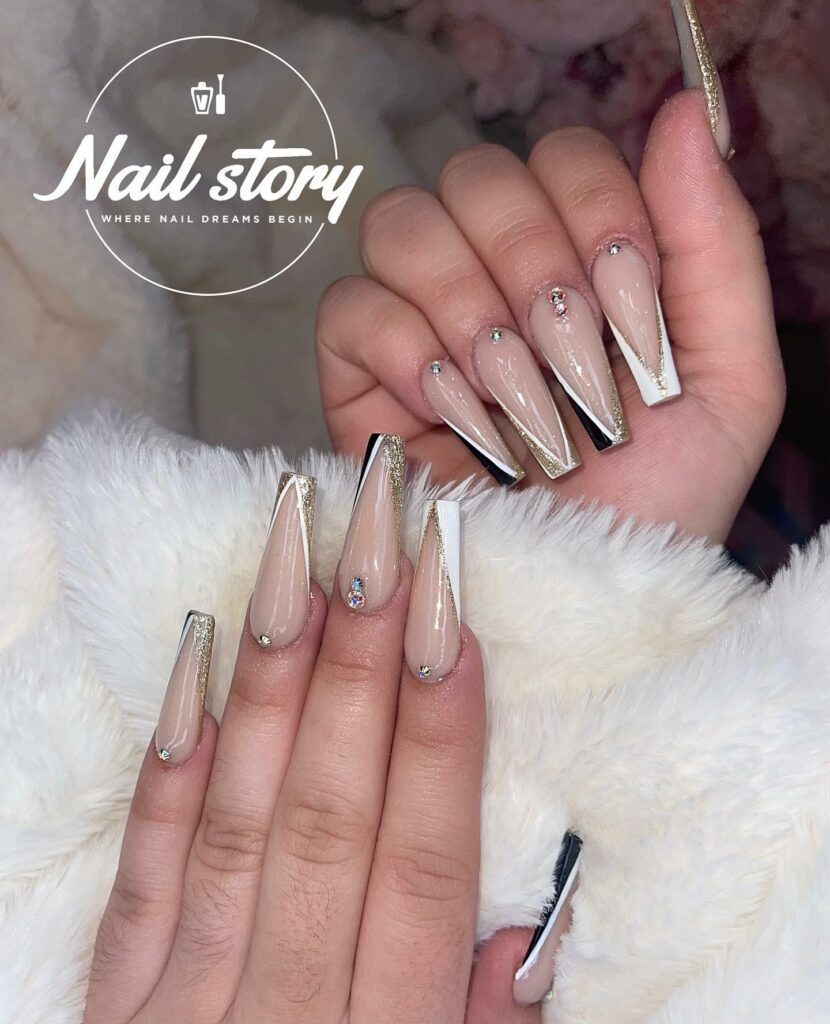 Succumb to the pristine beauty of coffin nails impeccably coated with shimmering white glitter. A design that perfectly blends a modern form with classic shimmer.
White Nails with Rainbow Glitter Accents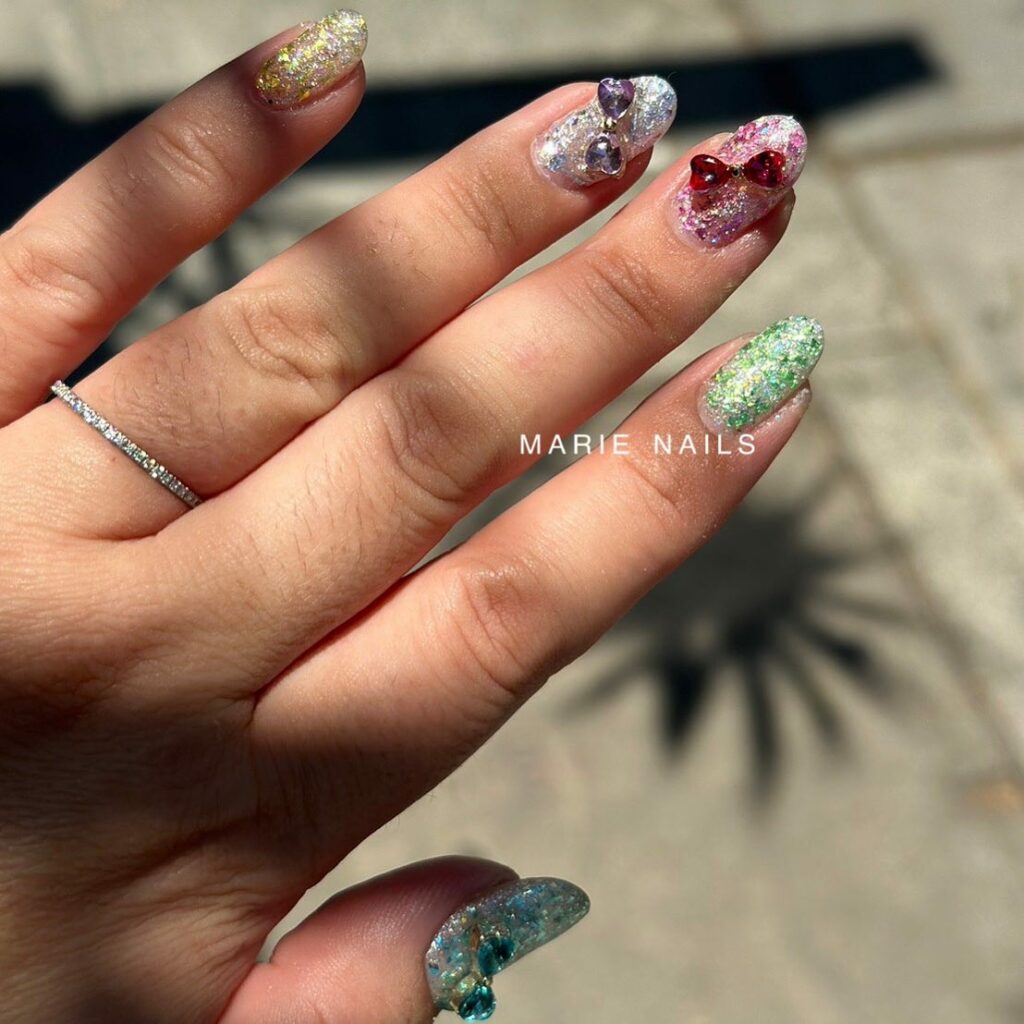 Celebrate vibrancy with white nails playfully adorned with rainbow glitter sprinkles. A look that brings joy and captures the essence of a colorful personality.
White Nails with Sparkly Ombré Highlights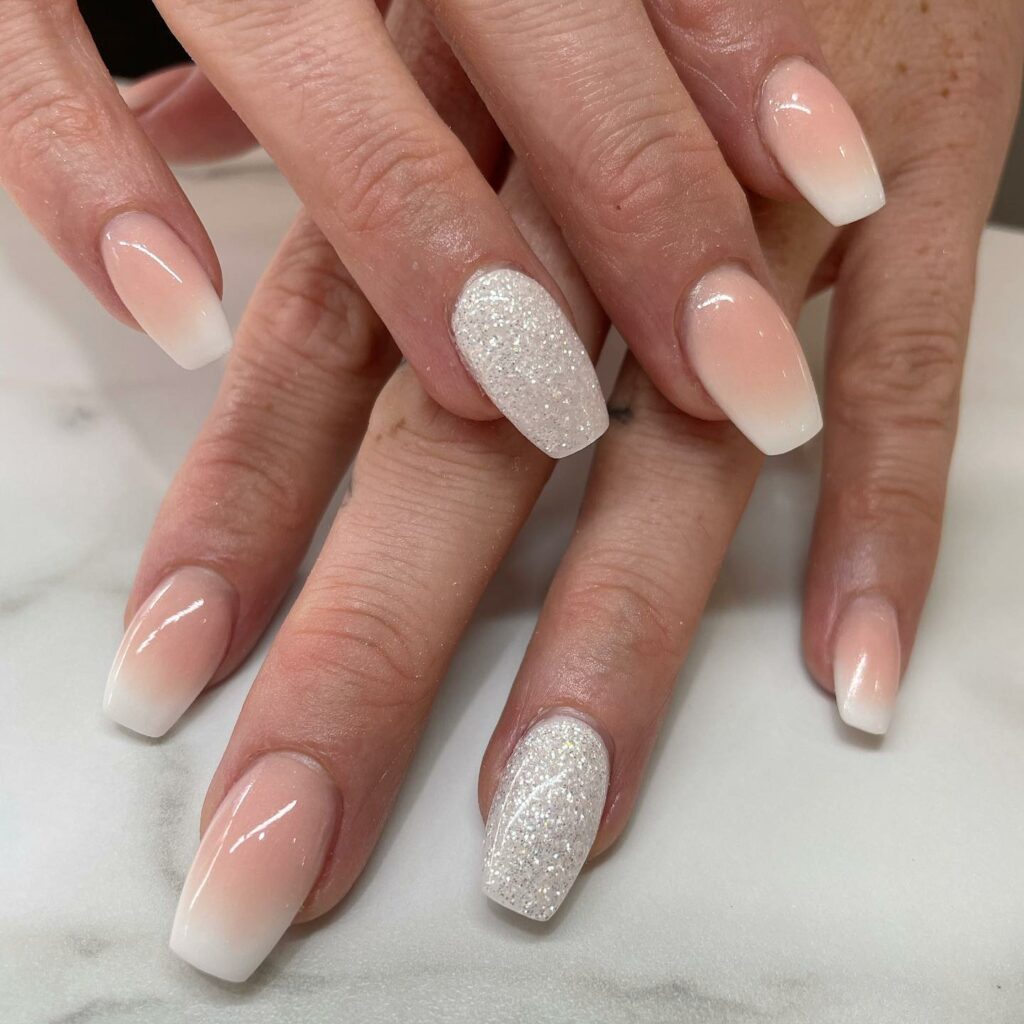 Embrace the allure of white nails that transition into a dazzling ombré glitter finish. This design is the epitome of sophistication with a touch of whimsy.
Stiletto Nails with Full Silver Glitter Overlays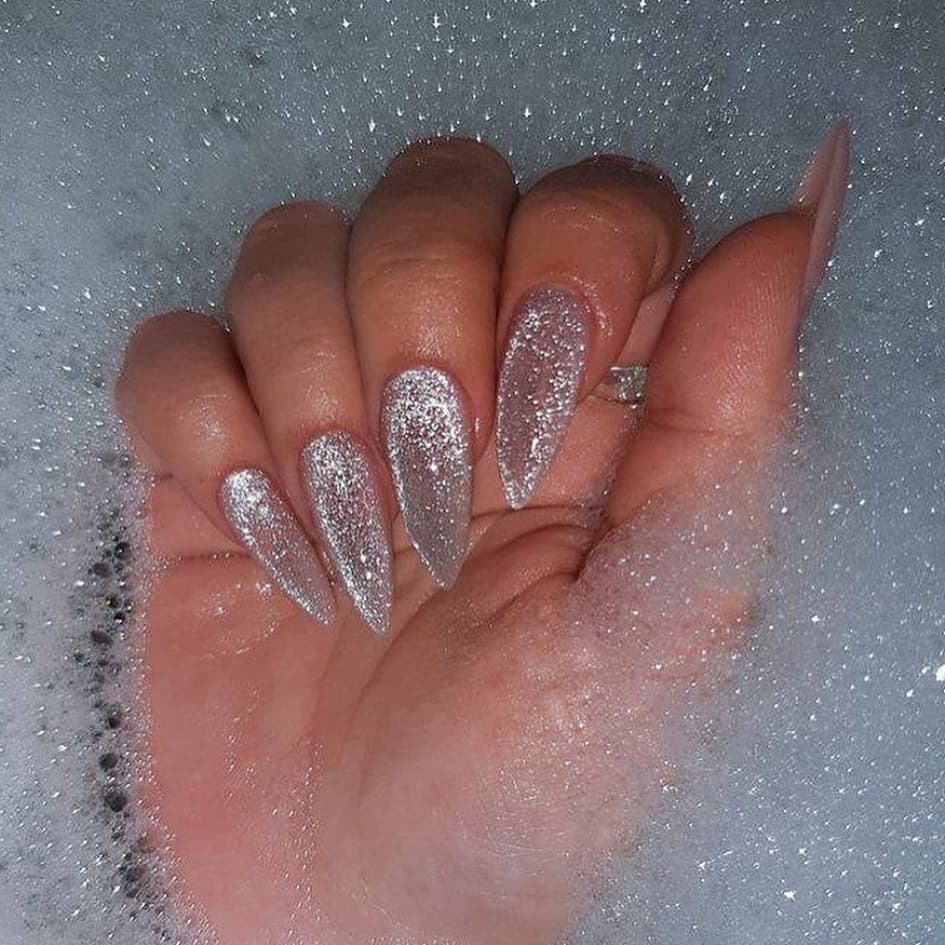 Delight in the mesmerizing combination of pristine stiletto nails lavishly layered with silver glitter. A true testament to luxury and style, perfect for grand occasions.
Coffin Nails Adorned in White Glitter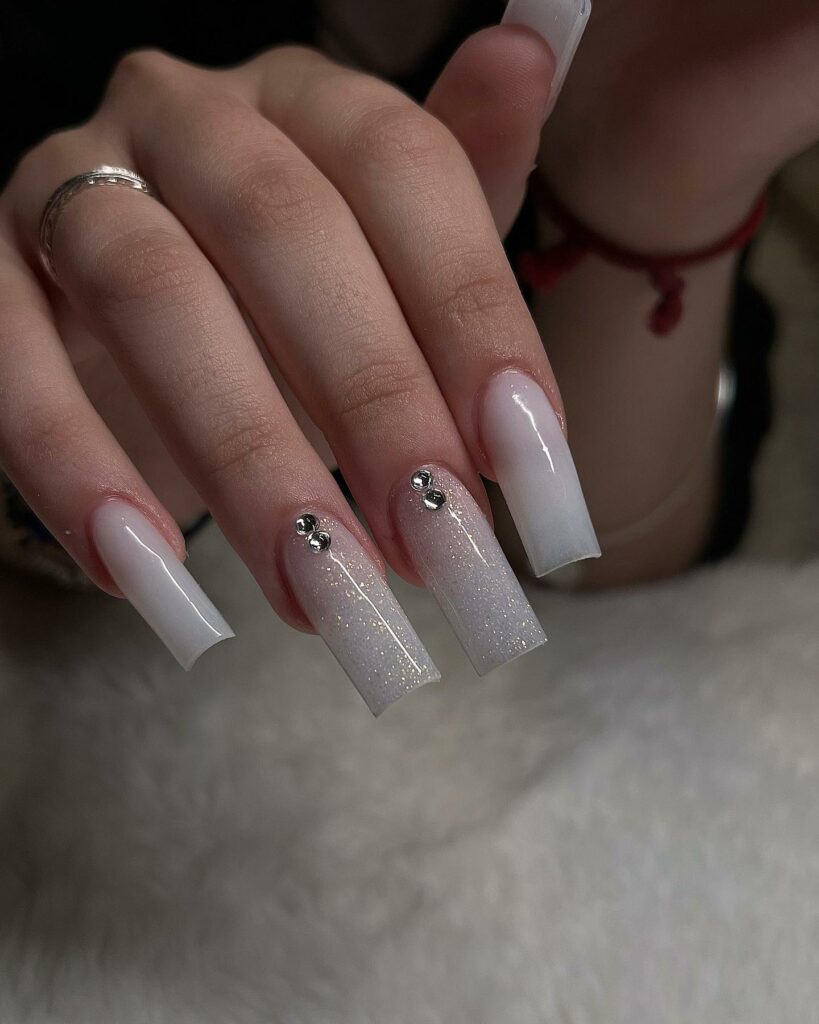 Experience contemporary grace with coffin nails bathed in a blanket of luminous white glitter. An avant-garde design that stands out, capturing the essence of modern elegance.
Lavender Nails with Luminescent Crystals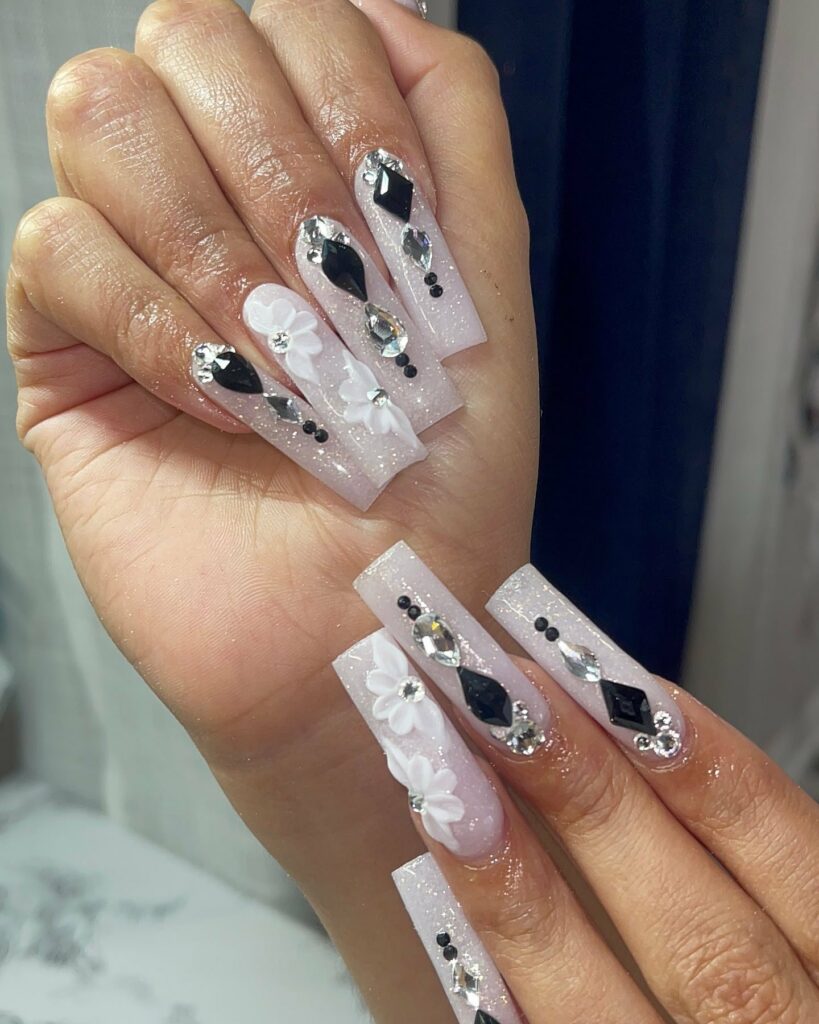 Indulge in the luxurious union of luminescent lavender nails enhanced by dazzling gemstone accents. A look that's fit for royalty, echoing both charm and luxury.
White Nails with Glitter, Ombré, and Marble Effects
Showcase artistry with nails that blend glitter, gradient ombré, and marble designs on a white canvas. It is a unique masterpiece that intertwines different styles in harmony.
White Nails Splashed with Silver Glitter
Elevate your style with white nails artistically splashed with streaks of silver glitter. A dynamic design that adds a touch of luxury to any outfit.
White Nails with Delicate Rose Print and Glitter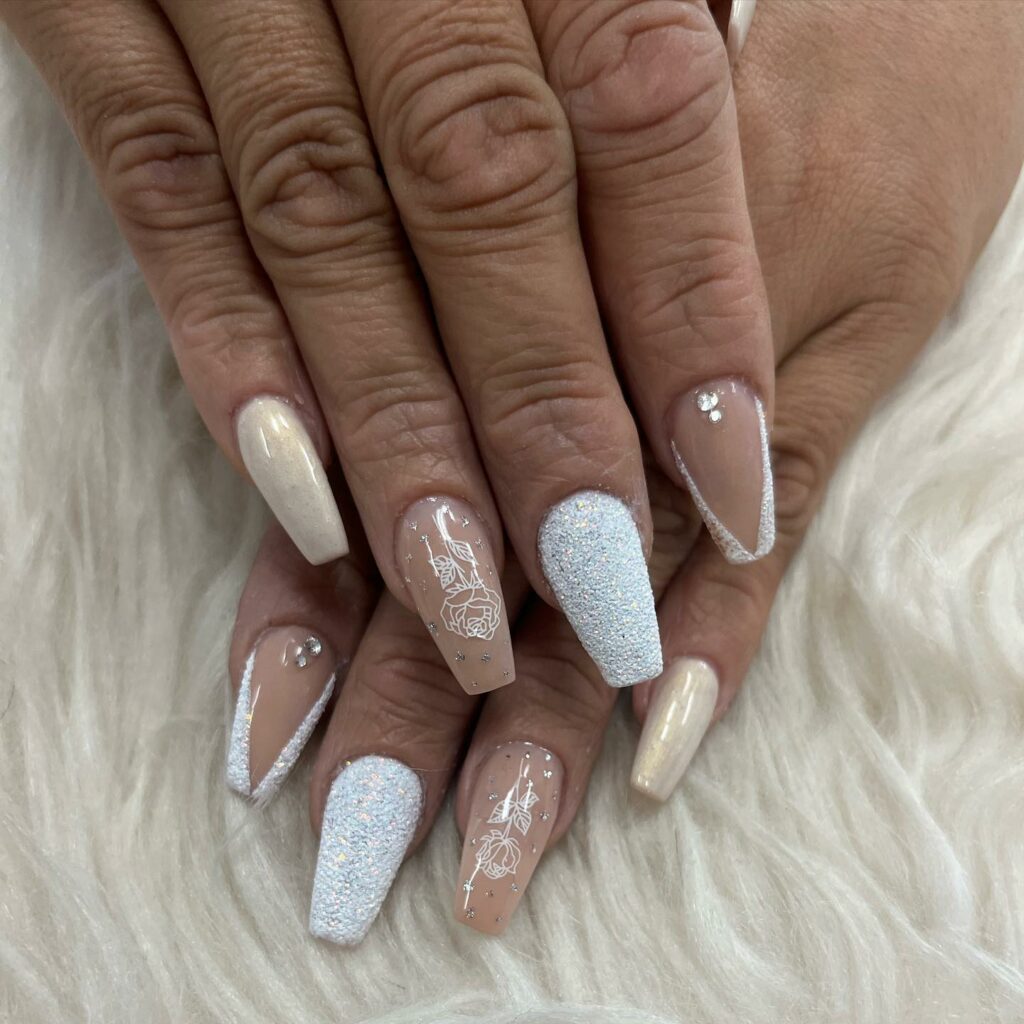 Embark on a romantic journey with nails featuring delicate rose prints set against a backdrop of white glitter. A design that evokes feelings of love and vintage charm.
White Marble Nails with Full Silver Glitter Accents
Relish in the regal blend of marbled white nails lavishly accented with silver glitter. A design that marries the raw beauty of marble with the luxury of silver.
White Nails Adorned with Silver Star Glitters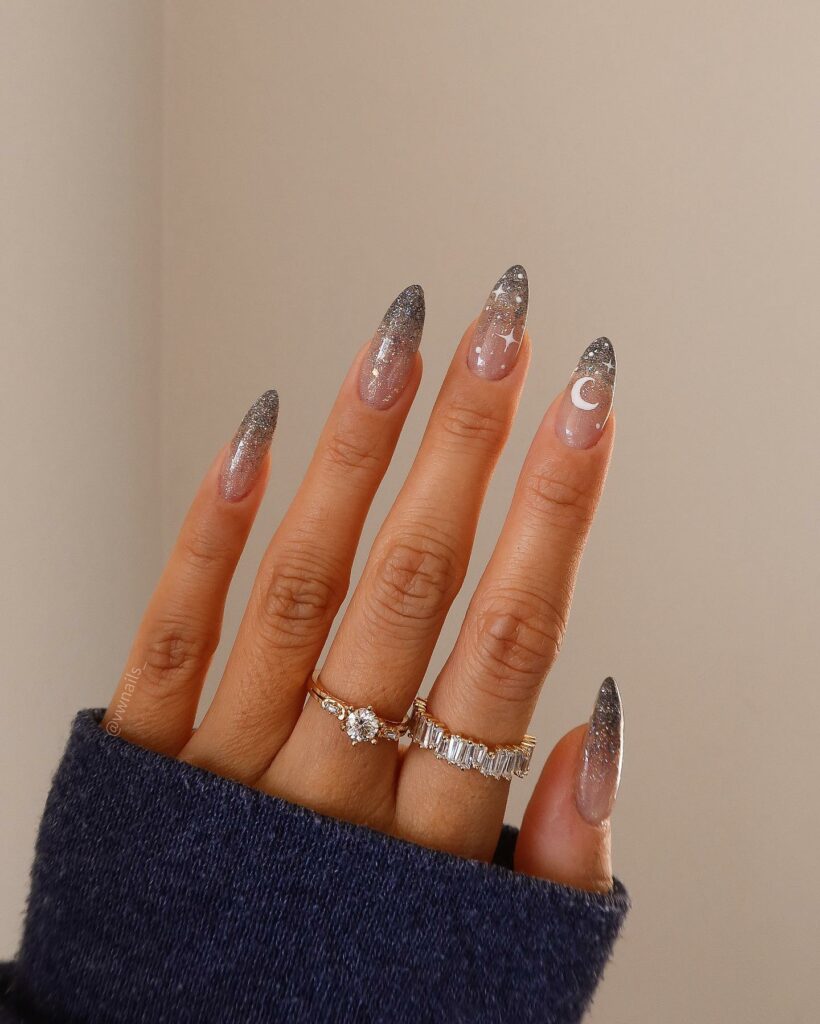 Experience the celestial charm of white nails dotted with sparkling silver star glitters. This design transports you to a serene night sky with countless stars.
Almond-Shaped White Glitter Nails with Gem Accents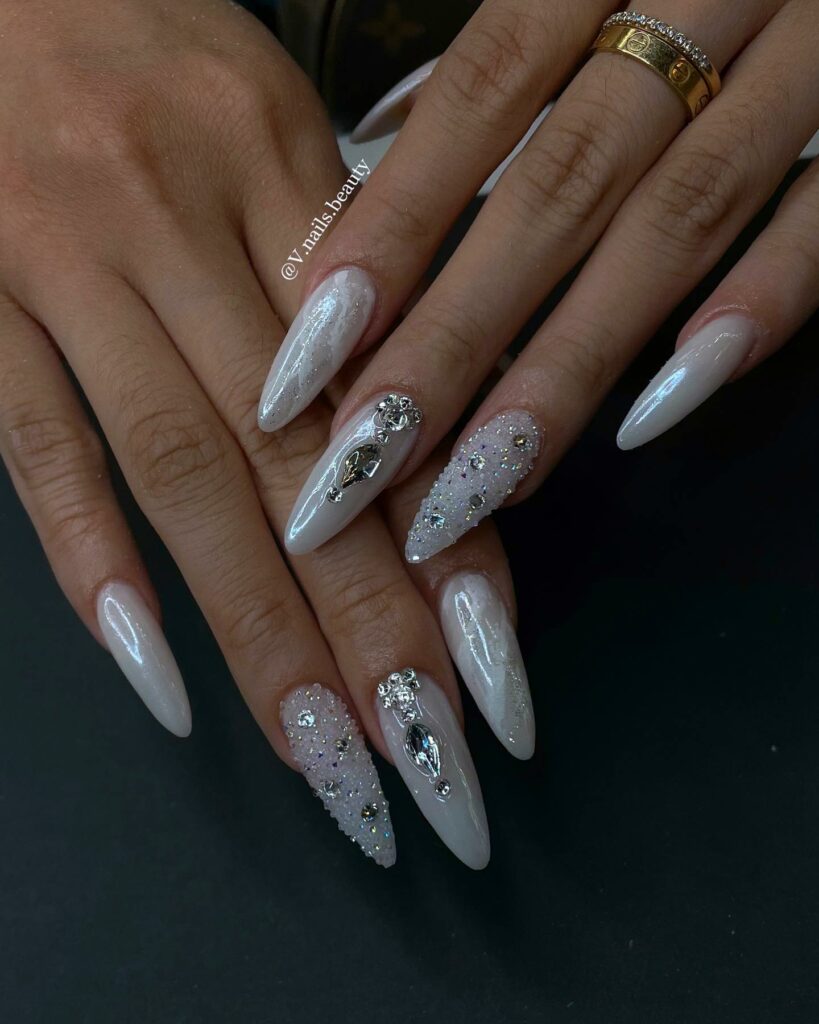 Revel in the sophisticated allure of almond-shaped nails covered in white glitter, further elevated with radiant gemstone accents. A look that perfectly embodies luxury and elegance.
White Nails with Scaly Green Accents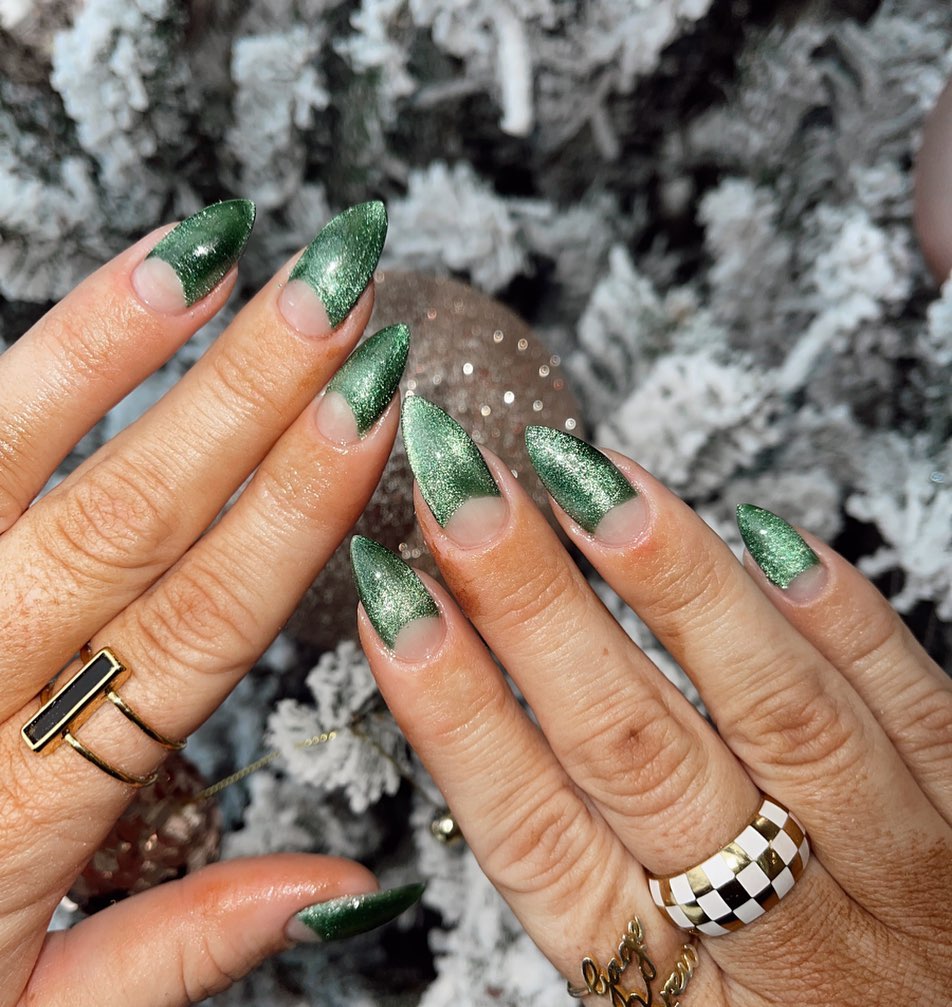 Dive into an underwater fantasy with white nails featuring scaly green textures. A design reminiscent of mesmerizing mermaid tails, perfect for those who love a touch of mystique.
Butterfly-Accented White Glitter Nails
Soar to new heights with delicate white glitter nails adorned with ethereal butterfly designs. A beautiful representation of transformation and grace.
White Nails with Ombré Glitter and Gem Highlights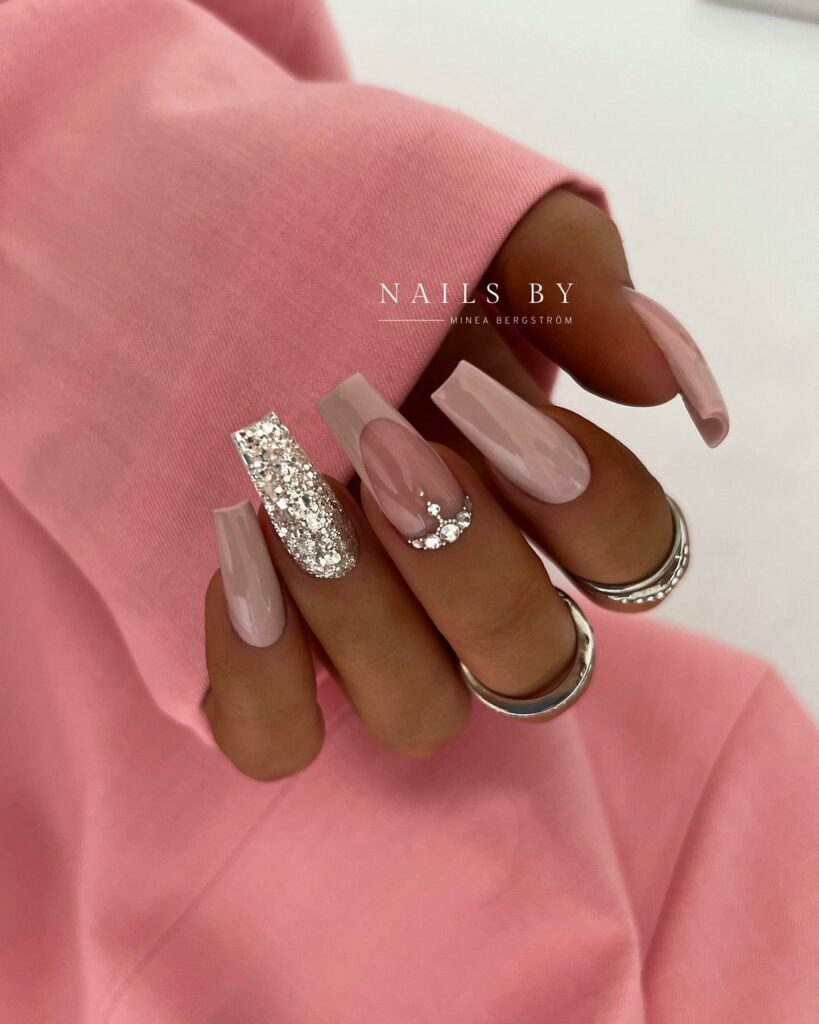 Grace your fingers with nails that exhibit a graceful ombré effect using white glitters, beautifully complemented by gleaming gem accents. A harmonious blend of shine and shimmer.
Cosmic-Inspired White Glitter Nails
Travel through the galaxies with nails radiating cosmic white glitter. A design inspired by the mysteries of the universe, ideal for the cosmic dreamer.
White Nails with Heart-Shaped Glitter
Celebrate love with nails shimmering in white glitter and adorned with heart-shaped designs. It is an expression of romance, perfect for heartfelt occasions.
Shimmery Snow-Inspired Acrylic Nails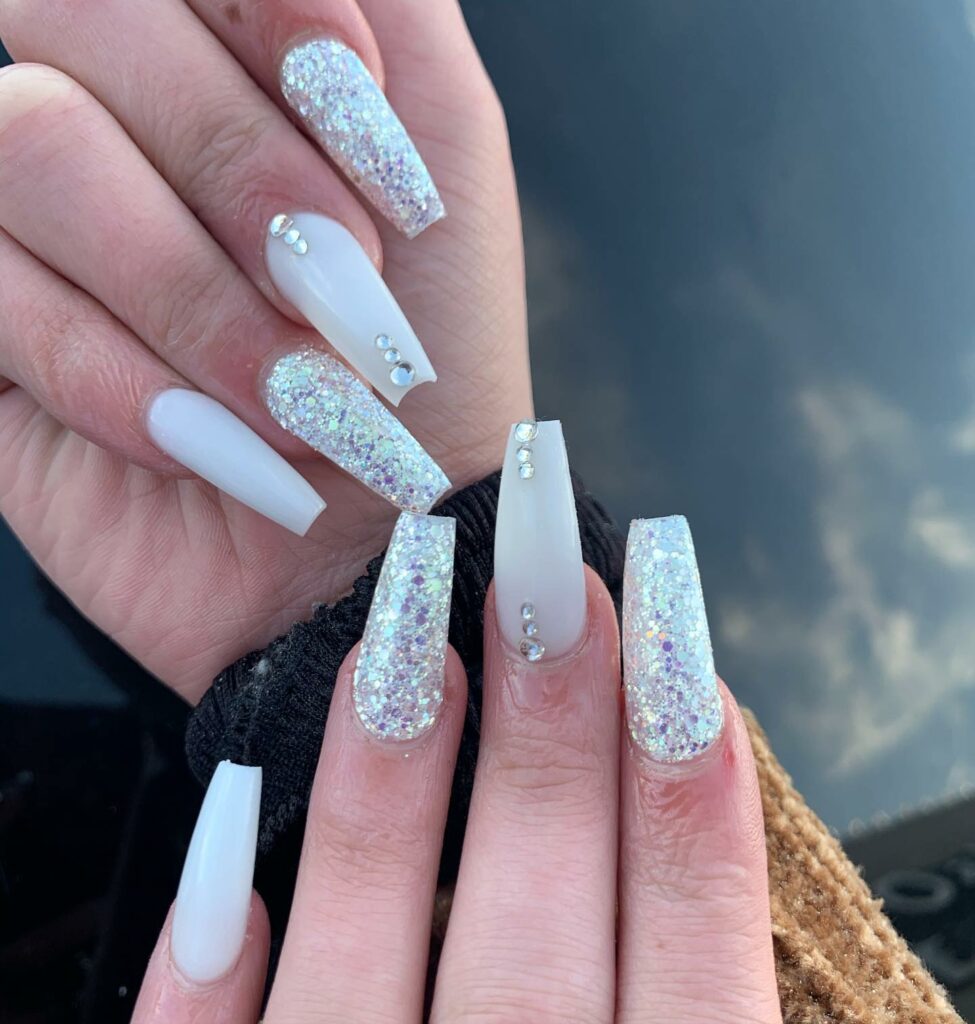 Step into a winter wonderland with acrylic nails inspired by the pristine shimmer of fresh snow. A seasonal favorite that embodies the magic of winter.
Nails Dipped in Luminous White Glitter
Achieve unparalleled brilliance with nails luxuriously dipped in radiant white glitter. A pure and captivating design that glows with every gesture.
Nails with Half Butterfly Wing Designs and French Tips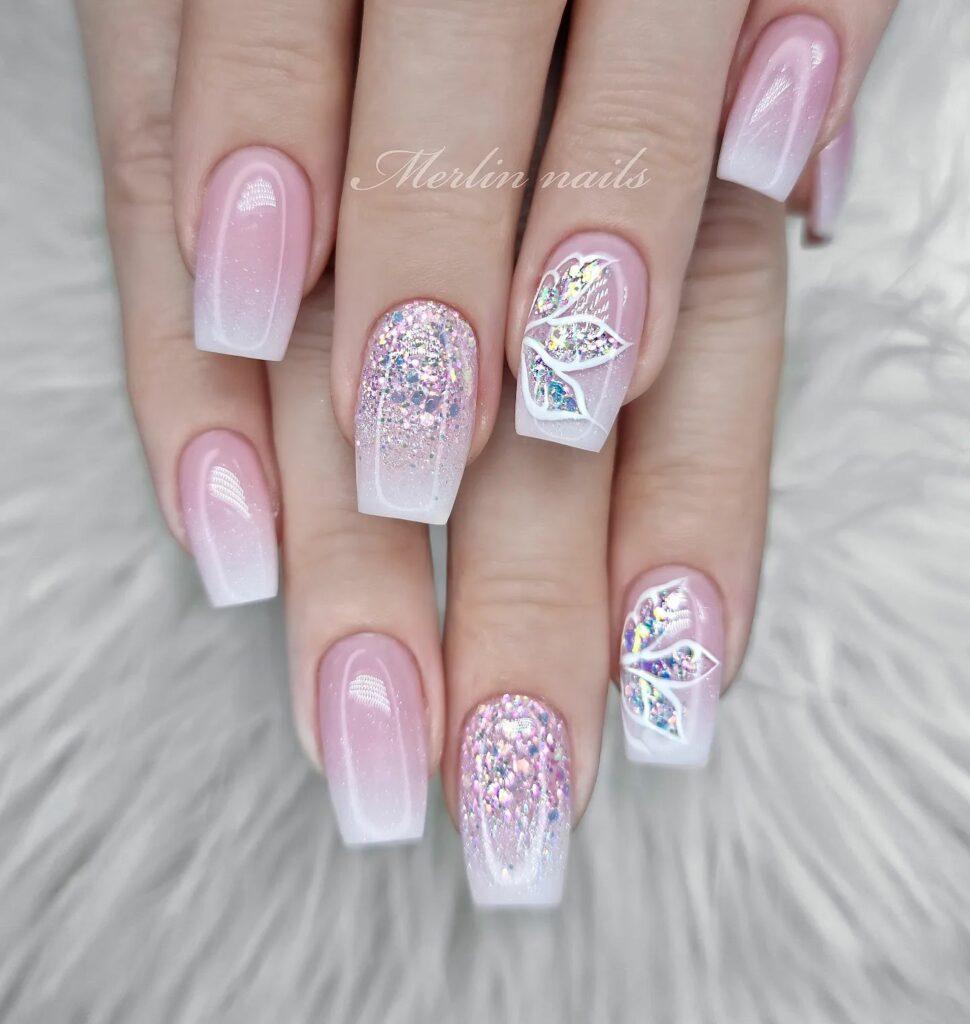 Unfold beauty with nails featuring half butterfly wing designs complemented by classic French tips. A unique fusion of nature's grace and timeless style.
Pink Nude Nails with Butterfly Accents and Glitter Highlights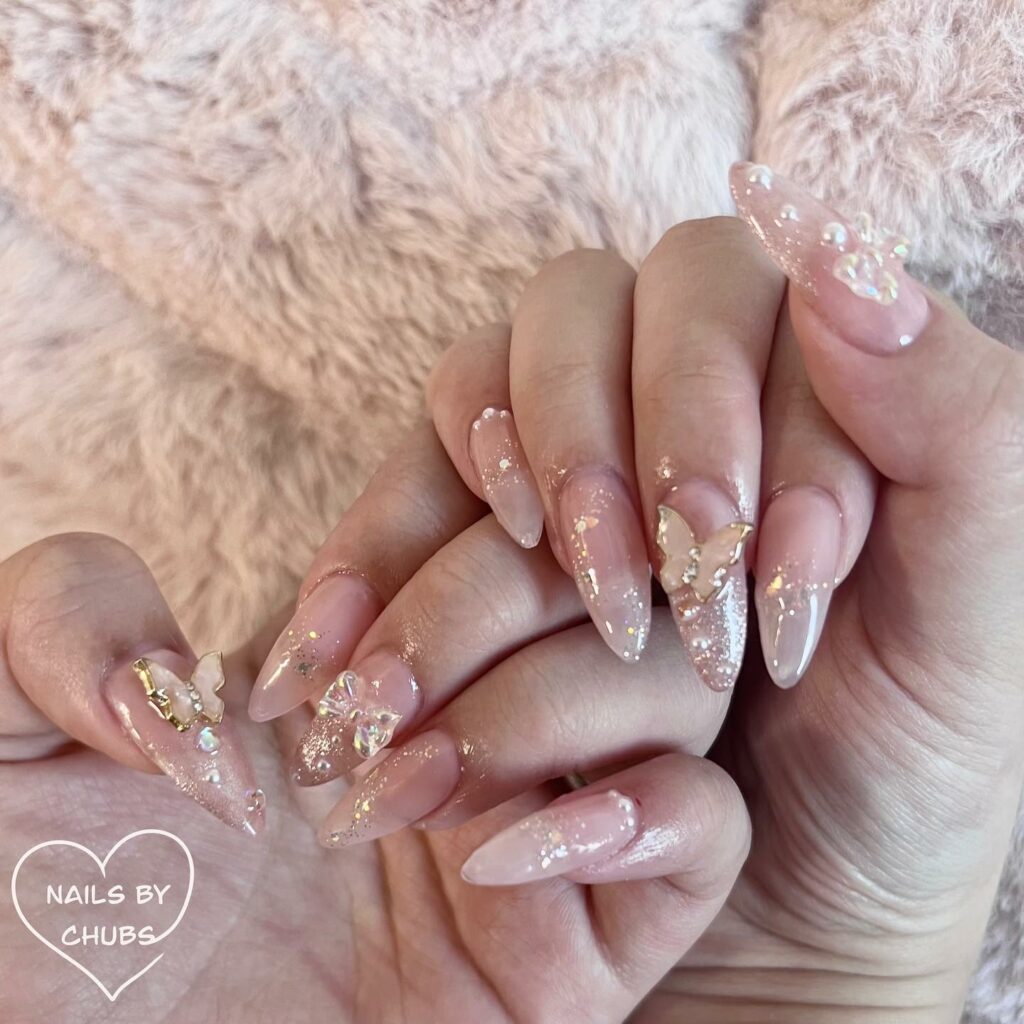 Fall under the spell of nails that combine the softness of pink nude tones, the shimmer of glitters, and the allure of butterfly accents. A design that whispers timeless beauty.
Classic French Manicure with White Glitter on Coffin Nails
Revisit the age-old beauty of the classic French manicure, enhanced with a white glitter twist on coffin nails. A blend of tradition and trend for the modern diva.
Blue and White Winter-Inspired Nails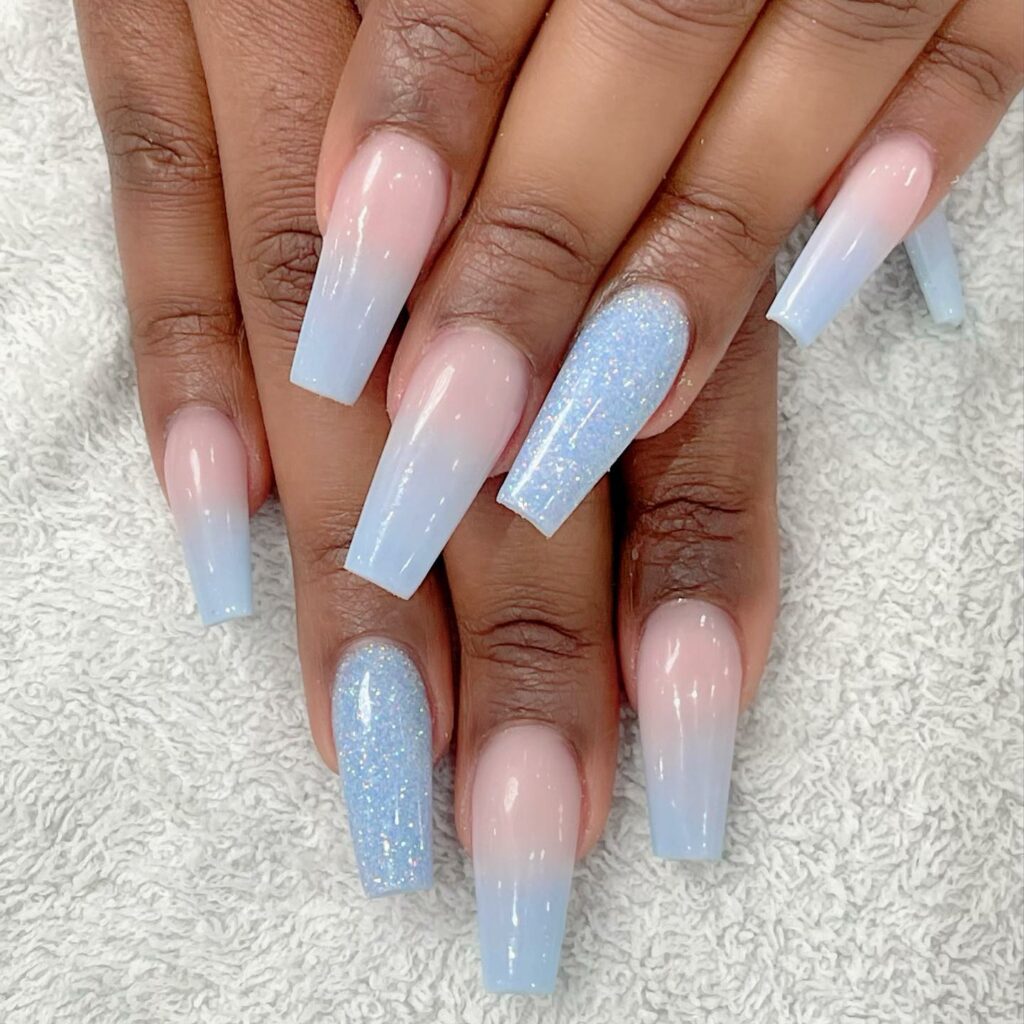 Embrace the chill with nails that capture the essence of winter through a blend of icy blues and pure white. A design that resonates with the serene beauty of frosty landscapes.
Nails Adorned in Blue, Silver, and White Glitter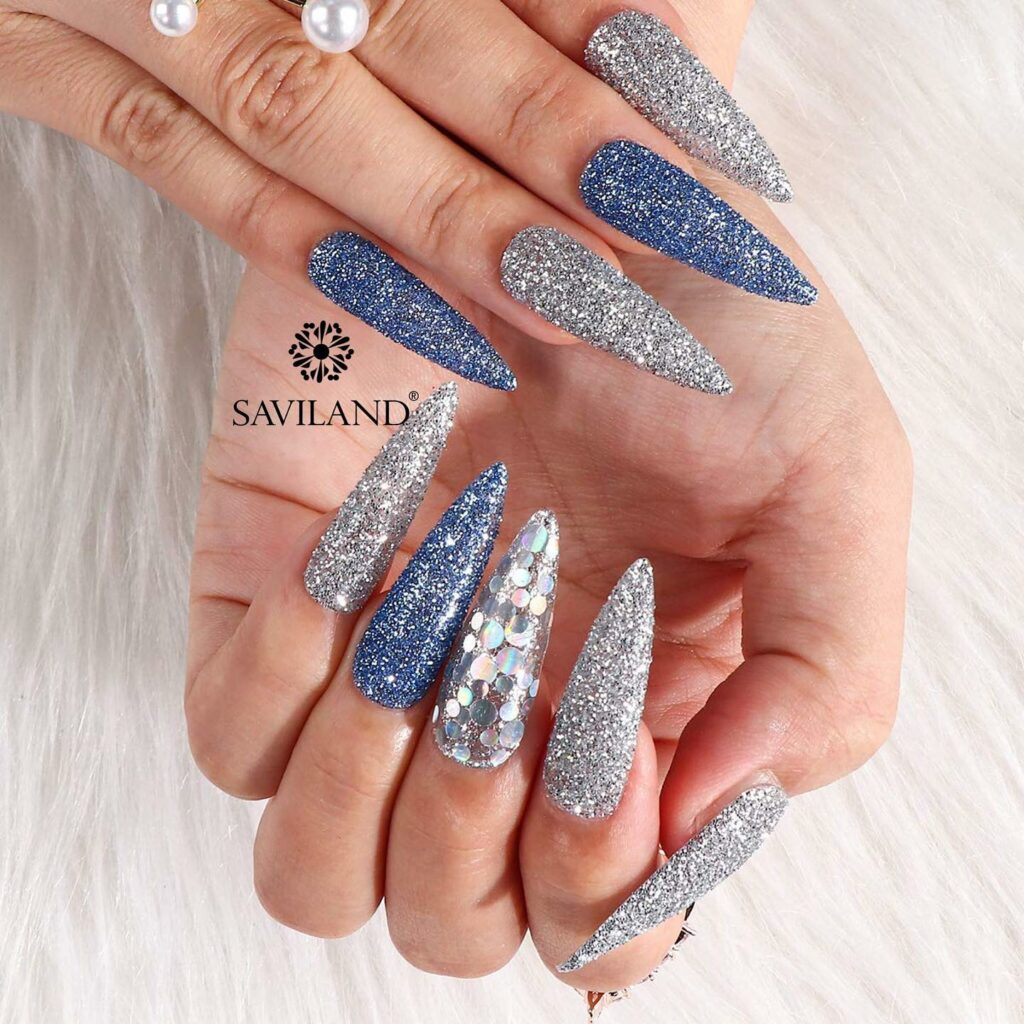 Sail through a sea of stars with nails that shimmer in hues of blue, silver, and white glitters. A mesmerizing design that combines the ocean's depth with the night sky's brilliance.
Delicate Blush Meets Glittering Glamour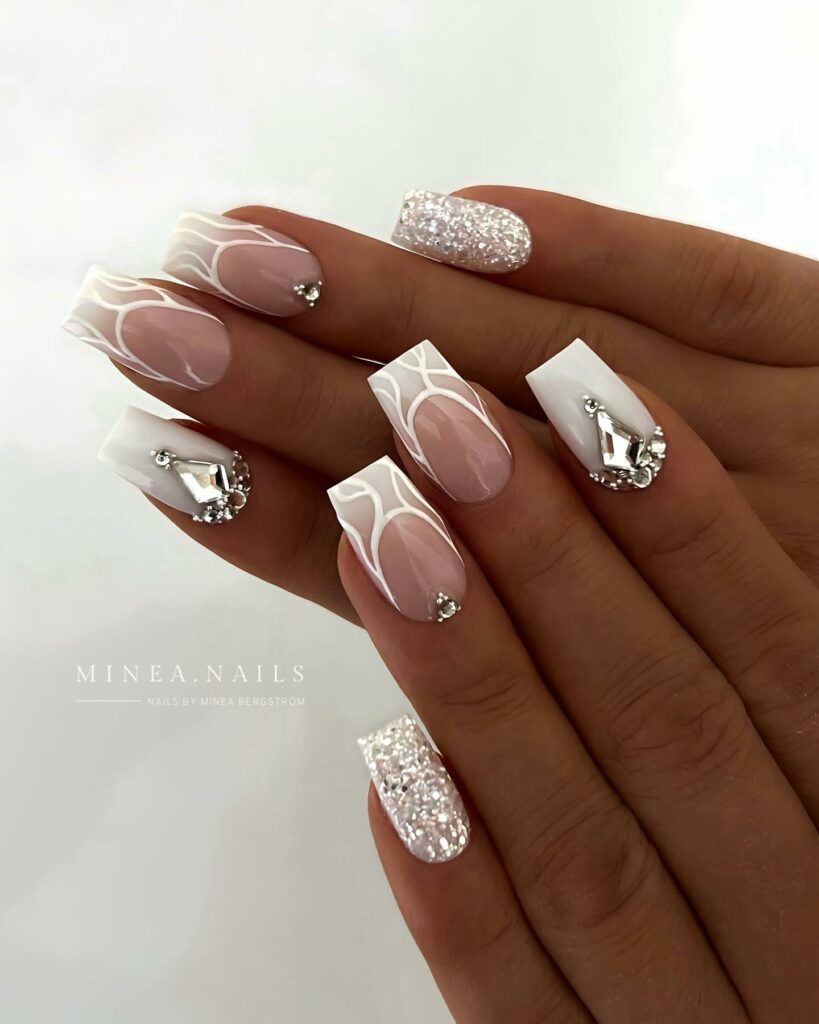 Embracing the soft allure of rose blush, these nails feature intricate white wave patterns paired with dazzling glittered accents. The touch of embedded jewels elevates the design, making it a breathtaking blend of simplicity and sophistication.
Soft Pink Palettes with Sparkling Embellishments
These nails epitomize refined beauty, harmoniously blending muted pink shades with shimmering glitter segments. Delicate white accents and strategically placed jewels further enrich the design, showcasing a graceful and poised aesthetic.
White Heart Glitter on Passionate Pink Nails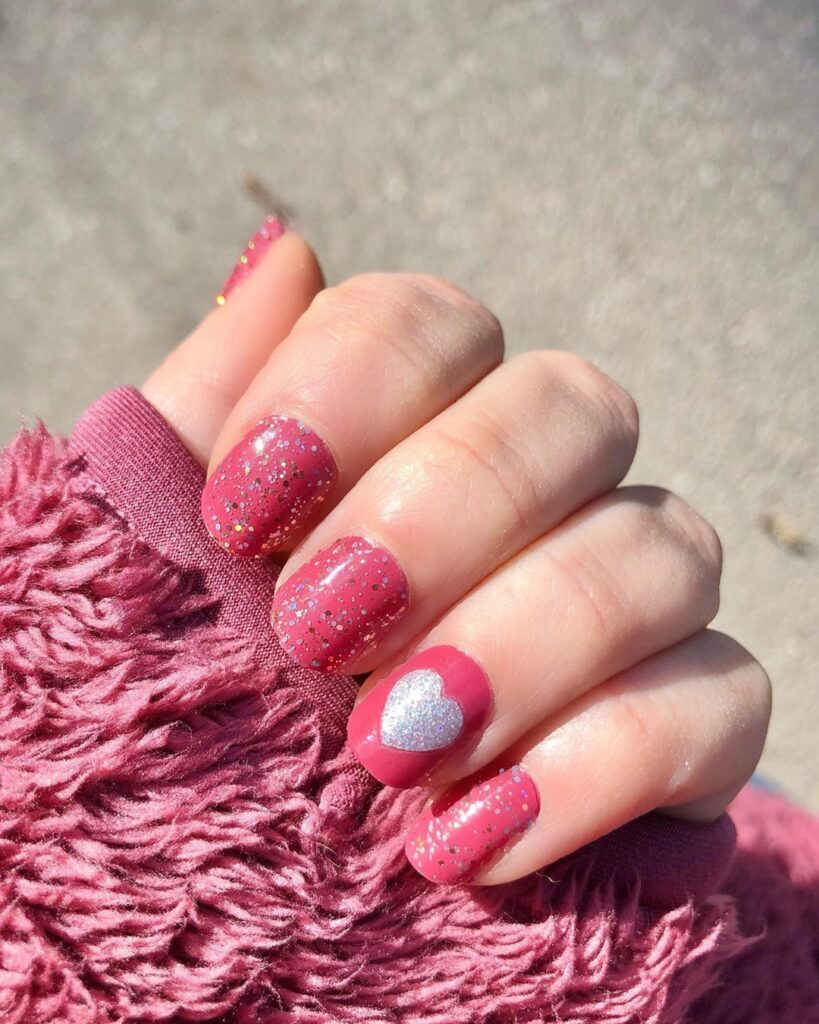 Embrace the romance of passionate pink nails graced with white heart-shaped glitters. A design that symbolizes love's radiant glow and timeless affection.
Nails with Dazzling Black and White Glitter Tips
Experience the timeless appeal of nails adorned with striking black and white glitter tips. A design that marries contrast and shimmer, perfect for those who love a bold statement.
Nails Exhibiting Pink Hue and Radiant White Glitter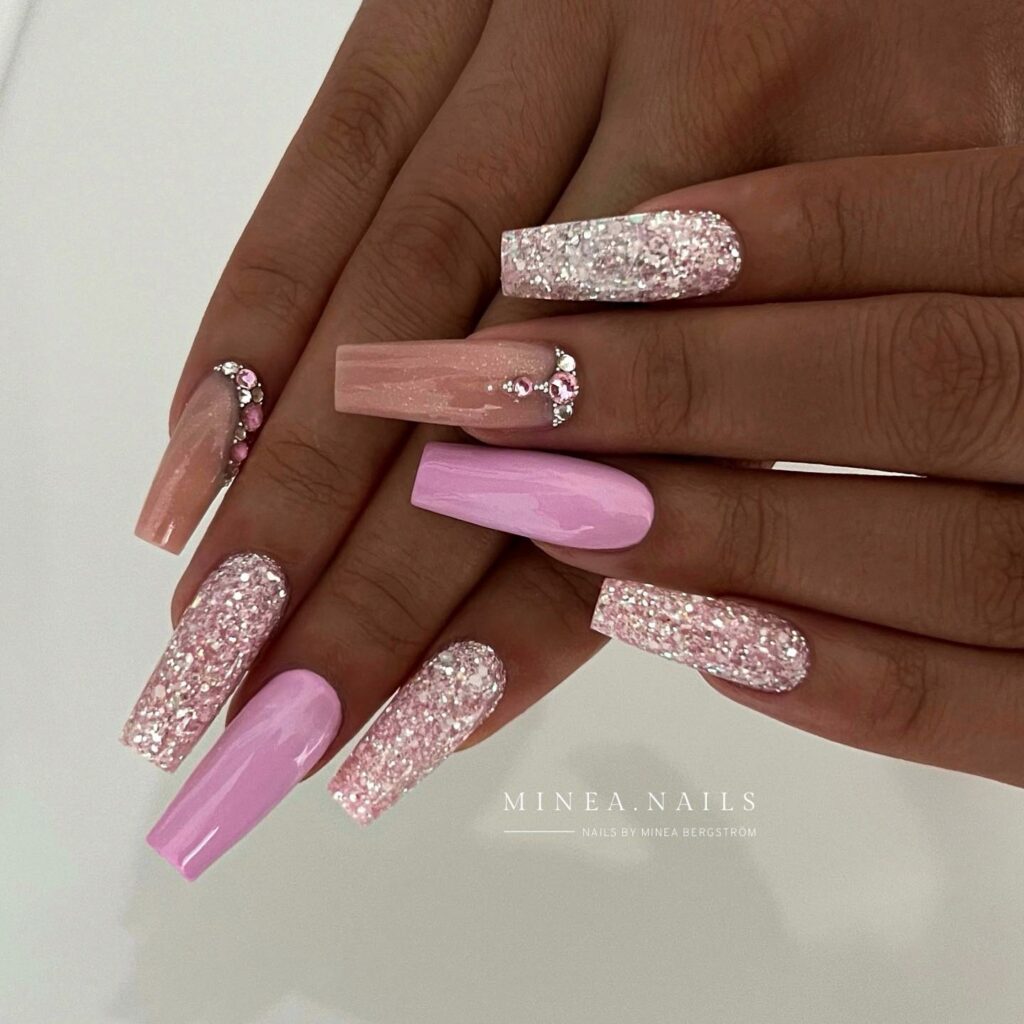 This nail design offers a delicate interplay between soft pastel pinks and radiant glitter. The intricate gem placements and varying shades provide depth, making every finger a unique masterpiece.
Nails with White Sugar Glitter Tips
Adorn your fingertips with nails showcasing a pristine base elegantly tipped with white sugar glitter. A design reminiscent of freshly fallen snow, adding a touch of winter wonder to any look.
Frosted Ombré and White Glitter French Nails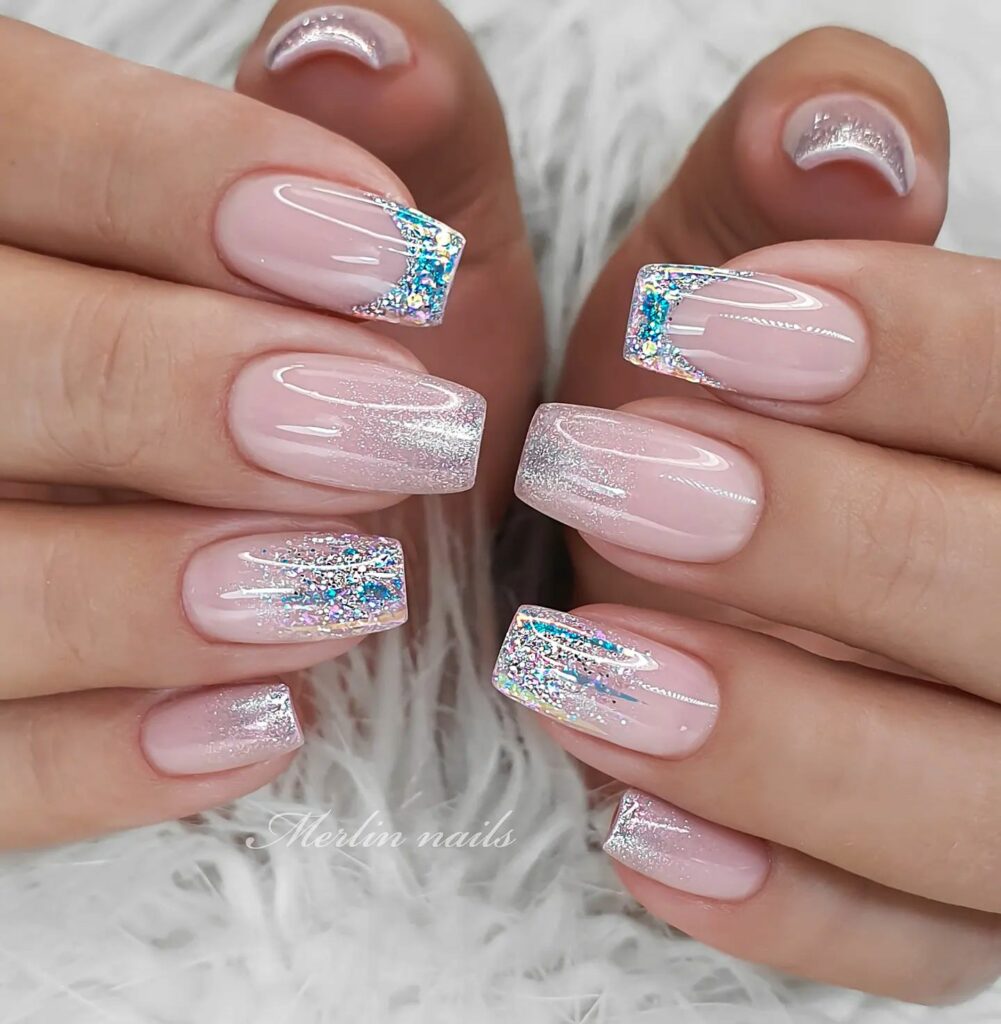 Experience the gentle transition from a natural nail base to a frosted ombré, ending with a dazzling white glitter tip. A versatile look that effortlessly straddles both day and night.
12 White Glitter Nail Designs To Ask For In 2024
White Glitter Galaxy: Blend shades of blue, purple, and black to create a night sky effect, then sprinkle white glitter to represent stars.
Negative Space Art: Keep certain parts of your nail polish-free and use white glitter on the rest for a minimalist yet chic look.
Matte & Glitter Combo: Pair a matte white base with shimmering white glitter tips or vice versa.
Geometric Patterns: Use tape or nail stencils to create geometric patterns, filling certain sections with white glitter.
Embedded Glitter: Encase larger pieces of white glitter within a clear or semi-transparent nail polish for a multi-dimensional effect.
Gradient Glitter: Start with a heavy application of white glitter at the nail base or tip and gradually decrease as you move to the other end, creating an ombre effect.
Mixed Glitter Sizes: Combine fine white glitter with larger hexagonal pieces or other shapes for varied texture and light reflection.
Bridal Bliss: For those special occasions, consider a soft pink or nude base with delicate white glitter accents, possibly paired with pearls or tiny gemstones.
Lace Patterns: Paint intricate white designs reminiscent of lace over a nude or pastel base and sprinkle with white glitter for added sparkle.
Twin Toned: Use two complementary colors, like gold and white, applying each on half of the nail and blending where they meet with white glitter.
Accent Nails: Instead of going full glitter on every nail, consider having just one or two nails (like the ring finger) with a white glitter finish and the rest in a solid coordinating color.
Rhinestone Pairing: Pair white glitter nails with strategically placed rhinestones or pearls for added sophistication.
Remember, the world of nail art is vast and ever-evolving. The key is to let your creativity shine, and don't be afraid to experiment. Whether you're looking for a subtle shimmer or a bold statement, white glitter offers a range of possibilities to suit every style and occasion.
Still Looking for Inspiration, Then Check Out This Video
Conclusion
In the dynamic world of nail fashion, the allure of white glitter nails remains timeless. These designs offer an unparalleled blend of sophistication and allure, suitable for everyday elegance and special occasions. As with any nail trend, it's essential to prioritize nail health. Regular hydration and opting for quality products can go a long way in maintaining the strength and health of your nails. While the versatility of white glitter designs is genuinely expansive, it's always wise to consult with a trusted nail technician, especially when experimenting with new techniques or products. They can provide insights tailored to your nail type and preferences. Remember, the key is to balance style with care. So, to all the nail art aficionados out there, embrace this shimmering trend, but always prioritize the well-being of your nails. Here's to making informed choices and shining brightly in nail fashion!
Feature image @lovelecente via Instagram
Last reviewed and updated on October 20, 2023