Get ready to dip your toes into the refreshing trend of white pedicures, a wonderful blend of classic elegance and modern sophistication. In this engaging read, not only will you discover the simple joy of adorning your nails with this pristine shade, but you'll also uncover the multitude of ways to stylize and accessorize this versatile look to suit any occasion. From casual outings to glamorous events, a white pedicure effortlessly harmonizes with any outfit, adding a touch of finesse to your style. So whether you're a seasoned beauty aficionado or just starting, join us in exploring the rich and inspiring world of white pedicures, where we redefine chic, one immaculate stroke at a time. Let's dive in and make this timeless hue a new favorite in your beauty toolkit!
Artistry with an Abstract Touch
Recently, during a serene weekend retreat, I experimented with milky white nail polish. Ah, the magic it unleashed when paired with an abstract design! It brought out a sophisticated edge that I absolutely adored. I have a little secret: an abstract accent only sometimes requires an expert touch; sometimes, you only need a burst of creativity and a free afternoon!
Patriotic Flair: Red, White, & Blue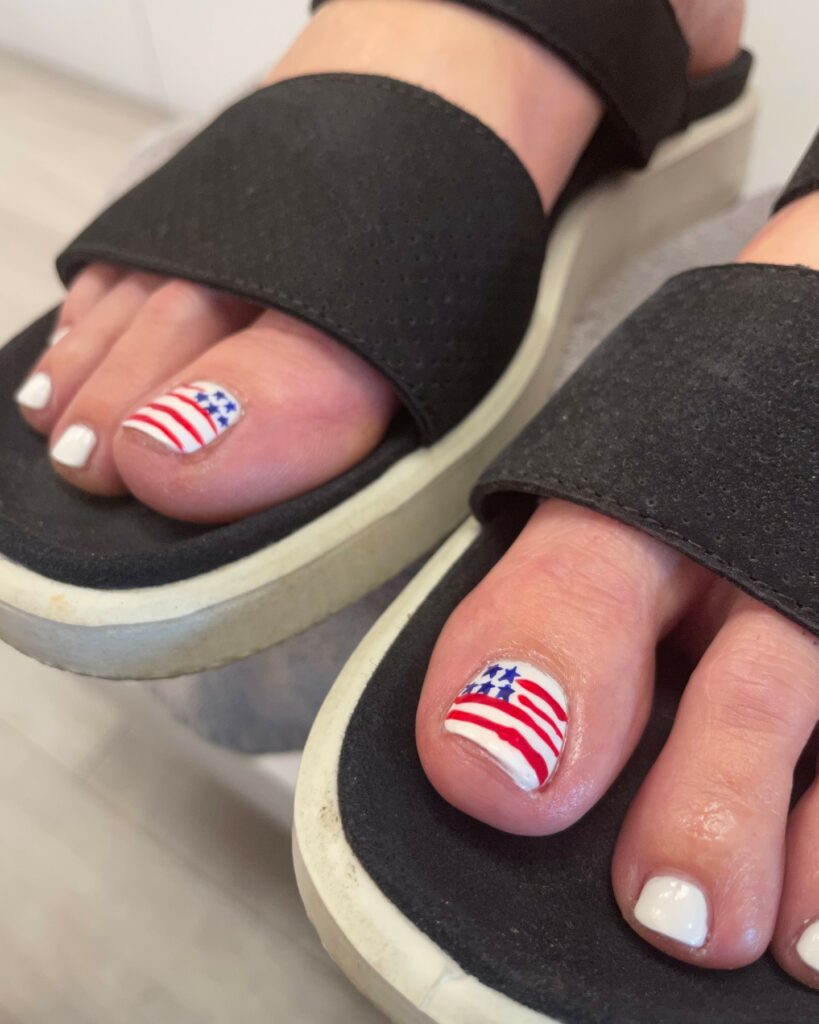 How can we forget the vibrant festivities around the Fourth of July? The firework displays, backyard barbecues, and, of course, themed pedicures! Elevate your spirit of patriotism with a splash of red and blue on a pristine white canvas. It's a fabulous way to show off your heart and stay chic beyond the holiday.
Blossoming White Florals
I remember this one time when I brought a bit of spring to my pedicure session. Inspired by the blooming flowers, I embraced the white florals with micro French tips. A little advice from me: utilize the ends of a bobby pin to craft a subtle daisy design; it's simple and utterly adorable!
The Timeless Elegance of Classic White
In the words of the brilliant Julie Sariñana, founder of Color Dept., the allure of white toenail polish lies in its versatility. It accentuates a tan wonderfully, shimmering gracefully under the sun and in the water. Slipping on open-toe shoes with this classic shade epitomizes summer sophistication.
A Botanical Wonderland
Imagine the contrast of black botanical designs dancing elegantly against a backdrop of solid white polish. It's an enchanting sight that promises to add a touch of mystical garden vibes to your pedicure.
The Chic Vanilla Chrome
Venture into the realms of trendsetting with the suave vanilla chrome finish. In the recent past, I found myself absolutely obsessed with the gentle shimmer it brings, complementing the warmer weather perfectly. It's chic, calm, and effortlessly glam!
Milky White Magic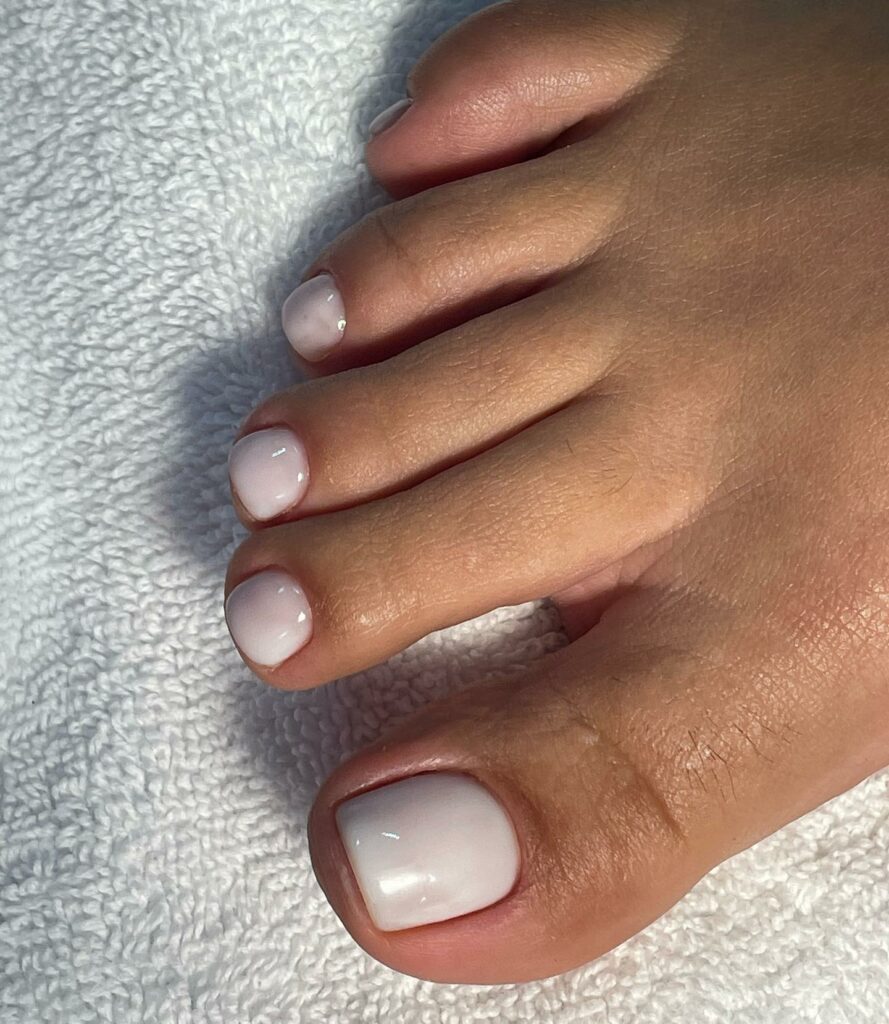 There's an undeniable charm to a sheer, milky white pedicure. It's a choice that embodies subtlety and elegance, promising to stand the test of time.
French Revival with a Vanilla Twist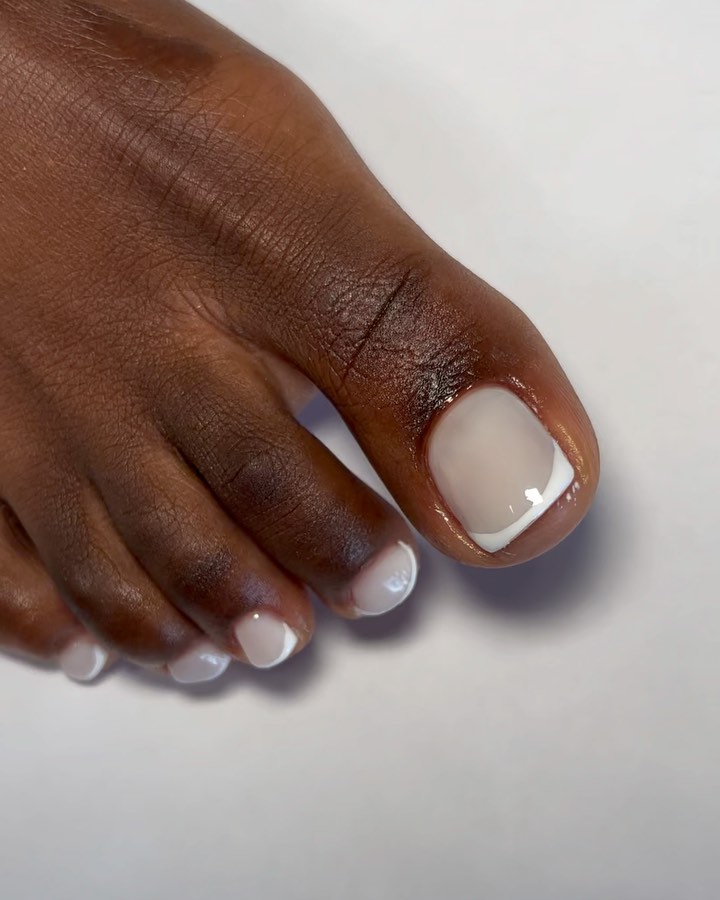 The French manicure has reclaimed its throne in the beauty realm, and what better way to celebrate its return than with a vanilla French pedicure? It's a delightful twist on the classic, featuring a milky white base that screams sophistication.
A Sprinkle of Gradient Glitter
Sometimes, a sprinkle of glitter can transform your pedicure into a dazzling work of art. It's a minimalistic approach that brings a touch of sparkle to your step, proving that sometimes less is more.
Playful Cow Print Accents
Consider adding a whimsical cow print accent if you're in the mood for something playful. It's a choice endorsed by celebs like Ariana Grande and Kendall Jenner, promising a touch of fun to your beauty regimen.
Cheerful Toes: All Smiles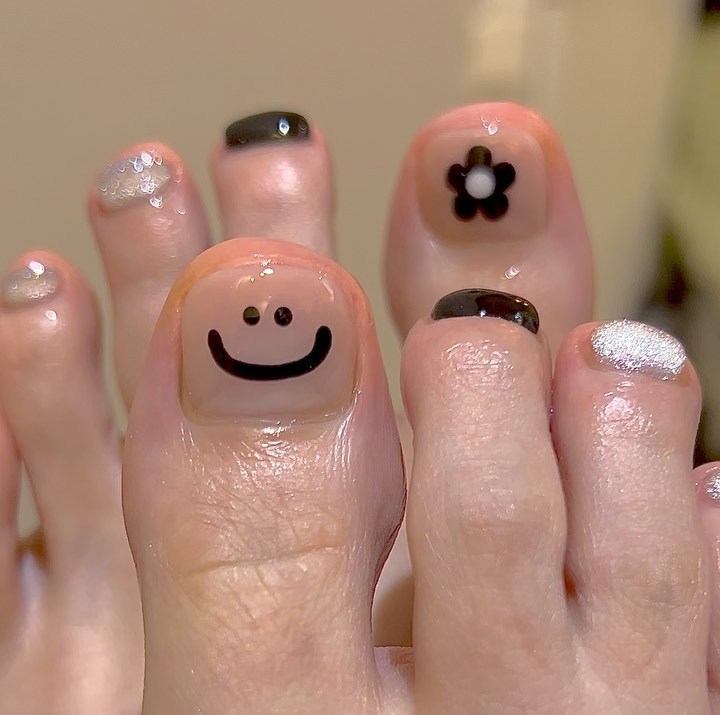 For those days when choosing just one color feels almost impossible, why not alternate between white and a vibrant hue? Add a smiley face for that extra dose of happiness. It's a cheerful trend that will put a spring in your step!
Terrazzo Toes: The Chic Option
Terrazzo isn't just for your floors and countertops; it has found its way into the beauty sphere, offering a chic option for those keen to try something different.
Sweet Treats: Ice Cream Art
Summer calls for sweet treats, and what better way to celebrate than with ice cream-inspired nail art? It's a delightful trend that's super easy to DIY, especially with the help of nail polish markers.
Bold Zebra Stripes
Bring out your wild side with some bold zebra stripes. It's a fantastic way to spice up a basic white pedi, adding a touch of adventurous spirit to your look.
Summer-Ready White Toes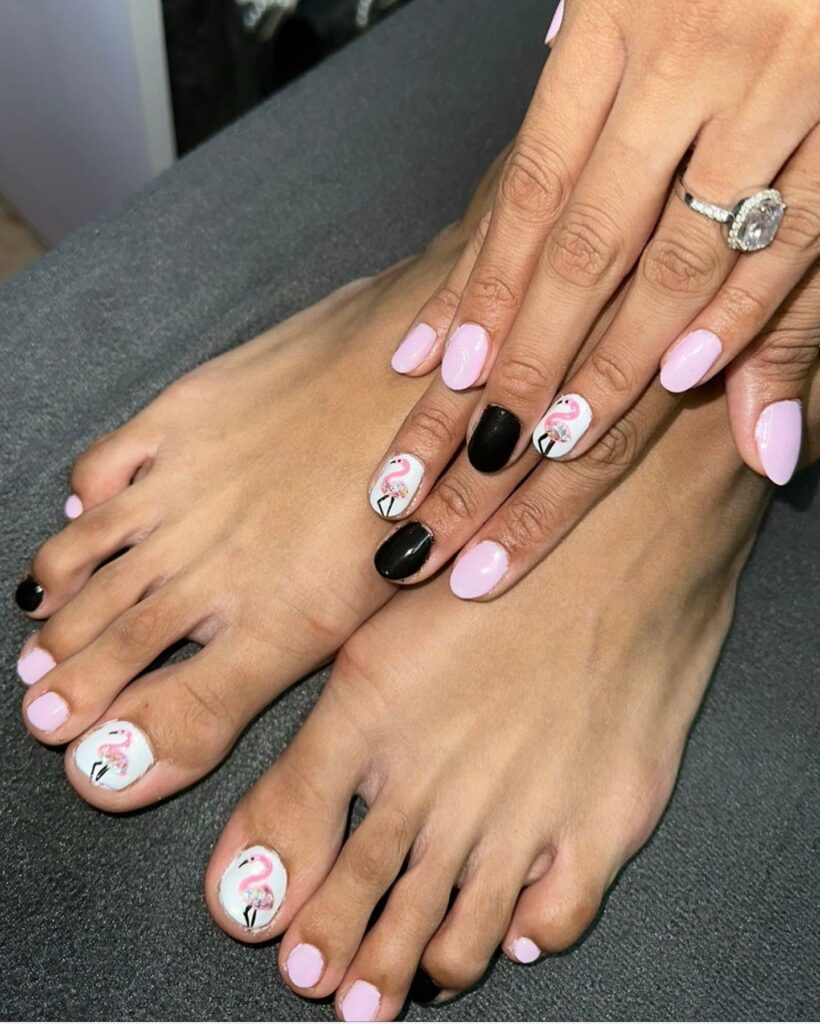 As the sun brightens up, our choice of color gets lighter and more fun. White, being a universal favorite, stands tall as the go-to hue. Remember those blissful walks along the shoreline? The cool breeze and the bright, airy atmosphere? Let's encapsulate that into our nail art this season. Imagine flaunting perfect white pedicures with a hint of silver stripe; it's like having a summer party at your fingertips! And guess what? This style isn't just for the beach; it's a fabulous choice for everyday wear and those special gatherings on your calendar.
Matte White Toes: A Timeless Beauty
Do you recall that cozy, white sweater that became your favorite because of its simple yet sophisticated charm? This is the vibe that matte white nail polish brings to the table. It's not just a summer fling; this modern and stylish polish can grace your toes all year round, harmoniously pairing with any outfit in your closet. Don't limit it to just one season; let its elegance shine all year!
Glossing Over: Glossy White Designs
Who could resist the allure of glossy white pedicure designs that scream fun and sophistication? Trust me, once you try it, you'll be hooked! Enhance the sparkle further with a topcoat finish that adds that delightful sheen, making your toes ready to rock sandy beaches and moonlit soirées.
The Charms of White Ombre
Imagine a canvas where the pale white hues merge seamlessly, creating a serene and beautiful backdrop; that's what white ombre toenail designs bring to your feet. Perfect for special occasions, these designs offer a subtle yet enchanting transformation. Make sure to finish it off with a base and top coat for that extra sparkle.
Sparkling Adventures with Embellished Designs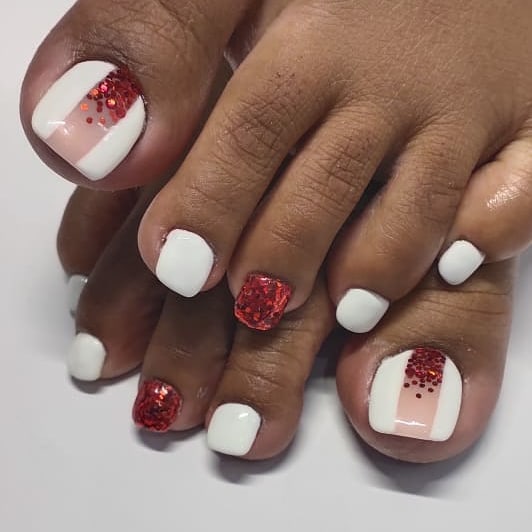 I recently tried this one myself, and I received compliments! The milky white and silver embellishments can transport your toenails into high fashion and luxury. It almost resembles a polished crystal, gleaming and adding a touch of sophistication to your summer attire.
A Twist on the Classic: White French Tips
Ah, the classic French pedicure but with a fresh summer twist. Maintaining a narrow line is the secret here. Choose a creamy and pigmented polish to grace the tips of your nails, creating a chic and timeless look. Remember to seal it with another coat to capture the freshness of summer mornings.
Floral Fiesta: Summer White Toenails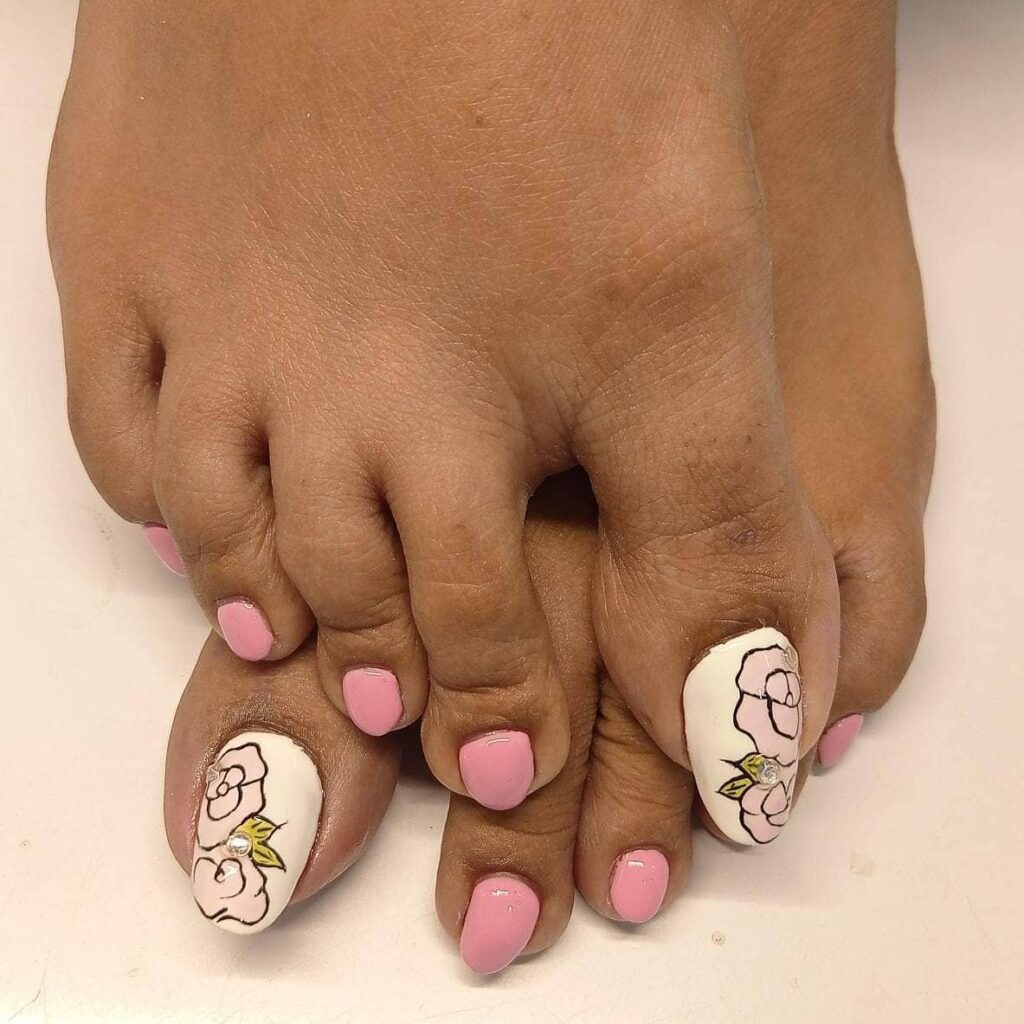 Let's add a bit of modern art to our toenails, shall we? I stumbled upon this design last summer and couldn't resist trying it again. The black daisies against a white backdrop present a contemporary yet cute appeal, promising to be a hit this season. Give it a shot, and let the blooms adorn your feet!
Holiday Spirit with Christmas Designs
Christmas is not just about warm cocoa and gifts; it's also about stepping up your nail art game. Envision yourself donning those adorable Christmas jumpers, with your toenails showcasing a hint of holiday spirit. I had an absolute blast creating a festive design last year, and I urge you to try it, too.
Refreshing Waves: Summer Whites
Get ready to exhibit your love for the ocean with this vibrant design. It's like carrying a piece of the beach with you wherever you go. Please don't hold back on experimenting with bright hues and multi-colored dots, as they stand out against the white base, bringing refreshing summer vibes right to your feet.
A Mango Delight for your Toes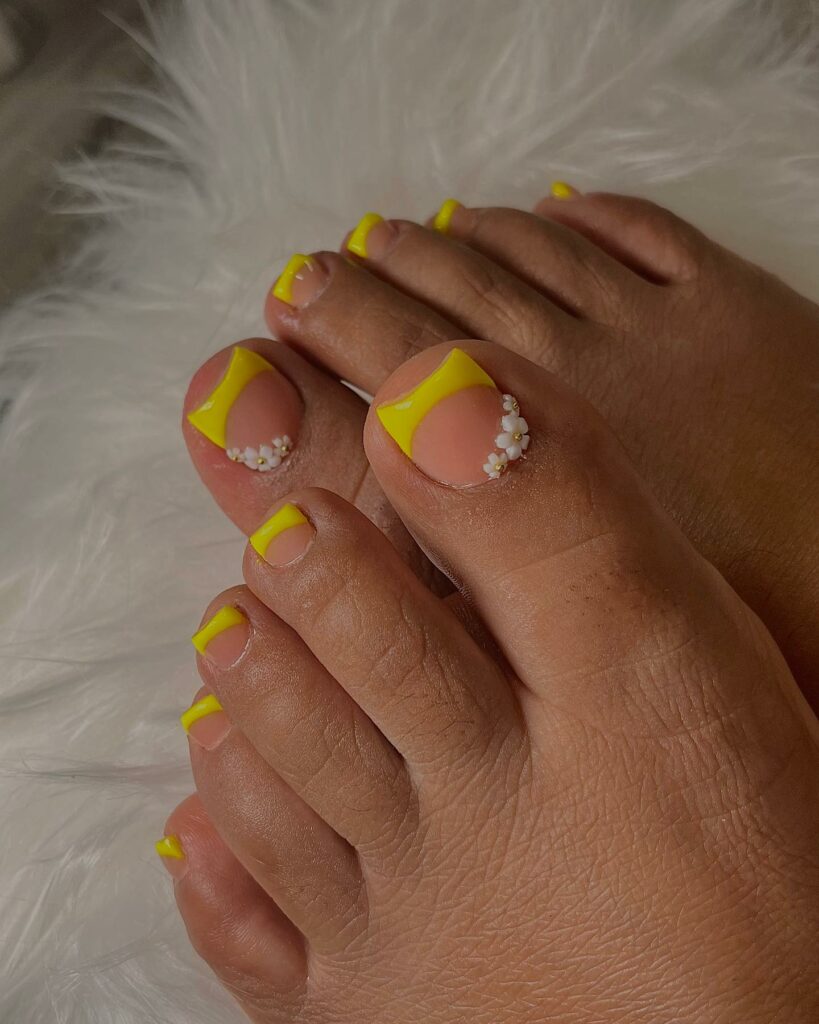 Dive into the tropical vibes with a French pedicure incorporating vibrant shades of yellow and white. Think of it as a canvas, ready to be adorned with sunflower designs or a gradient pattern that combines white and mango yellow. It's an undying trend that guarantees to uplift your spirit!
Twinkle Toes: The Glitter Edition
How about adding some sparkle to the summer? Painting your toenails white and sprinkling glitter brings a festive yet delicate flair to your look. This design has become my favorite for garden parties as it has an undeniable celebratory vibe. A little glitter never hurts.
Summary White Accent Toenail Ideas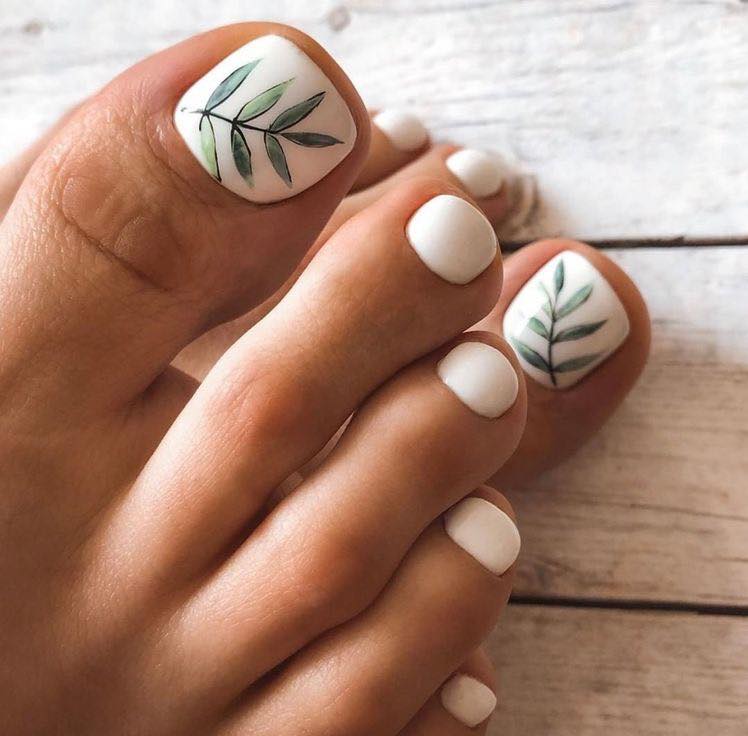 Oh, the charm of white in summer! It's like a match made in heaven. Picture yourself lounging by the pool with these pristine white French tip toenails that effortlessly stand out against sun-kissed skin. Combining a semi-sheer milky base with a sharp white tip creates a classic yet striking look that never falls out of favor. It's time to embrace the timeless appeal of white this season.
Sleek White Toenails with a French Twist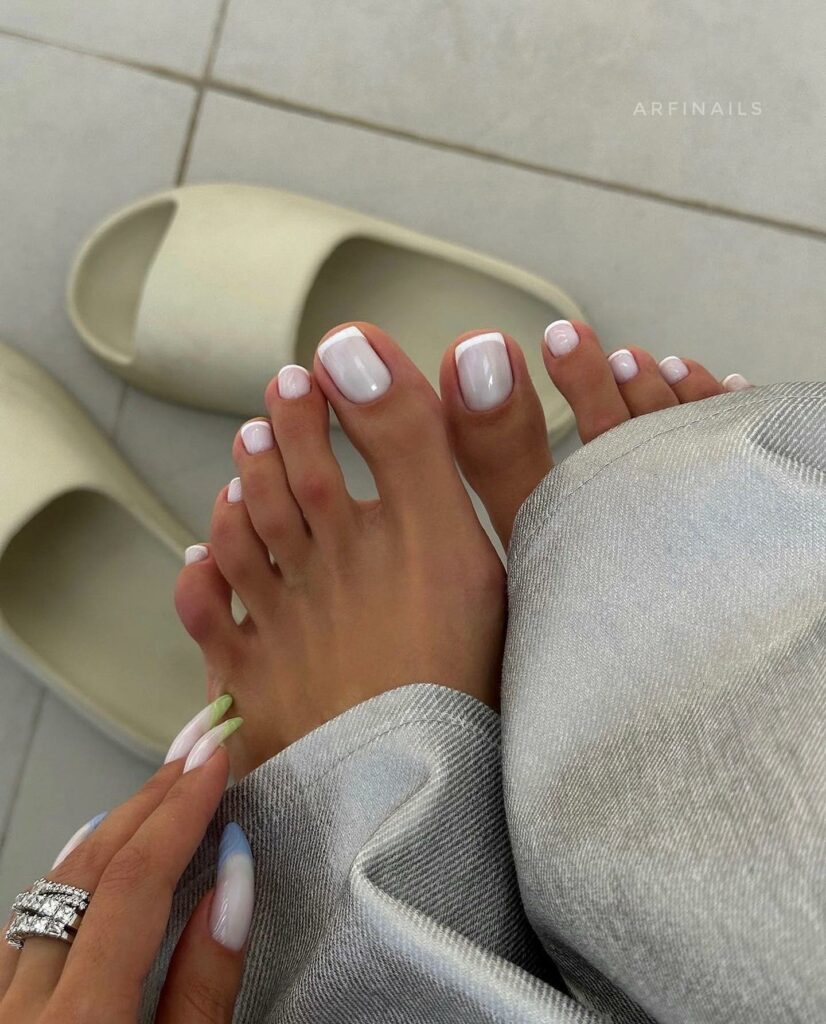 Step into elegance with white toenails complemented by a chic base coat. This pedicure is your best friend when flaunting those open-toed shoes. And here's a little secret: matte and glossy finishes pair superbly with this style. Fancy a bit of sparkle? Add some rhinestones for that extra dash of glamour. A little sparkle can elevate your nail game to a new level.
Whimsical White and Pastel Toenail Art
Pastels and white create a dreamy canvas that evokes memories of Easter egg hunts and brunches at the country club. But, hey, we are here to give it a modern, funky twist! A white polish, as versatile as a nude shade, brings a hint of intrigue to your nail art, making you ready to grace any summer event with style.
Bohemian Rhapsody: White Toe Nail Designs
Have you ever thought of bringing the cool bohemian vibes to your toenails? I recently tried this green and white summer nail art, and the compliments haven't stopped. The fringe accents add a fun touch, while the complementary pastel hues create a refreshing visual appeal. It's a delightful way to play with colors without overwhelming your nails.
Dazzling Toenail Art with Rhinestones
Who said you need a professional to get stunning nails? Here's your chance to prove that notion wrong. All you need is white nail polish and a sprinkle of rhinestones to create a look that screams glamour and sophistication. Apply the polish, let it dry, and adorn your big toe with rhinestones. Voila! Your pedicure is now ready to dazzle in those peep-toe heels.
Geometry in Play: Innovative Toenail Designs
Let's talk geometry, but make it fashionable! Creating geometric designs on your toenails can be a simple affair. Grab some silver stripes or a fine paintbrush to start your nail art journey. From vertical lines to chevrons, the options are endless. Let your creativity soar with this modern and chic design style.
Classic Black and White Toenail Art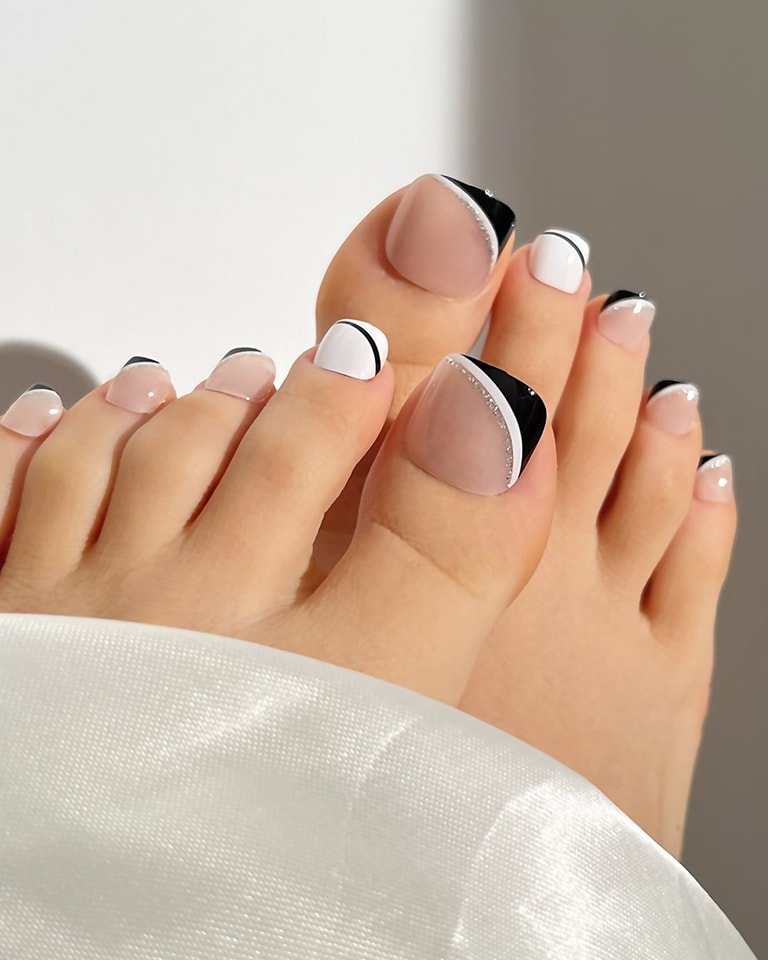 Sometimes, nothing beats the timeless allure of black and white. This duo creates a look that's versatile and suitable for both formal gatherings and casual outings. And here's the best part – creating a fashionable look with these two hues is straightforward. Gather your white and black nail paints and a fine brush, and you're ready to craft a masterpiece!
Bold Lines: Black-Lined White Toenails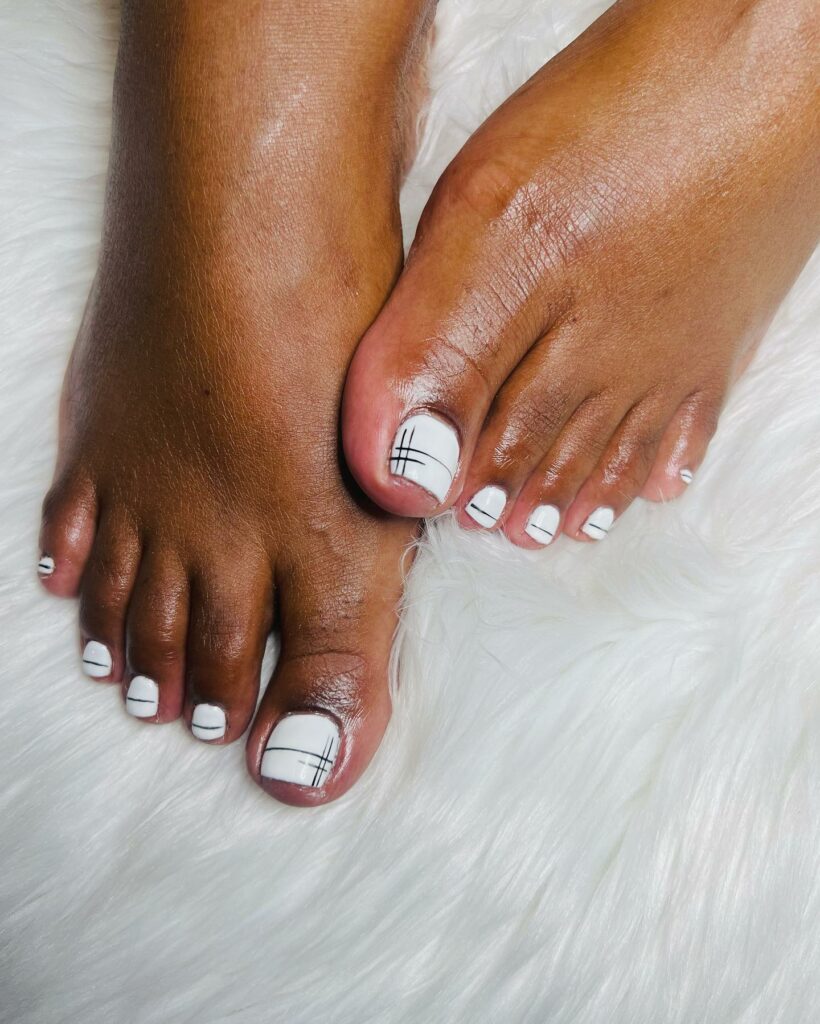 Fancy a bit of graphic art on your toes? I've got you covered! Crafting stripe art with vertical and horizontal lines on your nails is fun and gives a modern twist to your look. Even if you're a beginner, this design promises a fabulous, adorable, and awe-inspiring outcome.
Fun Times with Bright Polka Dots
Let's bring back the joyous vibes of childhood with this delightful design! Polka dots have a charm that appeals to people of all ages. Choose a light base color, and let your imagination run wild with white polka dots that bring freshness to your look. Once you try this, it will be a staple in your summer nail art repertoire.
And there you have it, my radiant readers, a delightful palette of white pedicure inspirations. Remember, the world of beauty is your canvas; don't hesitate to paint it with your unique strokes of creativity! Happy experimenting!
6 Simple Steps To Achieving The Perfect White Pedicure
Step 1: Gather Your Supplies
Make sure you have the following items ready:
Nail polish remover
Cotton balls or pads
Nail clippers
A nail file
A foot scrub
A moisturizer
A white nail polish of your choice
A clear base and top coat
Nail art tools (if you plan to add designs)
Step 2: Preparing Your Feet
Remove Old Nail Polish: Start with a clean slate by removing any old nail polish with a gentle nail polish remover and cotton balls or pads.
Soak Your Feet: Soak your feet in warm water for 15-20 minutes to soften the skin and nails.
Exfoliate: Use a foot scrub to exfoliate and remove dead skin cells, focusing on the heels and any areas with calluses.
Dry Your Feet: Pat your feet dry with a clean towel.
Step 3: Nail Care
Trim Your Nails: Trim your nails to your desired length using nail clippers.
Shape Your Nails: Shape your nails with a file, working in one direction to prevent splitting.
Push Back the Cuticles: Gently push back the cuticles using a cuticle stick, not damaging the nail bed.
Moisturize: Apply a moisturizer to your feet, focusing on the cuticles and dry areas.
Step 4: Applying the Polish
Base Coat: Apply a clear base coat to protect your nails and help the polish adhere better.
White Nail Polish: Apply the first layer of white nail polish, starting at the base of the nail and stroking towards the tip. Allow it to dry completely before applying a second coat for a more opaque finish.
Art and Accents (Optional): If you plan to add designs, use nail art tools to create abstract accents, florals, or other embellishments at this stage.
Top Coat: Seal your artwork with a clear top coat to protect the polish and add a glossy finish.
Step 5: Clean Up and Dry
Clean Up: Use a thin brush dipped in nail polish remover to clean up any mistakes or polish that has spread onto the skin.
Dry: Allow your nails to dry thoroughly to prevent smudging.
Step 6: Maintenance
To maintain your pristine white pedicure, avoid wearing tight shoes that can cause smudging, and reapply the top coat every few days to prevent chipping.
Now, you can flaunt your perfect white pedicure with confidence and grace! Remember, practice makes perfect, so don't be discouraged if your first attempt isn't flawless.
5 Amazing Ways To Accessorize A White Pedicure
Embellishing your white pedicure with accessories and styling elements can elevate your look to a whole new level. Here's a guide on how to accessorize and stylize your white pedicure to perfection:
Step Into the Realm of Accessories
Foot JewelryFoot jewelry like anklets and toe rings can be a splendid way to add a touch of glam to your white pedicure. Opt for silver or gold pieces that complement the white hue beautifully.
Henna or Temporary Tattoos
Adorn your feet with intricate henna designs or temporary tattoos. The stark white of the pedicure juxtaposed with the rich tones of henna can look incredibly striking.
Gemstones and Rhinestones
Add a sparkle to your pedicure by adorning your nails with small gemstones or rhinestones. You can create patterns or stick them on the base of your nails for a touch of glamour.
Unleash the Power of Styling
Matching with Footwear
Choose footwear that complements your white pedicure. Strappy sandals or open-toe heels can be a great choice to showcase your pedicure.
Coordinating with Outfits
Coordinate your white pedicure with your outfits. A white pedicure can be a fresh and crisp complement to summer outfits, especially those with lighter tones.
Seasonal Styling
Tailor your pedicure to the season. For instance, during the summer, you can pair your white pedicure with bright, floral patterns, and during the winter, coordinate it with muted, cozy fabrics.
Photography & Social Media Showcase
Creative Photography
If you love sharing your beauty adventures on social media, consider photographing your pedicure creatively, perhaps with props like seashells or flowers that complement the white hue.
Video Tutorials
Consider creating a video tutorial of your white pedicure journey, showcasing different ways to stylize and accessorize it.
Maintenance for Lasting Impressions
Regular Touch-Ups
To keep your white pedicure looking fresh and chic, make sure to do regular touch-ups, especially if you have accessorized with elements like gemstones, which might come off.
Moisturization
Keep your feet moisturized to ensure they look healthy and well-groomed, making your pedicure look even better.
Remember, your creativity and personal style are the key to a fabulous white pedicure. Feel free to experiment and find the perfect balance of accessories and styling elements that resonate with you. Happy styling!
10 Pedicure Trends To Try In 2023!
The world of pedicures is constantly evolving, with new trends making waves regularly. Here's a glance at some of the hottest trends in pedicure land that you might want to explore:
Bold and Vibrant Colors: Bright, bold hues are making a statement. Think neon pinks, electric blues, and vivid greens. These colors are excellent for making a bold statement and adding color to your look.
Negative Space Designs: Negative space designs, where parts of the nail are left unpainted, create a chic and modern look. These simple to intricate designs offer a fresh and artistic take on the traditional pedicure.
Ombre Nails: The ombre trend is not limited to hair; it has also made its way to nails. Creating a gradient effect with two complementing colors is a fashionable choice.
Matte Finish: While glossy nails are timeless, a matte finish garners attention for its chic and sophisticated vibe. It gives a modern, understated touch to your pedicure.
Metallic and Chrome Nails: Metallic and chrome nails are all about the glam and shine. These finishes give your nails a futuristic and edgy look, perfect for those who love a bit of sparkle.
Minimalist Designs: Minimalist designs, characterized by simple lines and shapes, have a moment. Often in black or white, these designs create a sleek and elegant look.
Mix and Match: Don't restrict yourself to one color or design. Mixing and matching different hues or patterns on other nails is a fun way to showcase your personality.
Eco-Friendly Nail Polishes: There is a growing trend towards using eco-friendly nail polishes that are free of harmful chemicals and cruelty-free. This trend reflects a broader movement towards sustainable beauty practices.
Textured Nail Art: Adding textures to your nails through beads, glitter, or 3D art creates a unique and eye-catching look. These designs are perfect for those who love experimenting with nail art.
Mood-Changing Nail Polishes: These polishes change color based on your body temperature, allowing your pedicure to transform throughout the day. It's a fun and interactive trend that adds a dynamic element to your pedicure.
Remember, the most important trend is to express your individuality and to choose styles that resonate with you personally. Always feel free to tweak directions to suit your style!
Conclusion
In conclusion, dear beauty trailblazers, venturing into the serene yet vibrant world of white pedicures opens up many opportunities to express your unique style and personality. Remember, a flawless pedicure isn't just about the colors and designs but also about taking good care of your feet. Before you start, clean and moisturize your feet well, and don't stop experimenting with various hues and patterns. While the white canvas is quite forgiving, mistakes might happen, especially with intricate designs. In such cases, keep your spirit high and save a nail polish remover handy for quick fixes.
Investing in quality nail polish can also safeguard you from potential nail damage. As you step into this exciting journey, may your steps be bold, your choices be vibrant, and your spirit be willing to embrace the refreshing change. Ready to immerse yourself in this beautiful adventure? Grab that polish and let your toes tell a tale of beauty, one stroke at a time!
Feature Photo By @nailaddikt_zm via Instagram