The last few years has seen the rise of the fitness trend in terms of both fashion (athleisure wear) and as a legitimate way to spend your free time. It started out with celebrity fitness videos to now the self made trainers who are creating community's across the globe, think Kayla Itsines, Emily Skye and Ashy Bines and not to mention the UK's very own The Body Coach! It's never been more on trend to be fit than it is now. The key things all these trainers have in common is that the focus isn't about reaching a certain weight or size but how fit and healthy you are "strong is the new skinny". With this in mind I spoke to Brit Williams from Fit Brit Collective, a self confessed 'wellness warrior' taking the fitness world by storm, and empowering women to get into exercise.
She started her career out in fitness journalism, working in-house for Men's Health magazine and then contributing extensively to Women's Health when it launched in the UK. From there she became Sweaty Betty's copywriter, and that's where she started teaching classes and really getting interested in putting to practice all the science and principles she'd been writing about for years! Brit qualified as a PT while working, took on some part-time clients and shortly after took the leap to make Fit Brit Collective her full time fitness training and content creating business.
Congratulations on a great first full year since launching Fit Brit Collective! What have been your highlights?
One of the big ones has to be launching my signature bootcamps on Wimbledon Common – a real family was born and such an amazing energy created! It also led to my collaboration with local yogi Sophie Dear: Bootcamp & Bend. Our next one is on 12th March in Putney, and each one gets bigger and better so I know this one is going to be out of this world! We have Mindful Chef on board to serve a hot lunch after, so the back to back classes will be very well rewarded!
Another highlight was becoming a Sweaty Betty Ambassador. It's a brand I really stand by so being able to represent fitness in the SW London community by teaching regular free classes in-store and collaborating with both Sweaty Betty's Wimbledon boutique and nation-wide events is a huge honour. Finally, I was very lucky to be featured in a series of features in Women's Health towards the end of 2016, working alongside Tiger Balm and providing holistic fitness tips to get stronger in body and mind. After writing content for those pages, it felt pretty special to see myself featured within them!
Any major plans for 2017?
There's the ongoing Bootcamp & Bend series. We hope to hold some rooftop events in the summer, and possibly a retreat (stay tuned). I've also just started collaborating with Paola's Bodybarre, teaching TRX classes in her new studio in Wimbledon Village.
During the winter my Saturday bootcamps went monthly, but they'll be back on a weekly basis from this spring so I look forward to getting the family back together and seeing it continue to evolve! Plus I've recently launched a new weightlifting class on Thursday evenings in Wimbledon and it's become a huge passion project. I want to provide a safe and fun space for strength training – somewhere you can challenge yourself, with a focus on form and technique. It's open to men and women, but it's particularly important to me to introduce more women into weightlifting, as we're particularly prone to osteoporosis and weight-bearing exercise is the best way to maintain and increase bone density and prevent injuries.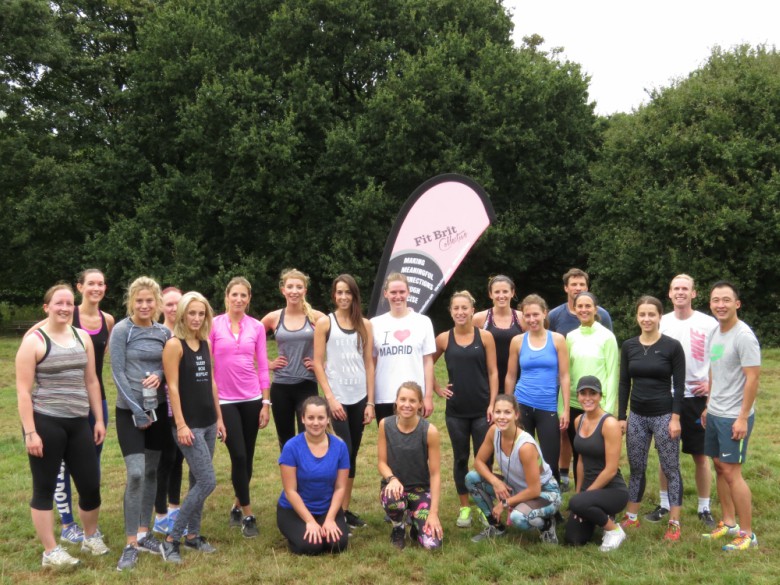 Top 5 fitness tips for people starting out
Start with bodyweight training and focus on good form through all the basics – your squats, planks, press-ups, lunges, etc!

Complement your lifestyle with exercise, so if you spend all day sitting, make sure you are doing exercises to strengthen the glutes you've been sitting on and open the shoulders you've been hunching.

Find a community where you feel inspired and challenged – whether that's a gym, a fitness studio, a bootcamp, a sports club or just a training buddy to hold you accountable!

Once you've mastered bodyweight training, start learning to lift weights – there is nothing more empowering than feeling strong and capable, and it will improve your performance across sport or cardiovascular activities in the process.

Enjoy the process – stop focusing on the end goal and instead try to revel in every single workout for the sake of the workout; the results will follow but the true lifestyle change comes when you learn to celebrate your body at every stage of the journey.
Favourite fitness clothing brand
Representing Sweaty Betty as an ambassador couldn't be more natural. I worked as the head of copy immediately before launching Fit Brit Collective and 18 months in the Head Office made me appreciate the immense work that goes into every collection. The quality is incredible, and every season they surprise me by coming up with totally unique new looks.
I've also recently collaborated with a new brand on the market – Figure Fit. Claire, the founder, was a client of mine when I taught TRX classes at Heartcore and I was so honoured when she asked me to model her launch collection. She has the prettiest exotic prints and the seamlines create the most flattering shape. I had such fun on-set (back in Heartcore's beautiful Fulham studio). Watch this space, her designs will be launching soon!
Fitness Hack – how to include fitness into your everyday routine for those with limited time
Get your training in first thing in the morning. That way your day can't get in the way, and you'll be riding on those endorphins all day long! 20 minutes of bodyweight conditioning and HIIT every morning is enough to make a positive change to your fitness and wellbeing, and all it requires is setting your alarm marginally earlier. Also, try to make exercise a social activity. It's so much easier now there are so many classes to try and beautiful studios to hang out in. Instead of going for drinks with friends, try taking a class together and going for smoothies or dinner afterwards.
Favourite exercise class to do when you feel like you need to make up for a day/night off?
Anything circuits-based. I love combining strength training with HIIT and I can't stand waiting around between sets, so maximising an hour of training by moving quickly between exercises is the best way for me to tick all the boxes!
You're a qualified pre and post natal fitness instructor. There can be some taboo about pregnant women working out, what would you say to that? Same for postnatal fitness – what advice would you give women?
There is absolutely nothing wrong with training when you're pregnant, unless you have a particular condition and have been advised by your doctor not to. In fact, an active pregnancy will help you have a successful labour and improve your recovery time after childbirth. You should look to maintain fitness rather than make any real gains during pregnancy, and it's important to strengthen and protect your pelvic floor by eliminating high-impact exercise. Some moves like crunching, twisting and anything supine (lying on your back) aren't recommended after the first trimester, but there is still far more that you can do than things you cannot.
My advice is to get a personal trainer you trust – they'll prioritise your safety throughout pregnancy and help you find fun modifications. Plus when you're ready to start training after having your baby (normally once you've had the all clear from your doctor at 6 weeks), they'll be able to help you bounce back safely and effectively!
How do you relax outside of the gym?
Yoga is the one thing I do exclusively for me. I love a powerful vinyasa flow – the strong asanas and transitions get me out of my head and totally focused on the movement. My favourite place to practice is The Power Yoga Company in Fulham – a converted townhouse with so much charm, upbeat music and the best instructors!
Favourite healthy snack & guilty pleasure
I make my own homemade protein balls in my food processor at home, blitzing everything together including hemp protein powder, maca powder, chia seeds, cacao, dates, oats, coconut oil and nut butter. They're a lifesaver for bridging the gap between meals and giving me a quick balanced hit of protein and healthy fats between meals. Cookies are my guilty pleasure – big, soft American style cookies. When I can't decide on a flavour I'll sometimes get two with the intention of saving one, but it never happens!
How do you start your mornings?
Most mornings start at 5.30am, so it's in my car to meet clients and either a green smoothie or banana and protein ball on the road! I'll have a second sit-down breakfast – usually eggs – around 9am after seeing my early morning clients. Then it's time for writing, admin, my own training and more clients and classes!
Interesting fact/skill that no one might know about you?
I used to perform slam poetry, and I've written the first draft of a novel I hope to revisit soon.
What's in your sports bag beauty wise?
I'm pretty minimalist when it comes to my beauty regime. I carry moisturiser with me so I can keep my skin hydrated on-the-go – I use Bobbi Brown's vitamin E enriched face base. A lick of Lancome mascara, Benefit's blusher and their High Beam highlighter are the extent of my day-to-day make-up. Carmex recently started making a rose-tinted lip balm so if I feel like my early starts are catching up with me, a little lip colour peps up my look!
[show_shopthepost_widget id="2450059″]
Describe your out of leggings style?
Is there such a thing?! I used to work in offices where everyone dressed really smart, but all my pencil skirts and heels are gathering dust these days! I love the rise of Sports Luxe we're seeing across fitness and fashion brands alike. After working all day, I'll throw an oversized shirt or layer a knit over leggings and swap my trainers for leather ankle boots – LK Bennett is my favourite for smart casual footwear!
What are your fave instagram accounts to follow and why?
I have a lot of favourites so I'll pick out just a couple. The Viking Method is a fab; Svava is just a beautiful person inside out and her workouts are truly hardcore and inspirational. The only 'before and afters' she posts are pre and post workout – and the sweatier the latter, the better! I respect others in the industry, like Hollie Grant (The Pilates PT), whose Instagram account is a platform to challenge the vanity and ego that often pervades the fitness industry. There's also a girl called Fanny Josefine whose strength to size ratio is just insane. She does a lot of weightlifting but also calisthenics – which I find so inspiring. No gimmicks or pretty Instagram filters, just seriously impressive skills! Anyone who stands for function and performance over aesthetics (as a primary motivation) is a winner in my books!
Don't forget to follow alexie.co & Fit Brit Collective on instagram
What do you think of the 'This Girl Can Campaign' ?
I loved the first This Girl Can campaign! Real women, real bodies, real goals! There are so many different pictures of fitness and I love that this campaign makes sport and exercise a fun and accessible outlet for everyone. It's about moving for the love of moving, and not just because you want to lose weight or sculpt your body. Ultimately, that sheer appreciation for your body and thrill of the endorphins has to be at the heart of any regime, because that's what keeps you coming back for more!
Feeling inspired? Then check out Fit Brit Collective's timetable of activity on her website.
Read more on health & fitness here at alexie.co
Last reviewed and updated on July 5, 2023