Are you a heart person? This list will cover the 10 best abstract heart tattoo ideas that will definitely be appealing and attractive.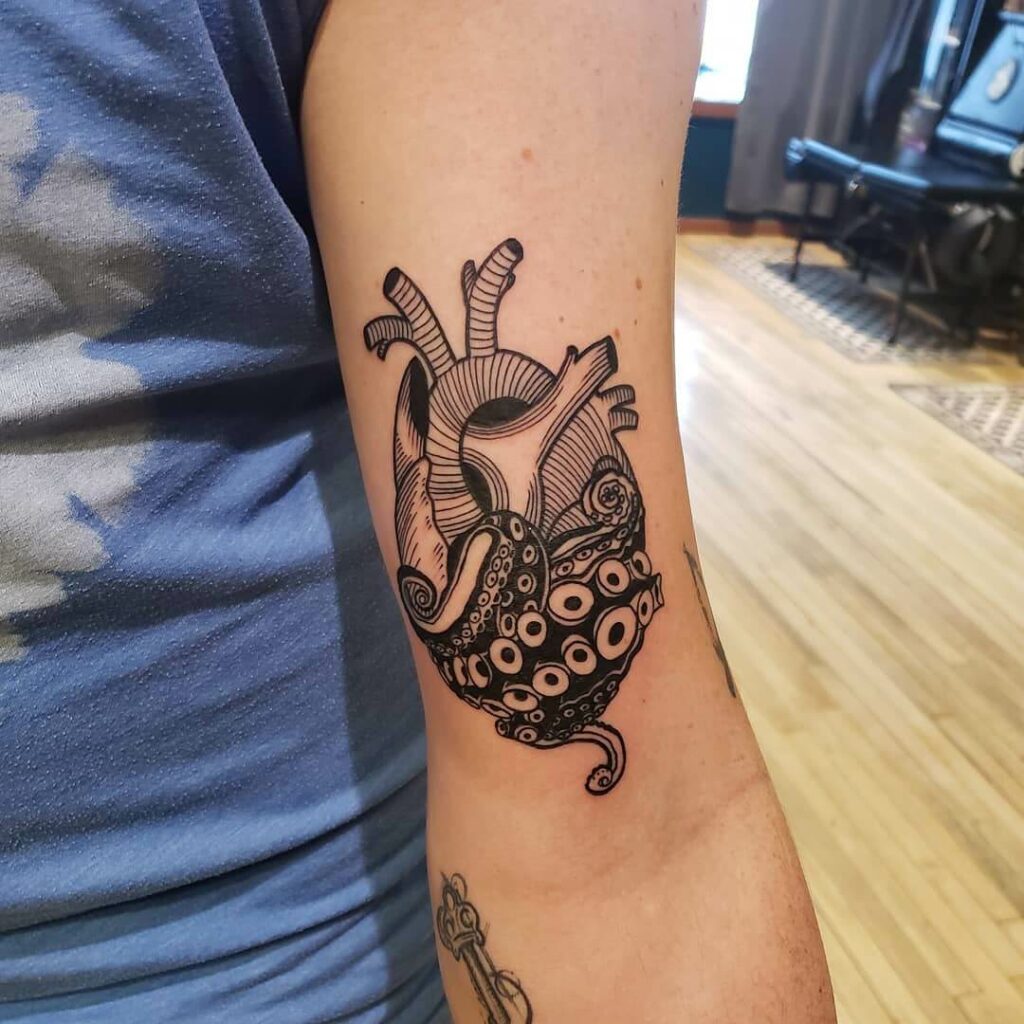 Heart tattoos are pretty common these days and among the popular designs.
The popularity is a boon for a few, but many new-gen boys and girls want to go for tattoo designs that set them apart. This list will get you covered if you want something similar.
Abstract art is a form of art that developed severely during the Renaissance, and artists have perfected this genre to express an illusion of perspectives through art. Abstract art is mostly associated with symbolizations and implicative logic. The heart, though a human organ, is often considered to be a vessel of sentiments and emotions. A blend of the abstract and the heart is quite a perfect combination. This blend will be a unique way to express emotions through symbolizations in the form of body art. So, these heart tattoo ideas will be slightly different from your standard heart tattoo options. An abstract touch will be there to illustrate a higher idea through which a subtle meaning can be unraveled.
Sleek Abstract Heart Tattoo On The Hip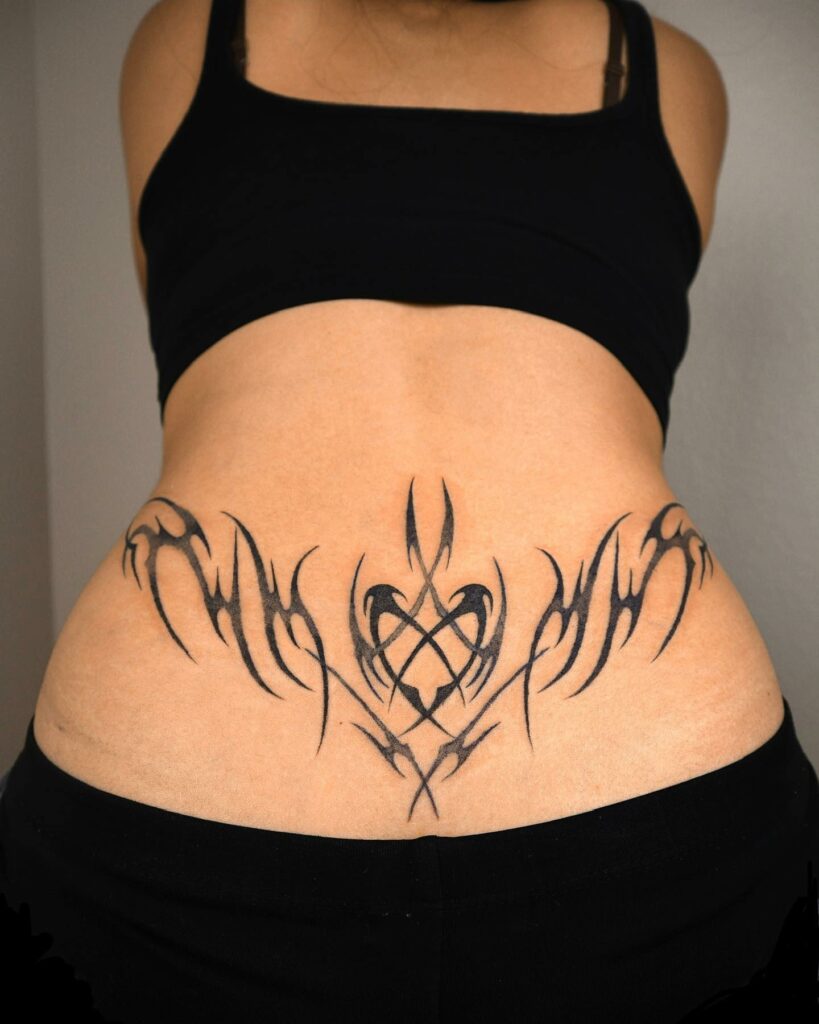 This tattoo is a monochromatic design. The tattoo is a pure example of art. There is a heart that is middle aligned in accordance with your hip with abstract designs extending from both sides of the heart. The abstract style is balanced and is the same on both sides.
This abstract heart tattoo is sleek and looks amazing as it covers your hip region. This tattoo will be visible if you are wearing a crop top or a backless dress. Avoid wearing high waist jeans as it will hide this piece of creativity. This tattoo requires body space, and it will not look good if done small.
Color Splash Abstract Heart Tattoo On The Chest
If you love your tattoo to be colorful, then this is the perfect option for you. This tattoo design is the representation of the biological and anatomical heart. There are four to five color combinations used but not uniformly. A tinge of blue is on the outer sides surrounding the heart, while the inner part is composed of mostly red along with purple, yellow, and black colors. The colors look as if splashed in the heart.
This tattoo represents your colorful, well-spirited mind. The red color adds to the originality as the color of blood is red. Also, the red color represents the presence of love in your heart. The blue splashes on the outside look amazing with a drip effect. This interesting tattoo idea is perfect for your chest.
Funky Woman Heart Shape Tattoo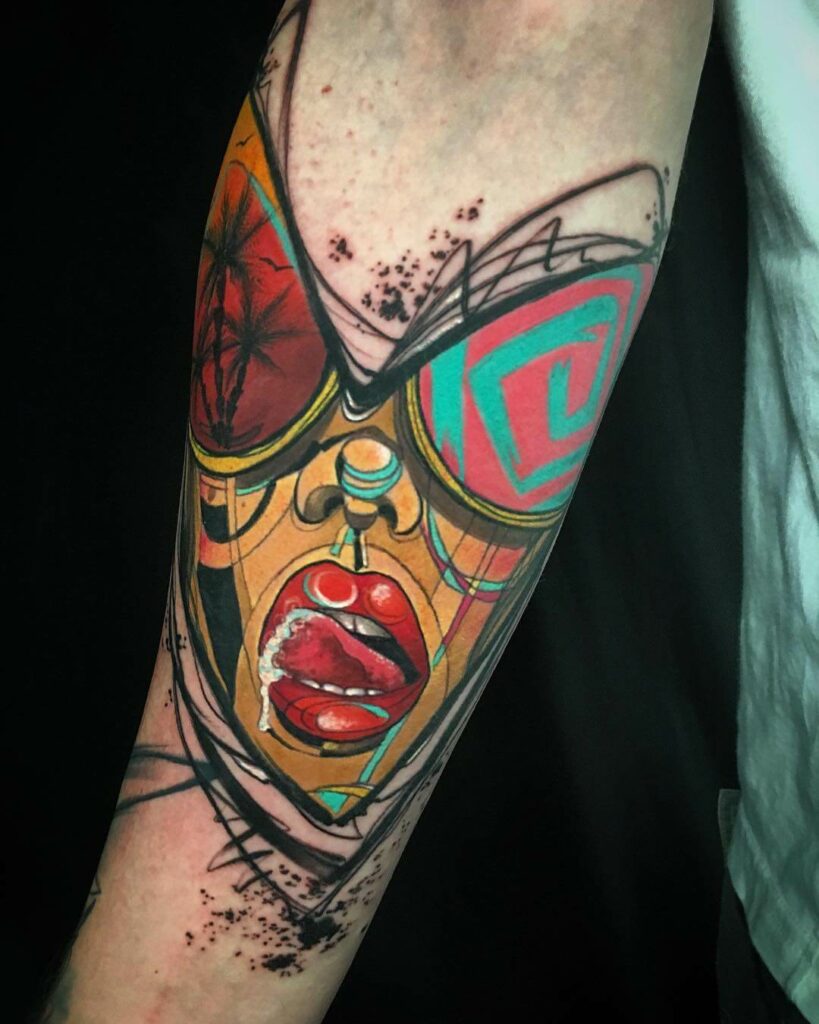 This tattoo is the most unique on this abstract heart tattoos' list. If you want to do something that is totally different and rare, then you should add this tattoo to your bucket list. This tattoo is also a colored option. The tattoo not only is unique but shows the immense skill of the tattoo artist. The tattoo is more feminine than masculine and will suit more a girl's or a woman's body.
This heart tattoo is abstract in the sense that the tattoo, at first glance, looks like the face of the woman but is actually a heart and represents the desire of one's mind. The tattoo is best suited for your forearm, where the tattoo will be most visible. Other options to do this tattoo are the thighs and lower back.
Minimalist Diamond Heart Tattoo
This tattoo design is also a colored option in the list. This minimalist tattoo is a small diamond shape with the heart carved inside the diamond. This tattoo looks small, but the attention to detail is no easy task. This design is a combination of sparkly blue and pink colors splashed in the diamond while the heart is left blank.
This tattoo symbolizes life lived preciously like a diamond. As abstract art depends on perspective, one can also find this representation to be an inspiration to live life in a way that it can be compared to the rarity of a diamond. This is the beauty of abstractness, where everything seems arbitrary but has deep meaning embedded in the art. The tattoo is small and will fit into multiple parts of your body.
Colorful Heart Tattoo Design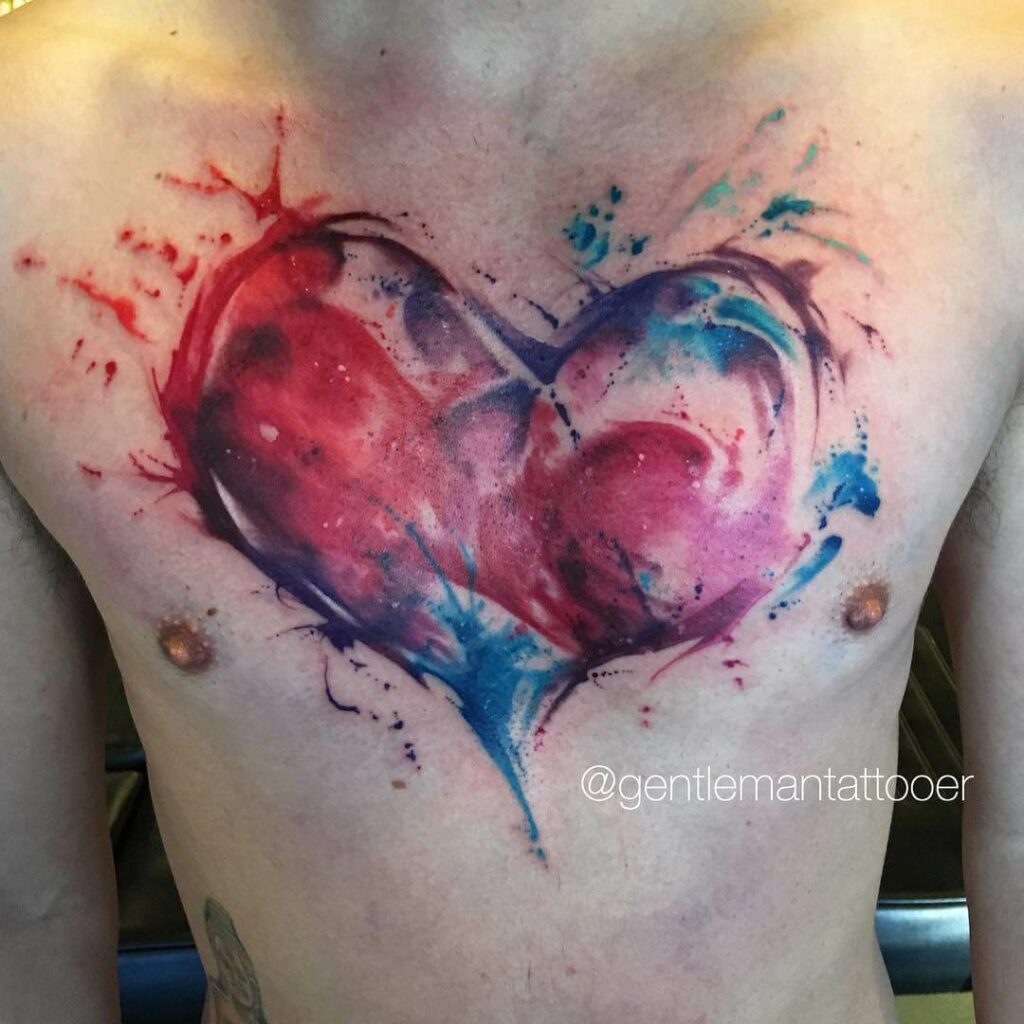 This colorful abstract heart tattoo looks divine. The color mix of blue and red looks elegant. Abstract art has a tradition of using splash colors which is uneven. It masters the art of using splash colors in adequate amounts so that it adds a fantasy effect to the art. This tattoo is a heart-shaped design done on the whole chest.
This tattoo is not gendered and can be done both by men and women. The tinge black shading adds to the beauty of the tattoo, providing a shadowy effect to the colors. This tattoo design will only look good if done on your chest for men. And for women, this tattoo is best suited if done above the cleavage.
Abstract Butterfly Heart Tattoo
This tattoo is the best representation of art among all the other tattoos on the list. This tattoo, at first glance, looks like an abstract design of the heart, but when observed through the eyes of an artist, it looks like a butterfly spreading its wings. The butterfly is illustrated in a side view. The colorful nature of both the human mind and that of a butterfly is captured in this tattoo through the use of colors. This abstract heart tattoo design is for people who have an equal passion for both tattoos and art.
This tattoo represents your colorful mind which seeks freedom from the world. Your mind is capable of thinking beyond the limits, and you should not limit yourself to others' perspectives; rather, you should focus on your own ideals and principles. This tattoo will definitely add to your personality. This tattoo requires a certain amount of body space and will be best suited on the lower or upper back, thighs, and also on arms if they are big enough to accommodate the space.
Abstract Heart Tattoo On The Back
This tattoo will be perfect for one who loves an abstract heart and also suffers from a broken heart. This heart sign combines an abstract heart in red color with two black lines, which form a cross running through the art. The heart in red represents the love in the heart, and the black cross seems to cancel out that love.
This simple illustration using just two colors portrays or signifies something which has a greater significance. This tattoo looks good, and people who want their tattoo to convey a meaning should definitely get this tattoo inked on their body. This tattoo does not require significant space and can be done on multiple spaces on your body. So, happy inking!
Heart Tattoo With Quote
If you are in search of an abstract heart tattoo with a quote, then this is the perfect option for you. This is a simple heart tattoo with a symbol in the middle that has the word 'chaos'. The tattoo has a shadowy effect that feels like an illusion. This is a monochromatic option in the list. Though this tattoo is inked in black and white, it can compete with any other colored tattoo idea. This abstract heart tattoo looks pretty classy.
The word 'chaos' is perfectly center aligned inside the heart, and that will grab the attention of the world. This tattoo represents your chaotic inner side which is most of the time hidden. This tattoo will also portray your brave attitude where you are not afraid to express that there is a chaotic side of yours. Everyone has a calm and chaotic side, but people usually tend to flaunt the happy, calm side, but you are doing something completely opposite. It is not in any way negative to portray your chaotic side. Rather, it will boost your confidence.
Brain And Heart Tattoo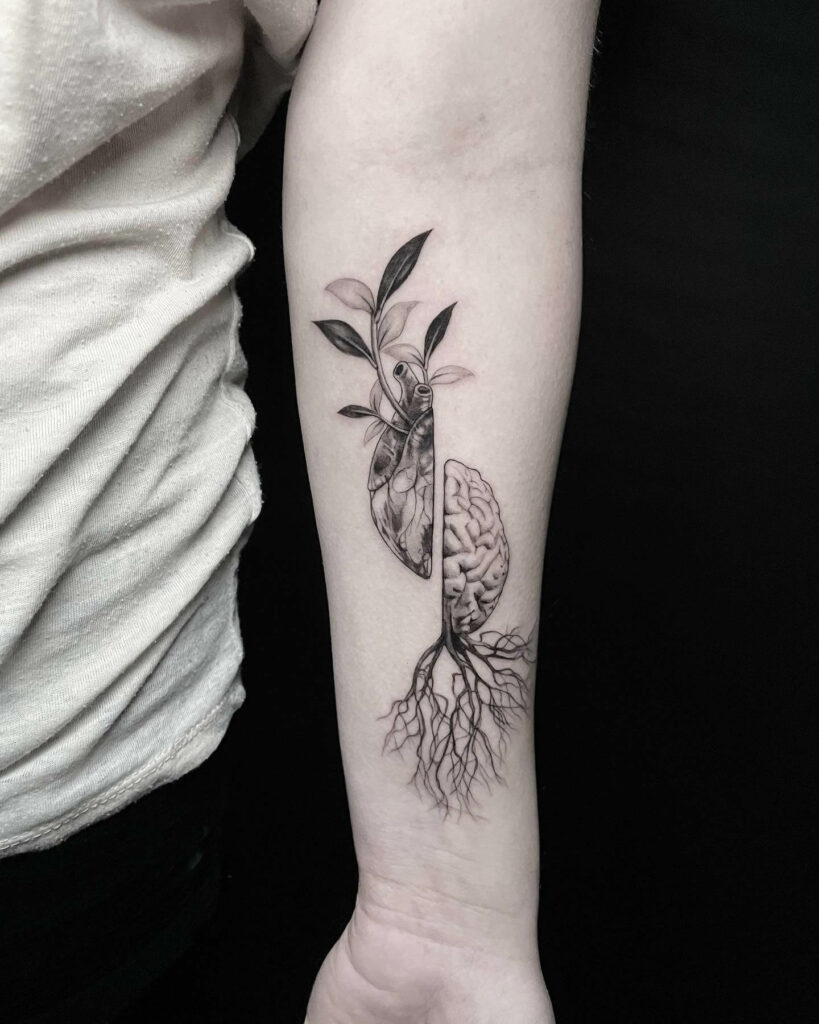 This tattoo has a deep meaning underlying it. This tattoo is a blend of black and white. The tattoo on the upper side portrays half of your heart, and it looks like a newborn plant is flourishing from your heart. The lower side portrays half of your brain, and it looks like the roots of that plant are going down from the end of the brain. This combination symbolizes that both brain and heart complement each other, enabling you to think both rationally and emotionally. This tattoo has a deeper meaning embedded within the art, and the illustration is brilliant.
3D Abstract Heart Tattoo Design
Here is an option for all 3D tattoo lovers. This tattoo is colored and illustrates a heart in the center that is bordered by jewels. And a snake wraps the whole heart design. The tattoo can be interpreted as the snake guarding your heart against all the evils of the world. The lower portions of the snake are also covered in designs. The heart looks like ruby and signifies that your heart is no less than precious jewels. The designs are done in gold adding to the elegance. The snake is inked in a darker shade of green. This tattoo will be best suited to your forearms and calves.
These unique abstract heart tattoo designs are the best among all the other options if you want an abstract illustration of a heart tattoo on your body. All the tattoos represent a unique art style of using either splashy color effects or a shadowy illustration. The tattoo ideas will reveal your great taste in abstract art and will surely be trendy.
Feature Image from Pinterest – Want your tattoo to look brighter? Try "Tattoo Balm"