If you are an artist looking to get inspiration for an art tattoo, check out these amazing art tattoo ideas, that you will surely fall in love with!
Tattoo art has been around for a really long time, and with each passing year, tattoo artists are getting more creative with their designs.
The best part about an art tattoo is the versatility such designs hold. Any kind of symbol or motif can turn into an art tattoo, with the right kind of design and style.
Art tattoos are suitable for everyone but are especially relevant to people who are artists or art lovers themselves. For an artist, even their own body can be their canvas. Hence, tattoo art will be a way of displaying a masterpiece on themselves. Though the internet has limitless art tattoo options, we have curated the top 10 best art tattoo ideas, that will speak to your soul. Keep reading to find out the best art tattoos that you can get inked with!
Art Nouveau Tattoo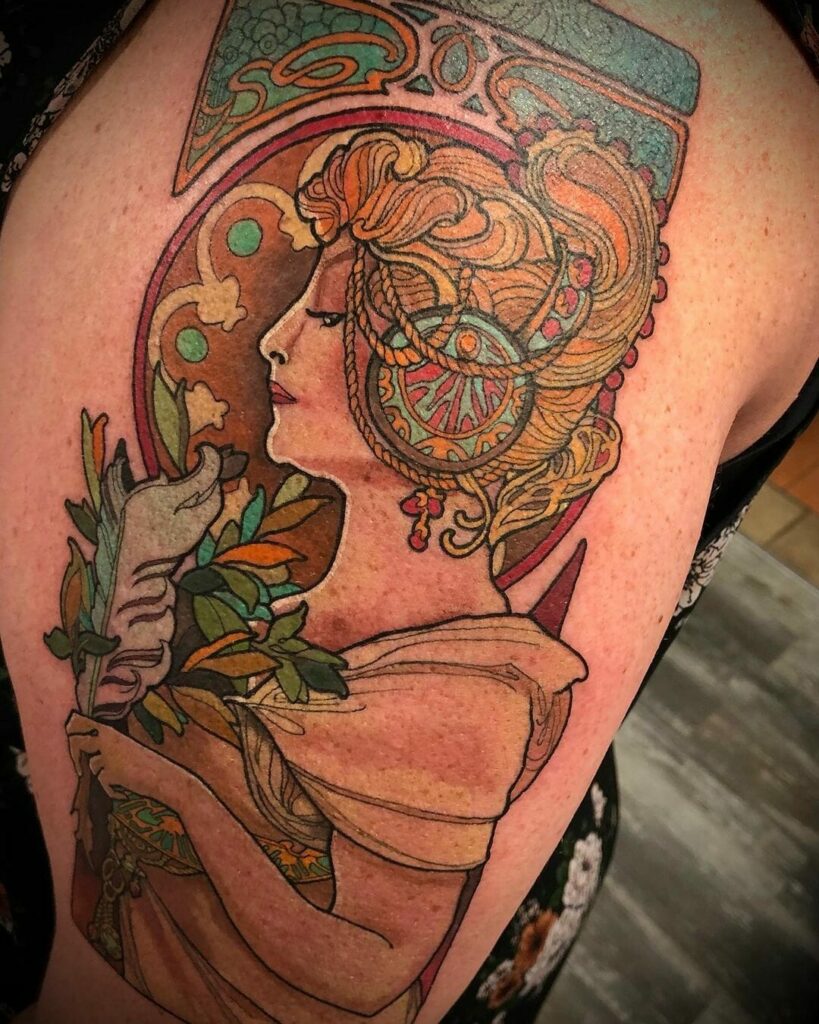 Art Nouveau is a style of art that consists of linear designs and curves. This art form rose to popularity during the late 19th century and has been an aesthetic ever since. Art Nouveau artworks usually portray women and feminine figures. This tattoo, as you can see, is perfectly capturing the essence of this form of art. The beautiful and delicate lines which are adorning the woman in the tattoo are adding a perfect amount of grace. The colour combination is also quite enticing, with the shades being not too bright, but not too muted either.
Sacred Art Tattoo
Sacred tattoo art can be a depiction of any form of God or Goddesses, or whatever you find sacred. For example, in this tattoo, Yemanja, the Goddess denoting creation, motherhood, rivers, lakes, and so on, has been inked. There is certainly something spiritual about the way this tattoo has been designed. The fine line work is nothing short of art, and the whole tattoo is looking like a sketch done by an artist. The seashell at the feet of the Goddess is to mark her identity as a water spirit. Needless to say, a tattoo like this one will be a fitting example of paying attention to details.
Floral Dark Art Sleeve Tattoo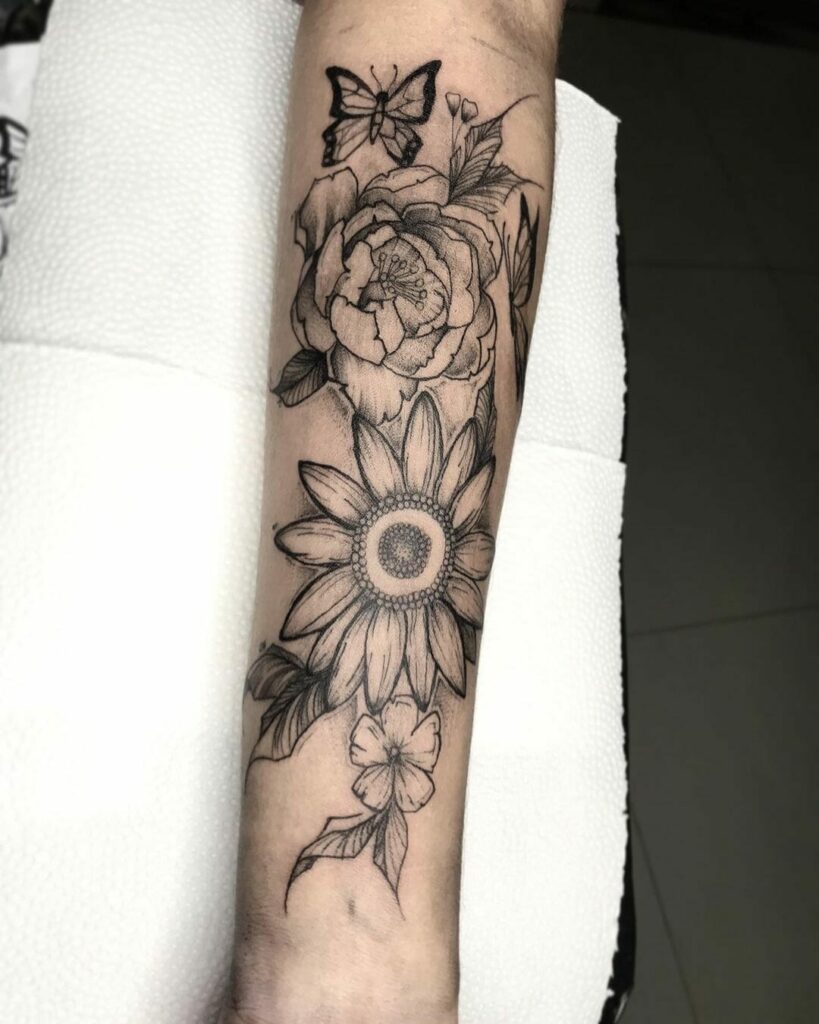 Tattoo art is not limited to various styles of artwork, but can also include different kinds of motifs. For example, in this art tattoo, floral designs have been incorporated. The whole tattoo has been done in black to make it resemble a hand-drawn sketch. The shading and detailing is enhancing the beauty of the flowers and the butterfly, which just seems to be the cherry on the cake. An aesthetic sleeve tattoo of this kind will be nothing short of perfect for artists and art fiends.
Ornamental Back Art Tattoo
An ornamental tattoo can be the perfect example of an art tattoo, because what can be more artistic than decorating your own skin with ornate and attractive designs? As you can see in this tattoo, a lotus and crescent moon has been combined, with showy beads hanging off of both symbols. The design is intricate, yet simple, at the same time. The white detailing is giving this tattoo a glimmering look.
Abstract Hand Art Tattoo
A significant portion of artworks is abstract pieces. So, as an artist, you might want to have an abstract art tattoo inked on yourself, as well. This tattoo is featuring a hand with two eyes on it, and a cigarette between its fingers. To deduce the meaning of such a tattoo would be futile, as tattoos of this sort are meant to leave one with curiosity. Every tiny little aspect of this tattoo seems to fit the bigger design. A tattoo like this one should be inked on any visible part of the body, like the arm or leg.
Statue Art Tattoo
The statue of David is one of the most well-known sculptures belonging to the Renaissance period, created by Michelangelo. Hence, for both artists and non-artists, an art tattoo depicting David can mean nothing short of beauty. In this design, only the face of David has been inked, with the rest of the tattoo featuring other symbols, like an anatomical heart and an eye. There also seems to be lines depicting heartbeats and the numbers "1" and "0" in this tattoo. This tattoo can also be considered as an abstract work, which will look amazing on the upper arm, as pictured.
Vibrant Watercolour Art Tattoo
If you like vivid and colourful designs, you will surely love this tattoo. This art tattoo has been done in a watercolour style, meaning, the tattoo is resembling an actual watercolour painting. The vibrance of this tattoo is truly unmatched, and you will find it difficult to come across another art tattoo as brilliant as this one. Additionally, if you love nature, then this can be your art and soul tattoo, as it will perfectly capture not only art but what your soul truly loves.
Enticing Scribble Art Tattoo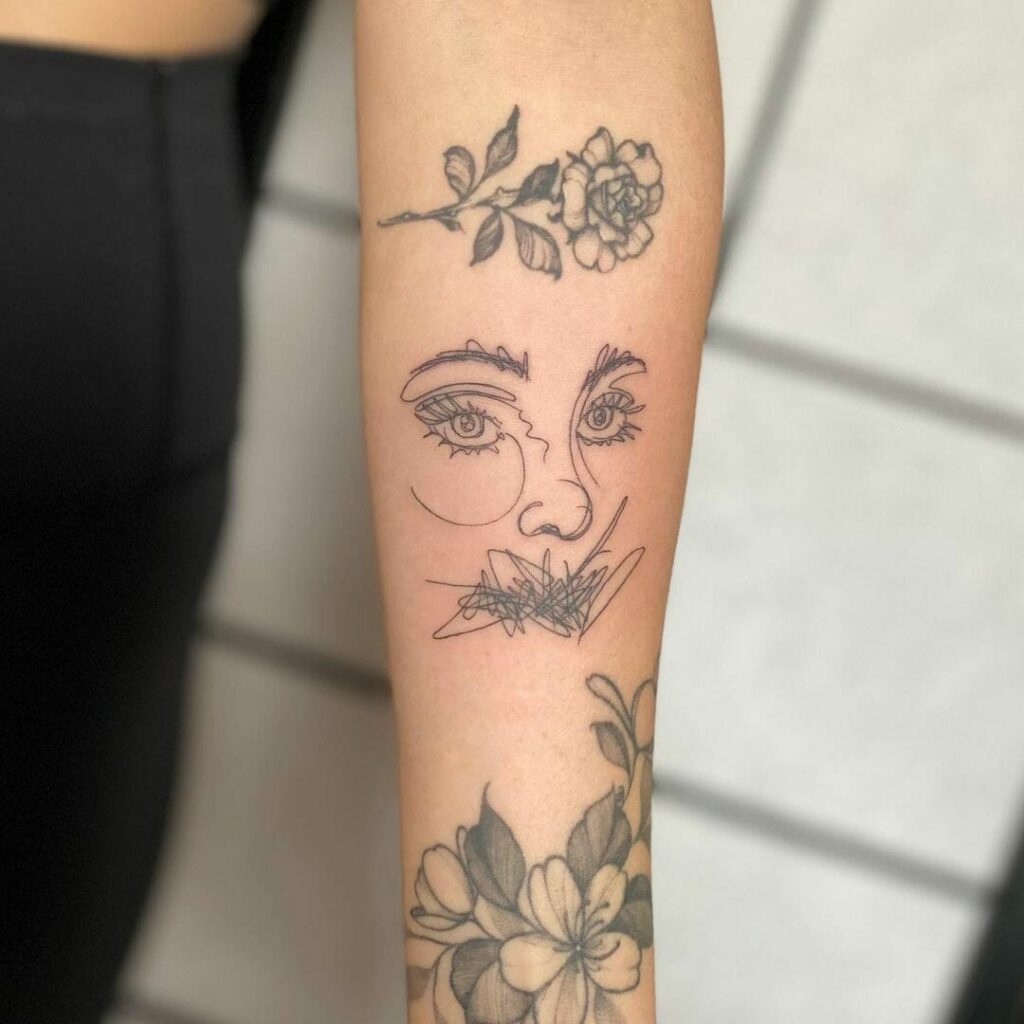 A perfect example of an artistic scribble tattoo would be this one. This whole tattoo has been created with scribbled lines, yet the eyes in the tattoo are full of expression and mystery, at the same time. If you feel like you are the kind of person who cannot always express your inner thoughts, then this tattoo can be the perfect way to show that, as the way the mouth of the woman in this tattoo has been scribbled, is quite similar to how you must feel when you are at a loss for words. Such a tattoo would look great on the arm or on the back of the shoulder.
Geometric Linework Art Tattoo
A geometric art tattoo may sound mainstream, but it will surely be unique if the design is like this one. Here, geometric patterns are encompassing several Earthly elements, like a tree, mountains, ocean, and the different lunar phases. This tattoo is ideal for those who feel at one with nature and want to convey that in an artistic manner. Every element in this design seems to be connected through the geometric shapes, just like every natural element around us is also connected to each other.
Small Painting Art Tattoo
How about an art tattoo depicting actual art? This little tattoo is a depiction of the painting called, "A Summer Morning", by the American painter Edward Dufner. The aesthetic of this tattoo is beyond measure, as opposed to its size which is quite small. Such a tattoo is relevant for anyone who wants to have an actual masterpiece on their body. You can get this tattoo inked beneath your collar bone, as pictured, or even on the side of your ribs
Now that you are aware of the different art tattoo designs, you can get inked with any one or all of these designs. For both art and tattoos, creativity has no bounds.
Feature Image from Pinterest – Want your tattoo to look brighter? Try "Tattoo Balm"