Welcome to the world of August birth flower tattoos! If you're born in August or just love the poppy and gladiolus flowers, then you're in for a treat. Each flower has a unique meaning, and we'll explore them in-depth so that you can choose the perfect design. The poppy flower is a symbol of friendship and happiness, while the gladiolus flower represents passion, calmness, and integrity. August birth flowers offer a wide range of colors and shades that can be incorporated into a design, making them perfect for any style of tattoo. In this article, we'll show you some of the most stunning August birth flower tattoo designs that you won't want to miss!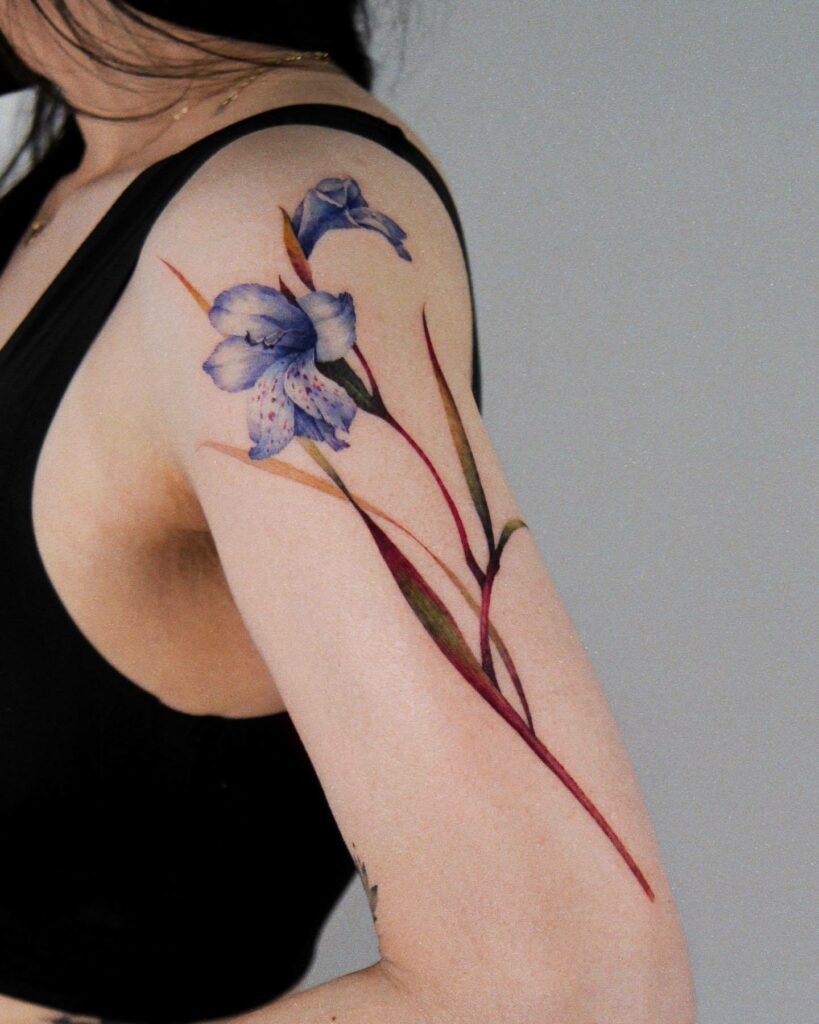 Red Poppy August Birth Flower Tattoo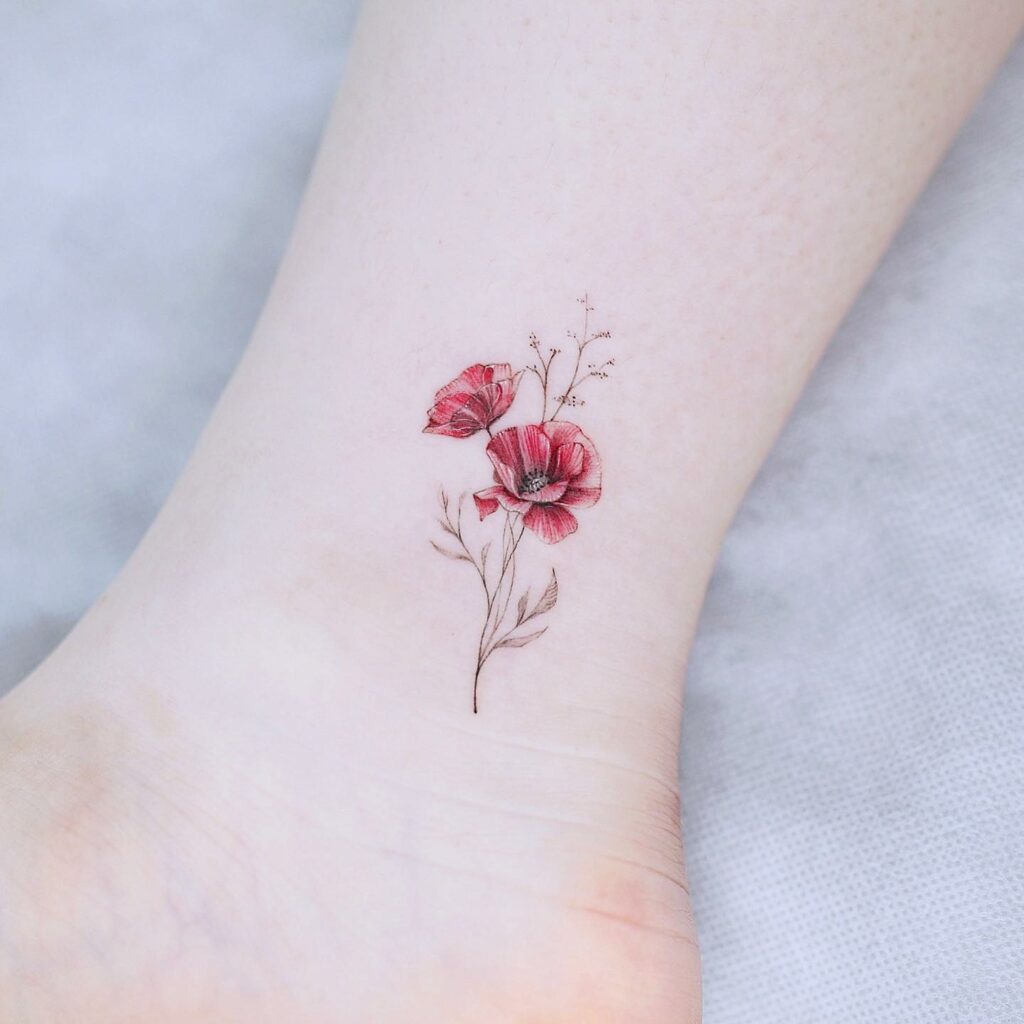 This stunning tattoo on the ankle features a red poppy design that is a beautiful tribute to love and strength. Did you know that poppies have historically been used to honor heroes who lost their lives in World War I? The bright red ink used by the tattoo artist, accompanied by brown ink, highlights the intricate details of the delicate petals and leaves of the flower. Red poppies are also a symbol of adventure and tenacity, traits often associated with those born in August. If you're looking for an inspiring and meaningful tattoo, this red poppy design is a must-have.
Black And White Poppy Tattoo Design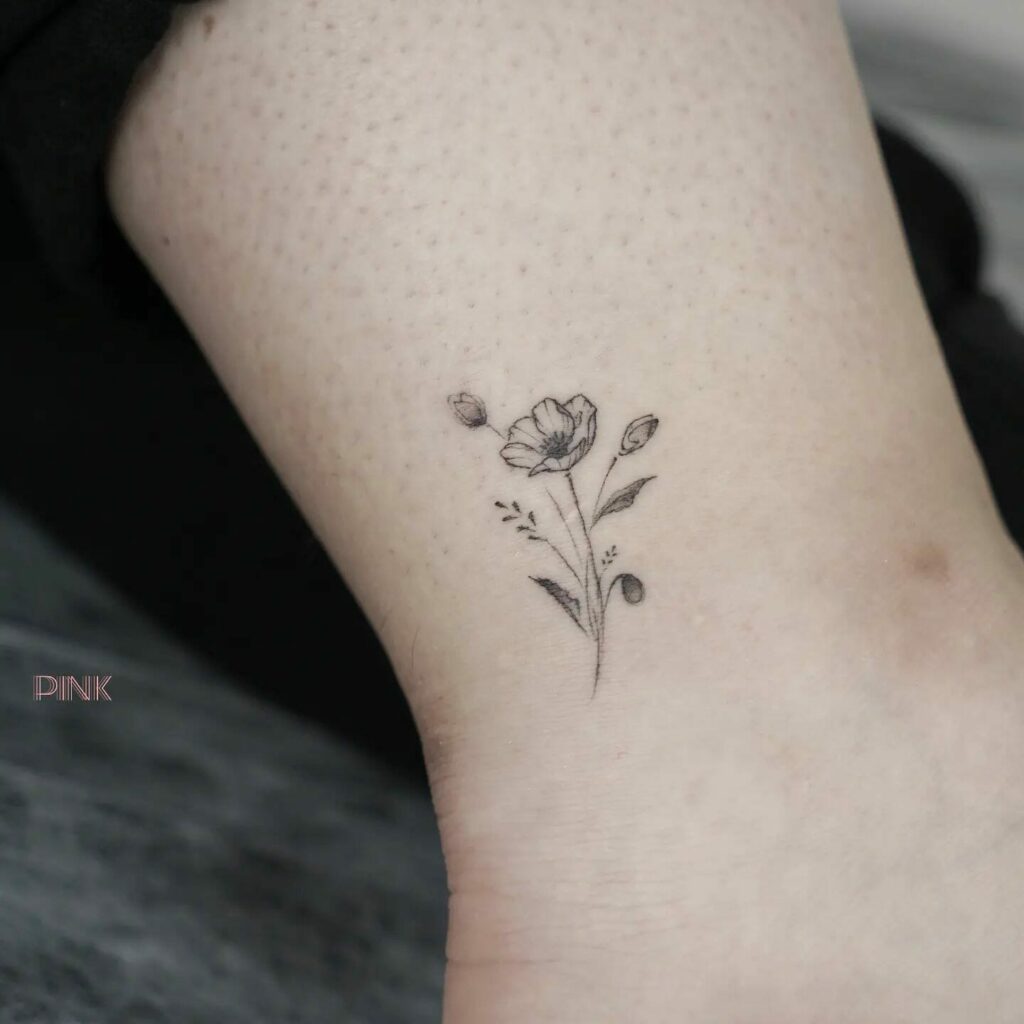 If you're someone who is on the lookout for minimal tattoo designs, then this black and white poppy tattoo might just be the perfect fit for you! It's a simple yet elegant design that's been etched on the individual's ankle. You'll often find people getting such minimal tattoos on their wrists, fingers, shoulders, and ankles. But before you get a birth flower tattoo like this, it's important to understand its history. Birth flower tattoos can be traced back to ancient Egyptian and Chinese cultures, where each flower was believed to possess a secret meaning. These flowers represent the unique personality traits of individuals born in that month. For example, if you're born in July, you're likely to be an emotional, caring, and highly organized person. A birth month flower tattoo can be the perfect way to display these traits through body art.
Lettered Poppy Birth Flower Tattoo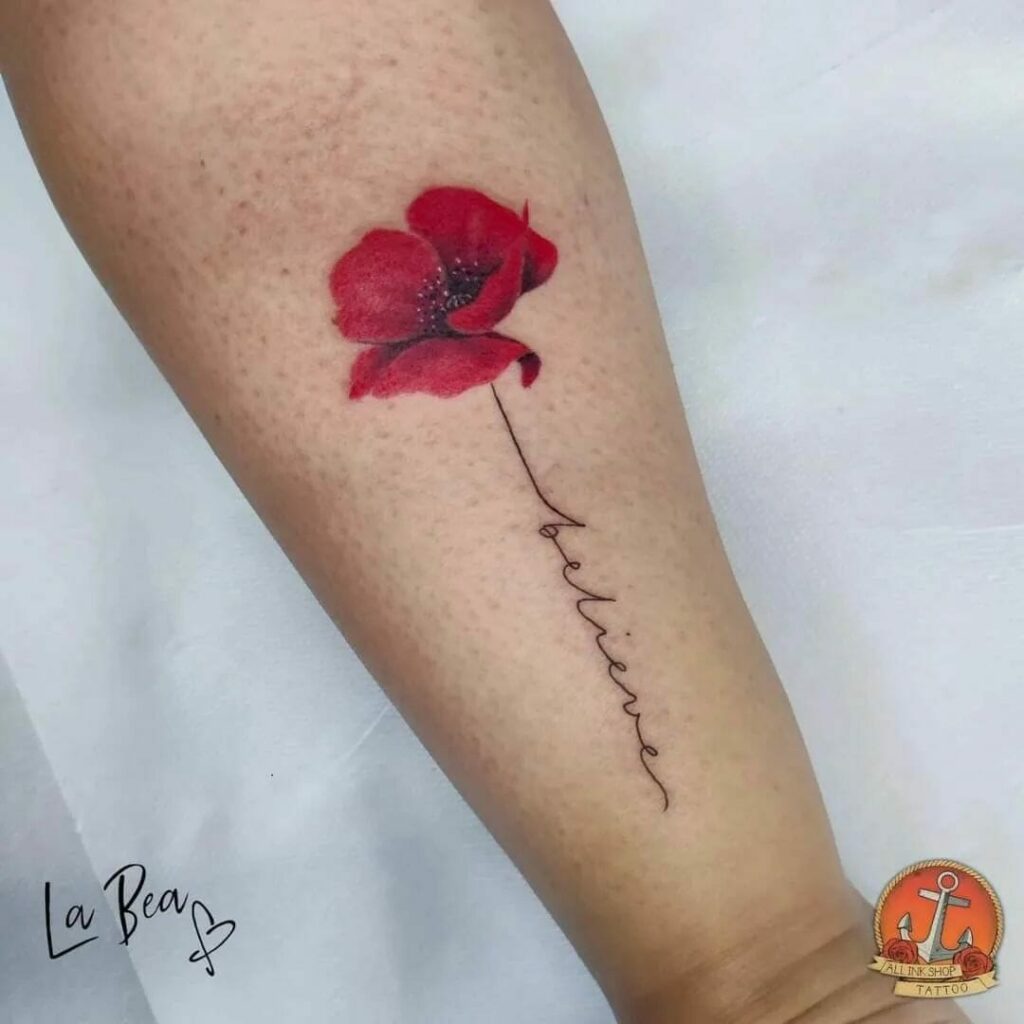 This technique adds an extra layer of symbolism to the piece, elevating it from a simple decorative element to a meaningful work of art. The delicate white ink dots highlighting the flower's inner details are a masterful touch, perfectly complementing the vibrant red of the petals and creating a stunning contrast.
It's no wonder this kind of design is a popular choice among those seeking a tattoo with personal significance. By incorporating a word that holds special meaning for you, you can create a truly one-of-a-kind piece that speaks to your unique journey. Whether it's a word of encouragement, a reminder of a loved one, or a representation of an important value or belief, this technique allows you to make your tattoo truly your own.
So, whether you're a seasoned tattoo enthusiast or a newcomer to the scene, take inspiration from this beautiful design and let your imagination run wild. The possibilities are endless when it comes to crafting a tattoo that tells your story in a way that is both beautiful and meaningful.
Poppy Flowers And Butterfly Tattoo Design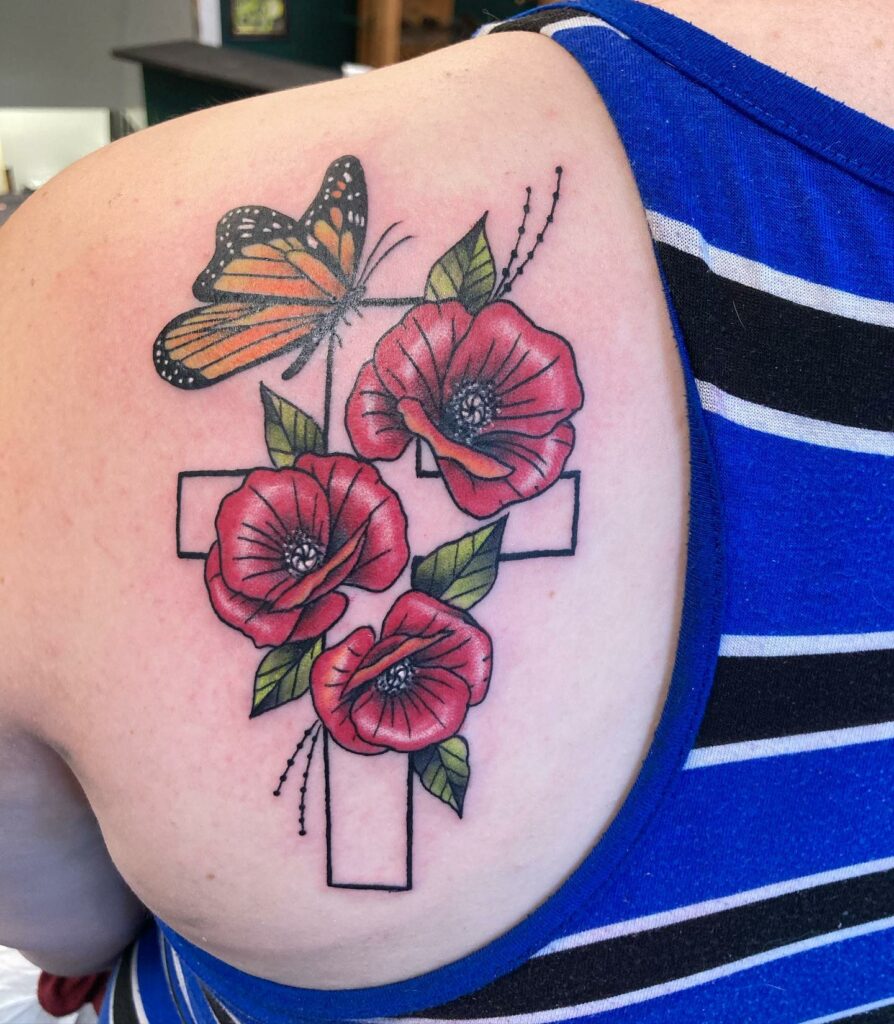 There's nothing quite like a beautiful floral tattoo to capture the essence of femininity, and adding a butterfly to the mix takes it to the next level. The combination creates a powerful representation of love, mystery, and strength, with the butterfly symbolizing transformation and growth.
Just take a look at the stunning example above! The intricate details of the flower and butterfly are masterfully etched into the individual's back, using a range of bright and bold colors that create a truly eye-catching look. These designs are typically larger in scale and can take a bit of time and investment, but the result is a breathtaking work of art that will be with you for life.
So, if you're looking to make a statement with your tattoo and want to incorporate the beauty of flowers and butterflies, this design is definitely worth considering. Let your tattoo artist know your vision, and they can work with you to create a customized piece that reflects your unique style and personality. Trust us, the end result will be nothing short of magical!
Poppy Tattoo Behind The Ear Design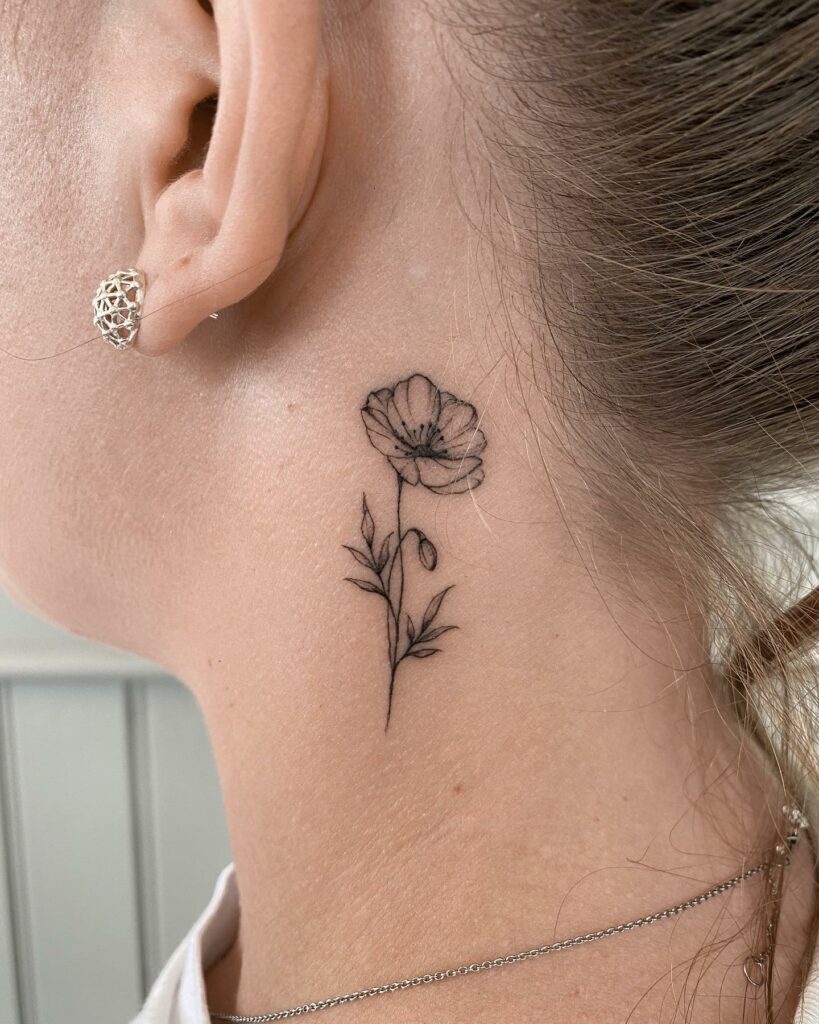 Take a closer look at the exquisite poppy flower tattoo above, expertly inked behind the ear of the individual. The black and gray shading creates a subtle yet striking effect, highlighting the intricate details of the flower. However, it's important to note that behind-the-ear tattoos can be a bit more painful than other areas due to the sensitivity of the skin in that area. But if you're up for the challenge and want to showcase your bold and adventurous personality, this design is a great way to do it.
So, if you're an August baby looking to commemorate your strength and courage, or simply someone who appreciates the stunning beauty of poppy flowers, this design is definitely worth considering. Just be sure to communicate openly with your tattoo artist about your pain tolerance, and they can help guide you through the process with minimal discomfort.
Gladiolus August Birth Flower Tattoo
Flower tattoos have always been a beloved choice for people born in August, and the gladiolus flower – also known as the sword lily – is a particularly popular pick. This stunning bloom represents bravery, protection, and elegance and was once worn by soldiers as a symbol of safety on the battlefield. Nowadays, the gladiolus can be designed in various ways to convey different meanings, making it a versatile choice for both men and women.
The image above showcases a gorgeous purple gladiolus flower tattoo, expertly etched onto the arm of the individual. The use of purple not only signifies beauty, elegance, and nobility but also makes for an eye-catching design when combined with other colors. If you're an August baby looking for a meaningful birth month flower tattoo design, this one is definitely worth considering.
But why stop at August? Birth flower tattoos are a great way to celebrate your unique personality and style all year round. Explore other birth flower tattoo designs, such as the July birth flower tattoo or November birth flower tattoo designs, to find the perfect bloom to represent your individuality.
Best August Birth Flower Tattoo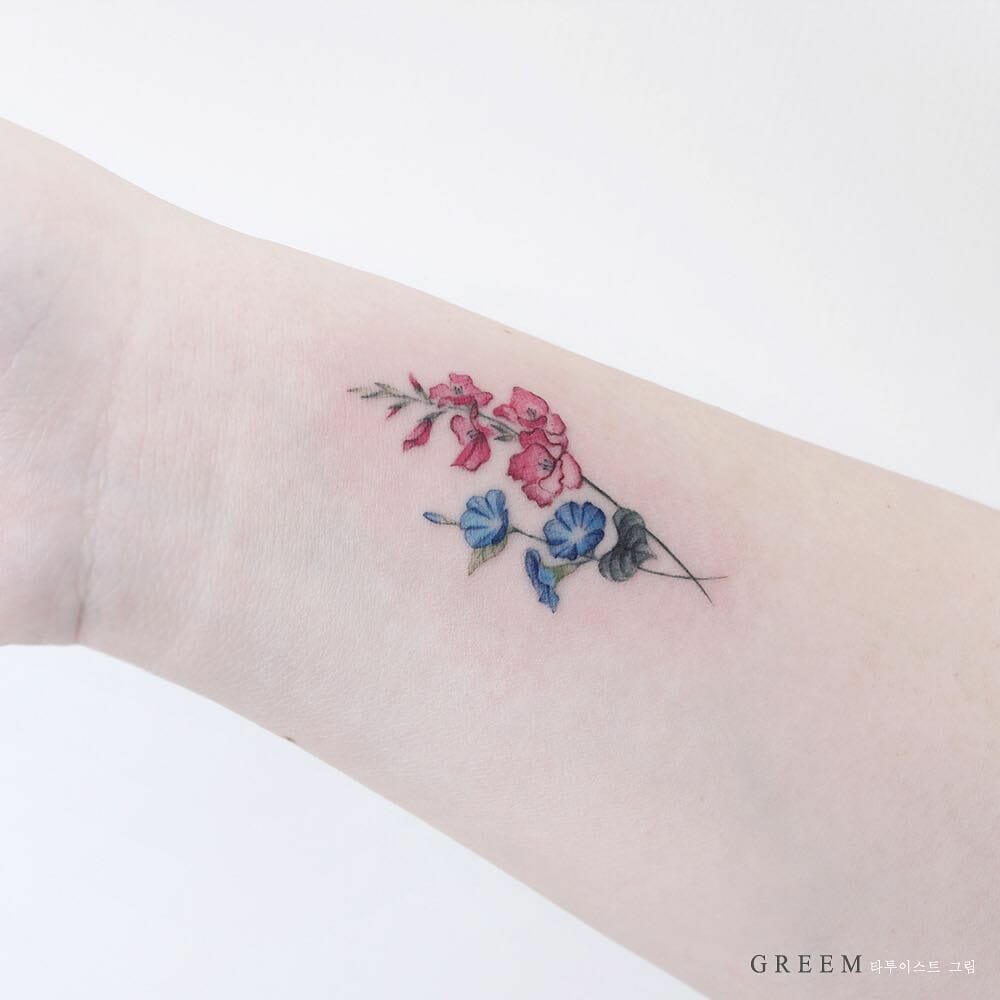 In this design, the artist has expertly combined two flowers, the poppy and the gladiolus, to create a beautiful and harmonious composition. These two flowers may be distinct from one another, but they complement each other perfectly, resulting in a stunning tattoo that captures rich emotions. The blue poppy, symbolizing success and wealth, and the red gladiolus, representing passion, love, and courage, have been skillfully highlighted using different colors. This poppy and gladiolus flower tattoo design is the perfect way to celebrate the August-born personality traits of strong willpower, bravery, and loyalty. If you're looking for a unique and meaningful tattoo design that truly reflects your personality and emotions, this combination of different flowers is an excellent choice to consider.
Traditional Gladiolus Flower Tattoo Design
f you're in search of a simple yet sophisticated design for your flower tattoo, then the traditional gladiolus flower tattoo is an excellent choice. Crafted with expert precision, this tattoo is inked on the individual's midriff with fine lines and black ink, resulting in an elegant and minimalist effect. Women often find midriff tattoos to be attractive, as they can be easily concealed or flaunted depending on their preferences. However, it's essential to note that midriff tattoos can be quite painful, and you must weigh this factor before committing to the procedure. But, if you're looking to create an impression with your ink, this gladiolus design is undoubtedly worth considering.
Gladiolus And Butterfly Tattoo
If you're a woman seeking a tattoo that embodies your strength and beauty, a blue gladiolus flower combined with a butterfly is an excellent choice. The intricate design of the flower and the butterfly conveys elegance, grace, and hope, making it a perfect representation of your personality. This stunning tattoo looks great on various parts of the body, including the arm, chest, or thighs. The artist has expertly used a vibrant blue color for the flower, which is complemented by the subtle shade of purple, creating an eye-catching effect. It's important to note that colorful tattoos may require touch-ups over time to maintain their vibrancy. So if you're looking to make a statement with your ink, this design is worth considering.
Moon and Gladiolus flower Tattoo
The gladiolus flower and the moon have a lot in common as symbols of growth and new beginnings. A perfect embodiment of this is the beautiful and simple design of the moon and flower tattoo. Using only black ink, the artist has expertly captured the true essence of the design and its deep symbolism. This minimalist design is perfect for those who prefer smaller tattoos and want to make a statement without being too flashy.
If you're an August-born person looking for a way to showcase your creative side and imagination through body art, a birth flower tattoo is an excellent option. Not only are they trendy, but they are also versatile and suitable for both men and women. The possibilities for customizing a birth flower tattoo are endless, with various flower and color combinations available. So why not consider a birth flower tattoo as a unique way to express yourself and highlight your personality traits?
feature image from Pinterest – Want your tattoo to look brighter? Try "Tattoo Balm"