Hey there, are you an October baby searching for the perfect floral tattoo? Well, you're in luck because every month has a dedicated flower associated with it. For instance, May has the lily of the valley, and April has the sweet pea. If you were born in October or know someone who was, you might be wondering what the October birth flower is. October has not just one but two birth flowers – the cosmos and the marigold. The cosmos flower is all about order, harmony, and peace with evenly positioned petals and a sweet fragrance. On the other hand, the marigold flower represents optimism and joy with its bright yellow and orange hues, symbolizing the sun's rejuvenating powers. So, if you're looking for some lovely floral tattoo ideas, consider getting inked with a cosmos or marigold tattoo!
Simple And Minimal Marigold Flower Tattoo Ideas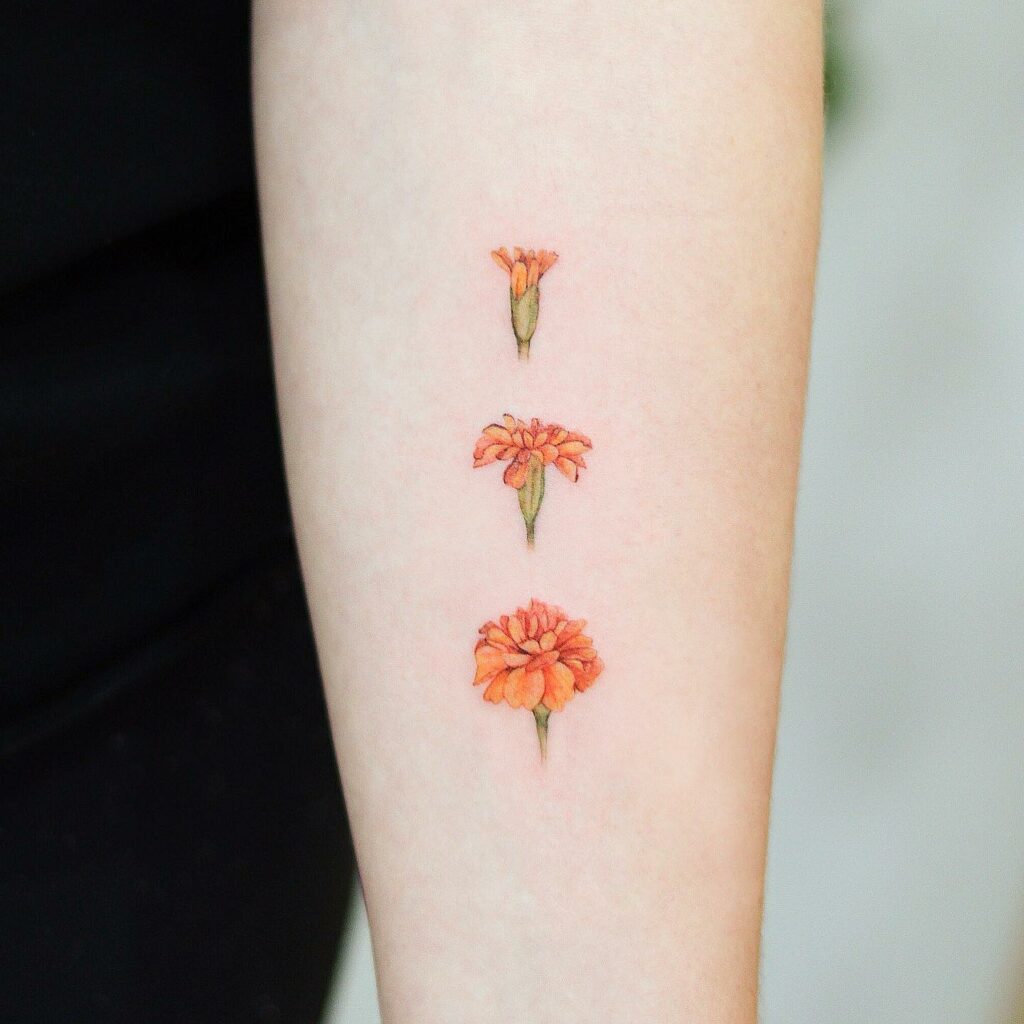 If you or someone you know was born in October, a marigold or cosmos flower tattoo could be a meaningful way to celebrate your birth month! The marigold is especially popular as it represents liveliness, cheerfulness, joy, and grace – all qualities that are often associated with October babies.
There are many different marigold tattoo designs to choose from, ranging from simple and minimalist to more intricate and detailed. A small marigold tattoo is a great option for those who want a subtle yet meaningful tattoo, and it can be placed just about anywhere on the body, including the hip area.
When it comes to choosing a tattoo artist, be sure to do your research and find someone who specializes in floral tattoos. They can help you design the perfect marigold tattoo that reflects your unique personality and style. And as always, don't forget to take good care of your tattoo by keeping it clean and moisturized.
Colorful Marigold Tattoo Designs For People Born In October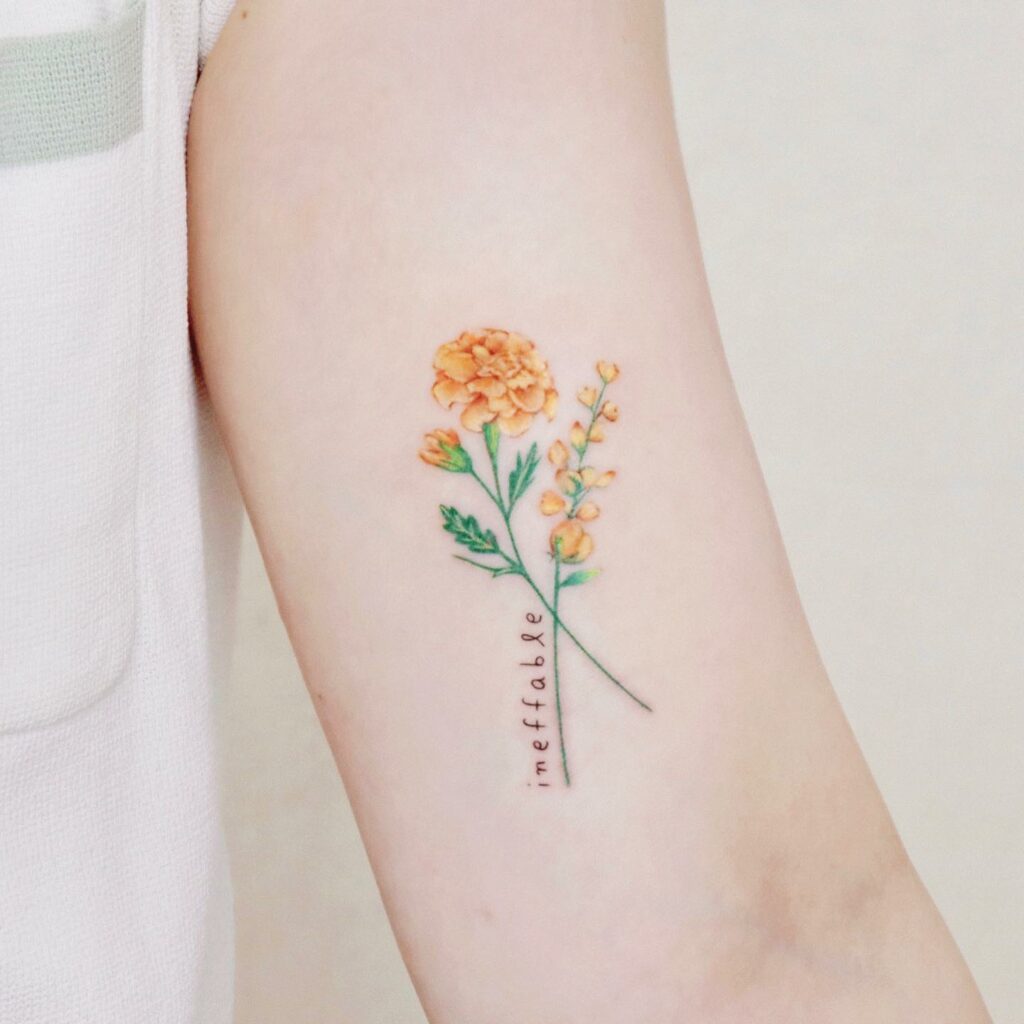 October birth flower tattoos are a popular choice, especially for those born in the month of October. The marigold, with its vibrant colors of yellow and orange, is a cheerful flower that is perfect for representing the lively and joyful personalities of October-born individuals. If you are planning to get a Marigold October birth flower tattoo, it is essential to select colors that reflect the beauty of the flower. You can choose from bold and neon colors or softer and more subtle shades that create a gentle and warm effect.
Personalizing your tattoo with words or phrases is a great way to make it unique and special to you. Adding a motivational quote or a significant date can make it even more meaningful. So, if you are looking for a beautiful and personal tattoo, consider getting a Marigold October birth flower tattoo. It's a perfect way to celebrate your birth month and showcase your vivacious personality.
Stunning Marigold Tattoo Ideas With Other Objects Or Figures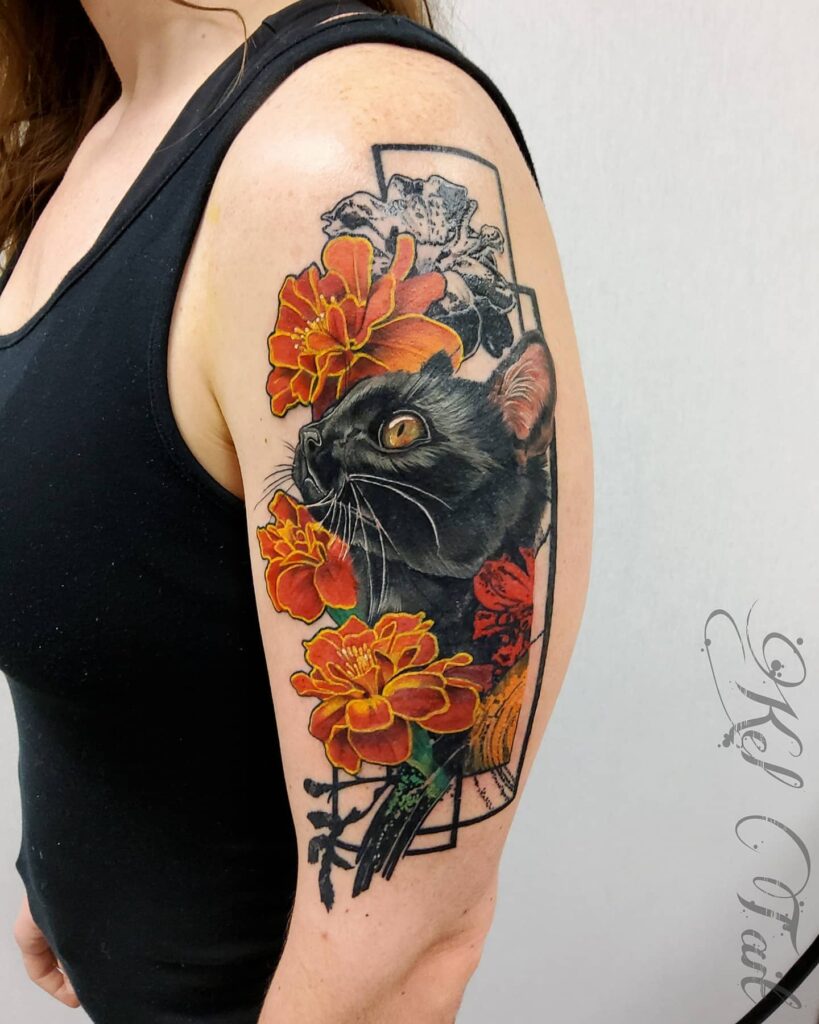 The wearer has opted for a beautiful marigold tattoo that covers most of their forearm area and even includes a charming black cat design. When it comes to customizing your own marigold tattoo, you can also add other elements or symbols that hold special significance to you.
Did you know that marigold flowers are used in many auspicious and sacred occasions in Hindu culture, including in places of worship? So if you're someone who cherishes these customs and traditions, a stunning marigold tattoo might be a perfect choice to represent your birth month flower.
Flower Bouquet Tattoos With Marigold And Cosmos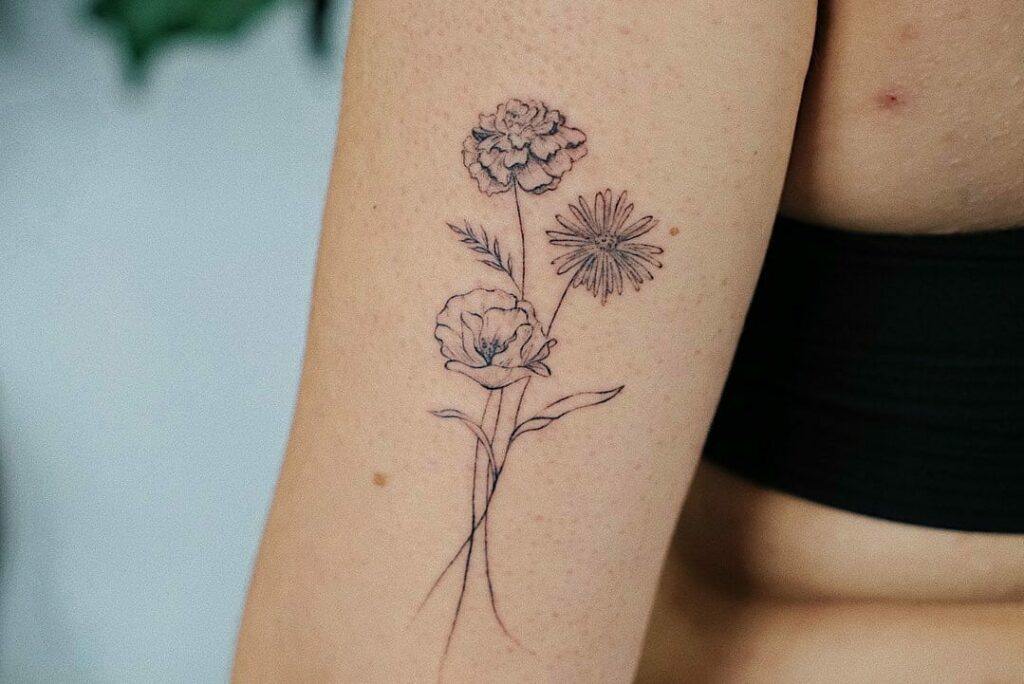 If you're looking for a unique way to celebrate your October birthday, consider a flower bouquet tattoo that combines both marigold and cosmos flowers. Not only will this design be visually stunning, but it will also represent your birth month in a meaningful way. By combining the two birth flowers together, you'll have a one-of-a-kind tattoo that truly represents your personality and style. You can customize your bouquet by adding other flowers or elements to it, such as butterflies, leaves, or even your favorite quote.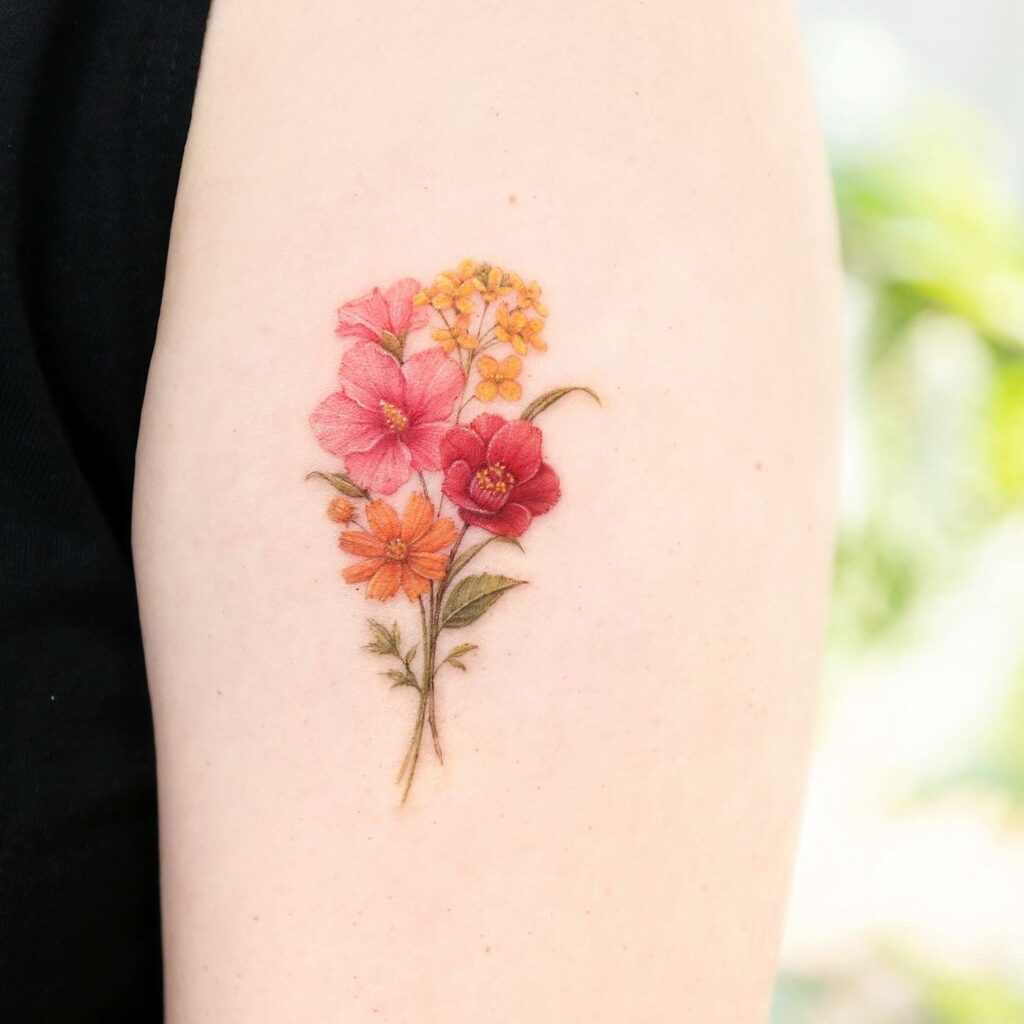 When it comes to tattoo ideas, people often want to find something that represents either themselves or their loved ones. For parents, a beautiful way to celebrate the birth flower tattoos of all their children is by combining them in a flower bouquet tattoo. This can be a meaningful and artistic way to represent the entire family. If you're looking for inspiration for a birth flower tattoo, consider the stunning larkspur flower, which is the birth flower for those born in July. There are plenty of unique and creative larkspur tattoo designs that can be personalized to fit your style and preferences.
Marigold Tattoo Designs That Are Easy To Place Anywhere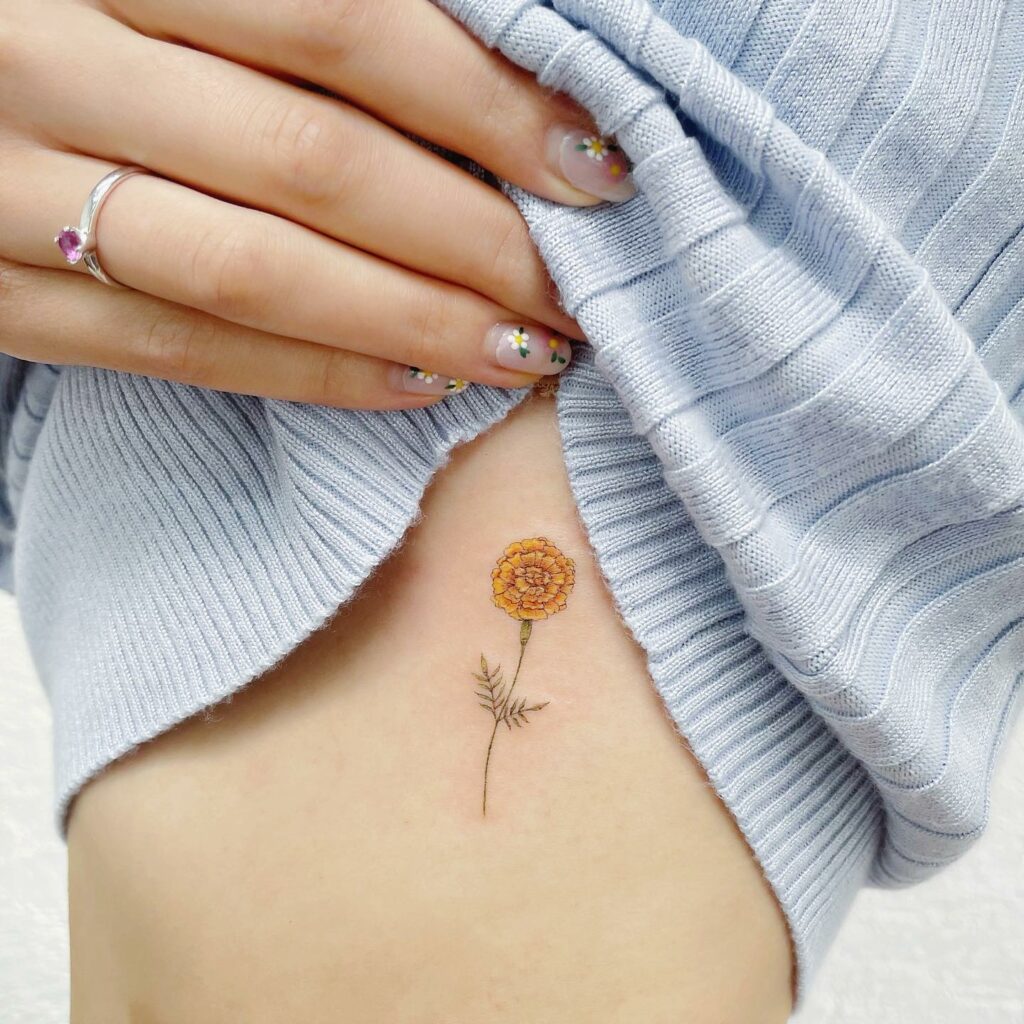 One of the great things about getting a floral tattoo is the flexibility it provides in terms of placement. The size and shape of the tattoo can play a role in determining where it should go on your body. For those who prefer smaller tattoos, a marigold tattoo can be placed on the collarbone or chest area, ribs, ankles, or even hips. If you want a larger birth flower tattoo, the thigh or forearm might be a better fit. Alternatively, you could opt for a back tattoo to showcase your beautiful marigold birth flower.
Creative And Unique Marigold Tattoo Designs For Women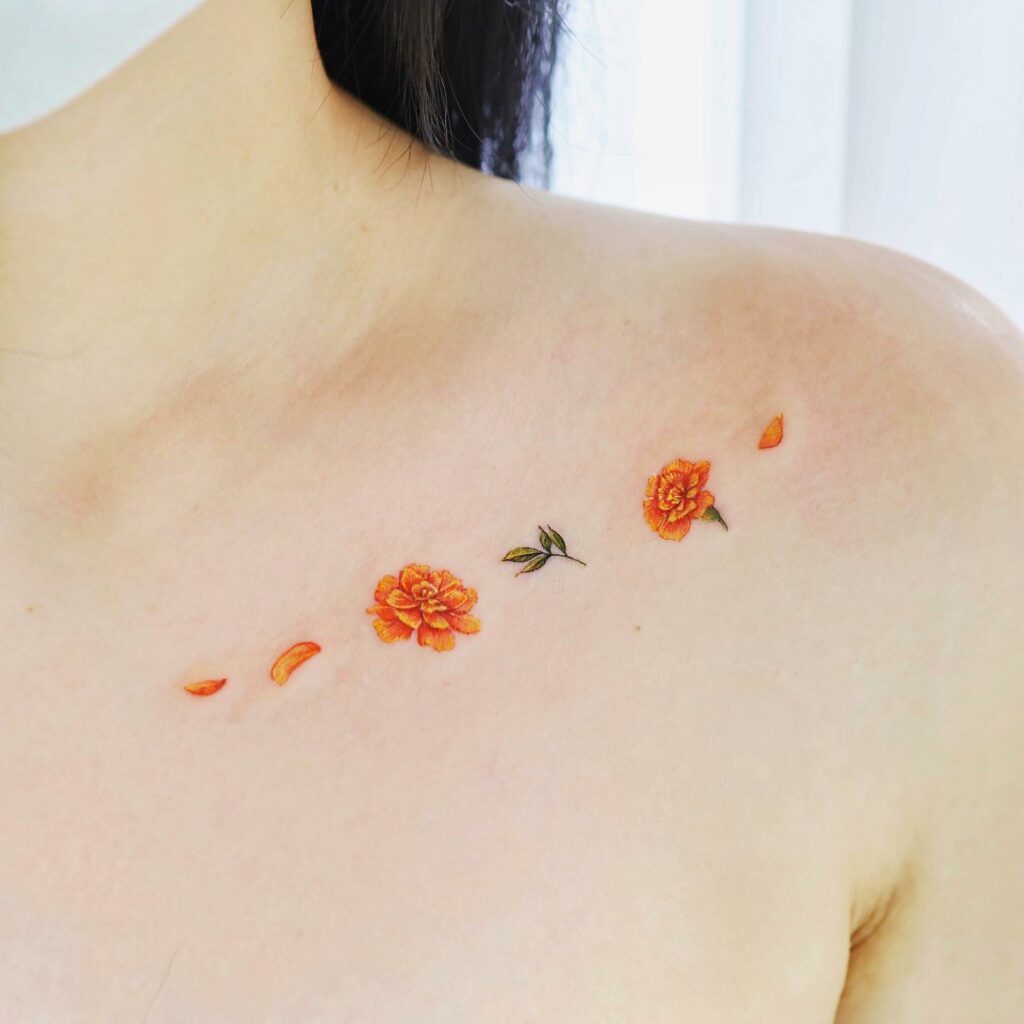 Each birth flower associated with a month has different meanings, such as wisdom, innocence, passion, hope, and joy in life. Some popular flowers that are often used in tattoos are the daisy, rose, violet, and lilies.
In many cultures, marigold flowers are known to be associated with death and funerals. However, the positive qualities of these flowers are now being appreciated more than ever, thanks to their bright and cheerful hues. The marigold symbolizes the sun and reminds us to have an optimistic outlook in life. So if you're looking to get an October birth flower tattoo, the marigold is a great choice that allows for a lot of creativity in design.
If you're interested in exploring more birth flower tattoo designs, take a look at these stunning September birth flower tattoo ideas that are sure to inspire you!
Stunning And Beautiful Cosmos October Birth Flower Tattoo Ideas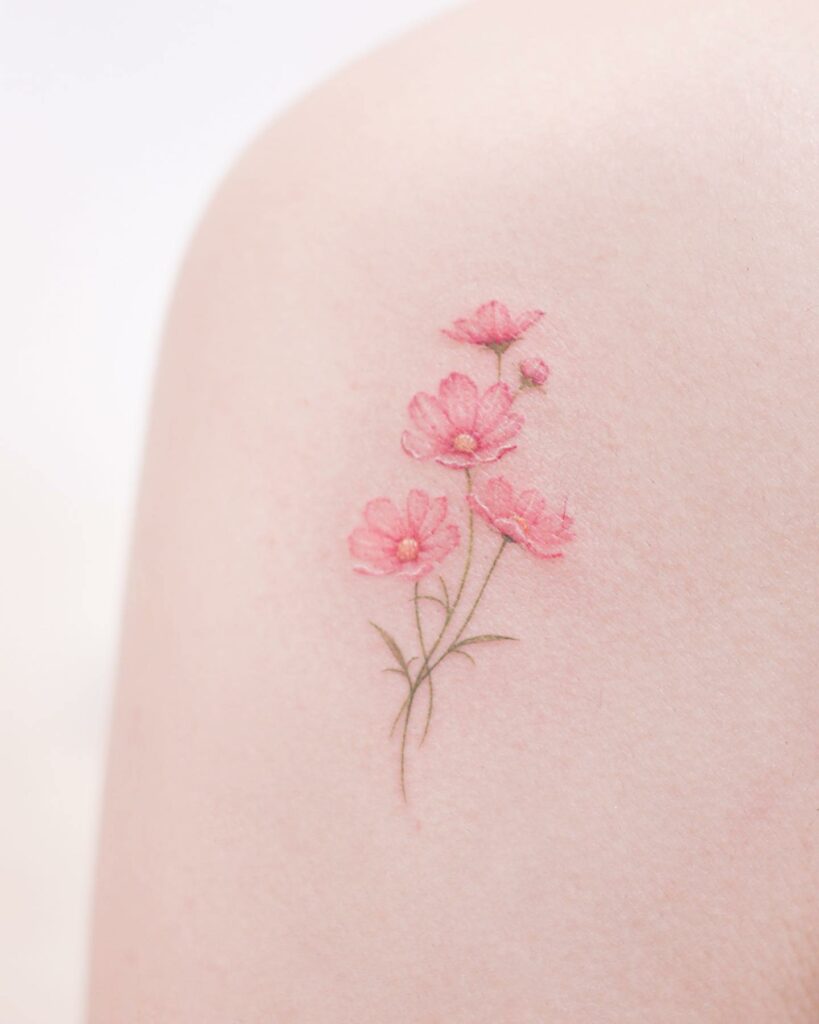 If you're searching for a unique and unconventional floral birth month tattoo for October, then a cosmos flower tattoo may be perfect for you! These flowers come in a variety of colors, each with their own symbolism. The red cosmos petals are a symbol of peace, while the pink ones represent motherhood and maternal love. White cosmos flowers are often associated with purity and honesty. This makes the cosmos tattoo an excellent choice for those who want to express themselves in a meaningful way through their ink. So why not consider a beautiful cosmos flower tattoo for your next piece of body art?
Large And Complex Birth Flower Tattoo Designs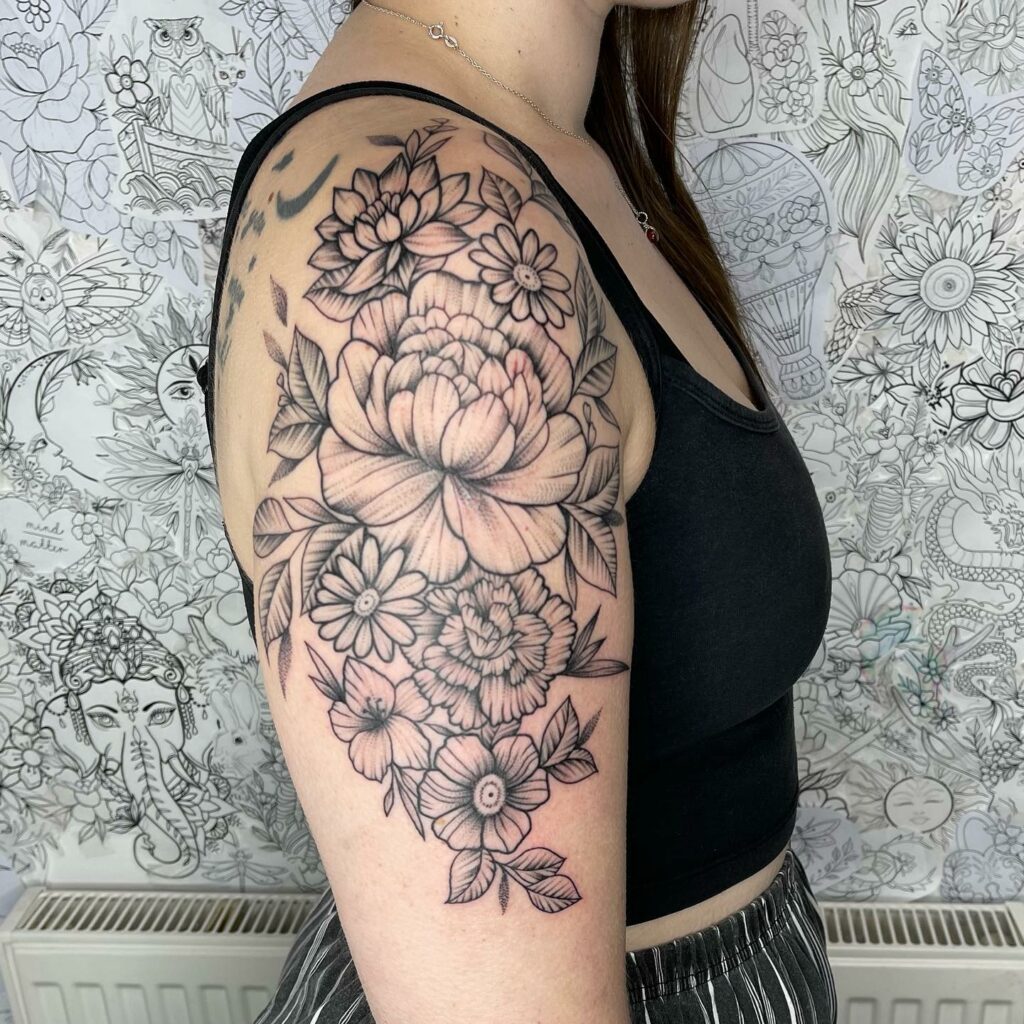 For those who love tattoos that are intricate and full of detail, a birth flower tattoo might be the perfect choice. In the image shown, the tattoo sleeve features a beautiful bouquet of lilies, daisies, violets, and roses. While it might take some time to complete, the final result will be a stunning work of art that showcases the beauty and meaning of these flowers. Whether you choose to get a large or small tattoo, a birth flower tattoo can be a beautiful way to express yourself and your connection to nature.
Wonderful Cosmos Tattoo Designs For Your Arm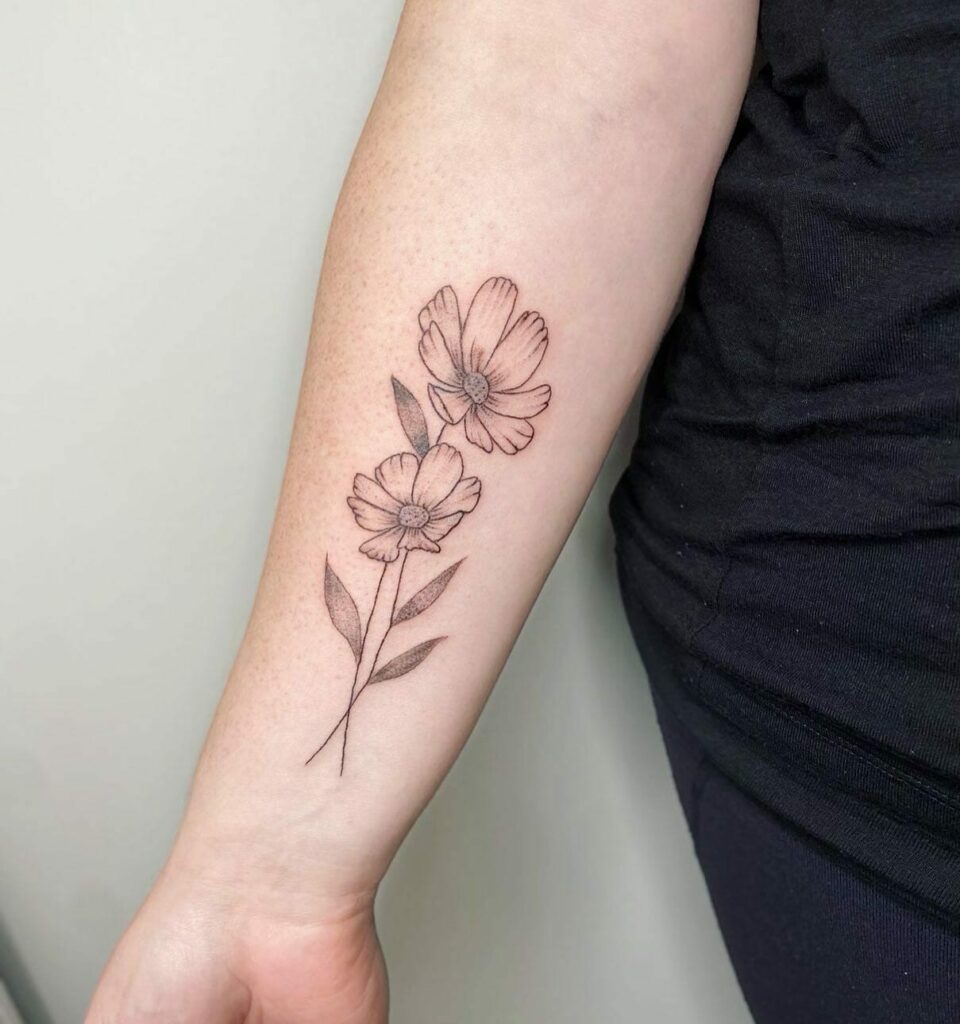 Floral tattoos are a great way to express yourself and commemorate important people or events in your life. If you're looking for a unique and meaningful October birth flower tattoo, consider the beautiful cosmos flower. This stunning bloom represents a variety of positive qualities, including innocence, joy, wisdom, honesty, and balance. Plus, with a range of colors to choose from, you can customize your tattoo to reflect your personal style and meaning. For a sleek and modern look, try opting for the fine line style of tattooing, which will give your cosmos tattoo a clean and precise finish. Whether you choose a small, simple design or an intricate and detailed piece, your cosmos birth flower tattoo is sure to be a beautiful and meaningful addition to your body art collection.
Cosmos Tattoo Ideas With Other Symbols Or Motifs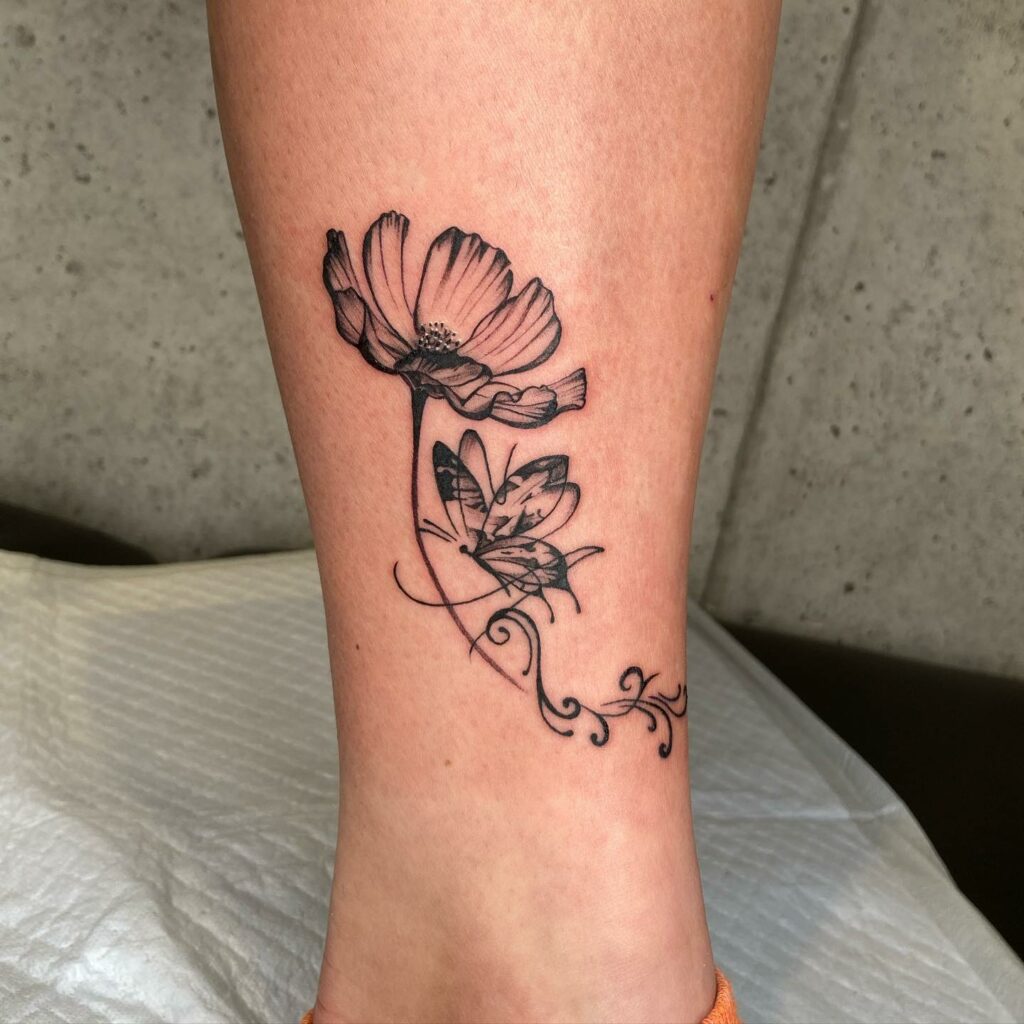 The idea of birth month flowers has become very popular around the world. Each month is associated with a different flower, such as the daisy for April and the daffodil for March. These flowers have unique meanings that represent hope, joy, prosperity, peace, and new beginnings. The beauty of a birth flower tattoo is that you can add your personal touch to it by incorporating other symbols or objects that hold significance for you, like a butterfly or a star.
Adding deeper meanings to a floral tattoo makes it even more special and unique to the individual. An October birth flower tattoo is a great option to express your individuality and style. With so many flowers to choose from, you can pick one that speaks to you and create a design that carries a deeper personal significance.
feature image from Pinterest – Want your tattoo to look brighter? Try "Tattoo Balm"
Last reviewed and updated on September 15, 2023