In search of a bold new way to express yourself? Look no further. We've got you covered with some stellar back neck tattoo ideas for men.
Tattoos aren't just a trend; they're a timeless form of self-expression. A deft artist armed with ink and needle can transform your skin into a canvas, showcasing stunning works of art.
And, let's be honest, there's something undeniably compelling about a neck tattoo. It's a statement, a reflection of your ethos, and a conversation-starter all rolled into one.
Whether you're drawn to motifs steeped in spiritual symbolism or designs that represent a fresh start, tattoos are as diverse as the people who wear them. They can illuminate life's myriad meanings and encapsulate cultural narratives. Take, for instance, the intricate motifs of Native American tattoos, each telling a unique story.
Men, in particular, seem to have a fondness for tattoos, gravitating towards designs that span across the upper back, shoulder, and neck — locations that undoubtedly amplify their aura.
But a tattoo isn't just a piece of art; it's a deeply personal emblem. From designs that echo your worldview to symbols of spirituality, or depictions of natural elements like dream catchers, lions, eagles, and guardian angels, tattoos can embody a variety of sentiments.
So, whether you're honoring someone special, enhancing your physical appearance, or simply expressing your unique personality, this collection is sure to inspire. We've curated an array of designs, from small and discreet to bold full neck tattoos that are sure to make a statement. Let's dive into these awe-inspiring back neck tattoo ideas for men.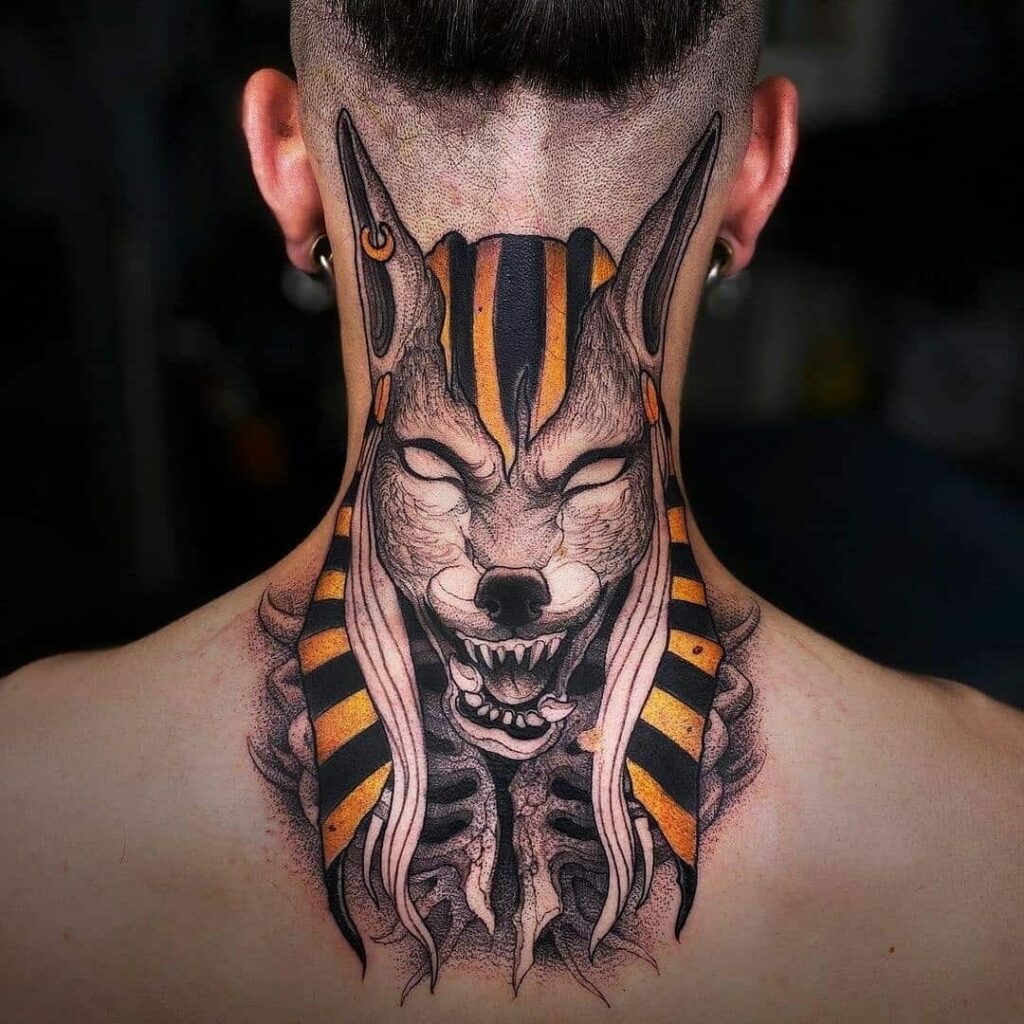 Tribal Neck Tattoo For Men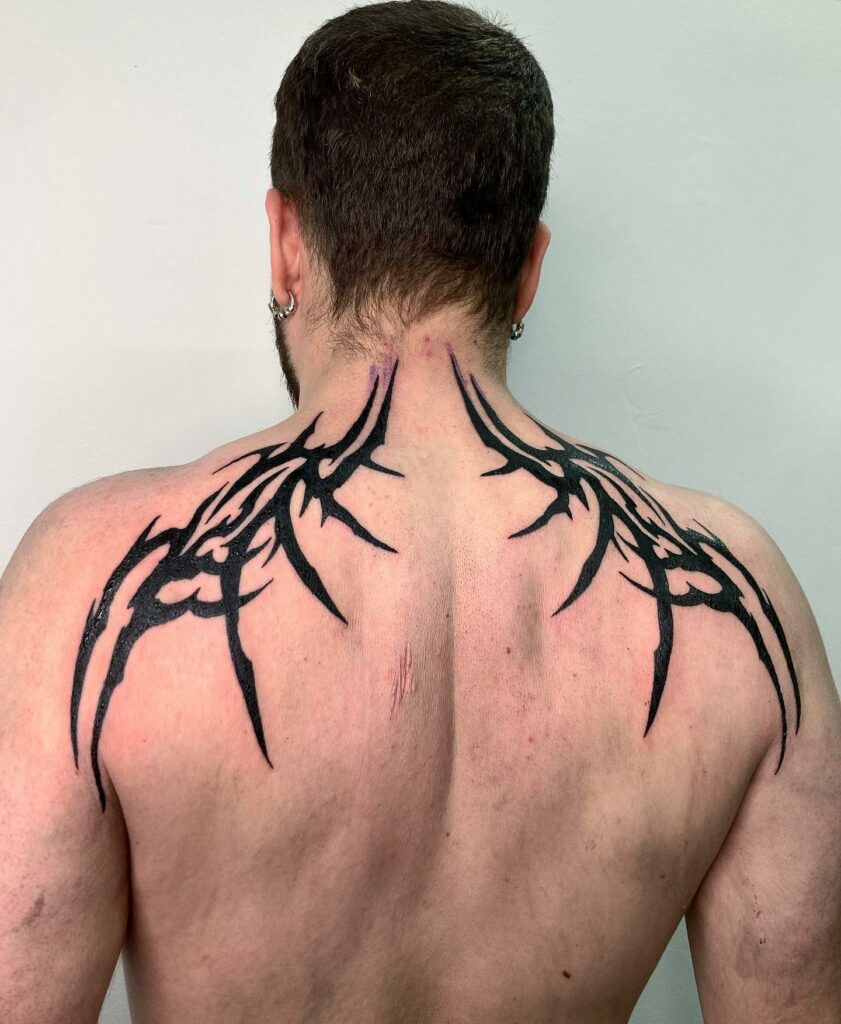 Tribal tattoos are deeply rooted in culture and hold intricate meanings that vary from one culture to another. This particular men's back tattoo is a perfect representation of the tribal culture, with the design ending on both shoulders and leaving the spinal cord blank. The tattoo artist has used black ink to fill the body part, skillfully representing the tribal beliefs and traditions. Tribal tattoos often tell stories of the wearer's heritage and accomplishments, and are symbolic of power and protection. They also celebrate strength and other cultural values. This men's back of neck tattoo is a fascinating and attractive example of tribal tattoo designs, and is definitely worth considering if you want to explore this style.
Entire Neck Tattoo Men
When it comes to men's tattoos, black ink is a popular choice, and this neck tattoo is a great example of that. The symmetry of the design adds to its charm, while the mystery of the shapes used make it all the more interesting. The design extends from the neck to the wrist, making it a throat tattoo as well. This geometric design is not only aesthetically pleasing but is also symbolic of balance, intelligence, stability, and symmetry. These shapes tie into religious practices and spirituality that dates back to ancient times. The various shapes used in the design are a reflection of the wearer's personal values and beliefs. This back of the neck tattoo for men can also be placed on the side of the neck to enhance your look.
Dove Tattoo For Men
This side neck tattoo featuring a flying dove is a great design for men who value their religion and spirituality. The intricate details of the dove's wings make it stand out and look amazing on the man's neck. Doves have various meanings in different cultures and are commonly associated with peace, love, and new beginnings. In the story of Noah's Ark, a dove represents fresh starts and new beginnings, making this tattoo perfect for those who want to reflect on those symbols. This is a popular men's neck tattoo design that you should definitely consider if you want to make a statement with your ink.
Majestic Neck Tattoo For Men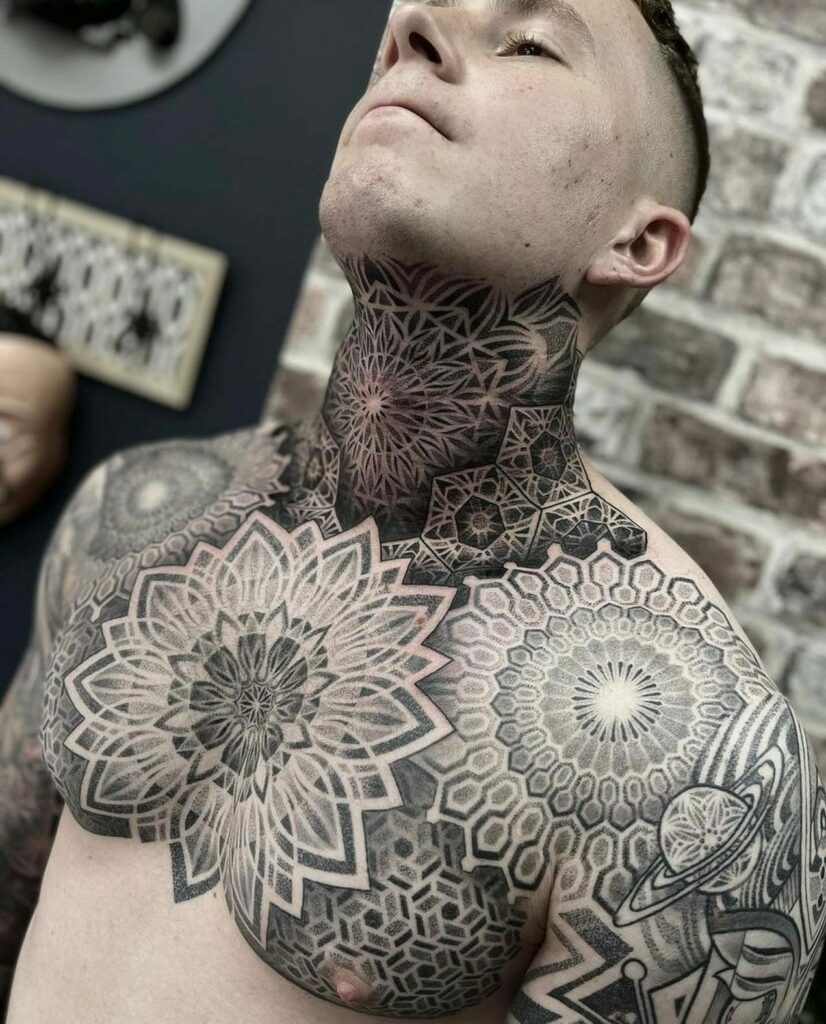 The design of this neck tattoo is simply breathtaking and truly mesmerizing. It features a stunning Mandala art style that covers the throat, front neck and chest of the wearer with intricate and detailed shapes. The Mandala design is known for its reflection of balance, perfection and eternity, and it truly shines in this tattoo. Geometric designs like this one often symbolize order and stability, and can carry personal or universal meanings.
The symbolism of Mandala art is deeply rooted in spirituality and is often used as a tool for meditation and self-discovery. The intricate designs of Mandala art are believed to represent the universe and the connection between the inner and outer self. When it comes to this specific design, it truly adds an ethereal and otherworldly look to the wearer's appearance.
This neck tattoo design is a perfect choice for those who want to make a bold statement with their body art. It is a true masterpiece that showcases the beauty and power of Mandala art. Whether you choose to wear it on your front neck or back neck, this masculine design is sure to turn heads and leave a lasting impression.
Sailor Neck Tattoo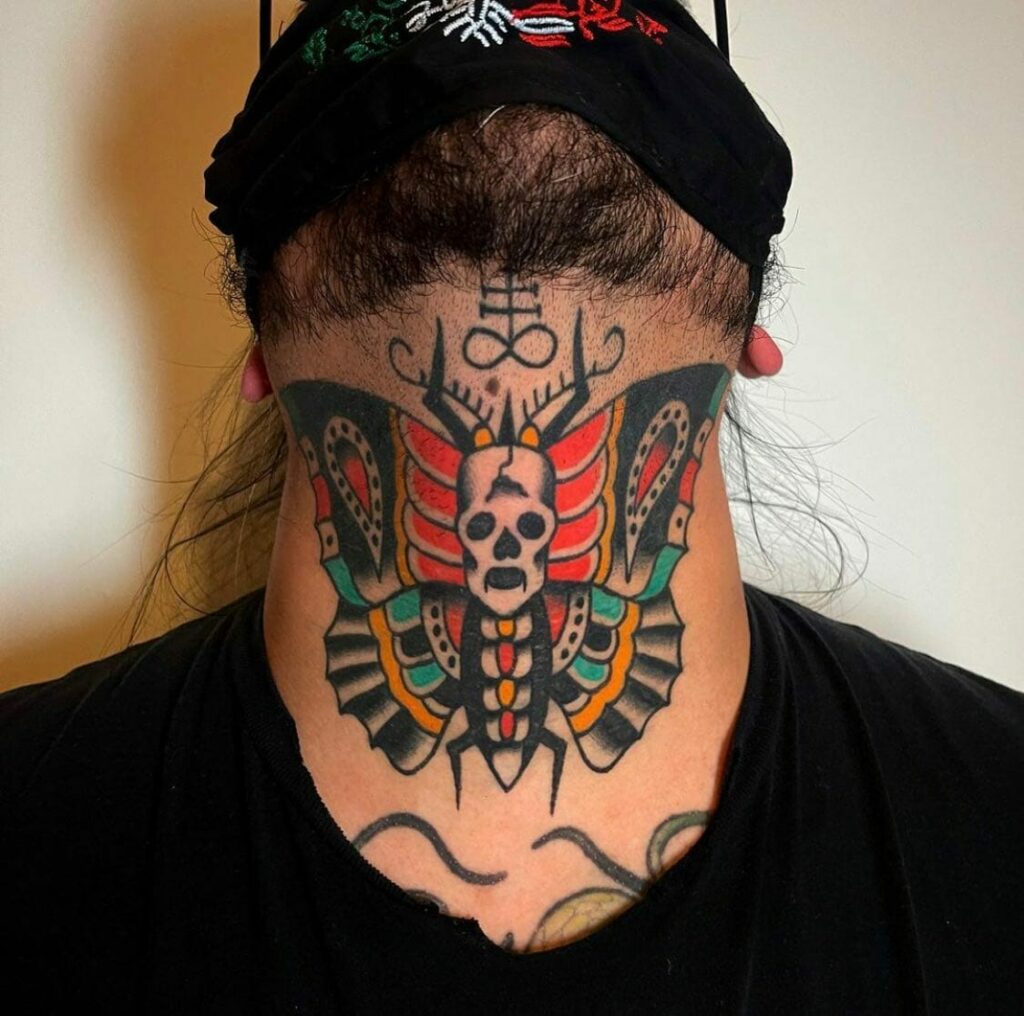 This colourful throat tattoo features a unique design of a moth with a skull head, falling under the category of traditional sailor tattoos. Sailor tattoos were popular among sailors and often included nautical symbols such as anchors, swallows, and pirates. These tattoos symbolized guidance, protection, and good luck.
The skull head on this tattoo also holds significance. The death head mock represents the inevitability of death and the wearer's ability to endure pain. The skull has been used in various cultures to signify death and the afterlife.
If you're interested in sailor tattoos and their traditional symbols, this neck tattoo design could be an excellent choice. The colourful design and unique moth with a skull head make for an eye-catching piece of body art that also carries deep symbolic meanings.
Geometric Back Neck Tattoo Men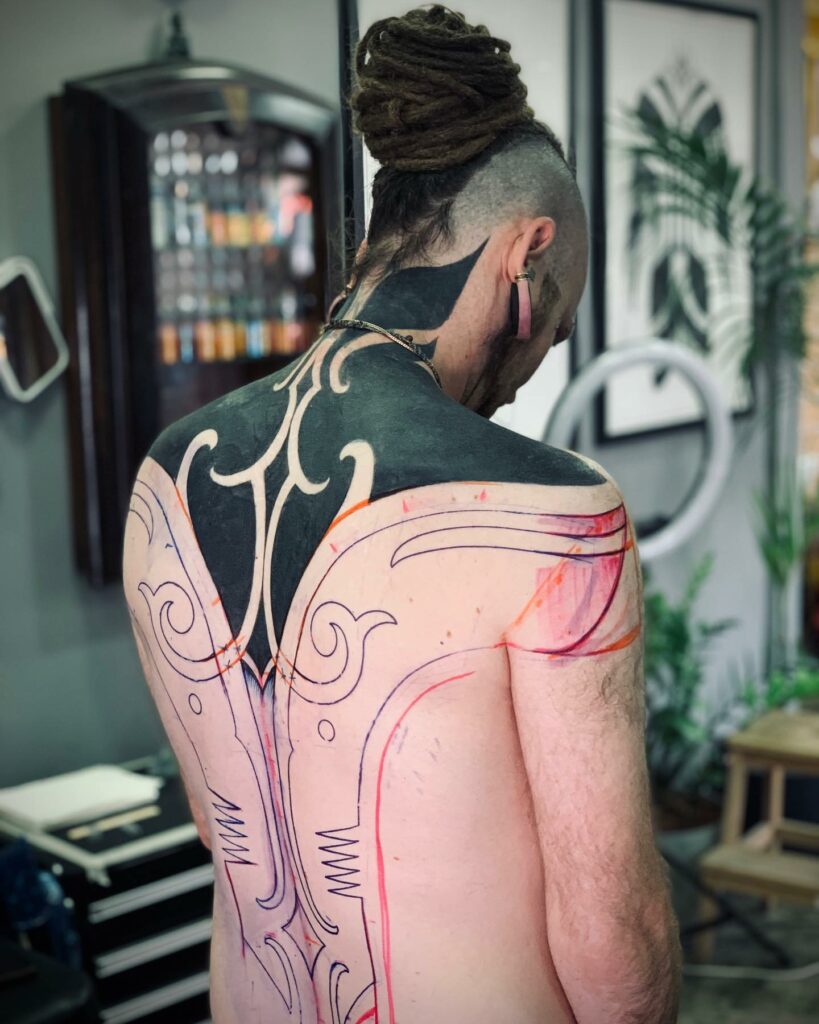 This amazing tattoo covers the entire back of a man and belongs to the category of geometric back tattoos, popular among men. The tattoo design is remarkable and provides a distinguished look to the person wearing it. Geometric tattoos require a precise and symmetrical approach to look good as every small error is noticeable by the onlookers. If you have an inclination towards simple geometric shapes, then you can opt for a geometric neck tattoo. Geometric tattoos are symbolic of stability, harmony, and order. This design is mysterious and reflects intelligence and stability. Geometrical shapes have been a part of religious practices since ancient times, and the neck tattoo design also has the ability to reflect the wearer's spirituality.
Eye Neck Tattoo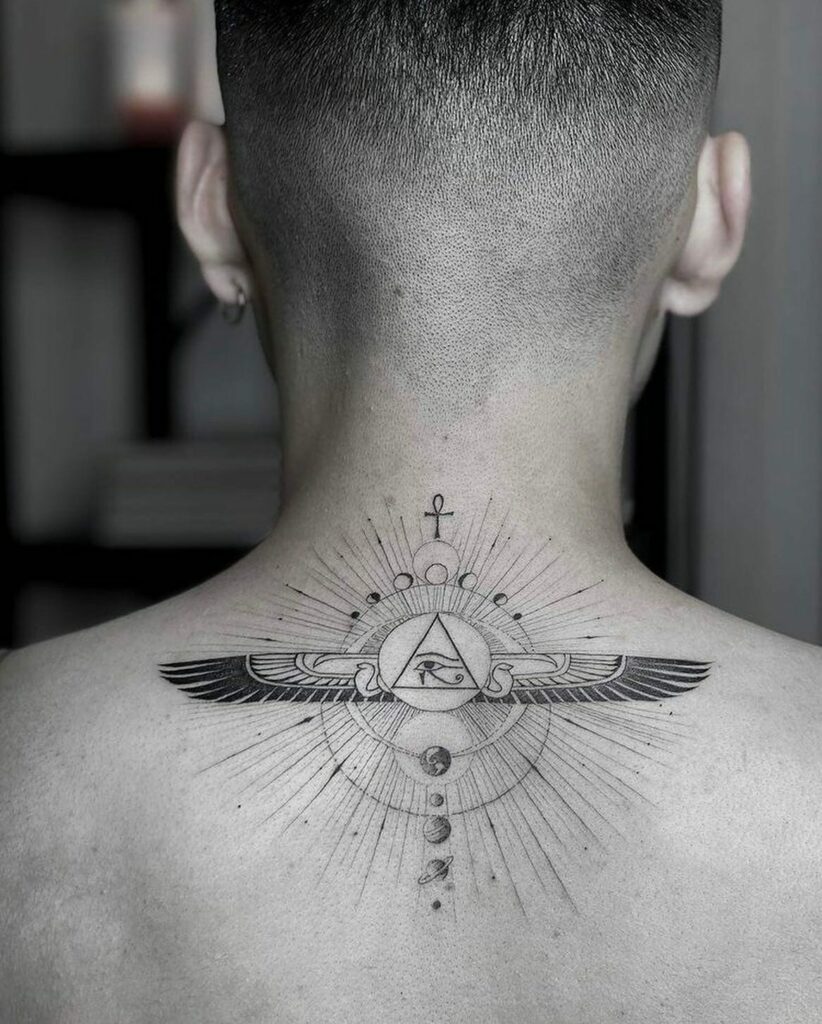 Having an eye neck tattoo can be a fascinating idea, especially for men who are looking for a masculine and meaningful design. This particular neck tattoo features an eye that can be interpreted as the third eye or the Eye of Horus. The design is also embellished with other shapes that add to its complexity and appeal.
Eye tattoos generally convey a sense of knowledge and clarity. People often associate them with protection and guidance, as they symbolize the all-seeing eye of God that watches over humanity. It's no wonder that this particular tattoo design has gained popularity in recent times, and it can also be a great choice for women looking for neck tattoo ideas.
Back Neck Tattoo For Men Wings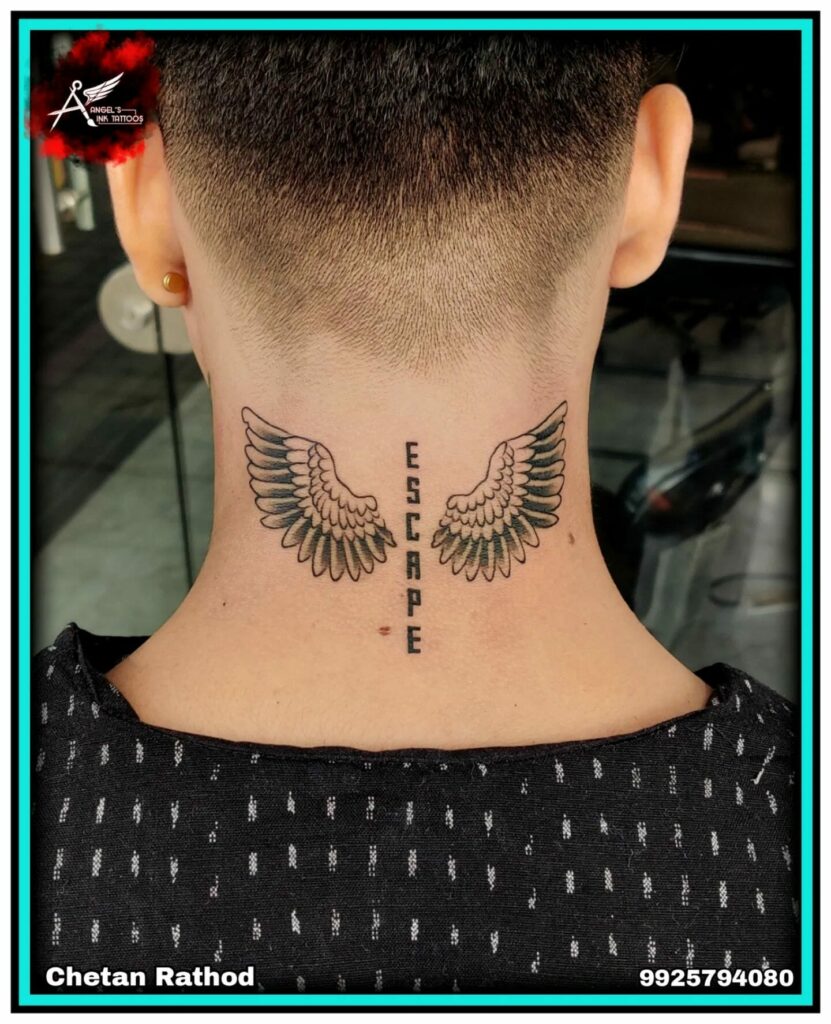 Wing tattoos are a popular choice for those seeking a symbol of freedom and protection. This particular design features a set of wings inked on the back of the neck, accompanied by the word "escape". The concept of escape can represent breaking free from societal constraints or personal limitations. Both men and women find wing tattoos attractive and meaningful. Wing tattoos can also be used to honor one's faith or commemorate the passing of a loved one. Ultimately, the meaning of a wing tattoo is personal and unique to the individual who wears it.
Crown Neck Tattoo For Men

The Crown tattoo on the man's neck is a design that is gaining popularity due to its association with a sword and wings. This combination has created a loyal following, with many people opting for sword tattoos adorned with crowns and wings, making it a popular wings neck tattoo.
A Crown tattoo represents influence and authority, while also symbolizing power and royalty. The sword signifies the strength and determination to fight for what you believe in and never give up, and when combined with wings, it symbolizes eternal love. The amalgamation of these three elements is associated with victory, strength, and triumph, along with the idea of eternal love that can inspire and uplift everyone. If you are looking for a tattoo that signifies strength and authority, then a Crown tattoo might be a perfect choice for you.
Rose Tattoo For Men
The rose tattoo with a skull design is a popular choice for men and is often placed on the back neck. This tattoo design symbolizes the idea of life and death, as well as the balance between beauty and vitality. The skull, which is often included in this design, represents the struggle between good and evil. On a deeper level, the rose tattoo with a skull signifies the idea of overcoming obstacles and enemies, and the birth of a new life.
Tattoos have always been a way for individuals to express their beliefs and culture through body art. Whether it is a religious, patriotic or even a barcode tattoo, each design tells a story about the wearer. When it comes to neck tattoo ideas for men, there are many options to choose from. You can work with a tattoo artist to create a unique design that suits your personal style and beliefs, ensuring that you have a one-of-a-kind piece of body art.
feature image from Pinterest