Hey there, adventurous tattoo lovers! If you're on the hunt for a tattoo that reflects your daring spirit and willingness to try new things, look no further than our collection of the amazing back of neck tattoo ideas!
A tattoo on the back of your neck is a bold statement that reveals a lot about your fearless personality. Whether you're a man looking to showcase your strength or a woman wanting to embrace the latest fashion trend, a back of neck tattoo is a surefire way to make a statement.
But before you take the plunge, it's important to know what you're getting into. Back of neck tattoos can be quite painful, as the neck and spine are incredibly sensitive areas with lots of nerves and nerve endings. The thin layer of skin also means that the needle can reach the nerves, causing significant discomfort.
To avoid any complications or risks, it's crucial to take proper care of your back of neck tattoo during the healing process. This includes keeping your hair up at all times, applying an unscented moisturizer to promote healing, and keeping the area clean and dry.
So, are you ready to embrace your adventurous side with a stunning back of neck tattoo? Take a look at our list of inspiring designs and get ready to turn heads with your bold new ink!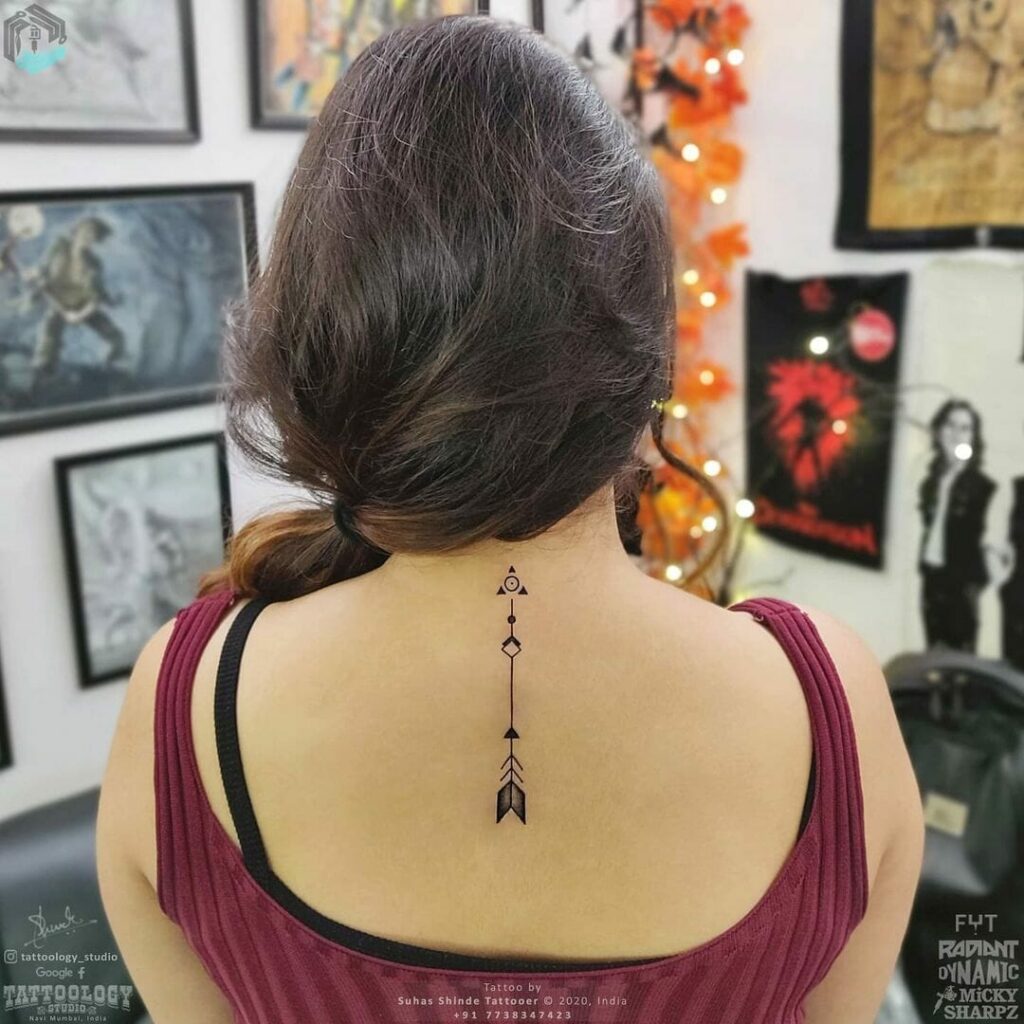 Minimal Back Of The Neck Tattoos For First-Timers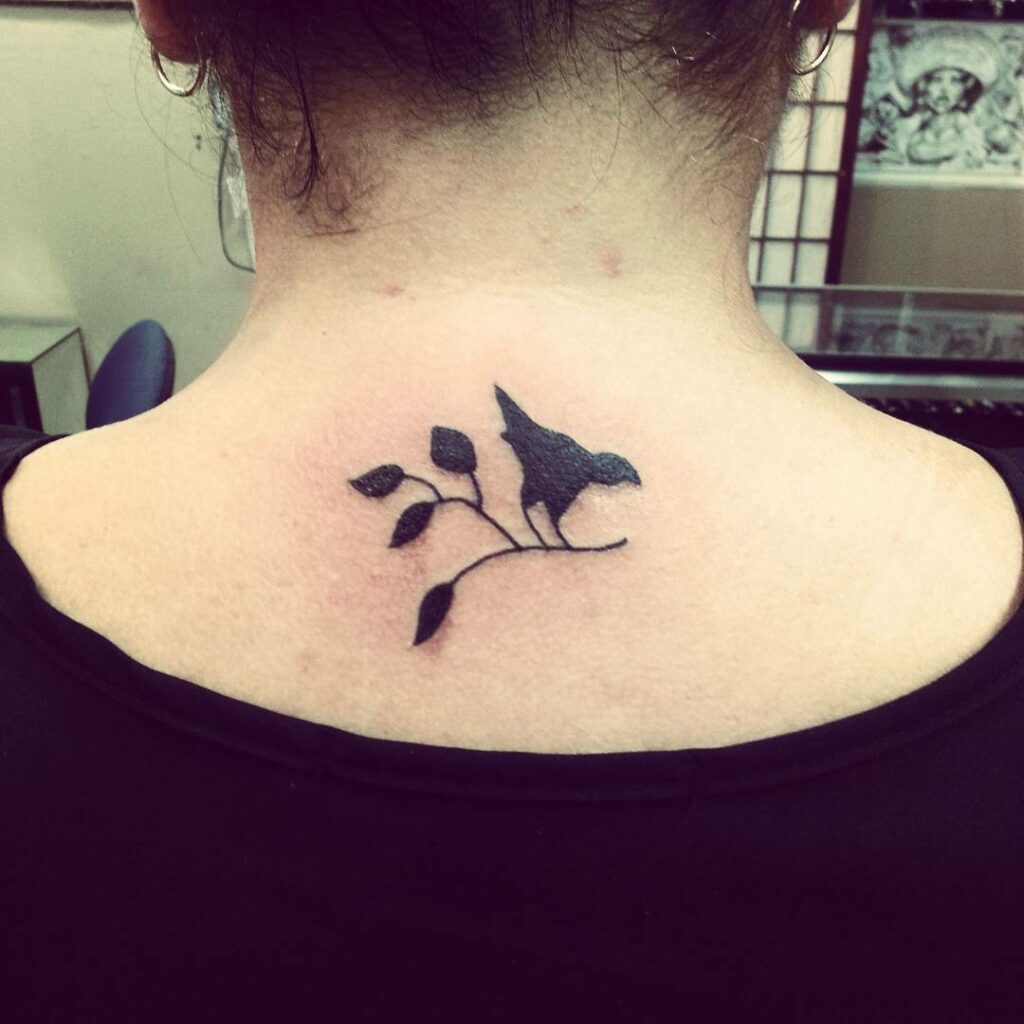 Getting your first tattoo can be a nerve-wracking experience, but it doesn't have to be! A small and delicate back of neck tattoo design could be the perfect starting point. There are many minimalistic tattoo ideas to choose from, including popular symbols like the sun, stars, or birds. If you're feeling more adventurous, consider geometric patterns or intricate shapes for a unique and eye-catching design. Despite their simplicity, these tattoos can be incredibly elegant and beautiful. With the right tattoo artist, you can achieve a stunning back of neck tattoo that will turn heads.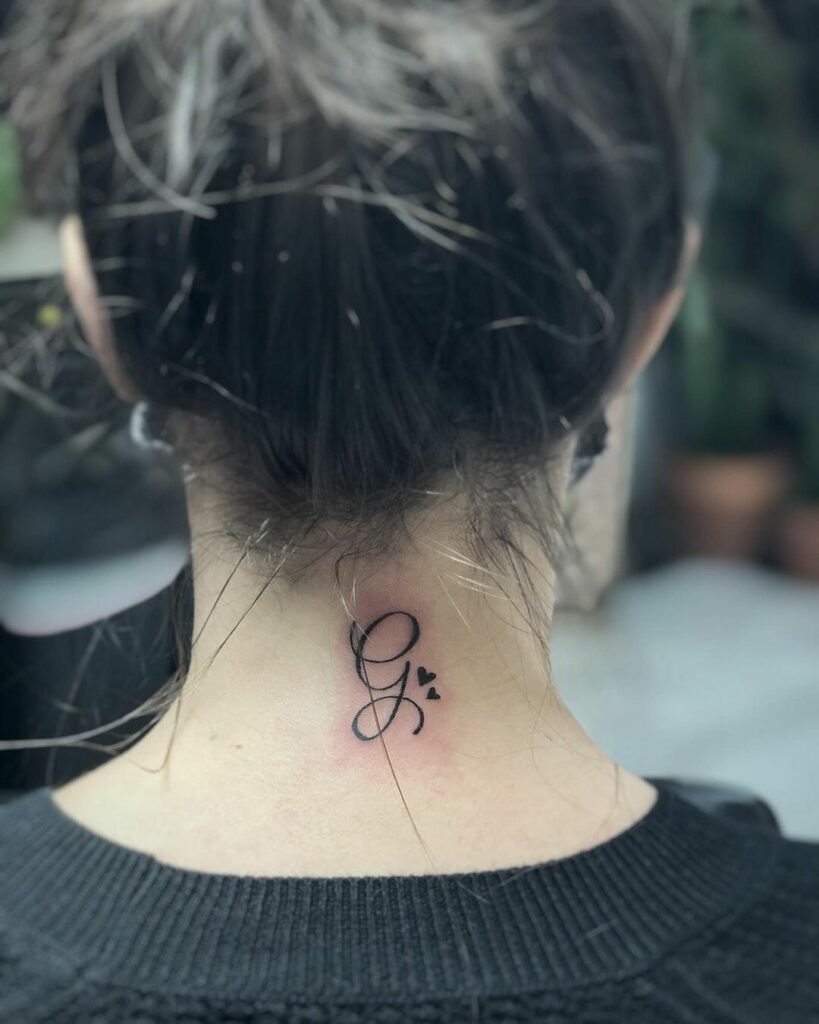 When it comes to expressing your love for someone special, the back of your neck can be a great spot for a tattoo. Getting the initials of your loved one or a meaningful word or phrase like "Hope" or "Strength" can be a beautiful way to symbolize your love and personality. While getting a tattoo on the back of your neck can be painful, it's a popular spot for those who want to show off their bold and cool tattoo designs. With so many options for designs and meaningful phrases, the back of your neck is the perfect place to showcase your creativity and style.
Bright And Colourful Back Of Neck Tattoo Ideas
A colorful back of neck tattoo is the way to go! From vibrant primary hues to delicate pastels, the possibilities are endless. While these tattoos may come with a higher price tag due to the type of ink and the amount of time it takes to create them, they are an investment in wearable art that will last a lifetime.
Remember, a tattoo is a reflection of your personality and should be treated with care and consideration. If you're up for the challenge and want to add a pop of color to your collection, a colorful back of neck tattoo is a fantastic choice that is sure to impress.
Complex Designs For The Perfect Back Of Neck Tattoo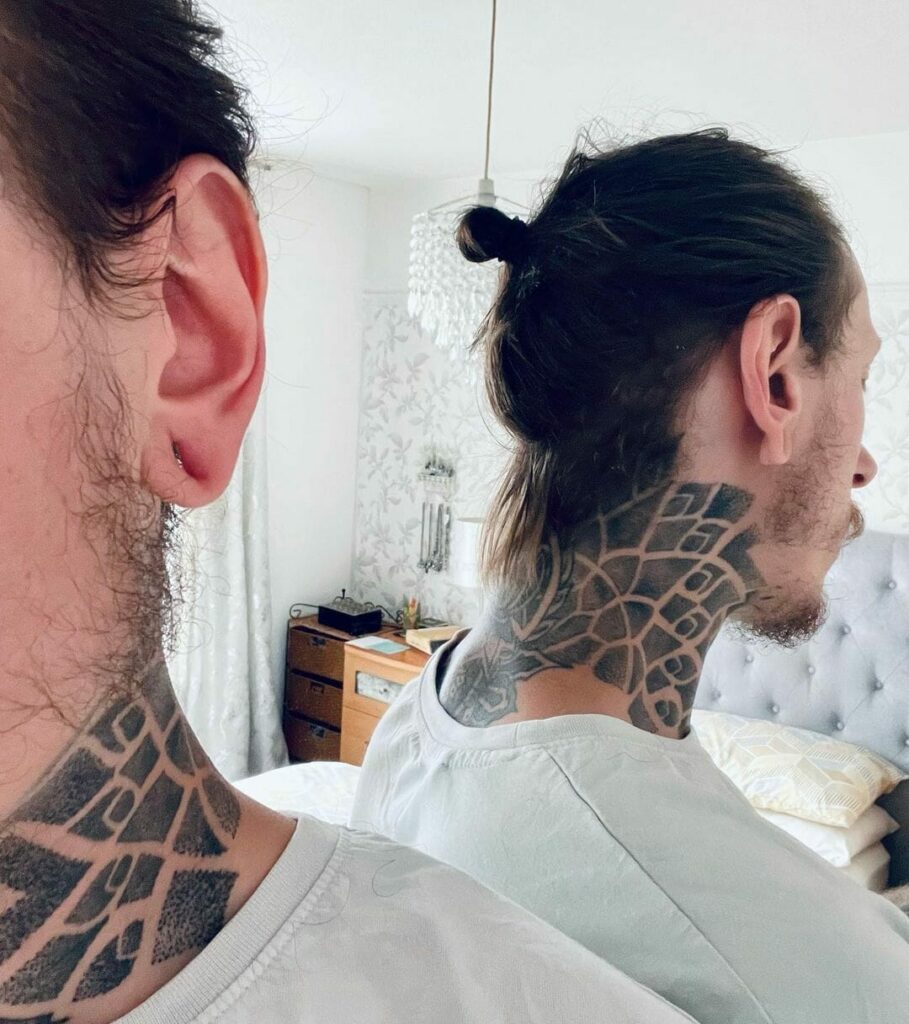 While small and simple designs are always an option, you can also explore the world of complex and detailed back of neck tattoo designs. Don't be afraid to express yourself and work with a trusted tattoo artist to create a unique piece of art that perfectly represents you.
One popular trend is to expand the tattoo from the back of your neck to your shoulder, allowing for even more room to showcase your creativity. Geometric patterns are a go-to choice for many, but if that's not your style, don't worry! There are plenty of other symbols to choose from, such as crowns or skulls.
The tattoo in the picture demonstrates a beautiful contrast between the dark parts of the design and the natural complexion of the skin. Keep in mind that larger, detailed designs may come at a higher cost due to the amount of time and skill required to complete them. But when it comes to a piece of art that will be with you for life, it's worth investing in the best
If you're looking for a back of neck tattoo that is both sleek and straightforward, a design without heavy shading could be the perfect option for you. This style creates a clean and defined look that highlights the natural contours of the neck, resulting in a beautiful patchwork-like effect on the skin. This approach can be an excellent choice for those who prefer minimalistic, elegant designs and want to keep their tattoo understated yet stylish.
Special Back Of Neck Tattoos For Religious People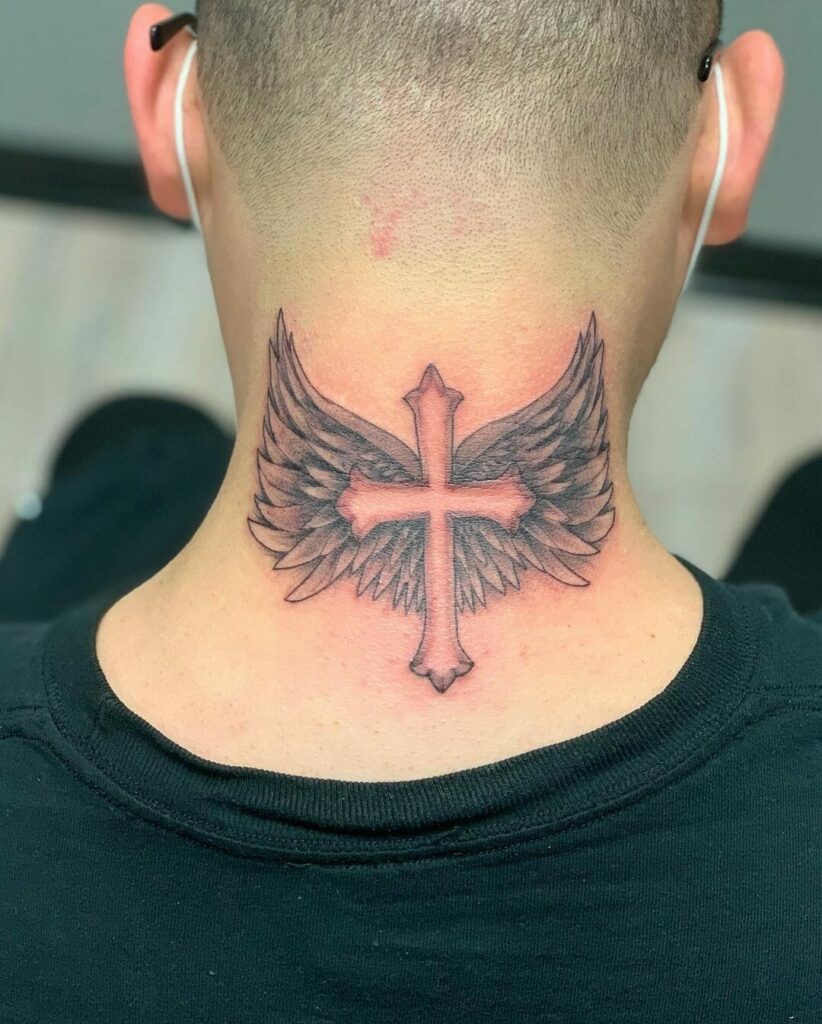 Back of neck tattoos have been gaining popularity, especially religious tattoos. These tattoos can be incredibly meaningful, and there are many religious motifs to choose from, depending on your beliefs. Christians often get a Cross tattoo on the back of their neck, which holds special significance as it represents the sacrifice of Jesus Christ for humanity. Others may choose to get a tattoo of wings, symbolizing the wings of an angel. People often choose to get a Cross tattoo on the back of their neck, as it is a symbol of peace and tranquility.
Instead of a religious symbol, some people prefer to opt for a tattoo design that represents the devil. A skull or a crown is commonly associated with the devil in various cultures and religions. If you have a specific design in mind, a tattoo artist can help bring your vision to life by creating a beautiful and unique design for your back of neck tattoo. Don't be afraid to get creative and explore different options to find a tattoo that truly represents your personality and style.
Back Of Neck Tattoos With Beautiful Butterfly Designs
Butterfly tattoos are an excellent choice for women who seek a unique and unconventional symbol of strength and beauty for their neck tattoo. The butterfly's dainty wings create a piece of art on your skin, as seen in the picture. With a variety of colors and designs to choose from, you can find the perfect butterfly tattoo to suit your style and personality.
You can further enhance your butterfly wings neck tattoo style by adding flowers to the design.
Bird tattoos are a popular choice for neck tattoos, with the hummingbird being a preferred option among women and the eagle among men. Eagle tattoos symbolize power, strength, and freedom, and are a great way to express your inner self. The tattoo can be designed to highlight the wings, beak, or feathers of the eagle, depending on your preference. You can choose to get a realistic or an abstract representation of the bird to suit your taste. The possibilities are endless when it comes to neck tattoos, and eagle tattoos are a great choice for those who want to showcase their power and strength.
Lovely Back Of Neck Tattoo Designs With Floral Patterns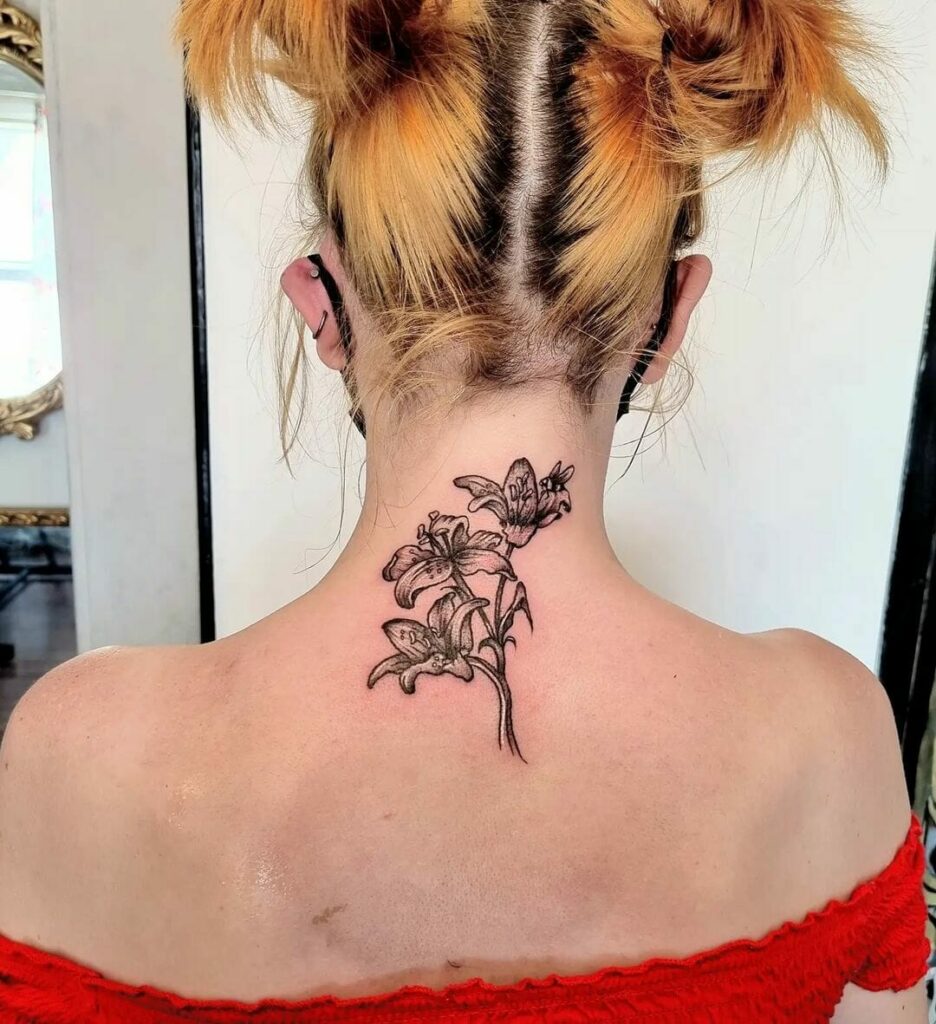 Flower tattoo designs are a top choice among women for back of neck tattoos. They add a delicate and beautiful touch to the skin. You can choose a minimalist monochromatic design, or opt for a more complex and colourful flower pattern. With a variety of flower designs available, it's easy to find one that fits your style and personality. Whether you choose a simple daisy or a bold rose, a flower tattoo on the back of your neck is sure to turn heads.
Flowers are a common and popular choice for back of neck tattoos, especially among women. Out of all the flowers, the rose tattoo is the most sought-after design. The color of the rose holds special significance as it can symbolize different human qualities and virtues. For example, a red rose tattoo represents love and passion, while a white rose tattoo symbolizes royalty. The rose has a rich historical significance, and it is a perfect choice if you wish to express love and passion through your back of neck tattoo.
If you want to explore different flower options for your back of neck tattoo, then you should check out the beautiful Lily of the Valley tattoo designs. They are delicate and elegant, and can be a great choice for those who want something unique and unconventional.
Unique Back Of Neck Tattoo Ideas For Remembering A Special Date
Another unique idea for a back of neck tattoo is to commemorate a special day in your life with a date tattoo. Whether it is the day you got married, the birth of a child, or a significant accomplishment, having the date tattooed on the back of your neck is a beautiful way to remember and celebrate the moment forever. The tattoo can be done in different font styles or even in roman numerals, making it a personalized and meaningful piece of art.
When it comes to commemorating a special date on your back of neck tattoo, Roman numerals are a popular choice. They give your tattoo a classic and timeless look that stands out. If Roman numerals are not your style, you can also get creative with the numbers by arranging them in a unique geometric pattern. This way, you can have a stylish and meaningful neck tattoo that will always be a reminder of a special day in your life.
Stunning Back Of The Neck Tattoos With Yin-Yang Symbol
The Yin and Yang symbol is an immensely popular design for back of neck tattoos. This iconic symbol embodies the concept of balance and duality in life. It represents how the opposing forces in our lives are interdependent and in harmony with each other. The Yin and Yang tattoo design is a great way to symbolize your connection to the universe and your understanding of the cosmic balance that surrounds us.
The Yin and Yang symbol is not only a popular design for its representation of life's duality, but it can also be transformed into a badass tattoo with the right pattern. Instead of a complex design, you can opt for a minimalist approach, featuring just the symbols. This approach can be a great choice for those who seek serenity from the cosmic energy around us. The simplicity of the design allows the Yin and Yang symbol to stand out and grab attention, making it a fantastic option for a back of neck tattoo.
Amazing Back Of The Neck Tattoos With Fun and Quirky Motifs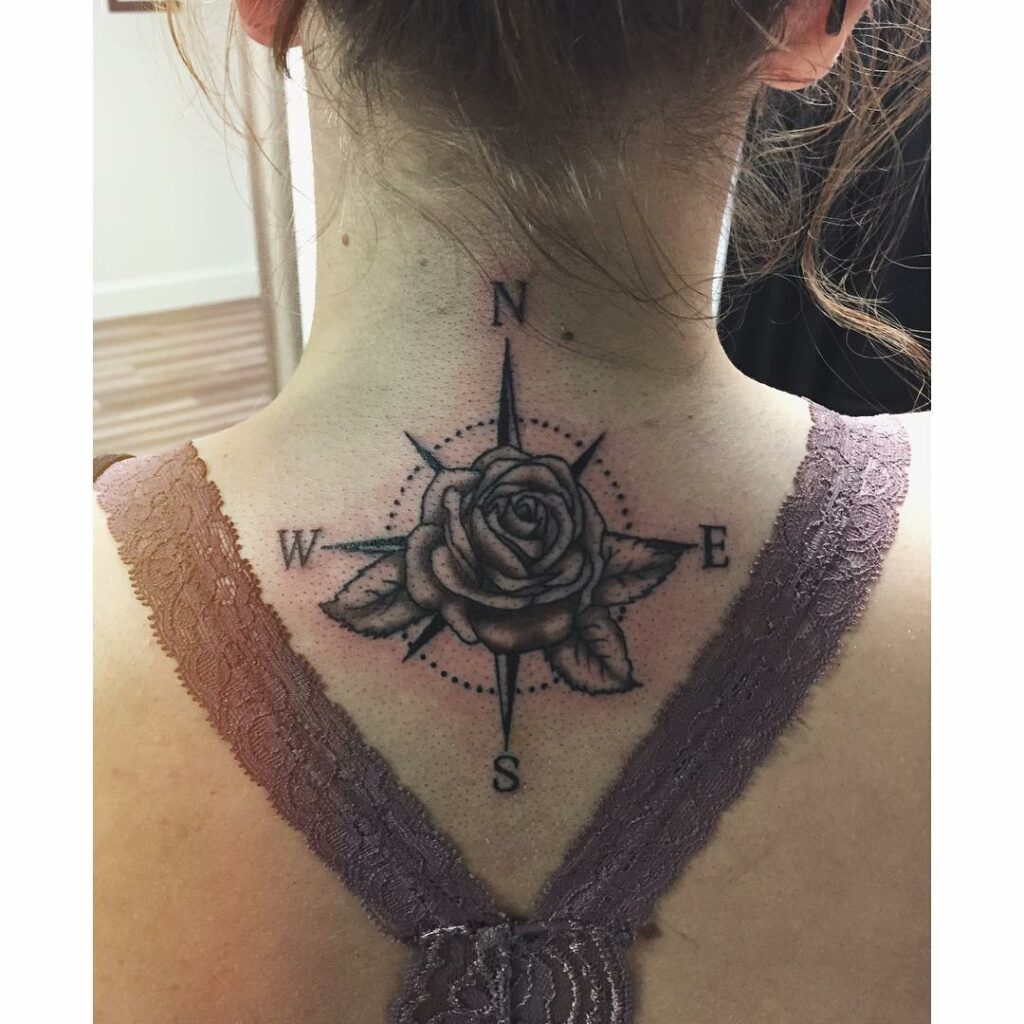 The placement of a back of the neck tattoo makes it a highly visible design that you can experiment with to your heart's content. While some people prefer geometric shapes or patterns, others opt for more meaningful and profound designs. In this example, the person has chosen a compass tattoo, which serves as a reminder that even in the midst of confusion and uncertainty, we can find our way back by following the North Star. This back of neck tattoo is an excellent choice for anyone who feels lost or directionless, as it provides a sense of guidance and hope.
If you're a fan of popular TV shows or movies like "Game of Thrones" or "Star Wars," there are plenty of cool symbols and designs you can choose from to get a unique back of neck tattoo. And for those who love the magical world of Studio Ghibli, there are stunning Princess Mononoke tattoos that you can explore and find the perfect design for you. With the help of a skilled tattoo artist, you can bring your favorite characters and symbols to life in a beautiful and meaningful way.
Gorgeous Back Of Neck Tattoos Which Look Like Jewellery
For those looking for a unique and eye-catching back of neck tattoo, why not try a design that resembles a piece of jewelry? Necklaces have always been a favorite accessory for women because of their ability to add to their overall beauty and attire. Whether it's made of pearls or gemstones, a necklace is always a classic addition to any outfit. With a back of neck tattoo resembling a necklace, you can have that feeling of dressing up all the time and make a bold entrance wherever you go. This unorthodox placement, coupled with delicate lines and bright stones, creates a stunning and daring tattoo design that will surely turn heads.
Although not a common choice, back of neck tattoos have become increasingly trendy over the years due to their freedom and amazing designs. They are always visible and can rarely be hidden, making them a bold statement piece. So if you're willing to take a risk and get a stunning back of neck tattoo, the rewards will undoubtedly be worth it!
feature image from Pinterest – Want your tattoo to look brighter? Try "Tattoo Balm"