Do you have a daring and bold personality and like to do what you have been told not to? Then here are some bad apple tattoos that you can get!
A bad apple symbolizes someone who is not a good influence upon others and often defies authority.
From our childhood, we have been taught that a bad apple is a rotten fruit that spoils the other fruits. We were taught that we must be obedient and follow rules all the time to be a good influence, unlike other bad apples. However, many grow up to realize that some rulers are unfair and are kept in place to restrain and restrict us. Thus, a bad apple tattoo would be perfect for those people who are free and do not follow rules to lead lives in their own way.
Bad Apple Tattoo Designs With The Biblical Serpent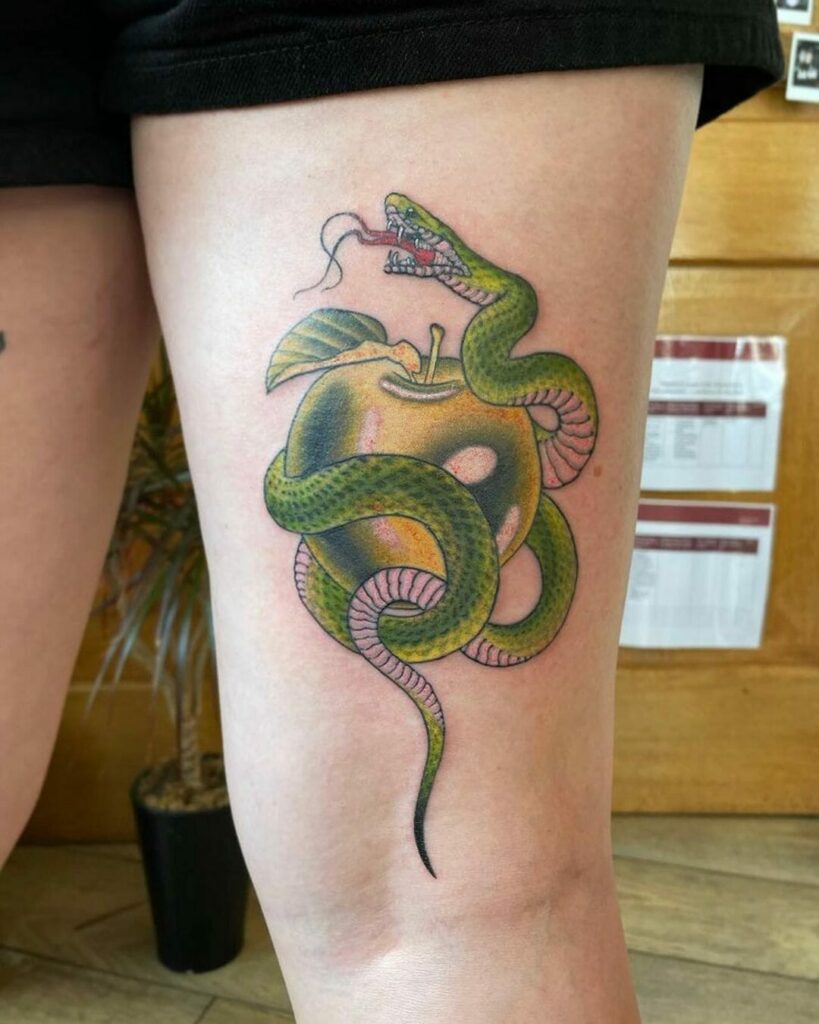 One of the most popular bad apple tattoos is the design with a snake. According to the Bible, God had asked Adam and Eve not to eat the Forbidden Fruit but a snake had deceived Eve into eating it anyway. However, many look at the story in a positive light and think of Adam and Eve as those who dared to experiment.
Thus, if you want to show that you are not afraid of trying out new things, you can get this bad apple tattoo done.
Rotten Bad Apple Tattoo Designs
The most common way of showing a bad apple is to show that it is rotten. After all, a rotten apple spoils the entire bunch. If you are someone who likes to be a bad influence and are not scared of punishments, then this one is for you!
Bad Apple Tattoo Designs With Blood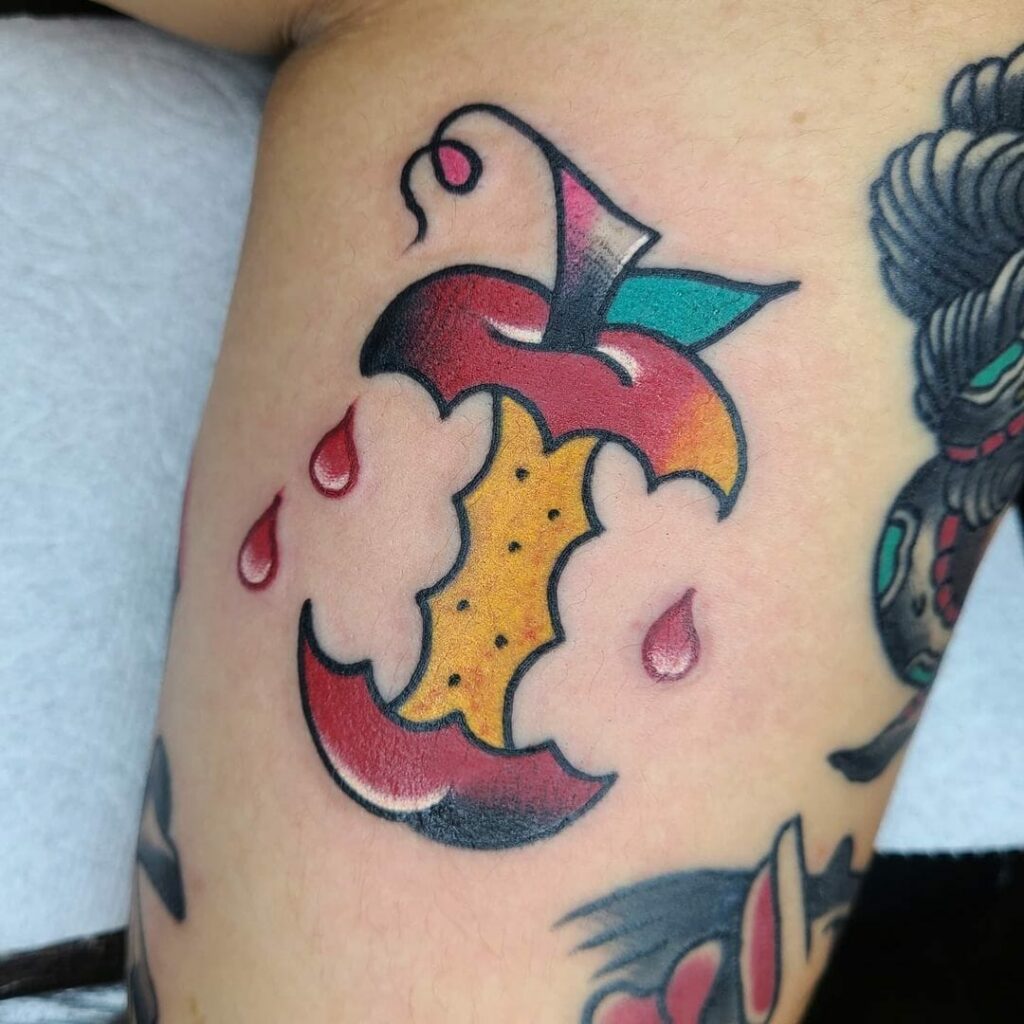 Many people don't like monochromatic tattoos and add vibrant colours to further enhance their tattoo experience. With a bad apple tattoo, you can add red colour to your tattoo to make it look more realistic. You can also add blood to the tattoo in order to signify danger.
If you think you have an unpredictable personality, you can also check out these 8 ball tattoo ideas.
Unique Bad Apple Tattoos
If you are looking for a unique bad apple tattoo, then you can draw inspiration from this picture. This tattoo has turned the shell of a snail into a bad apple. The tattoo is combining the meanings of a bad apple along with the bad qualities of a snail, like laziness.
Bad Apple Tattoos With Skull Motif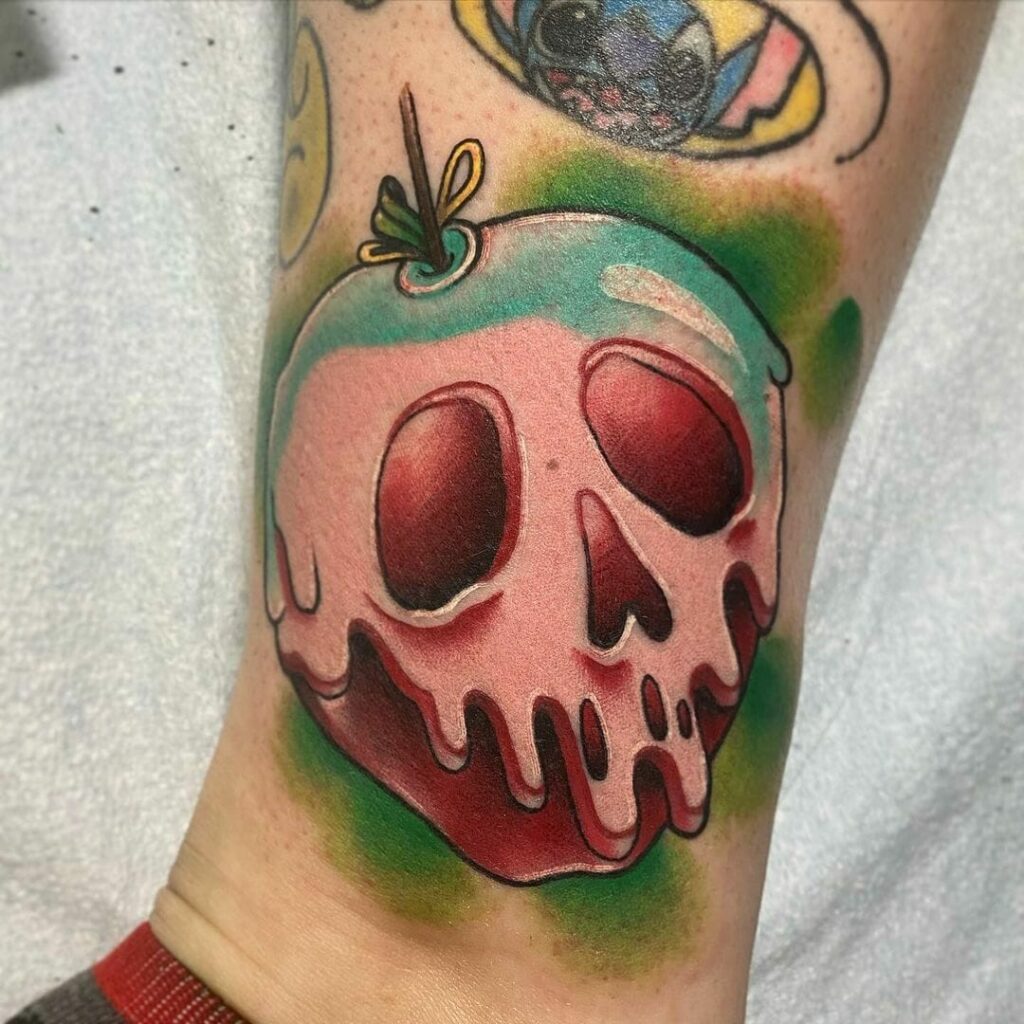 If you are going to get a bad apple tattoo on your back or your bicep, you should look at unique and uncommon designs. Many tattoo artists put a unique twist to the bad apple tattoo by mixing it with a skeleton. As seen in the picture, a skull mixed with the bad apple is creating an amazing effect.
If you play the video game Dishonored which has an anti-hero protagonist, you can check out these awesome Dishonored tattoos.
Monochromatic Bad Apple Tattoo Designs
While most bad apple tattoos are filled with colour, you can also walk a different path and choose a design that is completely black in colour. As seen in the picture, the bold black colour of the tattoo is enhancing the beauty of the tattoo.
Bad Apple Tattoos With Worms
If you are getting a tattoo done for the first time, you can look at a number of bad apple tattoo designs. Once you decide upon a couple of designs, you can add more motifs and symbols to it. As seen in this picture, the worms make it look as if the apple is really rotten.
Dark And Edgy Tattoo Ideas
If you want your tattoo to show that you are a true bad apple and do not have a friendly personality, you should look at dark and edgy bad apple tattoo ideas. For a great experience, you can ask your tattoo artist to draw the design according to your wishes.
Elaborate Bad Apple Tattoo Ideas
While most apple tattoos are small and minimal in design, you can also ask your tattoo artist to create an elaborate and ornamental design according to your preferences. These tattoos would look amazing on your chest or your back.
Half-Eaten Bad Apple Tattoo Style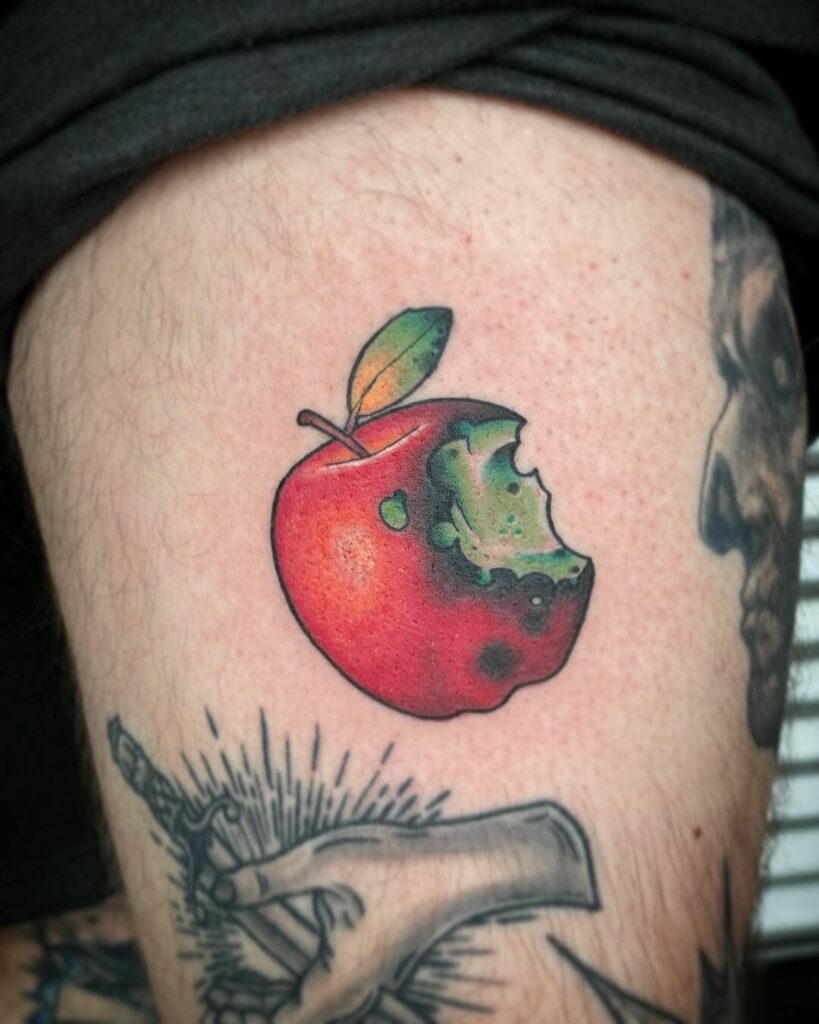 An apple might look fresh from the outside but reveals its rotten nature only when you cut it in half or you bite it. That is when most people notice that the apple has become stale. If you want a profound, meaningful bad apple tattoo, then you can get a half-eaten apple that reveals the true nature of the fruit.
A lot of data and content has been collected on various websites on the internet where you can check out amazing bad apple tattoo designs. Therefore, you just have to enter your browser and search for the perfect bad apple tattoo that speaks to you.
Feature Image from Pinterest – Want your tattoo to look brighter? Try "Tattoo Balm"
Last reviewed and updated on March 8, 2023