Hey there! If you're looking to show off your love for the Caribbean and Puerto Rico, why not go for a colorful and vibrant tattoo that showcases your pride? I recommend going for a design that features the classic red, white, and blue colors, making it a true representation of your heritage. Get ready to show off your amazing new ink!
Are you interested in celebrating your Puerto Rican heritage with a tattoo? Well, you're in luck! Puerto Rico has a rich and vibrant culture that is reflected in its body art. Taino people, who are the indigenous people of Puerto Rico, express their pride in their heritage by getting tattoos that represent their culture. These tattoos often feature the colors of the Puerto Rican flag, such as red, blue, and white, and include symbols like the Sun God, Moon Goddess, hibiscus, lighthouse, and Coqui frog. Each symbol has its own special meaning and helps to keep its culture alive. So if you're looking to show your love for your heritage, a Puerto Rican tattoo is the way to go! I've put together a list of 10 great Puerto Rican tattoos to give you some inspiration. You can get these designs inked at any tattoo studio in San Juan. Let's get started!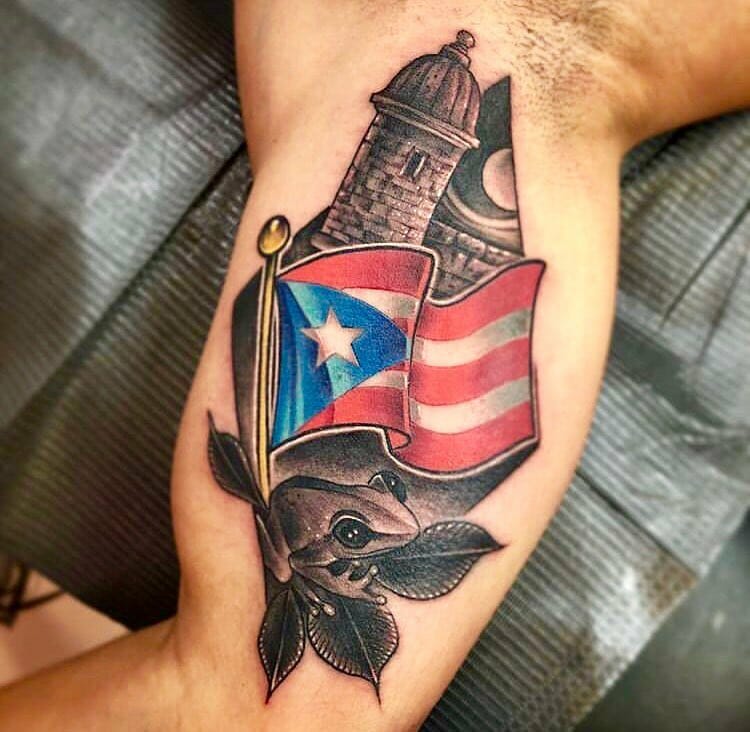 Puerto Rican Themed Half Sleeve Tattoo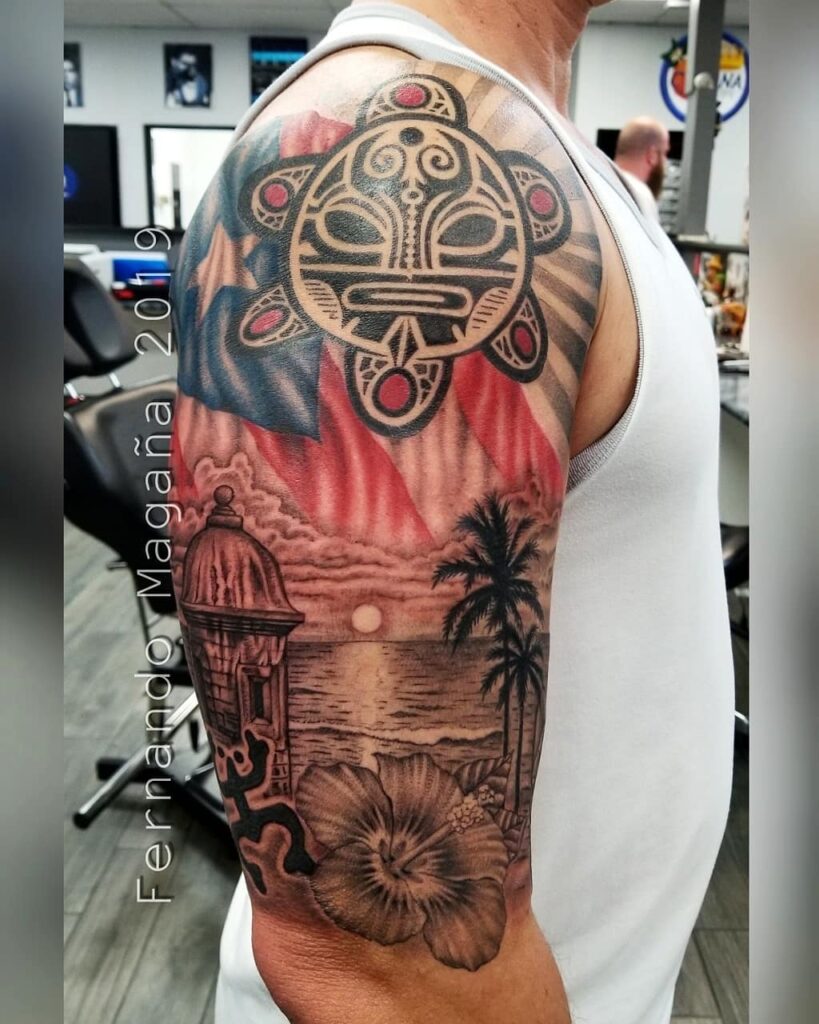 If you're a proud Boricua, what better way to show your heritage than with a stunning tattoo? The Caribbean island of Puerto Rico has a rich and diverse history, and lighthouses hold a special place in its culture. They're a symbol of safety and guidance, and they add to the breathtaking beauty of the island.
This tattoo perfectly captures the essence of Puerto Rican culture, with a lighthouse and hibiscus at its center. The bold color of the Puerto Rican flag in the background adds the perfect touch, making this tattoo a true masterpiece. It looks especially amazing as a half-sleeve on the bicep, but wherever you choose to place it, it's sure to be a conversation starter. Just make sure you choose a talented tattoo artist who will bring your vision to life. With proper care, this tattoo will remain a cherished symbol of your heritage for a lifetime.
Skull Colored In Puerto Rico Flag Color Tattoo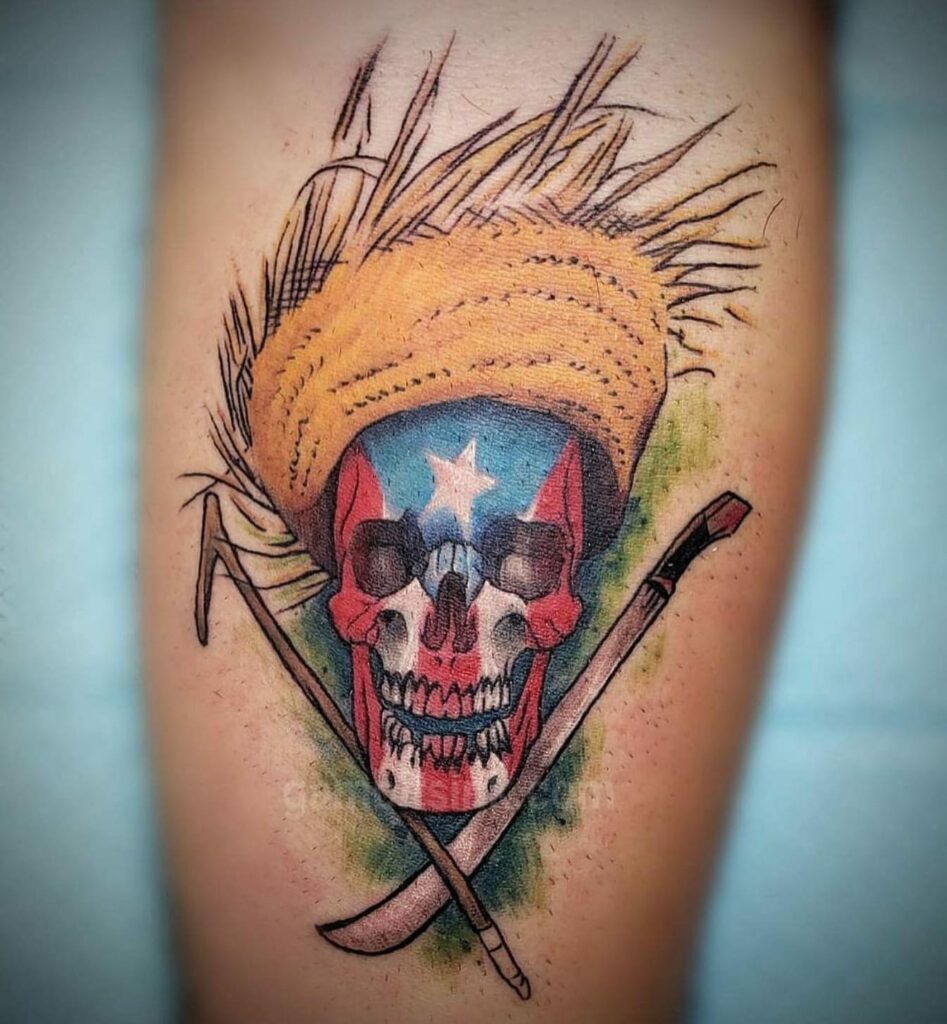 If you're looking for a tattoo that's both cool and versatile, a skull tattoo is a great option! And if you're especially interested in Taino tribal tattoos, you've got to check out this one. It features a skull with two tribal weapons in place of crossbones, giving it a unique twist on the traditional symbol of danger or death.
This tattoo is also colored in the iconic hues of the Puerto Rican flag – red stripes, a blue triangle, and the white star that symbolizes "Commonwealth." So, not only will it look totally bad-ass, but it will also represent your heritage and cultural pride. You can get this tattooed on any part of your body you'd like – it's up to you! Your tattoo artist will be able to help you figure out the perfect placement for you.
El Sol de Jayuya And Atabey Tattoo
If you're a fan of Puerto Rican culture and heritage, you might want to consider getting a Taino symbol tattoo. These tattoos often feature religious symbols or representations of gods and are steeped in meaning.
One popular design is the El Sol de Jayuya, which depicts the Sun God and represents strength and longevity. Another is the depiction of Atabey, who is the goddess of fertility and freshwater. These symbols can also be found as petroglyphs, and are deeply meaningful to the Taino people.
When it comes to placement, many Taino people choose to get this design tattooed on their hands or chest, as it carries significant sentiment. However, it is typically not placed on the legs or other parts of the body due to its religious significance. This is one of the most beloved Taino tribal tattoos, so if you're looking for a way to honor your heritage, this might just be the perfect choice for you!
Taino Symbols And Hibiscus Chest And Sleeve Tattoo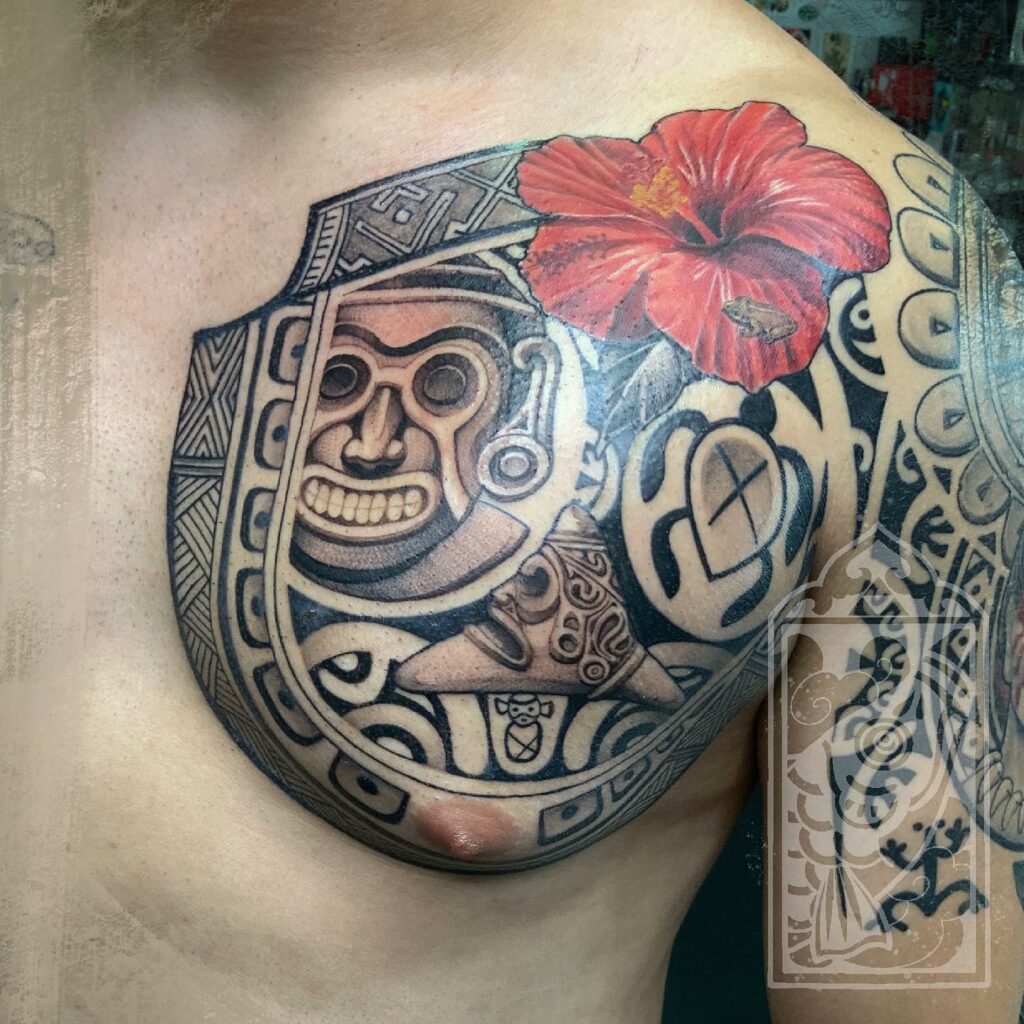 If you're looking for a way to showcase your love and pride for Puerto Rico, a Taino tribal tattoo might just be what you're looking for! These tattoos are incredibly special and meaningful in Puerto Rican culture, and they're perfect for those who love large tattoos. You can expect the design to cover your chest and create a half sleeve on your bicep, making it look like clothing! It's a fantastic way to show your passion and love for the rich heritage of Puerto Rico. When you're ready to get inked, be sure to find a reputable tattoo studio and set up a consultation with an experienced tattoo artist to bring your ideas to life. With this kind of tattoo, you'll be able to display your love for Puerto Rico in a unique and meaningful way!
Boricua Tattoo Art Hibiscus Arm Tattoo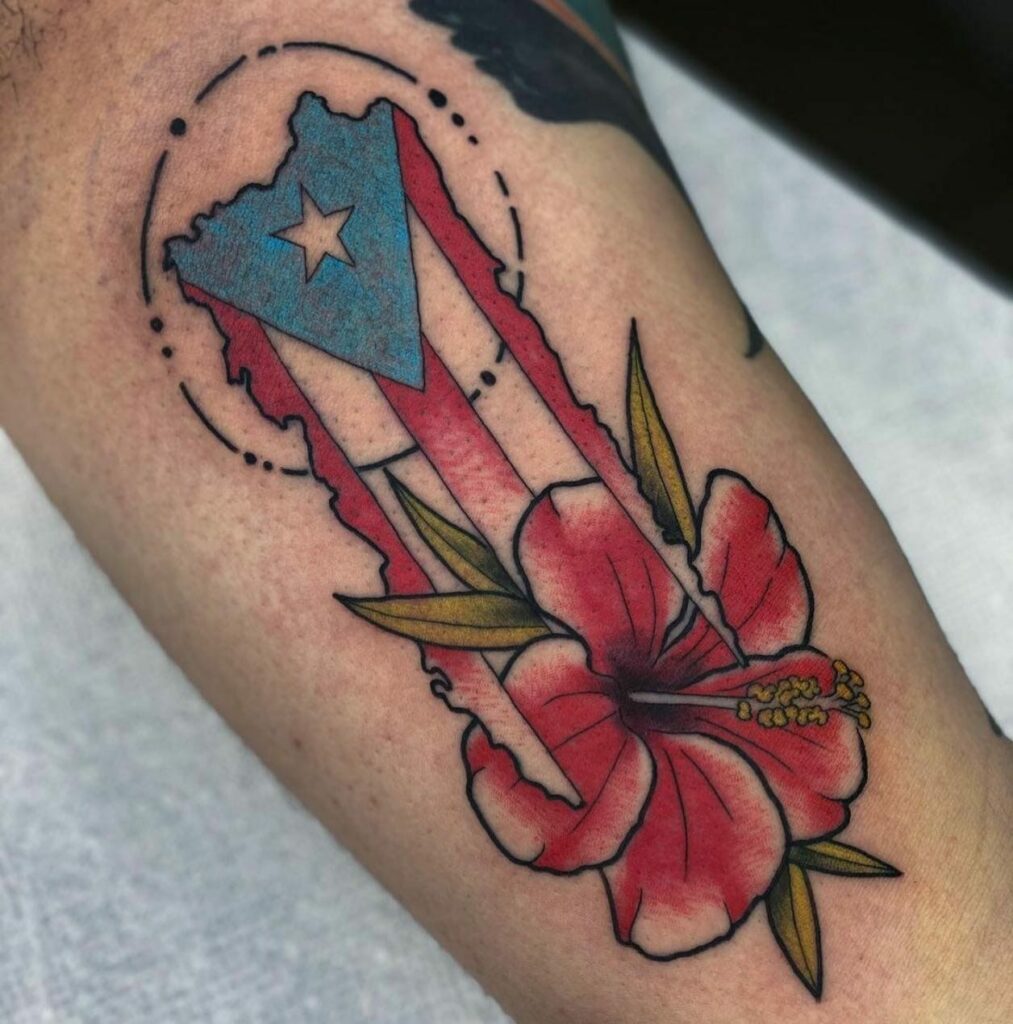 This design features both the national flag of Puerto Rico and the hibiscus, the national flower of Puerto Rico, both of which are popular Taino symbols.
This tattoo is small and compact, making it a great option for those who want to make a bold statement without committing to a large design. With its bold red and blue hues, it's sure to catch the eye and show off your Caribbean pride. To make the most of this design, consider placing it on an exposed area of your body, like your arm, so it can be easily seen.
The red stripes of the flag symbolize bloodshed, the blue triangle represents the government of Puerto Rico, and the white stripes stand for freedom. This tattoo is a great way to honor your heritage and celebrate your culture in a unique and personal way. So, why settle for a conventional flag tattoo when you can have this beautifully designed symbol of your Boricua pride?
Puerto Rico Shoulder Tattoo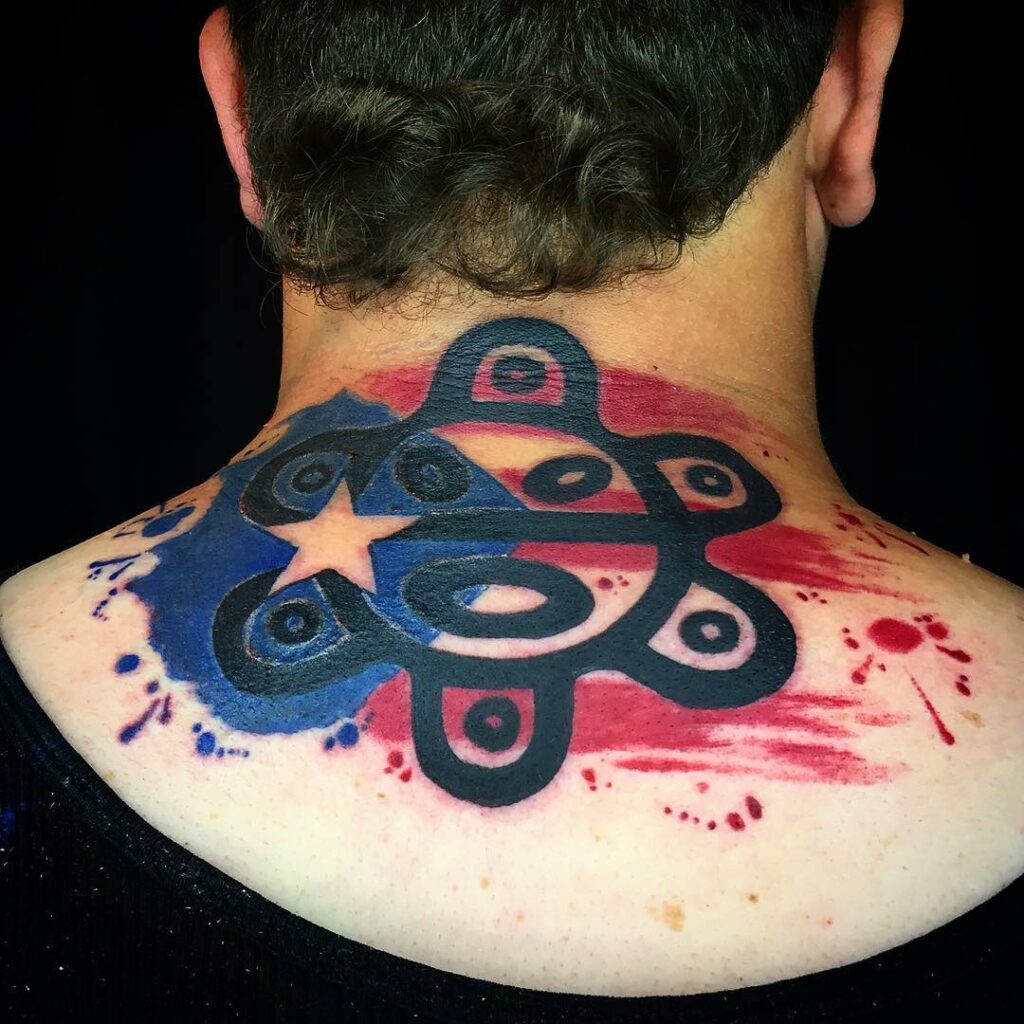 If you're looking to add some unique flair to your Puerto Rican flag tattoo, then you're in luck! Consider incorporating the Taino symbol of the Sun God, which not only adds a pop of color to your tattoo but also holds significant cultural meaning. The Taino Sun God is often depicted in ancient petroglyphs found in San Juan and represents longevity and strength.
This design is clean and easy on the eyes, making it a great choice for those with buff shoulders. If you're a proud resident of Puerto Rico, this tattoo is a perfect way to showcase your Boricua pride. The Taino Sun God is one of the simplest and most attractive designs in Puerto Rican Taino tattoos. So, what are you waiting for? Get inked and show off your love for the rich culture of Puerto Rico!
Quirky Frog Playing Puerto Rican Guitar Tattoo
Are you thinking of getting a unique Coqui Taino tattoo? I highly recommend getting it inked on your wrist! Not only is your wrist a great spot for tattoos, but the Coqui Taino has a special meaning to the people of Puerto Rico.
The Coqui Taino is an endangered species that is native to the beautiful island of Puerto Rico, and it's no surprise that it's a popular choice for tattoos. In the design of this tattoo, the Coqui frog is depicted holding a guitar painted in the colors of the Puerto Rican flag, as if it's singing a celebratory song for the nation. It's a tribute to the rich cultural heritage of Puerto Rico and a beautiful way to honor this special animal. I'm sure you'll fall in love with this amazing tattoo just like the people of Puerto Rico have!
Minimalist Puerto Rico Outline Tattoo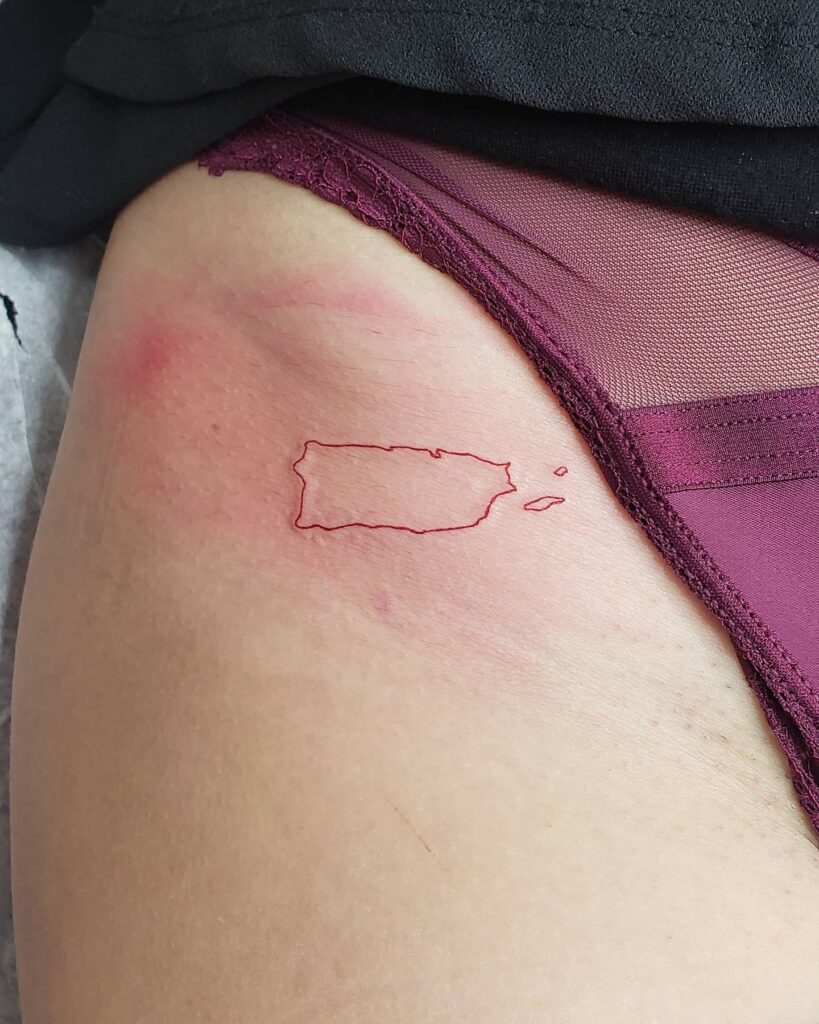 If you're a fan of minimalist designs, I've got just the thing for you. Show your love for the Caribbean with a super cute and tiny Puerto Rico tattoo that outlines the shape of the island. This Puerto Rican design is versatile and can be placed on a variety of locations such as your hip, wrist, collar bone, arm, or any other body part you desire. And the best part? You can get creative with the outline color, so let your imagination run wild!
Getting this design inked is a breeze. Simply visit your local tattoo studio, have a chat with your tattoo artist, and voila! You'll be flaunting your new tattoo in no time. And if you're a first-time tattoo-getter who's been hesitant because of the pain factor, this design is a great choice for you. So what are you waiting for? Get inked and celebrate your love for Puerto Rico!
Rose Colored In Puerto Rican Flag Shades Tattoo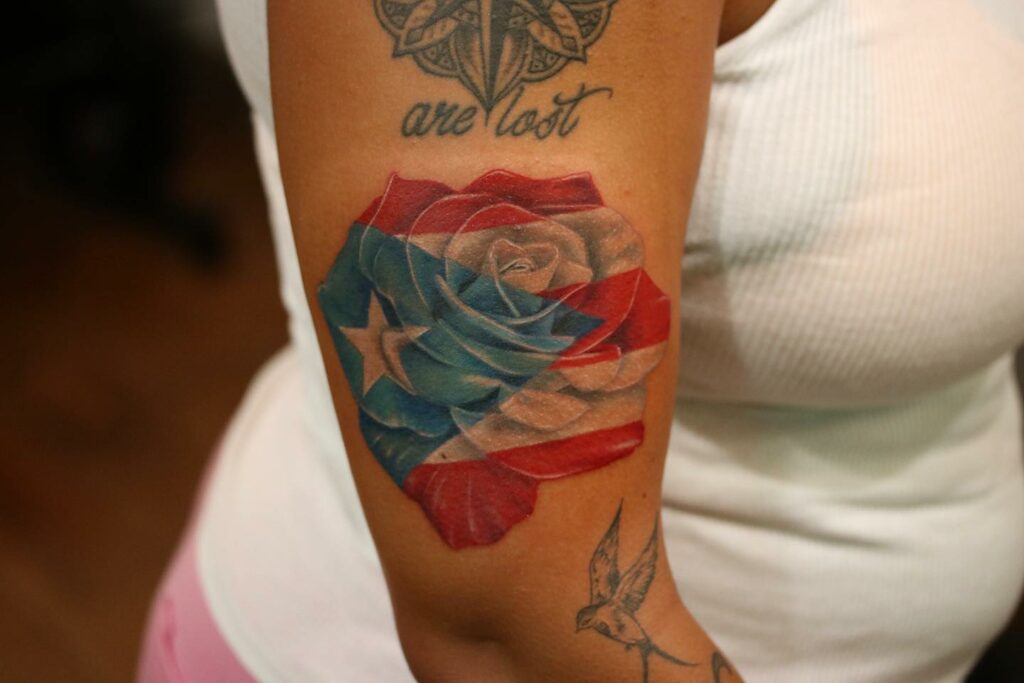 A rose tattoo is a timeless and classic design that never goes out of style. If you're looking to express your pride in your heritage, consider incorporating the colors of the Puerto Rican flag into your rose tattoo design. Not only will this make a bold statement, but it's also a great way to show the world just how proud you are of your roots.
This design features a beautifully colored rose in the hues of the Puerto Rican flag, making it a unique and meaningful choice for anyone looking to celebrate their heritage. And don't worry, the design has been kept simple, so it won't be cluttered with other symbols or images. The beauty of the rose speaks for itself, making it a unisex design that both men and women can rock.
For those who are interested in the history and evolution of Puerto Rico, this tattoo design is especially fitting. Just as the rose unfurls its petals, so too has Puerto Rico blossomed and grown over time. And trust us, even the most seasoned tattoo artists will love creating this design for you! So why not express your pride and show the world just how much you love your native land with a beautiful rose tattoo?
Floral Design And Frog Calf Tattoo
If you're a fan of bold and beautiful tattoos, then you're in for a treat. This particular design is a true work of art, featuring a Coqui frog, a stunning arrangement of symmetrical patterns, and a gorgeous hibiscus flower.
When it comes to placement, this tattoo is perfect for the calf muscle. Not only does it look full and complete, but it's sure to turn heads and spark conversation wherever you go.
Here at the tattoo parlor, we're passionate about all things Puerto Rican, especially when it comes to tattoos. That's why we've put together this collection to showcase some of the most popular Puerto Rican tattoo ideas out there. Whether you're looking to make a statement, express your heritage, or just want to decorate your body with something pretty, we're here to help. So, feel free to consult with one of our professional artists and let's make your tattoo vision a reality!
Puerto Rican Tribal Tattoo Designs
Puerto Rican Flag Tattoo Designs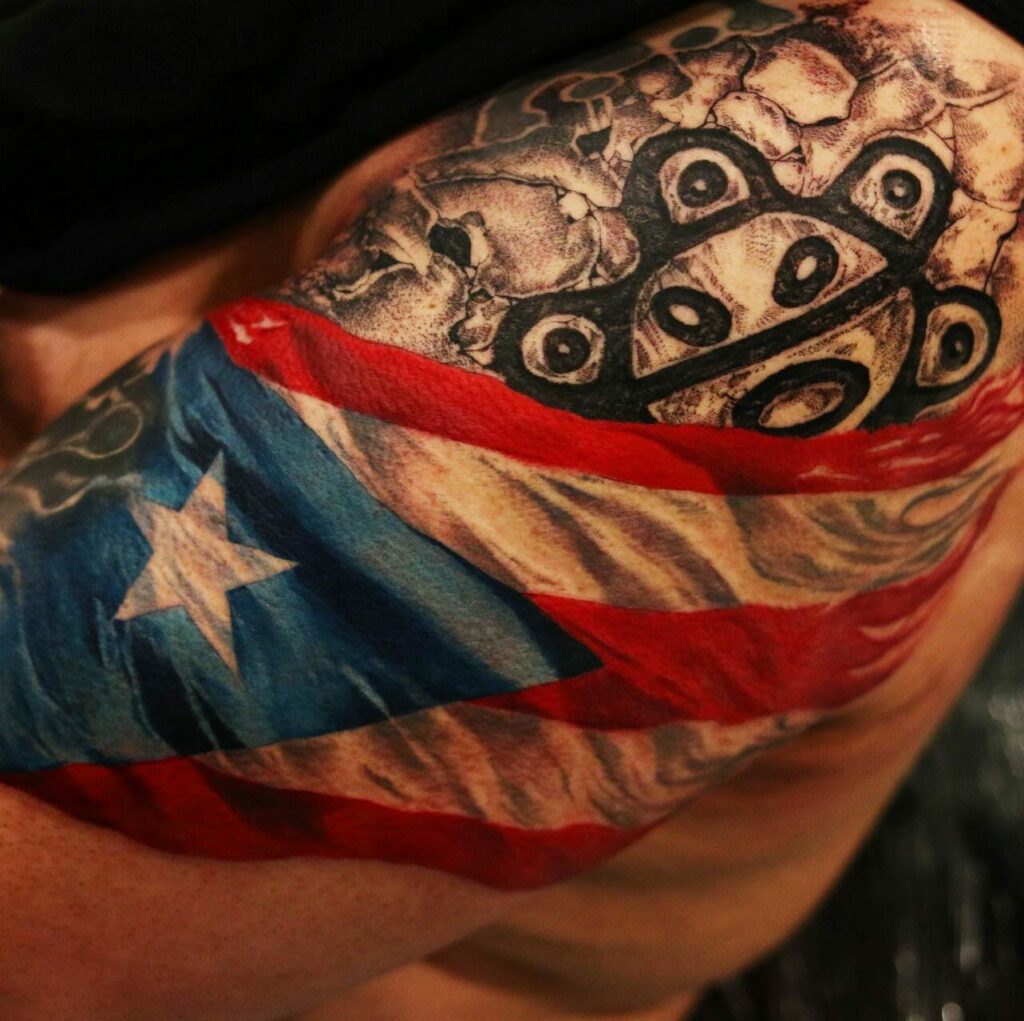 Mexican And Puerto Rican Tattoo
Puerto Rican Flag Tattoo Ideas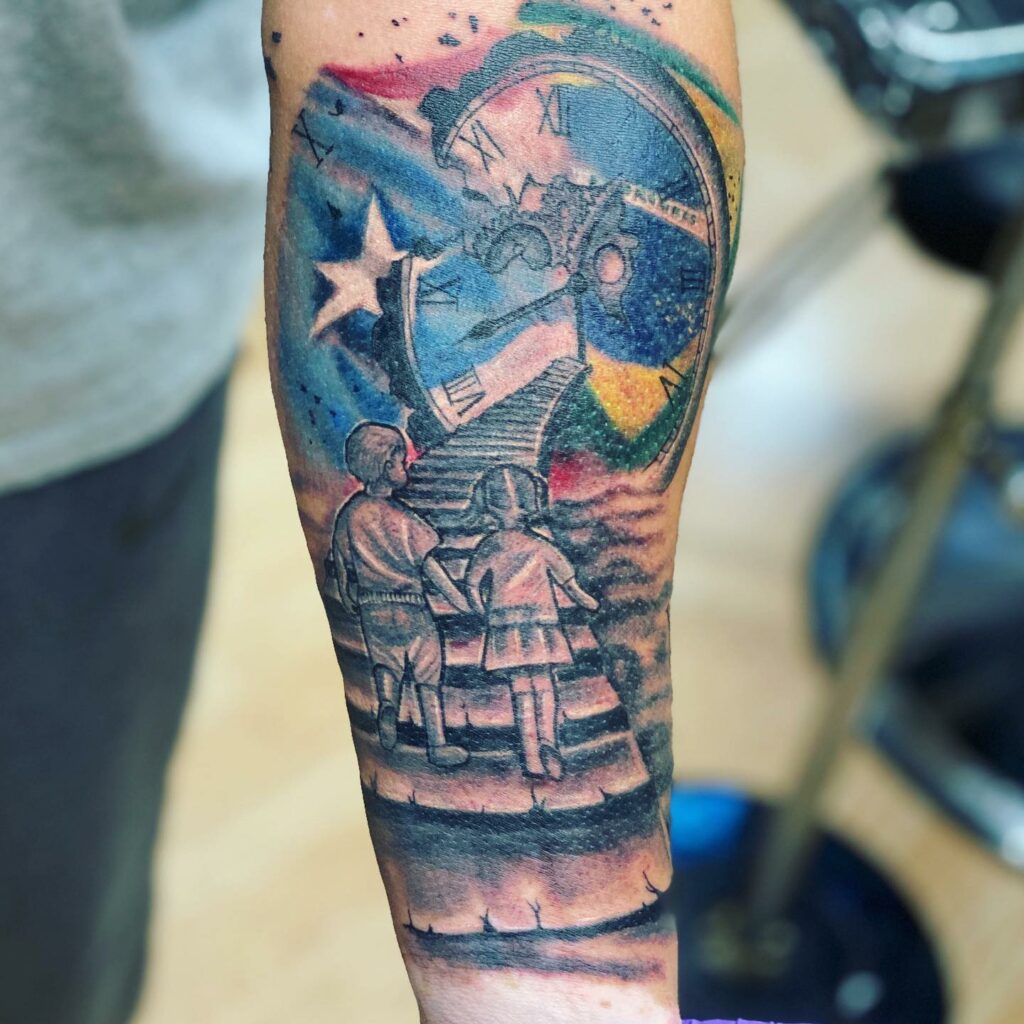 Puerto Rican Tattoo Sleeves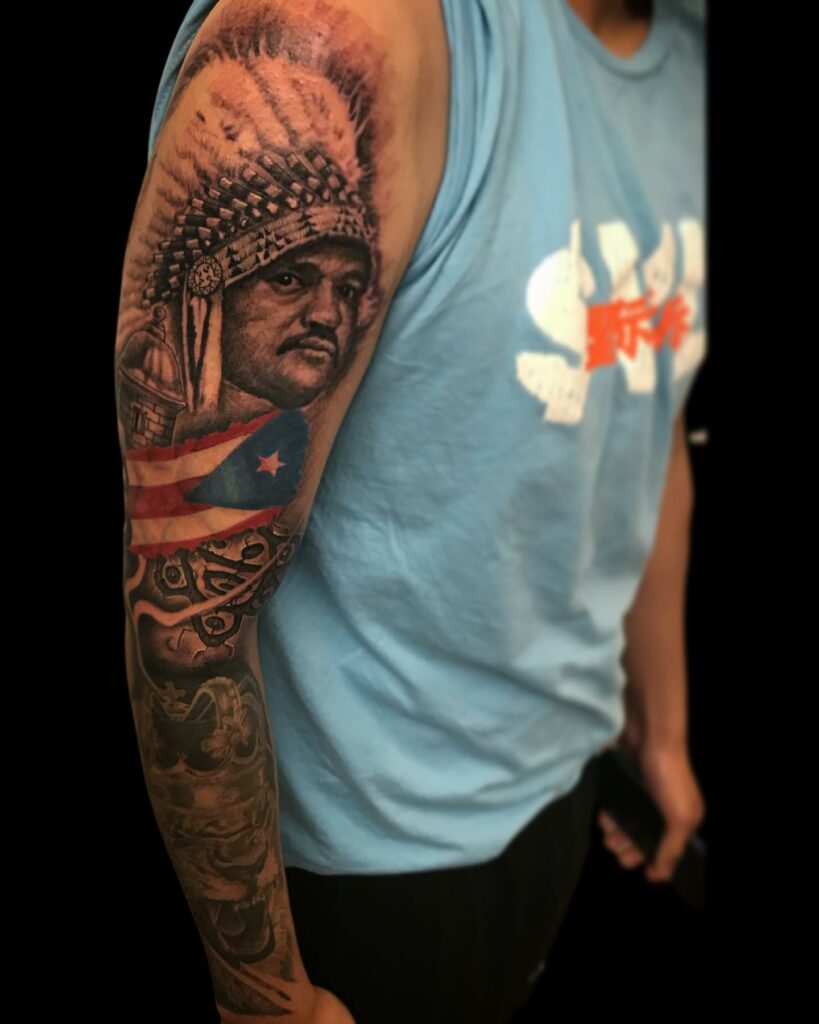 Puerto Rican Indian Tattoo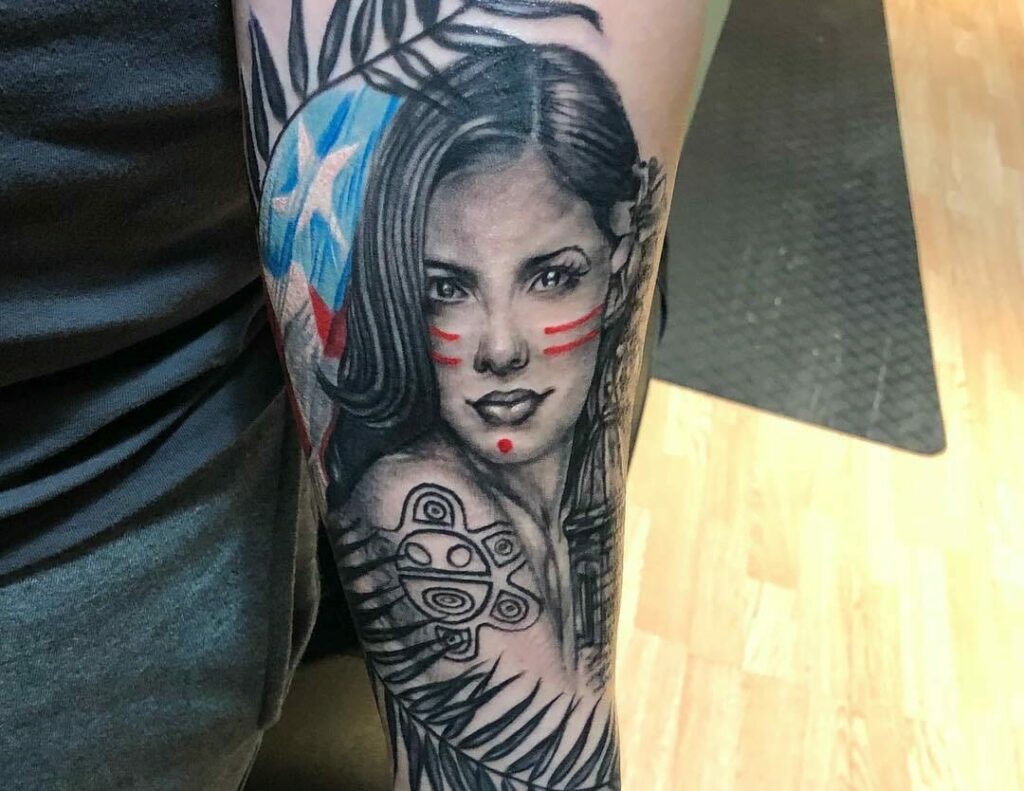 Still Looking For Inspiration Watch This Video
Conclusion
Alright, that wraps up our deep dive into the world of Puerto Rican rum. This stuff isn't just a drink; it's a cultural experience in a bottle. Remember, if you're on the hunt for top-tier Puerto Rican rum, keep an eye out for names like Don Q and Ron del Barrilito. They're staples in the game for a reason. Now, let's talk risks—moderation is key. Rum's a good time, but it's also strong. Overdoing it? Not a good look, trust me. Your best move? Enjoy it responsibly and savor each sip. Pair it with the right meal, and you've got yourself an evening to remember. So, what's stopping you? Head down to your local liquor store, or even better, book a trip to Puerto Rico and get a taste straight from the source. Cheers to stepping up your rum game!
feature image from Pinterest
Last reviewed and updated on September 27, 2023