Hey there fellow tattoo enthusiasts! Are you a fan of Tim Burton's classic, The Nightmare Before Christmas? This whimsical animated movie has been captivating audiences since its release in 1993, and to this day remains a Halloween and Christmas favorite for fans of all ages.
Follow Jack Skellington, also known as the Pumpkin King, as he embarks on a journey from Halloween Town where all the citizens embody different monsters, to a world of Christmas where he wants to take over as the new Santa Claus. Along the way, you'll encounter a rag doll named Sally who is madly in love with Jack, the villainous Oogie Boogie filled with bugs, and many other unforgettable characters.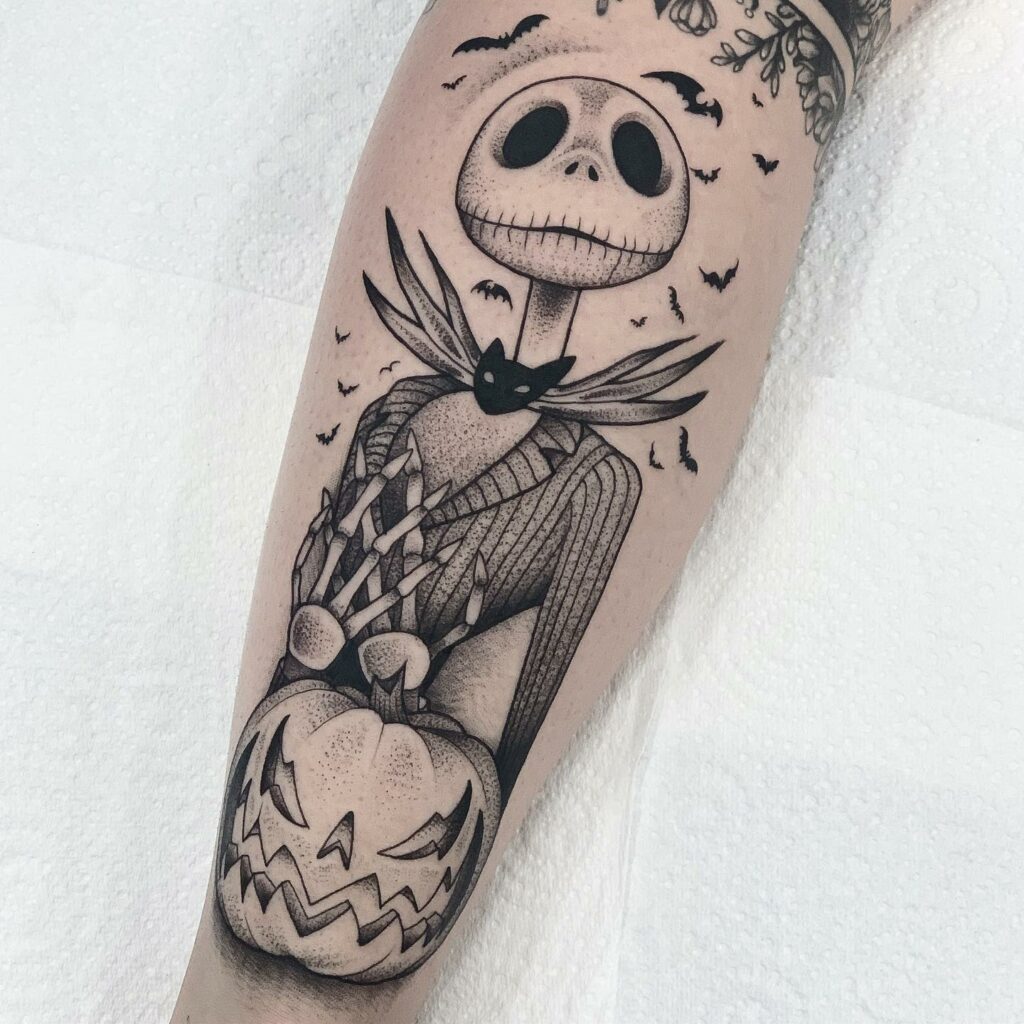 If you're a die-hard fan of this movie, then these simple yet stunning Nightmare Before Christmas tattoos are perfect for you. From Jack Skellington to Sally, these tattoos will showcase your love for this classic movie and bring a touch of spooky-cute to your skin. So why wait? Get inked with these amazing designs and let the world know how much you adore The Nightmare Before Christmas!
Simple Small Nightmare Before Christmas Tattoos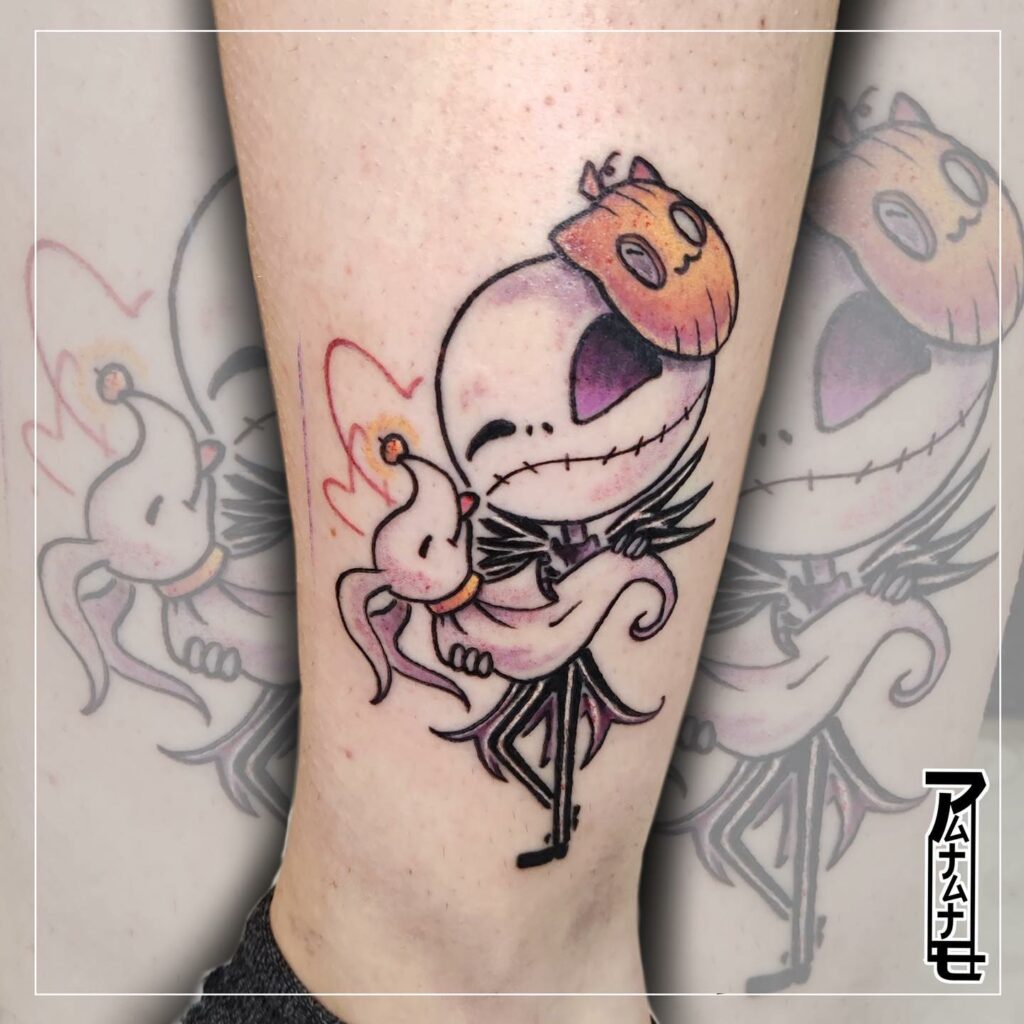 New-school tattoos are all the rage these days, and I've got just the design for you. This one features none other than Jack Skellington, the classic Halloween character, cradling his ghostly pup Zero in his arms. If you're a pet lover, this is the perfect way to show your love through a tattoo. But even if you don't have a furry friend, the bond between Jack and Zero is a touching one, making this tattoo a great choice for anyone who loves the movie "The Nightmare Before Christmas". The new-school art style is super popular and versatile, allowing for endless possibilities of different subjects and characters to be incorporated into tattoos. Find a talented tattoo artist who specializes in this style and let them bring your favorite characters to life on your skin. Trust me, it's going to look amazing!
Beautiful Jack and Sally Tattoo Ideas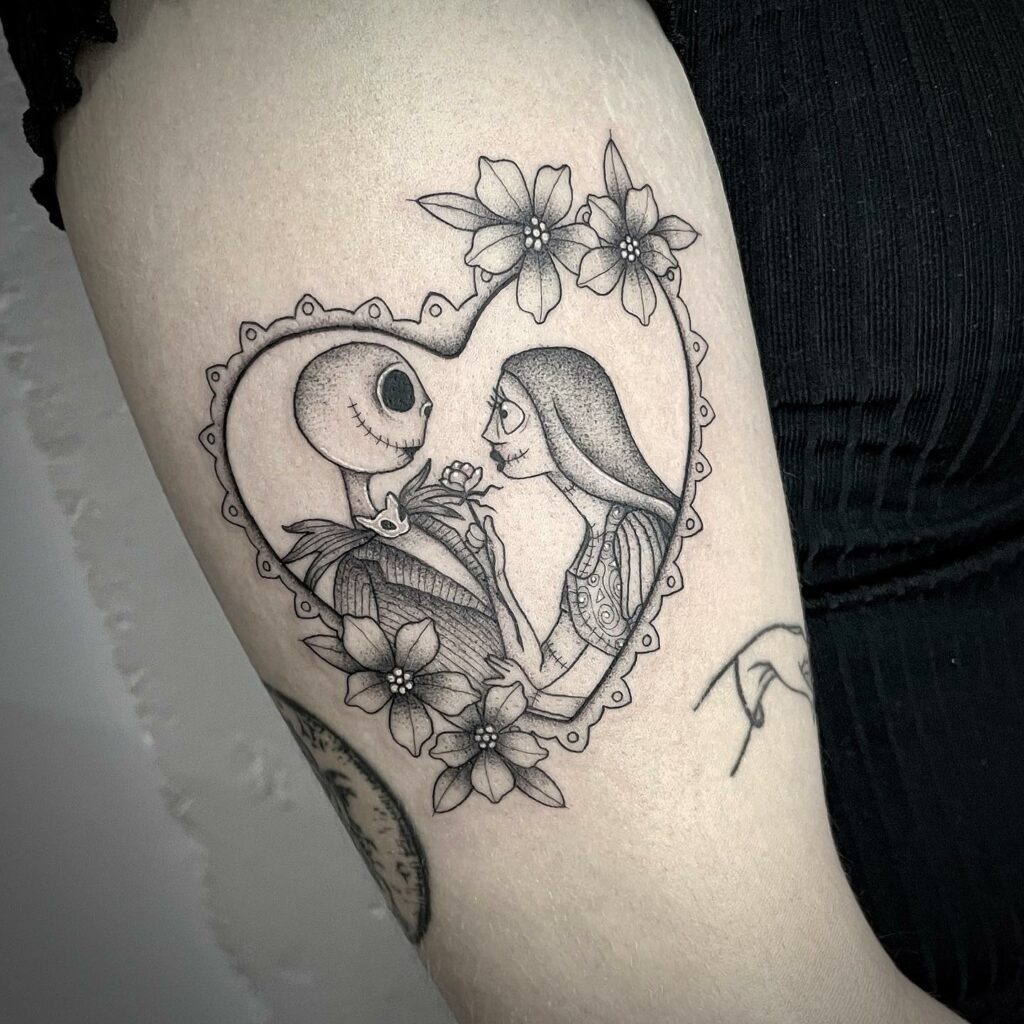 If you're a fan of the classic movie "The Nightmare Before Christmas", then you know what a special love story it features between two beloved characters, Jack and Sally. Sally, the rag doll created by Dr. Finklestein, is often kept at home but sneaks out to be with Jack, the Pumpkin King. Through their adventures together, they fall deeply in love and their story will warm your heart.
If you're looking for a way to show your love for this timeless animated tale, a Jack and Sally tattoo in the shape of a heart could be perfect for you! This design captures their love in a beautiful and meaningful way. To make the tattoo even more special, you can consider adding the phrase "We're simply meant to be", from the end of the movie. This will be a reminder of their love every time you look at it.
Amazing Black and Grey Jack Skellington Tattoo Ideas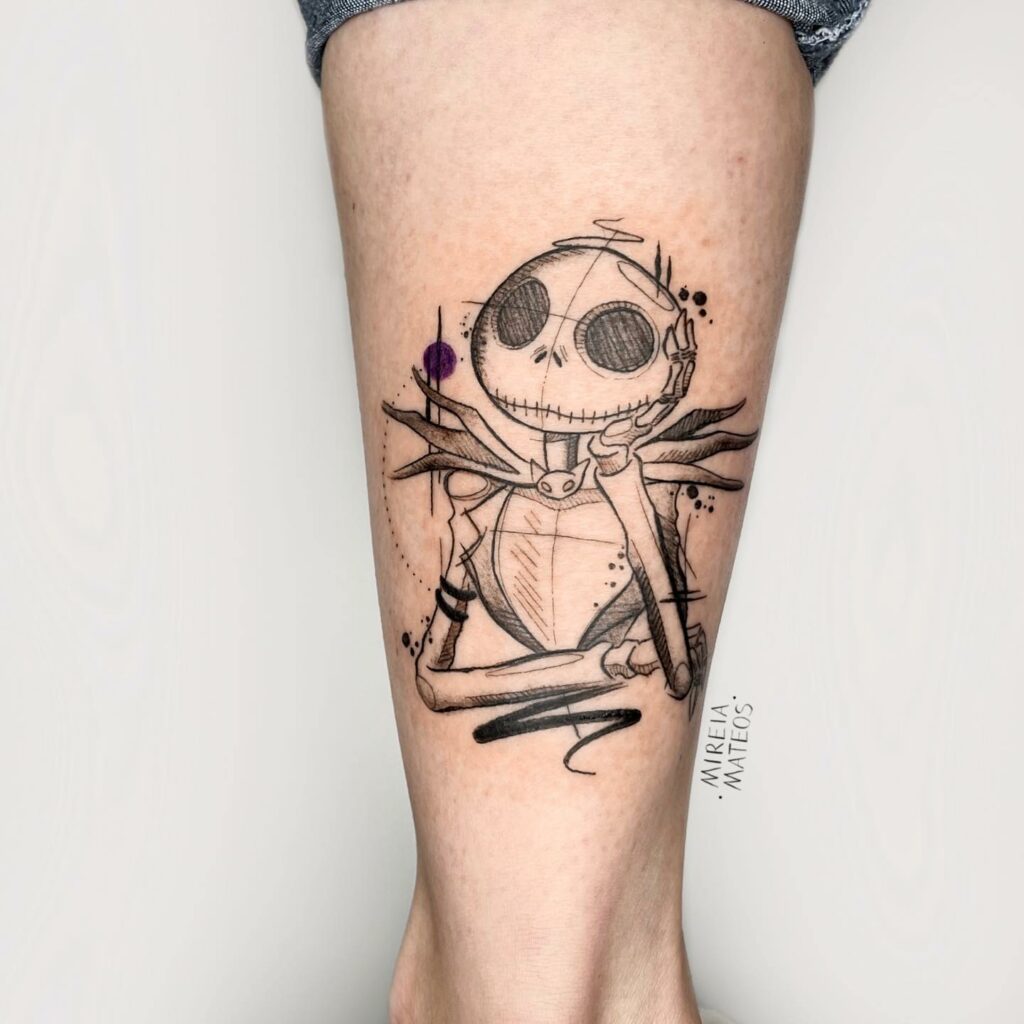 If you're looking for a cute and simple tattoo, then you're in luck! New-school tattoos are all the rage, and this one featuring Jack Skellington holding his ghost dog Zero is just too adorable. Whether you're a pet lover looking to show your love through a tattoo, or just a fan of the relationship between Jack and Zero, this design is sure to impress. New-school tattoos are a favorite among many, as they offer a wide variety of subjects to choose from, including characters from the beloved movie "The Nightmare Before Christmas." So, if you're interested in this style, I highly recommend finding a tattoo artist who specializes in new-school tattoos. They'll be able to bring your favorite character to life in this cute and quirky style. Get ready to fall in love with your new tattoo!
Stunning Nightmare Before Christmas Characters Tattoos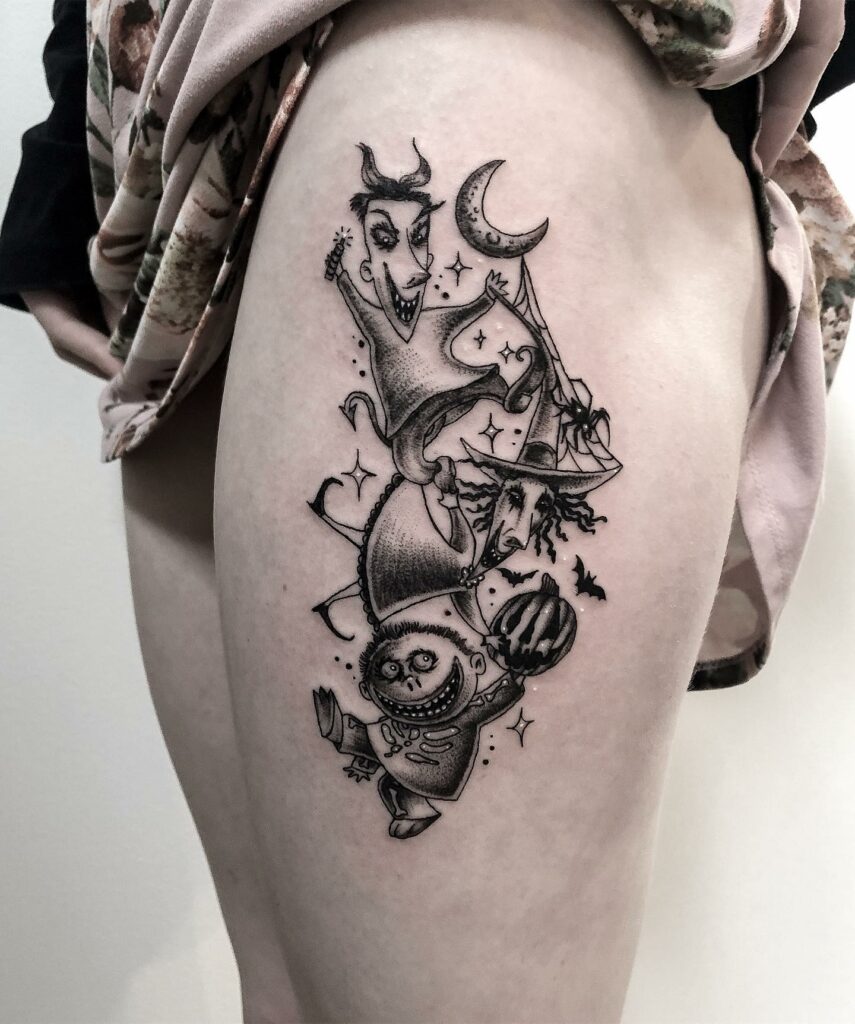 The movie is full of characters with stunning designs, but one trio that stands out are Lock, Shock, and Barrel – the notorious trick-or-treaters who help Jack Skellington in his quest. These three play a crucial role in the film and are essential to the story.
If you're looking to add a touch of spooky charm to your tattoo collection, this design featuring Lock, Shock, and Barrel is perfect for you. It captures their mischievous spirit and will be a great way to show off your love for the movie. Whether you're a fan of the film or just love all things creepy and spooky, this tattoo is sure to be a hit!
Nightmare Before Christmas Zero the Dog Tattoo Ideas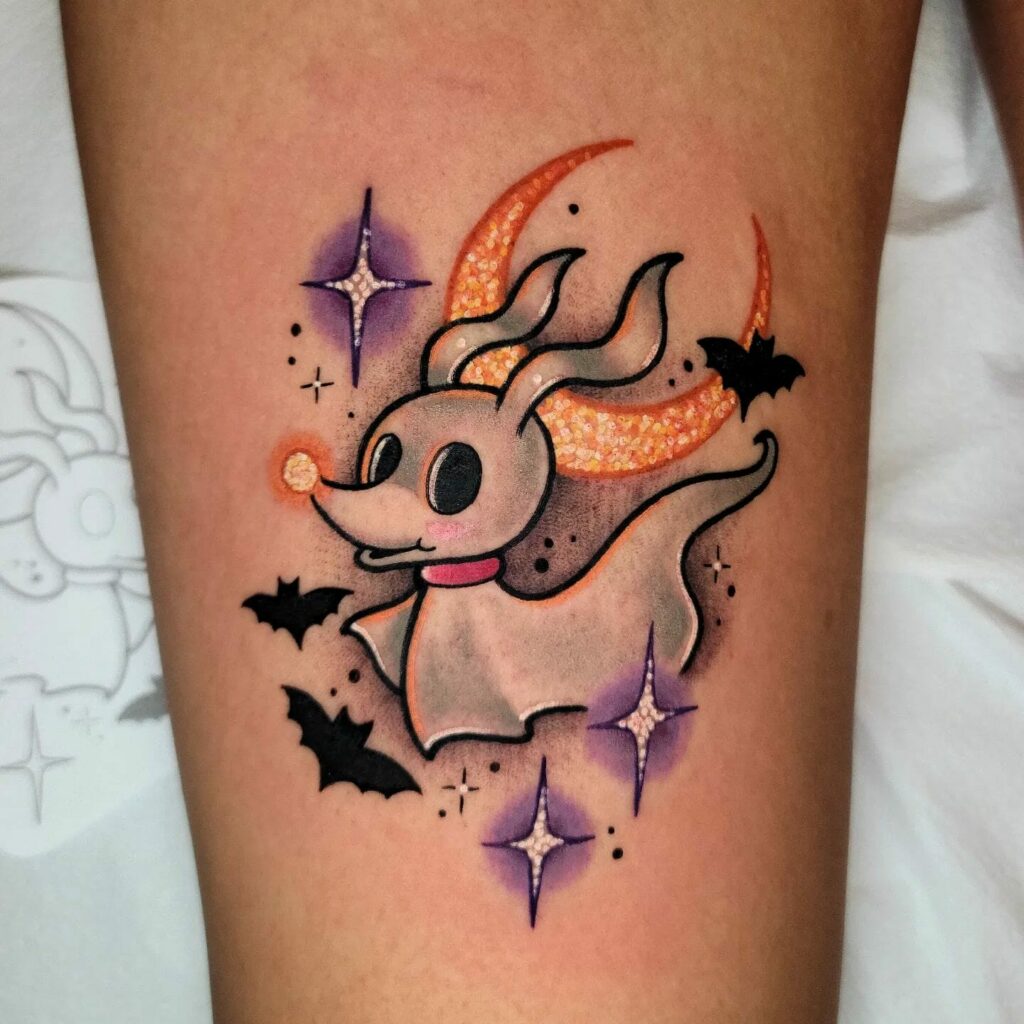 You're probably familiar with Zero the Dog – the ghostly, floating pup that steals everyone's hearts. He's not only a loyal companion to Jack Skellington but also a fan favorite with his adorable appearance. Wrapped in a sheet with big, expressive eyes, it's no wonder why so many people love him.
If you're looking for a small and cute tattoo to show off your love for the movie, then a Zero the Dog tattoo is a perfect choice! This design captures the character's charm with its vibrant colors and adorable details. Whether you're a fan of the film or just love cute and quirky tattoos, this design is sure to bring a smile to your face every time you see it.
American Traditional Nightmare Before Christmas Tattoo Ideas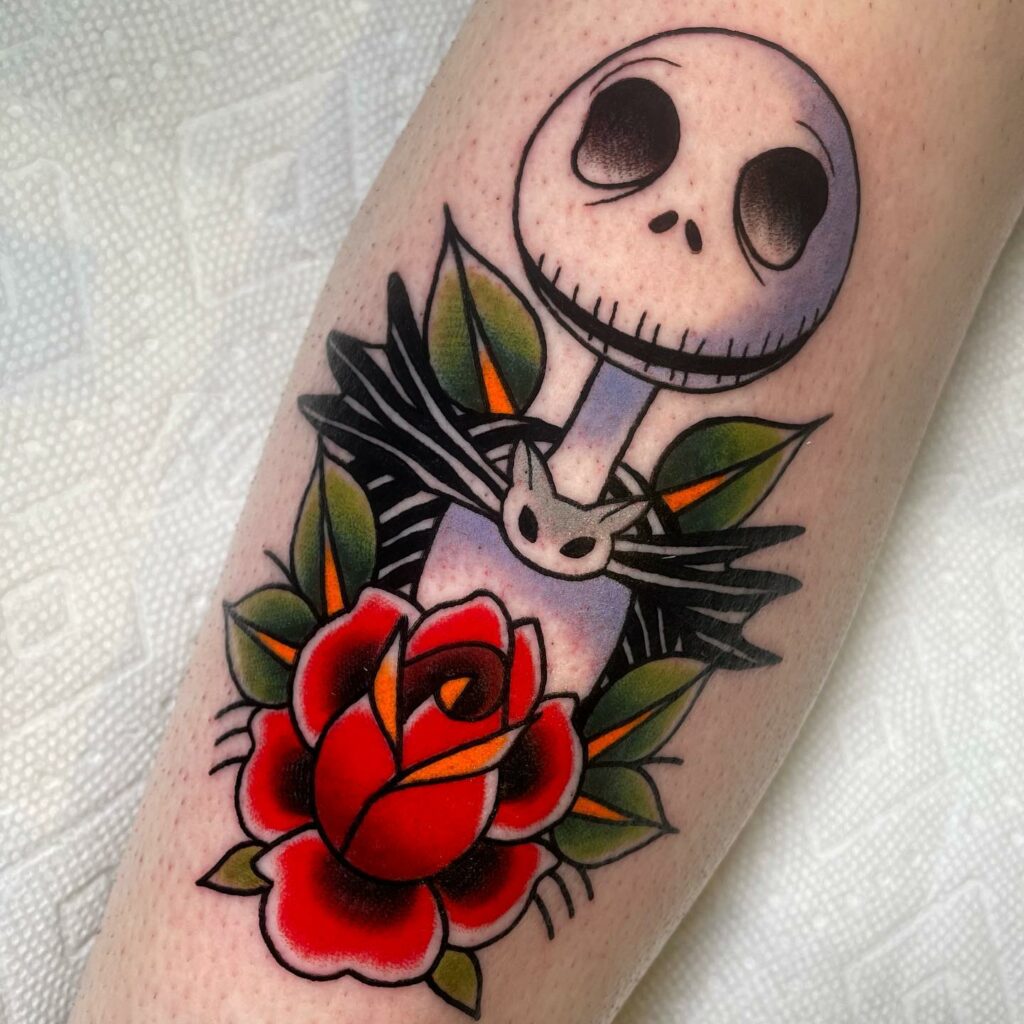 If you're a fan of classic and timeless tattoos, then you might want to consider getting an American Traditional style tattoo of your favorite character from the "Nightmare Before Christmas." The American Traditional style is one of the most iconic and well-established tattoo styles in the USA, characterized by bold black outlines and vibrant colors.
This Jack Skellington tattoo in this style is a perfect example of what you can get. It features Jack in all his spooky glory, along with classic American Traditional elements like a rose and leaves. But, if you want to make it even more fitting for the theme, you could ask your tattoo artist to switch those out for a jack o' lantern. The possibilities are endless with this style, so feel free to get creative and choose any character from the movie that you love!
Oogie Boogie and Lock, Shock and Barrell Tattoo Ideas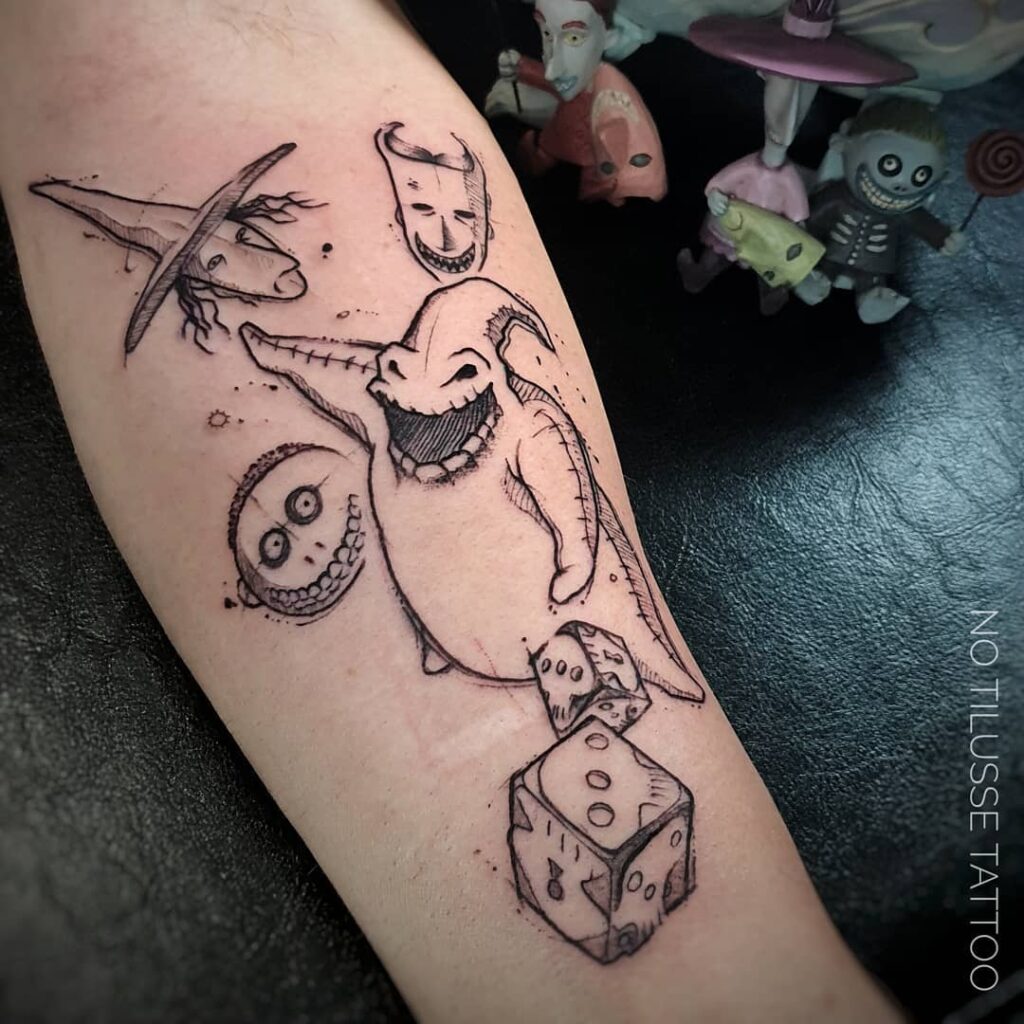 Are you one of those who can't help but root for the bad guy in a movie? If so, we've got a treat for you. Introducing Oogie Boogie, the main villain in "The Nightmare Before Christmas". This burlap sack filled with insects is a gambling fiend and always finds a way to make things interesting. In the film, he even tries to gamble with Santa Claus' life, but don't worry – Jack saves the day and rescues Santa and Sally in the end. Despite his evil ways, Oogie Boogie remains one of Tim Burton's greatest villains. This Oogie Boogie tattoo captures his love for gambling perfectly and can be made even more awesome by adding the faces of Lock, Shock, and Barrell. Or, if you're a fan of both the good and the bad, you can even get a tattoo featuring both Oogie Boogie and the brilliant Dr. Finklestein.
Beautiful Jack Skellington Watercolor Inspired Tattoos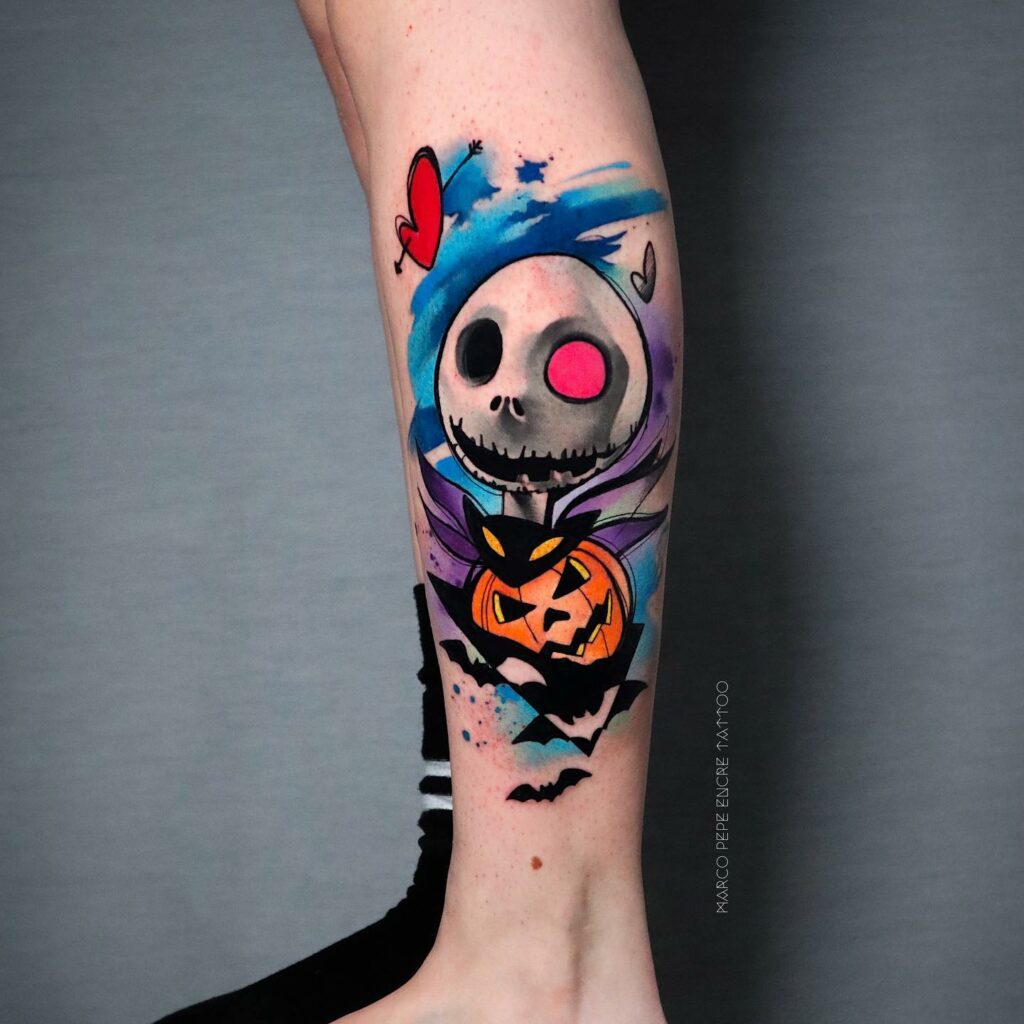 The unique blending of colors creates a beautiful, dreamy effect that really brings out the best in any design. Take Jack Skellington, for example! This watercolor Jack tattoo is the perfect way to show off your love for the Pumpkin King in a fun and vibrant way. And if you're a fan of Sally, you'll love her watercolor tattoo too! The characters in The Nightmare Before Christmas all have such interesting designs, and watercolor tattoos are the perfect way to showcase their unique personalities. So go ahead, let your imagination run wild and get the tattoo of your favorite character in this beautiful style!
Minimalistic Nightmare Before Christmas Face Tattoo Ideas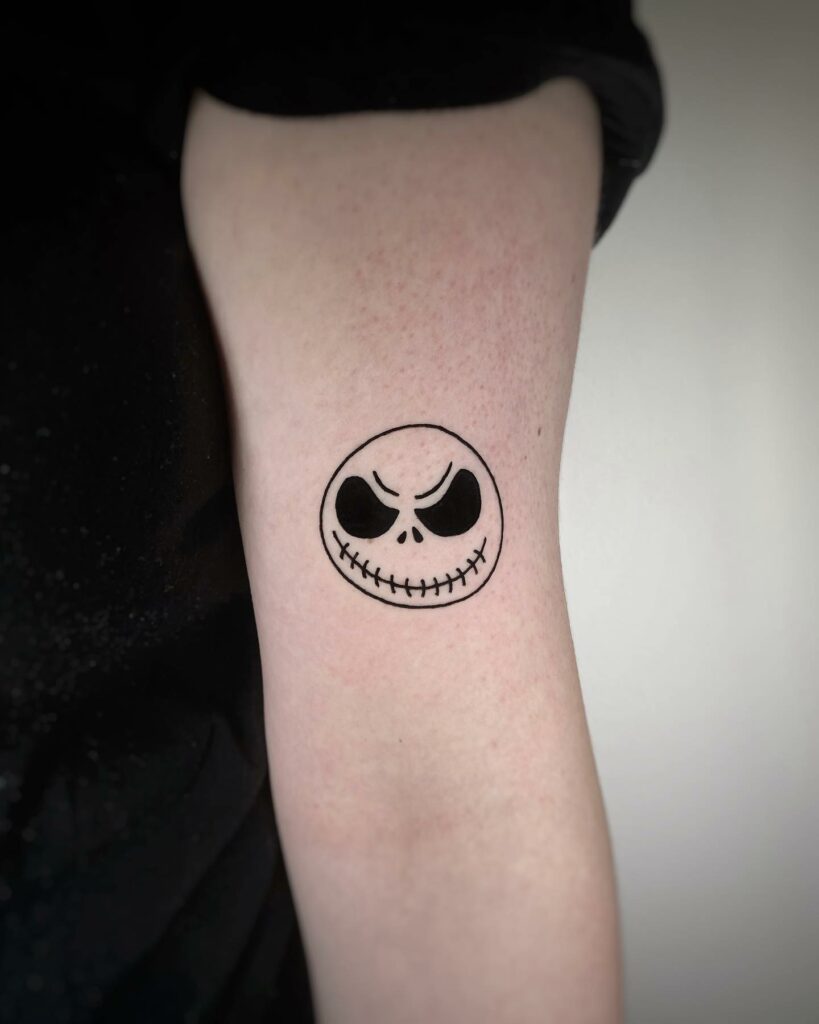 If you're looking for something simple, yet impactful, a minimalist black ink Jack Skellington tattoo might be the perfect choice for you. This style is great for those who appreciate clean and simple designs. Plus, if you're thinking about getting your first tattoo, a small design like this one will be less painful and still pack a punch. And, if you're a fan of Sally, you could consider getting her face tattooed too. Alternatively, you could opt for a design featuring one of the intriguing antagonists from the film. Regardless of your choice, a minimalist black ink tattoo is a great way to show your love for this classic movie.
Jack Skellington and Sally Couple's Half Sleeve Tattoo Idas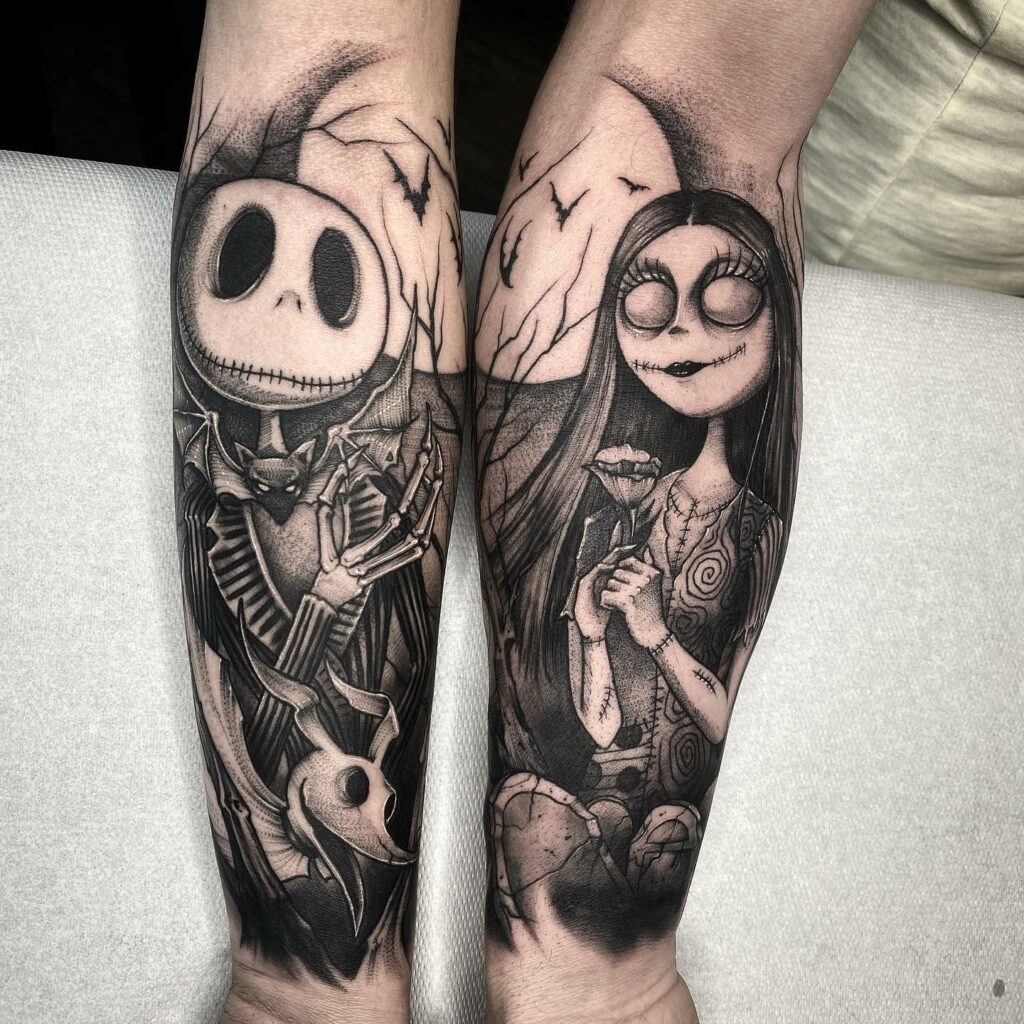 Are you and your special someone both fans of Tim Burton's masterpieces? Then this couple's tattoo idea is perfect for you two! Jack and Sally from "The Nightmare Before Christmas" are one of the most beloved and iconic couples in movie history. Their relationship is filled with irony and romance, making them the perfect duo for a couple's tattoo. This design features both Jack and Sally in a full forearm half-sleeve, but if that's not your style, no worries! Your artist can create smaller, simplified designs of the two. Show the world your love for each other and your love for Tim Burton with this couple's tattoo!
Monochrome Magic
Delve into the world of storytelling through tattoo art in the absence of color. While vibrant hues often steal the spotlight, the timeless elegance of black and grey can offer an equally striking rendition of Nightmare Before Christmas themes.
Enigmatic Residents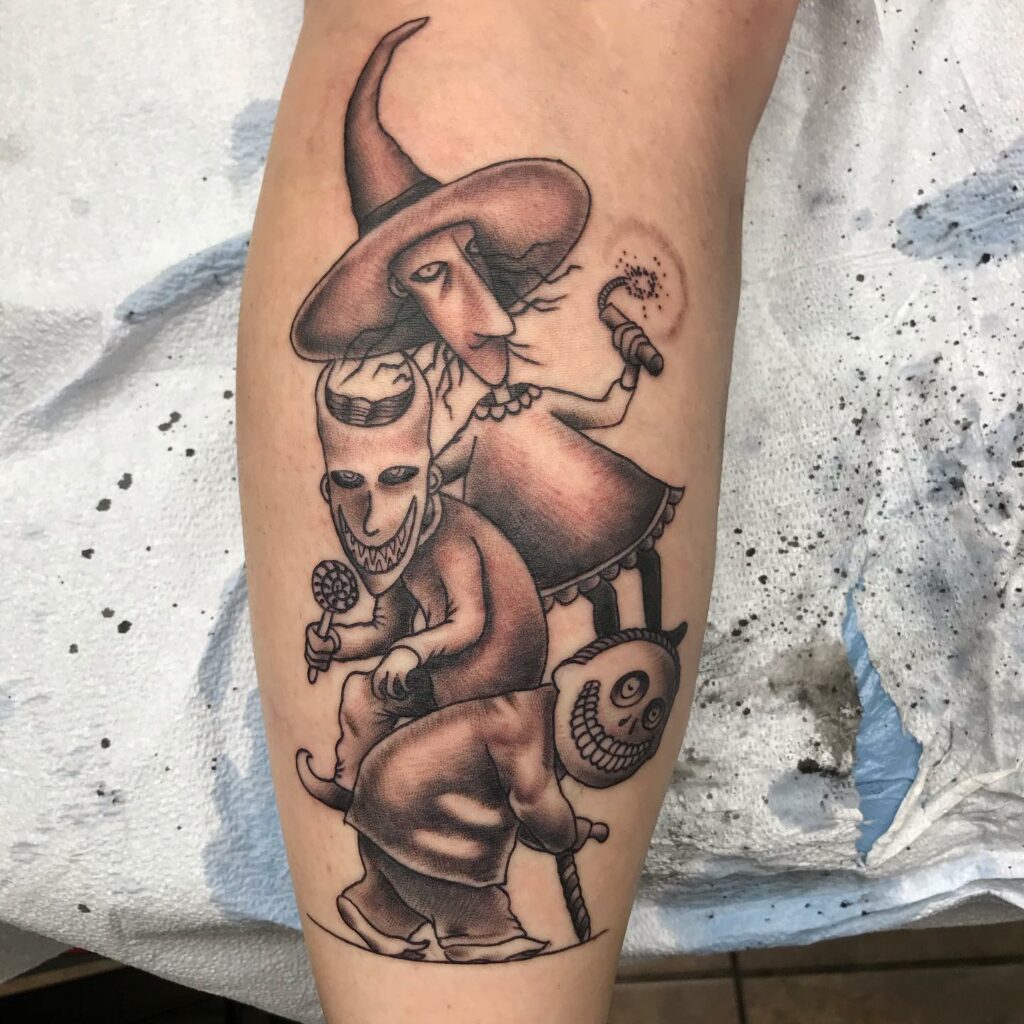 A splendid ink rendition of a lesser-known resident of Halloween Town can offer you an authentic and innovative tattoo. In the labyrinth of characters from the film, choosing a rare figure can make your ink truly one-of-a-kind.
Classic Duo Redefined
In the realm of Nightmare Before Christmas tattoos, the Jack + Sally + Heart equation is a staple. Though we'll see more of this tried-and-true formula, it's worth pondering how to put your own creative spin on it to stand out.
Minimalist Trio
Lock, Shock, and Barrel come alive in this simple yet eloquent tattoo, etched with nothing more than black lines. The result is a clean, pared-down look that emanates modern flair.
Ghostly Companionship
After Jack and Sally, Zero, the ethereal canine, takes the podium in tattoo popularity. More renditions of this ghostly pup are sure to appear, each with its own artistic nuance.
The Infamous Oogie Boogie—As a Baby!
Add a twist of humor to your ink collection with a baby version of the villainous Oogie Boogie. Set against a backdrop of gold and orange, the lime green figure practically leaps off the skin.
The Two-Faced Mayor
This inked portrayal of Halloween Town's Mayor is another crowd-pleaser. His dual-faced design captures attention and allows for an intricate play of detail and shadow in the tattoo.
Zero in Full Glow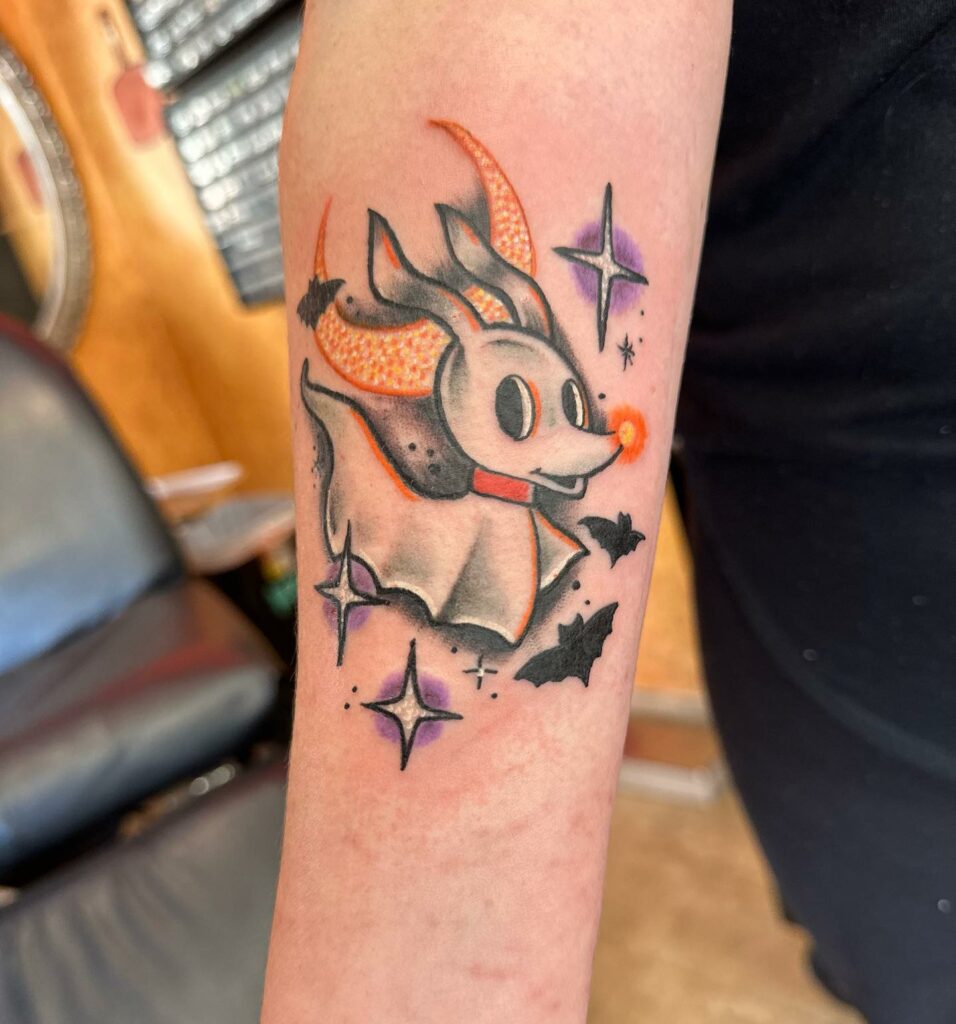 Decked out in rainbow-colored Christmas lights, Zero looks absolutely radiant. The tattoo artist expertly captures the illusion of glowing lights—ingenious execution indeed.
Go Grand with Sleeves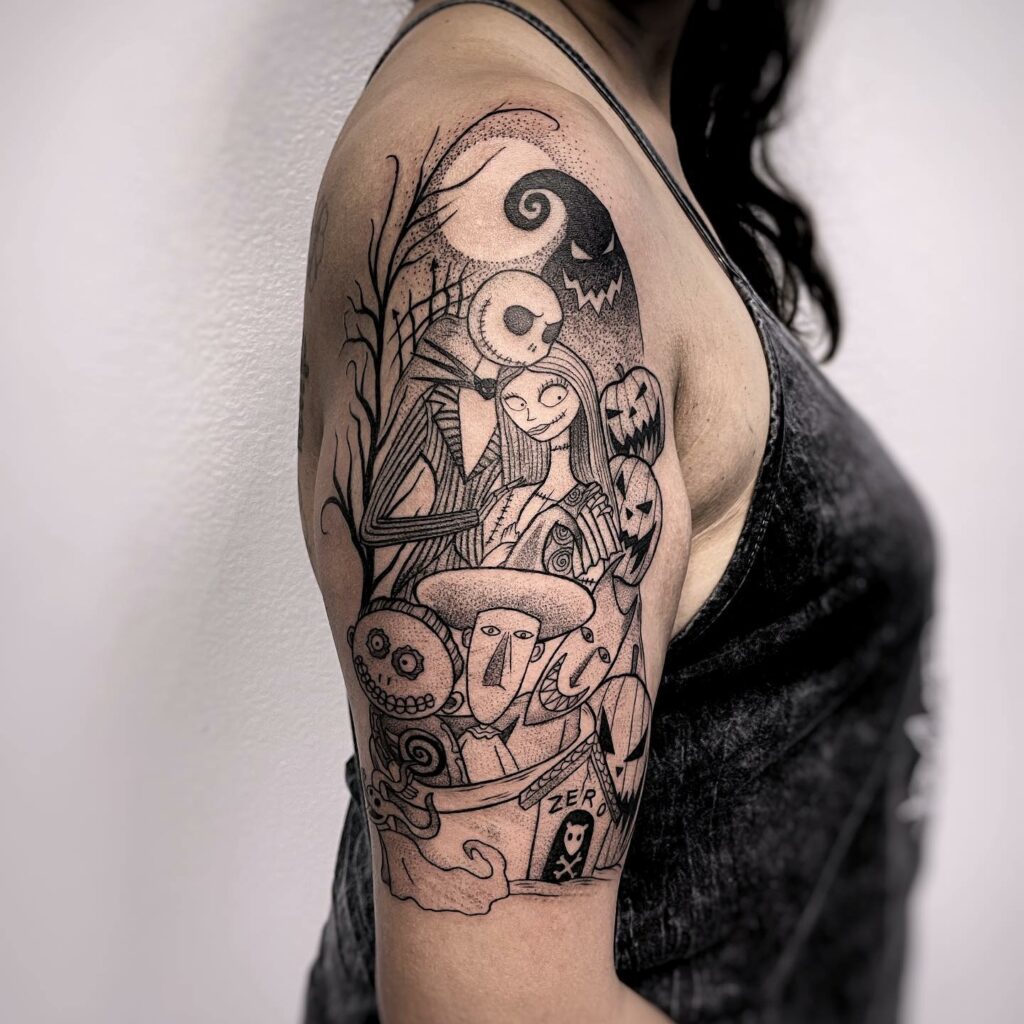 If you're contemplating a larger-than-life tribute to Nightmare Before Christmas, you're not alone. Both half-sleeve and full-sleeve tattoos themed around the movie are gaining traction.
Enchanting Vignettes
This ample tattoo captures intricate details within an oval frame against a full moon backdrop. The meticulous craftsmanship in this piece is truly mesmerizing.
Tarot Inspirations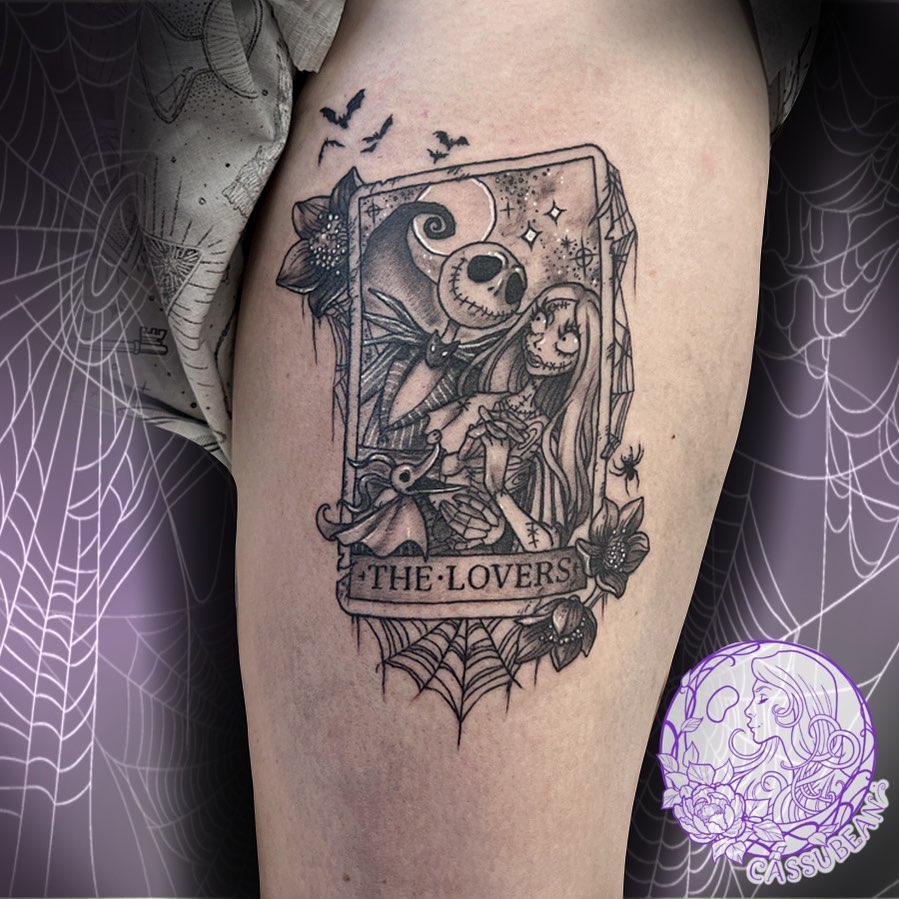 Marrying the trendy tarot card tattoo style with Nightmare Before Christmas themes is a fresh approach. The end result? A harmonious blend of pop culture and mystical symbolism.
Patchwork Artistry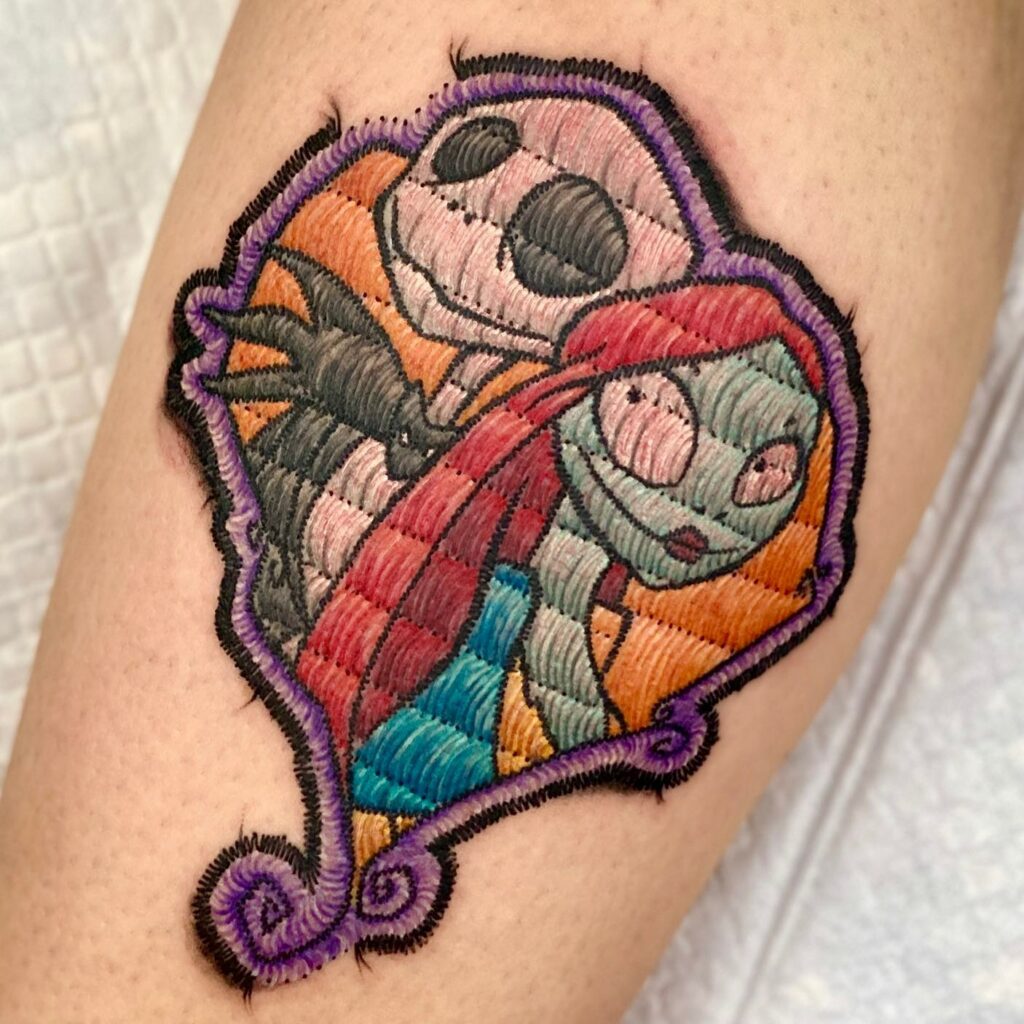 A patch-themed tattoo, featuring the iconic Jack and Sally, brings together nostalgia and contemporary aesthetics in a seamless fashion.
Cinematic Crossover
From the Tim Burton universe, characters from Beetlejuice make surprise appearances alongside Nightmare Before Christmas figures, proving that love for Burton's world often knows no boundaries.
Watercolor Wonders
The watercolor tattoo style is anything but passe, and Oogie Boogie encapsulates this trend brilliantly. The fluidity of color exudes a dynamism that's pure Boogie.
Another Watercolor Masterpiece
Here's yet another watercolor marvel, distinct and solitary in its design. It diverges from the other tattoos, offering a fresh visual experience.
Maskless Shenanigans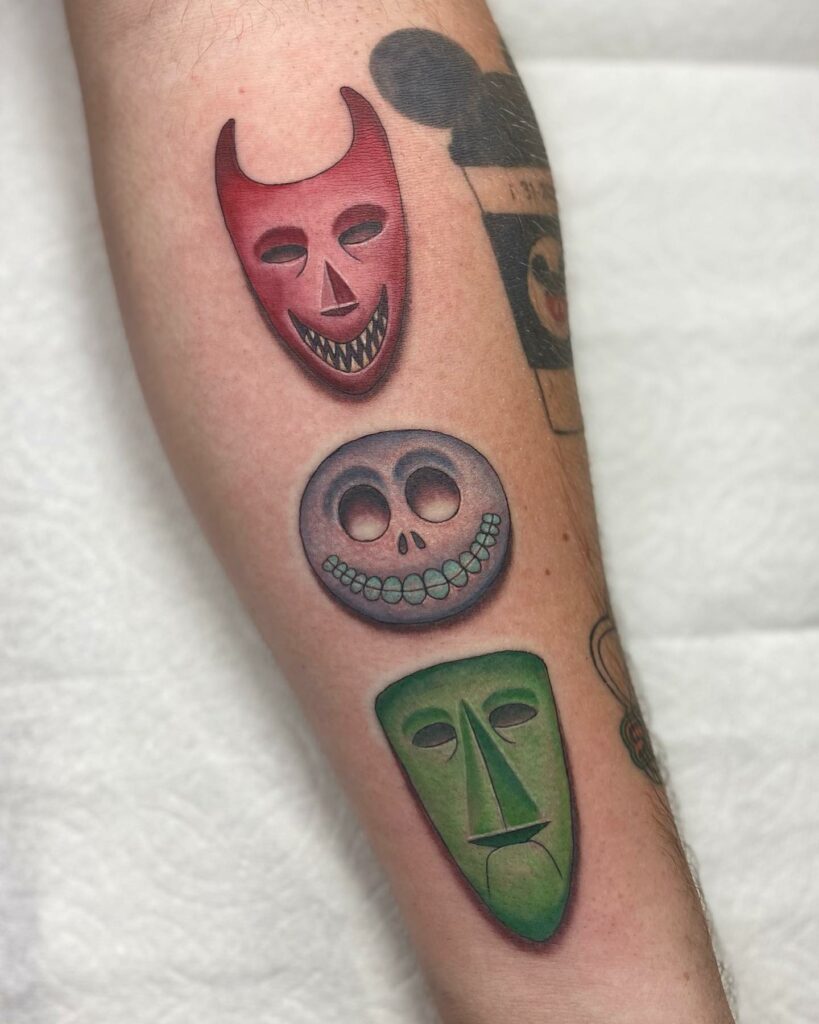 The cheeky trio—Lock, Shock, and Barrel—appear in a tattoo devoid of their signature masks. The design incorporates traditional tattoo elements for a lively new angle.
Halloween Miniature
Sally as a trick-or-treating tyke is too adorable to overlook. This rendition seems to be an audience favorite, and it's easy to see why.
Neon Intrigue
Jack, bathed in neon Christmas colors, projects an aura of otherworldly energy. The tattoo artist behind this piece deserves accolades for their sublime artistry.
Subtly Poisonous
Sally's secret rebellion against Dr. Finkelstein is rendered in a tattoo that is subtly stunning, representing an alternative route to celebrate the film's narrative.
What Is The Meaning Of A Nightmare Before Christmas Tattoo?
A Nightmare Before Christmas tattoo is basically your own personal shoutout to the iconic Tim Burton film. These tattoos come in all shapes, sizes, and styles—from classic black and grey to vibrant watercolors. Whether you're team Jack and Sally or rooting for the cheeky trio of Lock, Shock, and Barrel, there's a design that's just right for you. They're a way to carry a piece of Halloween Town right on your skin, celebrating your love for its whimsical and spooky characters. Plus, you can get as creative or traditional as you want, making your ink truly one-of-a-kind.
Conclusion
So, you're thinking about getting a Nightmare Before Christmas tattoo? Awesome choice! Here's the deal—pick a design that really speaks to you, whether it's a favorite character or a unique twist on a classic scene. Remember, tattoo artists are pretty much wizards when it comes to bringing your ideas to life, so don't hesitate to collaborate on something special. Just be mindful of the shop's hygiene and the artist's experience; you don't want to risk infection or end up with a tattoo you regret. Also, tattoos are a commitment, both in time and money, so make sure you're all in before taking the plunge. Now, go out there, find your dream design, and make Halloween Town proud!
feature image from Pinterest
Last reviewed and updated on September 27, 2023