Hey there! Are you looking for the perfect forearm tattoo to show off your unique style? Well, look no further! I've got a list of top-notch stencil designs that are sure to win your heart.
Forearm tattoos are a great way to let the world know a little bit about you. Unlike tattoos in more hidden spots, your forearm tattoo is on display for everyone to see, which takes confidence and a bold personality.
Every person has their own interpretation of what a forearm tattoo represents, and it all depends on the design you choose. Some see them as tough, others emotional, creative, intellectual, and even approachable. It's important to think about what the tattoo means to you before getting inked. When done right, a forearm tattoo can be a classy addition to your look and can even become a conversation starter at events. It's the perfect choice for extroverts who want to stand out in a crowd. From stomach tattoos to Celtic designs and everything in between, there's a tattoo out there that perfectly represents you and your personality.
So, let's get started! I've put together a master list of stunning stencil forearm tattoo sketches just for you. Take your time and choose the one that truly speaks to you. Get ready to show off your personality in a bold and unique way!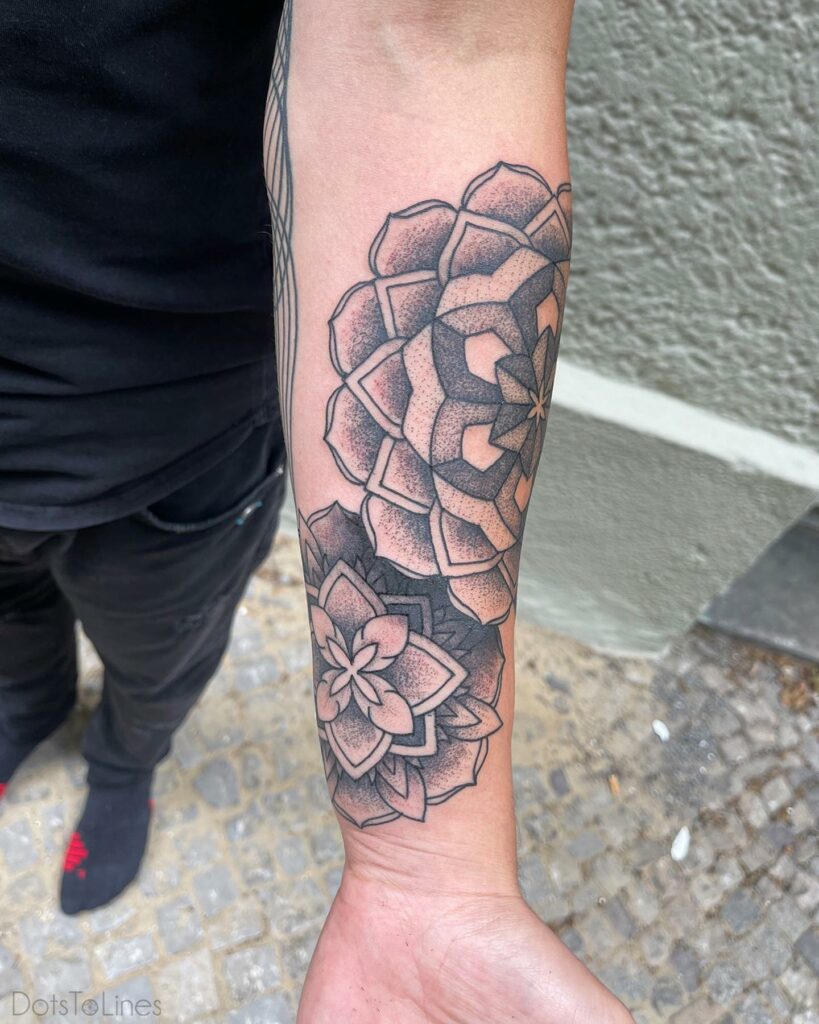 Wolf Stencil Forearm Tattoo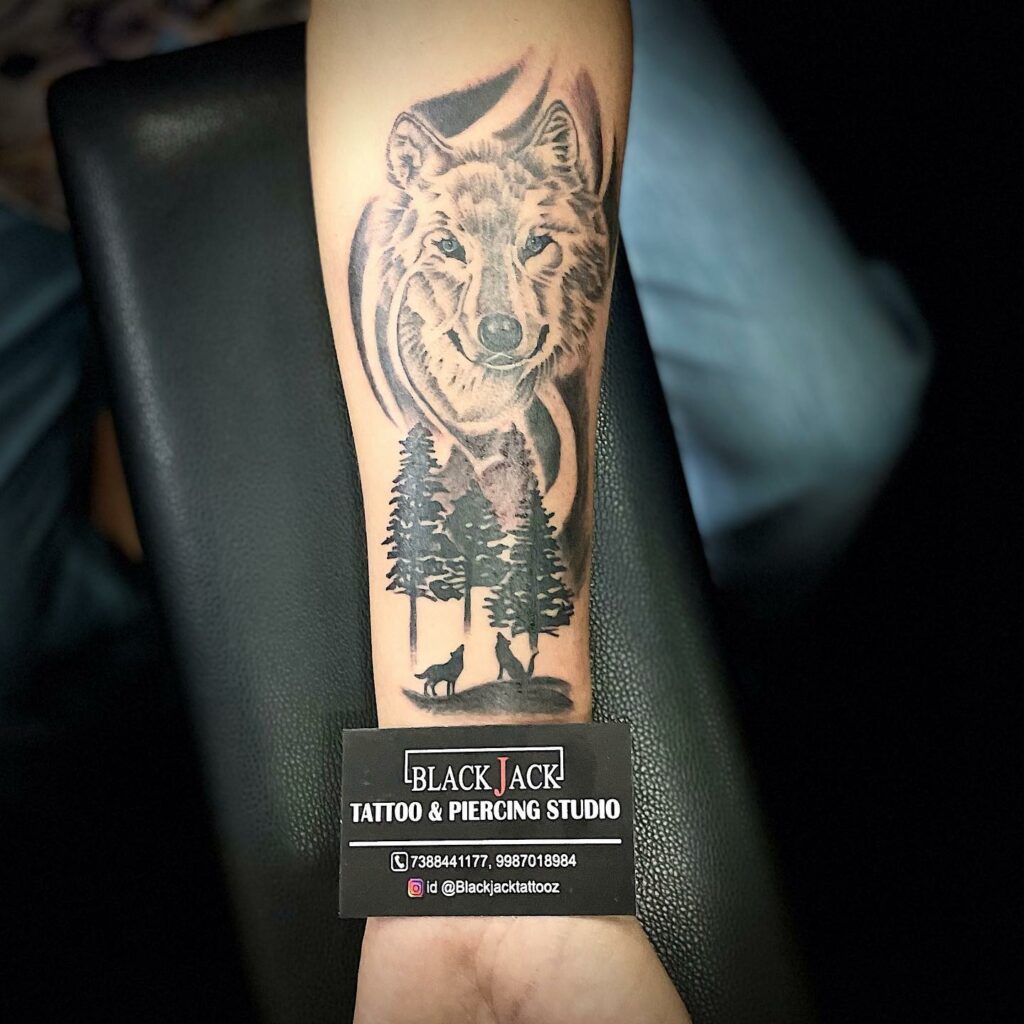 If you're on the hunt for a meaningful and mysterious tattoo symbol, then a wolf tattoo might just be the one for you. Wolves have a rich history of symbolism, representing strength, loyalty, protection, and the true nature of wolves themselves. They can also symbolize family, luck, love, and devotion, making them one of the most meaningful tattoo symbols out there.
Wolves are dynamic animals that bring with them an aura of mystery and are known as both malicious predators and noble warriors. If you're looking for a tattoo that adds a touch of mystery to your personality, a wolf tattoo is the way to go! The iconic image of two howling wolves, etched in black ink, represents proud loneliness, independence, living by your own rules, and distancing yourself from society. If these traits resonate with you, then a wolf tattoo might be the perfect fit.
So, if you want to embrace the wild and mysterious side of life, consider getting a wolf tattoo. With its rich history of symbolism, it's sure to be a meaningful addition to your body art collection.
Greek God Stencil Forearm Tattoo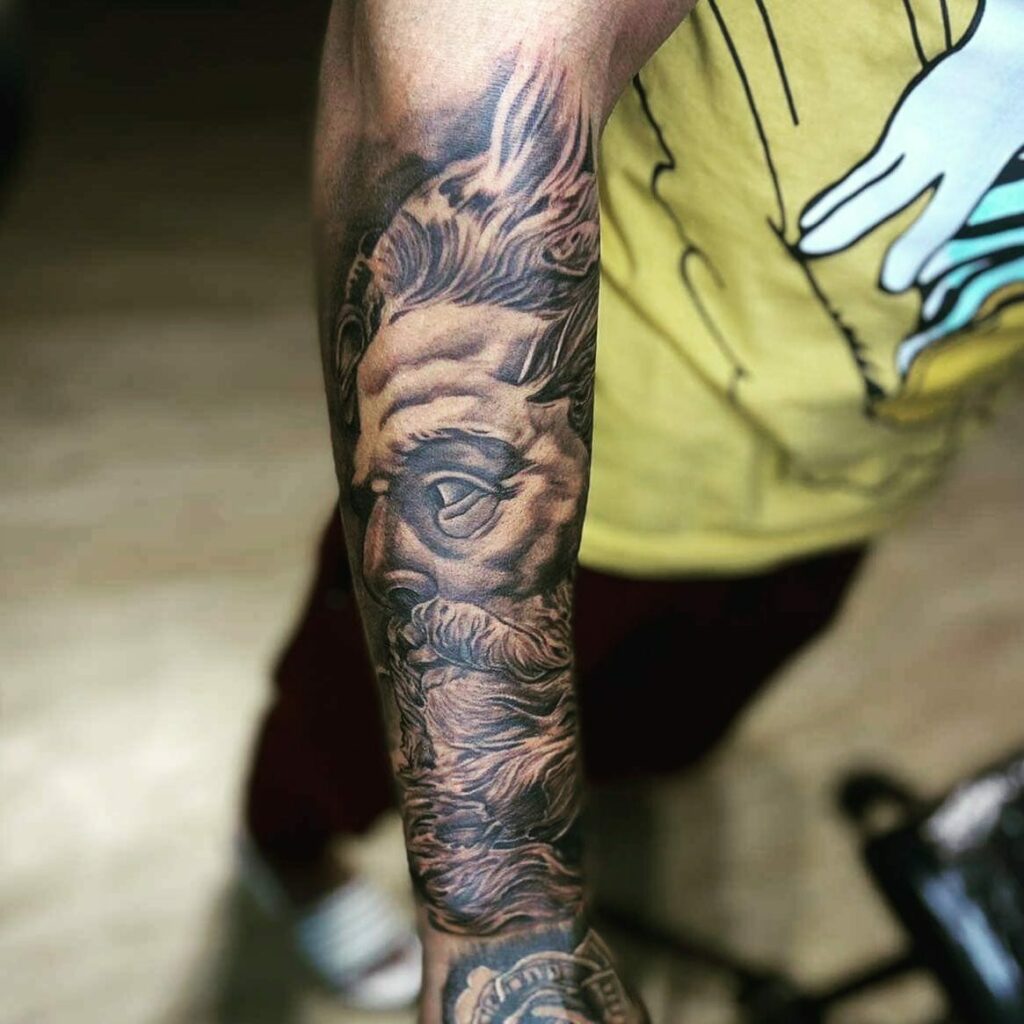 If you're interested in getting a tattoo inspired by Greek mythology, you're in for a treat. Greek god tattoos are typically created using black ink and are often done in a portrait style. This allows for intricate details and a three-dimensional appearance that truly brings the deity to life.
Whether you're looking to showcase a specific value associated with a particular god, or simply want to flaunt their aesthetic appeal, a Greek god tattoo is a great choice. If you're particularly drawn to Greek mythology, you can also explore other creatures from this rich world, such as angels, mortals, and monsters.
Some of the most popular Greek gods for tattoos include Medusa, Apollo, Zeus, Athena, Hades, Poseidon, and Hermes. Each deity has its own unique symbolism and personality, so you're sure to find one that resonates with you.
So, are you ready to make a statement with a stunning and powerful Greek god tattoo? Get inked and show off your love for this fascinating world of myths and legends!
Geometric Abstract Stencil Forearm Tattoo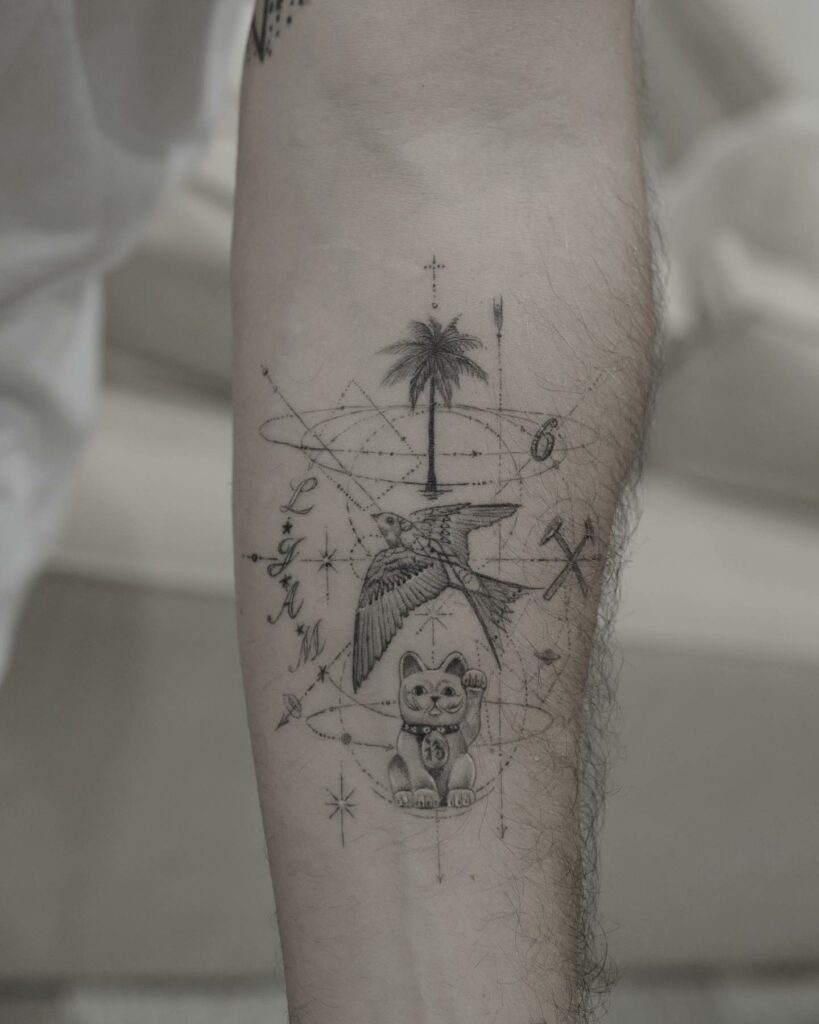 This forearm tattoo is a unique combination of various elements including stars, constellations, birds, shapes, palm trees, and the number 6. Each element used in the tattoo holds a specific meaning. For example, a bird flying in a tattoo symbolizes family values, ease, optimism, and joy, while a palm tree represents peace. The number 6 stands for balance in all aspects of life, including emotional, physical, and mental balance. And last but not least, the cat in the tattoo represents resilience and the idea of having nine lives. If these values resonate with you, then this design might be the perfect fit for you! Check out more stencil forearm tattoo options and see what speaks to you.
Gorgeous Panda Stencil Forearm Tattoo
Are you a fan of the adorable giant panda? Who could resist their playful and mischievous nature? But don't let their cute exterior fool you, these majestic creatures can quickly turn fierce when it comes to protecting their young. It's no wonder that pandas have become such a popular tattoo motif, embodying unique traits and personalities. With its black and white color scheme, a panda tattoo can represent both masculinity and femininity, symbolizing balance. If you're someone who loves to live in the moment, relax, eat, and take it easy, this tattoo might be perfect for you! And, if you're a fan of animal realism tattoos, this design is a great example of one that can be placed on your forearm. So why not explore more stencil forearm tattoo options and find the one that best represents your personality.
Black Stripe Stencil Forearm Tattoo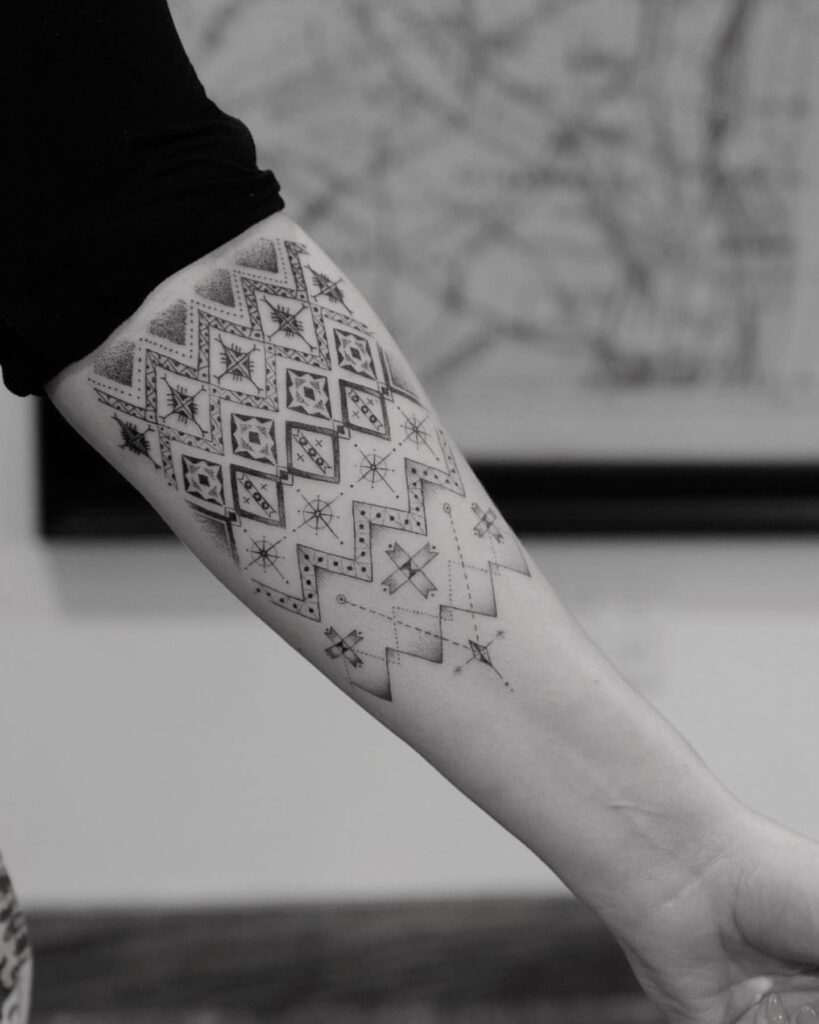 Are you a fan of simple and minimalist designs? If so, line tattoos might be just what you're looking for. Traditionally, solid straight lines in black ink on body parts like the forearm, back, ankles, legs, etc. represent the uniformity and symmetry found in nature. These tattoos also symbolize minimalism, but they can also hold personal meanings, such as death or mourning, depending on the number of lines used and their orientation on the skin. If you're looking for a straightforward design that's all about simplicity, then this option might be right up your alley. If you're thinking of getting a line tattoo on your forearm, be sure to check out more stencil forearm tattoo options and pick the one that fits you best. Don't hesitate to dive into the world of line tattoos! From finger stripes to straight and skewed lines on fingers, to four lines on the forearm, the possibilities are endless. Just make sure to do your research and choose a skilled tattoo artist for the best results.
Sword Stencil Forearm Tattoo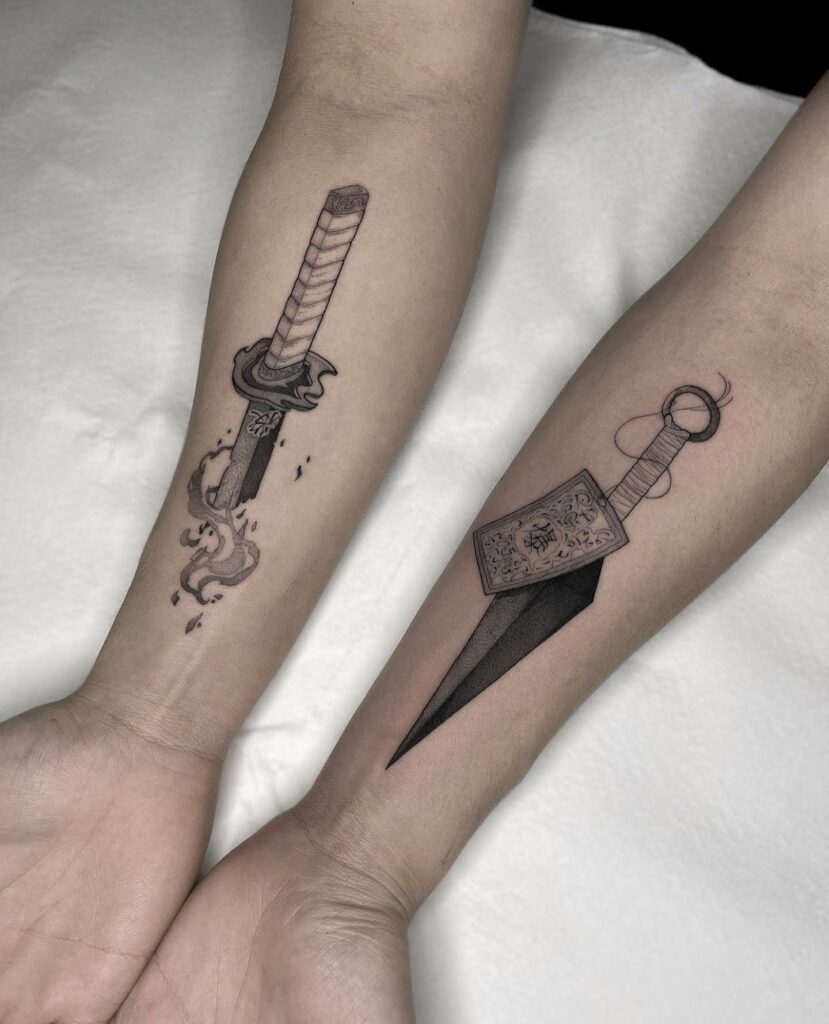 Are you looking for a tattoo that symbolizes power and strength to inspire you for a lifetime? A sword tattoo might just be what you need! Swords have been used for centuries to protect and conquer, from Vikings to Samurais. Not only do they represent physical strength, but they also symbolize mental fortitude. And with the striking black ink design, a sword tattoo is sure to make a bold statement. Just be sure to choose a skilled tattoo artist to bring your design to life, as you'll be wearing it for a long time! And if you're still on the hunt for more inspiring forearm tattoo ideas, read on for more stencil options.
Pine Forest Stencil Forearm Tattoo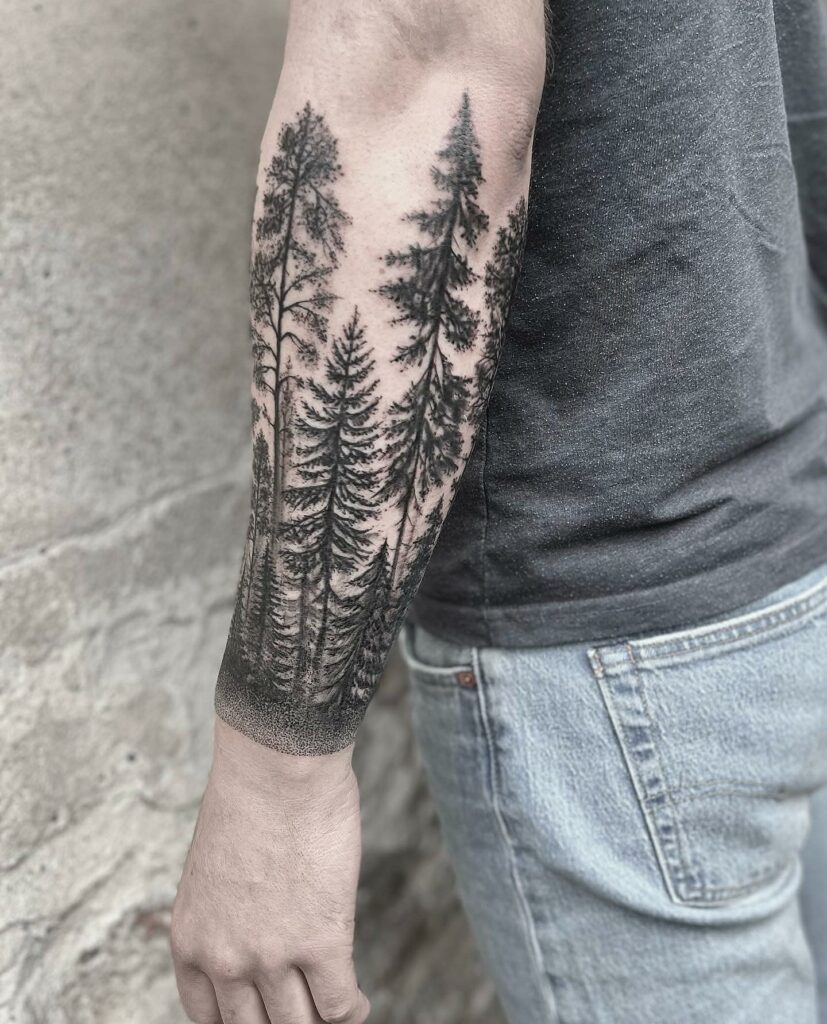 If you're in search of a meaningful tattoo that represents protection and respect for nature, a forest or tree tattoo might be just the right fit for you. The symbolism of trees and forests varies from person to person, but they often evoke feelings of safety, strength, and even mystery. Whether you're seeking protection in your own life or simply want to pay homage to the magnificent protectors of our planet, this design is a beautiful way to do so. And, when it comes to placement, the forearm is a popular canvas for this design, so don't be afraid to showcase your love for nature in a bold way. With so many stunning options available, why not dive into the world of forest and tree tattoo designs and discover the perfect one for you!
Anime Stencil Forearm Tattoo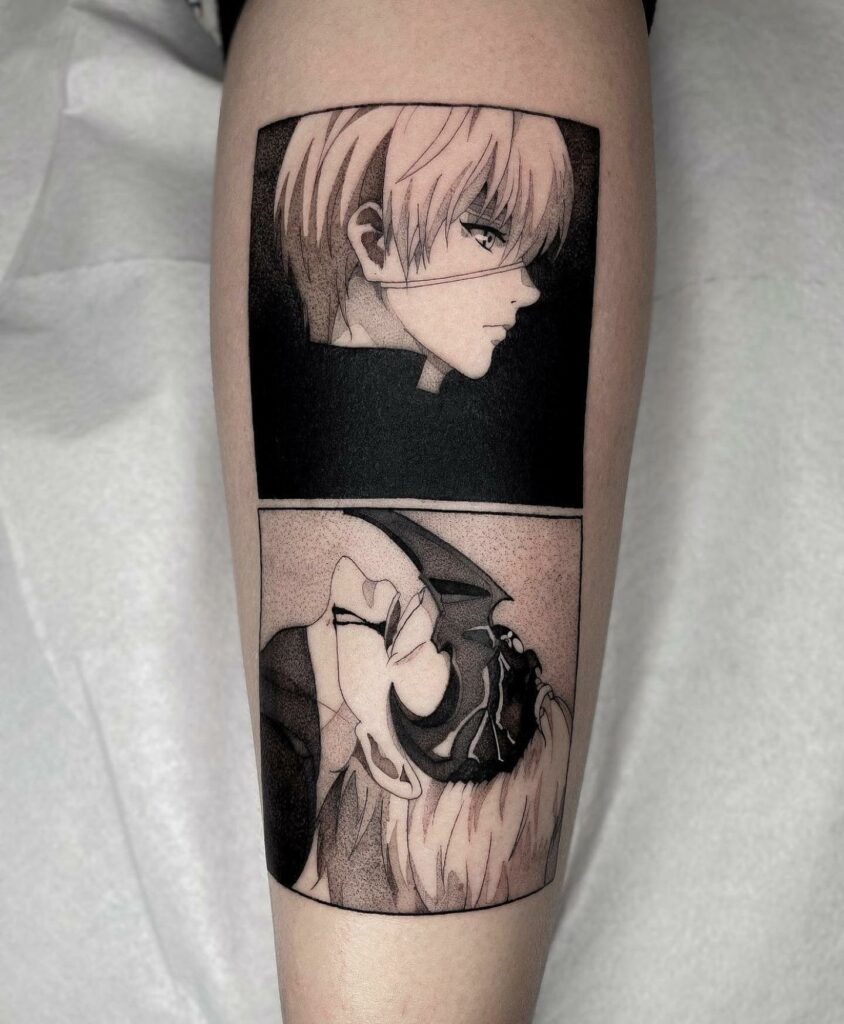 If you're looking to show off your love and passion for anime, why not consider getting an anime-inspired tattoo on your forearm? These tattoos have become increasingly popular in recent years, not just among Japanese people as a way to display their loyalty and pride for their homeland, but also for fans of anime and manga worldwide. Getting a precision-perfect anime tattoo requires a talented tattoo artist with experience in this style, so make sure to do your research and choose someone who specializes in anime tattoos. Your forearm is a great canvas for this kind of design, as you can easily show it off or keep it hidden under long sleeves. So, what do you say? Are you ready to wear your love for anime on your sleeve? Let's explore some stencil forearm tattoo options!
Anime Dragon Stencil Forearm Tattoo
Are you searching for a tattoo that represents strength, power, and beauty all in one? Look no further than dragon tattoos! Dragons are mythical creatures that have captured the hearts of people for centuries. In Japanese culture, they symbolize prosperity, protection, family, longevity, bravery, and wisdom.
Anime dragon tattoos are a popular choice for those who love this art form. The rich black ink and intricate details bring these creatures to life on your skin. And, with leaves included in the design, you can show off your connection to growth and the life cycle.
If you want to show off your fearless and powerful side with a stunning tattoo, the anime dragon is definitely for you. Just make sure to find a skilled tattoo artist who specializes in these designs to get the most precise and beautiful result. And while you're at it, check out more stencil forearm tattoo options to find the perfect one for you!
All-Seeing Eye Stencil Forearm Tattoo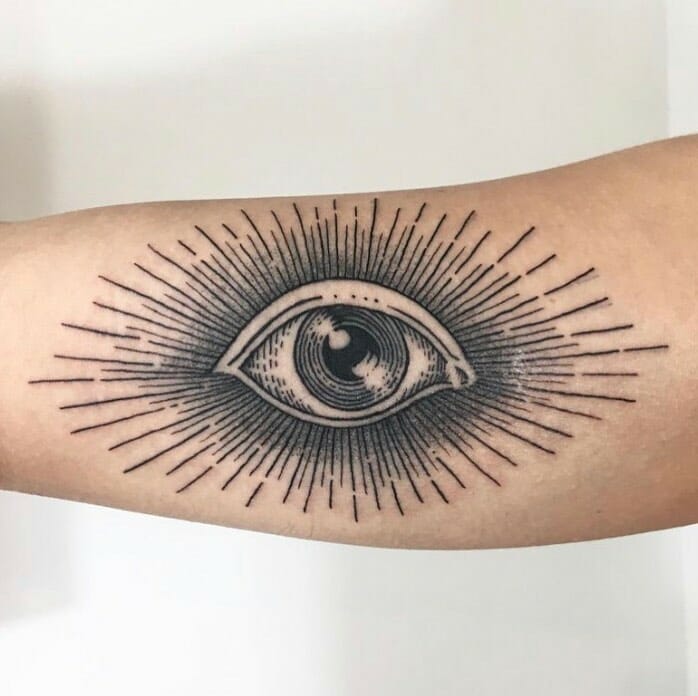 This iconic symbol has been a popular choice among many, representing not only the watchful eye of a higher power, but also the awakening of the spirit and the opening of the third eye. In tattoos, the all-seeing eye is often portrayed as an Illuminati eye, symbolizing power, control, and influence. It's a great way to remind yourself of a higher force at work and to stay connected to your beliefs. And the best part is, you can keep this stunning design close to you on your forearm for all to see or keep it hidden under full sleeve attire. So why not explore some other amazing stencil forearm tattoo options and find the one that suits you best!
Stencil Forearm Tattoo Sketches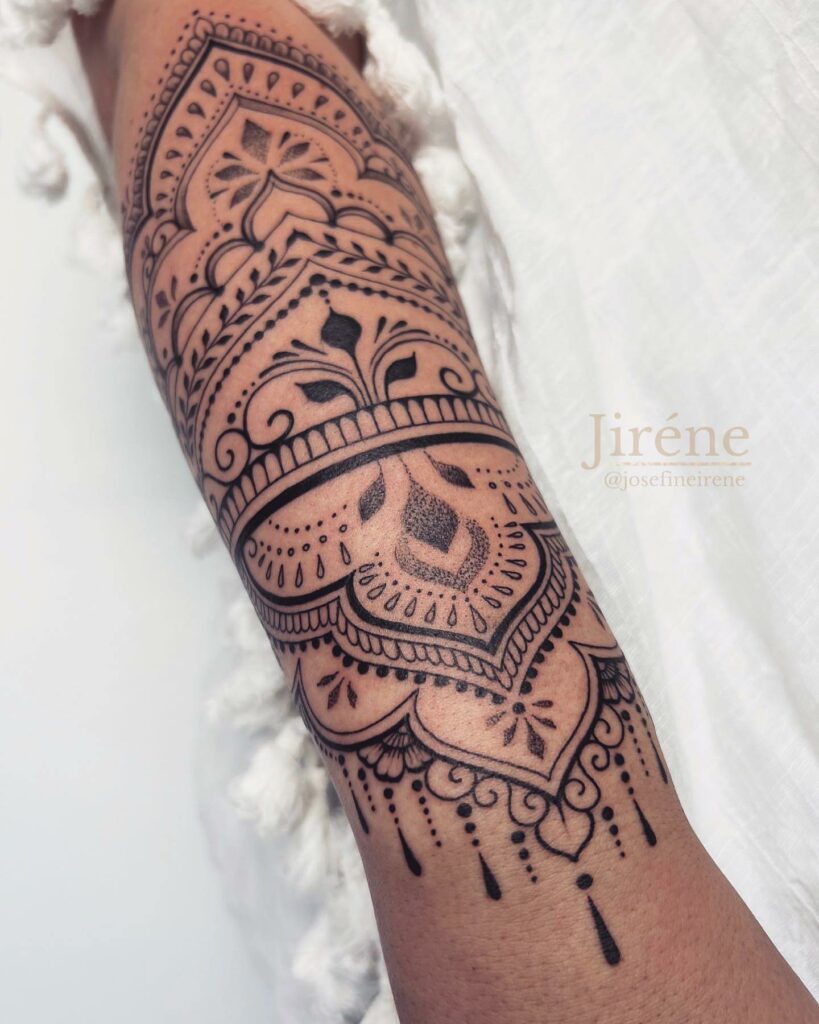 feature image from Pinterest – Want your tattoo to look brighter? Try "Tattoo Balm"