Hello, ink aficionados, and welcome to our colorful exploration of the enchanting world of butterfly tattoos. You know, butterflies are more than just flighty fashionistas of the insect kingdom. They carry weight, history, and symbolism as diverse as the patterns on their wings. In many ways, these creatures mirror the multifaceted human stories that come to life in our tattoo parlors each day.
Let's start our journey in the vibrant bustle of Eastern cultures, where the butterfly flutters as a symbol of joy. One can't help but smile when a butterfly dances by – it's like catching a fleeting moment of serenity amidst life's chaos. It reminds me of a young woman who visited my studio a few months back. She had just gotten into her dream university and wanted to celebrate that joyful milestone. She chose a brightly colored butterfly tattoo to commemorate that euphoria, forever imprinting her triumph on her skin.
Moving across continents and centuries, let's pause at the Aztec civilization, where the butterfly carried a much deeper symbolism. For them, the butterfly was a sacred emblem, representing the souls of brave warriors long passed. I recall a quiet, somber client who requested an Aztec butterfly tattoo. He shared that it was a tribute to his late brother, a soldier, evoking a personal connection to this ancient symbolism. The final piece was not just a tattoo, but a poignant narrative of loss, remembrance, and enduring love.
And what about the myriad meanings that butterflies encapsulate for us today? Their beauty is undeniable, a natural work of art that we often aspire to capture in ink. And yet, they also represent impermanence, echoing the fleeting beauty of our own lives. I remember a client who opted for a delicate butterfly tattoo after surviving a near-death experience. It was her poignant reminder of life's transitory nature and the beauty woven into each moment.
Then, there's metamorphosis. Much like the human experience, a butterfly's life is a journey of transformation – from caterpillar to cocoon to winged creature. This symbolism draws many to our studios, like the woman who got a butterfly tattoo post-divorce, a visual testament to her personal metamorphosis and newfound independence.
And who can forget good luck? Cultures worldwide have long considered the butterfly a harbinger of fortune. A butterfly tattoo can become a personal talisman, a permanent stroke of good luck on your skin. A gentleman once walked into our parlor and asked for a butterfly tattoo to celebrate his lottery win. He said he wanted a constant reminder of that lucky day – a symbol of fortune always by his side.
Butterfly tattoos are far more than just aesthetic accessories. They're personal stories, whispered narratives inked on skin. They're memories, joys, and transformations made visible. And each time an individual chooses one of these intricate designs, they add another layer to the butterfly's rich tapestry of symbolism. So, here's to the butterfly – a tiny creature bearing the weight of profound meanings, proving that beauty and depth can indeed go wing in wing.
Black Butterflies Meaning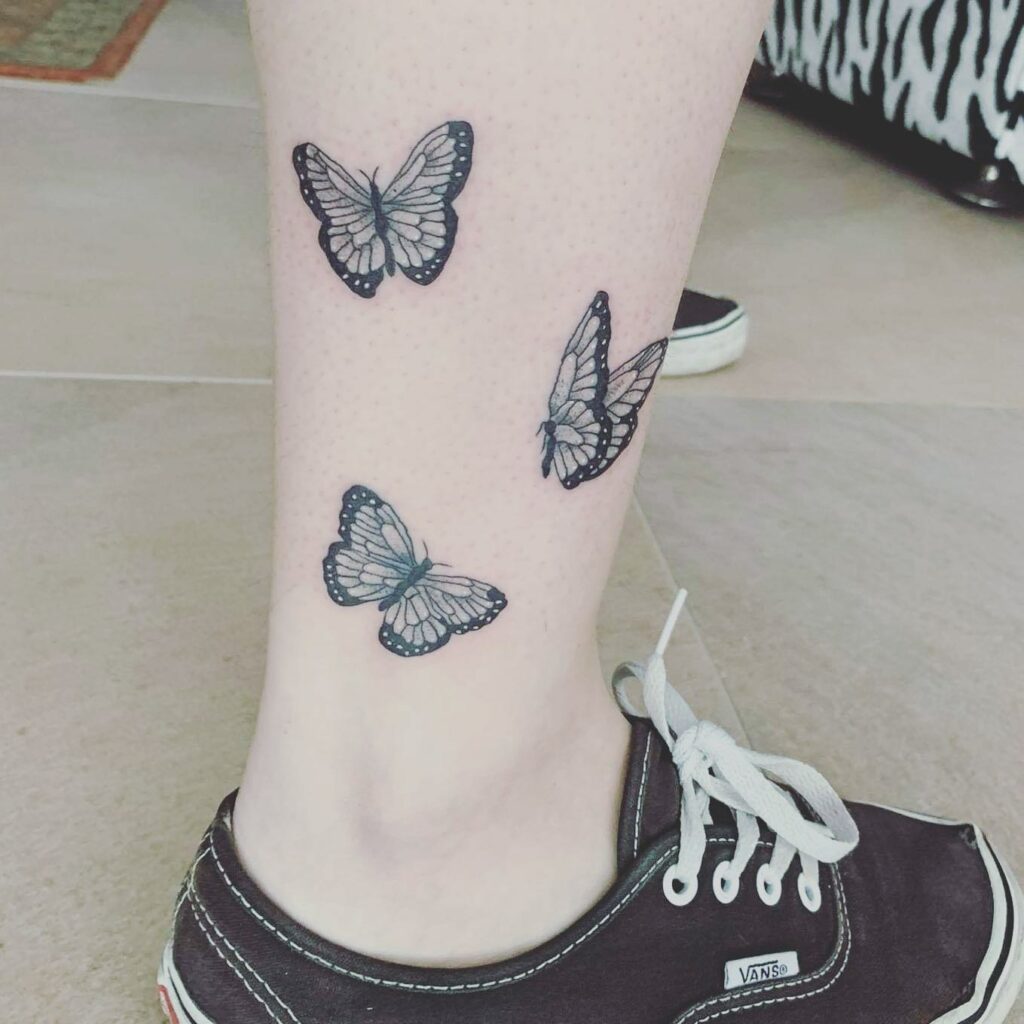 Consider Grace, a fiercely independent woman who chose a black butterfly tattoo. Black butterflies, often designed in tribal or Celtic styles, encapsulate the ephemeral nature of life. Grace saw her tattoo as a symbol of her journey through age and loss. It was her personal emblem, reminding her of the strength she acquired through her life's trials.
Purple Butterfly Tattoo Meaning
Next, meet Anthony. A dedicated support worker for those with invisible illnesses, he wears a purple butterfly on his skin. In many societies, this butterfly symbolizes resilience and strength, often related to fibromyalgia and similar conditions. Anthony's tattoo, with its intricately woven patterns and royal purple hue, embodies not only his personal commitment to those he helps but also his pursuit of a divine spiritual connection.
White Butterfly Tattoo Meaning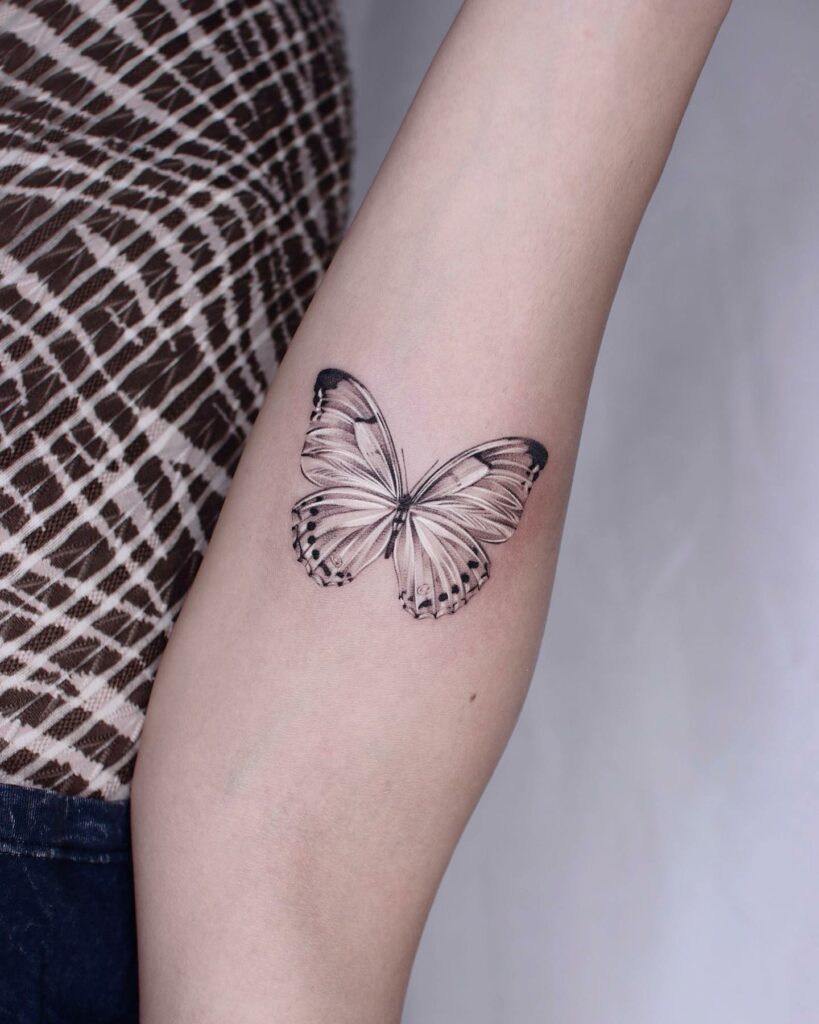 Faith is the name of another tattoo enthusiast who carries a white butterfly emblem. A devout Christian, she believes this symbol signifies the purity of Jesus Christ, renewed through his resurrection. It's a profound statement of her faith.
Yellow Butterfly Tattoo Meaning
The playful Emma has a yellow butterfly tattoo, deeply influenced by Chinese ideologies associating this vibrant insect with joy and peace. However, hailing from Scottish and Irish roots, Emma holds a heartfelt belief that a yellow butterfly also symbolizes a soul transitioning to a more peaceful place. Her tattoo is a testament to her playful spirit, her love for tranquillity, and her deep-rooted cultural beliefs.
Red Butterfly Tattoo Meaning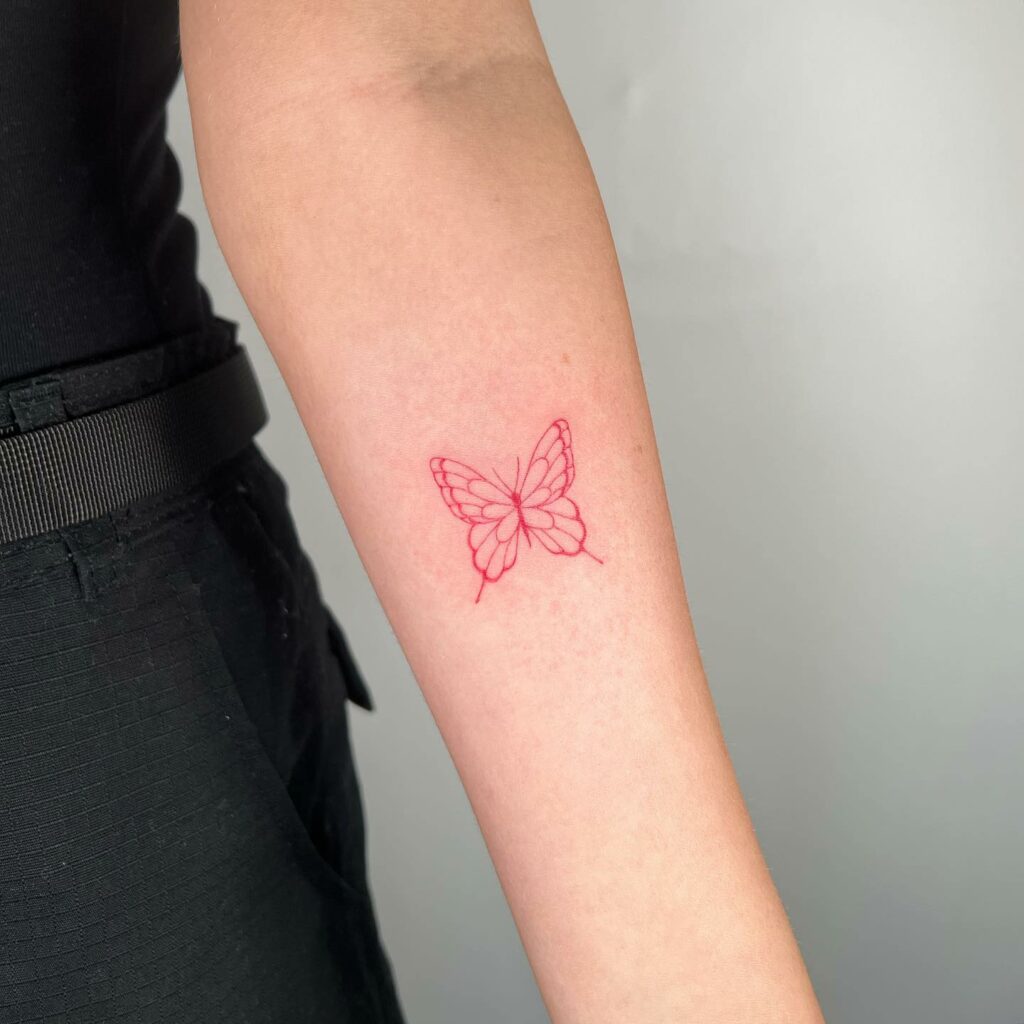 An interesting character, Jake, chose a red butterfly tattoo. This symbol, depending on one's cultural background, can represent good fortune, love, passion, or even a disguised witch, according to Scottish folklore! Jake's tattoo is an artistic exploration of these cultural narratives and a reflection of his dynamic personality.
Pink Butterfly Tattoo Meaning
Meet Ella, a youthful poet who wears a pink butterfly tattoo. Symbolizing femininity, love, and youthful exuberance, Ella's tattoo captures the joy of new relationships and life transformations. It's a light-hearted, beautiful emblem of her spirit.
Rainbow Butterfly Tattoos
Patrick, an outspoken member of the LGBTQ+ community, chose a kaleidoscopically colored butterfly to represent his journey. His rainbow butterfly tattoo embodies his confidence, celebrating his identity and the vibrancy of life.
Monarch Butterfly Tattoo Meaning
Monarch butterflies hold a special place in the world of tattoos, as demonstrated by Zoe. A successful entrepreneur, Zoe's tattoo captures the charm and power of women. Believed by many to be celestial messengers, Zoe's Monarch butterfly tattoo is her declaration of strength and protection she draws from her guardians.
Blue Morpho Butterfly Tattoo Meaning
In the realm of blue morpho butterflies, we have Lucas. Hailing from regions such as South America, Mexico, and Central America, these butterflies symbolize good luck or ill fortune. Lucas, with his ink, explores this duality, making his tattoo a meaningful piece of art.
Semicolon Butterfly Tattoo Meaning
We also have individuals who opted for the semicolon butterfly tattoo, like Mia, symbolizing the continuation of life's story. This design becomes a reminder that even amidst adversities, one's journey doesn't end but merely shifts to a different adventure.
Tribal Butterfly Tattoo Meaning
Tribal butterfly tattoos, like the one chosen by Aiden, symbolize change and progression. His tattoo captures the essence of his journey through a significant life event, paying tribute to his cultural roots and heritage.
Celtic Butterfly Tattoo Meaning
For those with Celtic ancestry, such as Liam, butterfly tattoos signify transformation and long life. His Celtic butterfly ink captures his cultural significance and his personal journey of change.
Aztec Butterfly Tattoos
Among the Aztecs, butterfly tattoos held profound significance. Rosita's tattoo, paying homage to Aztec deities, represents life's impermanence and the afterlife, creating a meaningful connection between her heritage and her personal beliefs.
Skull with Butterfly Tattoo Meaning
A fascinating combination can be seen in skull-butterfly tattoos, like the one chosen by Jay. This design beautifully captures the fleeting nature of life, symbolizing hope amidst suffering. His tattoo is a poignant reminder of life's inherent dualities.
Flower and Butterfly Tattoos
Above we have floral butterfly tattoos, worn by individuals like Isabella. Her tattoo reflects her personality, embodying serenity, innocence, and her profound love for nature. Her design symbolizes her appreciation for growth and transformation, encapsulated beautifully in the image of a butterfly nestled on a flower.
TOP BUTTERFLY TATTOO STYLES
Single-Needle Butterfly
First, let's address the single-needle butterfly tattoo, which is making a splash in the tattoo world right now. There's something incredibly poetic about this style. Picture Emma, a client of ours, who wanted a tribute to her grandmother's love for gardening and butterflies. Emma opted for a single-needle design, a delicate Mariposa Lily butterfly etched on her wrist with the finest of lines – a simple yet beautiful homage to her memories.
American Traditional Butterfly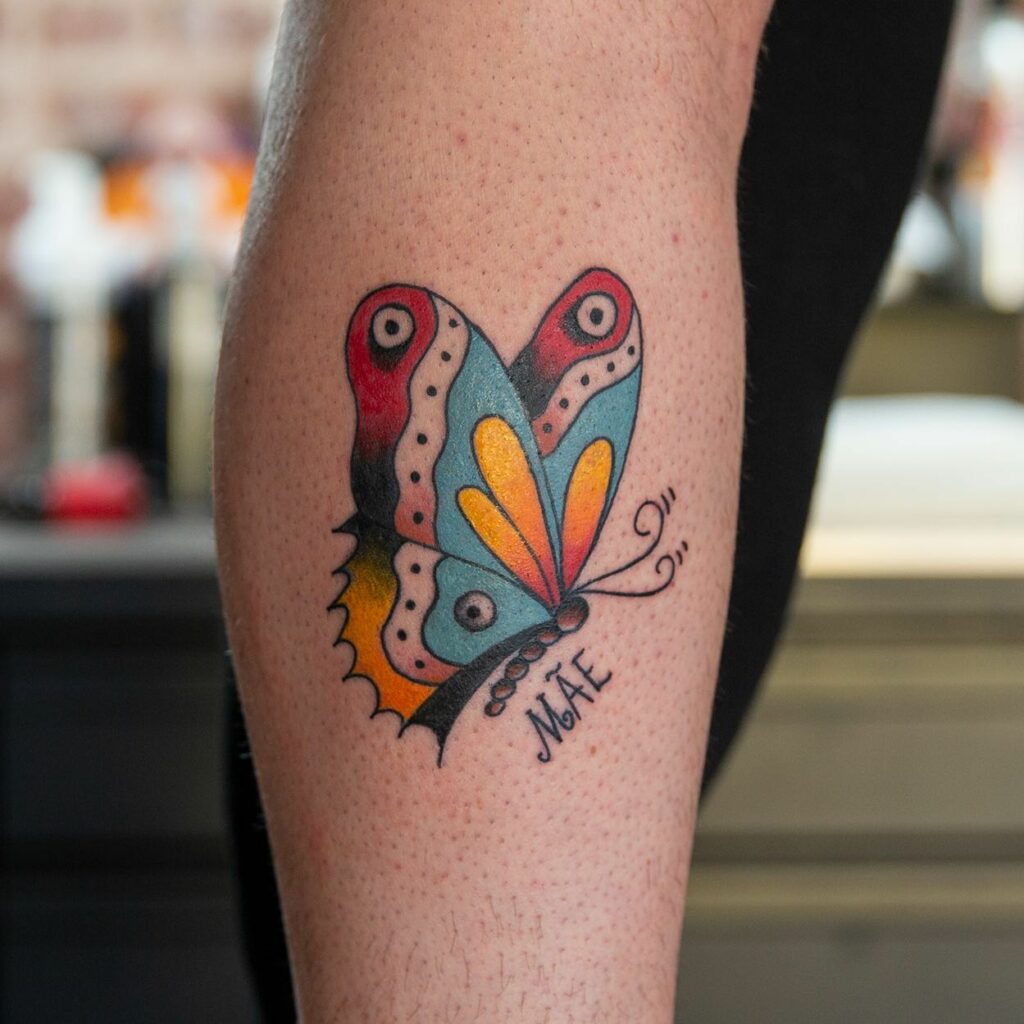 Then, we've got the good ol' American traditional or old-school butterfly. The style's thick lines and vibrant colors are as alluring as a flower to a butterfly. Think back to Joe, a marine vet who came in one afternoon, wanting to immortalize his journey with a traditional-style butterfly tattoo. His design, an old-school butterfly with bold colors and solid outlines on his forearm, is a testament to his strong spirit and resilience.
Watercolor Butterfly
Next up, the watercolor butterfly. The style captures the vibrant hues and soft fluidity of a butterfly's wings, almost like a dream painted on your skin. I recall Sophie, an art teacher who had always been enchanted by watercolor paintings. So when she decided to get a butterfly tattoo, the choice was clear. Her shoulder now sports a magnificent watercolor rendition of a Blue Morpho butterfly, a piece of living art that never fails to turn heads.
Tribal Butterfly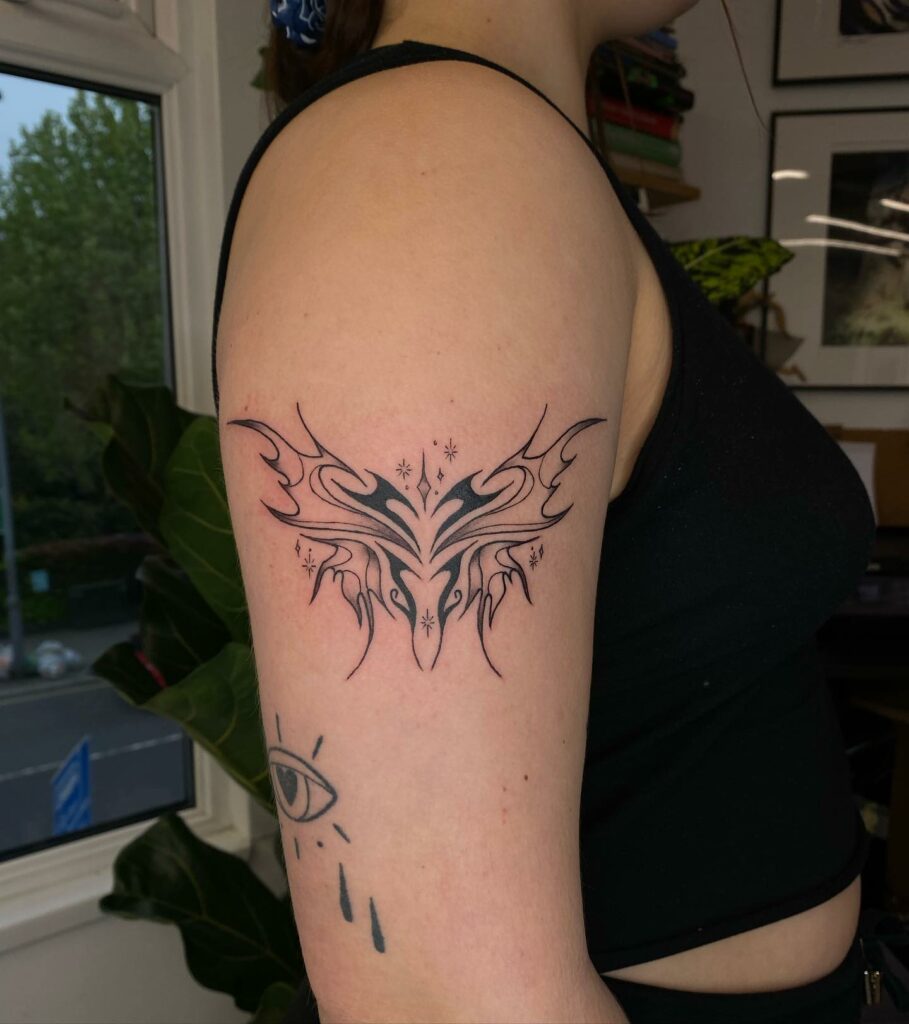 For those leaning towards a more graphic appeal, the tribal butterfly style doesn't disappoint. It's an iconic choice that can be seen as traditionally masculine, but let's be clear, anyone can rock a tribal tattoo! Take Alex, for instance, an entrepreneur who wanted to celebrate his mixed heritage with a tribal butterfly tattoo. His design intertwines the Polynesian tribal style with a butterfly motif, symbolizing change and adaptability.
Realistic Butterfly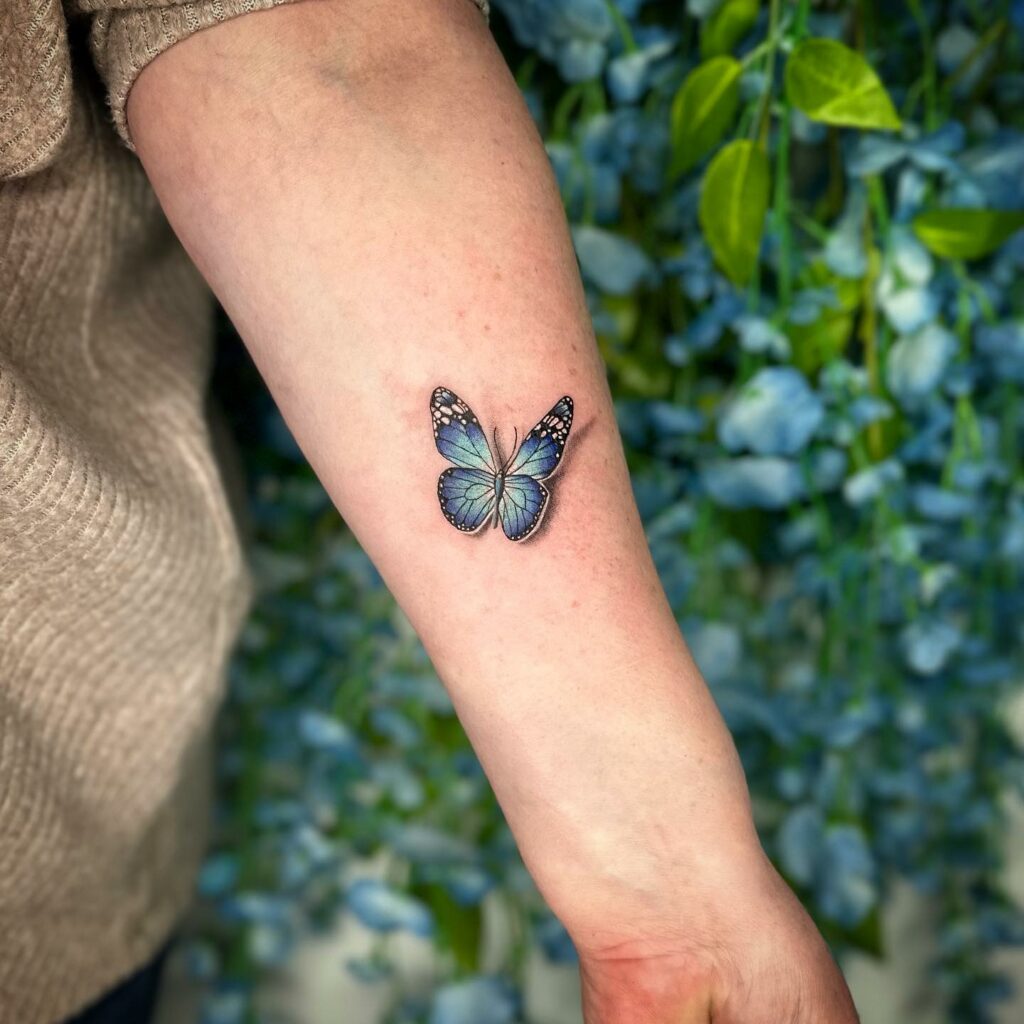 Finally let's take a look at some essential steps in the process, and tips on how to ensure your butterfly tattoo experience is smooth sailing. You've already been introduced to a variety, from single-needle and American traditional to watercolor, tribal, and realistic designs. Each style has its unique charm and personality, so choose one that resonates with your personal aesthetic and the story you want your tattoo to tell. And remember, it's your tattoo, so don't shy away from customizing it. Mix and match styles, incorporate other symbols or elements – the sky's the limit.
Finding a reputable artist is crucial. You're entrusting someone to ink a permanent piece of art on your body, so you want to ensure they know their craft. Research is key here. Check out different tattoo parlors, look at their portfolios, read reviews, and don't hesitate to ask questions. Discuss your ideas with the artist, get a feel for their vibe, and make sure you're comfortable with them.
Consider booking a consultation before your tattoo session. This allows you to communicate your ideas clearly, work out the details, and ensure you and your artist are on the same page. The design, size, placement, color scheme, potential risks – all these factors can be discussed in-depth during a consultation.
When it comes to designing your own butterfly tattoo, take inspiration from everything around you. It could be a butterfly species you particularly adore, a color palette that soothes your soul, or a personal symbol that adds an extra layer of significance to your tattoo. Make sure it reflects your personality and the story you want to tell.
Conclusion
As we close this vibrant exploration into the realm of butterfly tattoos, one thing becomes clear: this simple yet powerful symbol, rich in meaning, is indeed transformative. The location of your tattoo can be as personal as its design – often people choose visible areas to share their story with the world, while others prefer more private placements as personal reminders of their journey. Costs can range widely, from $50 to several hundred dollars, depending on the size, detail, and the artist's expertise.
Like any permanent modification to your body, there can be risks, including allergic reactions to ink, skin infections, or scarring. Always ensure you opt for a reputable artist who follows stringent hygiene standards. It's also worth noting that tattoos can be painful, and the level of discomfort can depend on the location of the tattoo. More sensitive areas, like the inner arm or ribcage, may be more painful than fleshier parts like thighs or upper arms.
Whether it's a black butterfly serving as a reminder of the temporal nature of life or a rainbow butterfly symbolizing a proud expression of identity, each tattoo carries a story. It's a beautiful, vivid way to express oneself, embodying our journeys, beliefs, and values in a piece of indelible, personal art. Always remember, a tattoo is more than just an accessory – it's a narrative etched onto your skin, a personal masterpiece that you carry with you for a lifetime.
Finally, the process of getting a butterfly tattoo isn't just about the tattoo session. Proper aftercare is equally important. Your artist will provide instructions, which typically involve keeping the tattoo clean and moisturized, avoiding sun exposure, and not picking at scabs. Following these instructions will ensure your tattoo heals well and retains its vibrancy.
Remember, getting a butterfly tattoo is a personal and creative journey. It's an expression of who you are and a testament to your life experiences. So enjoy the process, trust your instincts, and let your skin narrate a beautiful butterfly tale. Happy tattooing, folks!