Looking for gorgeous minimalistic pokemon tattoo designs? You are at the right place we got that for you. Go through this selection of amazing minimalistic pokemon tattoos selected only for you.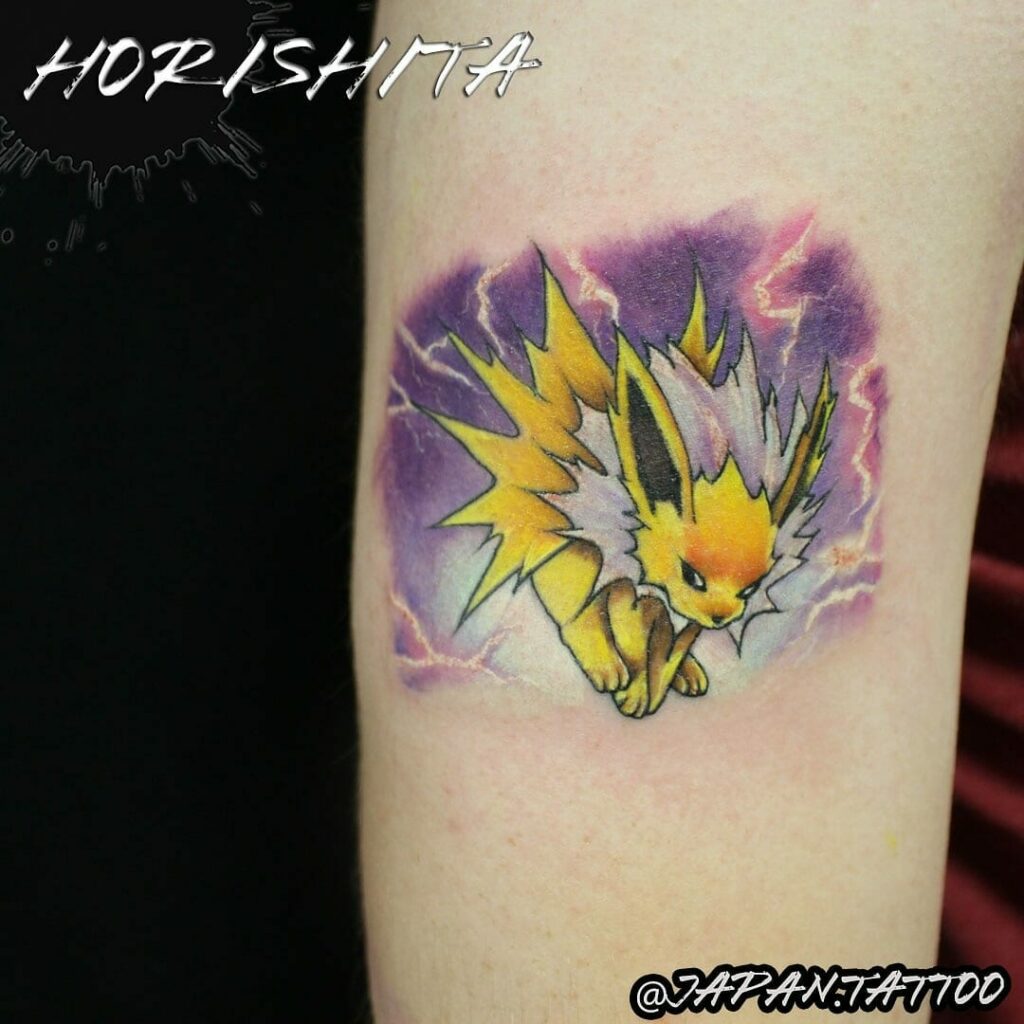 Pokemon as a show has been a favorite with both children and adults alike.
Given the overwhelming popularity of the show, it is no surprise that they have established themself as an indelible part of pop-culture. Thus began the growing demand for minimalist tattoos pokemon tattoos.
Minimalist tattoos in general have gained popularity over the years for being extremely symbolic of
Whooper Minimalist Tattoo Ideas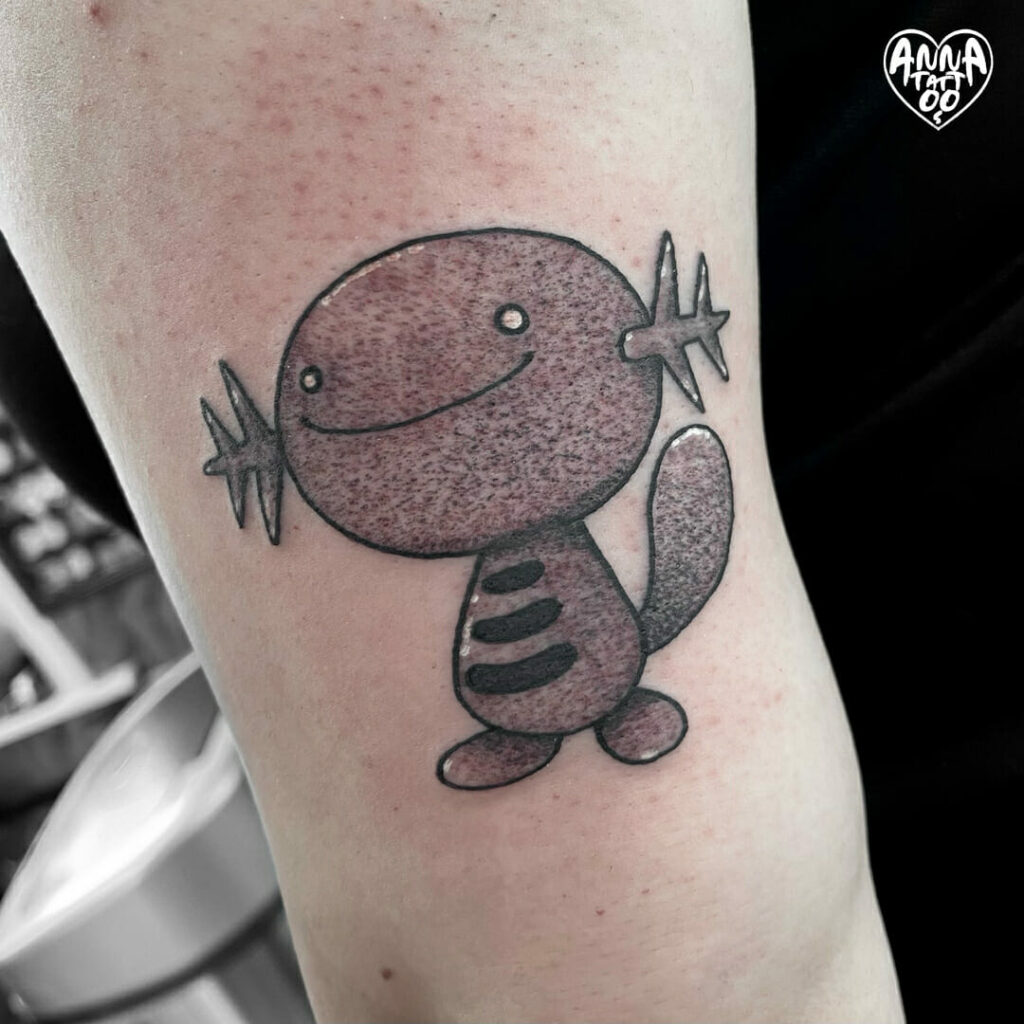 If you admire cute Whooper or if it is your favorite pokemon, then this small tattoo can be perfect for you. Whoopers are small amphibious pokemon who are mostly armless. Whoopers are known to have fish bone-like ears, which distinguish them from other pokemon. This is a very small tattoo done on sleeves but you can ink it somewhere else based on your choice.
Whoopers are known to be blue. This tattoo does not have any color in it, it is entirely done with black ink and shading. If you want to add skin color to the whooper you can add blue color as whoopers as shown in the cartoons are blue or even if you want to you can unleash your creative sense and color it something else or add some other elements.
Minimalist Tattoos Design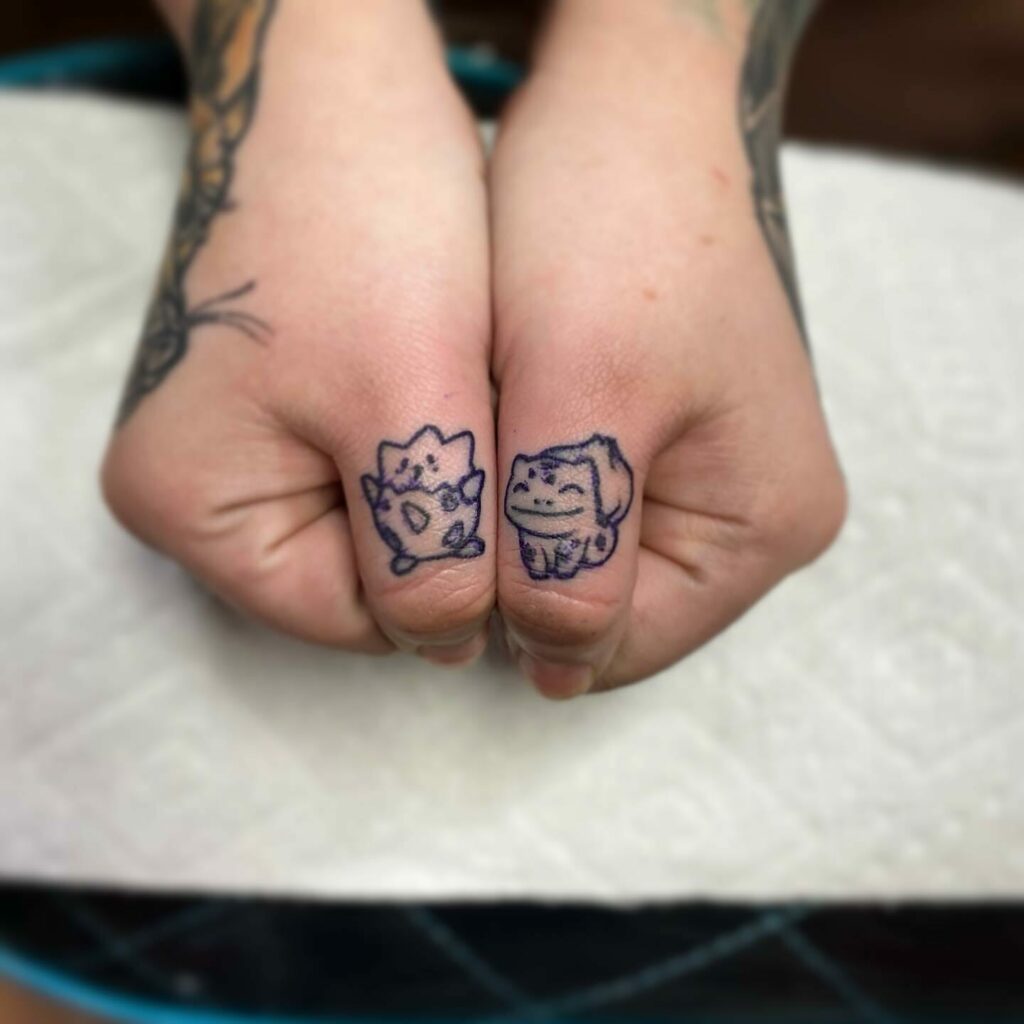 If you are into minimalistic tattoos then this can be perfect for your next appointment. This is the tattoo of Togepi and Bulbasaur on the fingers. This tattoo is done with black ink and on the knuckles.
Togepi and Bulbasaur are one of the cutest pokemon types. Togepi is a fairy-type pokemon while Bulbasaur is a poison or grass-type pokemon introduced in Generation 1. The tattoos can be done on other parts of your body where the tattoo can visible if you want a bigger tattoo that will catch the attraction of others.
Origami Popular Pokemon Tattoo Design
If an alternative type of tattoo is your go-to design then this Pokemon tattoo can be your favorite choice. This tattoo is done in origami design quite different than other tattoo designs and can be a catch for others who will see it and will shine on the wearer. A tattoo style like this shows the creativity of the tattoo artist.
This is the character of water-type pokemon Squirtle one of the most powerful pokemon in the world of Pokemon. This origami design is done with finesse and is quite uncommon when it comes to tattooing. The design is geometric while the color contrast looks very beautiful. The minute coloring of each element needs to be done with focus to give it a shape.
Most Popular Pokemon Design Ideas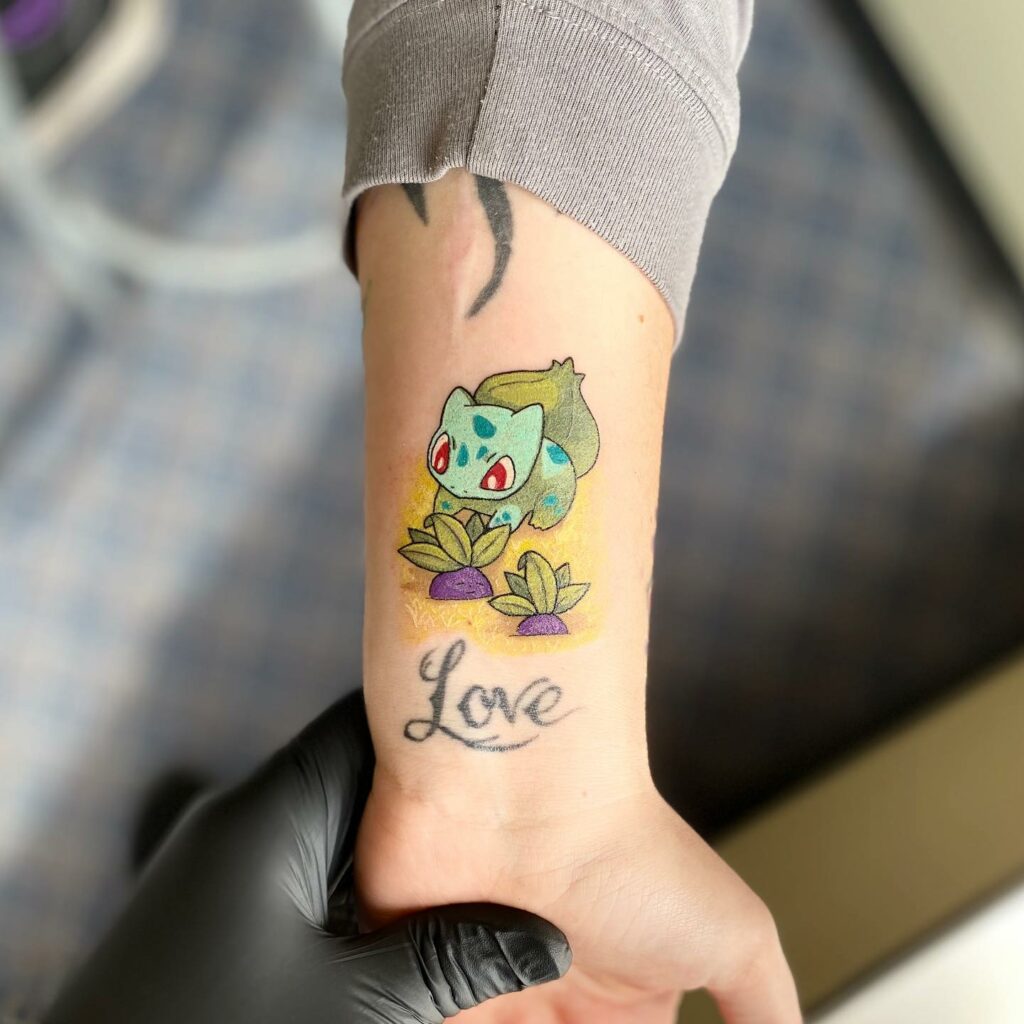 When it comes to the popularity of getting tattooed, the photo of Bulbasaur among many pokemon tattoos can be a great choice. This tattoo is done on the wrist and with colors that look eye-catching from afar. For someone who is always looking for colorful tattoos why not try this one? Depending on your choice the size of the tattoo can be increased or decreased.
This tattoo can be done both by girls and boys according to tattoo artists. Bulbasaur is one of the most adorable pokemon whose symbol you can get inked. This is a really cute tattoo artwork to look at where the pokemon is trying to pluck out the turnip which is in the ground. The minute shading of this tattoo makes it look noticeable and striking.
Favorite Pokemon Tattoo Design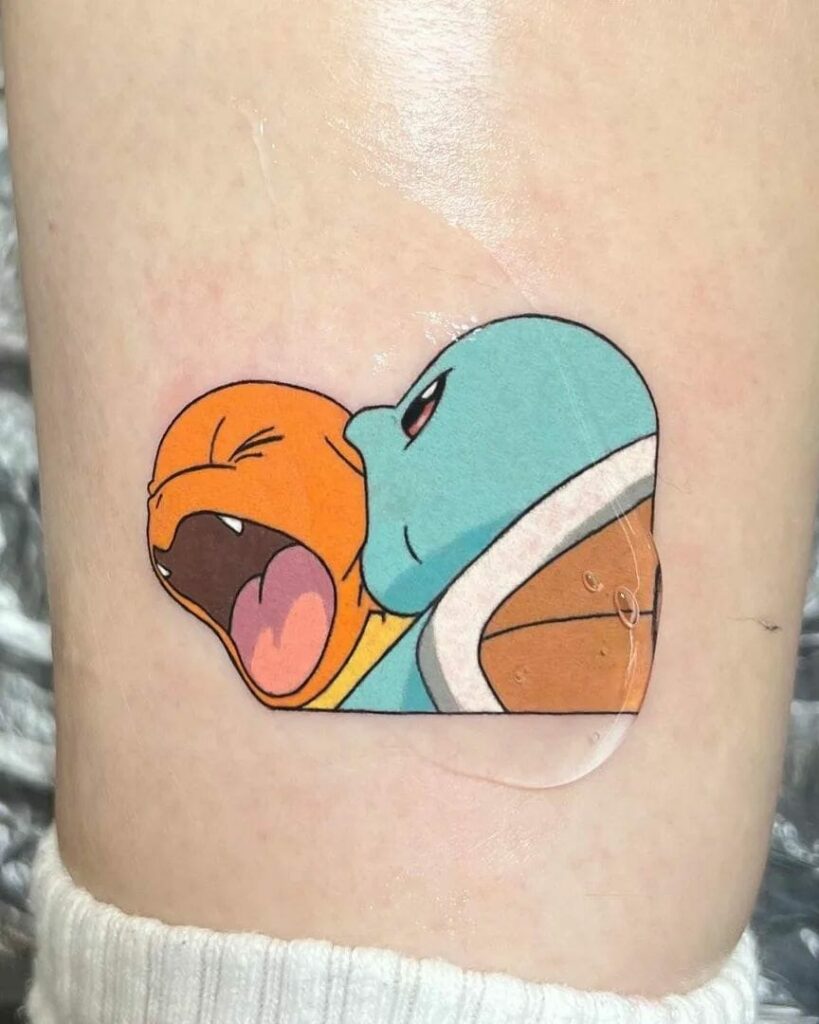 Adorable is the only vibe this tattoo emits everywhere. Anyone who will take a look at this tattoo no matter what even if they are not a pokemon fan no doubt will fall for this cute tattooing style. This tattoo can be done on your arm including your legs or even your wrist. Color in this tattoo adds prominence.
This is a cartoon tattoo design in which Squirtle is seen biting Charizard. Coming up with an inspiration for a design like this adds to the excellence of the tattoo artist. The shading and the minute details added to the tattoo makes it look real. The tattoo looks neat and prominent as it is and the line work looks perfect and does not need the addition of anything to the tattoo.
Medium Size Pokemon Tattoo Ideas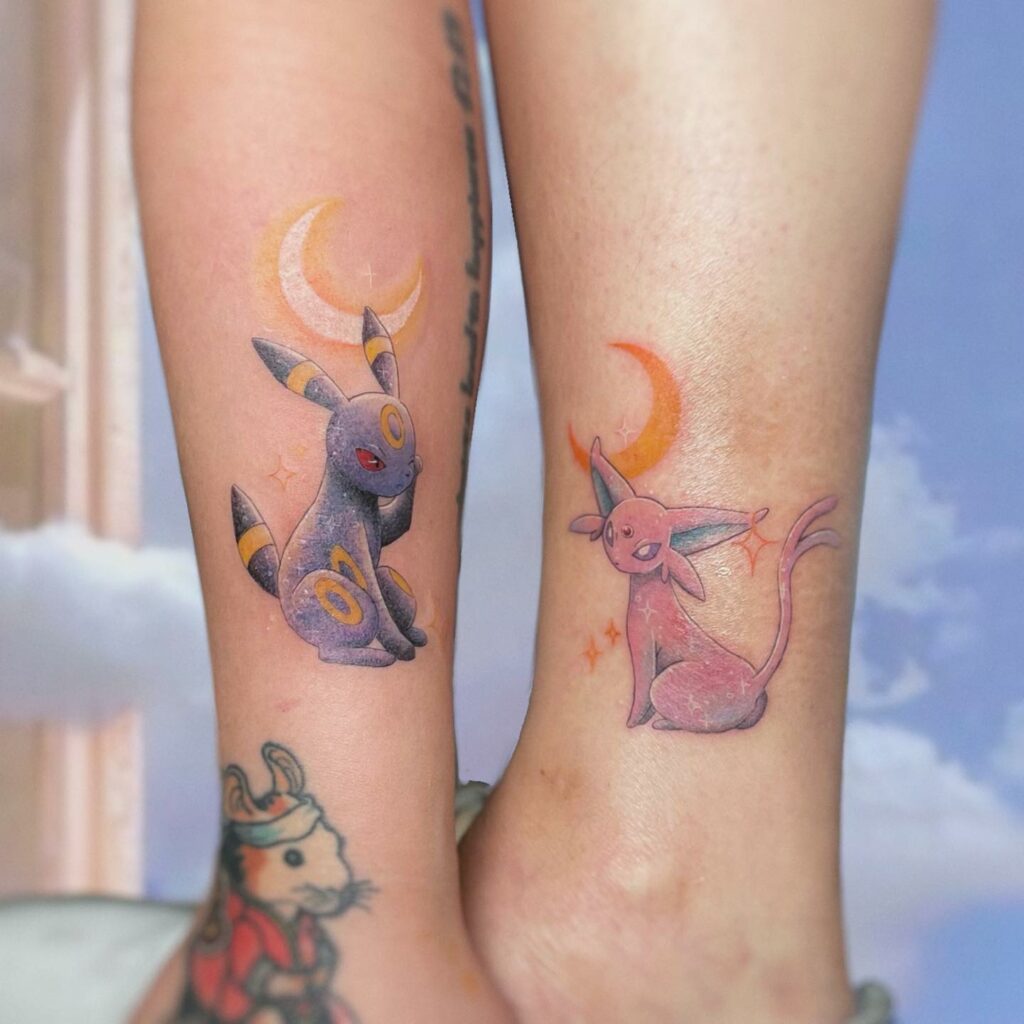 If you are into similar or even a couple of pokemon tattoo ideas then you can decide on this one. This is a couple of tattoos of Espeon and Umbreon. Just like the pokemon who are in love with each other, this is a sign you can get a tattoo like this with your partner if both of you are pokemon lovers. This tattoo is perfect for a Pokemon geek.
Espeon is a major character alongside Umbreon when it comes to the game Pokemon Go. Even in the cartoon both of them are known to be experts in understanding the mysteries and meanings of the universe. Espeon and Umbreon are both the evolved version of Eevee. As it is shown in the tattoo in the cartoon and games Umbreon is the moonlight pokemon more on the darker side while Espeon is the Sun pokemon.
Minimalist Starter Pokemon Tattoo Ideas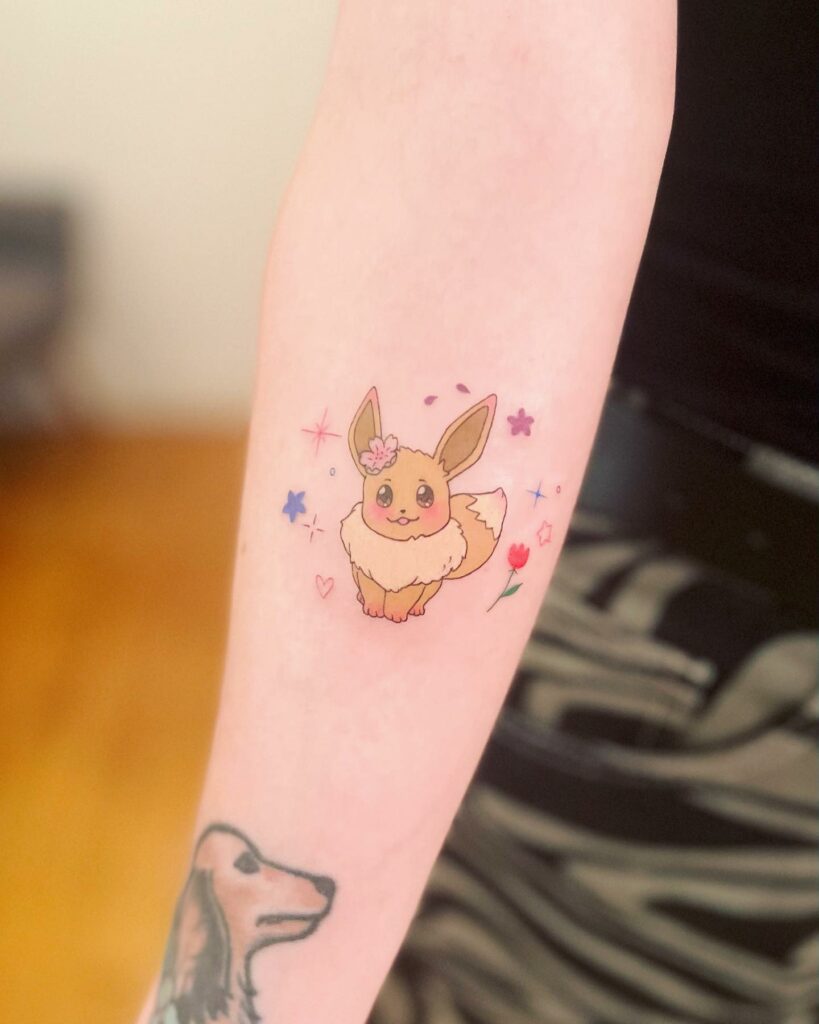 Bringing for you another adorable pokemon tattoo that screams cuteness. This is the tattoo of Eevee. Color added to the Eevee looks very attractive and gorgeous. The addition of other elements like flowers and stars makes it look even more beautiful. But it's the choice of the wearer if they want to keep the additional elements of the tattoo or change it and keep it simple.
Eevee is the only special Generation 1 pokemon that can evolve into three separate pocket monsters. Eevee is one of the most important characters in the cartoon Pokemon XD and is liked by many fans. Eevee can be either gender. It can be a male or a female if looked further into the game. It's up to you which one you want to get tattooed. This Eevee can be a female Eevee by looking at the flower on its head. While the pink blush added to its cuteness.
Arm Pokemon Tattoo Minimalist Ideas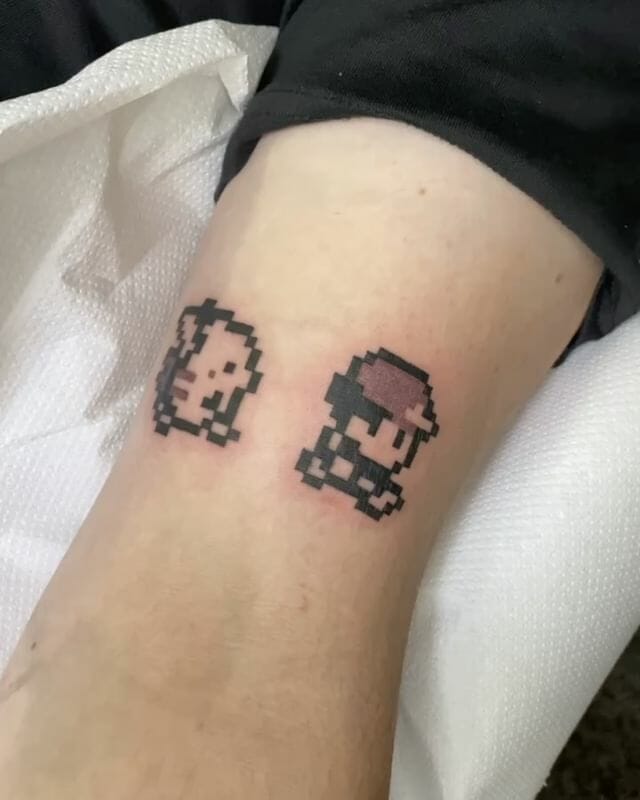 If you want to make your tattoo look like a game character yet want it to be minimalistic then this tattoo can be your perfect selection. This tattoo is done with a pixel type of artwork. Instead of clean tattoos with line work done with perfection this kind of tattoo looks like a video game or an old television with old-school vibes.
The entire tattoo is done with black ink. The ink work looks very beautiful and creative and even though it looks very easy to be inked it is not. This is a tattoo of Ash with his best friend pokemon Pikachu. Pikachu is a ground pokemon. This tattoo or tattoos like this has many fans because a design like this is not seen in much. So inking this tattoo will positively gain the attention of others.
Pokemon Minimalist Tattoo Design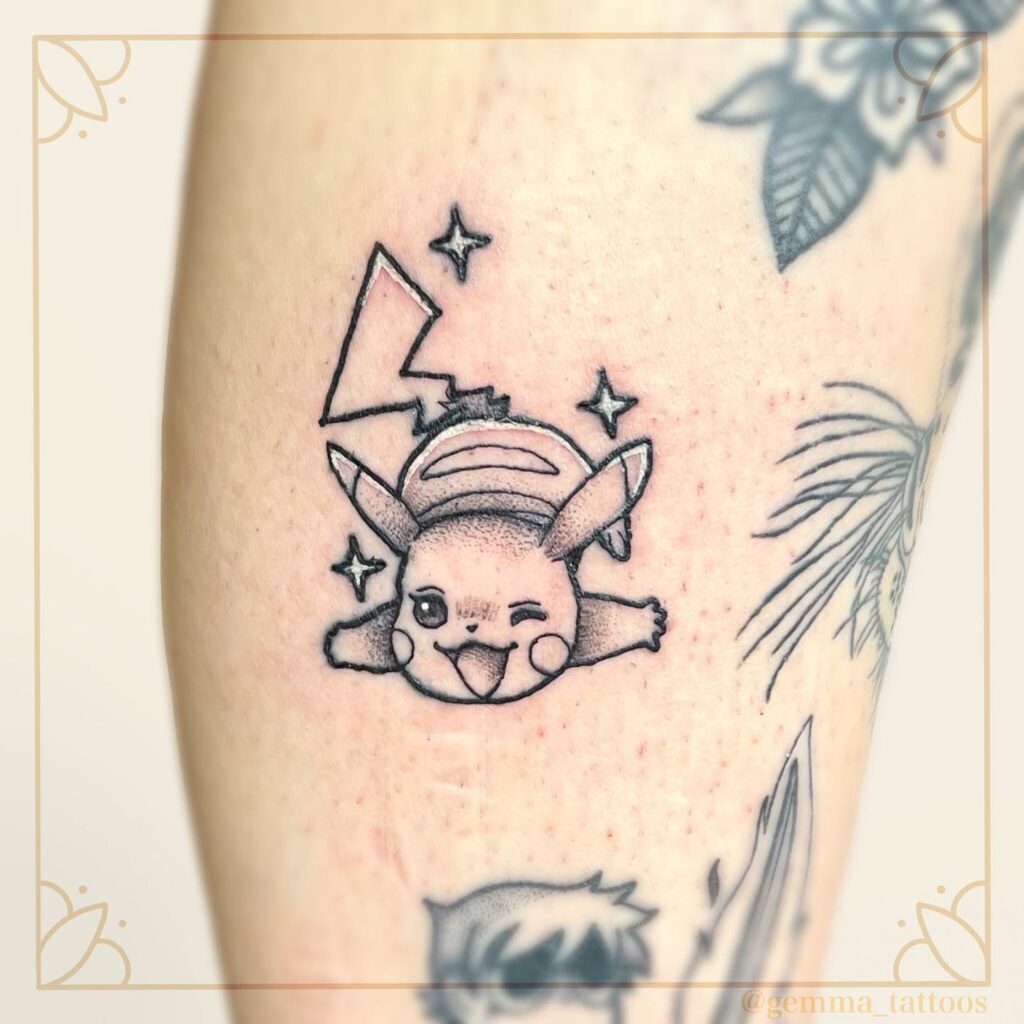 Pikachu is the most loving pokemon of the pokemon franchise and also a pokemon that is rare and difficult to be found in Pokemon Go. Pikachu is the most fan favorite pokemon among kids and adults all over the world no matter what. Having a Pikachu tattoo on your body will add to your style statement.
This tattoo is done on the sleeve area and entirely with black ink while the black dotted shading looks very beautiful and brings prominence to the tattoo. The artwork brings out the personality of the wearer who always likes to be in a happy mood and spreads happiness and brightens up the mood everywhere.
Jigglypuff Small Tattoo Ideas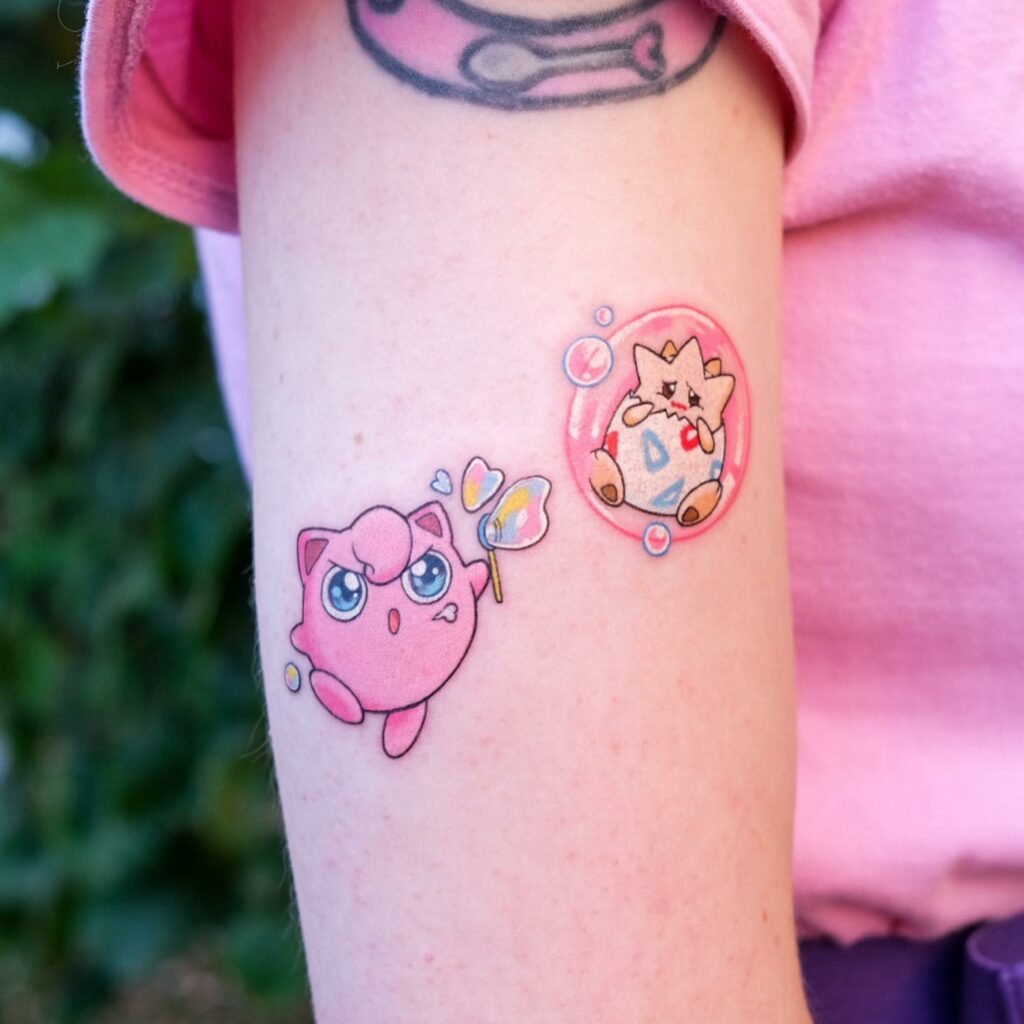 If you are into cute tattoo ideas then you can always go for this tattoo design. This is a colorful tattoo with bright colors added to it with one of the favorite Pokemon characters of all time and adored by many Jillypuff and Togepi. The line work of this tattoo looks very beautiful and brightly pigmented.
Even the tattoo design is very sweet and lovely. Jigglypuff is inked to be playing with Togepi and has caught it inside a big pink bubble. It may look like inking a picture like this is easy to be done but it's not. Inking a tattoo like this is time-consuming and hefty work. The shading needs to be done with competence. You can flaunt your creative self and add touch-ups to this tattoo on your will.
Pokemon Tattoos are absolutely beautiful and look nice on the wearer. These tattoos bear a lot of nostalgia while the reason behind inking them makes them unique and personal. You can customize the tattoos in your way and let your creativity shine because the choice of the wearer comes first when it comes to tattooing. Here are some meaningful tattoos ideas that you can take into account and review while selecting Pokemon Tattoos for yourself and getting yourself an appointment booked with your professional tattoo artist.
feature image from Pinterest – Want your tattoo to look brighter? Try "Tattoo Balm"
Last reviewed and updated on June 19, 2023