An elephant hand tattoo design resembles magnanimity in humbleness. Here are some of the best designs for you to get inked with!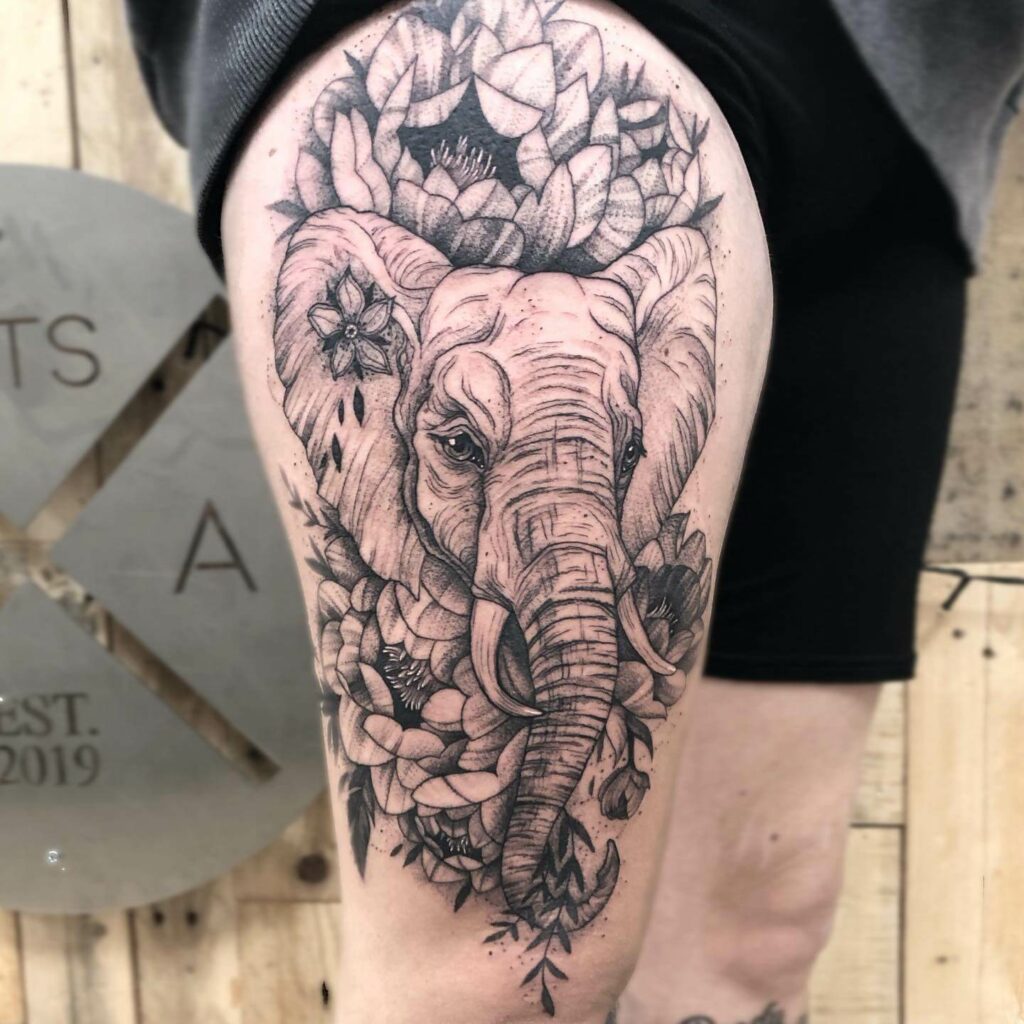 Elephants as gentle giants have been a universal symbol of power, commitment, spirituality, and blessings.
They are also believed to encourage spiritual welfare in our daily lives and serve as symbols of wellness and pleasure. Elephants are powerful, caring, and compassionate creatures who are devoted to their herds.
We all know the biggest terrestrial creatures on the planet are elephants. Elephants undoubtedly have many characteristics that draw us to them, including gorgeous, distinctive constructions, intelligent communication, outstanding memory, strong spiritual significance, and devotion. The elephant is an animal that represents good luck in many cultures. Good luck charms are frequently a significant decision for a tattoo. Having said that, it is entirely up to you to choose how you customize your tattoo. There are countless variations of elephant tattoos, each with significance and deep meaning. Check out the best elephant tattoo designs if you're seeking the ideal hand tattoo!
'Family Of Elephant' Tattoo Designs On Hand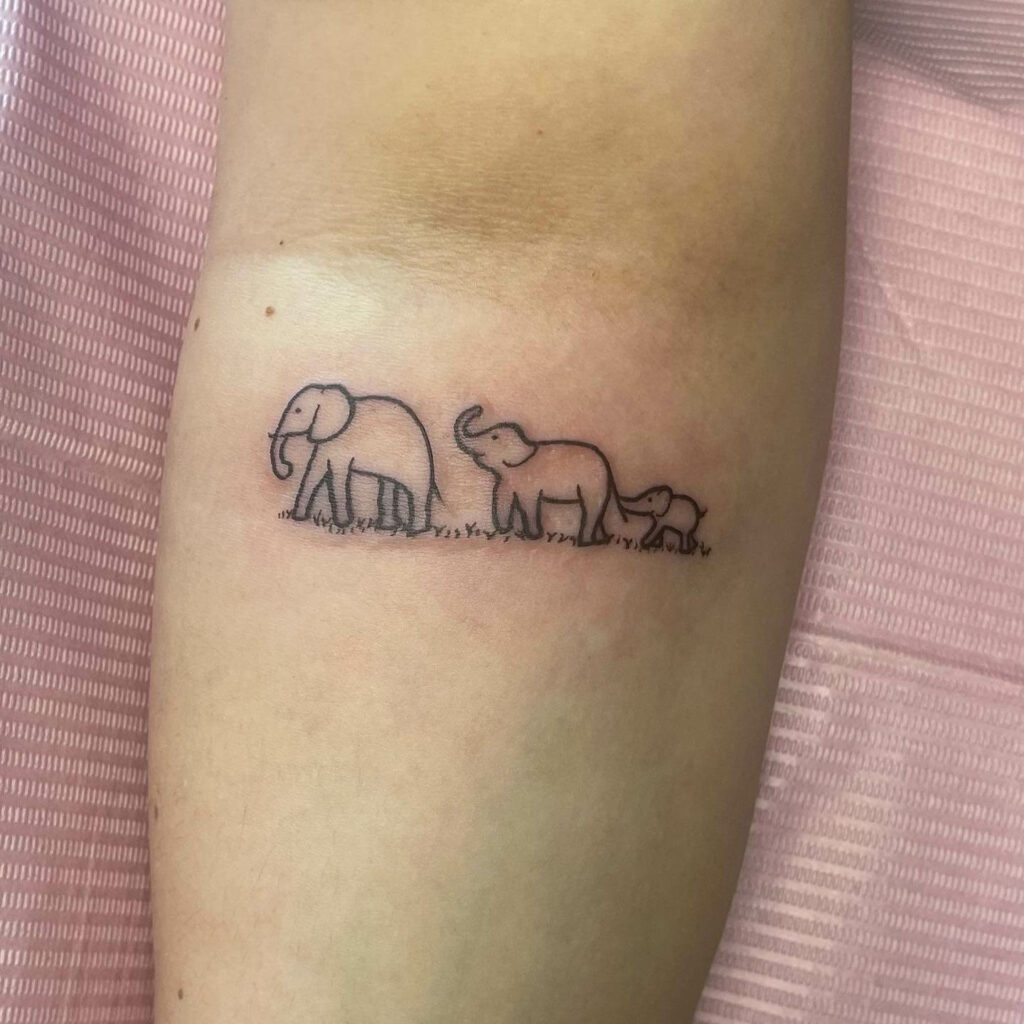 This elephant outline tattoo is what a family-loving person would get. This is one of the best elephant arm tattoo ideas for family love, caring, connection, unity, emotions, feelings, links, compatibility, children, and other blessings. Elephants are very family-oriented animals. Getting a tattoo of a "family of elephants" is a beautiful way to show your loved ones how much you care about them.
From realistic elephant family tattoos to tribal elephant tattoos or a sweet baby elephant cartoon design, elephant tattoo ideas may show a sense of family in many different ways. The father elephant is leading while the baby elephant is following, holding the tail of the mother elephant with its cute little trunk. This tattoo of the elephant family members is an excellent depiction of their togetherness. Each one becomes smaller, with the largest elephant in front. This tattoo doesn't require much ink.
Baby Elephant Tattoos With Heart On Hand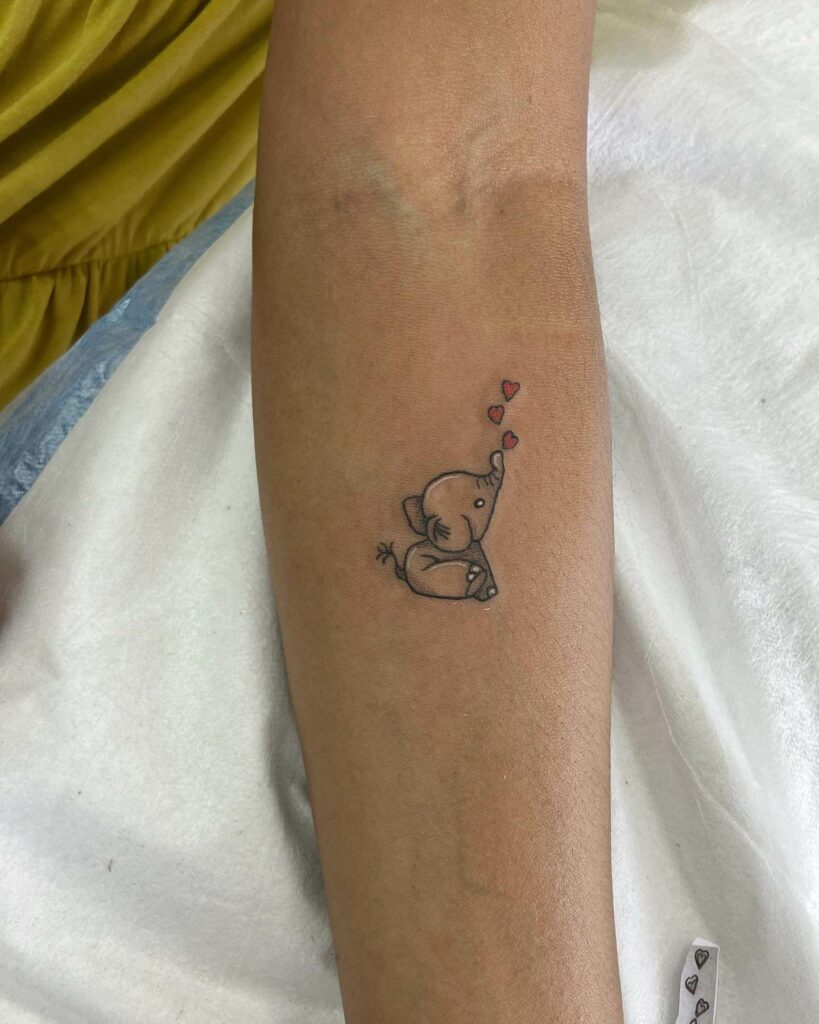 These baby elephant tattoos with hearts on them represent the wearer's happy romantic connection. Such a tattoo is typically tattooed beside the names of the couple to symbolize fondness, compassion, sentiments, and esteem for the other person.
This tattoo is adorable because of the hearts and the way the tail is detailed. The little hearts are precisely outlined and filled with bright red. The color red has long symbolized love. If the size is kept smaller, like it is in this tattoo, this tattoo looks wonderful. Do not hesitate to get this tattoo if this beautiful artwork calls to you.
Origami Elephant Tattoo On Hand
The art of origami involves folding vibrant sheets into beautiful designs. The origami elephant represents strength, endurance, fortune, and intellect. The globe over, this type of art is frequently practiced to improve kinesthetic awareness, skills, cognitive capacity, and ability to focus.
One of the most well-liked tattoo designs in recent years is the use of geometric features. Any inking technique will seem more contemporary and trendy with the use of angular forms, curves, and intricate designs. These modern and minimalist tattoo designs work well with elephants because of their unique shape. Get this tattoo if you like curves and angular forms of designs. The tattoo is modest and well-outlined. Keeping all of it minimal!
Elephant Single Needle Tattoo With Flower Design On Hand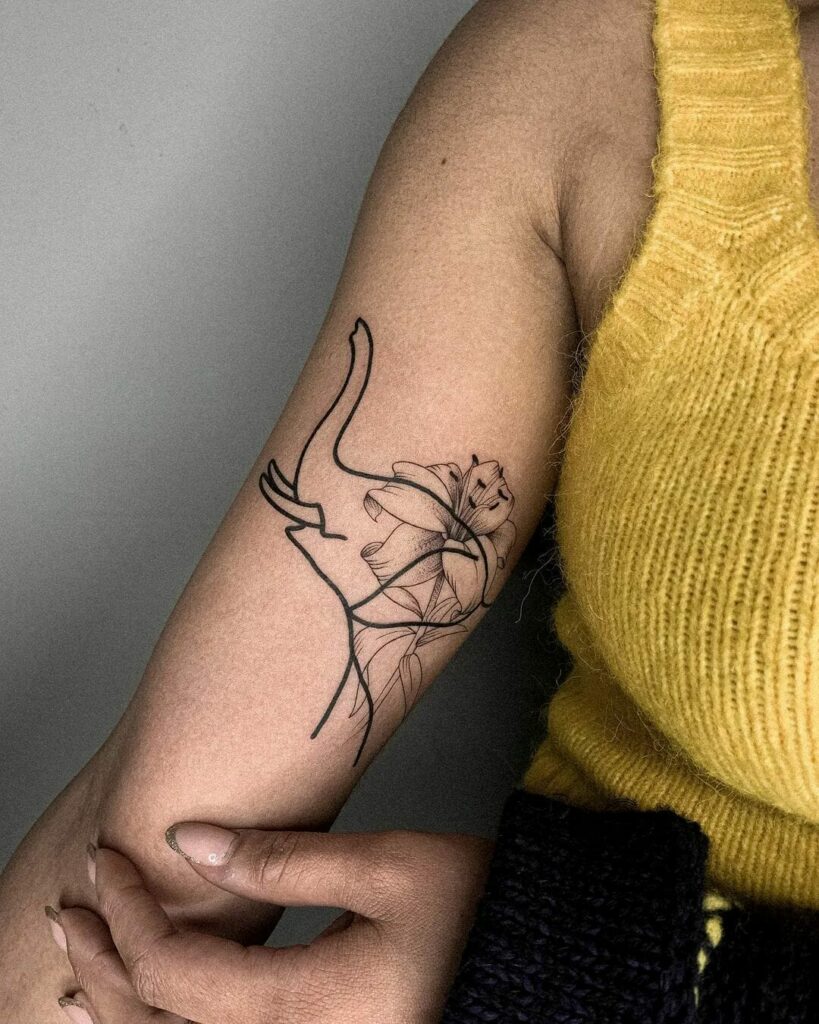 A common motif in single needlework is the elephant. Tattoos that are far smaller than most comparable concepts can be filled with the lifelike detail of a grey elephant by a talented tattoo artist.
The incredible levels of detail that may be accomplished in very small patterns are what single-needle tattoos are known for. Modern single needle and fine line tattoos adopt a technique akin to a schematic design tool, with silky blending and hyper-realistic detail in addition to the customary sharp lines of outlining. The focus of this tattoo is the elephant and the flower. The flower as an element adds more grace to this tattoo. In general, flowers can represent love, elegance, and purity. Additionally, they simply have a lovely appearance, which is sufficient justification for some flowery ink.
Elephant Outline Tattoo On Hand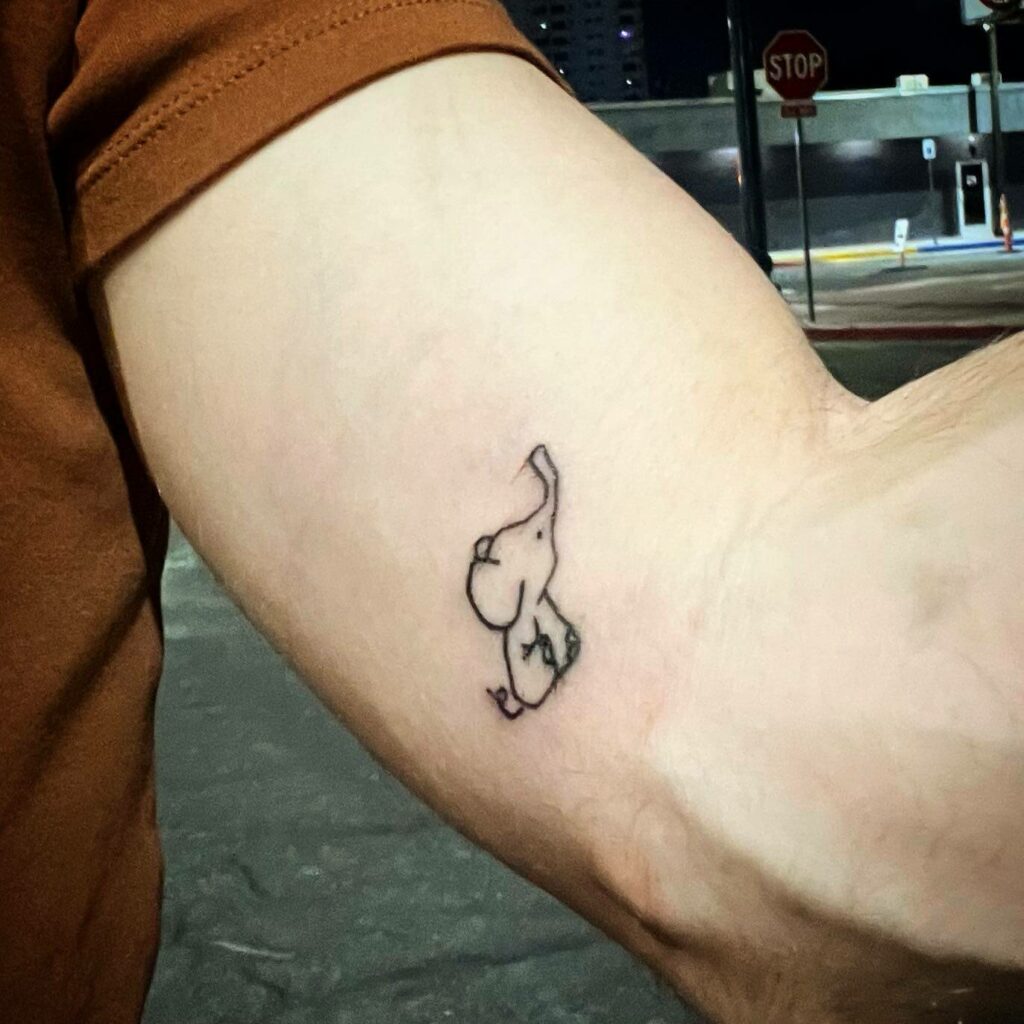 Elephants make ideal outline tattoos because of their distinctive and identifiable shape. Contemporary and minimalistic, these tattoos are quick to create because there is no shading involved, yet they have a significant visual effect.
An outline tattoo design of an elephant is among the most widely used styles. Elephant outline tattoos look great in all sizes, from medium-sized to small ones. You can get a similar tattoo where the trunk of the elephant is upwards, making the tattoo look more real. An outlined tattoo is ideal if you haven't gotten a tattoo before and are a bit concerned about the discomfort.
Cute Baby Elephant Tattoo On Hand
Just the outline work is used in this extremely basic form of a tattoo. This tattoo is often tiny and placed on the wrists or close to the ankles. It represents prosperity and fresh starts. These tattoos are an excellent example of a female elephant hand tattoo.
Baby elephants are incredibly popular, whether it's a well-known animated baby elephant such as Dumbo or a somewhat lifelike tattoo. The baby elephants are a wonderful way to welcome a new addition into the family since they are adorable and readily identifiable. Numerous tattoo designs, including watercolor and geometric elements, work well with this pattern. Ask your tattoo artist to get it etched in places where it is instantly recognizable.
Pretty Mandala Elephant Tattoo On Hand
In Indian culture, both elephants and mandalas hold significant spiritual meaning. The Hindu deity Ganesha is shown as having an elephant's head and is said to bring success, intelligence, and the removal of obstacles. Mandala is a Sanskrit word for circle.
Mandalas, meanwhile, are used to concentrate the mind and depict the cosmos. A mandala tattoo is perfect for a spiritual individual who enjoys learning. People get these tattoos on their bodies for fashion and as a deterrent to evil.
Mandala elephant tattoo designs include a core point that radiates outward in a circle, with a range of other motifs or patterns making up the overall design, frequently taking the form of the spirit animal. When put together, a mandala elephant is frequently created using incredibly elaborate and precise groups of linework motifs. Many people have a deeper emotional reaction to the visually appealing and symbolically significant elephant design they create.
Realistic Mom And Baby Elephant Tattoo For Hand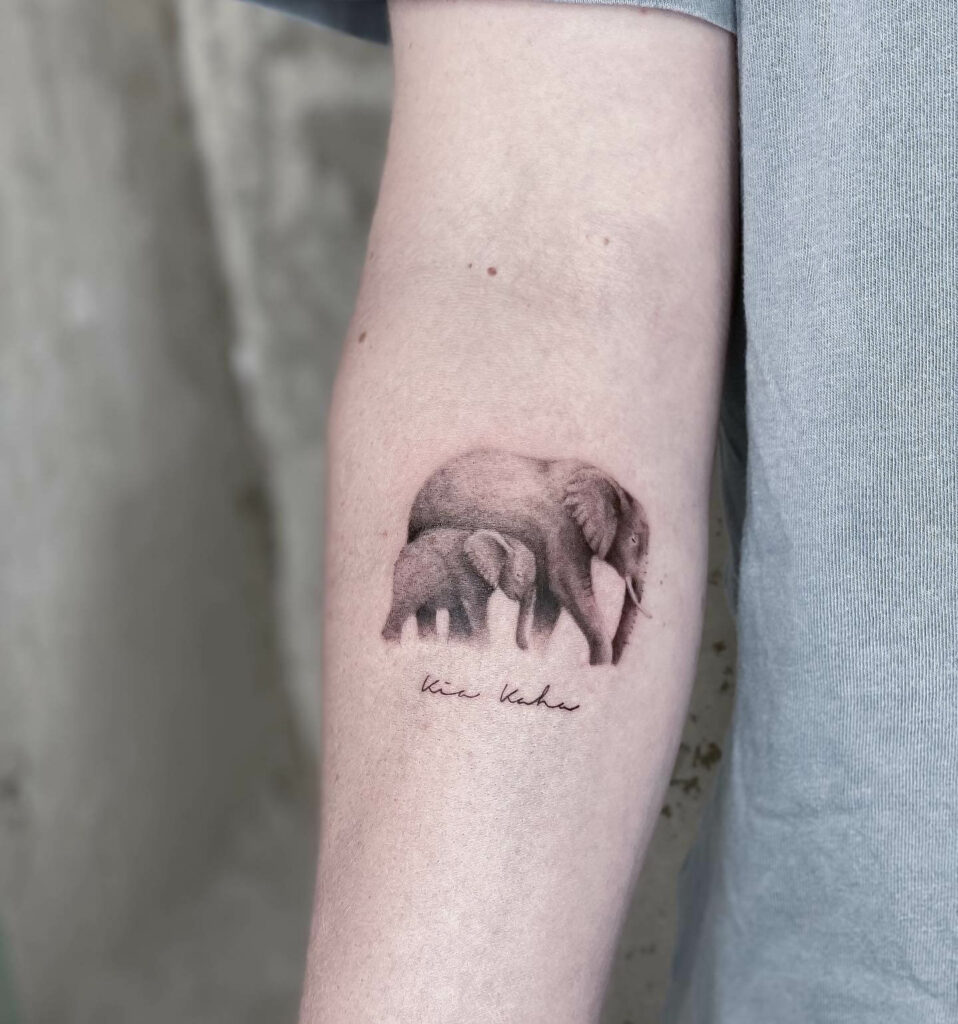 Elephant mom and baby tattoos have a deeper meaning than just being adorable. An elephant tattoo with a mother and baby makes perfect sense because every elephant herd consists of moms and their young. These realistic elephant tattoos are amazing when done on hand.
It's a great option for new dads who want to honor their spouse and child. And the finest choice for people who want an elephant tattoo that looks the most like a genuine elephant. In contrast to other tattoo kinds, realistic tattoos require more skill and expertise to create, so if you want a larger piece, be sure to select an experienced tattoo artist. A clear reference photo is also essential.
Elephant Tattoo Designs With Flowers On Hand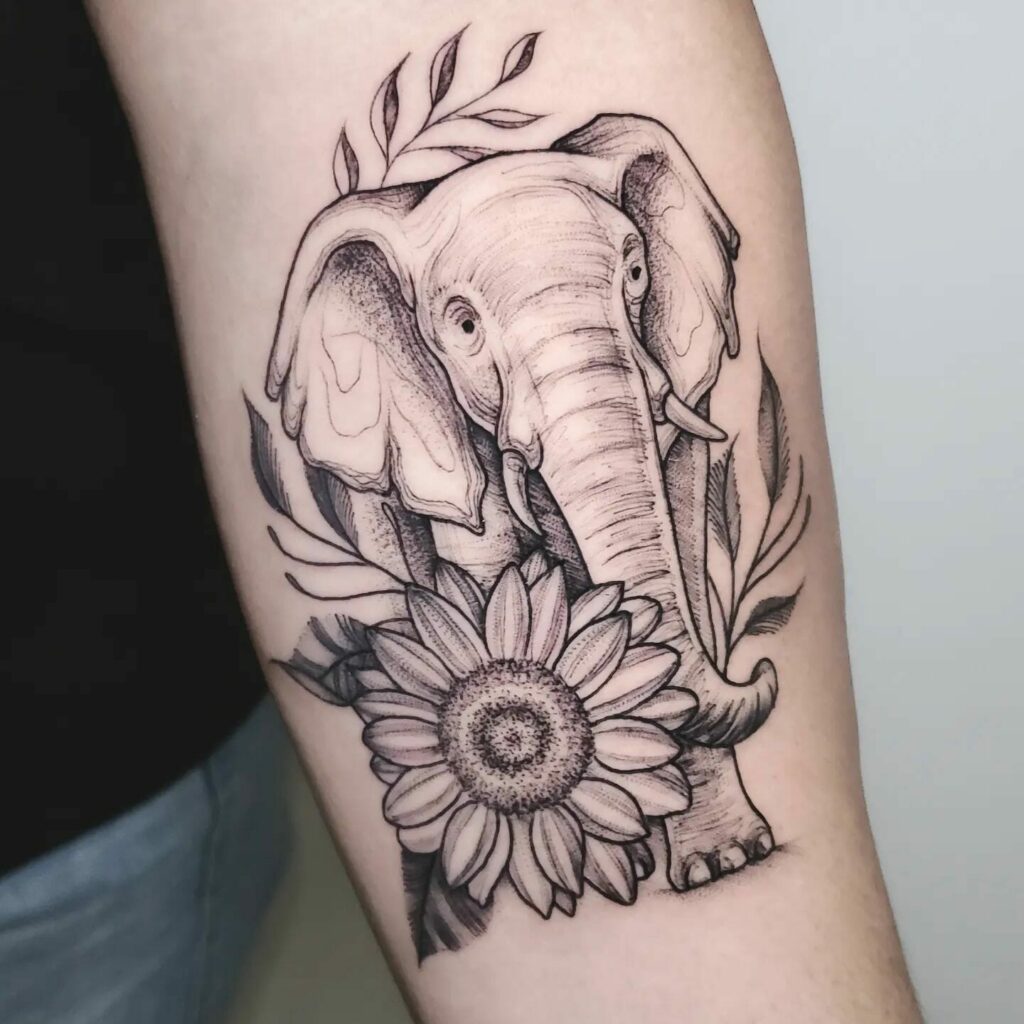 Meaningful flower tattoos, like the rose and cherry blossom, have long been favored by guys and are far from being deemed as excessively feminine.
This is because these flowers look amazing when inked on and are equally attractive in black or color ink. They stand for ideas like existence, mortality, and passion. Couple your elephant arm tattoo with a floral pattern like a lotus flower, which symbolizes spirituality, or an almond flower, that signifies fresh starts, to give it an even deeper significance.
Watercolor Elephant Tattoo On Hand
This tattoo looks adorable. The watercolor tattoo looks attractive and stunning, and they give the impression that someone painted on your skin. There are several ways to use this method; some like to add a few dark foundation tones, while others prefer to make the blending colors the main emphasis of the tattoo, totally omitting the black ink and line work.
A watercolor elephant tattoo blends the smooth lines of an outline tattoo with the abstract design. This tattoo's vibrant colors have a distinctive aesthetic flare for something that is generally easy to do. A watercolor tattoo can be done by men who want all attention on their elephant body art. Choose striking colors like azure, fuchsia, cyan, and violet, and get your tattoo placed on a prominent body part like your forearm or shoulder so that you can flaunt it. Get it without any regrets.
All genders can have elephant tattoos. Elephant tattoos are quite widespread among both men and women. You may design your elephant tattoos to make them as feminine or as macho as you choose. Elephants are members of matriarchal culture. This indicates that the group's leader is an older female who oversees and guards the young of her herd. Once they mature, male elephants are forced to live separately from their family and driven out of the herd. A lot of ladies will get elephant tattoos to commemorate their becoming mothers. Elephants represent independence and freedom as well as mental and physical fortitude.
Feature Image from Pinterest – Want your tattoo to look brighter? Try "Tattoo Balm"
Last reviewed and updated on March 10, 2023