As a funky and authentic design lover, you will love the hippie gypsy tattoo ideas we've curated for you. Let's find you your perfect match.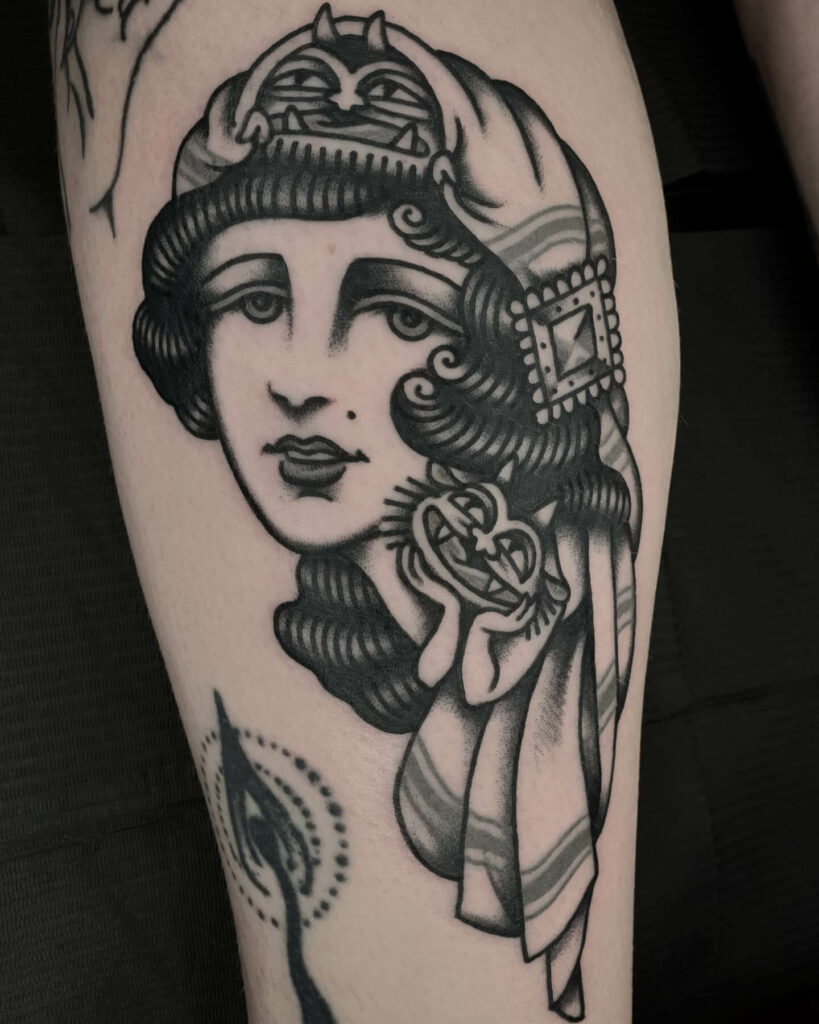 Hippie gypsy tattoos are among one of the most creative tattoo categories.
They have amazing portraits of people wearing cool accessories like chunky necklaces, dangling earrings, head scarves, and much more. The tattoos are colorful and look amazing.
These tattoos inspire both young and old people to showcase the artistic passion of their beliefs and cultures through this tattoo. It is a fun tattoo that has no traditional boundaries. Any design can be incorporated with a funky twist to make it look like a hippie and gypsy style.
Lady Head Hippie Tattoo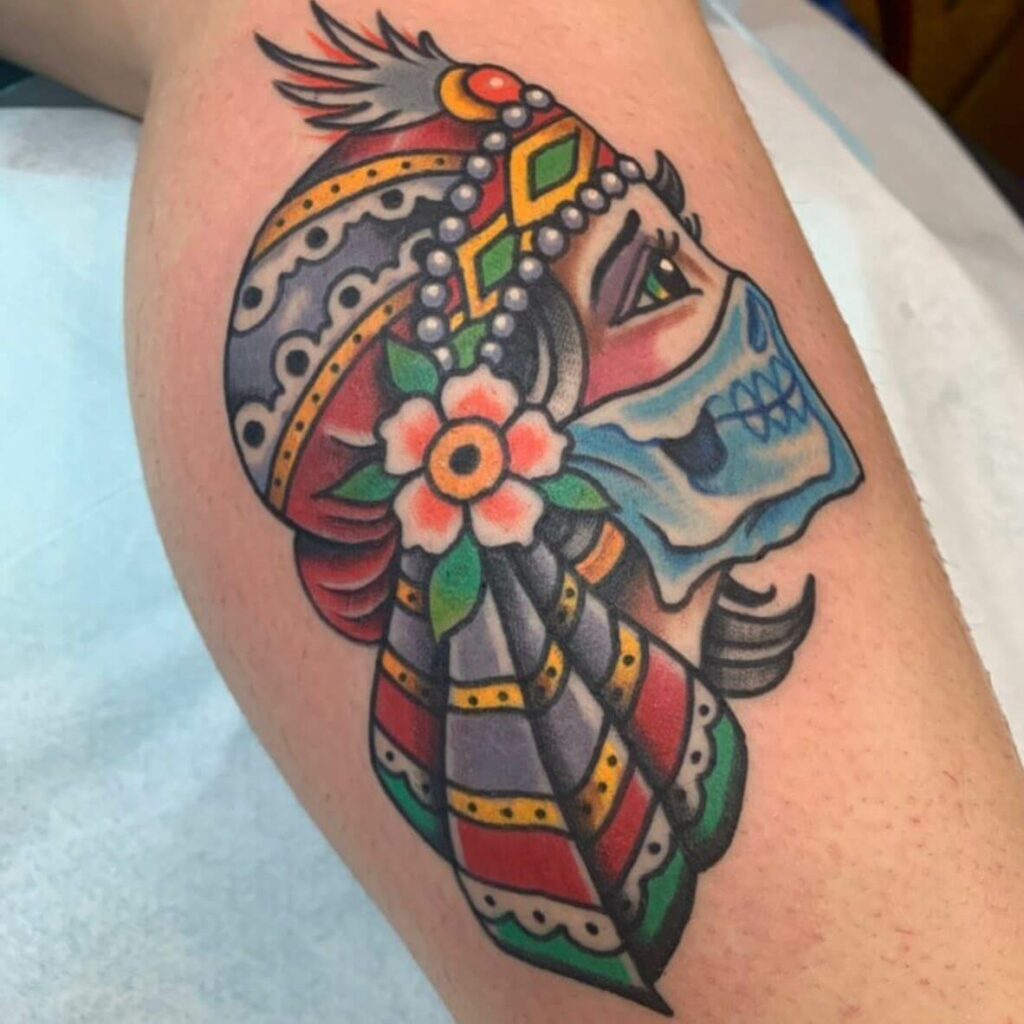 In this hippie gypsy tattoo, the woman is wearing traditional yet luxurious headwear along with a special skeleton-designed face mask to amp up the style of this tattoo. It is a colorful tattoo with various hippie patterns throughout. It is beautiful but in its own traditional way.
The flowers are amazing; the eyes, hair, pearl necklace, and the feather on top all look fabulous. It is a big tattoo placed in the leg region, which looks great since it doesn't look cramped up at all. The designs and patterns on this tattoo have been highlighted with details, which scream the themes of a hippie and a gypsy lover.
Woman Gypsy Tattoo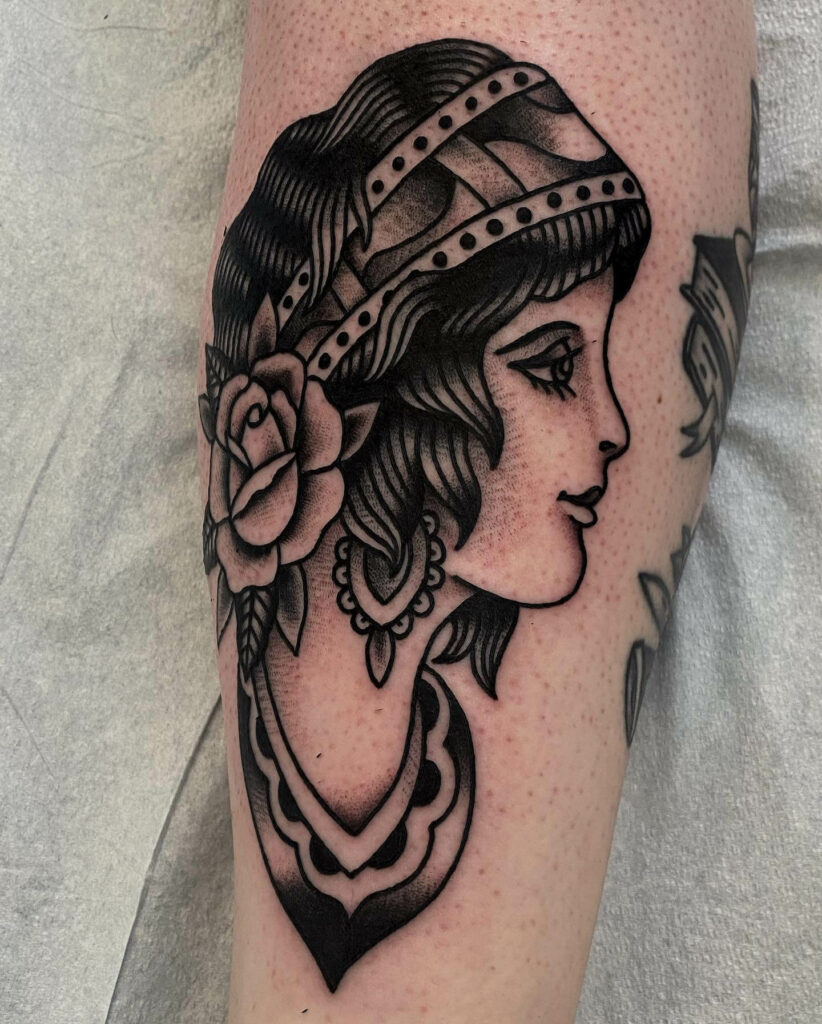 As we all know, gypsies are lively people with creative and unique styles. Unlike people who look and dress up normally, they want to express their personality through their innovative and artistic style choices. In this tattoo, the tattoo artist has drawn a portrait of a gypsy girl who is wearing beautiful head accessories to express herself.
This tattoo has been executed perfectly with keen observation of minute details and the overall shading using black ink.
The Skeleton Head Hippie Gypsy Tattoo
One of the scary hippie gypsy tattoos is this one right here. It is quite dark in both color and meaning. The tattoo artist has done a phenomenal job in using the black ink at its full potential in this tattoo. The tattoo has a natural glossy finish, which makes it look more endearing. The hippie girl in this tattoo has been shown as a dark spooky figure to make this tattoo look more tasteful.
Mostly, the hippie girls wear creative and artistic headpieces in all other tattoo designs. However, the tattoo artist had a very different creative approach to this tattoo. The headgear that this hippie girl is wearing is made of skeletons. There are four skeletons on the head, two on each side. The eyes of the girl are another petrifying element. They look as if they are shedding tears of blood, but the black ink makes it more mysterious. Overall, a funky and frightening hippie gypsy tattoo design for horror lovers.
Funky & Savage Hippie Shoulder Tattoo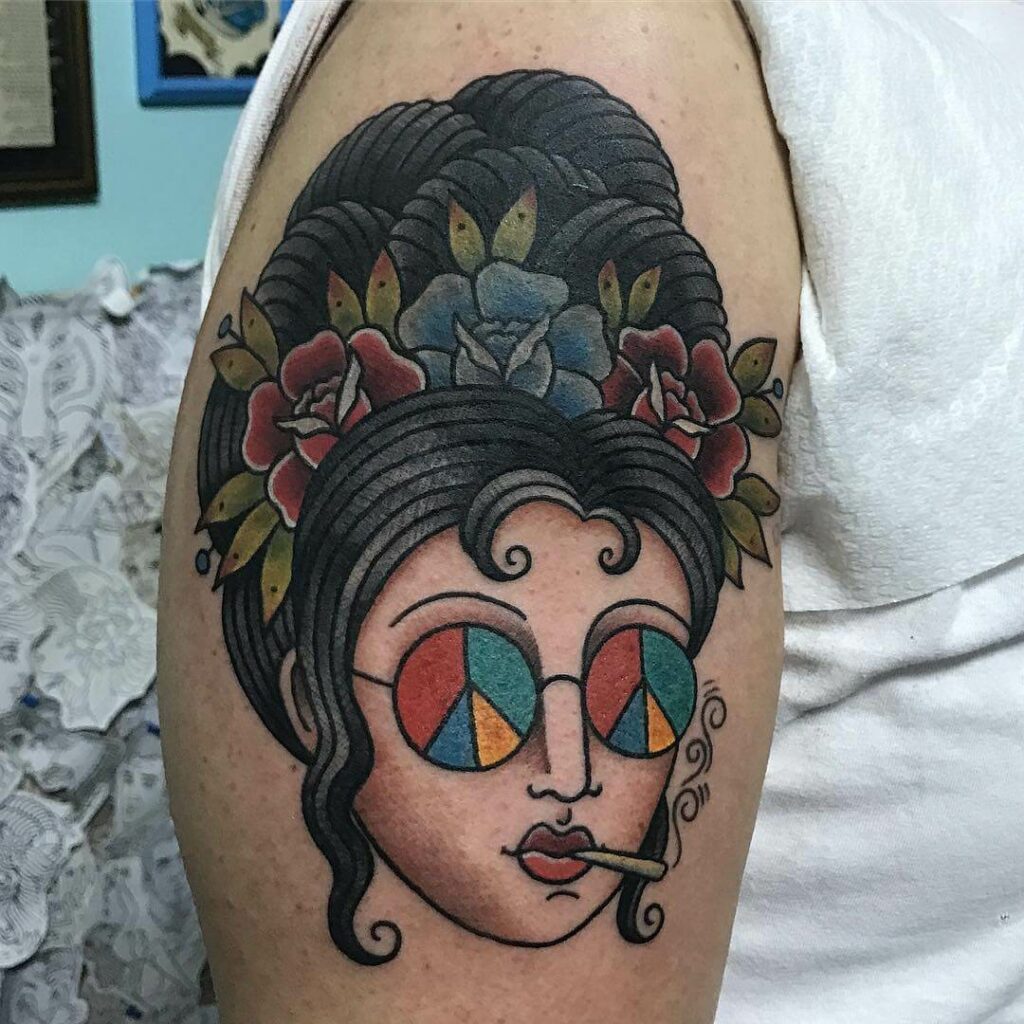 This is a fun tattoo of a funky-looking hippie girl who is smoking a cigarette. Every little detail in this tattoo is very artistic. She has been drawn beautifully using muted colored inks. The tattoo is vibrant, yet it's not too extravagant. The hair of the hippie girl is made into a huge bun with beautiful red and blue roses as accessories. Then we move towards the face of the girl.
Her facial features are quite cartoonish. She has thin eyebrows and funky-looking spectacles. The tattoo artist added creative touches to the glasses of the spectacles too. Rather than keeping it simple with a transparent frame, the tattoo artist made it look like a geometric-shaped glass filled with a variety of colors to make it look funkier. Little details like the smoke of the cigarette are also creative, as it's not just regular smoke but an abstract design.
Traditional Hippie Girl Tattooing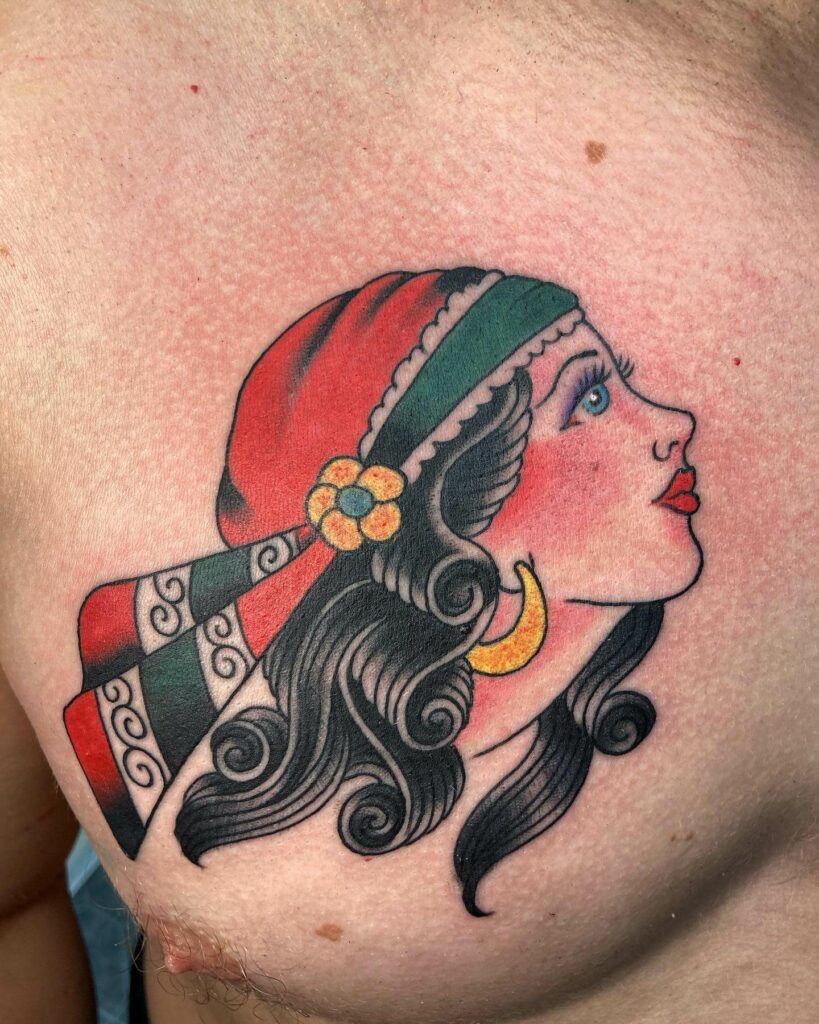 This is a traditional hippie girl tattoo of a beautiful jazzy looking girl. The tattoo artist has added fine elements to this tattoo, such as luscious hair, beautiful ocean blue eyes, a bold red lip, large moon-shaped earrings, and a beautiful headscarf. The details on the headscarf are praiseworthy as it looks absolutely real.
Various shading and shadowing have been done on the scarf to add highlights and textures. The dark lines on the crevices make it looks like it is really folding and is perfectly wrapped around the head.
Another beautiful element that the tattoo artist has added is the addition of makeup on the girl. The beautiful purple eyeshadow compliments her blue eyes, along with a nice coral blush which makes her look flushed. Last but not least, the bold red lipstick makes her look confident and elegant.
Neo-Traditional Gypsy Lady Tattoo
This is a beautiful neo-traditional design of a hippie girl. The tattoo has been on the leg, which gives it ample space for the long-stretched design. It is a vibrant tattoo where the tattoo artist has made the tattoo look bright and cheerful with a beautiful hint of colors. In this artwork, the artist has made a beautiful side look of a girl staring at a garden. Her beautiful luscious hair has a stunning butterfly headband that looks so real.
Her facial features look commendable with little details like the nose ring and the little red heart tattoo under her eyes. The image of the girl is accompanied by beautiful garlands of sunflowers which makes this tattoo even more breathtaking.
Bold Hippie Gypsy Cartoon Image Tattoo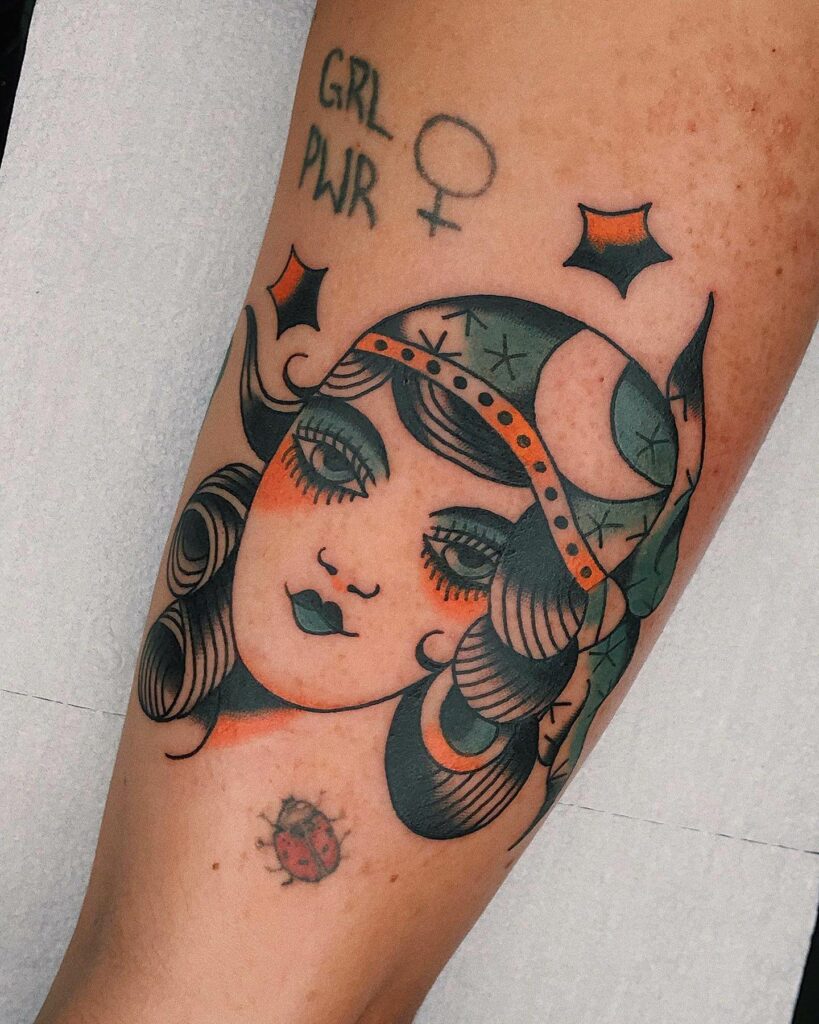 In this tattoo, the tattoo artist has gone for a more cartoonish approach for the portrait of the hippie girl. The face of the hippie girl has been drawn with her luxurious hair wrapped around her face in big curls. She is also wearing a very unique and distinct head scarf which looks phenomenal.
The choice of colors in this tattoo is unique. Most of the main highlights of this tattoo have been made using green ink, which is an artistic choice of color. Except for green, orange ink has also been used to make the tattoo look bold and amazing. The outlines have been made using black inks, which is classic and ties the whole tattoo together.
Red Person Forearm Hippie Tattoo
A very artistic, unique, and sexy-looking tattoo is this one right here. The gypsy girl looks absolutely stunning. There are various symbolical elements on the skin of the girl, which make her look endearing. First, she is wearing a very charming headgear with a moon as its centerpiece and is surrounded by flowers. Then followed by beautiful voluminous locks of hair twirled around the side.
There is an eye at the center of the forehead. Surprisingly, rather than looking weird, it looks mysteriously charming. The eye has been inked detailed to perfection. The rest of the facial features look stunning as well.
There is a symbol of a moon right in the center of her neck as well. Moon is symbolic to the gypsies as it is a symbol of navigation and the right direction for these wandering people. There is a symbol of green leaves on her neck as well. Overall, it is a beautiful and breathtaking hippie gypsy tattoo.
Vivid Content Tattoo
This gypsy tattoo is a very symbolic tattoo for gypsy fans. Gypsies, who are wanderers, have been paid a tribute in this tattoo by adding various navigation symbols in this tattoo. The hippie girl is wearing a cool head scarf with a compass symbol around her ear. A compass signifies direction. The rest of the scarf has beautiful scenery of a bird chasing a sunset. This is symbolic as birds are always directed towards their destination using the sun's light.
The rest of the tattoo contains her stunning, lustrous hair. The tattoo artist has given this girl a pair of beautiful blue eyes. Red ink has been used under the eye to add some dimensions for more depth.
The Gypsy And The Death Tattoo
This hippie gypsy tattoo is by far the most popular one. This is a dual tattoo with two different takes on a hippie girl. On one foot, there is a hippie girl with just her bones and skeleton showing.
On the other foot, she looks normal with her flesh and skin. Both these hippie girls are faced at each other, which makes the tattoo look amazing. The color story of this tattoo is amazing. Both have similar hair, similar scarves, and similar flowers, just different colors. An outstanding and creative piece of art.
Feature Image from Pinterest – Want your tattoo to look brighter? Try "Tattoo Balm"
Last reviewed and updated on March 15, 2023