Looking for a stunning and unique tattoo design? Consider a moon flower tattoo. This design is a favorite among tattoo enthusiasts and is beloved for its serene and tranquil vibe. It has become especially popular among women in recent years.
A moon flower tattoo can symbolize different things depending on your situation, attitude, and thoughts. For instance, a flower moon tattoo represents a new day or a fresh start that brings joy, happiness, and peace. Flowers themselves are symbols of love in all cultures, and they also represent contentment. In contrast, moon tattoos often represent different meanings, such as a full moon symbolizing a baby or a peaceful night spent reading or listening to music. A half-moon can represent both life and death.
Ultimately, a moon flower tattoo is connected to femininity and is a beautiful design that requires a skilled tattoo artist. When done correctly, it can resemble real nature and be a gorgeous queen of the night. So if you're searching for ideas for moon flower tattoos, you've come to the right place!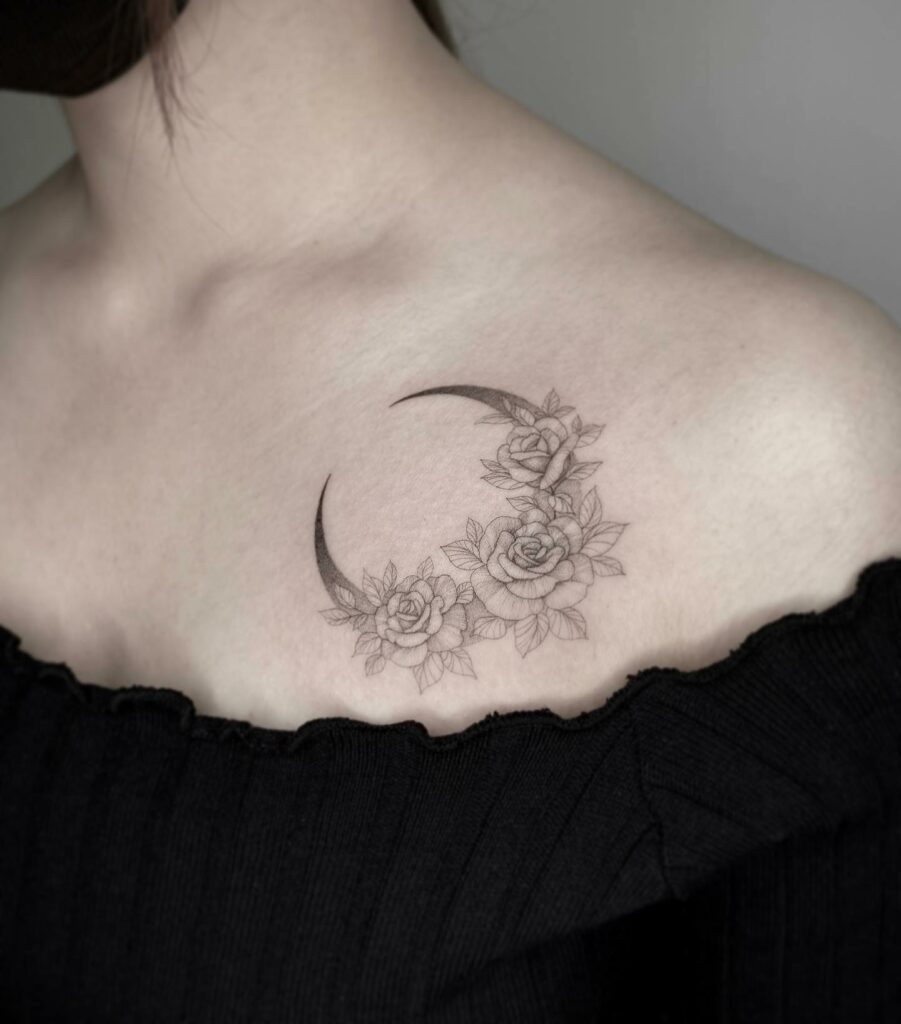 Lotus And Moon Tattoo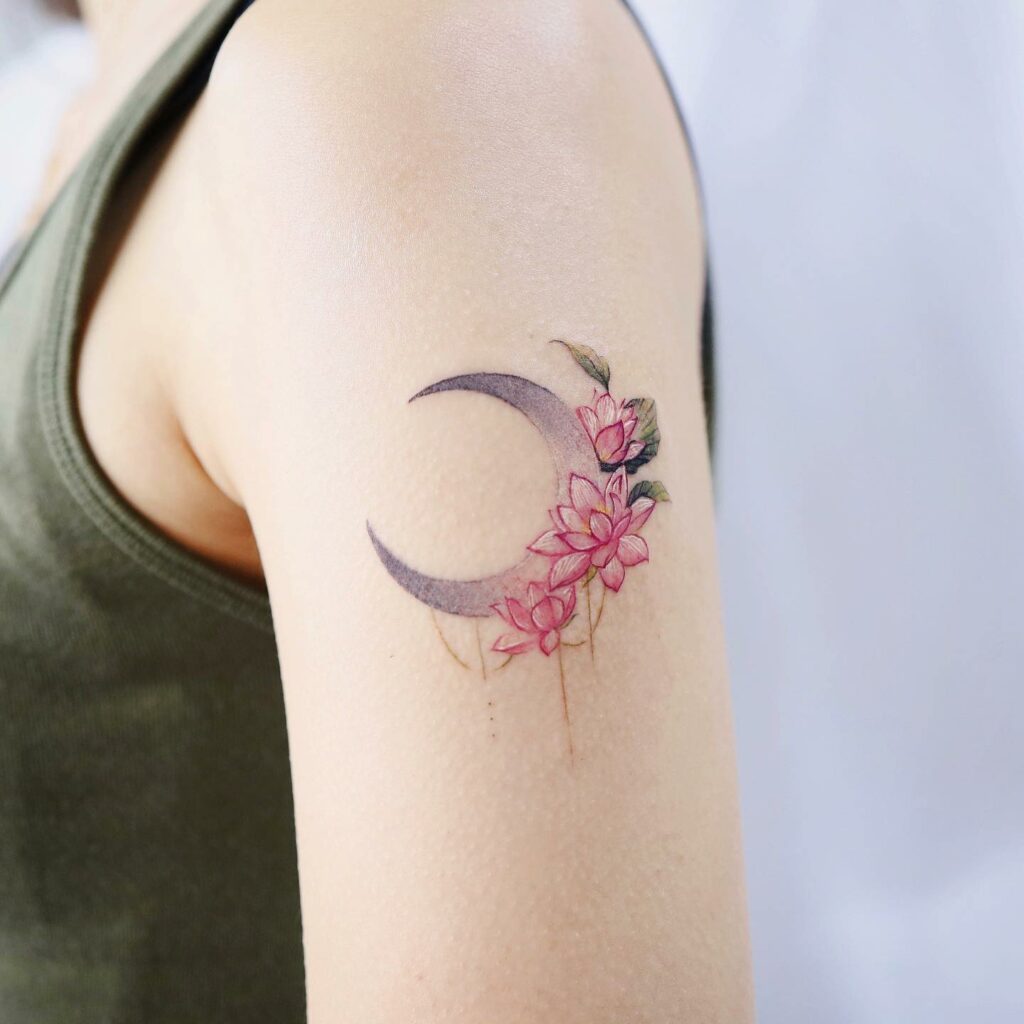 This stunning tattoo design features a half-moon with a lotus flower that represents purity, honesty, and rebirth. The moon symbolizes peace and tranquility, making it a perfect match for the lotus flower. This combination creates a unique idea that is becoming increasingly popular among women. The moon and lotus tattoo is a symbol of a fresh start and ongoing transformation with a focus on honesty and purity. It's perfect for any size, whether you want it on your arm or shoulder blade. This design is especially popular with women and makes a great birthday gift, wishing for a new beginning for the recipient or their child. The design is truly amazing and, when done properly, it will be a stunning piece of art.
Crescent Moon Shaped Wild Flower Tattoo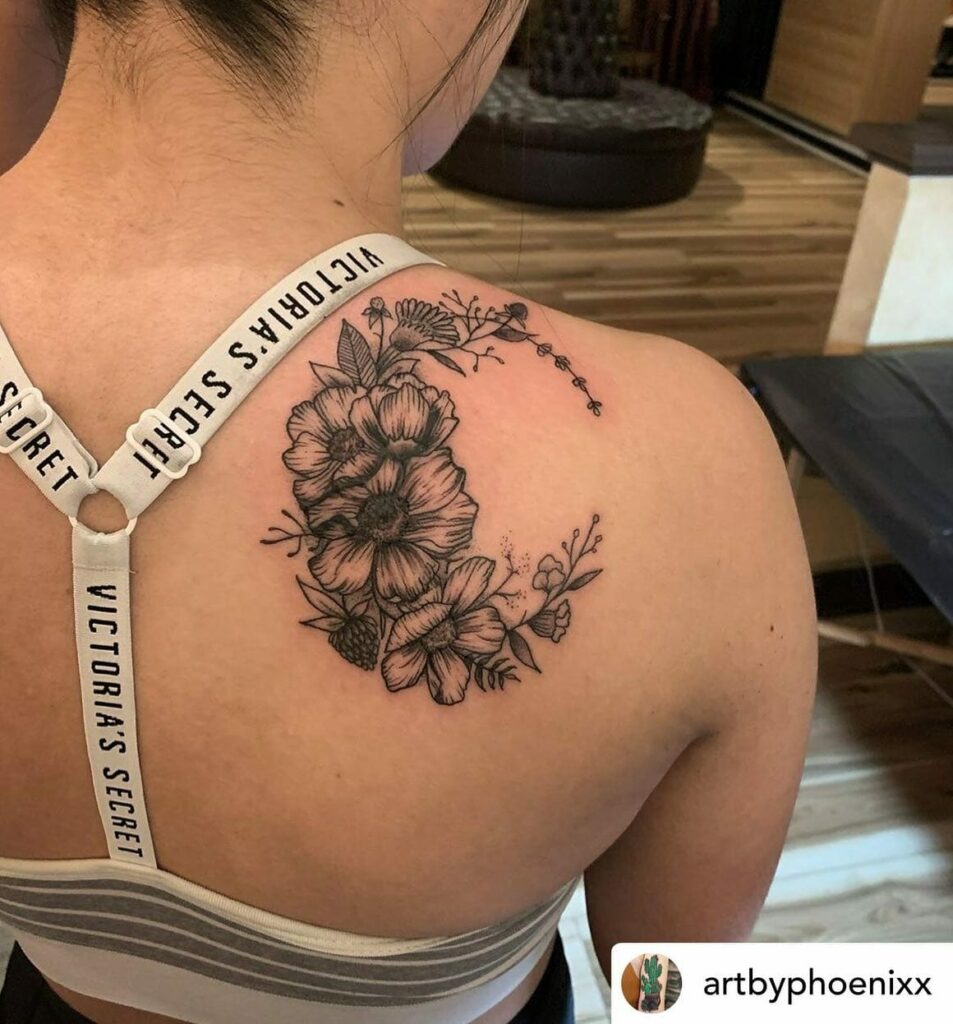 The crescent moon flower tattoo is an exquisite and meaningful piece of dark art that blends the beauty of a flower with the mystique of the moon. The crescent moon symbolizes both life and death and is a sign of fertility and fruitfulness. The flower represents the struggles in life, growth, and success. This tattoo is a spiritual symbol that reflects your personality and current situation. It looks stunning in dark colors like black or simple gray shades. The placement options for this tattoo are versatile; it can be inked on the ankle, shoulder blade, or forearm. You can choose to get this tattoo to celebrate an achievement, or to express your feelings in a beautiful and artistic way.
Rose And Moon Tattoo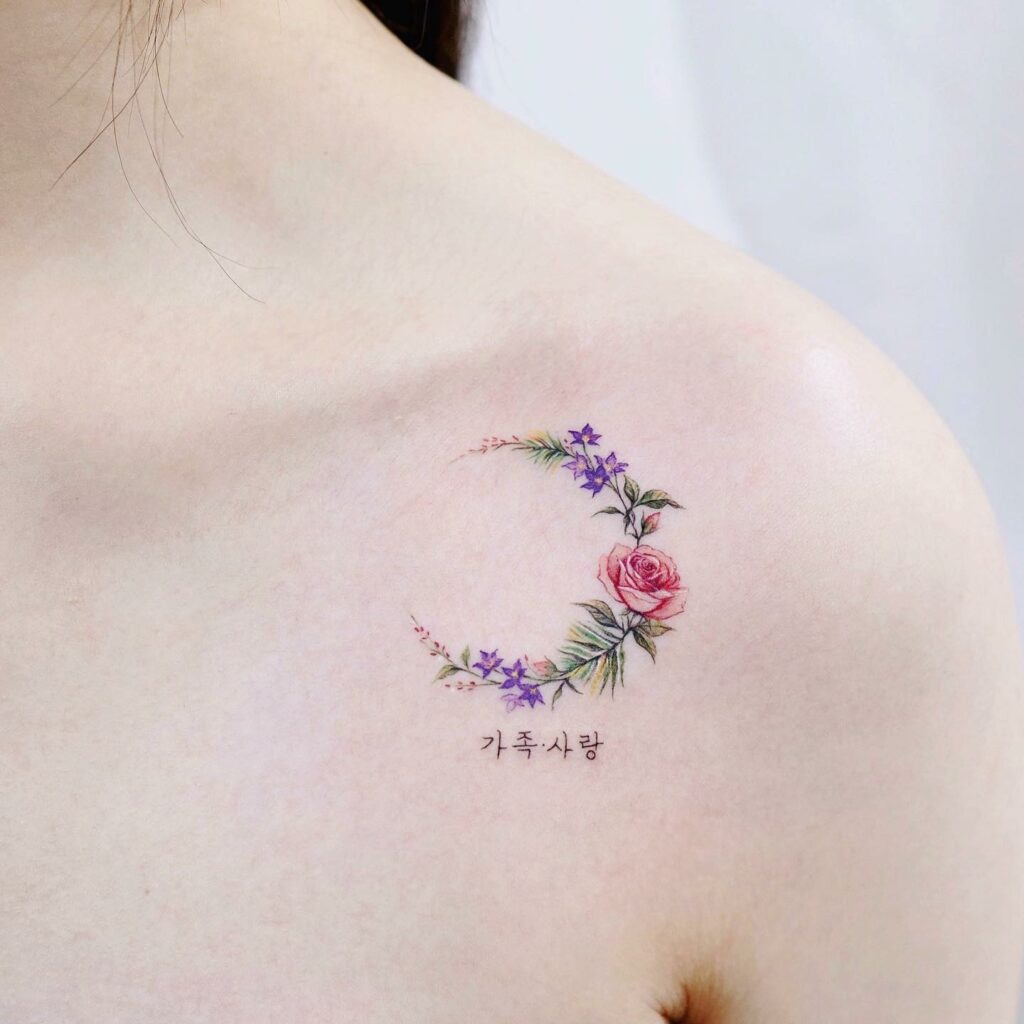 The flower with moon tattoo is a stunning design that has become a popular choice for women in recent times. The blend of pink and purple hues adds a touch of elegance to this design.
Roses are known to represent beauty, love, and affection, while a moon tattoo signifies new beginnings and a peaceful life. Combining a rose with a moon tattoo creates a powerful symbol of love and strong bonds between two individuals. The beauty of this design can be enhanced by adding roses of different colors to the moon. This tattoo is versatile and can be placed anywhere on the body, from the ankle to the shoulder blade. It's a perfect way to show your affection and love for someone special or to celebrate a special occasion like a birthday.
Black Floral Half Moon Tattoo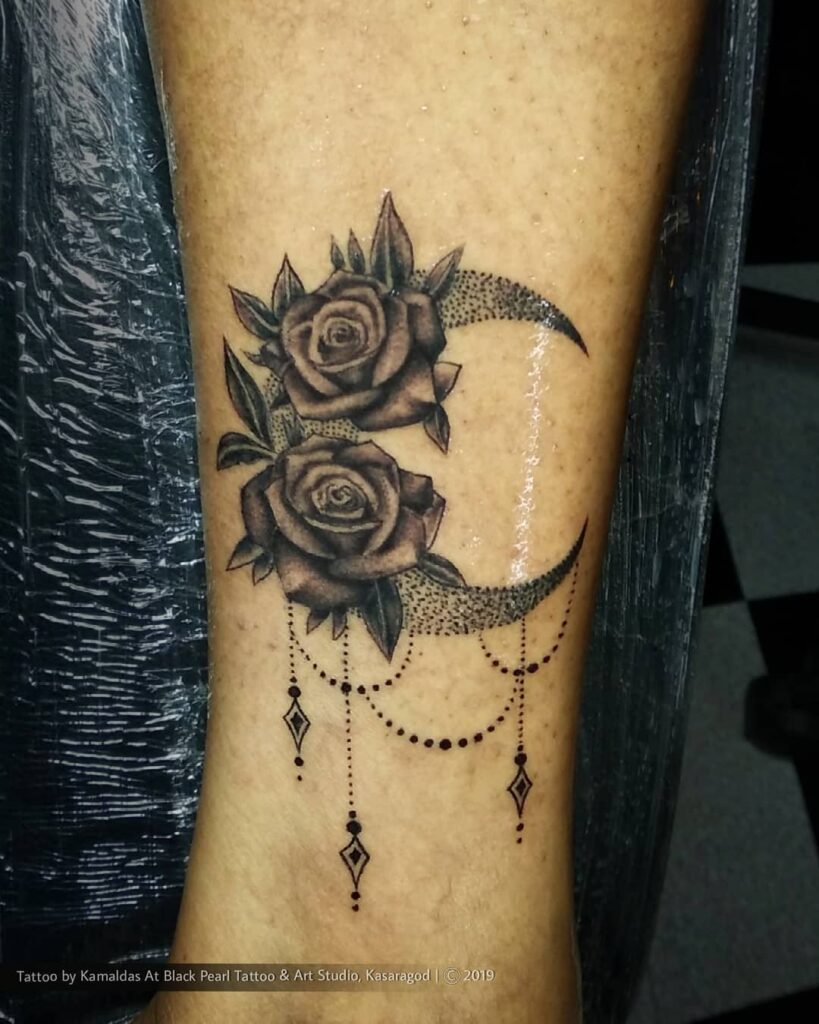 The ornamental tattoo is a stunning piece of art that features a moon and rose in classic black ink. The moon symbolizes femininity, while the rose represents love and beauty. This combination is truly unique and can evoke a sense of nostalgia for the wearer. For this design to truly stand out, it should be done on a larger scale and is best suited for the sleeves or shoulder blades. The intricate details of this design require a skilled artist to achieve the desired effect. This tattoo is perfect for marking special occasions such as a wedding anniversary or as a celebration of personal accomplishments.
Black Moon And Flower Tattoo With Black Cat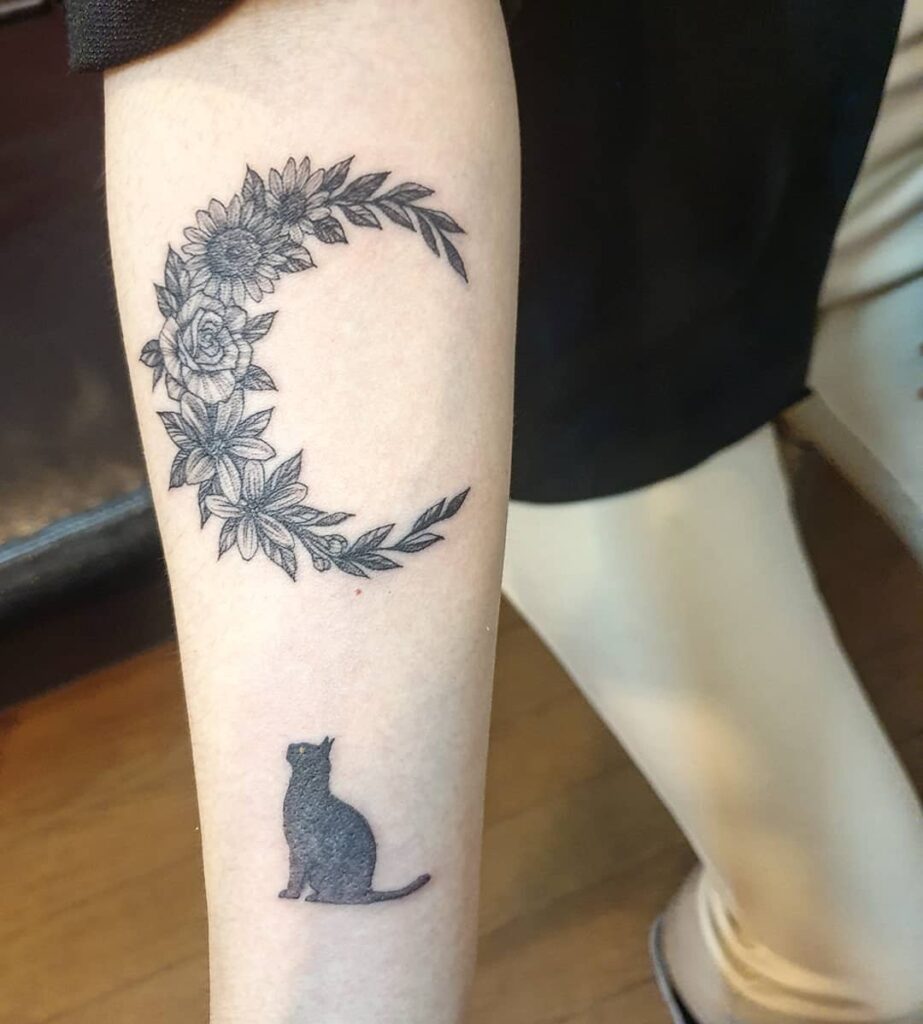 This design features an intricate black floral moon tattoo with a black cat, creating a contrast of beauty and horror. The black cat represents uncertainty and unpredictable moments, while the floral moon tattoo is a symbol of nature's beauty, brightness, and peacefulness. This design embodies the idea of predicting the upcoming moments, making it a perfect choice for those who want to express their thoughts on the current and future situations. This tattoo looks best on the arm or shoulder blade and is suitable for both men and women. You can also get this tattoo on the occasion of Halloween to commemorate your love for horror or to show your appreciation for this unique art form.
Moon Tattoo With Flowers And Butterfly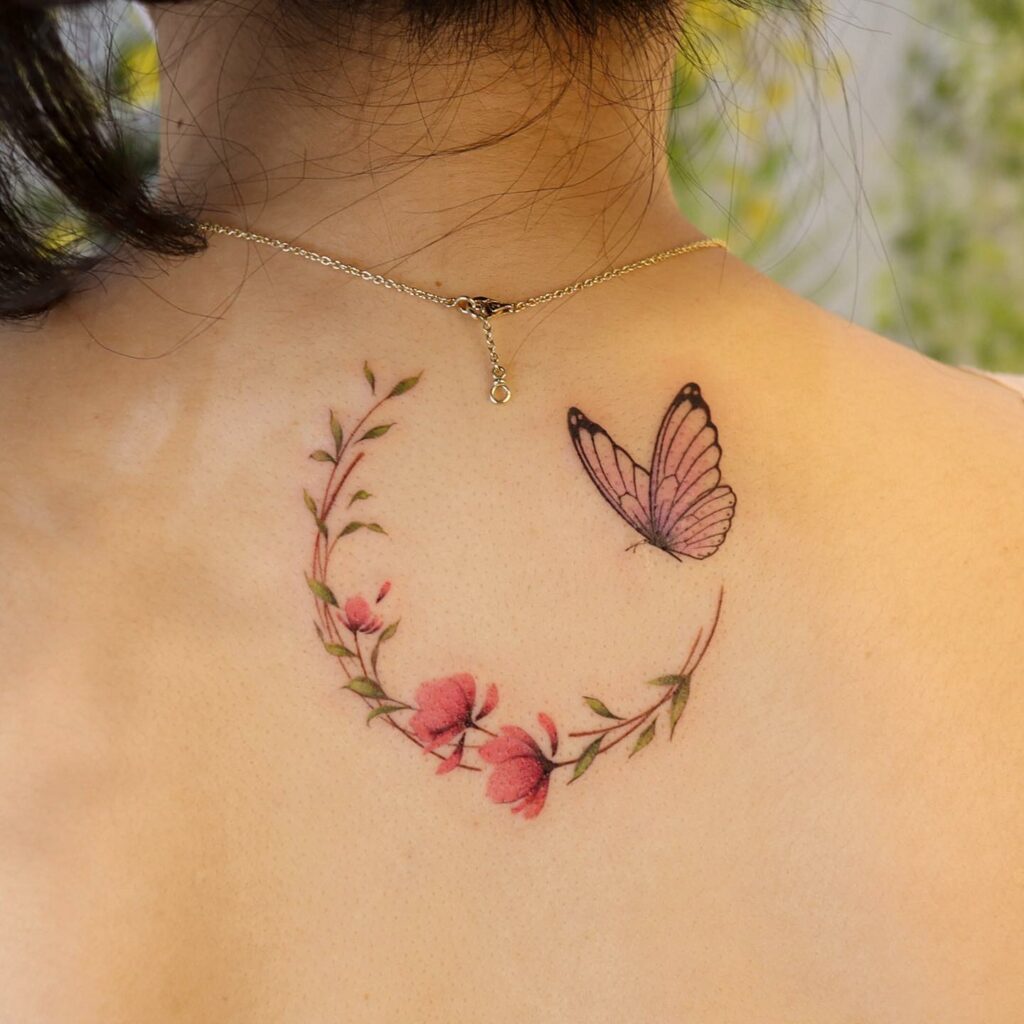 Floral moon tattoos are becoming increasingly popular among women, and this particular design is in high demand. A flower moon tattoo is a powerful symbol of new beginnings and divine satisfaction, while a butterfly tattoo is a symbol of joy and happiness.
This stunning artwork features a small flower and butterfly resting on the crescent moon. It embodies the beauty of nature and the promise of a new day filled with hope and happiness. The delicate flowers and butterfly also serve as a reminder to protect our environment, including trees, birds, and animals. You might consider getting this tattoo as a way to encourage others to take care of the natural world and live a happy, healthy life.
Half Moon With Two Roses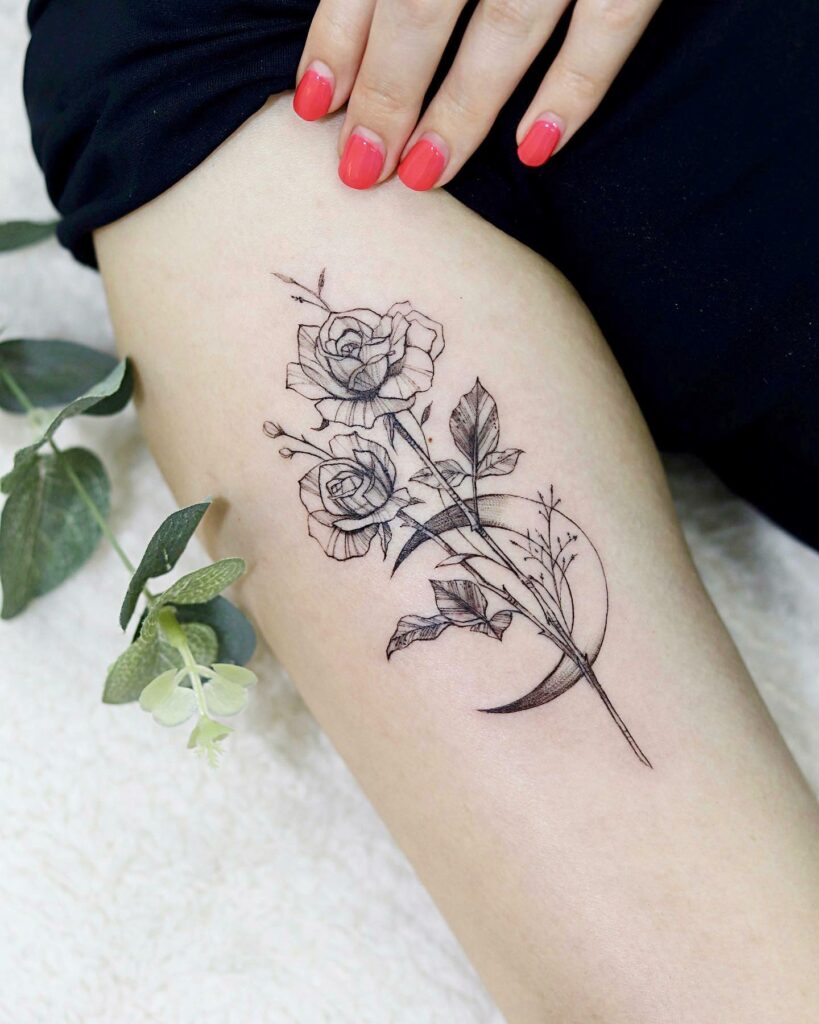 This gorgeous flower moon tattoo is a perfect blend of simplicity and elegance. The design features a half-moon accompanied by two roses, which are intricately sketched to create a lifelike image. This tattoo design is a symbol of love, happiness, and the strong bond shared between two individuals. The roses are representative of the beauty of nature, while the half-moon signifies a peaceful and serene moment shared between two people. This tattoo is perfect for couples who want to express their love and commitment to one another. You can get this stunning design dedicated to your partner to celebrate your love and the moments you have shared together.
Full Moon Tattoo On The Forearm
This design is not just another tattoo; it's an illustration that carries a deep meaning.
This design features three moons, one of which is a full moon and the other two are halves. The colors used in this design are eye-catching and add to the overall appeal of the tattoo. The moons in this design represent the passing of time, from the end of the previous day to the start of a new one. This tattoo design is perfect for the forearm and looks stunning when done correctly.
So, if you're looking for a unique and meaningful tattoo design that will leave a lasting impression, then this full moon tattoo is definitely worth considering. It's an excellent way to showcase your love for the night sky and to remind yourself that every day is a new beginning.
Full Moon Tattoo With Flowers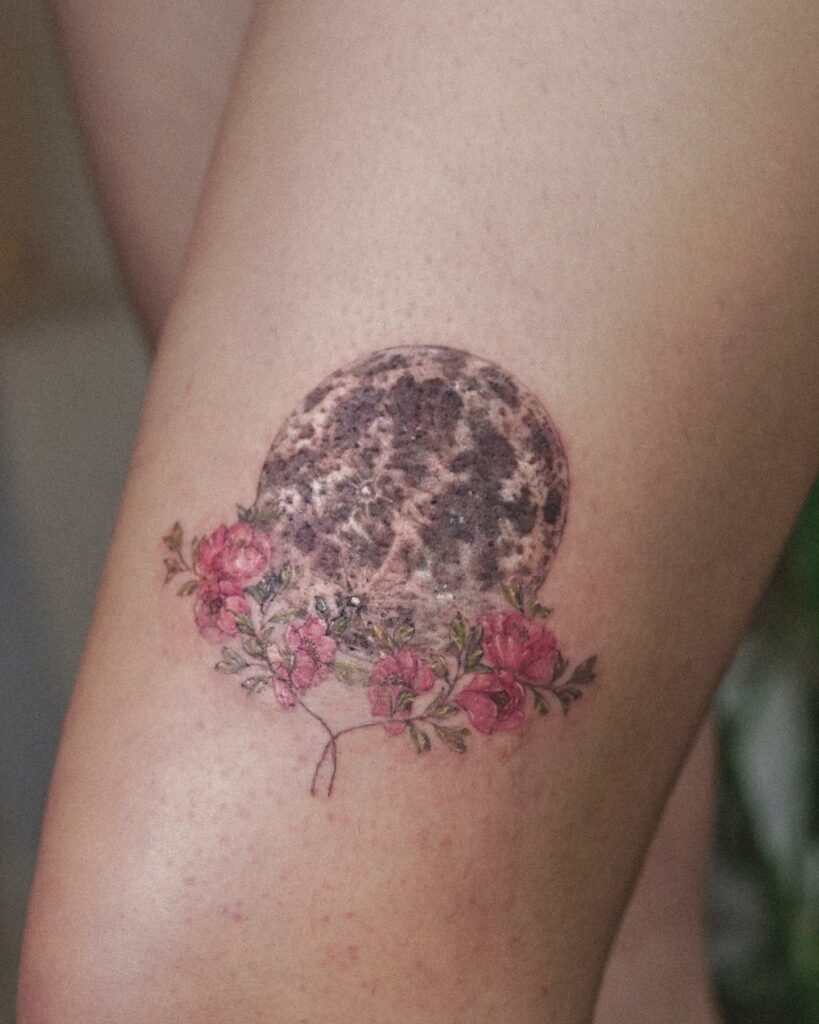 This moon flower tattoo design is both simple and stunning, especially when created with precision and skill by a tattoo artist. This particular design features pink flowers holding the moon, enhancing its natural beauty and realism. The flower moon tattoo represents the strength of women and their pivotal role in families. Placing this tattoo on your shoulder blade or sleeve can be a great way to showcase your personality and the struggles you've faced in life. The design is a nod to the importance of women's empowerment and the value of their contributions to society.
Moon And Sun Tattoo With Flowers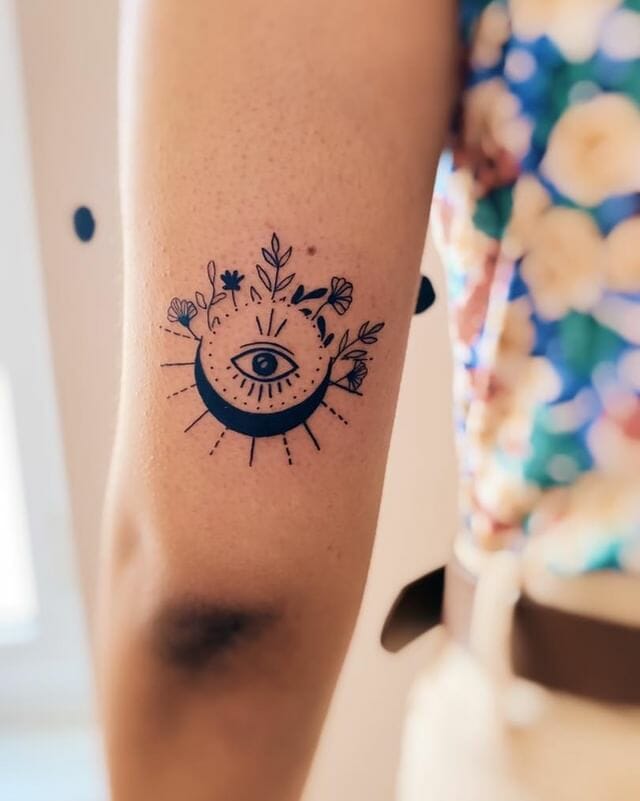 If you're looking for a unique and meaningful tattoo design, then this moon and sun tattoo with flowers and a dark eye is worth considering. The sun and moon, along with the flowers, symbolize different aspects of nature and life. The dark eye adds a touch of mystery and protection to the overall design. Moonflower tattoos are known for their real and deep meanings, and this particular design is no exception.
Moon tattoos are a popular choice among women as they represent femininity, strength, struggle, and success. The cost of getting a moon with a flower tattoo will depend on the size, intricacy, and placement of the design you choose. So, if you want a stunning tattoo that showcases your strength and love for nature, this moon and sun with flowers and a dark eye tattoo is definitely worth considering.
feature image from Pinterest – Want your tattoo to look brighter? Try "Tattoo Balm"