Here are some of the best QR code tattoos that are mentioned in the list below. If you like any of them, you can use them as a reference for your next design.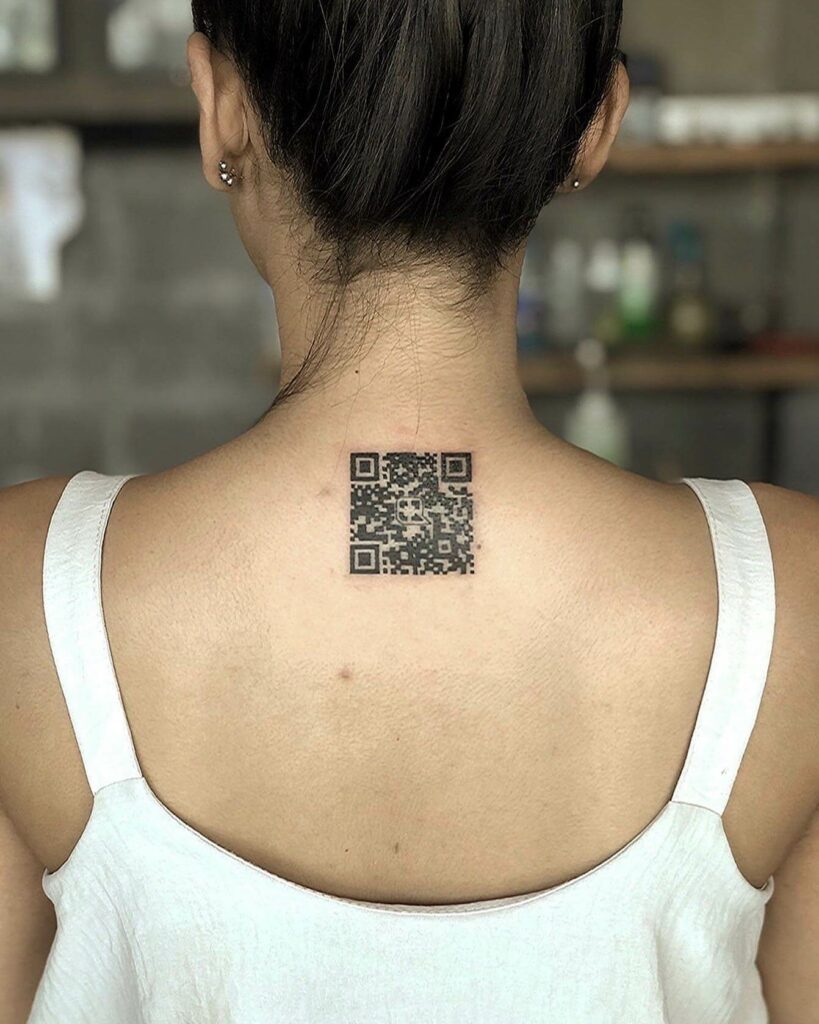 Qr code tattoos are one of the most recent trends in the tattooing world.
A QR code is basically a way to store any kind of information in a 2D barcode. It is being used across various industries such as marketing, transportation, healthcare and many more.
When you scan the QR code, it takes you directly to the particular website or information that is stored within. But what exactly are QR code tattoos? Well, it all started with a man named Fred Bosch, who, in fact, is the first-ever person to get tattooed with a QR code. Although his idea was disapproved at first, it slowly gained popularity, especially after people came to see how well it functioned. Since then, QR code tattoos have gained immense popularity in the world of tattooing. It helps you to display all your interests and passions in a unique manner.
So if you are wondering about how to get a QR code tattoo or how to create a QR code tattoo, don't worry. The below article will clear all your queries about the same. With that said, here are some of the best QR code tattoo designs mentioned in the list below.
Couple QR Code Tattoo Design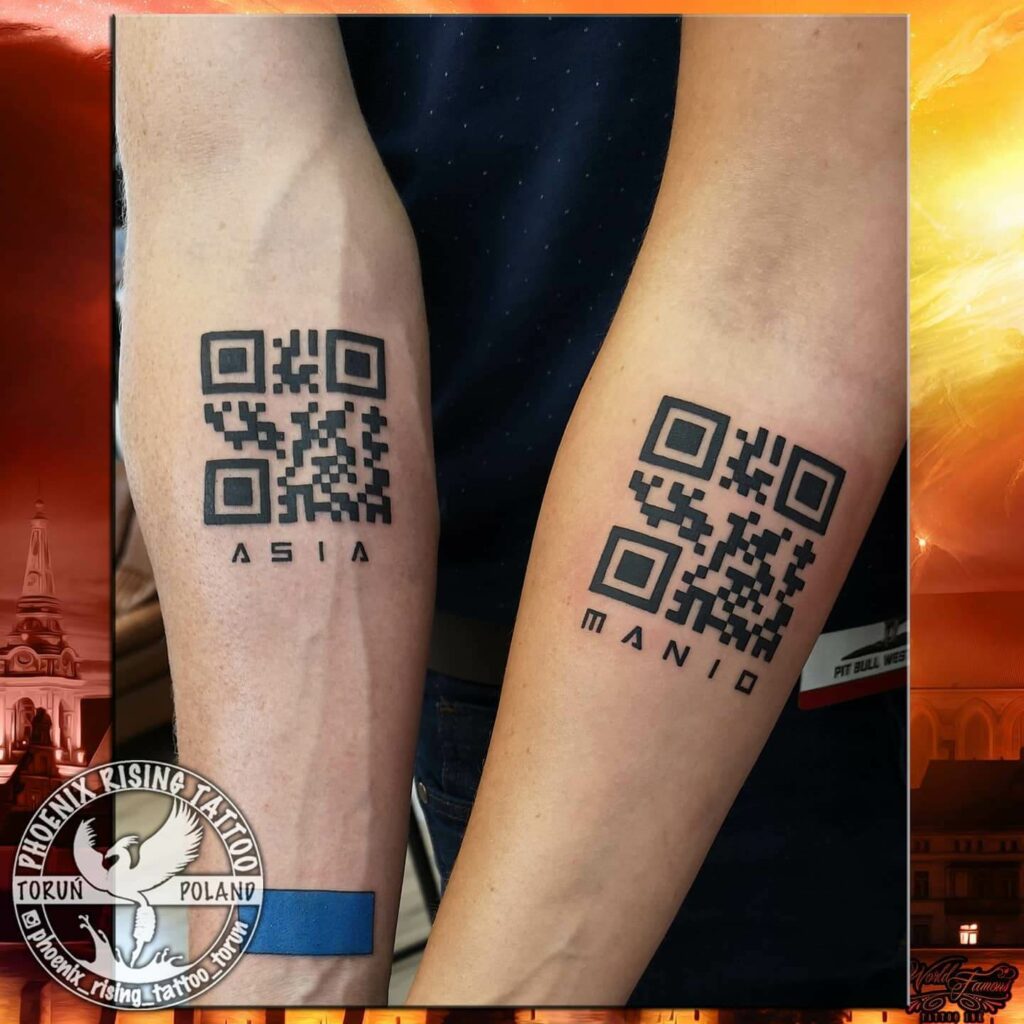 Getting a QR code tattoo might seem to be quite a risky affair. However, with the proper tattoo artist, it can be one of the best designs that you have got so far. The main goal is to create a new kind of art form that harnesses the power of modern technology to be used in traditional tattooing techniques. Here is one such beautiful example of a QR code tattooed on the arms of both these individuals. Beneath the tattoos, the artist has also incorporated two names. If you are looking for unique couple tattoo ideas, then what's better than this one?
However, there are a few rules to keep in mind before getting a QR code tattoo. One such might include it is generally not recommended to get a QR code tattoo on curved surfaces, which might include your leg or neck. This is because, in such cases, the QR code might not function properly, and you will not get the desired results.
QR Tattoo On Upper Arm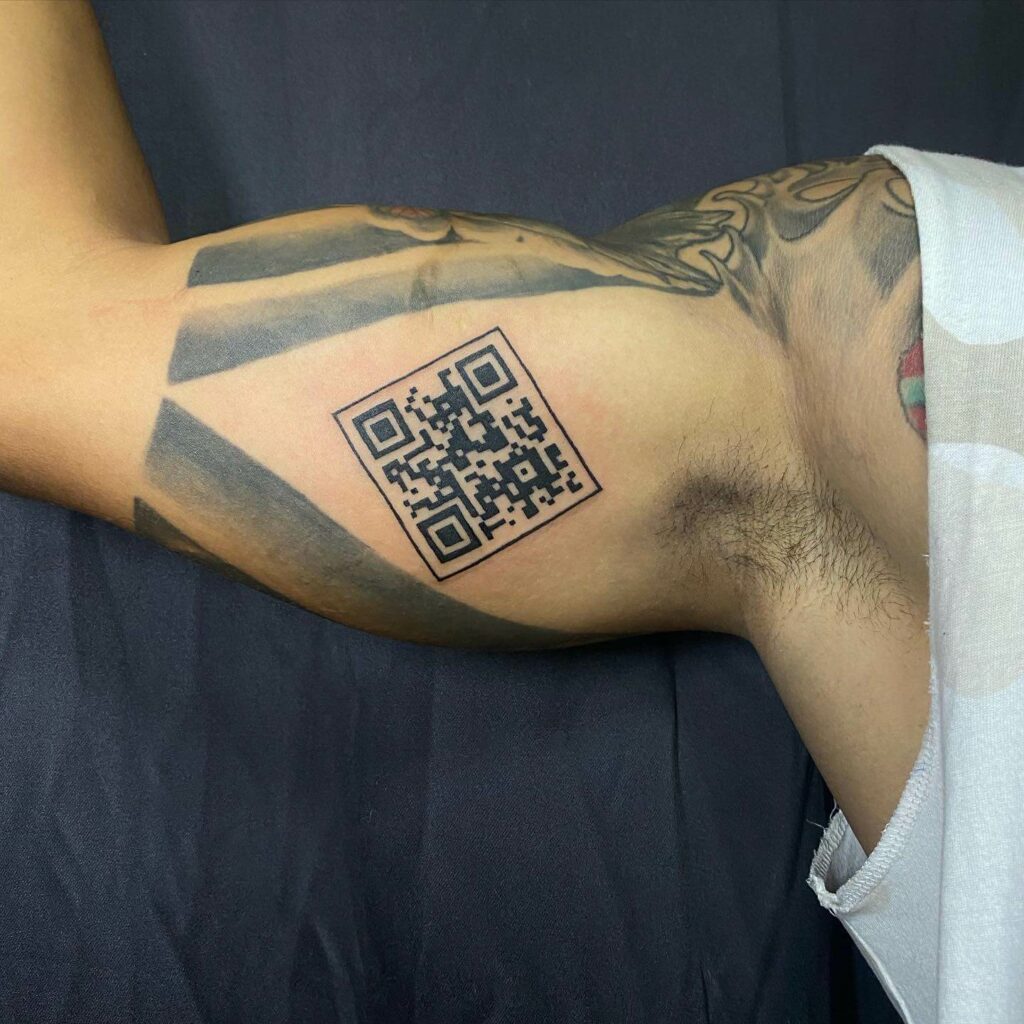 Here is another unique example of a QR code tattooed on the upper arm of the individual. The tattoo surely is a great way to highlight those beautiful curves on your bicep. What's more, there are also several benefits that you can derive from a QR code tattoo.
Let's you are an entrepreneur who has just ventured on your journey to the business world. When you meet with your potential clients and they ask for a business card, you can simply tell them to scan your wrist and get access to your website. This will not only help the growth of your personal brand but also create an impactful first impression.
However, in order to get the most efficient QR code tattoo, you need to choose your tattoo artist accordingly. It is best if you can hire an expert tattoo artist since QR codes are basically a matrix of dots, where each dot play a crucial function. The proper placement of these said dots is extremely important.
Minimalist QR Code Wrist Tattoo
Here is another beautiful example of a QR code tattoo etched on the wrist of the individual. For those who are minimalist lovers, this can be a perfect choice. It is simple yet unique and definitely gives off quite a strong vibe about the wearer. While getting a QR code tattooed, ensure that your artist includes error correction. When you add error correction to your QR code tattoo, it basically helps the code to function properly. You can get many QR code generators online that will help you to add error correction to your QR code. One such might include Scanova.
In this image, the wearer has chosen his inner wrist for this tattoo. It surely looks quite great and is especially very convenient for social media influencers. By just scanning the code, they can get access to their social media accounts quite effortlessly.
Spotify QR Code Tattoos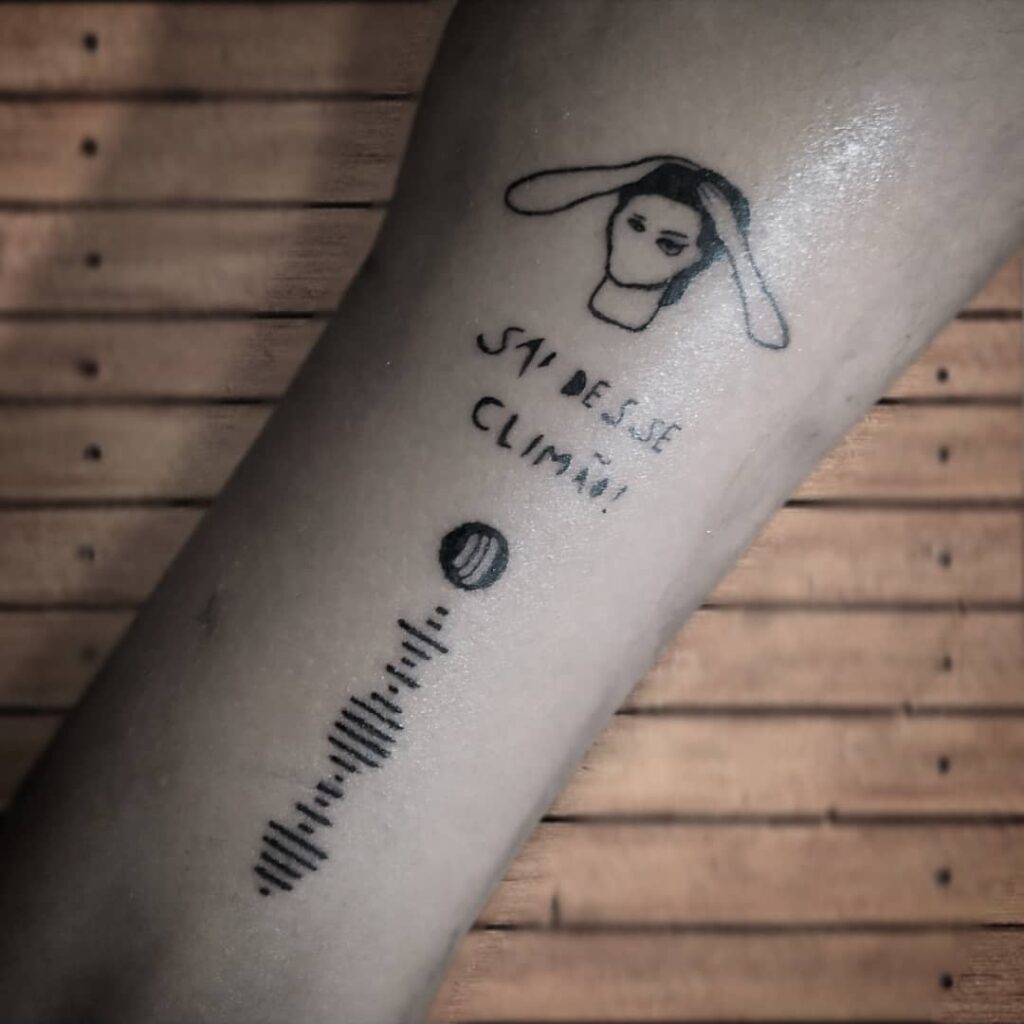 Are you a music lover? If yes, then you need to get this Spotify QR Code tattoo! As quite visible from the image, the artist has created quite a fun QR code tattoo and incorporated certain letters into the tattoo as well. This is perhaps one of the best ways to customize your QR code tattoo. If you have a favourite list of songs that you love to hear all the time, or you simply want to share the same with others, this can be quite a cool way to do so. For this design, the artist has mainly relied on black ink to create the whole look.
One thing to remember when going for QR code tattoo designs is that if you have lighter skin, then it is best that you use some kind of dark ink for your QR code. Whereas, if you have a darker skin tone, adding colours to your QR code tattoo will give it a beautiful contrast. This is one of the most efficient ways to ensure that your QR code tattoo functions properly.
QR Code Tattoo With Dates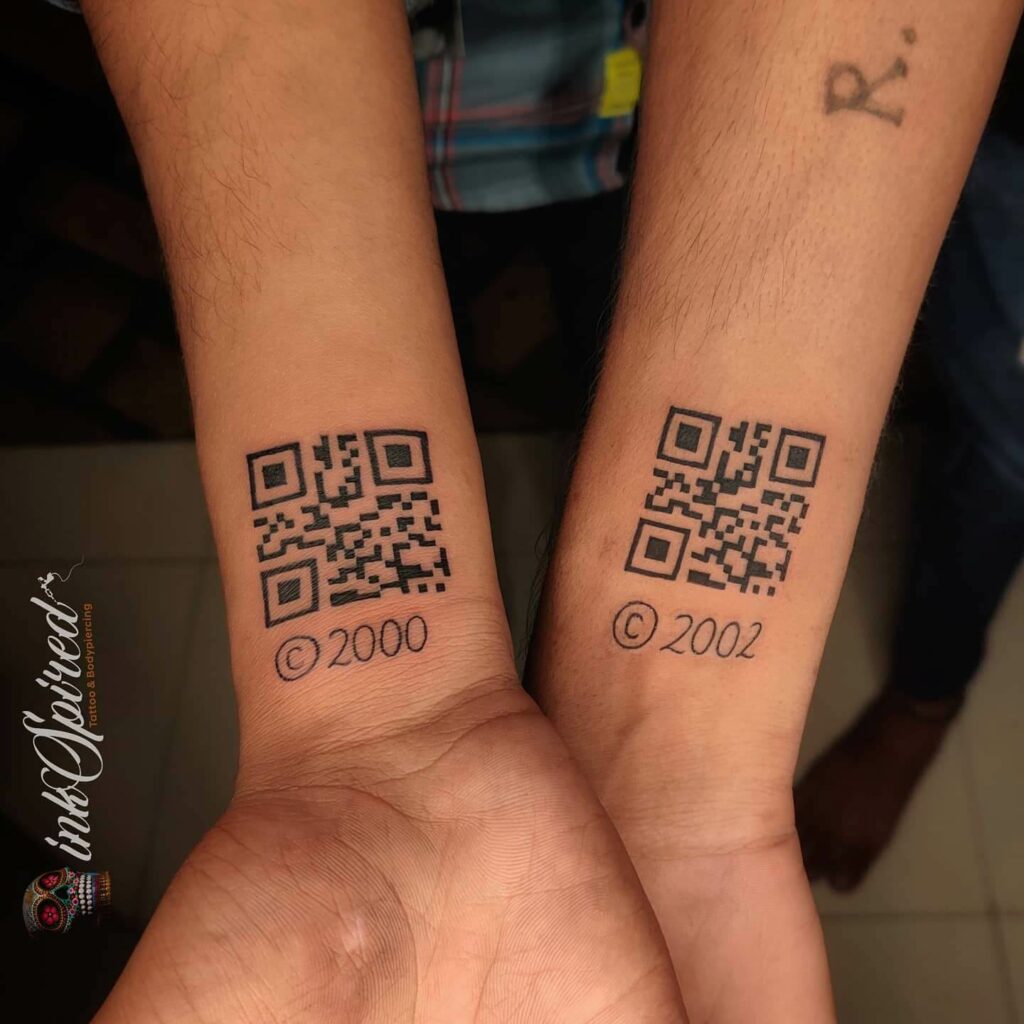 Adding any memorable date or year to your QR code tattoo is yet another unique way to easily customize your design. The above-mentioned image is one such example. For both these tattoos, the tattoo artist has incorporated two special years, 2000 and 2002. Just from a glance, you can tell that these two years hold certain special memories for the wearers. If you have any such date or year in your mind that you want to capture forever, this can be a great way. It can be your birthday, your anniversary, or the day your child was born.
Static QR Code Tattoos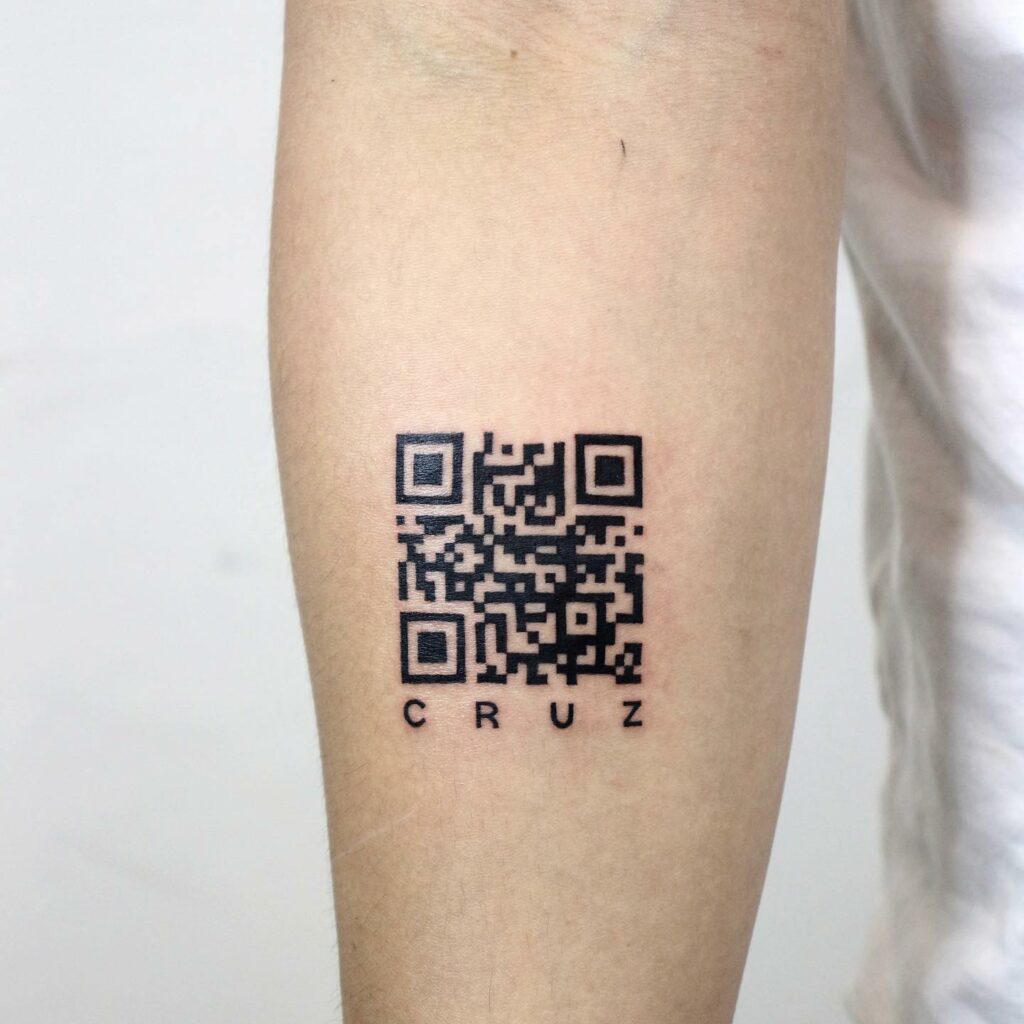 There are basically two kinds of QR codes that you can choose from before getting inked. These include the Static QR code and the dynamic QR code. Static QR codes are usually free to generate. However, they have a con side as well. Unlike dynamic QR codes, static QR codes cannot be changed. This means that the data which is stored with the QR code will grant you access to a permanent landing page. Therefore, you need to be extra cautious when you are going for a Static QR code tattoo.
Barcode Tattoo Styles
As we all know, barcodes are basically used for tracking and scanning products. However, in the tattooing world, they can hold a much greater significance. Oftentimes, barcode tattoos are perceived to be a way of representing an artistic statement, abstractionism, or simply symbolizing mass consumerism. Unlike all the other QR code tattoos that we have seen so far, barcode tattoos have a very niche audience base. They are often associated with anarchist values and are more common among goths and activists. If you can relate to any of these above-mentioned ideas, then you should definitely consider using this as a reference for your next tattoo.
Funny QR Codes Tattoo
Here is another fun example of a QR code tattoo etched on the hand of the individual. The wrist and the arm are usually considered to be the best placement for QR code tattoos. This is because these are the regions that are easily noticeable and accessible as well. Furthermore, you can also customize your QR code tattoos according to your preference. For example, there has been a recent trend of tattooing QR codes wherein it automatically takes you to family photos or any such personal reminders. It can be a great way to store a very favourite memory of yours forever as body art. However, if you are going for such a tattoo idea, it is usually recommended that you choose a Dynamic QR code tattoo. This is because you can quite easily change the content behind the QR code even after it has been tattooed, something which is not allowed in static QR codes.
Lettered QR Code Tattoos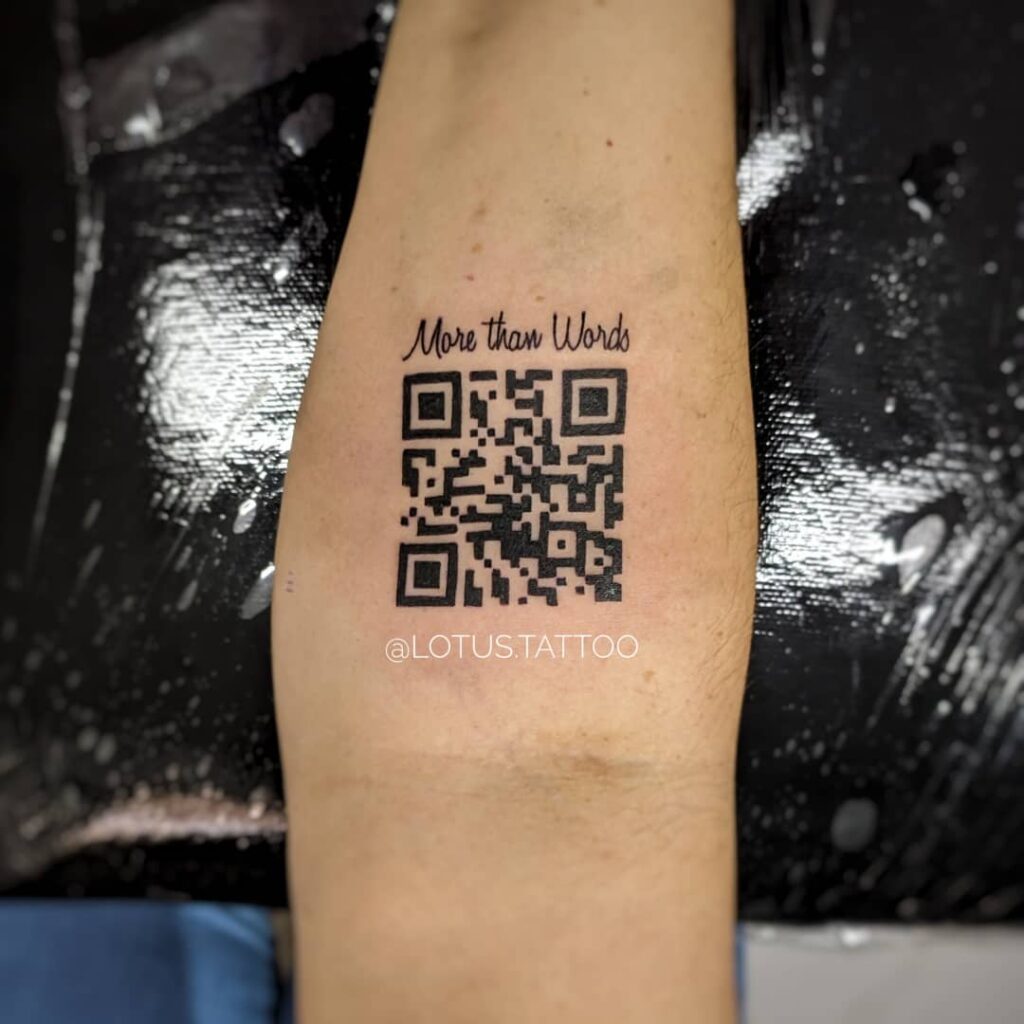 Do you have any specific quote or word that holds deep meaning in your life? If yes, then this can be a great way to showcase the same in the form of body art. As quite visible from the image, the artist has incorporated the words 'More Than Words, on top of the QR code. The crispiness of the font used, when placed against this unique design, presents quite an attractive tattoo art. Simultaneously, you can also choose any quotation of yours that you can further incorporate into your tattoo design. You can also opt for other colours based on your skin tone.
If you are still not sure about getting a QR code tattoo, you can easily go for a temporary QR code tattoo. This will allow you to explore other options and finally settle down on the best option.
Abstract QR Code Tattoos
Here we have yet another cool example of a QR code tattoo etched on the hand of the individual. Needless to say, the artist has done a marvellous job in creating this design. Perhaps one of the best elements in this image is the inclusion of the cat peeping through an hourglass. It really adds that extra spark to this overall design.
Feature Image from Pinterest – Want your tattoo to look brighter? Try "Tattoo Balm"
Last reviewed and updated on March 10, 2023