Looking for a tattoo design that combines the raw power of a snake with the delicate beauty of a flower? Look no further than the snake flower tattoo! This unique and striking design is a perfect representation of both fierceness and purity and has become increasingly popular in recent years.
Both snakes and flowers hold deep cultural significance, with snakes symbolizing rebirth and creative life force, while flowers have a wide range of meanings depending on their type and color. By combining these two elements, you can create a truly one-of-a-kind tattoo that reflects your personality and style.
Despite their potentially intimidating appearance, snake tattoos can be made more approachable when paired with the softness of flowers. The fluid movements of a snake and the varied textures of flowers make it easy to play around with different shapes and designs, resulting in a unique and powerful piece of body art.
Our team has scoured the tattoo world to bring you the best snake and flower tattoo designs out there. From intricate floral arrangements to coiled serpents, we've got you covered. Don't be afraid to embrace the bold and beautiful with a snake flower tattoo!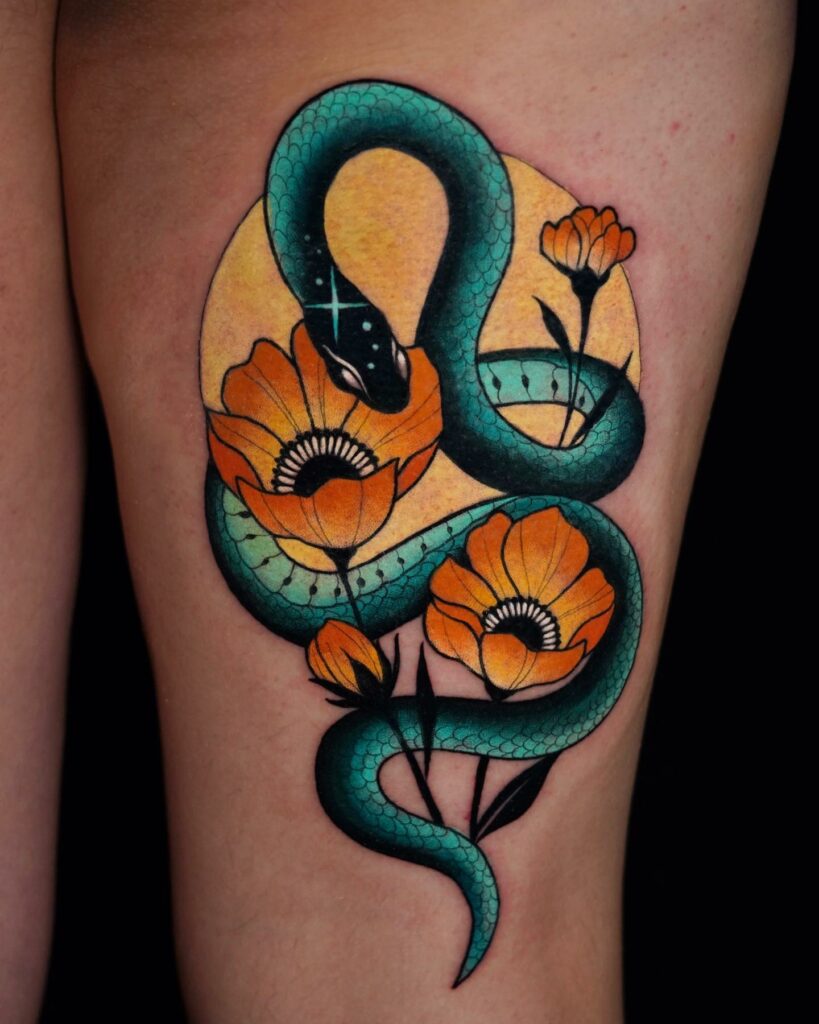 Snake And Flower Tattoo Ideas With Skulls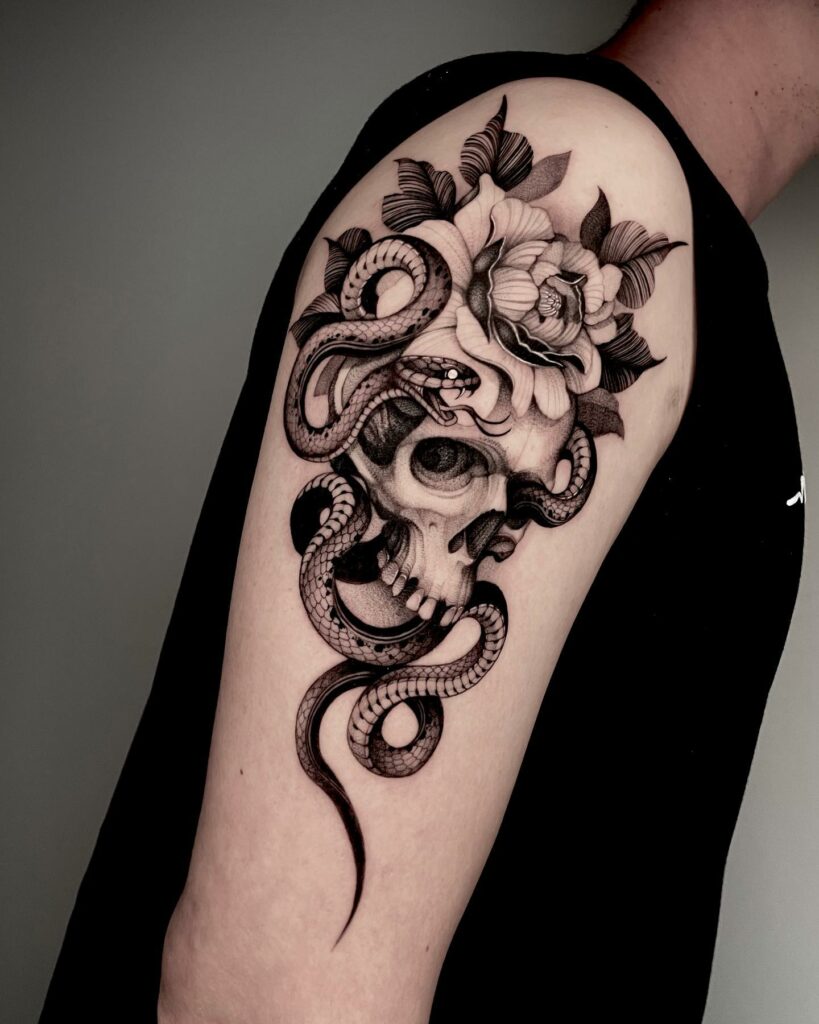 Skull, snake, and rose tattoos have long been popular due to their mysterious and edgy vibe. This stunning tattoo design features a skull surrounded by blooming roses, with a seductive snake coiled around the skull. The snake's striking green eyes and menacing fangs add to the tattoo's dark allure, capturing danger and intrigue.
The design is created using a palette of black and white ink, with the artist carefully darkening certain areas to add depth and realism to the piece. This tattoo is perfect for those seeking a bold, edgy look that still incorporates intricate detail and symbolism. If you're looking to make a statement with your ink, this skull, snake, and rose design may be just what you're looking for!
Peonies Surrounding Snake Tattoos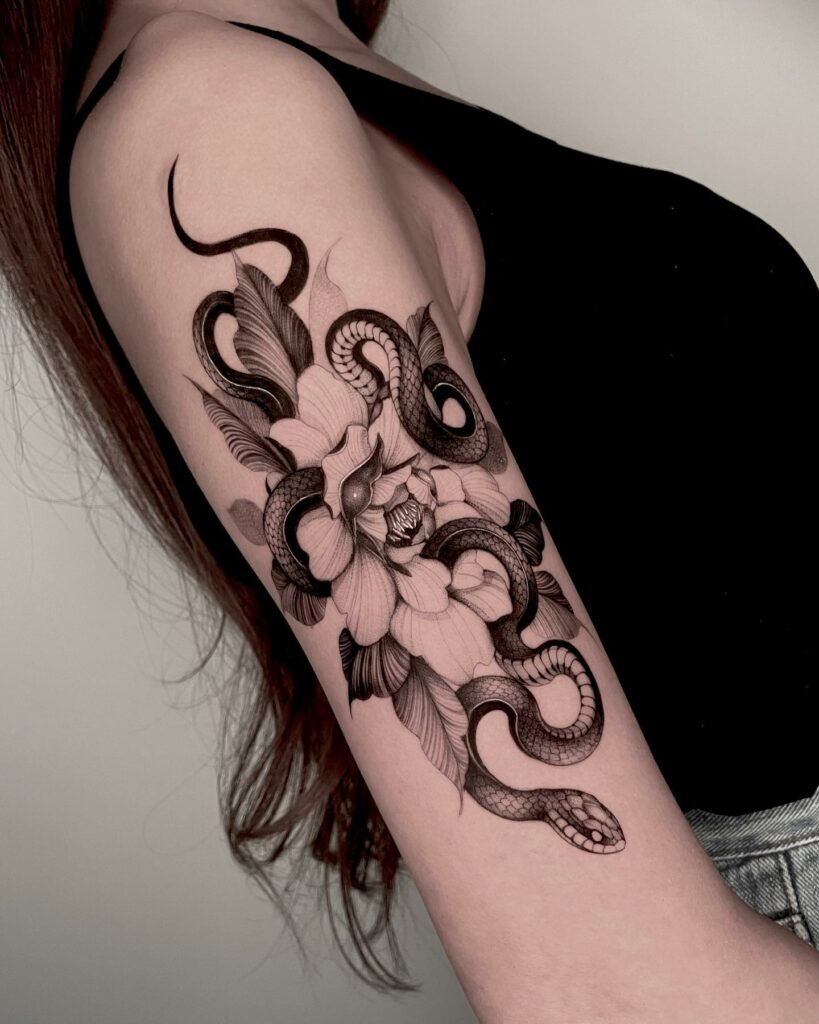 This particular snake tattoo design takes it up a notch by incorporating peony flowers, which adds a touch of beauty and elegance to the design. The snake is depicted slithering through the flowers, creating a sense of motion and liveliness.
Not only does this tattoo look aesthetically pleasing, but it also holds a deeper meaning. Snakes are often associated with protection, and the addition of peony flowers could also represent healing and beauty. This tattoo design is best suited for larger areas like the shoulder, back, or thigh as it requires ample space to fit in its intricate details. Make sure to choose the right placement to ensure maximum impact.
Floral Day And Night Snake Tattoo Ideas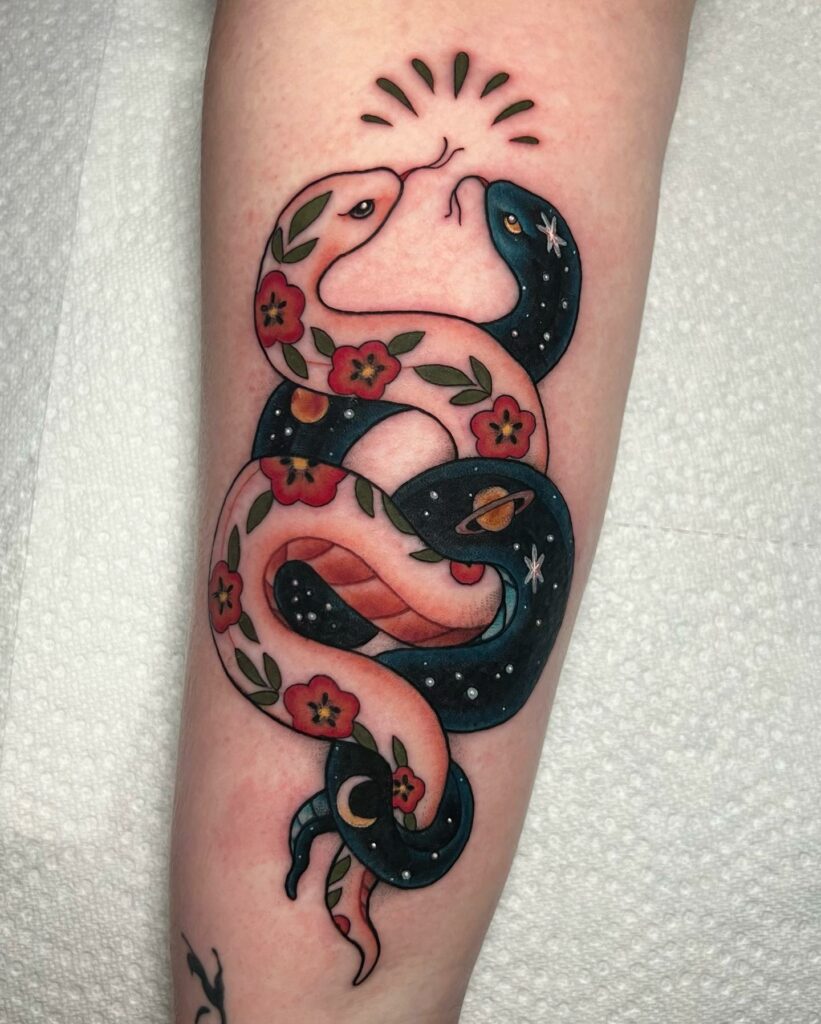 Tattoos featuring contrasting powers often create an alluring and symbolic effect, just like the day and night snake tattoo design. This unique and stunning design features two snakes, one representing the night and the other the day, intertwined with floral elements on the snake scales. The coiled snake tattoo also resembles the famous Yin-Yang symbol, which symbolizes the coexistence of opposing powers.
The tattoo's floral elements and colors add a touch of elegance, making it less intimidating than typical snake tattoos. The night snake features solid colors, representing the night sky, while the day snake has a chain of flower tattoos on plain skin, creating a distinct daytime effect. This tattoo design is a great alternative for someone looking for a unique and meaningful tattoo that symbolizes the balance of opposing forces.
Boa Snake Tattoo Design With Jasmines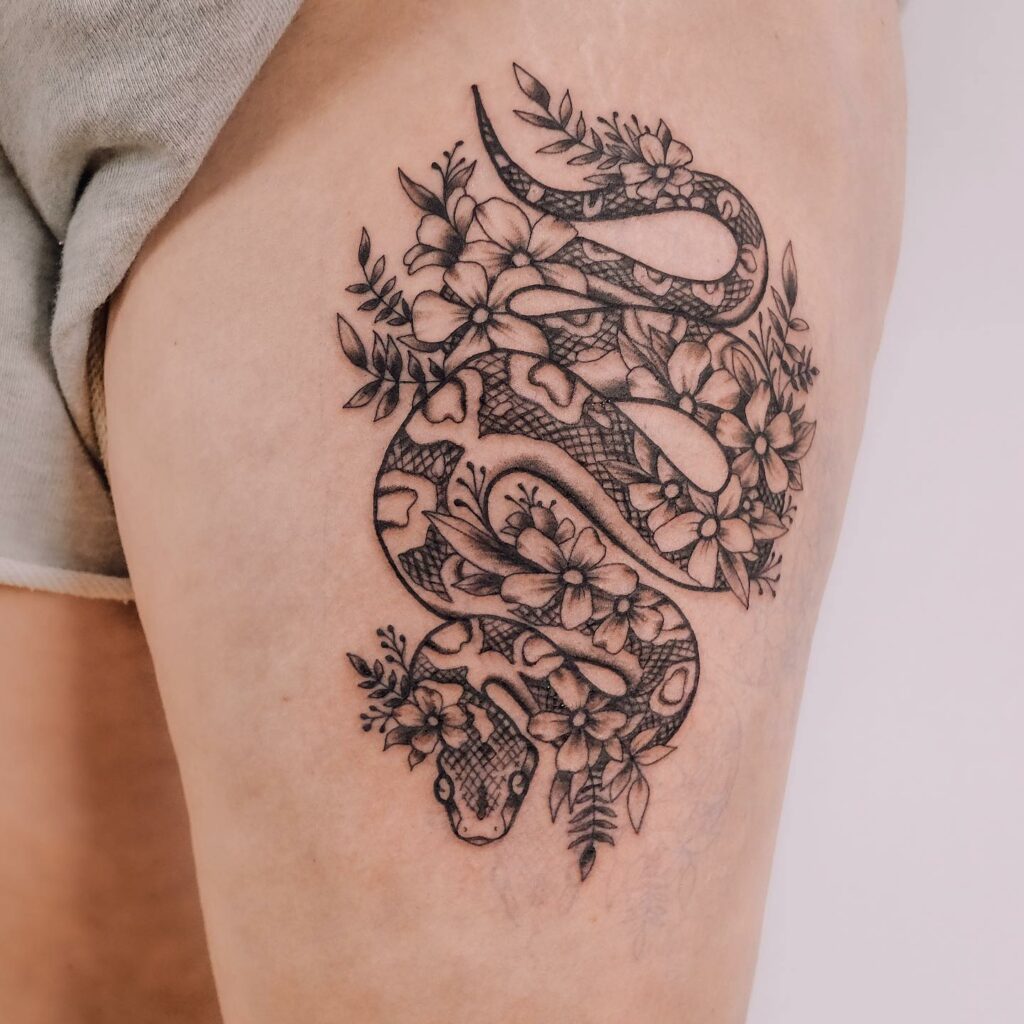 The majestic boa snake, known for its fierce grip and aggressive personality, has made its way into the tattoo world as a symbol of edginess. Although it may seem daunting, you can soften its rough edges by adding flowers to the design. The stunning tattoo we've chosen to showcase today does just that, using delicate jasmine flowers to keep the snake tattoo both dangerous and approachable.
The artist has skillfully incorporated intricate line work into the design, paying close attention to the snake's smooth frame and detailed scales to create a realistic image. The floral elements beautifully complement the snake, bringing a touch of nature to the tattoo and toning down its threatening appearance. If you're looking for a tattoo that combines beauty and fierceness, this design is perfect for you.
Fierce Sword And Snake Flower Tattoo Design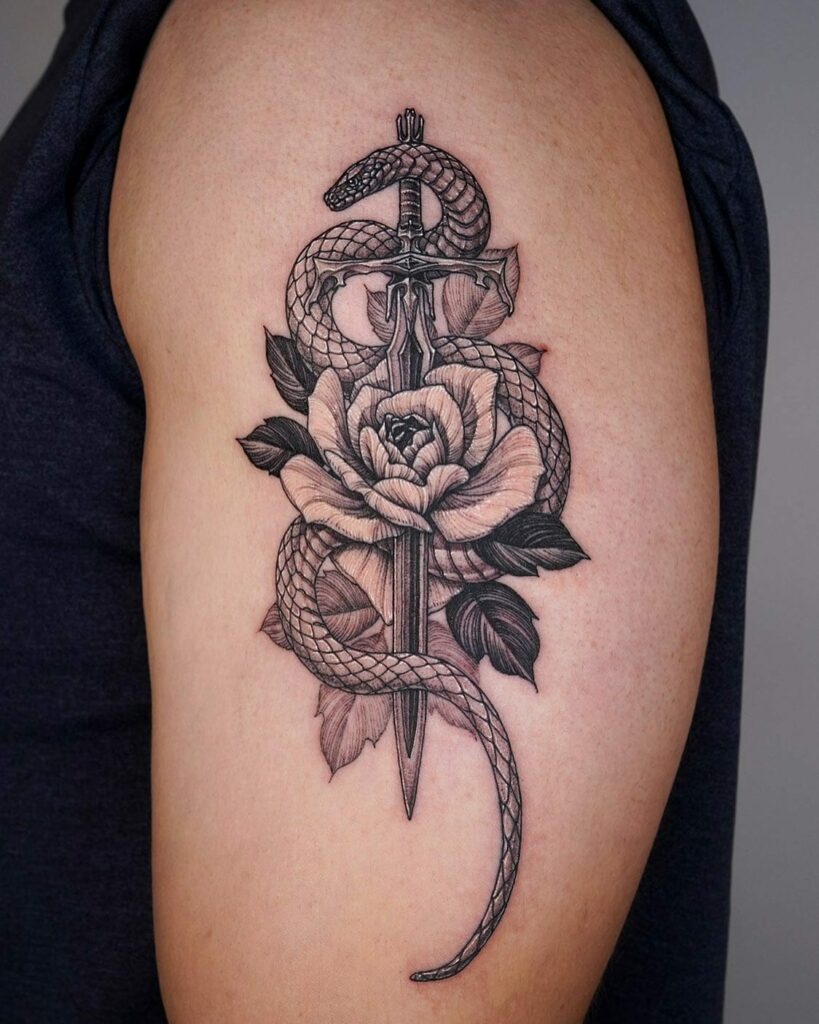 This striking piece captures the essence of a bygone era, with a dark and mysterious theme that features a coiled snake wrapped around a sword, with a beautiful rose nestled in between.
Snake tattoos have a certain allure that's hard to resist, making them a popular choice among tattoo enthusiasts. This particular design stands out for its attention to detail, from the intricate scales on the snake to the delicately rendered petals of the rose.
Of course, you don't have to settle for the same flower design as seen in the tattoo above. You can customize your design by choosing a flower that holds special meaning for you, whether it's a favorite bloom or one that carries symbolic significance. The possibilities are endless, so let your imagination run wild and create a one-of-a-kind tattoo that truly speaks to your unique spirit.
Snake And Peonies Sleeve Tattoo Ideas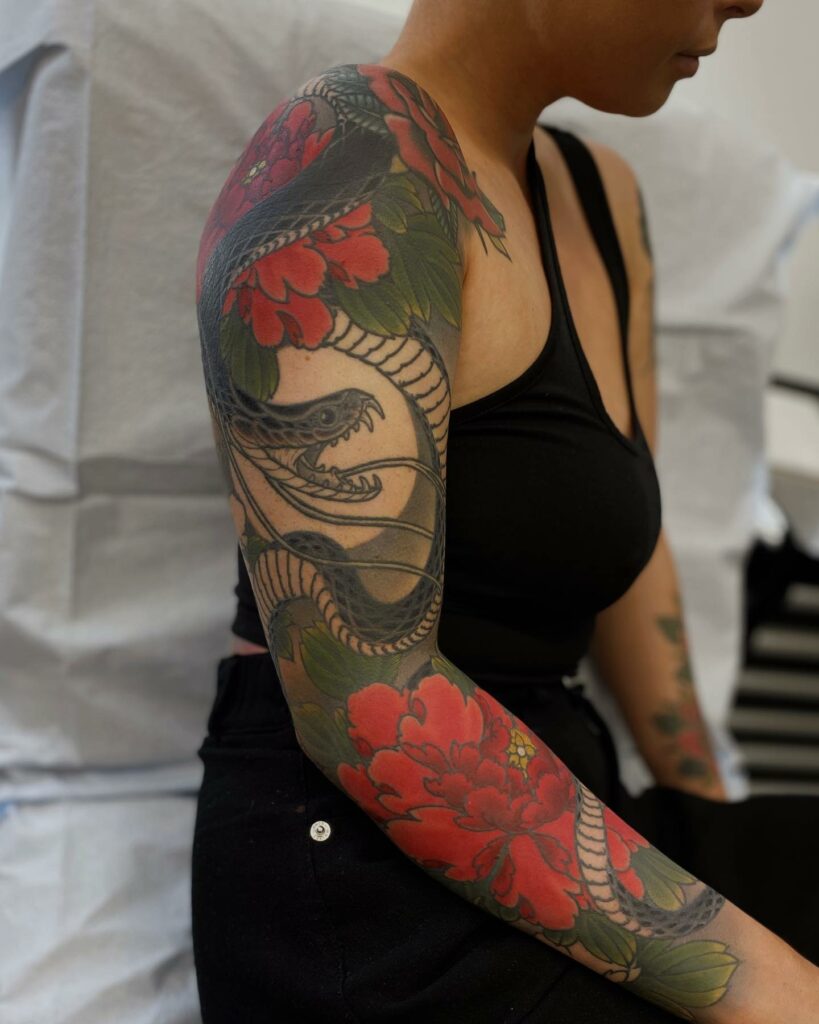 The tattoo is a perfect example of how the curvy build of a snake can be used to create a stunning illustration that swirls beautifully around the arm. With the addition of flowers and other design elements, the tattoo's overall aesthetic is nothing short of breathtaking.
One of the key design elements that make this tattoo stand out is the use of contrasting colors. Despite using simple and solid colors, the tattoo artist has skillfully filled in specific areas while leaving others blank to maintain balance. The colors used in the flowers, snake, and leaves are vastly different, which creates a perfect contrast that accentuates each feature, complementing the overall design. If you're looking for a tattoo that is both gorgeous and visually striking, a flower and snake tattoo like this might be the perfect choice for you.
Japanese Style Snake And Flower Tattoo Ideas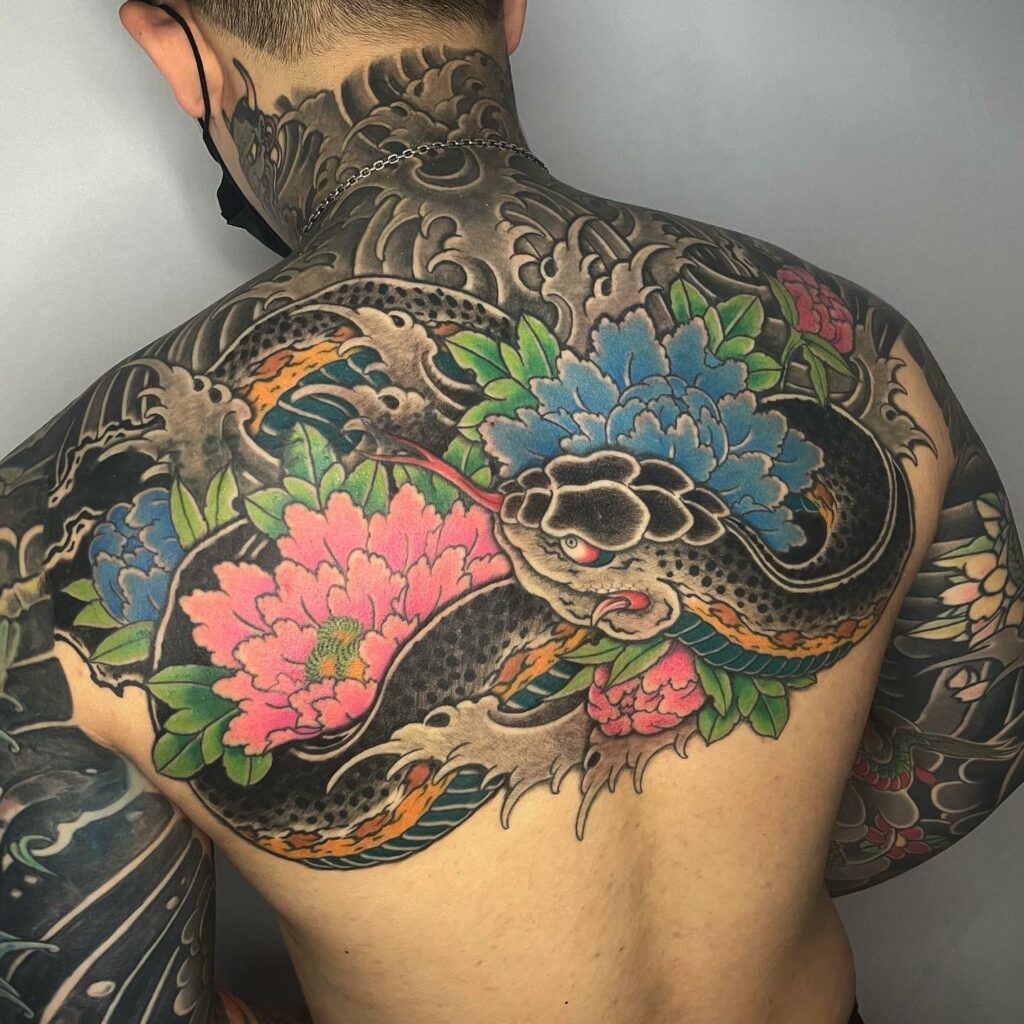 The artistry of Japanese style tattoos is on full display in this stunning back piece. The canvas of the wearer's back provides ample space to incorporate a complex and beautiful design, featuring a range of natural elements including snakes, flowers, and waves. Japanese tattoo artists are renowned for their intricate detailing and masterful use of color, as seen in this piece.
One of the most impressive aspects of this tattoo is how the artist manages to bring together so many different elements into a cohesive whole. The snakes, flowers, and waves are all expertly rendered and colored in a way that allows each to stand out while still contributing to the overall composition. This tattoo is a true masterpiece of the art form, and a testament to the skill and creativity of the tattoo artist who brought it to life.
Mythical Snake And Lilly Flower Tattoo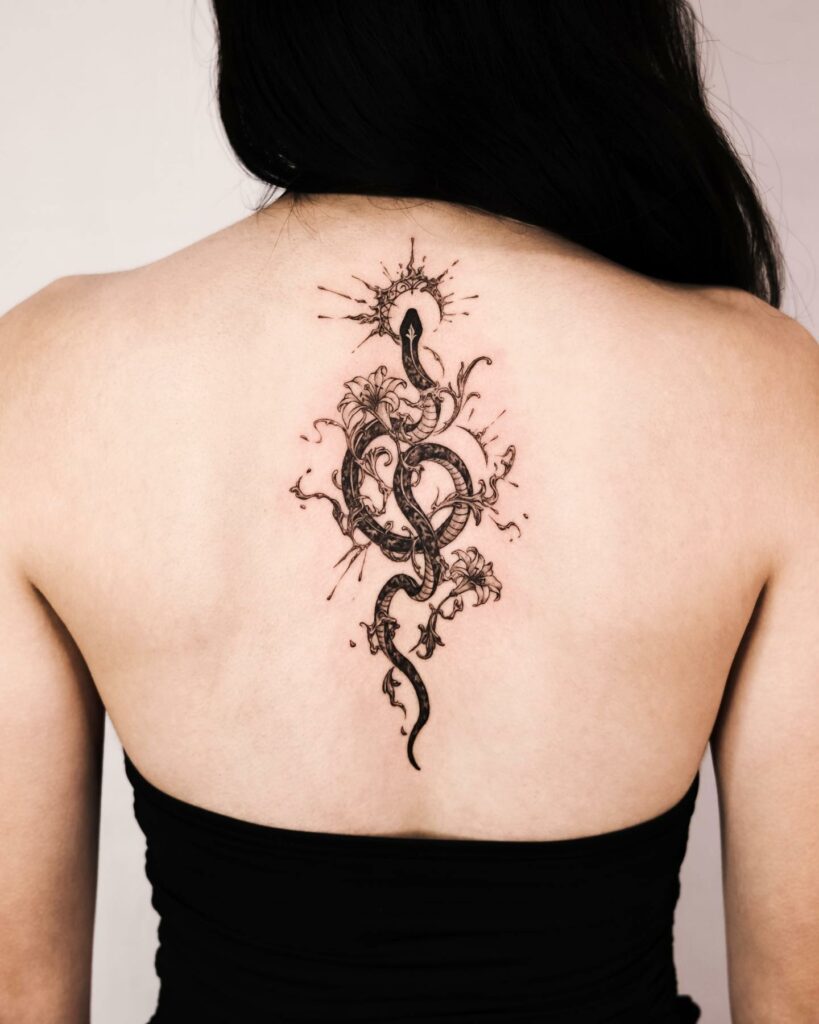 Mythical creatures have always been a source of fascination and inspiration for tattoo designs. This snake tattoo beautifully captures the essence of mythical beings, with its intricate design featuring lily flowers and a crescent moon. The shading and contrast used in the tattoo give it a rich and powerful appearance, similar to how mythical characters are often described.
If you're interested in getting a similar tattoo, you can customize it by choosing a different color ink, such as red, to make it stand out or reflect your personal style. Additionally, the snake can represent positive meanings, like wisdom and transformation, adding a deeper significance to your tattoo.
Snake With Rose Tattoo Design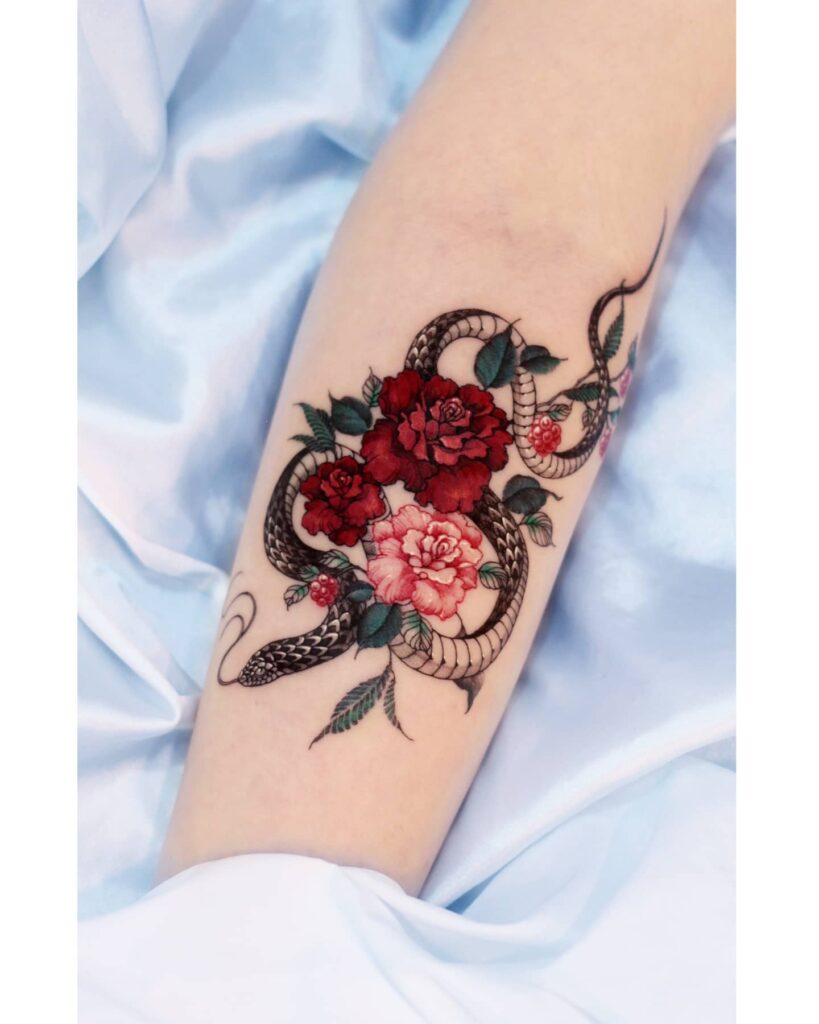 A simple black and white tattoo can be elevated with the addition of colors, and this gorgeous rose and snake tattoo is a perfect example. The intricate design showcases a snake coiling around blooming roses, and the vibrant colors used for the flowers and leaves bring the tattoo to life. The solid black color used for the snake creates a perfect contrast with the colorful floral arrangement, adding an edgy touch to the otherwise delicate-looking design. The details and the color choices used in this tattoo make it a perfect addition to any tattoo collection.
Floral Snake Bracelet Tattoo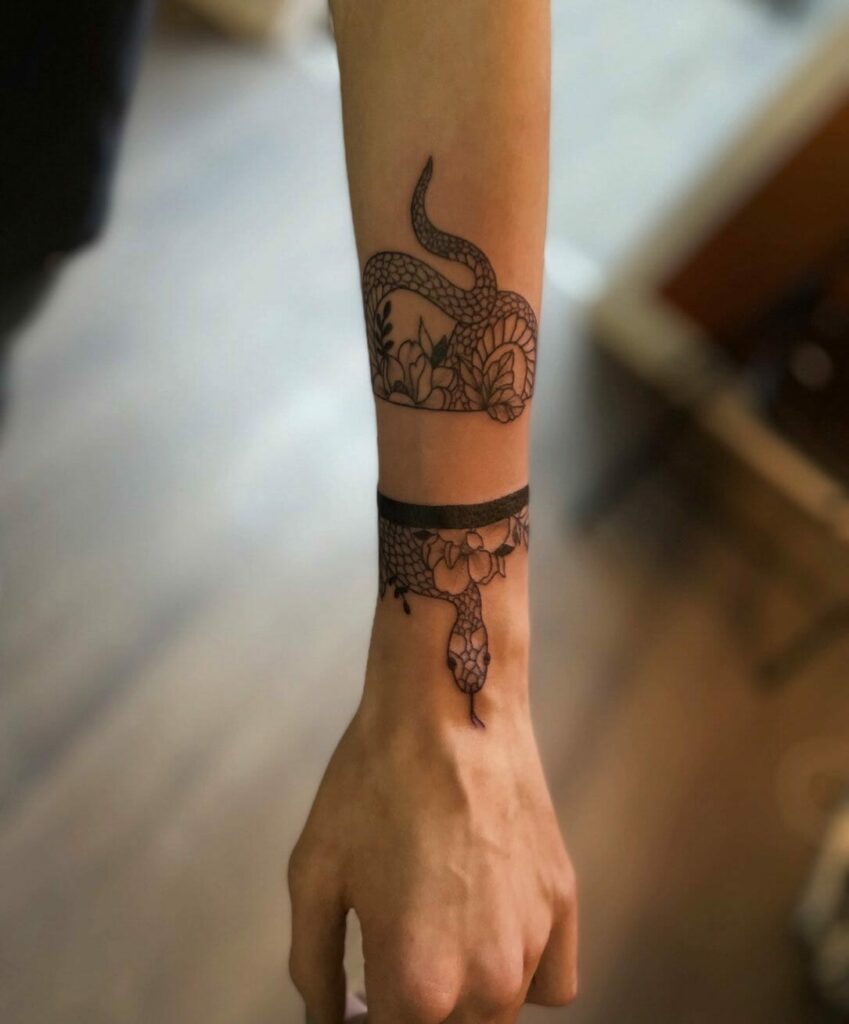 This geometric snake and flower tattoo may just be the perfect fit! Rather than sticking to the usual snake and flower tattoo styles, this design utilizes cleverly placed geometric lines to create a stunning bracelet-like effect. The tattoo is divided into two halves, with the front part featuring the snake's head and the back part featuring its tail. This not only creates an eye-catching design but also makes the snake tattoo look like a stylish accessory.
If you're still on the lookout for more snake tattoo ideas, we've got you covered. Our team has compiled a list of the most popular and beloved snake tattoo designs on the internet. These designs can serve as a starting point for creating a personalized and unique snake tattoo that's tailored to your preferences. Whether you choose to replicate one of our curated designs or combine elements from various designs to create your own original masterpiece, the possibilities are endless.
Still looking for inspiration, then checkout this blog post about butterfly tattoos
feature image from Pinterest – Want your tattoo to look brighter? Try "Tattoo Balm"