Want to get an amazing spooky body art? Here are the 10 best unique feminine Halloween tattoos you'll love to get inked!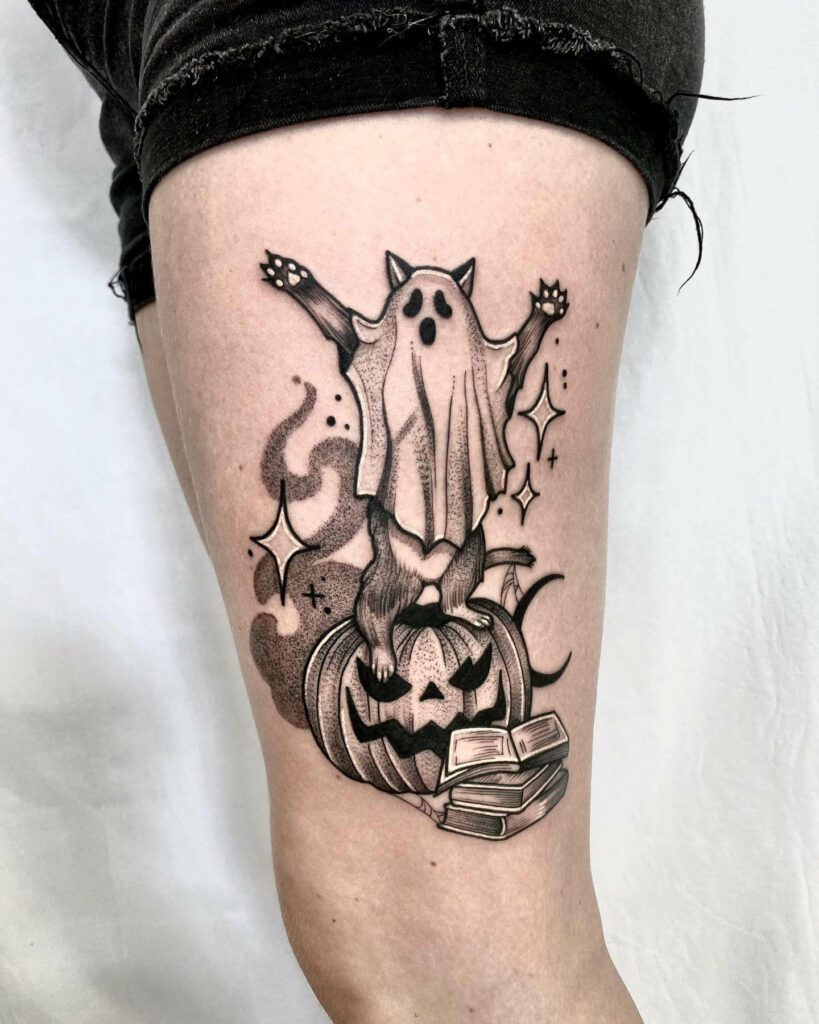 Want inspiration for some unique Halloween tattoo designs for the upcoming season of spook?
Spooky season is almost around the corner with a nip in the air and jack-o-lanterns in every front yard; the time seems just about right to get a cool Halloween tattoo. If you are looking for ideas, this list has got you covered.
Cool Halloween tattoos are not necessarily big, spooky body art. Even tiny Halloween tattoos can get you compliments on the spooky holiday season! These Halloween tattoos are all yours to flaunt on Halloween night and crank up the spooky vibe meter. So get ready for these cute Halloween tattoo designs for the spookiest time of the year. Haunted houses, jack o lanterns, witch hats, these are things traditional Halloween lovers swear by, and what is a better tradition to celebrate Halloween than by getting inked? If you're a tattoo artist, you can get inspiration for your next Halloween tattoo for your favorite holiday of the spooky season. Halloween season calls for you to choose from these unique feminine Halloween tattoos.
Tattoo Of Morticia And Gomez From The Spooky Adam's Family
This Halloween-themed tattoo is a fun way of expressing love for your significant other if they are a Halloween lover. The tattoo design is based on the popular year-round favorite 'The Adams Family' franchise. It is perfect for the holiday season when one gets the time to curl up with their lover under the haunting moonlight. The tattoo artist uses tarot cards of the lovers to ink this tattoo design. The lovers are under the crescent moon, with bats flying around them.
This Halloween tattoo design showcases minimum colors, as black ink is used to set the mood. The tattoo design might have had a darker twist if there were black roses instead of red, as Morticia loves dead roses.
Haunted House And Ghosts Tattoo
A haunted house tattoo is one of the best Halloween tattoos one can get and what makes it better is that it is cute and scary at the same time. This tattoo is reminiscent of movies by Tim Burton, who is famous for creating movies about ghosts that are cute and have a range of emotions. The vibe of this tattoo matches his 1993 movie 'The Nightmare before Christmas'. When the thought of a ghost comes to our mind, we almost immediately associate it with a haunted house because that is where they mostly live, right? This tattoo shows several ghosts coming out of the dark house. The tattoo artist uses black ink for this tattoo design with fiery orange accents, reminding us of a lit-up pumpkin during our favorite holiday for spooky fun.
This haunted house tattoo design is cute and perfect for flaunting during a crazy Halloween party. You could tweak it up with your imagination or take inspiration from other Halloween tattoo ideas and rock it like a diva.
Floral Moon Tattoo
Creepy Halloween tattoos are not everything; you can still channel your inner witch energy through the ink on your skin. The moon has been a mystic sign of magic and witchcraft since antiquity. It is a symbol of the Pagan goddess Hecate, the mother of all witches.
This floral moon tattoo has two feminine elements, making it a unique feminine tattoo design. The flowers entangled in the crescent exude feminine energy while keeping the Halloween mood up. It is one of the best Halloween tattoo ideas if you want to think out of the box.
Tattoos like this can easily be turned into scary Halloween tattoos with a few subtle touches, like making the flowers dry and withered and using a dark background.
Madam Leota Tattoo
A Halloween tattoo of one of the most popular characters in a horror movie? Definitely worth it! This Halloween tattoo design showcases Madam Leota, the ghastly fortune teller of 'The Haunted Mansion'. This tattoo is an inspiration for many more tattoo ideas involving other characters in the movie. After all, it is one of the best movies to binge on during Halloween! Using bright ink, like this tattoo, grabs more eyeballs as most Halloween tattoos are done with dark colors.
What is your favorite character from the movie? Would you get a tattoo of them?
Betty Boop Ghost Tattoo
This cute ghost tattoo is one of a kind. The iconic flapper Betty Boop of the Jazz era gets a Halloween twist in this cool Halloween tattoo. The lady in the tattoo is covered with a sheet, a popular Halloween costume element for a ghost. The tattoo shows candy cane-colored stockings with dark accents that look absolutely fitting for the Halloween tattoo design! This super cute, girly design can be paired up with a feminine costume, and it'll take you no time to shine like a star, just like the girl in the tattoo!
This Halloween tattoo design showcases an iconic female character. Check out the Madam Leota tattoo and see if you like it!
Black Cat With Two Heads Tattoo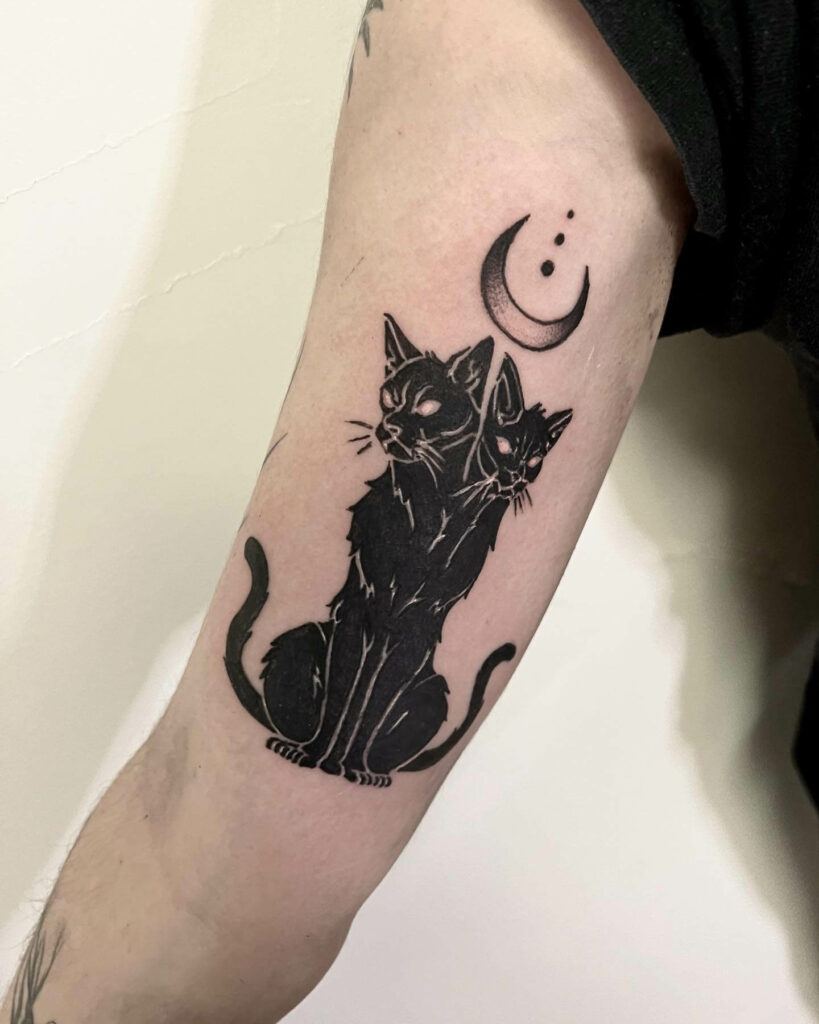 Cats have a unique significance in witchcraft. Black cats are believed to be particularly witchy as they were familiars for a witch. In early France, black cats were often killed as they were believed to bring evil and bad luck. This is a creepy piece of history, as today, cats are so loved and are an integral part of our family. This two-headed black cat tattoo design is unique as it is a rare anatomical phenomenon and the crescent moon in the backdrop with three dots makes it even better as three is a number associated with witchcraft.
This tattoo looks good on arms and legs as these parts are the most visible and can gather compliments.
Floral Jack O Lantern Tattoo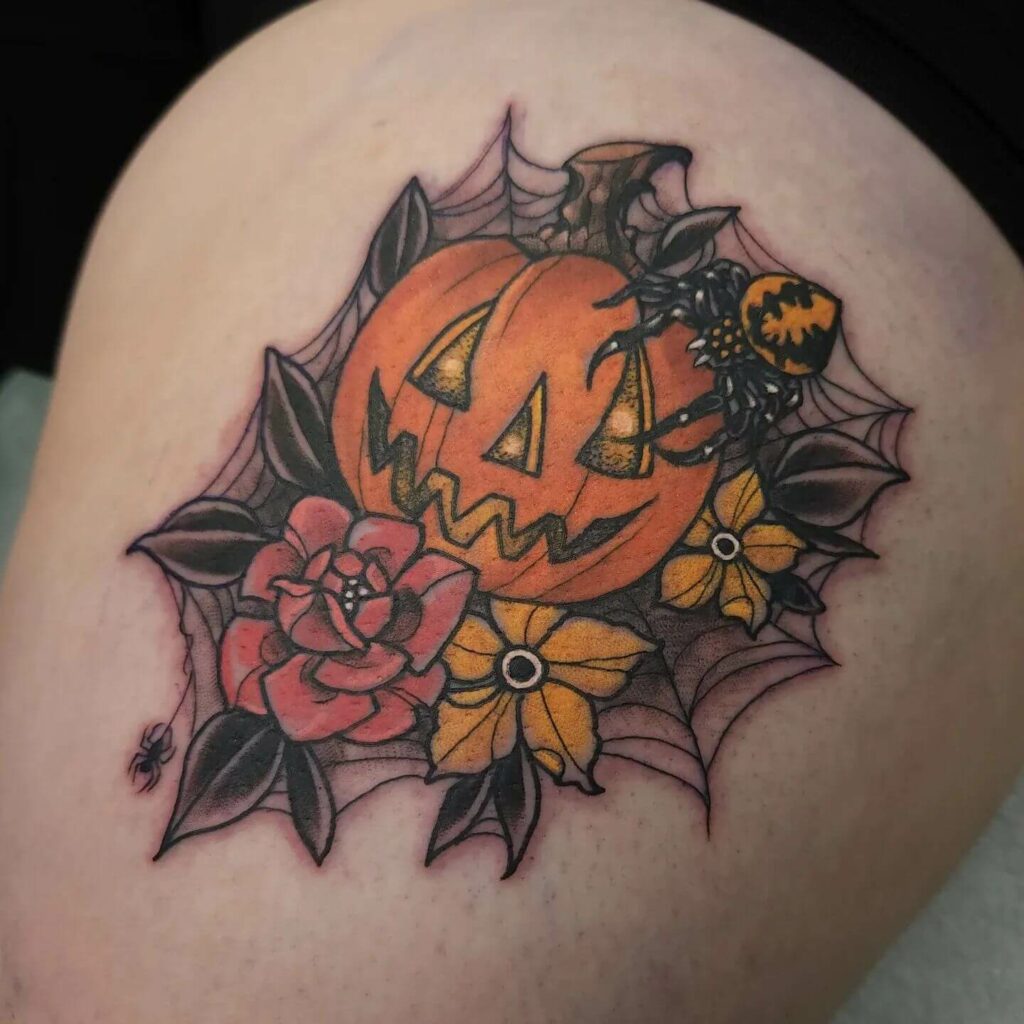 Scary Jack o lantern? Checked. Creepy arachnid? Checked. Pretty flowers for a feminine touch? Checked. This Halloween pumpkin tattoo has ticked all boxes for Halloween tattoos that are scary and feminine at the same time. The carved pumpkin is the life of Halloween, and what better way of paying tribute to its fiery presence than by getting it inked? The carved pumpkin is believed to scare away the evil spirits roaming about on hallows' eve. The myth of the jack o lantern originated in Ireland and has now become universally synonymous with Halloween.
So get your pumpkin tattoo this Halloween season to ward off evil spirits and flaunt an iconic piece of art on your body.
Ghost Cat Tattoo
A cat dressed up as a ghost on Halloween? What's not to love about this fabulous Halloween tattoo? Of all the cutesy Halloween tattoos, this one seems to be the perfect choice for the pawsome cat parent. The tradition of kids dressing up in various costumes during Halloween should definitely extend to our furry companions, as some of us are proud fur mommies! This tattoo has the right amount of spook and cuteness. Absolutely adorable!
This dainty Halloween tattoo idea will look great on the arms. Would you like to add your own flair to this wonderful piece of art? Check out other Halloween tattoos for inspiration at the end of this article.
Creepy Vampire Lips Tattoo
This Halloween tattoo has plump. luscious lips that can only belong to a femme fatale. But it is only when those beautiful lips are parted the danger is exposed. Vampires have been a part of myths and folklore for centuries, and popular culture has adapted them in various ways. Vampires are an integral part of the modern horror franchise, which started with the era of Dracula. Still, the vampiric Geraldine was one of the first notable female evil antagonists of supernatural nature portrayed in Coleridge's 'Christabel'.
This fang tattoo is a great Halloween tattoo idea if you are a fan of mythical creatures in folklore and old wives' tales while keeping it stylish. It is a small tattoo that will look good around the collar bone and inner thighs, making it a sexy choice for Halloween.
Halloween Bat Tattoo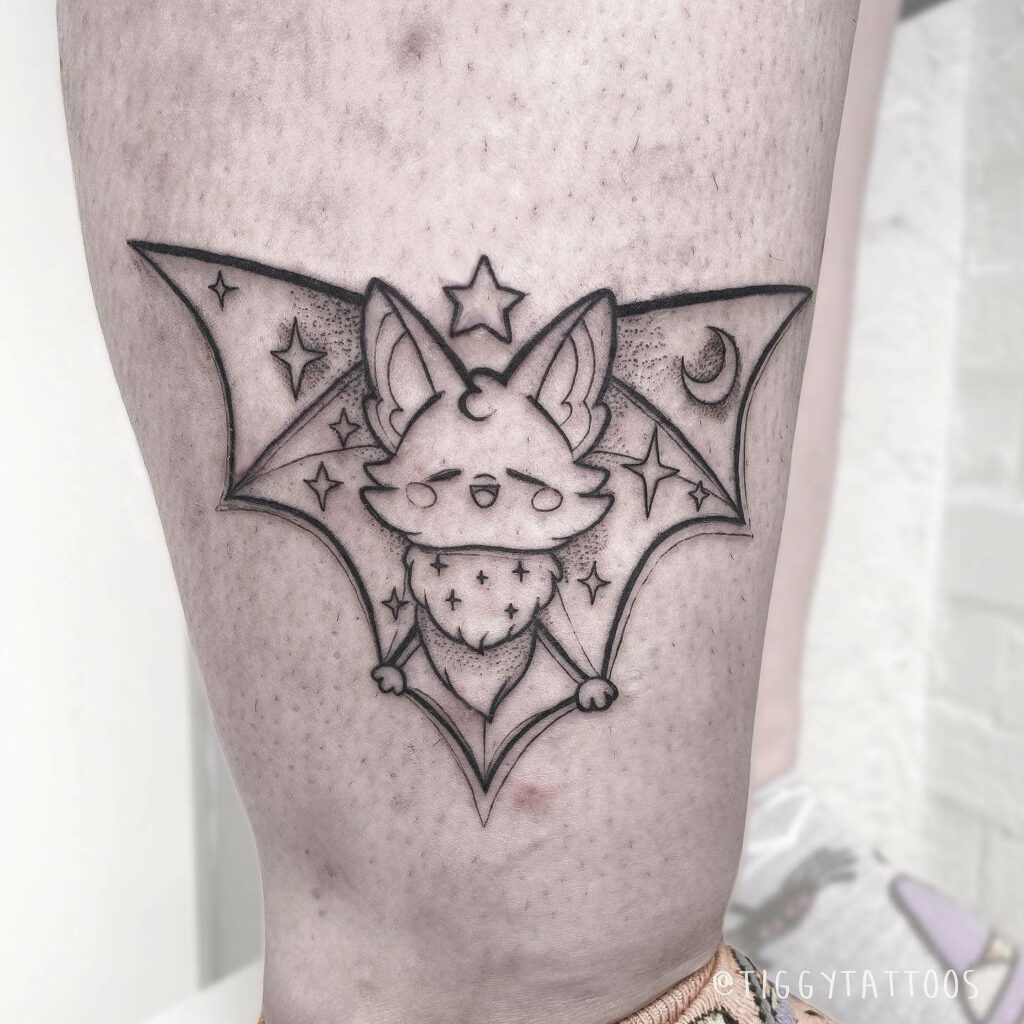 Halloween tattoo ideas like this one deserve a special mention. This bat tattoo's position and execution make it a unique and classic Halloween tattoo. This sketchy goth tattoo design captures the spirit of Halloween and looks stunning on the skin.
The mesh-like wings of the bat resemble cobwebs, which is something closely associated with a haunted house. These little touches make the tattoo unique and embrace the inner Halloween goth in you. The eye sockets of the bat are left blank by the artist, signifying the eerie, hollow that death leaves. Bats are considered allies of dark forces like witches and vampires as they are nocturnal and different in a way. It is the only known mammal that can fly, thus surrounding it in an air of mystery. This scary tattoo embraces the uniqueness of the creature and artistically celebrates the spirit of Halloween.
While the stereotypical idea associated with Halloween is death, these Halloween tattoo ideas are a celebration of life, the spirit of Halloween, and the celebrations. Most of the time, Halloween tattoos can be imagined as skulls as they are symbolic of death, but there is so much more to Halloween than that. Which of the Halloween tattoo ideas was your favorite? You can always incorporate your personal flair into it and make it a unique expression of yourself.
Feature Image from Pinterest – Want your tattoo to look brighter? Try "Tattoo Balm"