Hello there, tattoo enthusiasts! Are you on the hunt for some awesome small tattoo ideas? Well, look no further! We've compiled a list of the best unique small sun tattoo ideas that will leave you feeling inspired and ready to take the plunge.
There's something truly special about sun tattoos. Not only are they visually stunning, but they also come with a powerful and uplifting message. Across many cultures, the sun is revered as a symbol of strength, life, and light. It's a beacon of hope that helps to ward off negative energies and bring positivity into our lives.
Whether you're looking for a simple and subtle design or something a bit more intricate, there's a sun tattoo out there for everyone. So without further ado, let's take a look at some of the best small sun tattoo designs that are sure to leave a lasting impression.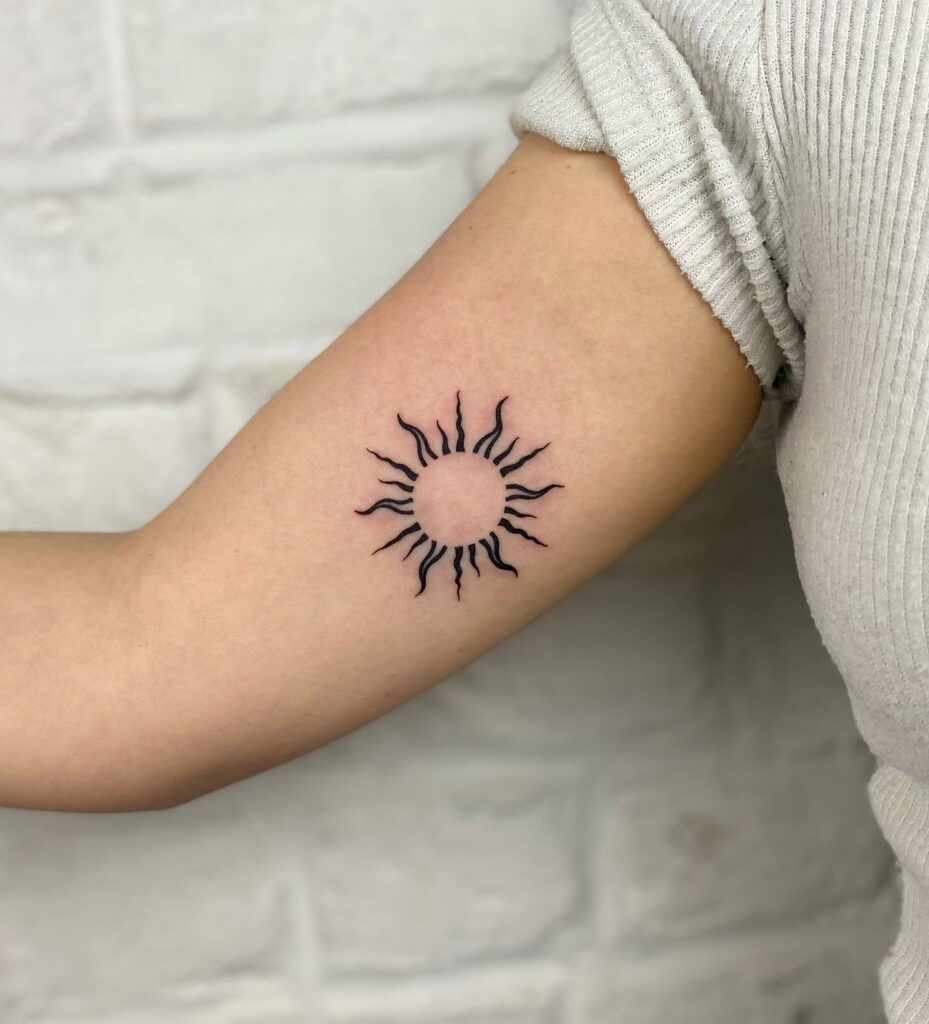 Small Simple Sun Tattoo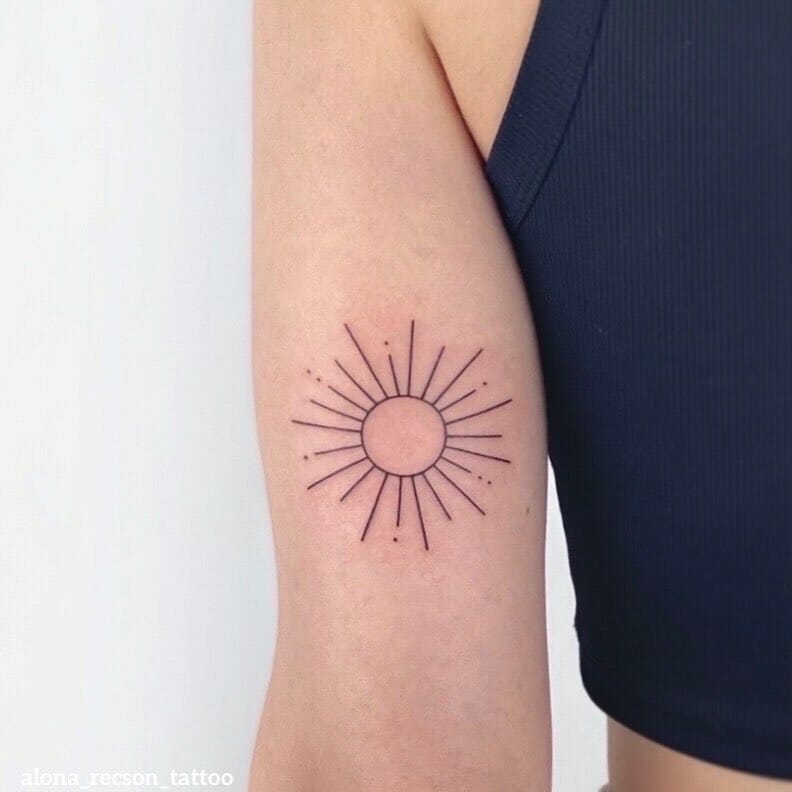 This particular sun tattoo features the most recognizable image of the sun, the one that's been imprinted in our minds since childhood. It's a simple outline that manages to be both nostalgic and stylish at the same time. This design is perfect for anyone looking to commemorate the innocence of childhood or just wanting a classic, evergreen tattoo.
While the image shown here is inked on the upper arm, don't be afraid to get creative with placement. This design would look equally attractive on the wrist, back, or ribs. It's all about finding the perfect spot for your own personal sun tattoo.
So if you've been thinking about getting a sun tattoo but aren't sure where to start, this classic design is a great option. It's timeless, versatile, and sure to turn heads wherever you go. And with so many placement options, you're sure to find the perfect spot to show off your new ink. Happy tattooing!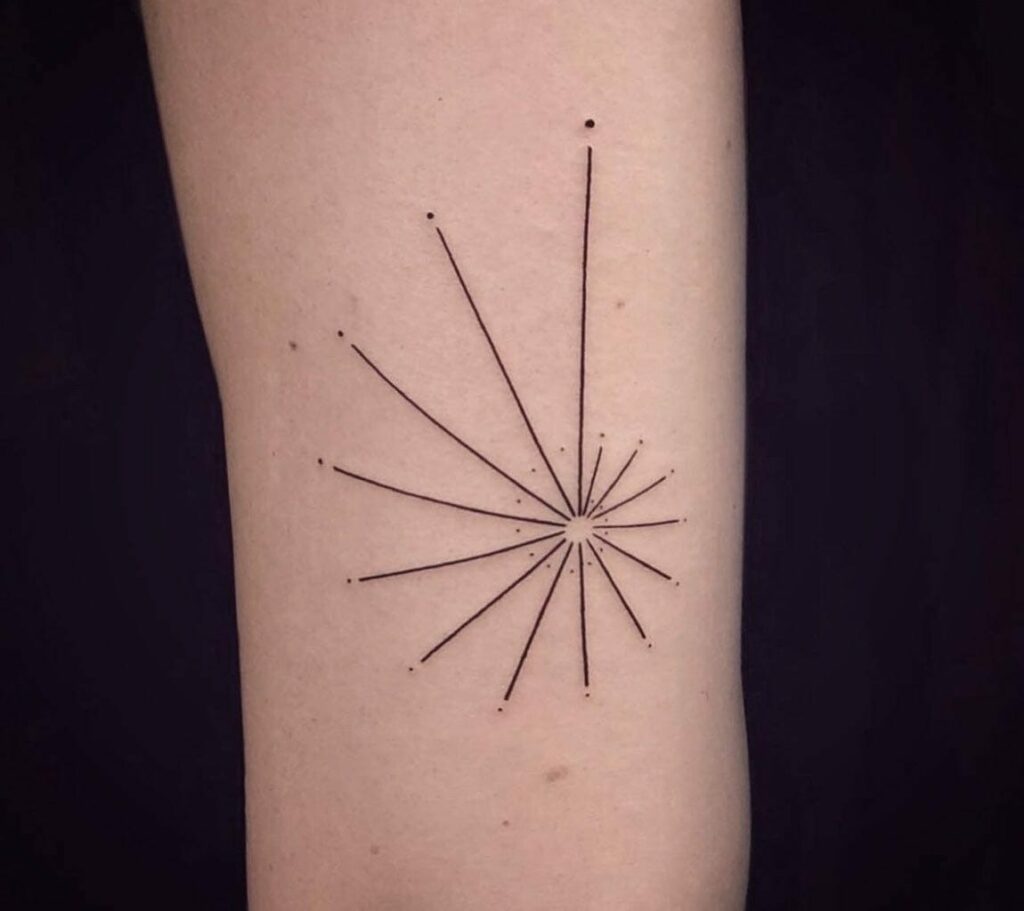 This design features a unique take on the sun's rays, with a playful spiraling pattern that adds a touch of artistic flair. The circle in the center of the sun is intentionally small, drawing attention to the unique and playful pattern of the rays. The absence of a border around the sun's circle adds to the artistic appeal of the tattoo, giving it a fresh and modern feel.
Overall, this is a fantastic option for anyone looking for a simple yet artsy sun tattoo. Whether you're a fan of spiraling patterns or just looking for a fresh take on a classic design, this tattoo is sure to turn heads and draw compliments. So don't hesitate – take the leap and get this design inked today!
Floral Small Sun Tattoo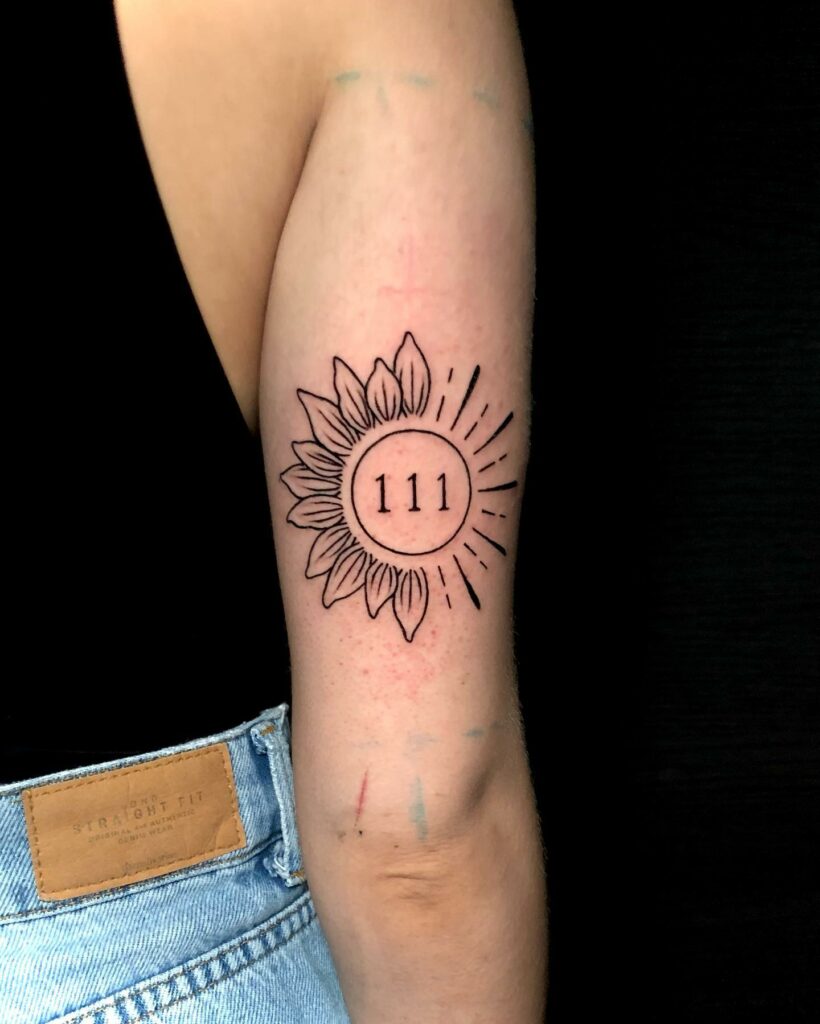 This design features a large circle at the center, shared by both the sun and the sunflower. The sun's rays and the flower's petals intertwine to create a dynamic and visually striking image. The idea behind the tattoo is to create a half-and-half split between the sun and the sunflower, showcasing the beauty of both symbols in equal measure.
For those who love color, this design is the perfect canvas to show off your favorite shades. Adding a pop of color to the sunflower can really make the design come to life and give it an extra dose of personality.
But what about the number 111? This is a numerological reference that adds a layer of depth and meaning to the design. It represents a powerful transformation, making this tattoo not only beautiful but also personally significant.
Overall, this is a fantastic option for anyone looking for a bold and meaningful tattoo. Whether you're a fan of the sunflower, the sun, or just love the idea of combining two powerful symbols into one cohesive design, this tattoo is sure to impress. So why wait? Embrace the power of the sun and get this design inked today!
Cosmic Eye Small Sun Tattoo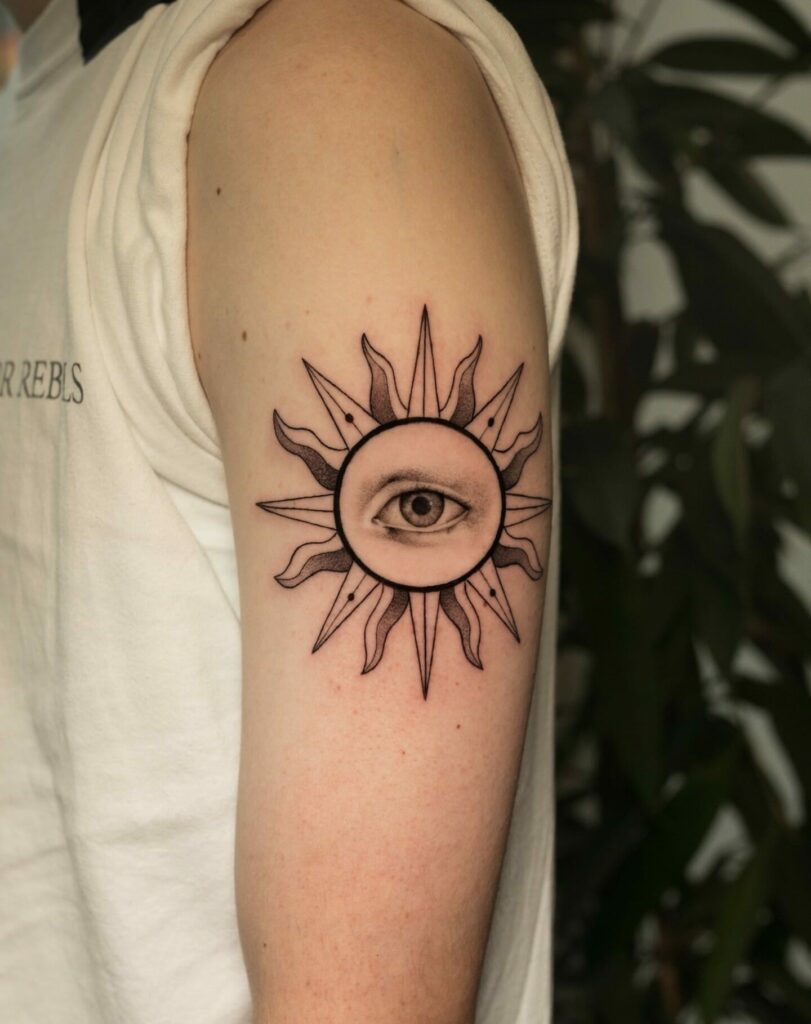 The design itself features a sun tattoo with bold rays, drawn in black ink on the sleeves. While the details of the sun aren't overly intricate, they're just enough to create a design that's both tempting and eye-catching. And of course, the real star of the show is the eye within the sun's circle, which adds a whole new layer of artistic appeal to the tattoo.
The sun's eye is the real pièce de résistance of this design, with exquisite detail that makes it look like a reflection in a sun-shaped mirror. The eye is so realistically rendered that you can almost feel like you're looking into the depths of the sun itself.
So whether you're looking for a tattoo with spiritual significance or just love the idea of a unique and captivating design, the eye tattoo within the sun is an excellent choice. With its bold lines, intricate details, and powerful imagery, this design is sure to turn heads and spark conversations. So why wait? Make your appointment today and start showing off your new ink!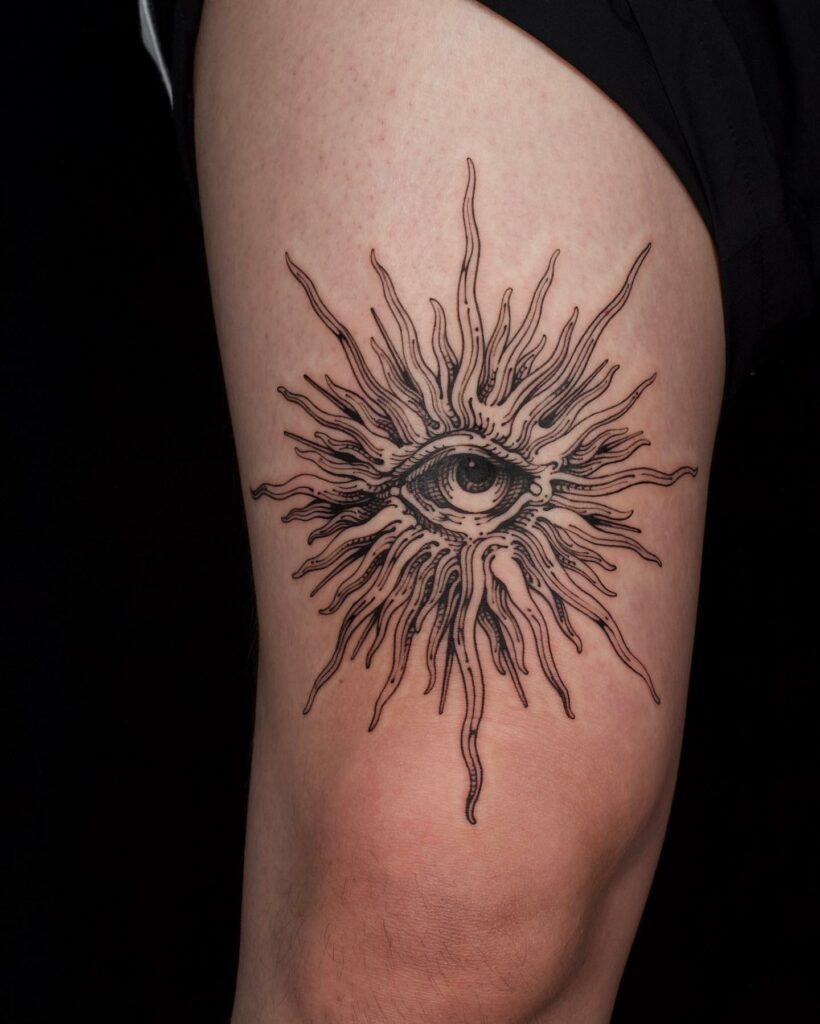 This design puts a unique spin on the traditional eye in the sun tattoo, adding an element of darkness to the mix. Some may interpret this tattoo as a representation of the all-seeing eye of a higher power, keeping watch over us. The cosmic eye in the center of the tattoo is surrounded by tentacle-like rays, giving it an otherworldly feel. What really sets this design apart is the way it appears to pop out of the skin, creating a stunning 3D effect that will surely turn heads. While it may not be for everyone, the evil eye sun tattoo is a bold and daring choice that is sure to make a statement.
Small Sun And Moon Tattoo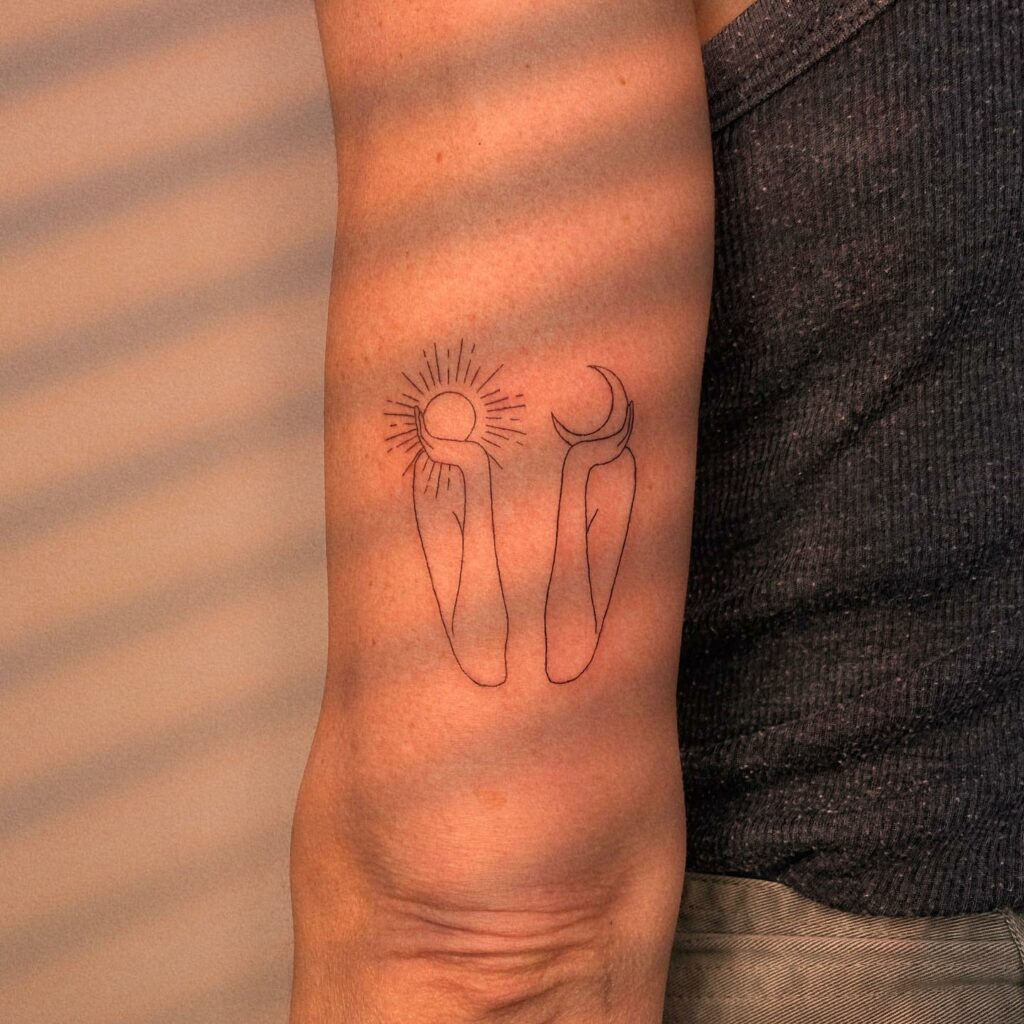 When it comes to stunning tattoo collections, sun and moon tattoos are undoubtedly at the top of the list. This particular design showcases the beauty of a sun and moon tattoo when placed side by side. The colors used in the tattoo are bright and vivid, which enhance the charm of the design. In addition to being a symbol of aesthetic appeal, this moon and sun tattoo also represents the zodiac sign of Sagittarius. As a result, it can serve as a Sagittarius zodiac tattoo. The sun is depicted in vivid shades of yellow and red, reminiscent of the sun's rays during the day, while the crescent-shaped moon is shaded in cooler hues, reflecting the night sky. The twinkling stars in a variety of colors complement the overall beauty of the tattoo, and it's an excellent choice for a shoulder placement.
Small Half Sun Tattoo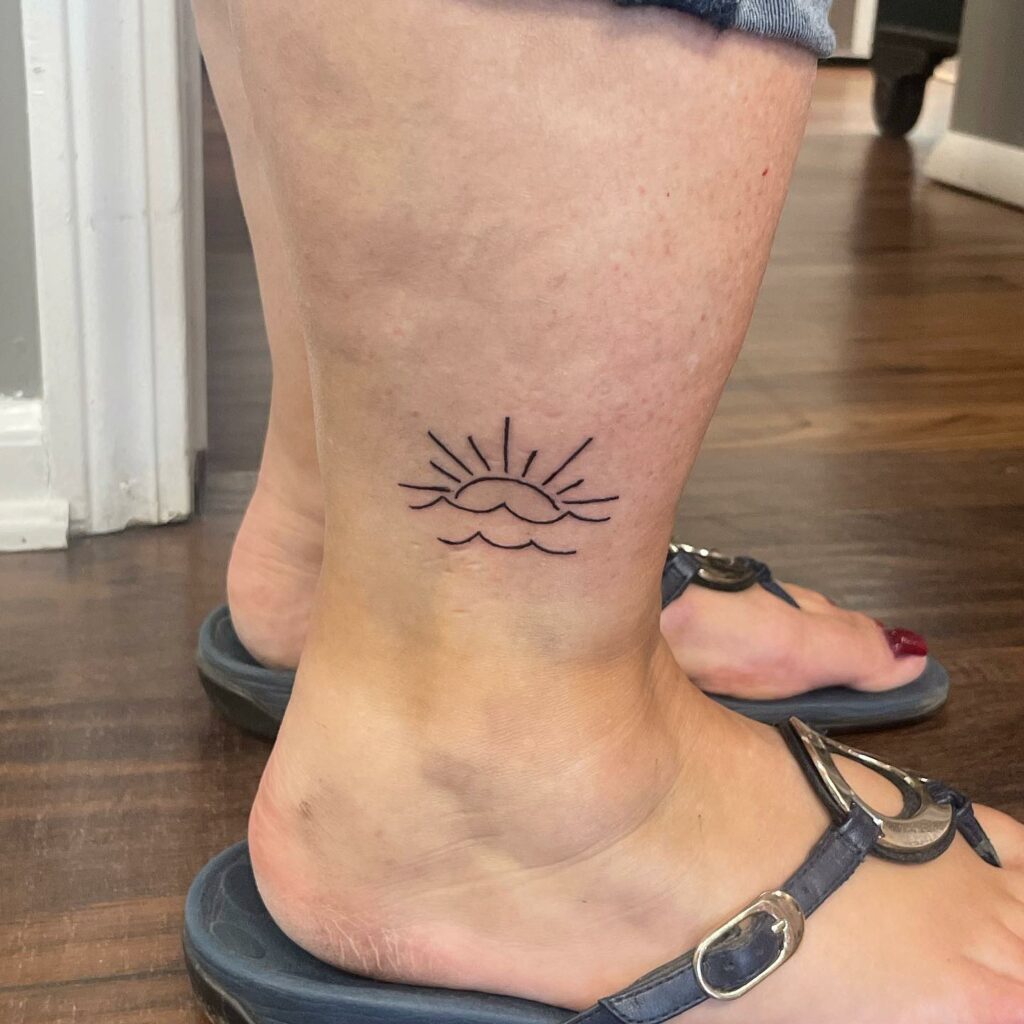 This design showcases a rising sun over the sea waves, expertly presented with minimal lines that speak volumes. It's impressive how this tattoo can effortlessly depict an elaborate scenery with just a few strokes. While ankle placement may be unconventional, it adds a unique touch to this versatile design that can be placed on various parts of the body such as sleeves, chest, and side thigh. Consider getting this simple and elegant tattoo to signify the beginning of a new day or a new phase in your life.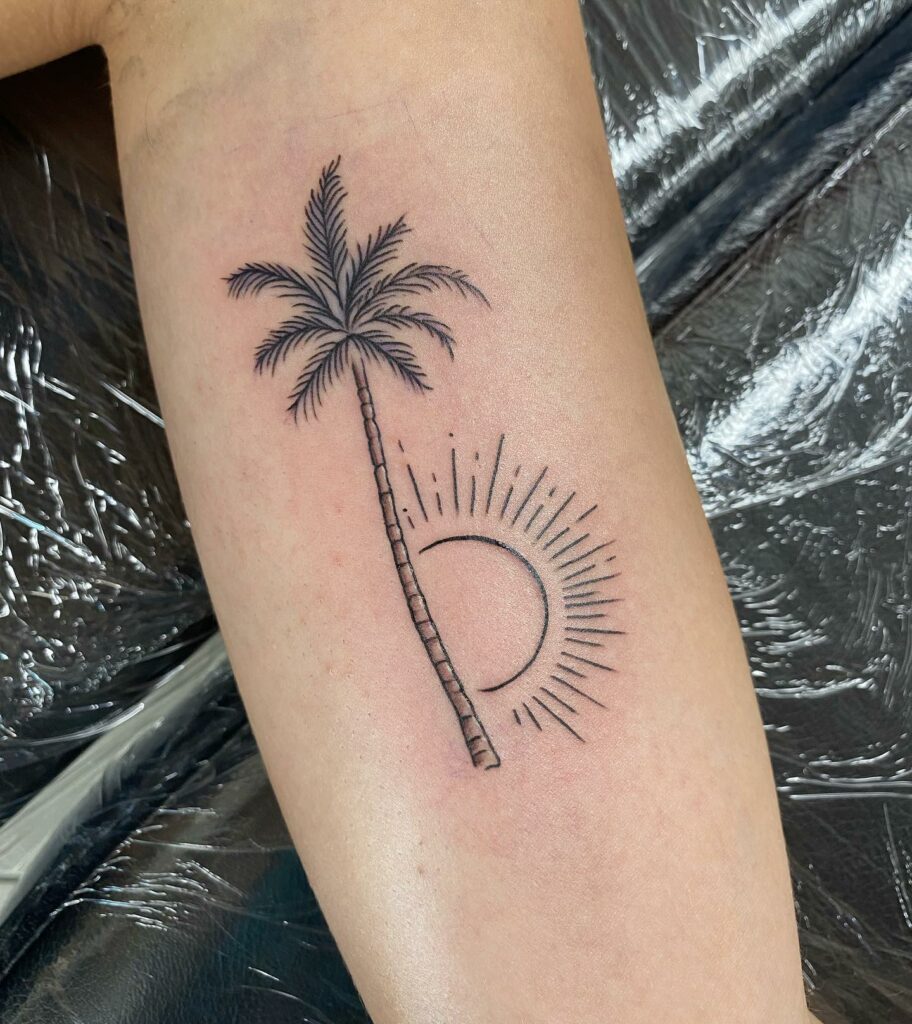 This tattoo also gives off a beach vibe, perfect for those who love the ocean. A tall coconut tree is inked on the inner sleeve, with a half sun appearing behind it, possibly hinting at a beautiful sunset on the beach. The overall design is kept simple with shades of grey and black, making it an excellent choice for first-timers. It's a subtle yet stunning addition to any tattoo collection.
Couple Sun Tattoo Small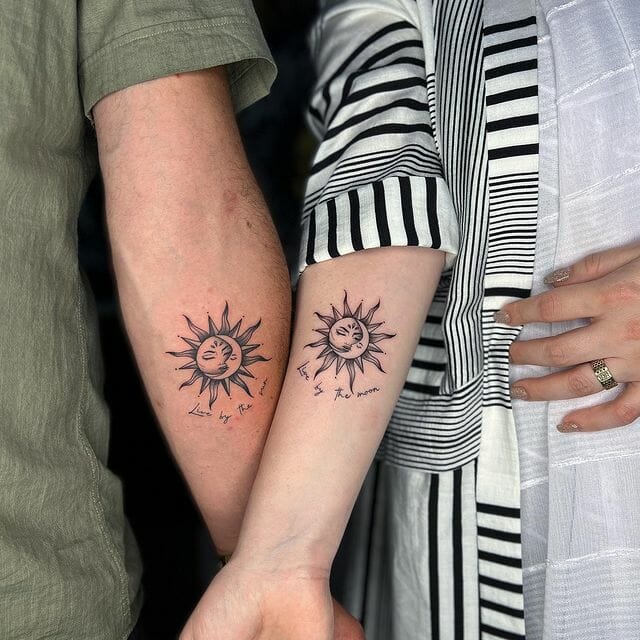 Couples tattoos are a recent trend that has gained popularity and if you're a fan of tattoos, why not consider getting a matching tattoo with your significant other? This sun tattoo is an excellent option for couples wanting to get inked together. It showcases two faces inside the sun representing two opposing forces of both partners. The design of the sun face tattoo creates an illusion of a hidden crescent moon within the sun, which adds a unique touch to the design.
The tattoo has a romantic vibe to it, as the sun and moon appear to be sharing a passionate kiss. The sun and moon tattoo holds a deeper meaning when used as a couple tattoo, symbolizing the balance of both masculine and feminine energies within a relationship. This sun tattoo is perfect for couples looking to show their love and commitment to each other through a beautiful and meaningful piece of art.
Skull Small Sun Tattoo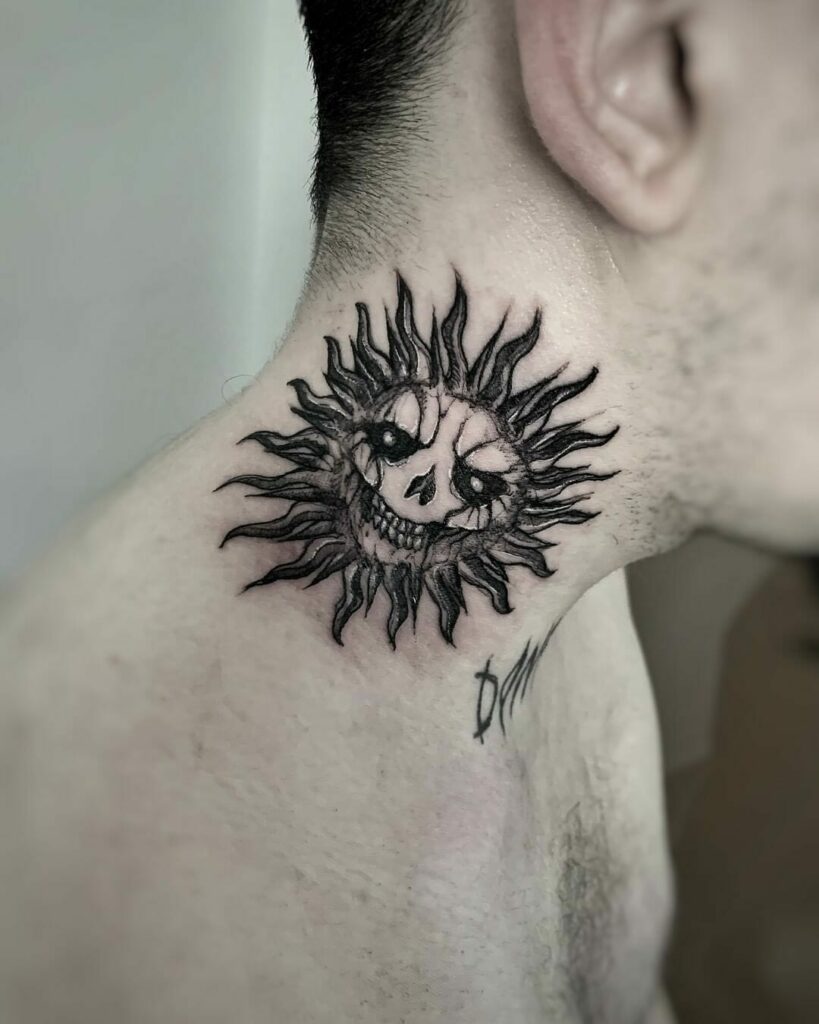 The sun tattoo is a powerful symbol associated with positivity, as it symbolizes the break of dawn and the end of darkness. But have you ever thought about combining it with a darker element like a skull? This unique and rare combination creates a stunning and meaningful tattoo. If you're a fan of unique tattoo ideas, this tiny skull sun tattoo might be perfect for you. Skull tattoos are known to represent strength in overcoming difficult experiences, making them a trendy choice. The sun's common symbolism of power and strength combined with the skull's edginess makes for a powerful and impressive design. The rays of the sun coming out from the skull's center look like the skull's mane, making this tattoo a great conversation starter.
Watercolor Small Sun Tattoo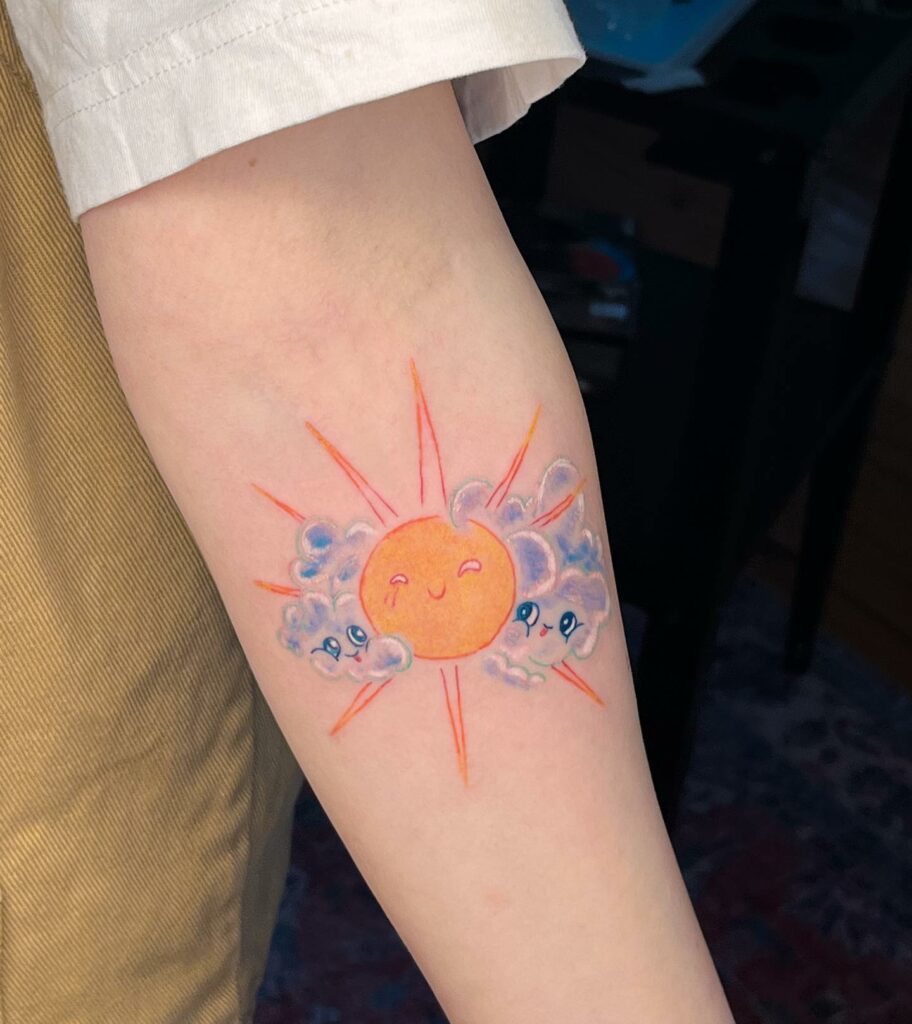 If you're searching for a tattoo that symbolizes the bond between you and your best friends, then this watercolor design is a great option. Normally, the relationship between clouds and the sun is in constant flux as they take turns dominating the sky. This tattoo, however, portrays a happy friendship between the two elements, with the sun and clouds living in harmony. The smiling faces of the sun and clouds show that they're enjoying their time together. This design is perfect if you're looking for a cheerful and uplifting tattoo. The bright yellow color of the sun and the blue tones of the clouds, rendered in a watercolor style, make this tattoo truly stand out on the skin.
Small Tribal Sun Tattoo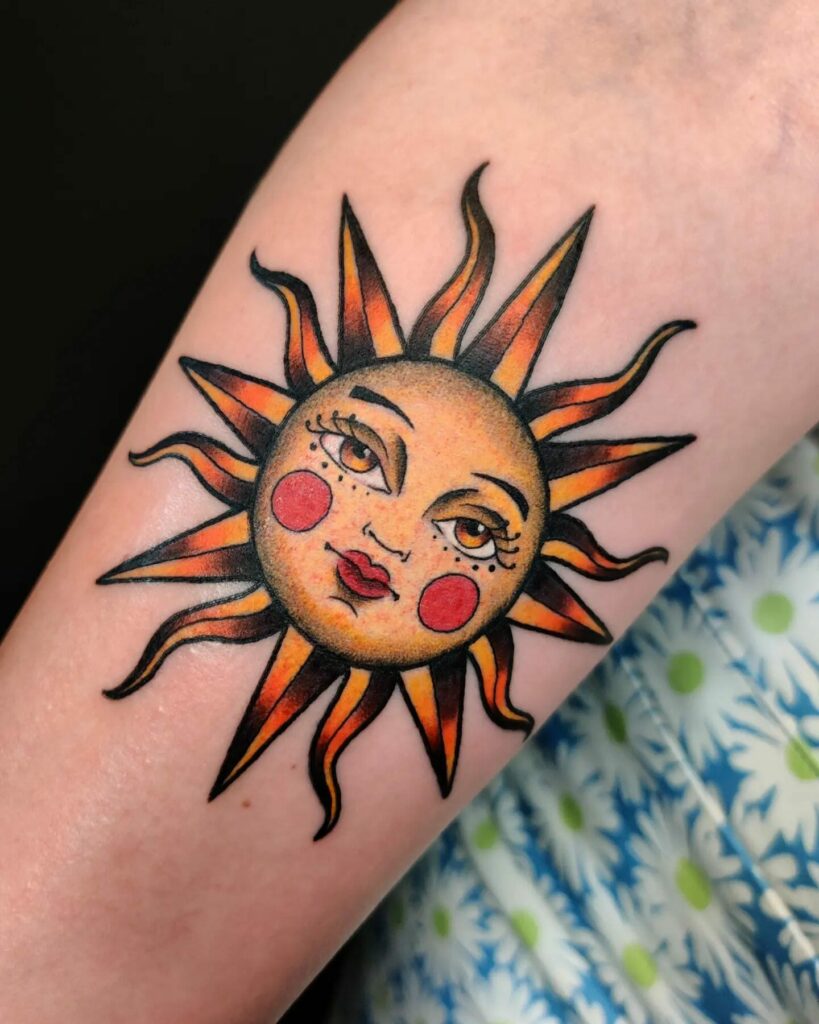 If you are a fan of tribal body art and looking for a unique sun tattoo design, then this colored tribal sun tattoo is a perfect choice for you. Tribal tattoos are known for their versatility and look great with almost any design, including the sun. The tattoo features a stunning sun design in its original color, surrounded by a black border. Inside the sun is a mystic face, possibly resembling a sun god. The face appears to have Chinese origins, similar to the art seen in Chinese feng-shui. What makes this tattoo unique is the way the sun's rays are designed in black and yellow ink, giving it a true tribal feel. The intricate details and vibrant colors of this tattoo are sure to make it a standout piece of body art.
Small Sun Tattoo With Rose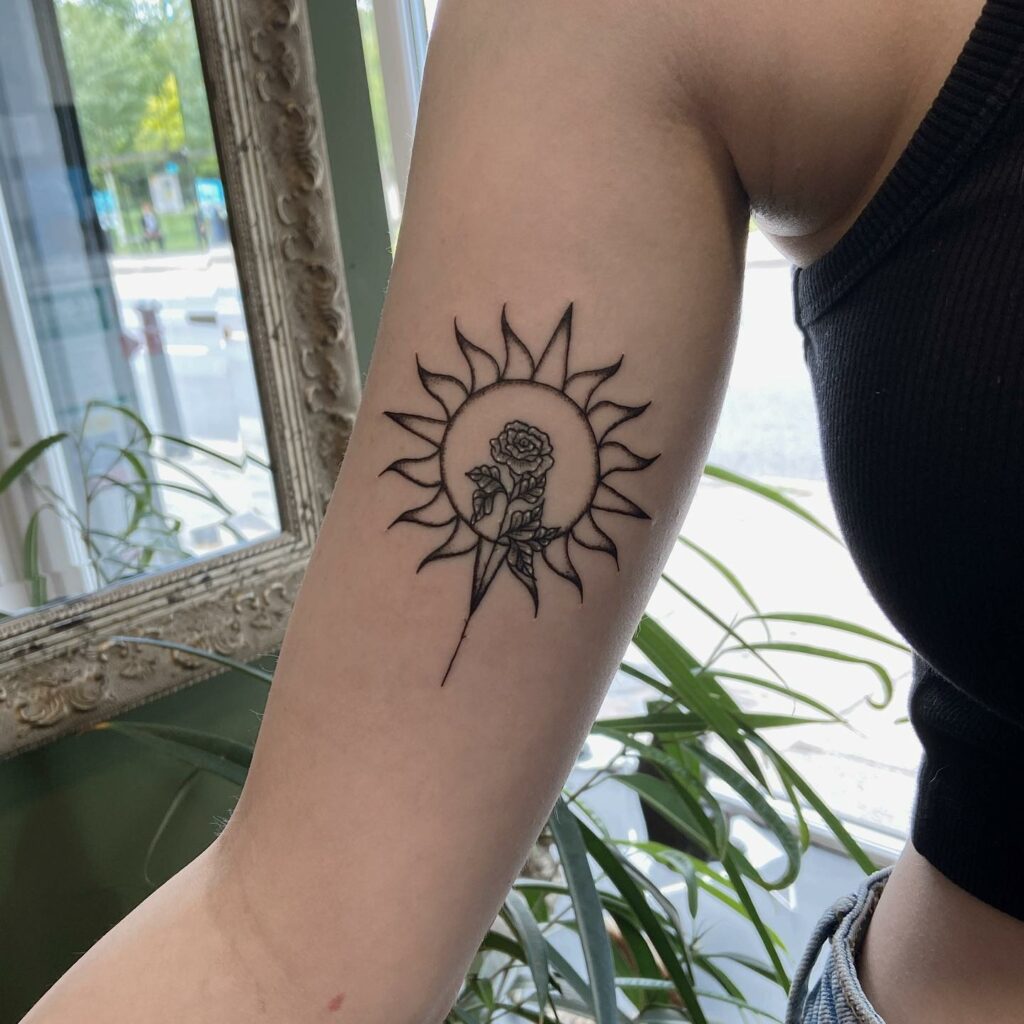 Rose tattoos are a timeless classic and their graceful beauty complements almost any design they are paired with, including the sun tattoo. In this particular design, the rose and sun appear to be intertwined, with the stem of the flower holding them together in harmony. This feminine touch makes the tattoo a perfect choice for anyone seeking a dainty and lovely sun tattoo, especially women.
With so many stunning and unique small sun tattoos to choose from, it can be overwhelming to make a decision. Sun tattoos offer endless possibilities and variations, so it's completely normal to feel confused when selecting the perfect design. If you're still on the hunt for your dream sun tattoo, we recommend exploring various designs until you find the one that speaks to you the most.
feature image from Pinterest – Want your tattoo to look brighter? Try "Tattoo Balm"
Last reviewed and updated on May 25, 2023