If a diamond is forever, then a tattoo is… well, actually also forever, unless you're into the whole laser removal scene (and trust me, darling, it's about as fun as a root canal). But why drop a small fortune on a rock when you can brandish your love in vibrant pigments and artful swirls, woven into a unique tapestry that tells your shared story?
Wedding Ring Tattoo Ideas
Picture this, lovebirds and ink aficionados: rather than a wedding ring that can be slipped on and off, you're etching your bond into your skin. Your love becomes a permanent masterpiece, as unique as the two of you. In the landscape of tattoos, this concept is growing, turning heads, and quite literally, turning fingers.
Anime Wedding Tattoo Idea
My first encounter with this idea was with a quirky couple who both shared a love for "Spirited Away." So, they got anime-inspired tattoos as wedding rings. I was taken aback initially but ended up applauding their ingenuity. It's as diverse as you want it to be, folks!
Wedding Band Tattoo Body Art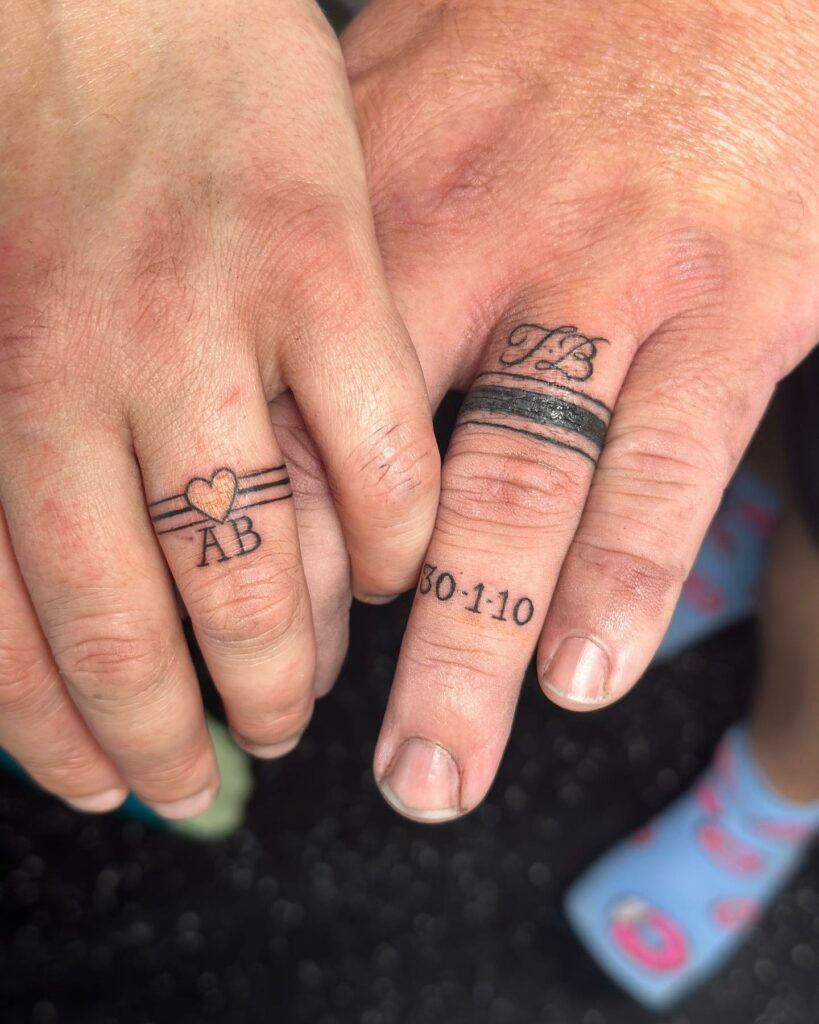 Then there's the understated elegance of minimalist wedding band tattoos. Reminds me of a time when I was inking a simple line of Morse code on a couple's fingers— their love, represented in dots and dashes. It's about the art, yes, but it's more about the meaning behind it.
Crown Wedding Ring Tattoo Ideas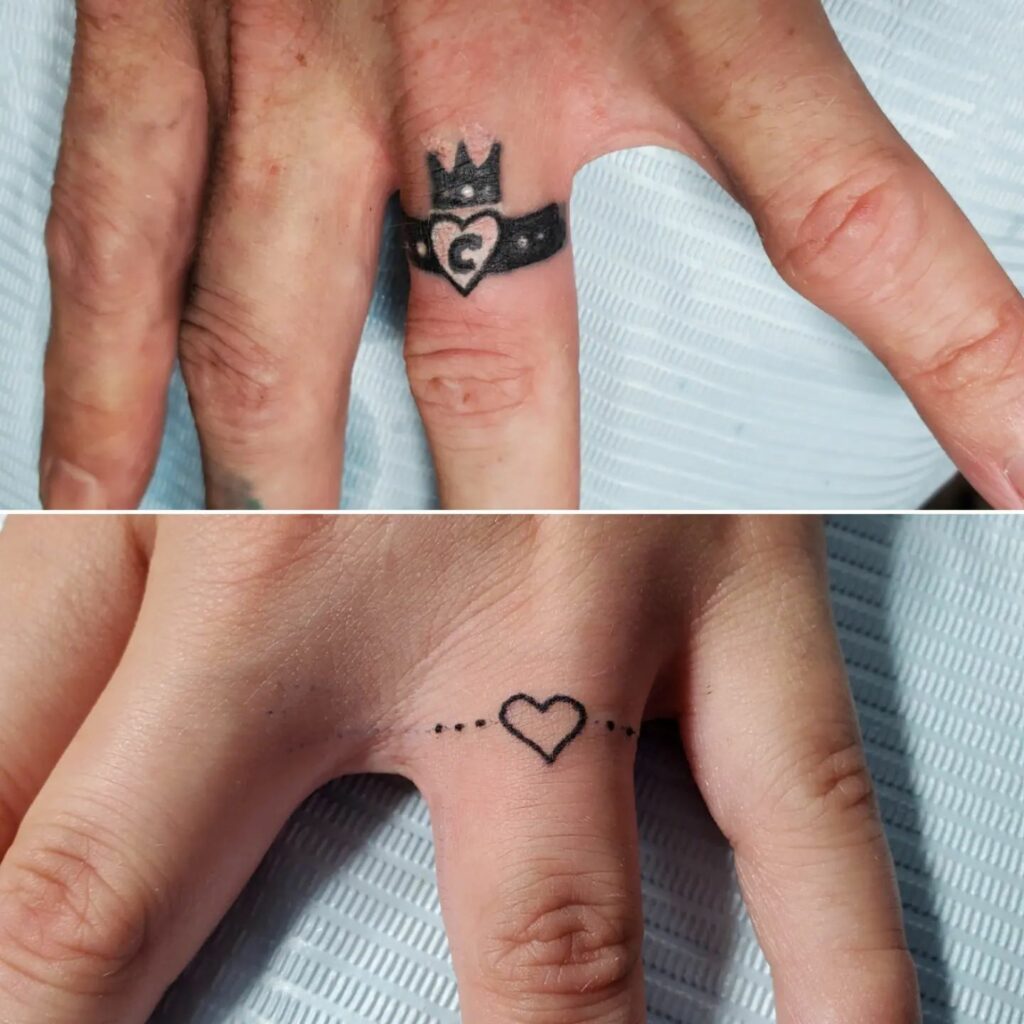 Have you heard of the crown trend yet? Ah, I once tattooed the tiniest pair of crowns on a couple, both of whom were fervent card game enthusiasts. When he's your king, and she's your queen, why not let the world know with a regal tattoo?
Infinity Traditional Wedding Ring Tattoo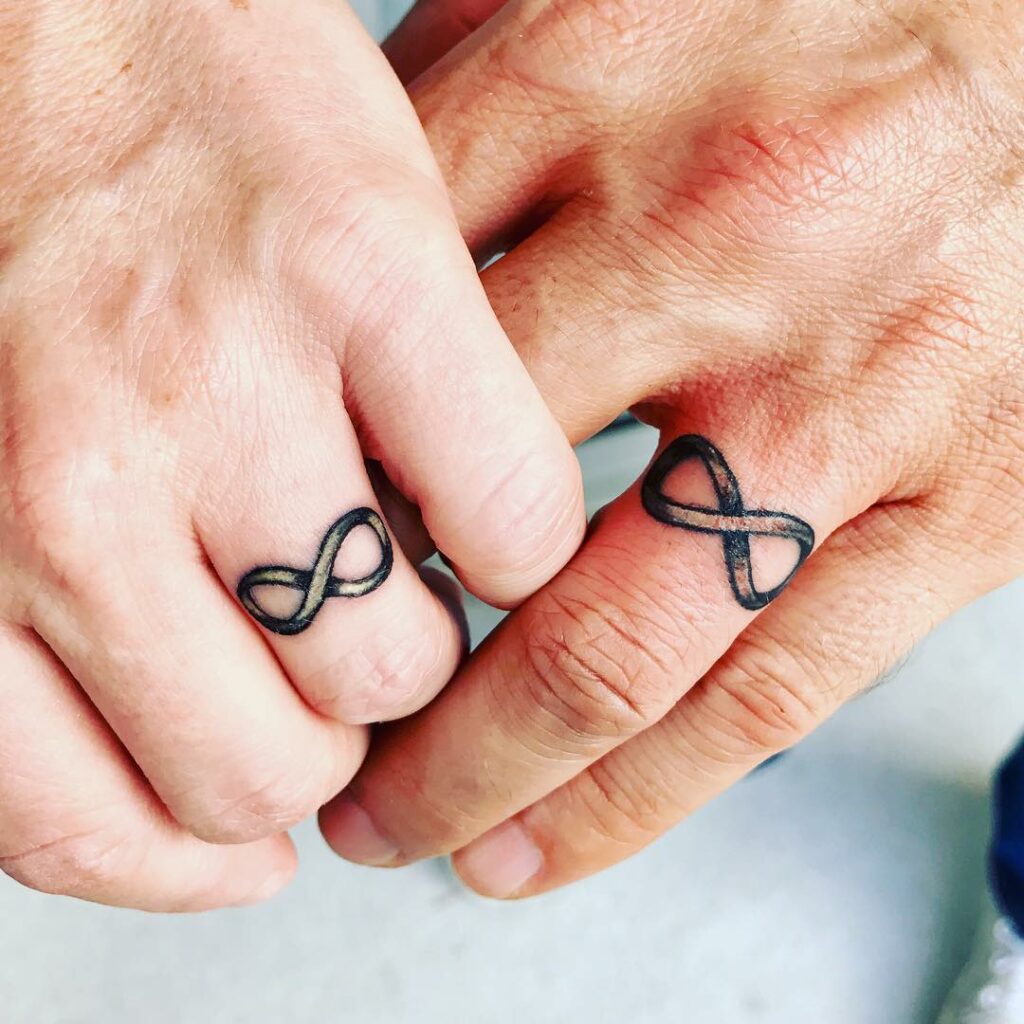 The infinity symbol, usually a staple in generic tattoo catalogs, takes a leap into the matrimonial scene as a potent emblem of love everlasting. One time, a couple requested an infinity sign intertwined with a Celtic knot, blending heritage and symbolism in their eternal commitment.
Matching Couple Tattoo Wedding Ring
Speaking of unity, there's a charm in matching couple tattoos. I had the honor of tattooing a couple's beloved pet's paw prints as wedding rings, a shared love that also served as their binding force.
Music Themed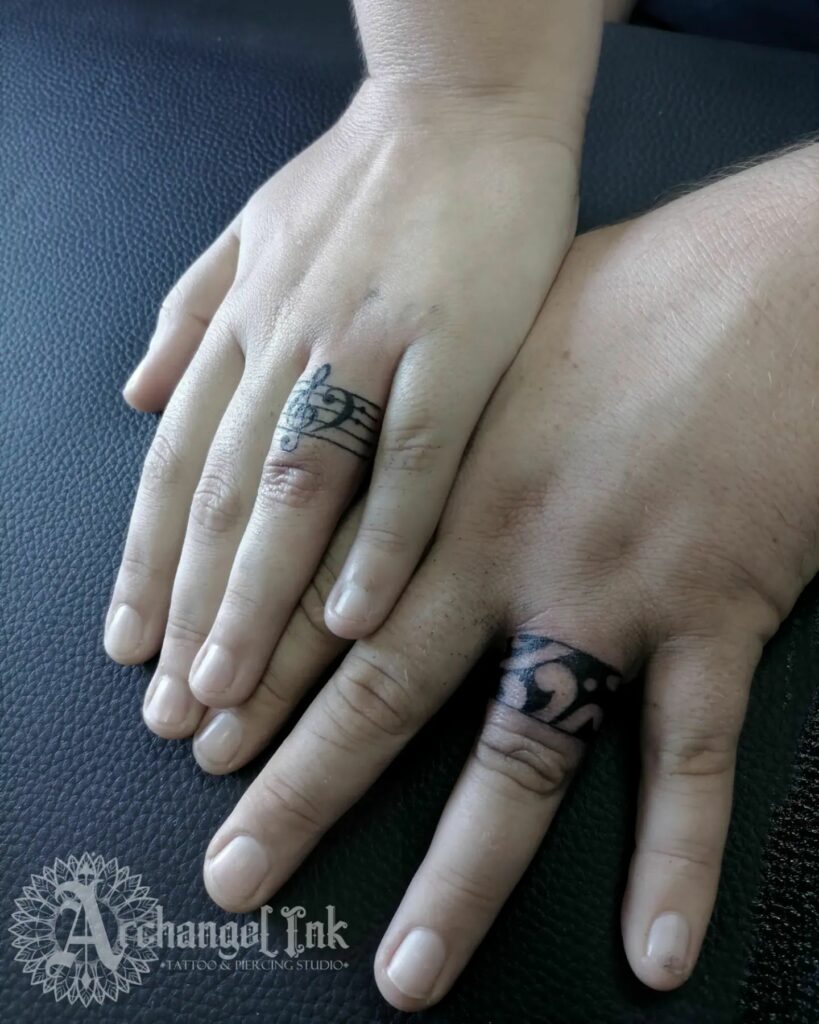 A music-inspired ring tattoo—my personal favorite—brought back memories of a duo who loved The Beatles. A simple treble clef on their ring fingers marked their love for each other and the iconic band.
Date Wedding Ring Finger Tattoo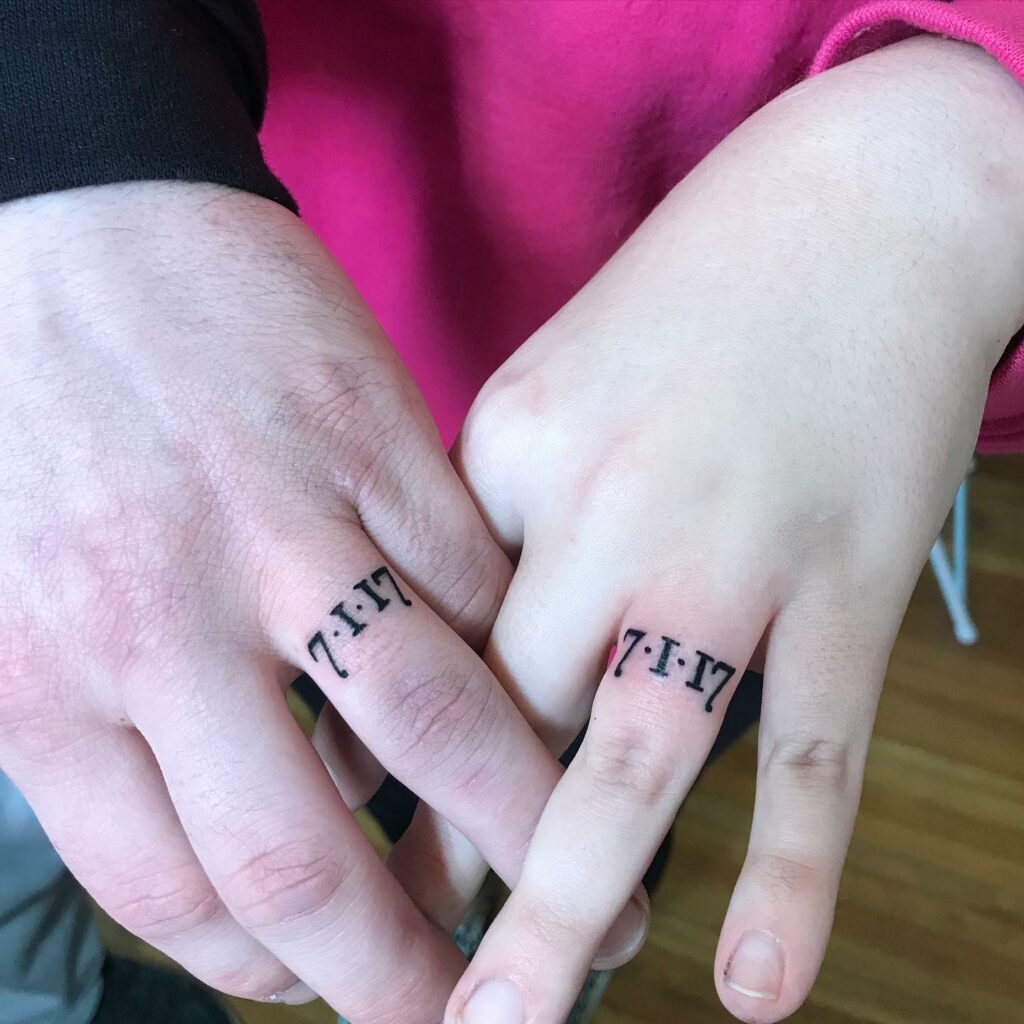 An interesting choice is the wedding date tattoo. A little less conventional, but a heartwarming testament to the momentous occasion. I've inked Roman numerals, barcode dates, and even binary codes!
Nature Themed Wedding Ring Tattoos
Nature-themed tattoos have also been gracing fingers lately. From soaring birds to cascading waves, couples are bringing their love for the great outdoors to their ring fingers.
Script Ring Tattoo Designs
The timeless art of script has also been an appealing choice. I once tattooed a couple's initials in each other's handwriting, giving a sweet, personalized touch to their ring tattoos.
Simple Wedding Ring Body Art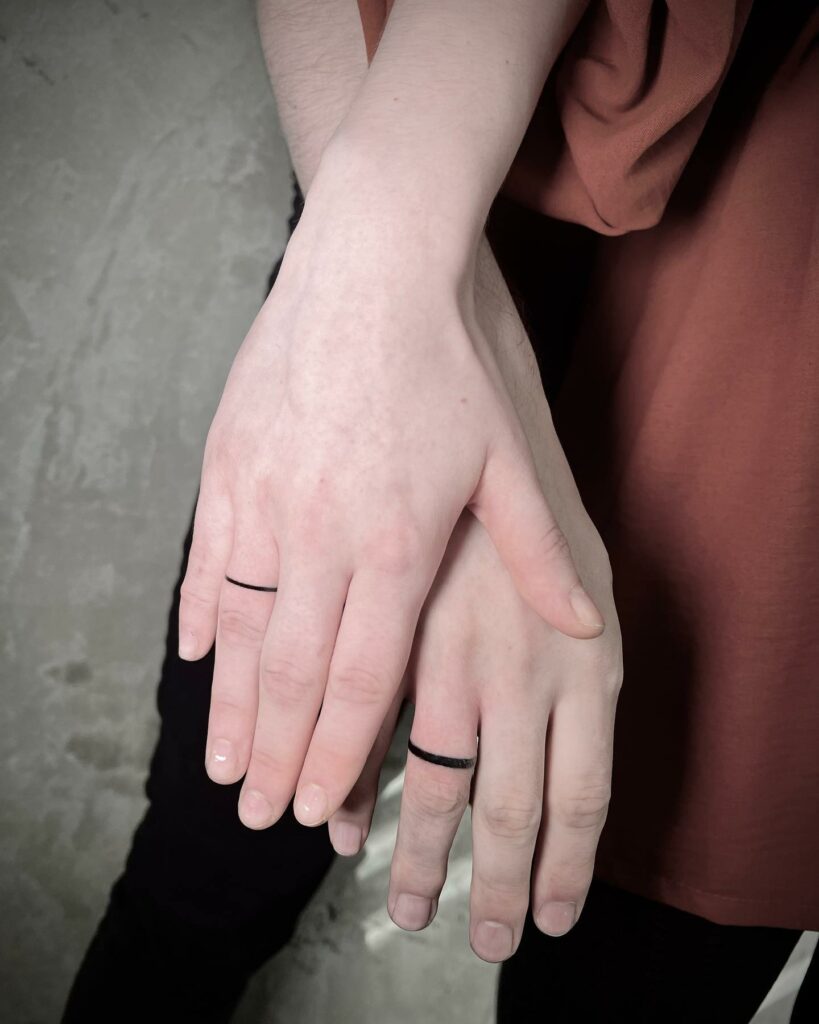 Sometimes, simplicity reigns supreme. I vividly remember a couple opting for a classic, plain band, inspired by the Star Wars phrase, "I love you. I know."
Traditional/Tribal Tattoo Wedding Ring
Finally, there's the traditional tribal tattoo wedding ring, deeply rooted in age-old symbolism. I had a couple who wanted a Maori koru design to symbolize growth, harmony, and their new journey together.
Are wedding ring tattoos a good idea?
However, dear readers, it's crucial to remember that like all tattoos, wedding ring tattoos are a commitment. And much like marriage, they're not for everyone. Even in this progressive age, visible tattoos can be a matter of contention in certain circles.
Do wedding ring tattoos last?
Not to mention, the skin on our fingers is thick and prone to fade, so consider the quality of your tattoo before you dive in. But in the end, isn't love worth a bit of risk?
And remember, every tattoo has a tale. What will your tale of love be?
Conclusion
Well, my dear ink enthusiasts, we've journeyed through the vast and vibrant landscape of wedding ring tattoos together, but as we reach the end of our inky exploration, a few crucial considerations remain.
The placement of a tattoo, particularly a wedding ring tattoo, is as essential as the design itself. And no one knows this better than your resident ink maven. The fingers, while a popular canvas, pose their unique challenges. The skin here is thick and subjected to constant use, making it notoriously difficult to tattoo, often leading to quicker fading and requiring touch-ups over time. And let's not forget, the process can be a bit more painful, so for those with a low pain tolerance, it's worth considering.
As for the cost, much like a traditional wedding ring, it can widely vary depending on the intricacy of your design, the expertise of your artist, and your geographical location. You could be looking at a range anywhere between $50 to $300.
Remember, a tattoo is a commitment as permanent as the marriage it signifies, so it's worth investing in a reputable artist who can do justice to your vision. But do bear in mind, much like all good things in life, even tattoos come with their risks, such as potential allergic reactions or infections.
In the end, remember that a wedding ring tattoo, like marriage itself, is an intensely personal decision, one that symbolizes love and commitment. So, whether you choose to wear your love on your sleeve or your ring finger, do it with consideration and care. After all, the only opinion that truly matters in this is yours and your partner's. And when you're ready to ink your love story, your InkMaster will be right here, ready to make it as unforgettable as your love for each other.
Last reviewed and updated on June 13, 2023