Hey there, fellow dragon tattoo enthusiasts! Are you on the hunt for the perfect western dragon tattoo but feeling overwhelmed by the options? Fret not, as we've compiled a fantastic list to help you cut through the confusion and choose the ultimate dragon ink.
Dragon tattoos have long been admired as symbols of strength and style, and with western dragon designs currently making waves in the tattoo world, there's no better time to jump on the bandwagon.
These mythical creatures represent ferocity, vigor, and power across various cultures, including Japanese, Chinese, and Eastern traditions. Dragon tattoos come in a wide range of styles and sizes, each carrying its own unique meaning.
While Japanese dragon tattoos and Chinese-inspired designs tend to be the most popular, there's an entire world of colorful dragon tattoos to explore. So, let's dive into the realm of dragon ink and find the design that speaks to your inner fire-breathing beast!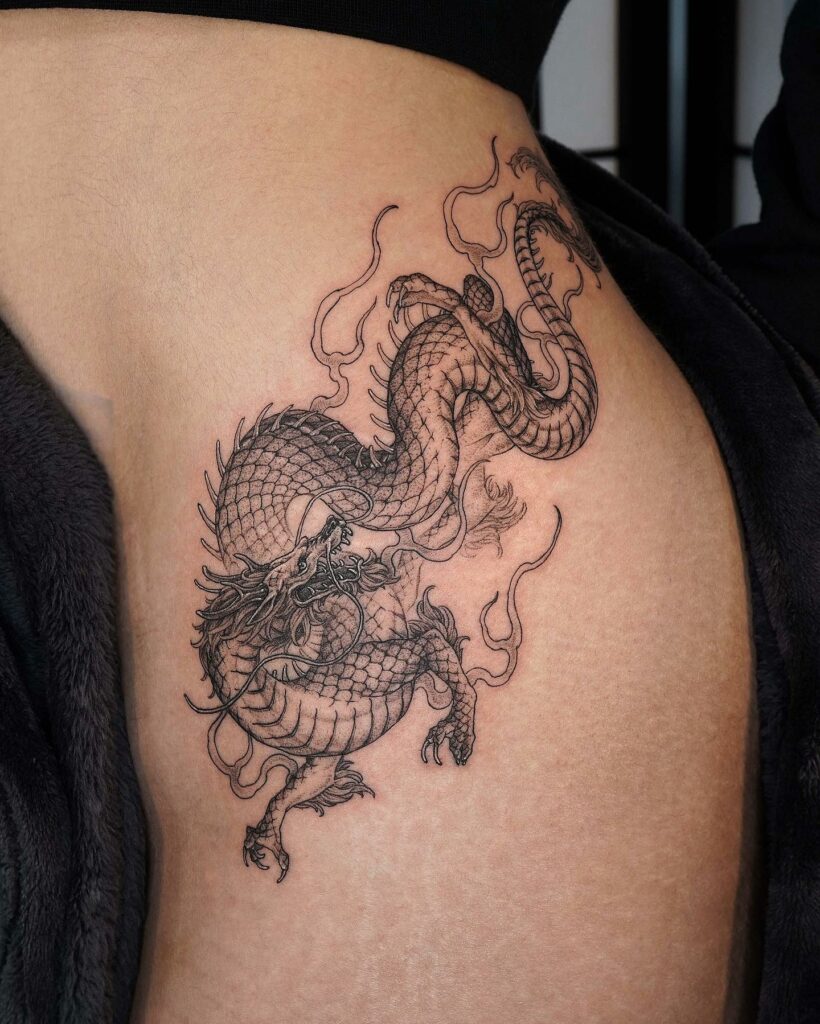 Dragon Ball tattoo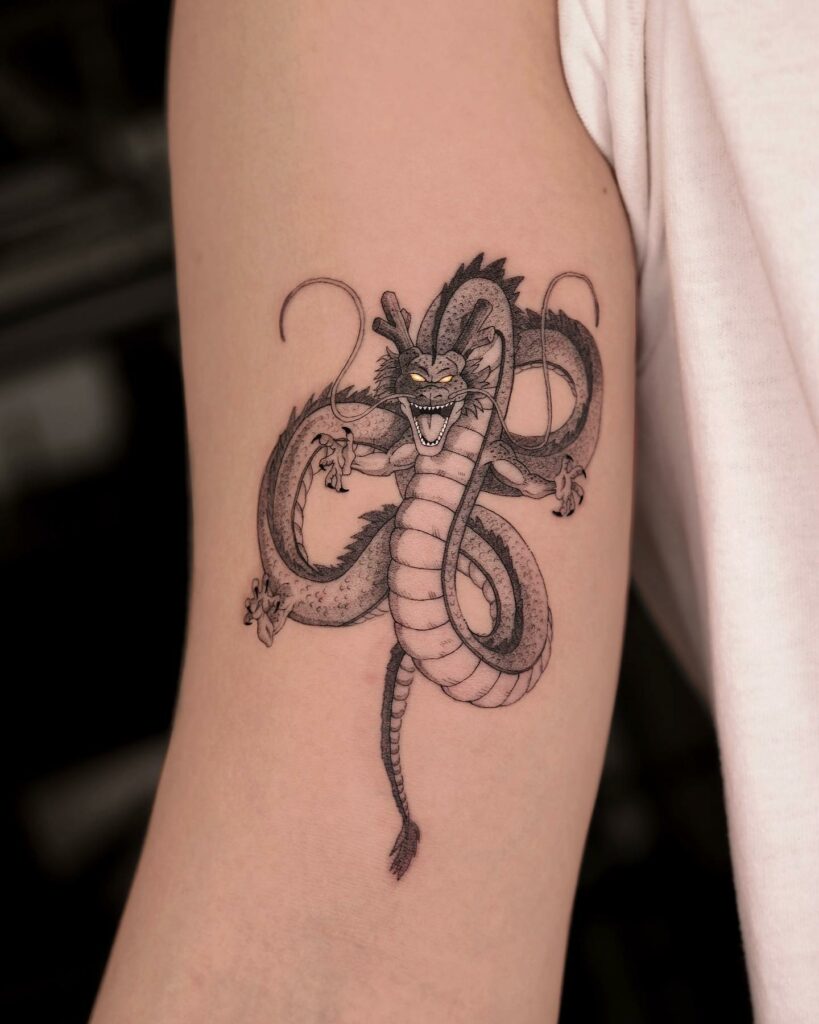 If you're looking for a dragon tattoo that exudes strength and ferocity, this might just be the one for you. This tattoo showcases a full-bodied western dragon, with an open mouth and piercing eyes that give it a menacing appearance. The tattoo artist has done an exceptional job of blending black and white shading to create a striking contrast between the dragon's body and its sharp teeth, which have been rendered in white ink. A unique feature of this design is the dragon's piercing yellow eyes that add a pop of color to the otherwise monochromatic tattoo. With its fierce claws and ready-to-pounce stance, this black dragon tattoo is a great choice for men who want to showcase their inner strength and power.
Dragon Blackwork Version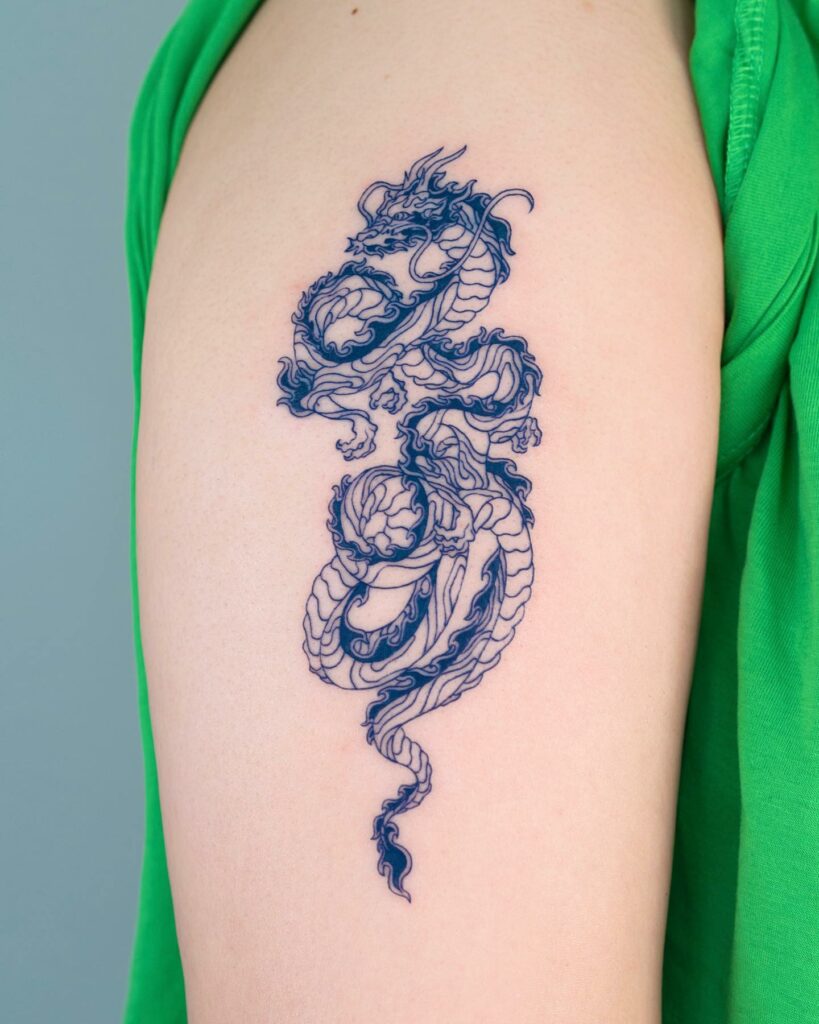 The dragon tattoo design we're talking about is a classic example of Japanese tattoo art and is one of the most popular tattoos for men. This tattoo design represents strength and power, and the dragon symbolizes good luck and protection. Japanese dragons are quite similar to Chinese dragons, but this dragon tattoo has a full body instead of just a fierce face. The artist has used black shading throughout the tattoo, which is a popular technique in Japanese tattoo art. This tattoo is a true masterpiece and is considered one of the best dragon tattoos in Japanese culture.
Dragon Claw Tattoo
If you're looking for a unique dragon tattoo, then this eastern dragon claw tattoo may be perfect for you! This tattoo design is especially popular among men, as it represents power and strength. Despite its small size, this black shaded tattoo makes a bold statement. It's best placed just above the wrist, where it can be prominently displayed. Unlike other dragon tattoos that showcase the dragon's face, this one focuses solely on the dragon claw, which is a unique element that sets it apart from other dragon tattoos. This tattoo combines elements of different cultures, representing the diverse nature of dragon mythology and showing the different types of dragons with the same sense of vigor.
Pastel Dragon on The Arm Tattoo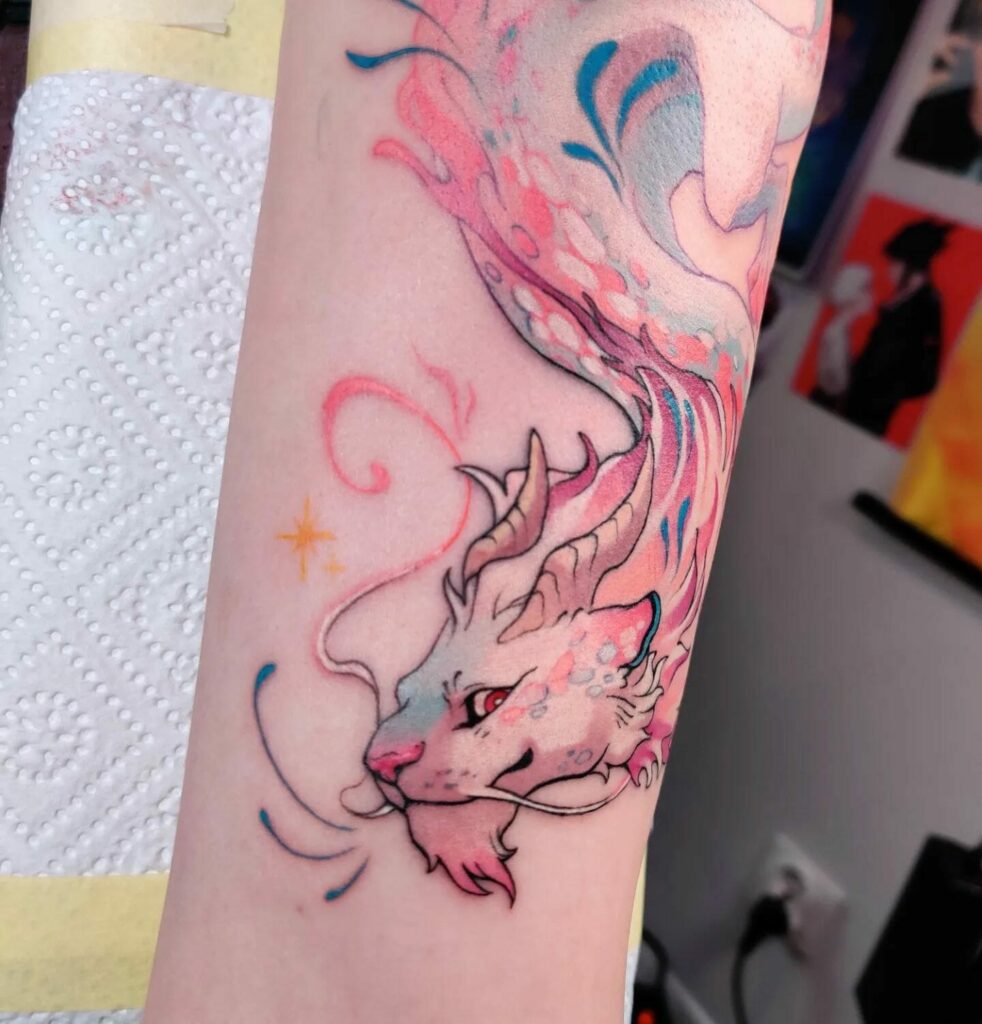 This dragon tattoo is a true masterpiece, combining a unique colour palette dominated by the fiery red hue. It belongs to the Western dragon tattoo category and is also known as the tribal dragon tattoo. The arms are the perfect canvas to showcase this beautiful work of art. This tattoo requires great skill to execute, as it blends several colours, including red, yellow, blue, black, and white. The dragon's bright red eyes are a standout feature of the tattoo and add to the dragon's fierce and fiery persona.
The yellow stars in the design add another layer of meaning, symbolizing the dragon's wisdom and intelligence. This modern-day tattoo is a beautiful representation of the dragon's strength and power, combined with wisdom and knowledge. It is an excellent choice for men who want to showcase their inner strength and bold personality through body art. With its striking colour combination and intricate design, the red dragon tattoo is undoubtedly one of the best dragon tattoos out there.
Dragon With Knowledge And Wisdom Tattoo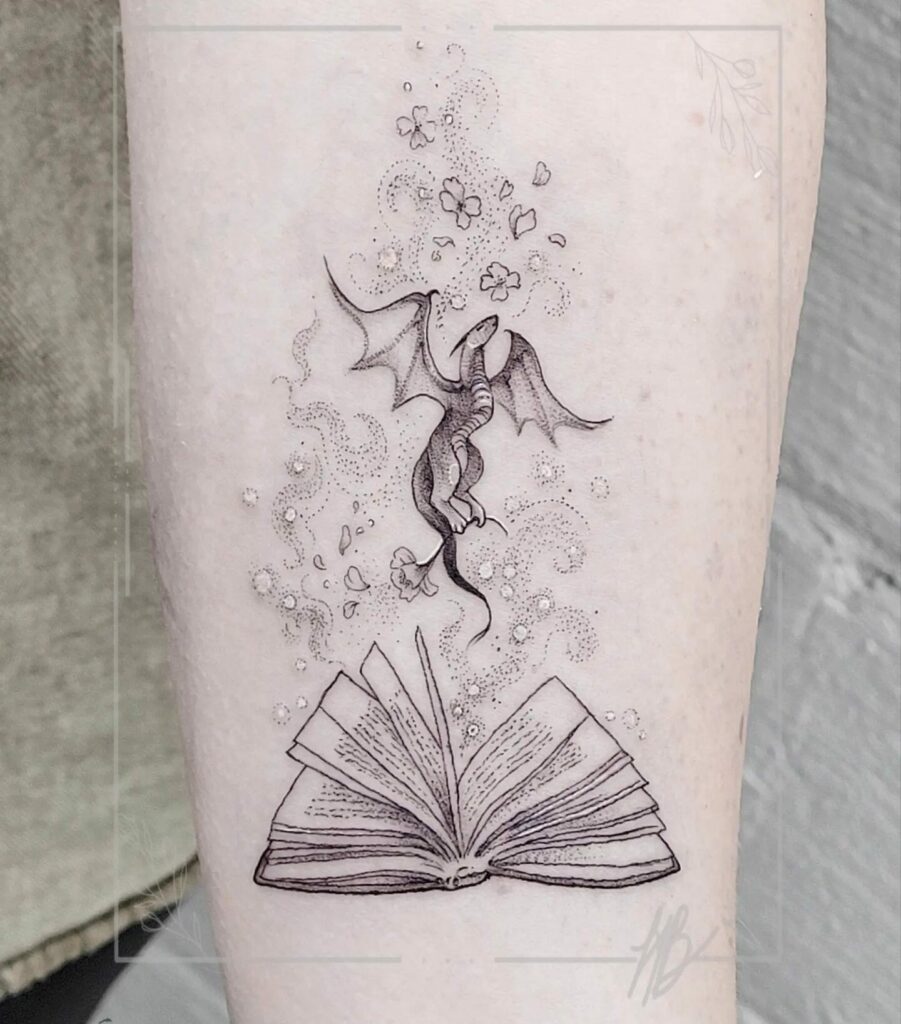 Dragon tattoos are undoubtedly among the most popular tattoo designs, and this Chinese dragon tattoo is one of the most unique and sought-after designs. Unlike some other dragon tattoos, this one is suitable for both men and women, making it a versatile choice for anyone looking to get inked. According to Chinese culture, it's believed that feeling the eyes of the dragon before the completion of the tattoo design is unlucky, so in this design, the eyes are just represented as a simple dot.
One of the most interesting features of this tattoo design is the book, which symbolizes the wisdom and knowledge of the dragon. Dragon tattoo designs that incorporate the wisdom and knowledge of dragons are unique and stand out from the rest. This particular tattoo is designed with black ink only, representing the freedom and knowledge that comes with being knowledgeable.
Flower Flourish Dragon Tattoo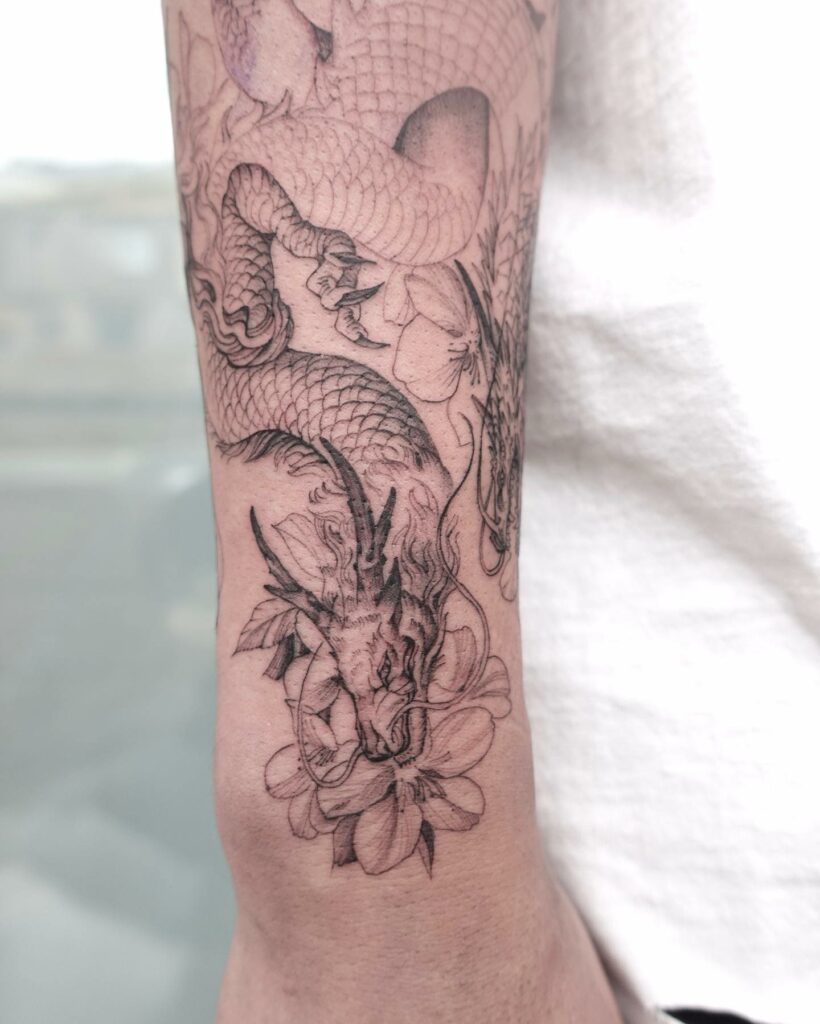 Dragons have long captured our imaginations, inspiring awe and fascination. This dragon tattoo design takes the mythical creature to new heights, adding unique elements that elevate its nature. While dragons are often associated with strength and ferocity, this tattoo design portrays the creature in a more serene light, with a beautiful flower bed surrounding its body.
The cool dragon depicted in this tattoo design challenges our preconceived notions of dragons and showcases their multifaceted nature. This tattoo is perfect for those looking for something different, yet still captivating. The blend of black shading creates a beautiful contrast, highlighting the dragon's power and calm demeanor.
This tattoo design is ideal for placement below the elbow and above the wrist area, making it a great option for those looking for a smaller, yet impactful tattoo. While dragons may only exist in our imaginations, this tattoo design brings them to life in a unique and beautiful way.
Majestic Forearm Dragon Tattoo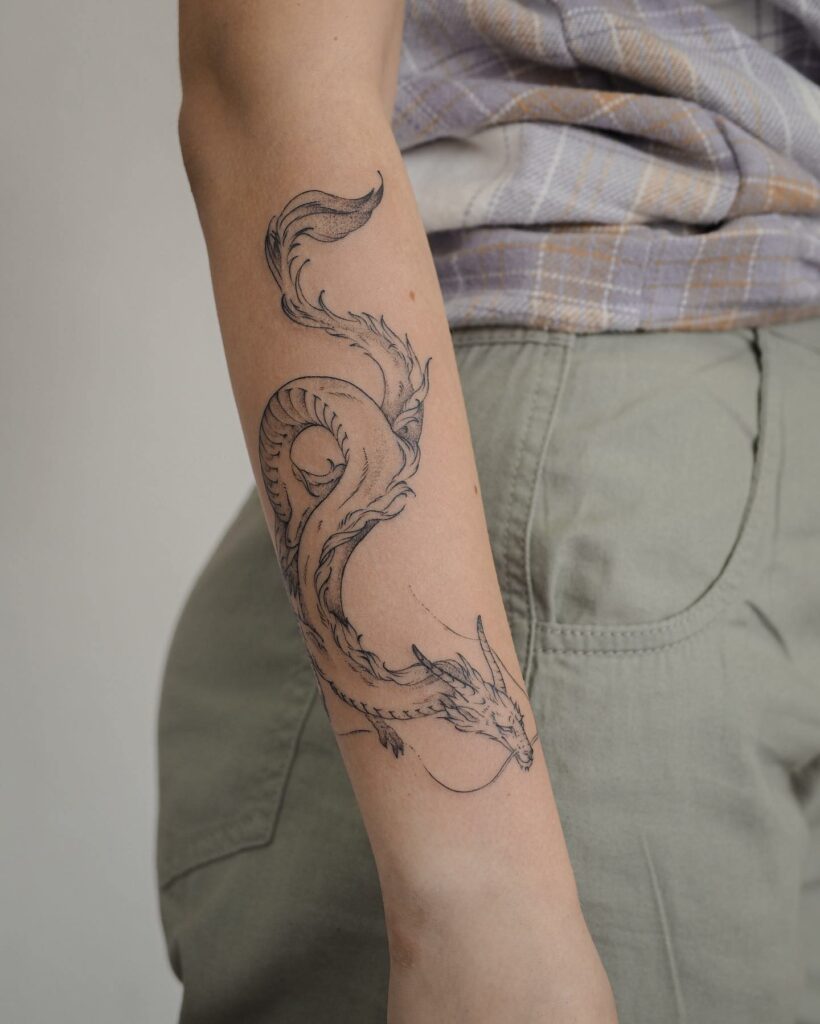 A Celtic dragon tattoo is a stunning and regal depiction of the legendary creature, and this forearm dragon tattoo is no exception. It is perfect for those who want to display their love of dragons with pride, as the tattoo will be visible in half sleeve clothing. This design is a suitable option for both men and women, as the dragon's body is intricately detailed on the forearm.
In Chinese mythology, a dragon tattoo is considered lucky if it has whiskers, which is why this tattoo features long and flowing whiskers. The whiskers add to the beauty of the tattoo as they move gracefully with the dragon's body, creating a sense of fluidity and motion. In this design, the dragon is depicted in a tiger-like pose, highlighting the raw power and strength of these two legendary creatures. This Celtic dragon tattoo is a stunning addition to any tattoo collection.
Super Cool Dragon Tattoo

If you're looking for a dragon tattoo that exudes power and strength, then this Japanese dragon tattoo is definitely for you. The intricate design covers the entire arms and chest, making it a great option for those who want a larger piece of body art. The blend of colors used in this tattoo creates a stunning 3D effect that will surely turn heads. You'll notice a mix of black, yellow, blue, white, and brown in this tattoo, all of which are expertly blended to create a beautiful, multi-colored dragon.
This is a great tattoo design for men who want to display their masculinity and strength. One unique feature of this tattoo is the small details that make it stand out, such as the scales and claws of the dragon. Keep in mind that this is a time-consuming design that requires a lot of skill to create, so make sure to choose a skilled artist who can bring your vision to life.
Dragon on Your Legs tattoo
This stunning dragon tattoo design is a perfect choice for those who want to make a bold statement. It is designed to be placed at the centre of your leg, covering the entire length of your leg. Although it is primarily considered a men's tattoo design, women who are looking to get a unique and eye-catching tattoo can also opt for this design.
This multi-coloured tattoo features shades of black, red, yellow, green, pink, and white, which blend together to create an intricate and beautiful design. One of the key features of this design is the dragon's striking eyes, which are the centerpiece of the tattoo. The shimmery, large eyes of the Celtic dragon depict the creature as a keen observer, adding an element of mystery and intrigue to the tattoo.
As a Western-style dragon tattoo, this design is meant to be bold and attention-grabbing. Placing it on your leg allows you to show off your beautiful tattoo to the world, making it an excellent conversation starter and a unique piece of body art that you'll be proud to display.
Beautiful Flower Petal Dragon Tattoo
Dragon tattoos have always been a popular choice for people who want to showcase strength, power, and good fortune. This small yet elegant dragon tattoo is a perfect example of how a dragon can be depicted as a beautiful and non-threatening creature. This sleeve tattoo is primarily drawn in blue with a hint of red, and the petals around the dragon add to its aesthetic appeal while symbolizing good luck. The small details in this tattoo are nothing short of majestic and make it an ideal choice for those looking for a unique and meaningful tattoo design. Whether you want to place it near your quads or neck, it will undoubtedly catch everyone's attention. Remember that different kinds of dragon tattoos carry different meanings, so choose the one that resonates with you the most.
Still looking for inspiration, then checkout this blog post about dragon tattoo ideas
Last reviewed and updated on August 23, 2023