Are you considering getting a wolf tattoo stencil? Here is a collection of fantastic wolf tattoo ideas for you to consider.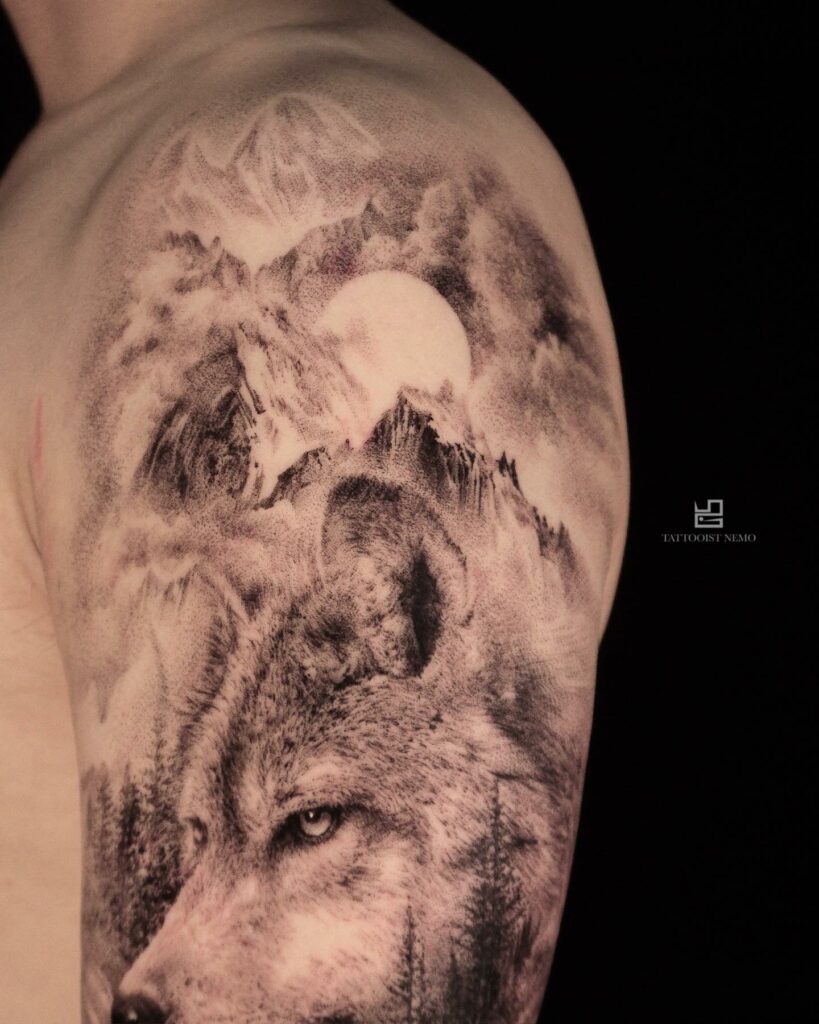 Wolves have been the topic of human terror and legend since the dawn of humanity.
Wolves have been regarded badly for thousands of years since werewolves and human-devouring creatures have appeared in ancient folklore and mythology. Animal inspired ink tattoos have been the focus of many people in the world.
Recent cultural interpretations and adaptations, on the other hand, have portrayed wolves as misunderstood rather than wicked monsters. As a result, many fantasy or horror story aficionados have chosen werewolves as tattoo designs. There are many different variations of these wolf tattoos that represent freedom, loyalty, power, death, and many other elements. It is important to understand the wolf tattoo before getting any kind of wolf tattoo designs.
The Black Wolf Tattoo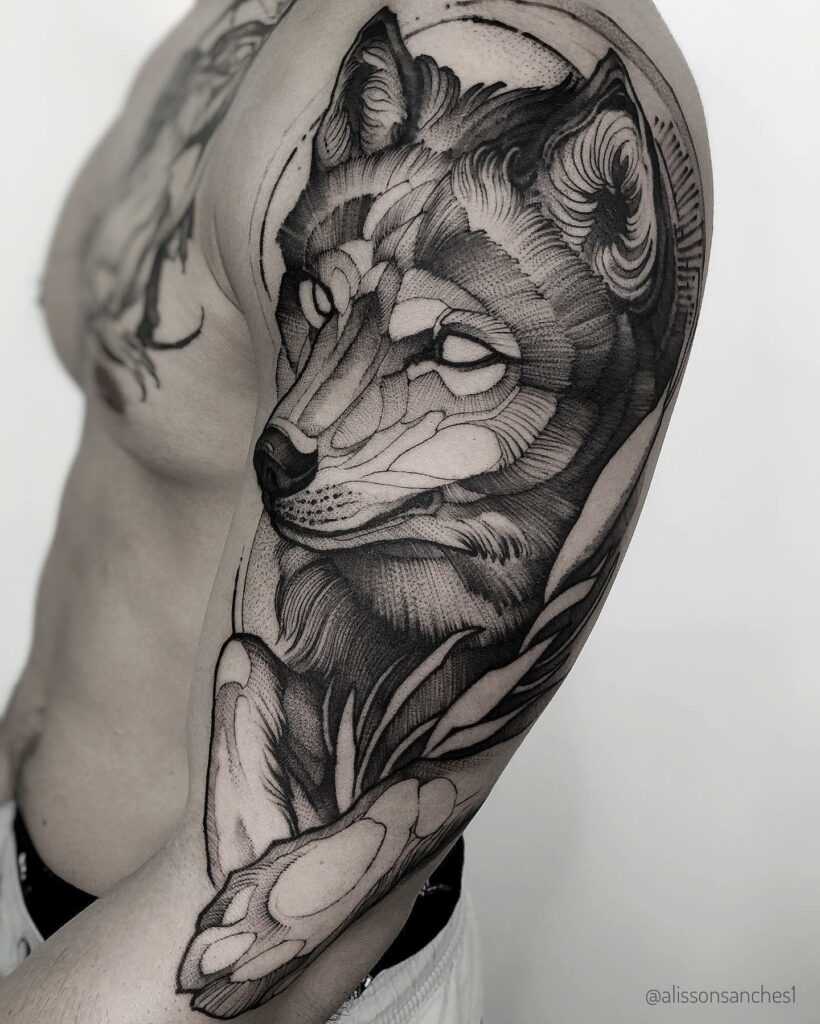 Many do not understand the symbolism of wolf tattoos and the meanings of other natural animal tattoos before getting them inked. These kinds of tattoos have a deep meaning. The wolf, for example, is revered as one of the most intelligent creatures in North America, and its personality represents the spirit, divinity, life, death, protection, unity, and reincarnation. All of this symbolism mainly comes from aboriginal Americans' tribal interpretations. The detail in this geometric wolf tattoo design is incredible. Good places to get this inked are on your shoulder, chest, and leg.
The Wolf Pack Tattoo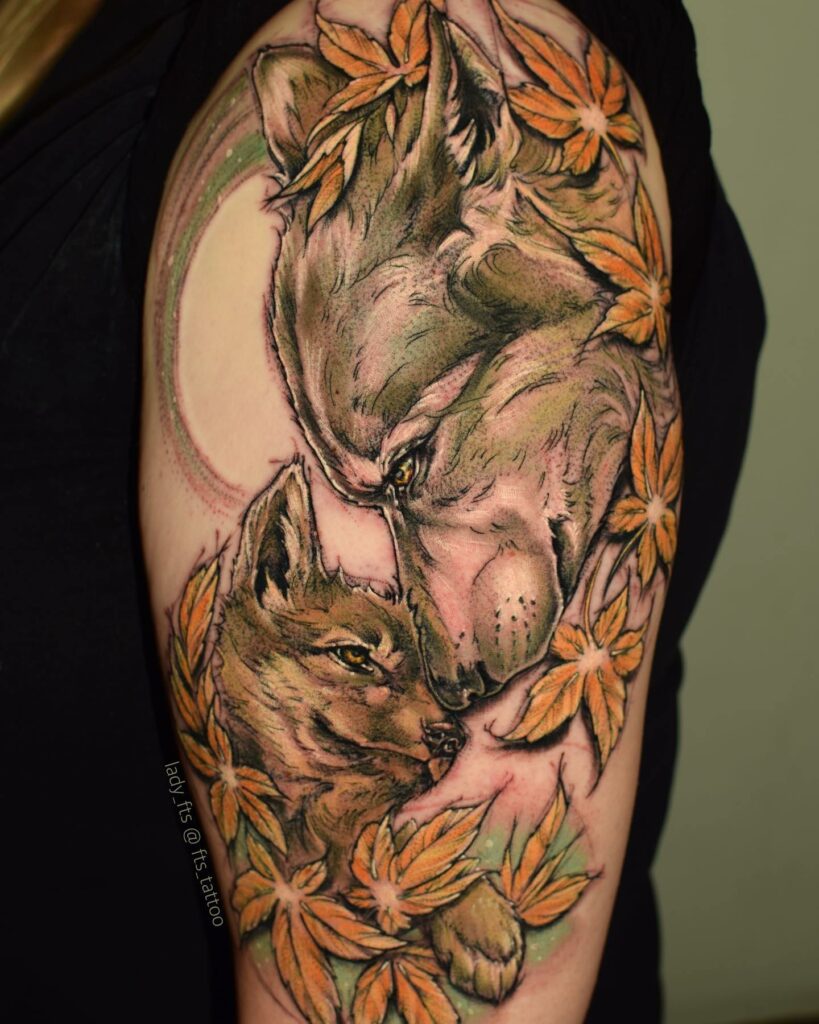 One of the best recommendations for a forearm wolf tattoo is a wolf tattoo design that includes the pack. The features of a wolf pack have a deep meaning. A wolf pack is a complicated social unit made up of parents, children, siblings, aunts, uncles, and occasionally dispersers from other packs; it's a family. There are elderly wolves who need to be cared for, puppies who need to be taught, and young adults asserting themselves, all of which are changing the pack's relationships. Wolf tattoos for men, which include packs, can have a deep meaning for the love of their family and help them create a bond with them. You can also adapt this wolf pack tattoo design with a geometric wolf tattoo.
The Howling Dawn Tattoo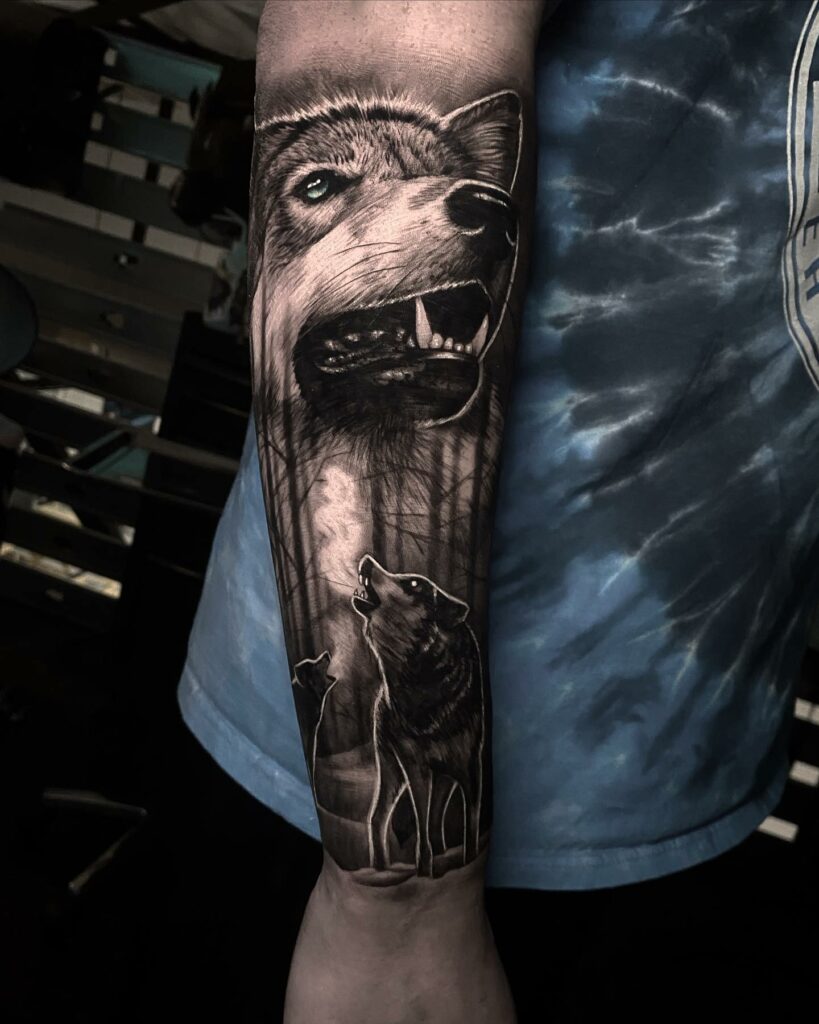 A howling werewolf tattoo done in black like the one here can make up for a really good wolf tattoo on your wrist, arm, and leg. Guys love these kinds of tattoos, and there are many different features to look at in this tattoo design. You can also add a moon and, in fact, even change the colour of the moon to represent a full moon howling. Sleeve designs are among the recommendations for this tattoo design. Wolf tattoos for men such as this one can be really good when done properly.
The Killer Wolf Tattoos for men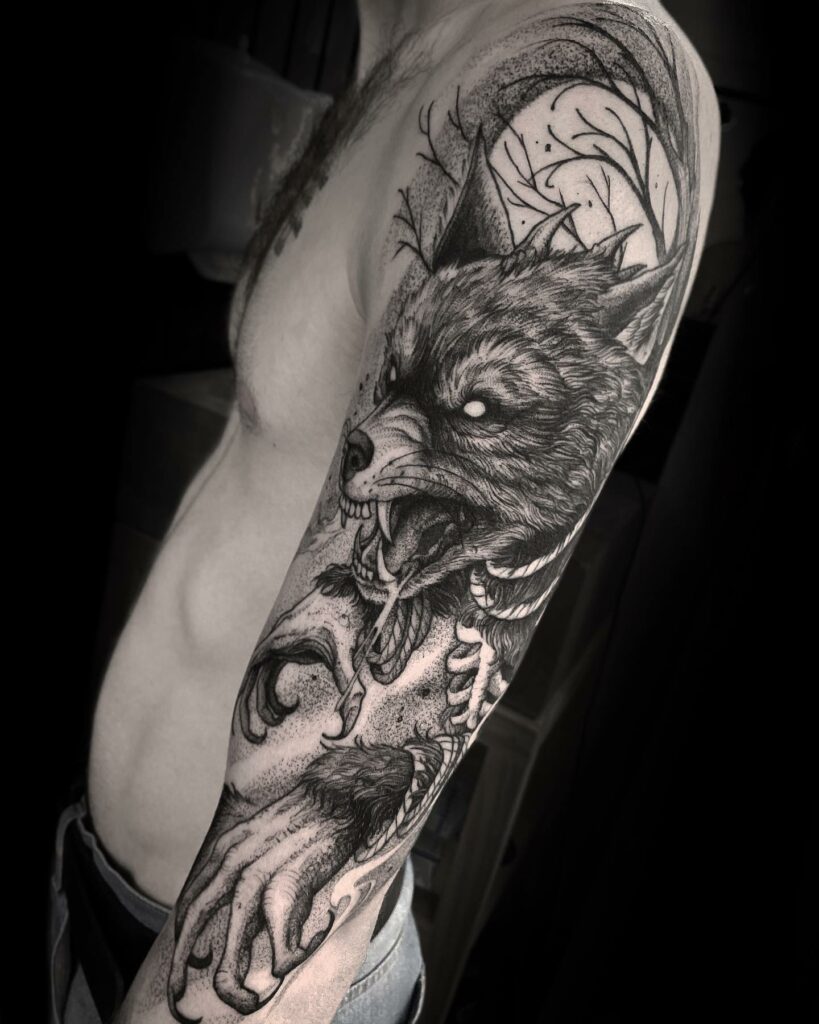 Wolves are one of the most dangerous and ruthless animals in the wild; their descriptions say it all. Wolves are seen to be a representation of power and ferocity. Many people worship wolves in many regions and civilizations. Wolves contribute to a healthy and flourishing ecology by assisting in the formation of a natural food chain. A grey wolf is one of the most often observed animals in the world. The lone wolf has the ability to survive and find their way out to live in the worst conditions; this shows their determination in life. Depending on your choice, this lone wolf tattoo design can be inked on your chest and legs as well.
The Tribal Wolf Tattoo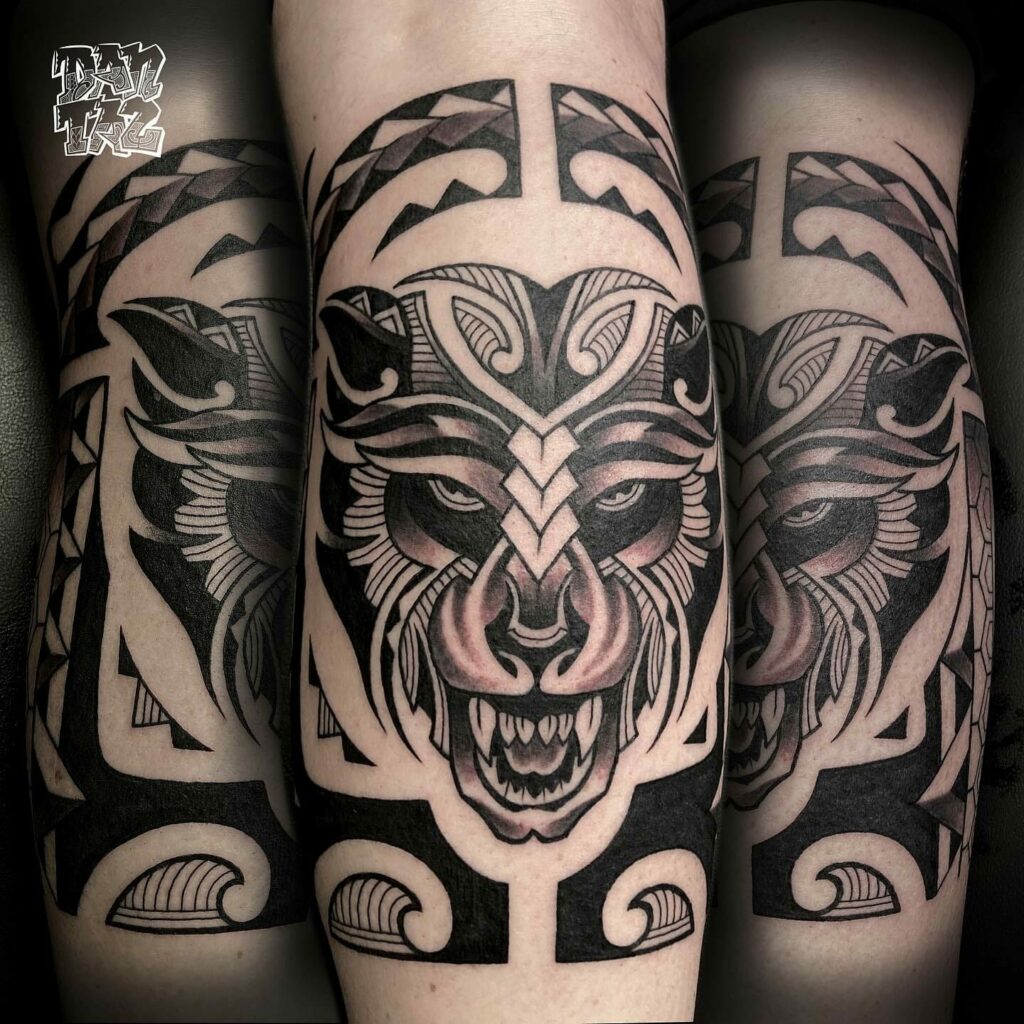 Tribal wolf tattoos are some of the best wolf tattoos. Tattoos of tribal wolves are arguably among the most significant. They reflect the wolf's real essence, spiritual protection, power, and loyalty. They can also represent family, dedication, and love. All of this is incorporated into a simple yet powerful tribal wolf tattoo. The tattoo's design usually consists of a wolf outline with little or no details. Wolves are a symbol for a lot of communities. You can get wolf tattoos like these with your friends, brothers, and family members. 
The Eagle Wolf Tattoo
This lone wolf tattoo includes the eagle tattoo designs. An eagle tattoo might symbolize the urge to be safe and secure in their life's travels. For many countries, the eagle represents the ultimate goal of achieving independence through sacrifice. Patriotism is a big component of eagle tattoos, which can be found on numerous flags across the world. Power is a tremendous emotion that few of us have experienced. An eagle tattoo might help you express that feeling. The wolf tattoo's meaning broadens with the integration of an eagle tattoo.
American Tribal Wolf Tattoo Designs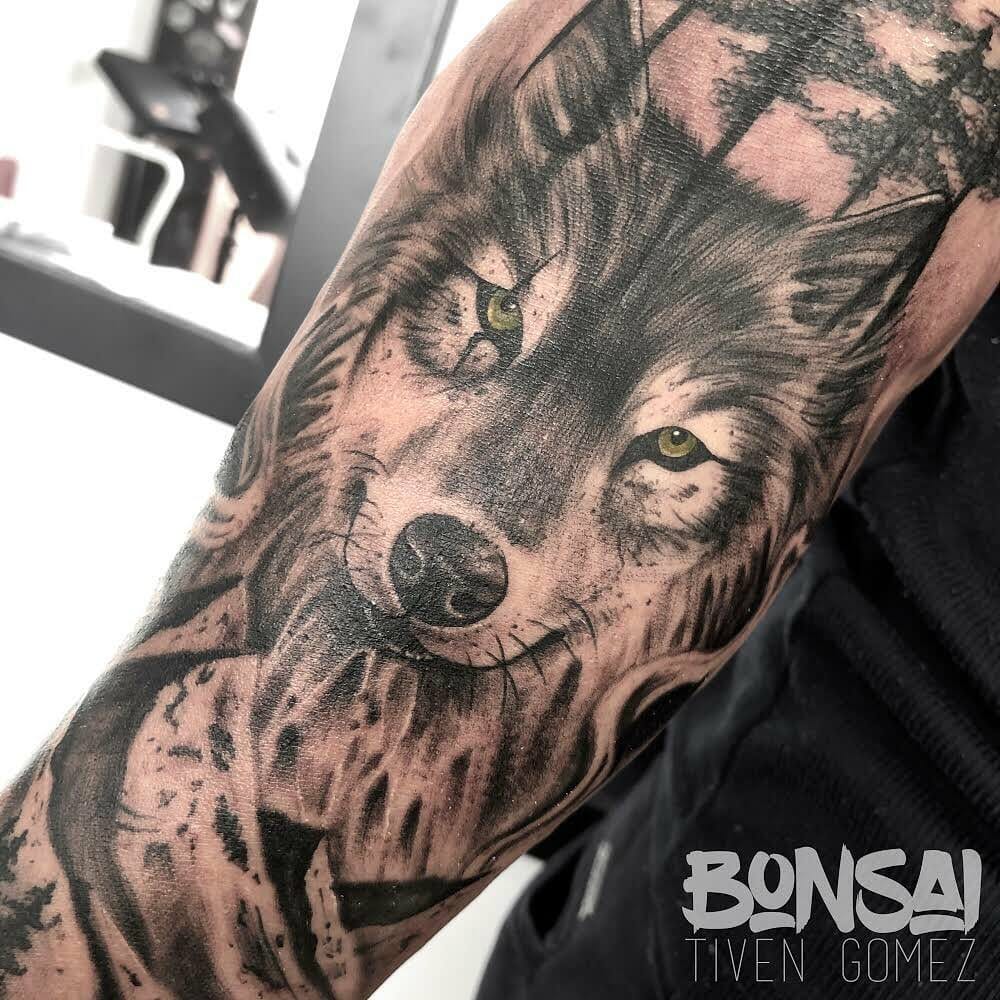 Wolves are featured in practically every Native American tribe's mythology. Wolf is regarded as a medicine in most Native tribes and is connected with courage, strength, loyalty, and hunting success. Some North American cultures see wolves as closely linked to humans as bears do. In Native American societies, wolves are also one of the most popular tribe animals. You can change the colour of the eyes in this tribal wolf tattoo design and make it blue, black, or the colour of your choice. The tattoo of a wolf, depending on your preferences, can be inked on the forearm, chest, or back.
Wolf & Eagle Tattoo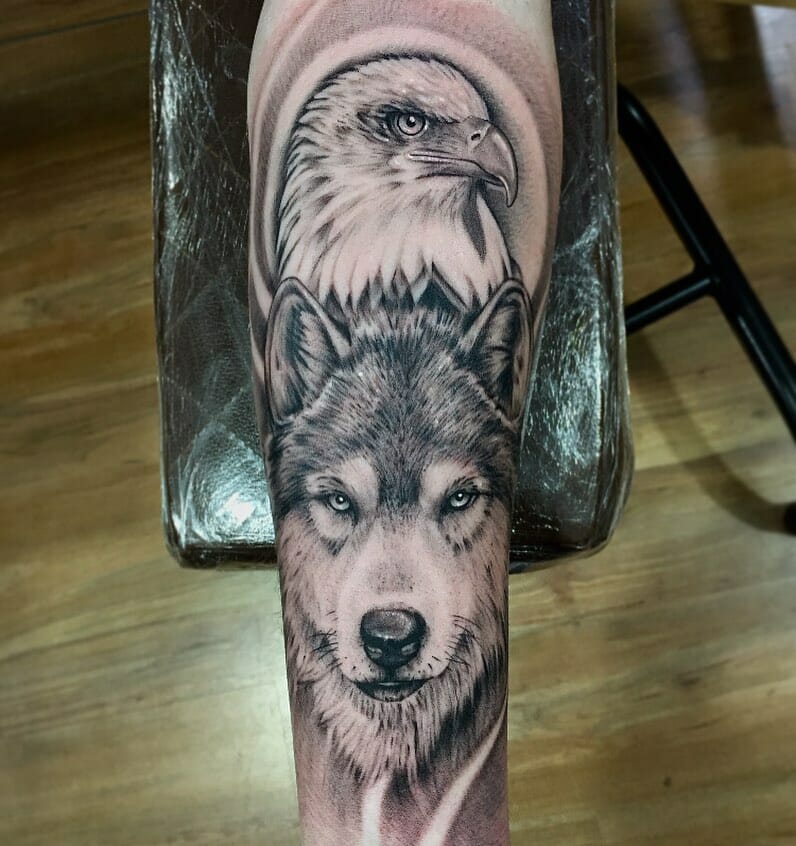 This is a realistic take on the wolf and eagle tattoo design. The eagle and wolf united in a tattoo design signify strength and freedom as two of the most powerful animal spirits. Since these two animals are so widespread in America, they may also be used as patriotic tattoo designs. You can search for a lot of other elements to integrate into this eagle and wolf tattoo design.
Abstract Wolf Tattoo Designs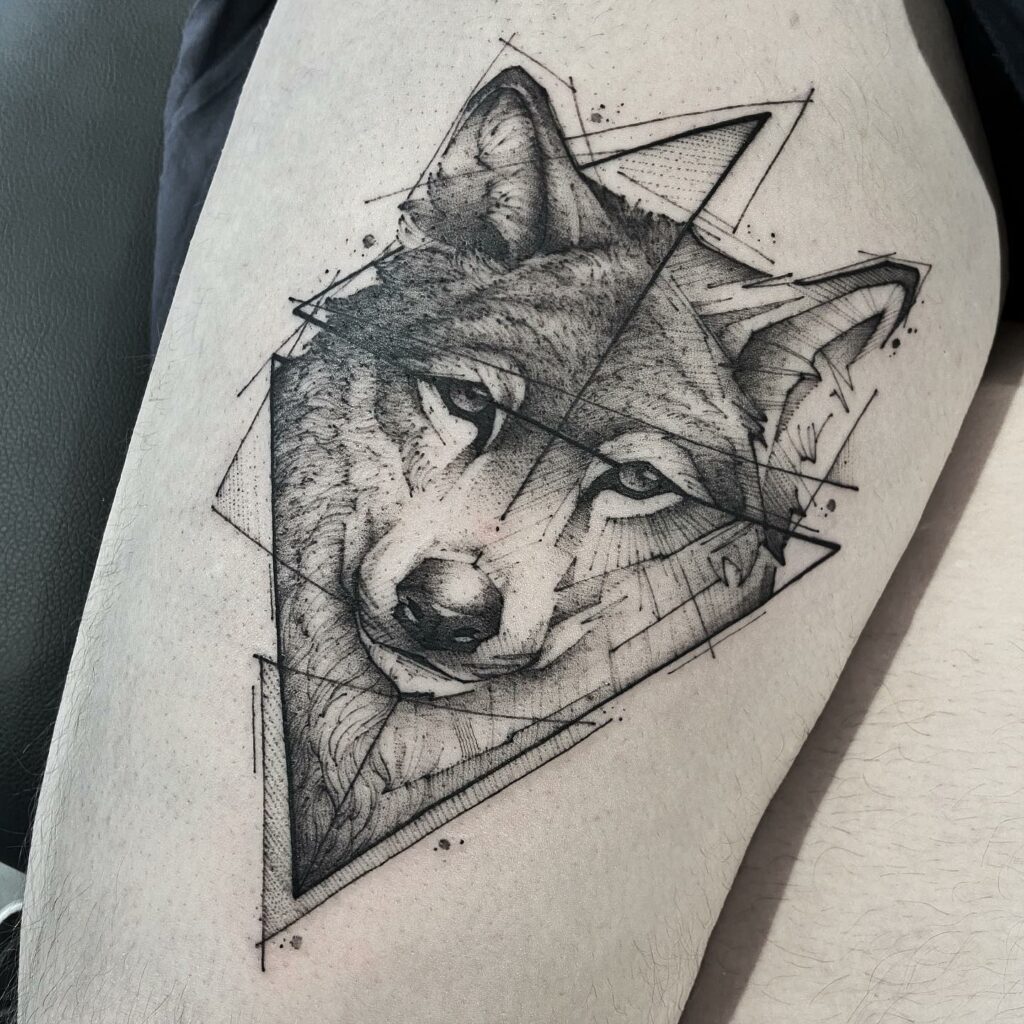 The wolf is a complex beast that may represent both wicked predators and brave fighters. They have a certain mystique, and they've appeared as powerful figures in several works of literature and film. Wolves are strong symbols with profound roots in Native American and Japanese culture, and they make excellent tattoo designs. Wolves symbolize a multitude of thoughts and topics that resonate with you personally, whether you're interested in romantic or spiritual concerns. You can get this tattoo design on your chest and back as well.
The Wolf & Prey Tattoo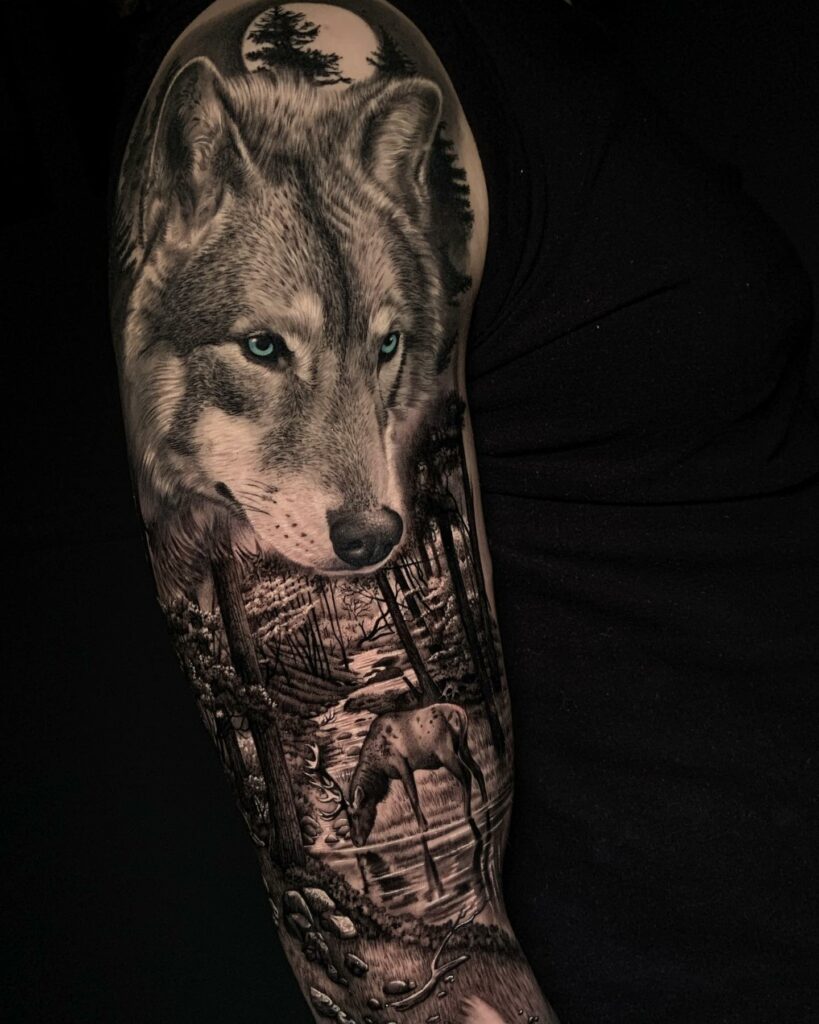 Wolves are predators. They put their prey to the test, detecting any weakness or vulnerability using visual signals, as well as hearing and smell. Wolves are endurance or coursing predators, as opposed to ambush predators that rely on surprise and a quick, powerful burst of energy to seize their victim. They are top-tier hunters that exemplify power. This tattoo design is also suitable for a small wolf tattoo on the hand.
The best places to get a tattoo are often on the arm, leg, wrist, and ankle. Many guys love wolf tattoos because of the deep meaning relating to security, motivation, protection, and inspiration.
feature image from Pinterest – Want your tattoo to look brighter? Try "Tattoo Balm"