Welcome back to my corner of elegance and creativity, where we delve into the ever-evolving world of beauty, one captivating topic at a time. Today, we're stepping—quite literally—into a colorful world of color with the latest trend that's taking the beauty realm by storm: Rainbow Pedicure.
Picture this: an artful blend of vibrant hues gracing your toenails, adding an iridescent touch that will turn heads and brighten your day. What if I told you that achieving this awe-inspiring look is easier than you think? In this post, we'll explore this fabulous technique's nuances. From the fundamentals of color selection to the intricacies of application and even the do's and don'ts of maintenance—consider this your comprehensive guide to mastering the Rainbow Pedicure.
So strap in (or polish up) as we embark on a journey that promises to add a splash of color to your beauty repertoire. Because let's be honest, why settle for a single shade when you can have the entire rainbow at your feet? Stay tuned because you're about to enter a world where every hue tells a story, and every toe is a canvas just waiting to dazzle.
Color-Blocked Bliss: Bold and Beautiful
Who said color-blocking is only for fashion? Complementing bold, bright tips with a range of stylish toe jewelry makes this pedicure pop even more. I remember wearing a color-blocked pedicure to a friend's beach party, and let me tell you, the compliments just kept rolling in!
Micro Rainbows: Small But Mighty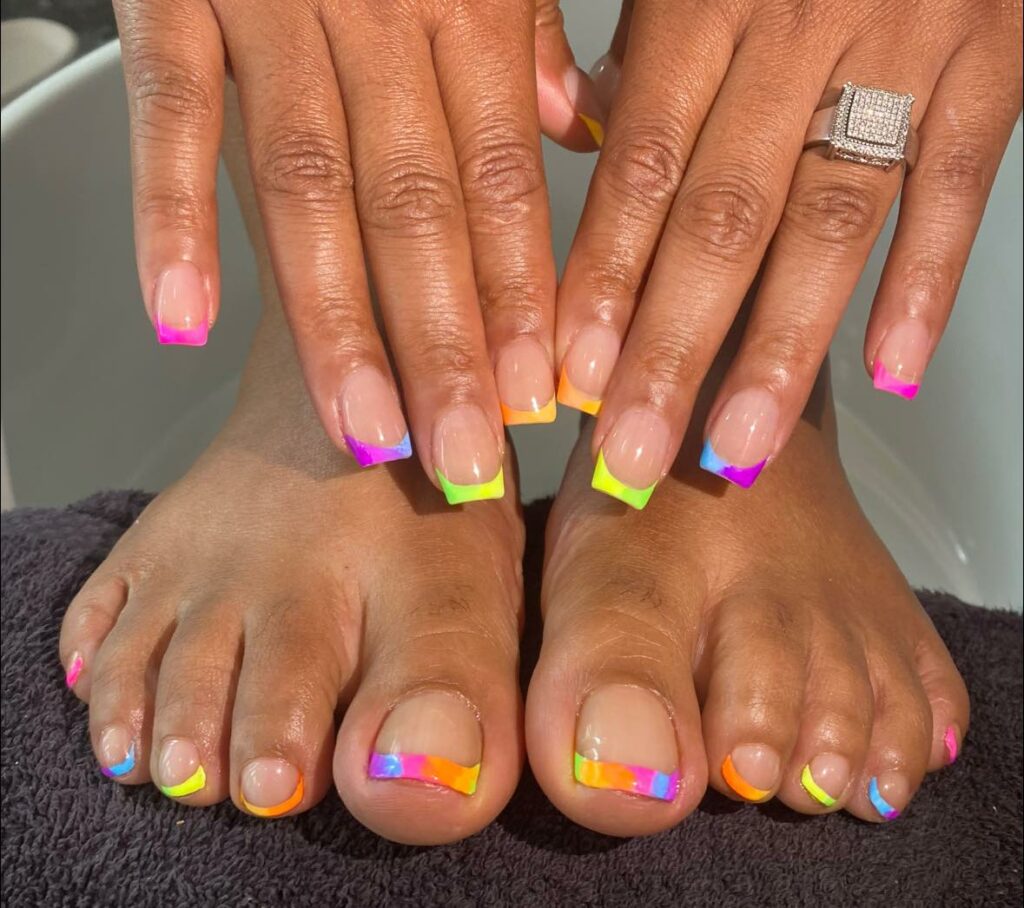 Less is sometimes more, especially when it comes to micro rainbows. These teeny-tiny color spectrums are a subtle nod to the trend without overwhelming your toes. They're like the whispered "I love you" in a world of shouting—you'll appreciate the delicate detail.
Jelly Nails: Transparently Terrific
Remember those jelly sandals we all used to wear? The nostalgia is back, but this time on our toenails. When rainbow-tinted, jelly nails bring both sheer beauty and an irresistibly cool retro flair.
Rainbow Stripes: A Pride-Inspired Masterpiece
Shoutout to nail artist Betina R. Goldstein for continuously giving us #NailGoals. Stripes of rainbow colors across your nails create a contemporary and meaningful design. It's more than just a pedicure; it's a statement.
Colorful Confetti: A Pop of Playfulness
Ever feel like your standard mani needs a little oomph? Sprinkle some neon rainbow dots on it! Think of it as confetti for your toes—a celebration you can take wherever you go.
Sunshine Gradient: Minimalist but Mighty
The sunshine gradient is your best bet if you're a minimalist but still crave a slice of the rainbow. It's like the smooth transition from dawn to midday sky, all encapsulated on your toenails.
Spectrum Shapes: Geometry Meets Color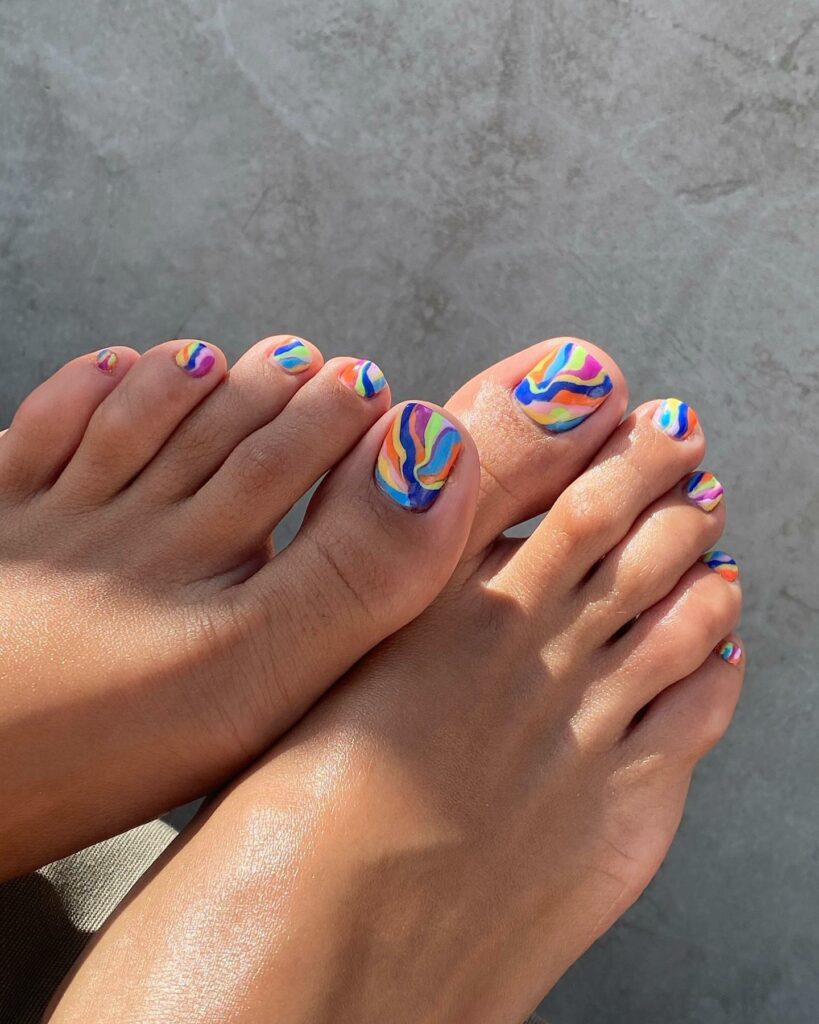 Geometric shapes filled with different shades of the rainbow? Yes, please! It's as if Picasso used your toenails as his latest canvas. It's artistic and adventurous all at once.
Emoji Vibes: Smile, You're Fabulous!
Why send a smiley emoji when your toes can do the talking? This emoji-inspired pedicure is pure joy encapsulated in nail art. It's like texting, but make it fashionable.
Color Fade: Chic and Sleek
I OPT FOR OMBRE TIPS when I want to add an elegant touch to my rainbow pedicure. It's the chicest way to embrace the spectrum without going overboard.
Line it Up: Beam Me Up!
Imagine laser beams, but make them rainbow. Yes, it's as cool as it sounds. If you're looking for a futuristic flair, this is where to put your signature.
Seeing Spots: Technicolor Tips
Why settle for one color when you can have them all? A neutral nail with a technicolor tip is the ultimate compromise between understated and extravagant.
Pastel Night Skies: Starry Toes
I love stargazing, and the first time I tried pastel night skies on my toes, it felt like carrying a piece of the universe with me. Twinkle, twinkle indeed!
Rainbow Tie-Dye: A Nostalgic Nod
Tie-dye is back, and it's not just for t-shirts. Add a swirl of nostalgia with a tie-dye rainbow pedicure. It's like the '90s called, but they want you to keep this trend going!
The New French: French Who?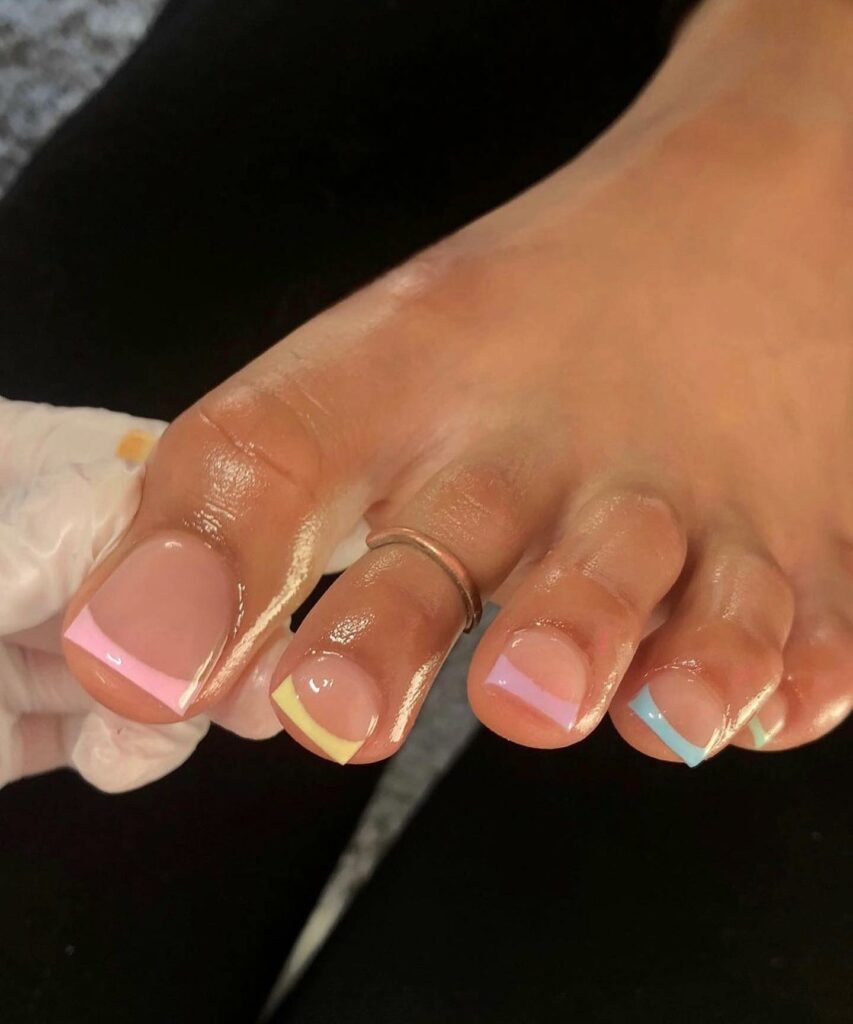 Let's kick it off by addressing the white elephant in the room—or should I say, the white tip? French tips: you've had your moment, but it's time for a colorful makeover. I remember being a die-hard fan of French tips, but the first time I switched to rainbow tips? Mind-blowing. It's like upgrading from a flip phone to a smartphone—you realize what you've been missing.
Cuten Up Those Cuticles: A Tiny Revolution
Are nude nails your staple? No worries, you can still dip your toes into the rainbow trend. Add a splash of micro art to your cuticles for a subtle yet impactful change. It's like adding hot sauce to a classic dish—just a dab can make all the difference.
All About That Outline: Edge in Color
Here's the trend that had me ditch my one-tone palette: colorful outlines. Take your favorite shades and let them hug your nails in a tip design that's as eye-catching as stylish. This is the little black dress of pedicures—it goes well with everything, but it's anything but basic.
Seeing Stripes: A Candy-Coated Upgrade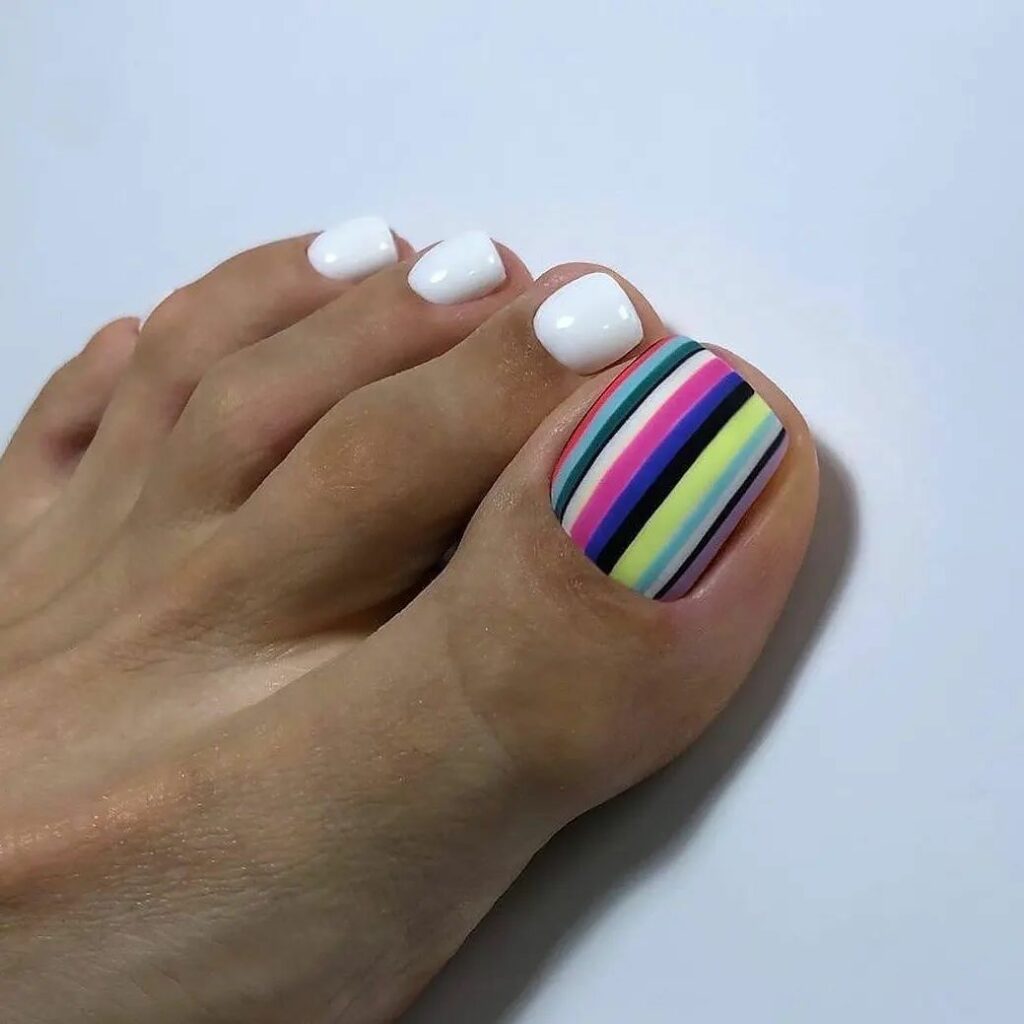 Remember those candy stripe patterns we used to love as kids? Well, they've graduated and are all grown up, boasting every rainbow color. This style reminded me of my childhood while adding a chic, adult twist. Who knew nostalgia could look so fabulous?
Half A Rainbow: Less is More
Why cover your entire nail in color when half will do? The edgy half-rainbow is for those who love making a statement but appreciate minimalism. It's the perfect mix of bold and understated, like wearing a sequined top with jeans.
Chevrons: Zigzagging into Joy
It's time to make geometry your friend. Chevron patterns, especially when colored with rainbow hues, can bring so much joy to your pedicure. The first time I tried this, I literally tapped my toes in delight all day.
Shine Bright: Go All Out
If you believe more is more, this all-out nail art trend is your calling card. I love to sport this style for special occasions—it's the equivalent of wearing a ball gown to a fancy event, but for your toes!
Tie-Dye Rainbow Nails: A Marriage Made in Heaven
Tie-dye and rainbows? Say no more. This combination is the peanut butter and jelly of the nail art world. I wore this design last summer, and my toes were the life of every pool party.
Pastel Rainbow: Soft but Impactful
Sometimes, a softer approach is all you need to make a statement. Pick up some pastel shades and let your nails radiate calmness while still being trendy. It's like whispering but still being heard clearly across the room.
Pride Nails: More Than Just Colors
Let's talk about Pride nails. Adding rainbow rhinestones can take your pedicure from fun to absolutely epic. This is more than just a style; it's a message of love, equality, and freedom right at your feet.
Rainbow Heart: Tiny but Mighty
The Rainbow Heart design. It's a small heart shape filled with the colors of the rainbow, and let me tell you, it packs a punch. I sported this on a beach vacation, and those tiny hearts stole the show! Pro tip: This is perfect for those wanting to test out rainbow nail art without diving into the deep end.
Rainbow Side Tips: An Upgrade Worth Taking
Move over, classic French tips! We're pushing the boundaries with rainbow side tips. This design fills just the sides of your nails with rainbow hues. Need help deciding on the thickness of the lines? Why not try both? I did, and I'm still flip-flopping on which one I like better!
Geometric Shapes: For the Artist in You
Are you not a fan of geometry in school? Well, these geometric rainbow designs might change your mind. I was skeptical, too, until I tried it for myself. Now, I can proudly say that geometric shapes and rainbow colors are a match made in pedicure heaven.
Rainbow Cartoons: Cute Overload
If cute is your middle name, you'll absolutely adore these rainbow cartoon nails. Think fluffy clouds, beautiful butterflies, and radiant flowers—all in splendid rainbow colors. I rocked these at a summer festival and became an instant conversation starter.
Rainbow Frenchies: Classic Meets Whimsical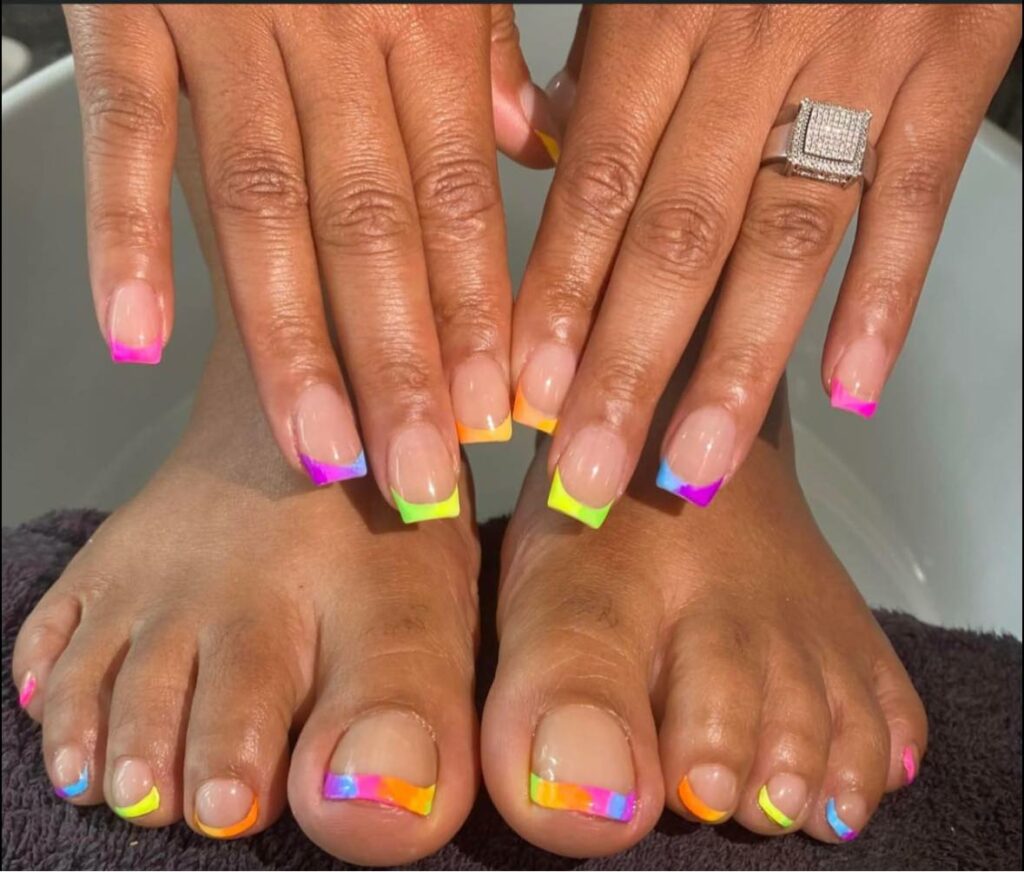 French tips have a timeless quality, but adding a dash of rainbow can make them truly eye-catching. To add an extra twist, pair it with some cloud art. It's like a daydream on your nails.
Kawaii Rainbow Nails: An Artistic Genius
So, what happens when you take a rainbow and add a dash of Kawaii culture? A masterpiece, that's what. This pedicure will have everyone asking, "Where did you get those done?" Trust me, I've been there, and it's a great conversation starter.
Fading Rainbow Dots: Hypnotic and Alluring
Dots may seem simple, but they become a captivating design element when they fade into a rainbow spectrum. If you're into subtlety with a flair, this is your go-to. I regret nothing because my calendar is booked with these designs for the next six months!
Rainbow Swirls: A Whirlwind of Colors
When swirls meet rainbow colors, you get a design that's as dynamic as it is stunning. It's a tornado, but the good kind. The kind you'll want to get caught up in.
Rainbow Frenchies with a Silver Outline: Make it Pop!
Take your classic Rainbow Frenchies up a notch with a silver outline. It adds a certain shimmer that makes your toes stand out. And if silver's not your thing, black-and-white outlines work wonders, too.
Ombre Spectrum: A Trainer's Best Friend
Okay, we've all got that pair of colorful trainers we adore. So why not have your toenails echo that style? The ombre spectrum is your go-to if you seek that cohesive, matchy-matchy aesthetic. I love aligning my pedi palette with my favorite sneakers for that ultra-coordinated vibe.
Crystal Cuticles: A Gem of an Idea
Oh, crystals—you're not just for chakras anymore. The first time I embellished my cuticles with multi-colored crystals, I couldn't look away. It's like having tiny, magical gems at your feet, just begging for admiration. It's not just mesmerizing; it's an absolute conversation starter.
My Top Tips For Maintaining A Rainbow Pedicure
Use Quality Products – The first step to a long-lasting pedicure starts with the products you choose. Opt for a high-quality base coat, nail polish, and topcoat. The better the quality, the longer your pedicure will last.
Apply Thin Layers – It might be tempting to lay it on thick to get those vibrant colors, but multiple thin coats are the way to go. Thin layers dry more quickly and adhere better to each other, making the whole paint job more durable.
Dry Properly – Patience is a virtue, especially when letting each layer dry. Rushing this step could result in smudging or chipping, which you don't want.
Protect Your Pedicure – Wear socks or protective footwear when you can. The less friction against your toenails, the longer your pedicure will last. If you're hitting the beach, be mindful of sand, as it can be pretty abrasive.
Refresh the Top Coat – A topcoat is your first line of defense against chipping and fading. To maintain your rainbow pedicure's vibrancy, consider reapplying a clear top coat every few days.
Hydrate Your Cuticles – Use a cuticle oil regularly to keep your cuticles—and, by extension, your nails—healthy. This also adds an extra shine that complements your pedicure beautifully.
Avoid Harmful Chemicals – Be cautious around cleaning products and harsh chemicals, as they can ruin your pedicure. If you're doing household chores that involve these, protective gloves can be a lifesaver for your pedi.
Quick Fixes for Minor Issues – If you experience a minor chip or smudge, don't fret. Touch the area with the original colors and finish it with a top coat.
Consider a Professional Touch-Up – If you love your design but notice some wear and tear, a professional touch-up might be worth it. A quick session can extend the life of your fabulous rainbow pedicure without a complete redo.
10 Simple Steps To Achieving A Rainbow Pedicure
Prep Your Toenails – Begin with clean, dry toenails. Remove any old polish with a gentle, acetone-free nail polish remover, and then soak your feet in warm water for about 10 minutes. This softens the cuticles and prepares your nails for the artwork ahead.
Shape and Smooth – Use a nail clipper to trim your nails to your desired length, then shape them using a file. Smooth rough edges and buff the tops slightly to help the polish adhere better.
Cuticle Care – Gently push back the cuticles with a cuticle pusher or an orange stick. If you're up for it, you can also use a cuticle remover to eliminate excess skin.
Base Coat Application – Apply a thin layer of a good-quality base coat to protect your nails and create a smooth canvas for the polish. Allow it to dry completely.
Map Out Your Rainbow – This is where the fun starts! Decide the order of the rainbow colors you'll be using. It's good to have a plan so you don't clash colors next to each other.
Paint Your Rainbow – Use a small brush or nail polish brush to apply the colors in the chosen sequence. If you're going for stripes, start from one side and work across. You may need a makeup sponge to blend the colors seamlessly for ombre or gradient designs. Remember, thin layers are your friend here.
Add Some Flair (Optional) – If you're feeling adventurous, this is the time to add any additional elements like glitter, stickers, or tiny rhinestones. Use tweezers for precise placement.
Seal the Deal – Once all the layers are dry, apply a quality topcoat to seal in your design and add a glossy finish. This will also help protect against chipping.
Cleanup – Use a Q-tip dipped in nail polish remover to clean up any color that may have strayed outside the lines.
Allow Time to Dry – Give yourself ample time to let everything dry. The last thing you want is a smudged masterpiece!
Still Looking for Inspiration, Then Check Out This Video
Conclusion
In wrapping up beauty enthusiasts, diving into the world of rainbow pedicures is like opening a treasure chest of creative possibilities. Whether you're into subtle dots, bold geometric shapes, or anything in between, there's a design for every level of nail art expertise. A quick tip: while going DIY is super tempting, some intricate designs may benefit from a professional touch, so choose accordingly. Remember that using quality nail polish and products is critical to making your pedi last longer and keeping your nails healthy. Risks are minimal, but if you're using new products, a patch test never hurts to avoid any allergic reactions. The bottom line? Your pedicure can be as dynamic and colorful as you are, so don't hesitate to express yourself. Ready to add a splash of color to your life? Your toes will thank you!
Feature Image Photo By @irina.alieva_nailstudio via Instagram
Last reviewed and updated on October 10, 2023