In today's post, we're delving deep into the world of horology to bring you the ten best digital watches for women. From minimalist marvels to tech-laden treasures, prepare to embark on a journey through time and fashion and discover the ideal companion for your wrist. Let's ensure every second counts!
The Adventure Lover: Casio Baby-G BA-111-1ACR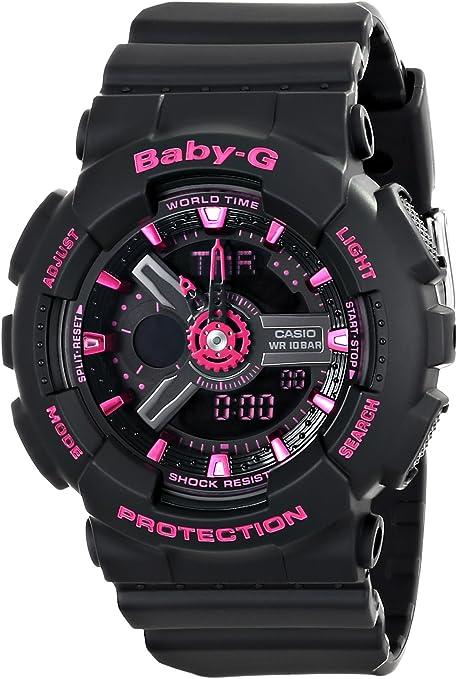 Remember when I went mountain climbing and was equally worried about breaking a nail and my watch? Casio's Baby-G came to the rescue! Made for the brave-at-heart, this watch can handle adventure thrills, boasting shock resistance and a depth level of 100 meters water resistance. Plus, its black and pink design is effortlessly stylish. And yes, you can travel the world with it, tracking 29 time zones. Now, that's what I call 'globally fashionable'!
Minimalist Elegance: Guess Women's Digital Watch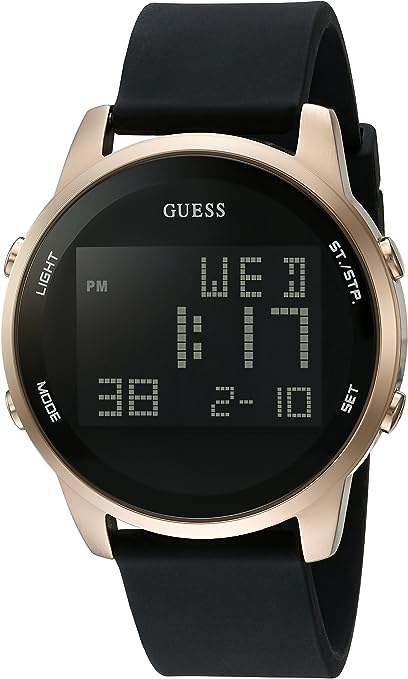 Whenever I opt for a minimalist look, my Guess watch never lets me down. Its black strap and gold accents exude grace, making it perfect for the office or a sophisticated brunch. Although it's not your go-to for a dip in the pool, it ticks all other boxes with day, date, alarm, and that classic Guess charm.
Everyday Chic: Casio's LA11WB-1
Casio nails it again with a no-fuss, sleek black resin piece. I once wore it for an entire week, trying out different outfits, and let me tell you, it fits all! From daily chores to sports, it's the silent stunner you need on your wrist. And with the battery life? You're set for ages.
Sleek Smartness: Pebble Time Round Watch
Looking for intelligent functionality with a fashion edge? Pebble Time Round is your pick. Its slim design and customizable features had me playfully changing its look as often as I change my shoes. And who can say no to calendar alerts when balancing busy schedules with style?
On-The-Go Grace: Armitron Sport Digital Watch
I remember catching a last-minute flight and realizing I hadn't set my watch for the new time zone. Armitron Sport had me covered with its dual-time feature. Its sleek design, water resistance, and affordability are the cherries on top!
Night & Day: Moulin Ladies Digital Jelly Watch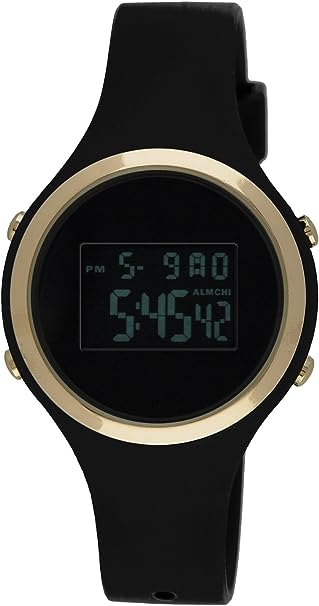 For those who like a blend of comfort and elegance, the Moulin watch, with its smooth silicone strap, is the pick. And its button-activated LED display? Perfect for those late-night adventures or early-morning jogs.
The Rugged Companion: Timex Unisex Expedition Watch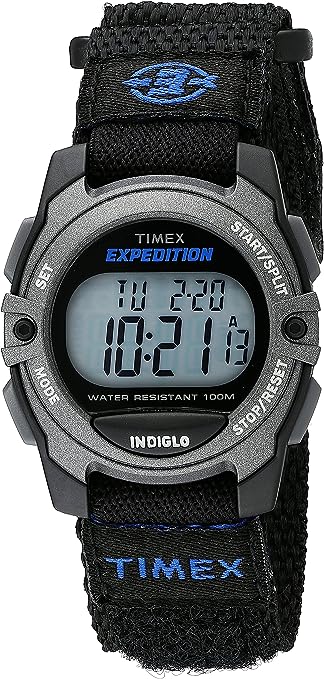 Ah, the great outdoors! Camping, hiking, or even a splash in the sea, Timex's Expedition watch has stood by me. It's robust and versatile, perfect for an active lifestyle.
Vibrant Trendsetter: NIXON Siren A1210-100m
When I want my wrist to pop, the NIXON Siren does the trick! Its bold hues and unique features indicate whether I'm at the beach or a cafe.
Color Burst: Armitron Sport 45/7030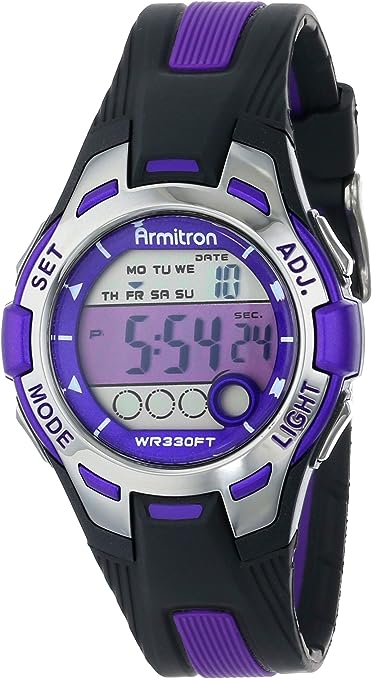 A pop of color never hurts. With the Armitron Sport 45/7030, you can choose a hue that matches your mood. Functional, fun, and fashionable!
Fit & Fab: YoYoFit Smart Fitness Watch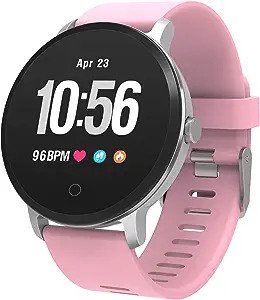 Fitness and fashion can walk hand in hand, and the YoYoFit watch is proof! From tracking health metrics to receiving notifications, this watch ensures you're fit, fab, and always in the loop.
Apple Watch
The Apple Watch has carved a niche for itself in the world of smartwatches and stands out for several compelling reasons. At its core, it seamlessly integrates with the Apple ecosystem, ensuring a fluid connection between your iPhone, iPad, and even your MacBook. But beyond the hallmark of connectivity, its health and fitness tracking capabilities are second to none. From monitoring heart rate to detecting irregular rhythms and offering an ECG app, it underscores proactive health management. Additionally, features like fall detection and Emergency SOS prioritize user safety. For fitness enthusiasts, its precise activity tracking, combined with motivational features, make achieving health goals more engaging. Coupled with its customizable aesthetic appeal – with a variety of bands and watch faces – the Apple Watch melds fashion with functionality, making it a worthy consideration for anyone in the market for a smartwatch.
.
7 Other Digital Watches for Women We Like
Garmin Forerunner Series: Known for their fitness tracking abilities, Garmin watches are perfect for those who like to monitor their health metrics in detail. The Forerunner series, in particular, blends style with functionality.
Fitbit Versa Series: Apart from being an effective fitness tracker, Fitbit Versa models also have a stylish design that appeals to many women.
Michael Kors Access Runway: This is for those who love luxury brands. The Access Runway blends Michael Kors' renowned style with smart features.
Fossil Women's Gen 4 Venture HR: Fossil has always blended classic designs with modern functionalities. The Gen 4 Venture is no exception, offering a beautiful aesthetic with the perks of a smartwatch.
Skagen Connected Falster 2: Skagen's minimalistic Danish design paired with smart functionalities makes it an appealing choice for those who favor simplicity and elegance.
Withings Steel HR Sport: A hybrid watch that combines a traditional watch look with digital functionalities, including heart rate monitoring and fitness tracking.
Freestyle Shark Mini: A smaller version of the classic Freestyle Shark watch, these come in various vibrant colors and patterns and are known for their durability.
9 Potential Drawbacks to Relying on a Watch for Tracking Health Metrics?
Accuracy Issues: Consumer-grade watches and fitness trackers might sometimes provide a different level of accuracy than medical-grade devices. Heart rate monitors, for instance, can sometimes give false readings, especially during high-intensity workouts.
Over-reliance: It's easy to become overly dependent on these devices, believing every piece of data they present. This can lead to obsessive behavior or unnecessary stress if, for instance, one doesn't reach their daily step count or other set goals.
Not Comprehensive: While watches can provide a plethora of data, they cannot offer a holistic view of one's health. For instance, tracking your heart rate gives a partial picture of cardiovascular health.
Potential for Misinterpretation: It's easy to misinterpret the data without proper knowledge or context. For instance, seeing a high or low heart rate can be alarming for some, even if it's a natural variation for them.
Battery Life: Continuous health tracking, especially features like heart rate monitoring or GPS tracking, can deplete the battery quickly, requiring more frequent charging.
Privacy Concerns: Many of these devices store your data on cloud servers. Unless the company has robust security measures, there's always a risk of data breaches, potentially exposing sensitive health data.
Cost: High-end watches with advanced health tracking can be pricey. This investment might only be justified for some, especially if you're not using most of the features.
False Sense of Security: Just because some metrics look good on your watch doesn't mean there aren't other health issues that need addressing. It's essential to use these metrics sparingly as an overall health clearance.
Skin Irritations: Some users might experience skin irritations or allergies due to the materials used in the watch or because of sweat accumulation.
It's important to remember that while these devices can be excellent tools to enhance awareness of one's daily activities and health metrics, they should not replace professional medical advice, diagnoses, or treatments. Always consult a healthcare provider about any concerns or changes you notice in your health metrics.
Conclusion
Choosing the right digital watch isn't just about ticking off features but finding a piece that resonates with your style and lifestyle needs. A watch is tailored for you, from the sporty to the sophisticated, from the minimalistic to the bold. A crucial tip to remember is to ensure the eye aligns with your primary needs – durability, water resistance, or intelligent tech features. However, be aware of potential risks, like overestimating water resistance or relying too heavily on a watch for critical health metrics. Continuously research, consider your requirements, and listen to feedback from others. As you embark on this time-telling journey, remember that the best watch is the one that feels right on your wrist, meeting both functionality and fashion criteria. Embrace the world of horology with confidence, and let your choice make every second more stylish and purposeful. Time's ticking, and it's your moment to shine!
Feature Image https://lookbook.nu/look/7497552-Guess-Jacket-Liu-Jo-Purse-Guess-By-Marciano