Today, we're diving deep into winter fashion, specially curated for our teenage trendsetters. We all remember those teenage years, don't we? A whirlwind of self-expression, and what better way to make a statement than through your attire? In this post, we will walk you through 17 delightful winter outfits that combine warmth with panache, ensuring that no teenager has to compromise their style for comfort. From the snug embrace of oversized sweaters to the timeless appeal of denim paired with ankle boots, get ready to be inspired and make this Winter the chicest one yet!
Elevate with Leather and Hoodies
Remember that day when I accidentally spilled hot chocolate all over my white sweater? Yikes! Instead of panicking, I quickly threw on my trusty leather jacket. Not only did it save the day, but it also amplified my outfit instantly. Leather jackets and hoodies aren't just winter staples for warmth but have become style statements. They come in myriad colors and styles – one for every mood and event!
Marry Form with Function with Jackets
While jackets are perfect for that added layer of warmth, they also enhance any outfit. For those always on the lookout, keeping tabs on the latest cuts and designs can keep you fashion-forward. Plus, it's so much fun!
Synchronize Your Style
It's all in the details! Syncing your makeup and hairstyle with your attire adds a dash of sophistication. Have you ever tried rocking a funky outfit? Pair it with an edgy hairstyle for that cohesive look. If you need inspiration, our collection of modern teen hairstyles is a goldmine!
The Timeless Appeal of Woolen Sweaters
Last Winter, I found this super cozy woolen sweater at a thrift store. Paired with my distressed jeans, it became my go-to for casual outings. Woolen sweaters are not only snug but also oh-so-stylish. The trend is catching on and for all the right reasons!
Classy Combos: Cashmere and Blazers
Cashmere sweaters exude luxury. Blazers? Timeless elegance. Mix these with printed trousers or embellished jeans for a standout look. Trust me; it's a combo that never disappoints.
The Charm of Scarves
Once, during a winter trip to Paris, I was smitten by the variety and beauty of scarves draped gracefully around every neck. Whether printed or knitted, scarves are versatile accessories that elevate any outfit. Now's the time to add some to your collection!
Peplum Perfection
Here's a style secret: Drape a blazer or leather jacket over a peplum top for a fresh winter look. Dive deep into the myriad ways to style peplum tops this season, and you'll turn heads quickly.
Neutral Tones: Embrace the Subtle
Knitted sweaters hold a special place in my heart – partly because my grandma knitted my first one. Not only are they the epitome of warmth, but they seamlessly blend with almost anything. Picture this: a comfy sweater with blue denim jeans and a grey infinity scarf. Want to steer clear of the bulky look? Opt for skinny jeans. Add classic Uggs and a shoulder bag in harmonious tones. Finish with minimalist studs and a bracelet.
Striped Sweater: Mid-Week Magic
Ever had one of those mid-week moments where you want to relax yet remain stylish? A striped sweater in light hues is your BFF. Combine it with black or blue jeans, throw in a scarf, and there you are – effortlessly chic. And yes, plimsolls? A perfect addition.
Sporty Style: Easy Does It
Friday vibes are a mix of excitement and exhaustion. When in doubt, grab that hoodie, pair it with a grey beanie, white sneakers, and a dash of eyeliner – to keep things awake and refreshing!
Street Style: Vintage Meets Contemporary
Oh, the allure of hand-knitted scarves! You can style them in a zillion ways. Drape them over a peplum top, or team them with your cozy sweater. Long vintage cardigans with black tights and brown shearling wedge boots? A style jackpot! When stepping out, a high bun is my go-to hairstyle. Simple, elegant, and oh-so-convenient.
Ugg Boots: Sporty Yet Stylish
Who said sporty can't be fashionable? Picture this – a white tank top, a hoodie, a scarf, and the centerpiece, Uggs. Sure, sneakers work, but Uggs? They elevate your outfit game like no other.
Pink and Grey: Subtle Charm
Winter doesn't always mean dark and dreary. Take a break from the vibrant summer hues and embrace pink and grey. Think Christmas-style leggings with an oversized sweater. Or a sweatshirt for that schoolgirl vibe. A pink scarf and silver studs do the trick for an added pop. And yes, Ugg boots – always a win!
Winter Accessories: Flash a Little
Winter doesn't mean bundling up all the time. Flaunt a trendy off-the-shoulder cardigan paired perfectly with turned-up denim and animal print ballerina pumps. Enhance it with a green knit scarf, sunglasses, and either chunky earrings or a stylish wristwatch.
Ultimate Fall Look: Elegance Defined
As Fall smoothly transitions into Winter, some pieces are non-negotiable. A creme sweater is a versatile gem. Pair it with bright-colored pants for a fun spin. Burgundy pants, for instance, look divine. Add accessories like a funky ring or a chic sling bag for that perfect touch.
Distressed Denim Jacket: Retro Vibe
Ah, the allure of a geeky yet modern look! A denim bleached jacket, especially distressed, exudes a vintage charm. Combine it with a grey sweater shirt and black leggings for an ideal winter aura. Finish off with Jordan sneakers and stylish eyewear, and you're all set for a chilled-out day.
Trendy and Chic Style
Pink isn't just a color; it's an attitude. Growing up, I used to shy away from pink, but as I started experimenting, I discovered its power. Pair your black pants with a pink sweater shirt for that sharp, sophisticated look. Elevate the style with a pastel bag and gold accessories. And if you're feeling extra adventurous, why not slip into edgy boots or classic Uggs?
Puffer Jacket Vest
Dreaming of a winter wonderland getaway? This outfit is your go-to! The emerald green puffer jacket vest took me back to a trip I took to the Alps. It's chic, functional, and paired with long Tory Burch boots. Absolute perfection!
Schoolgirl Style
Remember those school morning struggles? Looking stylish with little effort? Try a colorful sweater with your trusty jeans, and throw in a vibrant scarf. Shoes? Anything from cool sneakers to winter-ready boots will seal the deal.
Casual Sweatshirt
Woolen Scarf Wonderland
Last Winter, I rediscovered an old knitted scarf from my college days. The transformation? Mind-blowing! A scarf can instantly amp up any outfit. Whether draped over an oversized sweater or paired with a winter dress, it's a game-changer.
Hair and Makeup: Casual Edition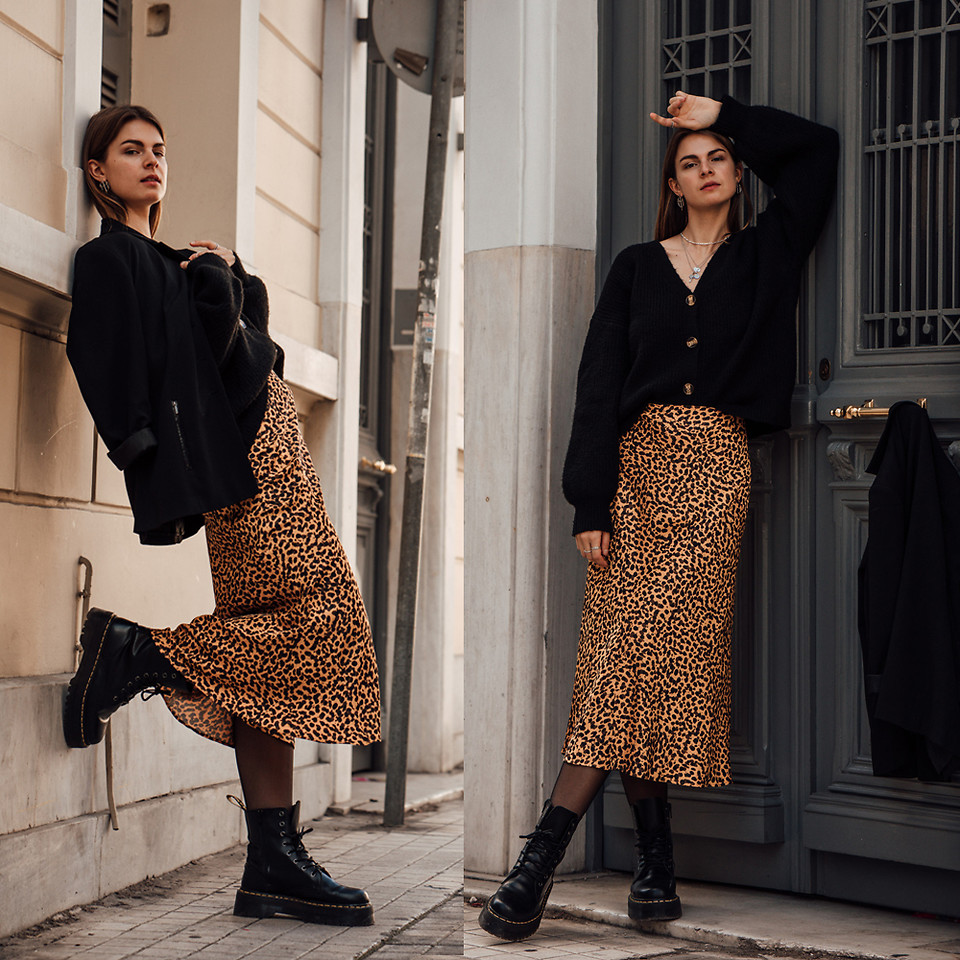 Having one of those lazy hair days? (I have them more often than I'd like to admit!) A top knot or a messy bun can be your savior. As for makeup, warm tones are your winter besties. Add a touch of highlight, and you're ready to shine.
Grey and Black Elegance
Snow outside? No worries. Channel minimalistic elegance with a long woolen sweater shirt and those essential black jeans. And hey, why not throw on classic Raybans and a grey beanie? Effortlessly chic!
Edgy Winter Vibes
Ditching pastels for a bold winter statement? Count me in. Your all-black ensemble can be elevated with some lace-up boots, stylish eyeglasses, a chic gold watch, a warm scarf, and a light-colored bag for contrast.
High-Neck Elegance
I recall a coffee date where my high-neck sweater was more of a conversation starter than the coffee itself! This timeless piece exudes a relaxed yet refined aura when paired with denim jeans and joggers. A loose bun complements the look, preparing you for your next latte rendezvous.
8 Winter Outfits That Combine Warmth With Style for Teenage Trendsetters?
Teenage trendsetters often look for outfits that are both functional and fashion-forward. Here's a list of some winter outfit ideas that perfectly marry warmth and style:
1. Monochromatic Magic:
Top: Charcoal or black turtleneck sweater.
Bottom: Matching charcoal or black skinny jeans.
Accessories: Silver minimalistic jewelry and a black beanie.
Shoes: Black ankle boots.
2. Layered Leisure:
Top: Oversized pastel or neutral-colored sweater.
Mid-layer: Plaid or checkered open-front shirt.
Bottom: Straight-leg denim.
Accessories: Infinity scarf and matching mittens.
Shoes: White sneakers.
3. Boho Winter Vibes:
Top: Cream-colored chunky knit sweater.
Bottom: Flowy maxi skirt in earthy tones.
Accessories: Wide-brimmed hat, layered necklaces.
Shoes: Brown knee-high boots.
4. Sporty Sleek:
Top: Cropped hoodie in vibrant color.
Bottom: High-waist leggings in a contrasting shade.
Accessories: Crossbody bag and a set of ear cuffs.
Shoes: High-top sneakers.
5. Elevated Everyday:
Top: Thin, fitted knit sweater.
Mid-layer: Puffer vest.
Bottom: Corduroy pants.
Accessories: Bucket hat and a minimalist backpack.
Shoes: Platform Oxford shoes.
6. Prints on Point:
Top: Animal print (like a leopard) sweatshirt.
Bottom: Black mom jeans or straight-leg pants.
Accessories: Statement belt and gold hoop earrings.
Shoes: Combat boots.
7. Retro Revamp:
Top: Brightly colored oversized cardigan.
Bottom: Flared or bell-bottom jeans.
Accessories: Vintage sunglasses and a pendant necklace.
Shoes: Platform boots or wedges.
8. Cozy Cabin Look:
Top: Fair Isle patterned sweater.
Bottom: Denim or wool mini skirt.
Accessories: Thick woolen tights and a pom-pom beanie.
Shoes: Fur-lined ankle boots.
Each outfit provides the warmth necessary for Winter's chill while allowing teen trendsetters to showcase their style. The trick lies in layering, selecting the right materials, and accessorizing to elevate the overall look.
10 Tips To Elevate Your Winter Outfit Game
When the winter chill sets in, your outfits need not be dull and dreary. It's all about smart accessorizing to elevate your winter wardrobe. Let's dive into some winter accessories that add warmth and sprinkle a little sparkle and pizzazz to your ensemble.
Statement Scarves:
Texture: Opt for sequined or metallic-threaded scarves that catch the light.
Patterns: Geometric patterns or those with subtle shimmer can add a dynamic touch.
Ways to Wear: Drape it loosely over your shoulder or wear it in a French knot style to showcase its design.
Bedazzled Beanies and Hats:
Bling Factor: Choose beanies with rhinestones, pearls, or metallic threads.
Style Tip: Pair it with a monochromatic outfit to let the beanie be the show's star.
Glittery Gloves:
Material: Leather gloves with metallic finishes or knitted ones with shimmer threads.
Detailing: Look for gloves with stud details, tiny sequins, or even embroidered patterns with shiny threads.
Sparkly Legwear:
Socks: Metallic-threaded or sequined socks peeking out from boots can be a fun touch.
Tights: Tights with subtle shimmer or patterned ones with metallic details can elevate a simple skirt or dress.
Boots with Detail:
Material: Patent leather or boots with metallic finishes shine bright in Winter.
Details: Embellished booties with studs, crystals, or glitter can add flair to your stride.
Statement Jewelry:
Chunky Necklaces: Bold metallics or necklaces with shiny stones layered over turtlenecks or sweaters can make a statement.
Earrings: Dangly crystal earrings or geometric metallic designs can bring attention to your face, especially if you're wearing a beanie or hat.
Flashy Belts:
Design: Metallic belts or those with shiny buckles.
How to Wear: Cinch an oversized sweater or cardigan at the waist or loop one through your favorite pair of winter pants.
Iridescent Bags:
Style: Consider handbags, clutches, or tote bags with holographic designs, metallic finishes, or embellishments.
Pairing: A shiny bag can pop against a subdued winter coat or jacket.
Winter Sunglasses:
Tints & Frames: Reflective or iridescent lens tints, metallic frames, or frames with embedded crystals can be both functional and stylish.
Shimmering Brooches:
Placement: Add to the lapel of your coat, on your beanie, or even on your scarf to tie the ends.
Variety: From vintage finds to contemporary designs, brooches can add instant glam.
Tips for Pulling It All Together:
Less is More: If one accessory is making a statement, keep others understated. Balance is key.
Complementary Colors: Ensure that the color of your shiny accessories complements your outfit.
Care: Metallic or shiny materials can be delicate. Always check care instructions and store them properly.
Embracing these glitzy accessories can undoubtedly elevate your winter outfit game. By adding just a touch of sparkle, you can infuse life into your winter ensemble, turning heads wherever you go. Happy accessorizing!
Conclusion
As we wrap up our winter style guide, let's reflect on the magic of fashion: it's all about expressing yourself and embracing change. Mixing and matching timeless pieces like the high-neck sweater with trendy items like the puffer vest can bring new life into your wardrobe. Remember, while staying updated with trends is essential, never compromise on comfort or your unique style. Risks? Well, every fashion journey has its trials. You might not nail every look on the first try, but that's the beauty of experimentation. Wear each outfit confidently, and soon you'll discover what resonates best with your flair. Let this guide inspire you, but always let your spirit shine through. Stay stylish, stay warm, and most importantly, have fun with fashion! Cheers to a winter filled with fabulous outfits and new adventures.
Feature image by freestocks on Unsplash