Just opened and bursting onto the Maldivian hotel scene this boutique resort and island has it all. From private island tours to diving excursions, live music and even Kite-Surfing. From the moment you touch down on the island you get and instant feeling of warmth and friendship and with a daily schedule you are sure never to be bored…unless you want to be!
We stayed in one of their Sunrise Beach Villas, which was simply fantastic with its uninterrupted views across the Indian Ocean. The outdoor designer bathroom is also super cool, there is nothing quite as relaxing as soaking in a giant bathtub while watching the stars above you! Whichever Villa you choose you won't be disappointed as they all feature contemporary architecture combined with influences inspired by the natural surroundings.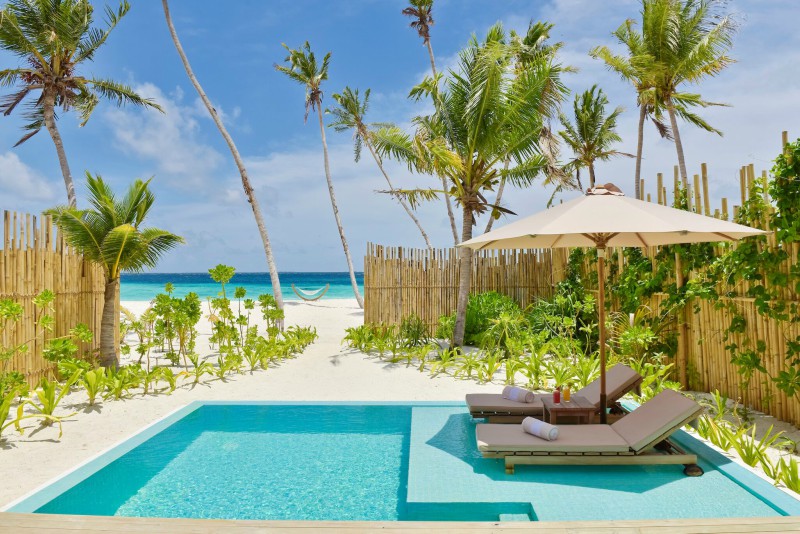 Dining is an experience at Fushifaru with their restaurants offering a selection of international dishes and delicacies, fresh seafood, cocktails, detoxifying drinks and snacks. Korakali is the resorts main restaurant, featuring a delicious and filling breakfast buffet, popular international dishes and live cooking stations. But be sure to book one night at their Raakani Grill which serves up a variety of Asian delicacies and seafood. There are limited seats every evening for this to create a more exclusive and intimate setting. If that's not enough and are looking for something even more intimate or special then they also offer private dining experience anywhere on the island. Found a perfect spot on the beach that you want to sip your champagne with the sun coming down then let them know and they'll sort it for you.
The Island has literally everything from a fully equipped gym, the Maldives most sought after dive spots and a Marine Protected Area at its doorstep and well equipped watersports and dive centre. The naturally protected reef surrounding the island is a haven for diving, with three of the most extraordinary dive sites in the southern channel, allowing guests to get up close with eagle rays, groupers and even sharks.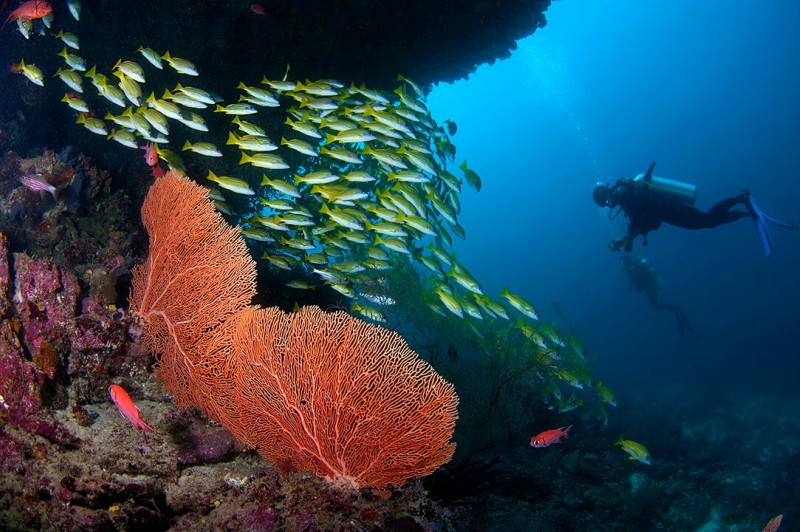 The team can arrange bespoke trips based on your abilities and the seasons and give advice on where to snorkel on the reef. If staying above the water is more for you then don't worry they also have jet skis, kayaks and stand up paddle boards so you can still enjoy the beauty and experience their crystal clear sea has to offer without getting wet (well too wet!).
Knowing that honeymooners favour the Maldives for a once in a lifetime extra special trip, they've made sure they can fulfil everyone's dreams and really offer bespoke experiences to ensure everyone leaves feeling that this trip was exactly what they wanted and more. They offer extra special excursions whether it be to do more snorkelling and diving or whether you want a dining experience alone on their sandbank. We chose to go on a Sandbank picnic which was just incredible. A short speedboat ride away from the main island you're taken to their private sandback where they set you up with some sunbeds, umbrellas, towels and a picnic basket and cool box for drinks. The feeling of being alone on your own desert island is indescribable and if you're debating it, don't – It's definitely not something you will regret doing, just regret not doing it.
If watersports aren't your thing then checkout the Heylhi Spa which has every major treatment going and is surrounded by lush foliage and jungle plants, creating a private and serene atmosphere – an oasis, in an oasis! Or quite simply grab a beer and jump into one the many hammocks and swings dotted round the Island, lay back and take a second to really appreciate the paradise that you're in.
When you leave the resort you feel like you're saying bye to some great friends and what they get all their guests to do before leaving is take a jumping shot for their instagram, to make sure that every guest really does leave on a high!
LOCATION

: On the north eastern edge of Faadhippolhu (Lhaviyani atoll)

HOW TO GET THERE:

Only 35 min seaplane from Male.

ACCOMMODATION:

You have the option to choose: Bed & breakfast, Half board or All inclusive. Considering that you have nowhere else to go for food on the island I would definitely recommend full board for ease. It's nice going on holiday with the bill essentially pre-paid and you can just sit back and eat and drink what you fancy.
Water Villas
There are only a 5 of these on the island for now but phase 2 of their build (in a few years time) will see the addition of more. So if you want a water villa then be sure to book it up now before they are snapped up. They say that in the mornings around sun rise you can often spot some dolphins swimming past these villa's! Not something to be missed. They all come equipped with a large king size bed that allows you to gaze over the ocean as you drift off. The bathrooms are beautiful and even have a hot tub on your private outside veranda as well as private dining space. Just think glass of champagne, hot tub and unspoilt views of the exclusive Maldivian blue sea. Perfection! There are steps from your veranda leading directly into the water so you can literally swim home after a bit of snorkeling and then choose whether to use your indoor or outdoor shower.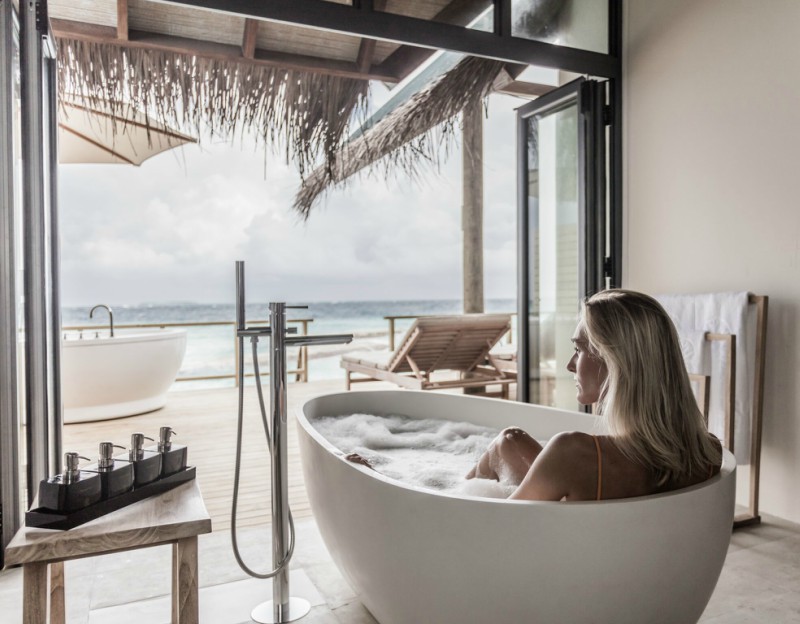 Beach Villas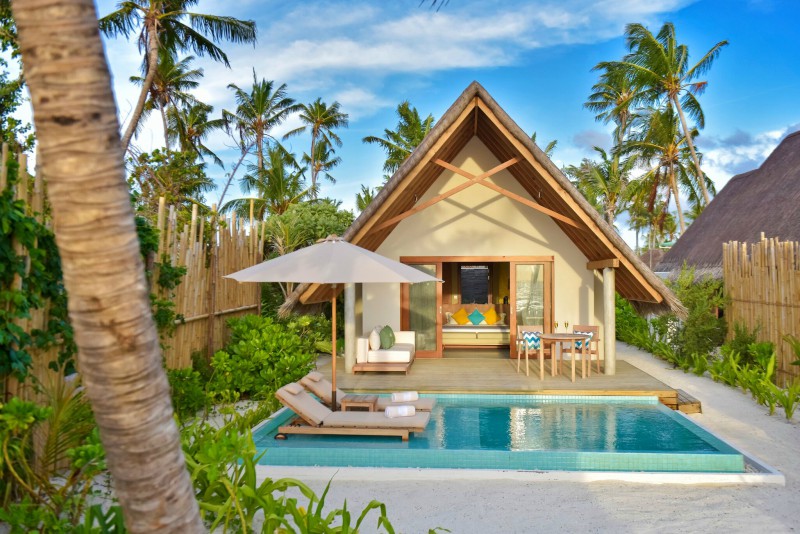 You can choose whether you opt for sunrise or sunset beach villa's and will pay slightly more for the sunset ones but considering you have the beach right outside and nothing to block your sun exposure during the day it would just come down to personal preference. All the beach villa's are the same and offer a sense of tranquility with huge ridiculously comfy beds all with direct views of the ocean. Their bathrooms are amazing and really blur the lines between inside/outside in the best way. The idea of soaking in a bathtub and watching the sunrise or sunset and the stars above you is more relaxing than you can imagine. There are also a few villa's on the beach that come with pools so if sea water isn't your cup of tea then opt for one of these. The interiors are all the same and come with king sized beds, open air bathroom and veranda with private dining area.
HEYLIHI SPA

If you can peel yourself away from the sun and sea then make sure you book yourself into the Heylihi spa. A stunning tranquil spot on the island that offers 5 individual spa rooms and treatments vary from a simple mani/pedi to specialist facials and massages. Heylihi offers a social area with stunning plunge pool and daybeds.

We opted for the couples body massage whilst at the resort and arranged it for the last treatment of the evening. Such a relaxing treatment and the oils were great for my poor english skin that maybe had a little too much sun exposure! We didn't walk away from the spa but instead floated !
Korakali
This is the restaurant that is included in your meal options offering a breakfast buffet, popular international dishes for lunch and dinner as well as live cooking stations.
Raakani Grill
Make sure you make a booking for this restaurant as they only have a few tables to ensure the intimate ambience is maintained. Located on the beach you can test some flavorful Asian delicacies and freshly caught seafood!
Fanihandhi Bar
Located next to their infinity pool a perfect spot to escape from the sun with a quick bite to eat. I can thoroughly recommend the chicken burger ! Or try one of their signature cocktails whilst you lounge by the pool
Dine Anywhere
If none of the above takes your fancy then just speak to your island rep and let them know you want to try something different and they'll be more than happy to suggest and arrange some alternative locations. They have a jetty going into the ocean which is perfect for an intimate sunset dinner for two or why not check out their private sandbank for a picnic – being on your own desert island in the middle of the ocean is pretty surreal!
ACTIVITIES & EXCURSIONS

If lazing on the beach and basking in the Maldivian sun doesn't do it for you then there is plenty of other activities to keep you entertained at Fushi Faru. You can hire the equipment privately or partake in any of the group excursions that they organize. What was very clear was all the staffs love for their country and try to pay homage to it throughout the resort. I loved that their uniforms and prints were created and designed by a local artist (Iman Rasheed).

Diving

Kayaks

Snorkelling

SUP

Jet ski

Catamaran

Volleyball

Cocktail classes

Sunset fishing

Village visits

Semi submarine trips
Not only are there watersports to keep you busy but also the staff themselves are full of entertainment and talent. They even have their own hashtag #createyourownstory – which promotes all their staff's personal talent and creates a sense of community on the island. So what are you waiting for book your trip now! Additionally the resort has also just launched its 'Maldivian Mind, Body & Soul' retreat featuring an all-woman line-up – Kai for Muay Thai, Boxing, HIIT and Core Conditioning, Shifana Mufeed for dynamic aerial yoga and Iman Rasheed for colour therapy and mindful drawing all at the resorts Heylhi Spa – totally spoilt for choice!