First family vacation for a first time mum is always going to be met with pangs of stress, anxiety and of course excitement and joy at all the baby firsts. Not one to do anything by half we decided that our 5-month bundle of joys first holiday would be to the beautiful sunny island of Antigua. Desperate for some sun that my pregnant self avoided at all cost (heavily pregnant and sun do NOT go!) and my pale skin was shouting out for some much needed vitamin D.
Now 5 months is an interesting age to travel with as they're not quite mobile but are so interested in everything going on around them that you have to work hard to keep them entertained and if you're betting on them sleeping the whole flight or afternoon whilst you enjoy reading a book round the pool then think again. Holiday's as you once knew them are long gone! This is why we opted to stay in the luxury serviced apartments at South Point Antigua, nestled in the English Harbour amongst the array of impressive Super Yachts. It has the luxury we had become accustomed to but their self-catering deluxe suites offered you the independence and space we needed. As most parents know eating out becomes a very difficult task as you need to juggle bedtime and daren't muck up those months of hard work.
South Point Antigua: Luxury Boutique Hotel
Location: English Harbour, St Johns, Antigua
Accommodation : Luxury serviced apartments
In advance of our arrival we let them know we were travelling with an infant and they said they would sort out the necessary sleeping arrangements. I was so delighted with the truly beautiful cot that we found in our suite. A real design piece of furniture that made us feel very welcomed and accommodated and really as though this was our home for the duration of our stay.
We stayed in one of the waterfront suites, which was amazing. Waking up every day with the sun shining and to look out onto the marina with the super yachts facing you were a very welcomed view and a great contrast to Shoreditch, London!
Each suite comes with a state of the art fully equipped kitchen and open plan lounge area. You can open up the terrace doors and enjoy a spot of alfresco dining – great for pretending you are out in the evening post 6pm! The self-catering option is a perfect choice for families as if you're like us it's easier to enjoy your evening meal in the comfort of your own home and not have to worry about disrupting little one's bedtime routine. Also enjoying a glass of wine on the terrace is not something to take lightly. The view in the evening is truly spectacular with just the lights from the boats to light up the pitch black sky and the faint noise of music from the restaurant and also nature is something to really savour and says 'I'm on holiday' and leads to a very restful nights sleep (baby permitting of course!).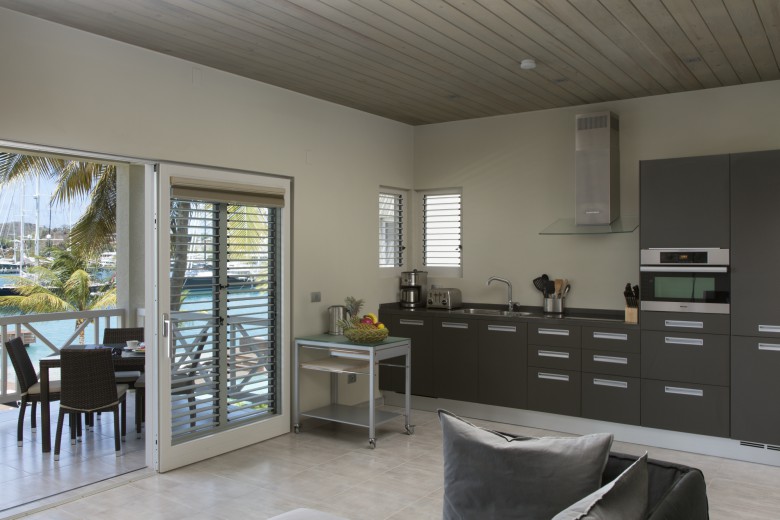 Food & Dining:
The suites at South Point are self-catering but they do also include complimentary breakfast in the restaurant. Again a great start to the day to enjoy breakfast on their restaurant which lies over the marina and offers scenic sights of the sea and mountains in the distance. Breakfast is the typical eggs, pastry, toast combinations you'd expect but both presentation and taste was anything but typical. Also the size of the omelette I ordered meant that often come lunch time I was still too full to eat anything else – that didn't stop me trying, it is holiday after all!
We did manage one evening meal in the South Point restaurant and again the food was amazing. I can recommend their seafood risotto! Plus what's a holiday without a cocktail – this seemed to turn up in one of those comical wine glasses that claim they can fit a whole bottle in them! Not something I was complaining about and enjoyed every sip. We loved the al fresco dining experience and the cool sea breeze in the evening swept through the restaurant mixed with the soft music created a fanciful experience.


Pool & Beach:
In front of the suites is the hotel pool, which is nestled at the edge of the water, and a pier extends from it into the marina. To the side of the pool are two small patches of private beach complete with sun loungers and umbrella's offering much needed shade for children. This was a great way to experience the beach with a baby as you're still close to all facilities you need but can enjoy babies first dip into the ocean and toes in the sand.


For some grown up fun, on the beach they offer free use of their stand up paddle boards and kayaks which allows you to get up very close to those mega yachts or if you are feeling active a trip to the beautiful pigeon beach further along the coast line.
Tips:
The location of the hotel was perfect as it meant that should we feel adventurous and fancied a walk (stroller in tow) then Nelson's Dockyard was less than 10 mins away. A cultural heritage site and marina that makes for great pictures for the family album. We enjoyed some lunch at Pillars Restaurant in the historic Admiral's Inn, a beautiful spot to sit and enjoy the comings and goings of people and boats.
Also Pigeon Point Beach is less than a 10min walk away. This is very family friendly offering a restaurant, baby changing facilities, a playground and bathrooms. For the more adventurous, you can also partake in snorkelling at this beach.
Definitely take the time to walk around the marina as seeing the boats from a distance is one thing but seeing the up close and personal truly is something else. They are absolutely huge and incredible to look at, when you're impressed by even the speedboats that ferry the passenger's to/from the yachts it says something!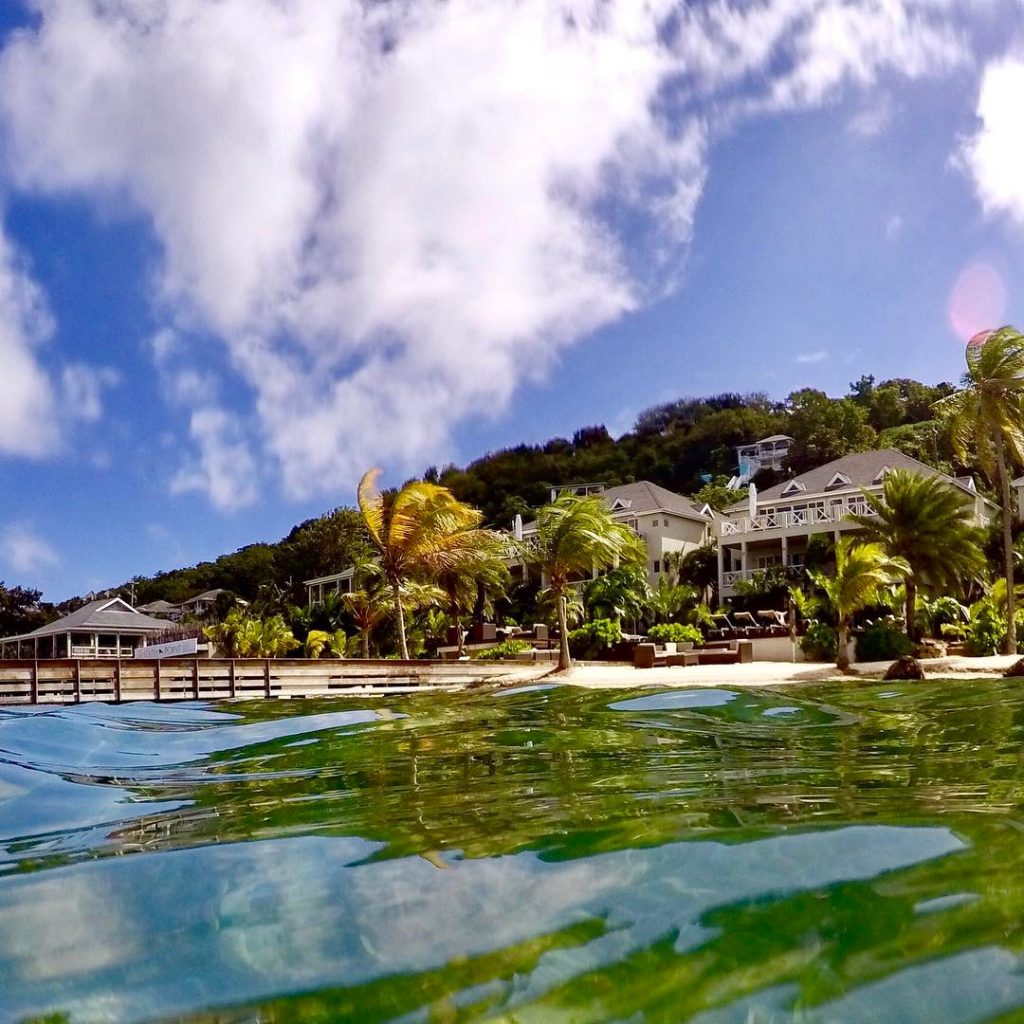 Overall I would thoroughly recommend South Point to anyone travelling to and looking for a great boutique hotel in Antigua. A gem of a find in the English Harbour. I also have to mention that the staff were absolutely fantastic. Nothing was too much and they all loved our little girl. Sometimes you worry about staying in luxury hotels that babies are not welcome, well more could not be said about the opposite. They were all coming up asking for a cuddle and telling us about their kids. We were left with the impression that not only were the staff colleagues but all friends as their happy demeanour was infectious and wherever you were in the grounds you were always met with a smile and a good morning/afternoon/evening.
Still looking for inspiration, then checkout this blog post about south point antigua