Ah, the humble barbed wire, an unexpected yet prevalent feature in today's tattoo scene. This isn't just your average farm-fence adornment – there's a provocative narrative that comes with it, a story inked into the skin of the bearer, creating a testament of resilience, liberation, or guarded vulnerability.
I recall chatting with Jake, a punk rock enthusiast with a sleeve of barbed wire encircling his bicep. Under the pulsating lights of a local rock concert, he traced the twists and turns of the barbed design, a silent tribute to the rebellious anthems of his youth. Jake's tattoo harked back to the heyday of counterculture movements, symbolizing a refusal to be confined or conformed.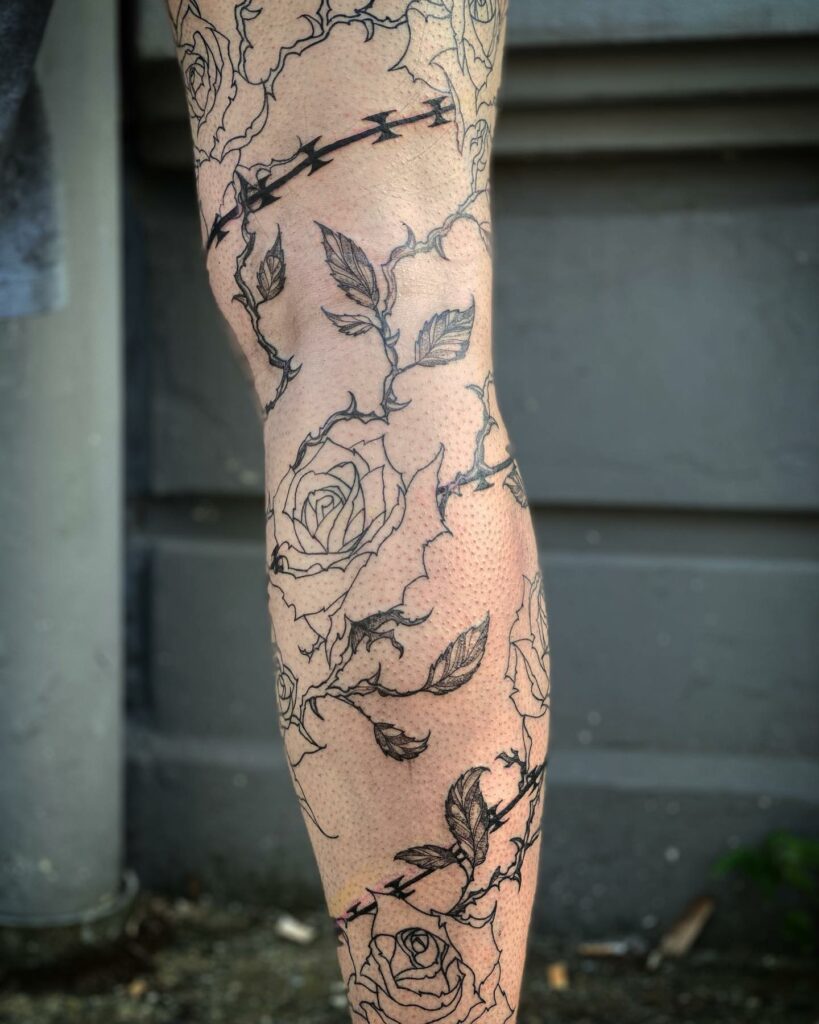 Barbed wire tattoos, interestingly, also have roots entrenched deep within the prison walls. Each prickly spike inked onto the skin denoted a year spent behind bars – a covert communication among those familiar with the harsh realities of incarceration. Let's remember Mike, a former inmate who now mentors at-risk youth. His barbed wire tattoo acts as a poignant reminder of his past and a bridge to those he aids today.
Modern interpretations of this tattoo have expanded, much like the intricate designs it often accompanies. It's not uncommon to see barbed wire paired with vibrant motifs, transforming it into an eye-catching accessory of personal expression.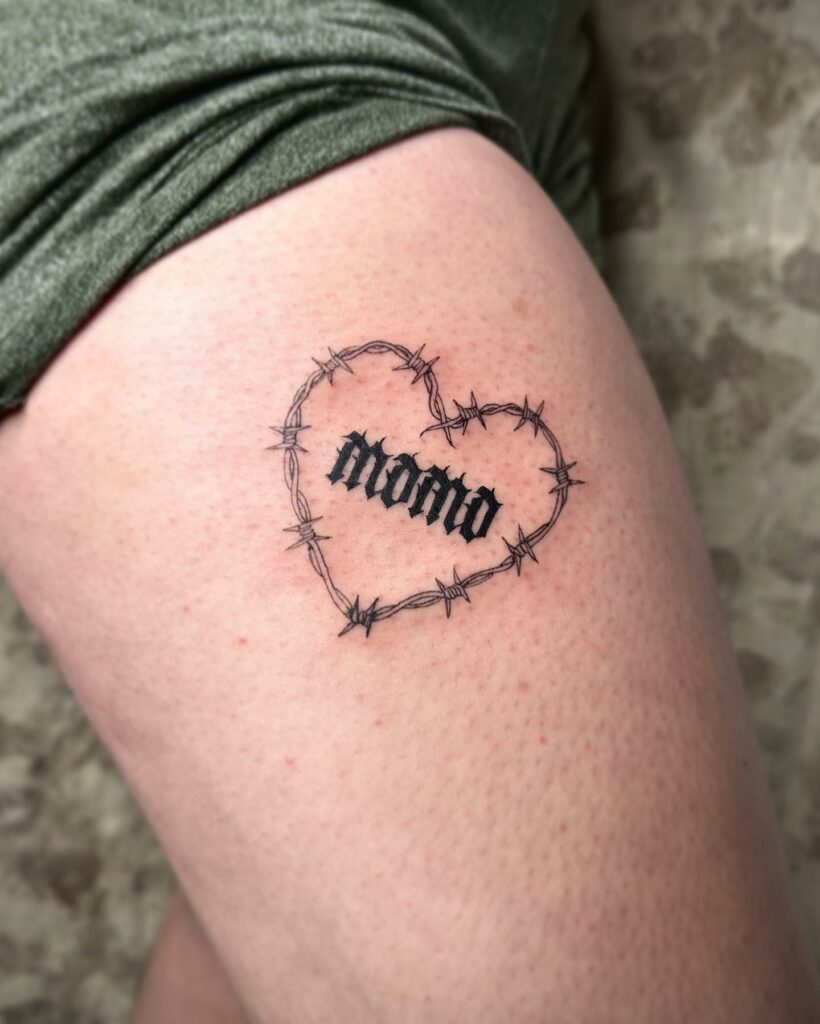 Among the newly minted adults in our society, this tattoo serves as a symbolic rite of passage. They see it as a testament to their newfound independence, a proclamation of liberation from parental confines. And then there's the introverted bearers, like my friend Lily, who chose a delicate wrist tattoo of barbed wire to assertively signify her guarded privacy, a line that should not be crossed lightly.
When it comes to the gents, barbed wire tattoos often depict a fierce desire for independence. They indicate a man unwilling to dance to anyone else's tune, a flag of personal sovereignty. Yet, contrastingly, some men pair the harsh wire with delicate flowers, revealing an interior softness beneath their hardened exterior. I know of one, Thomas, who sports a skull entwined in barbed wire, a poignant tribute to a departed friend.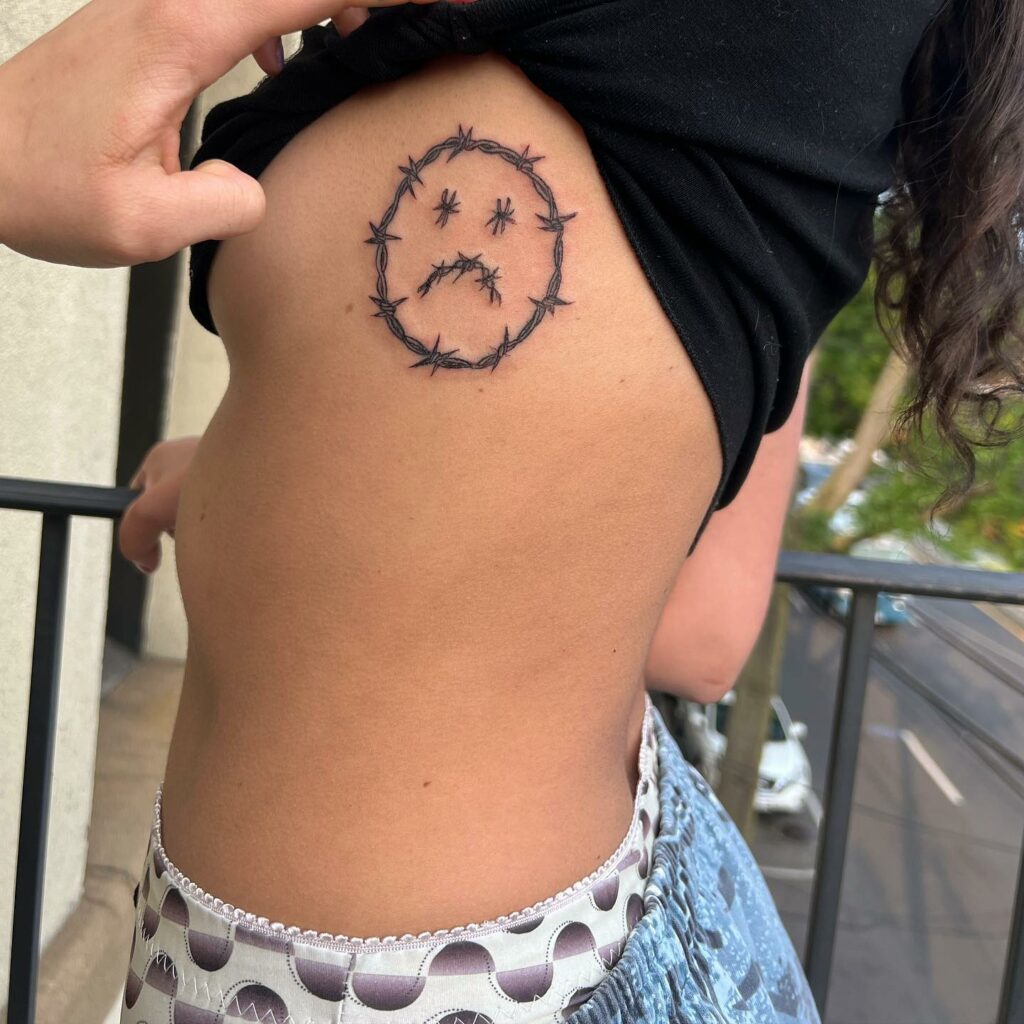 For the ladies, a barbed wire tattoo is an emblem of fearless freedom and defiance against societal constraints. Independent, self-assured women often wear these symbols as a testament to their strength. Some choose to couple the thorny design with a rose, signifying a pure heart within a fiercely protected exterior. A young woman I once met, Elena, had a unique rendition – a bird navigating through barbed wire, symbolizing the journey and obstacles she faced in pursuing her dreams.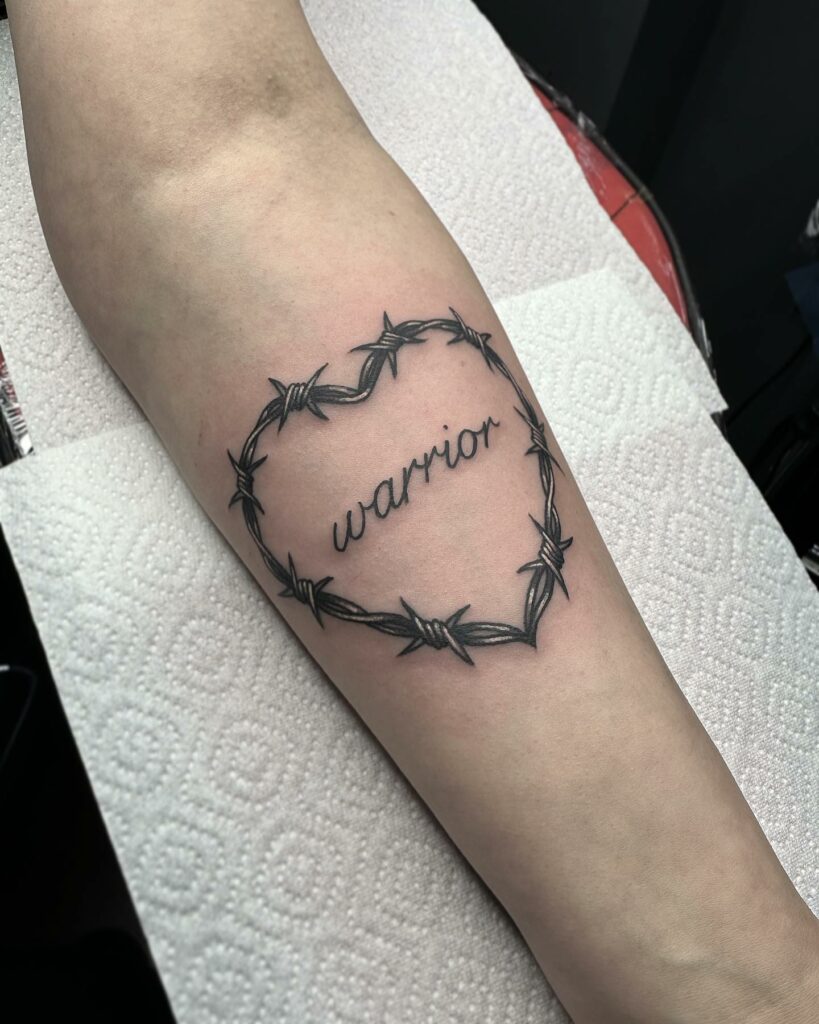 In essence, the barbed wire tattoo is a symbol as versatile as its wearer – a paradoxical blend of resilience and fragility, freedom and confinement, rebellion and conformity. As always in the realm of body art, the meaning is as unique as the skin it adorns.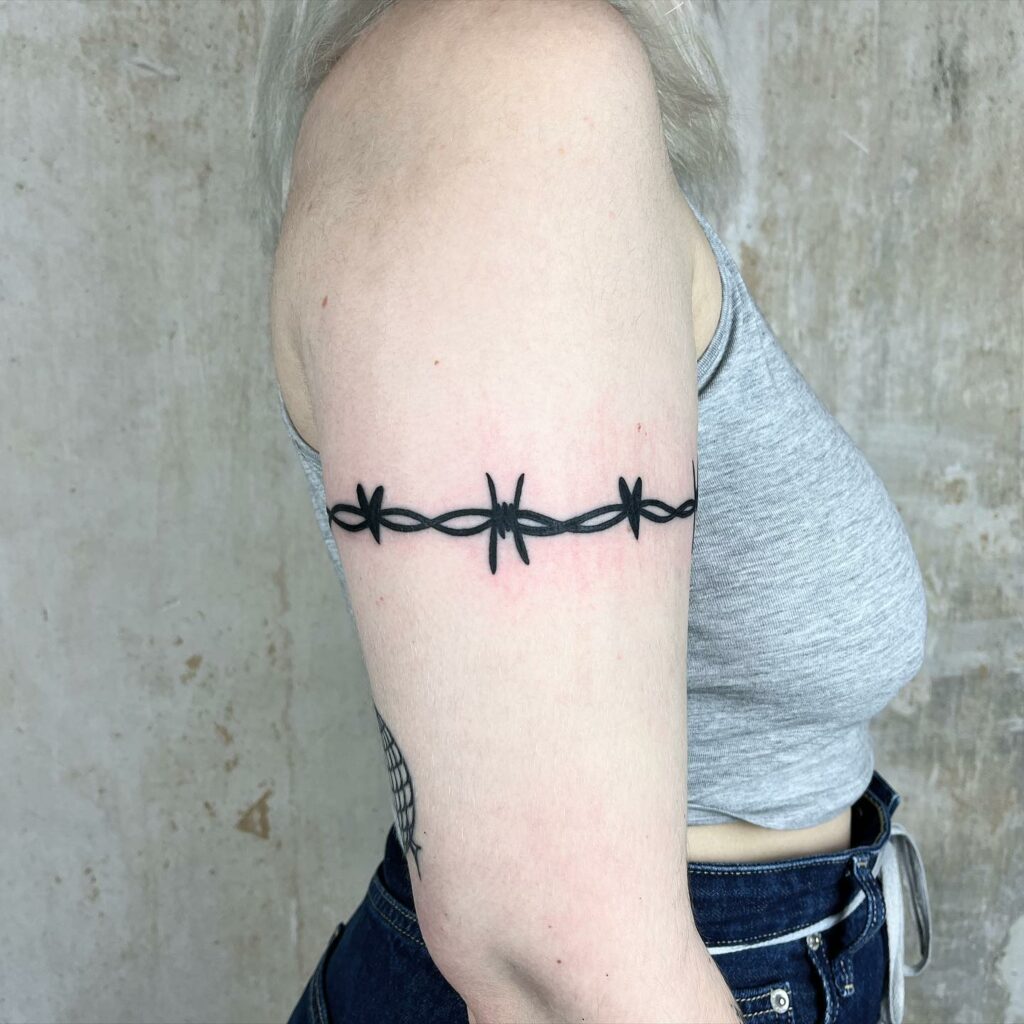 Barbed Wire Tattoo Designs
In the grand tapestry of tattoo artistry, the barbed wire, with its seemingly raw simplicity, spins a tale that resonates with each individual uniquely. Let's unravel this enigma and delve into the heartfelt stories that find their expression in these intricate designs.
Barbed Wire Heart Tattoo
A noteworthy archetype in this genre is the barbed wire heart tattoo. Consider the story of Isabel, a woman who had her heart encircled with barbed wire from which crimson droplets fell. This poignant image reflected a painful tale of unrequited love and betrayal. On the other end of the emotional spectrum, we find couples like Jon and Carol, who had twin hearts entwined with barbed wire inked on their bodies – a testament to their steadfast relationship and a symbolic shield against prying, envious eyes.
Perhaps one of the most profound examples of this tattoo is the heart engulfed in flames, entwined with a barbed wire crown of thorns. In such a vivid rendition, the wearer often conveys a deep empathy and love for humanity. It speaks of a compassionate soul, echoing the virtues of mercy and forgiveness in an often harsh world.
Barbed wire butterfly tattoo
Another striking design is the barbed wire butterfly tattoo. Ponder upon Lily's story – a woman who saw her transformation from a shy caterpillar into a vibrant butterfly through life's trials and tribulations encapsulated within the barbed wire butterfly on her back. It's a subtle yet powerful nod to resilience and personal growth despite life's adversities.
Barbed wire rose tattoo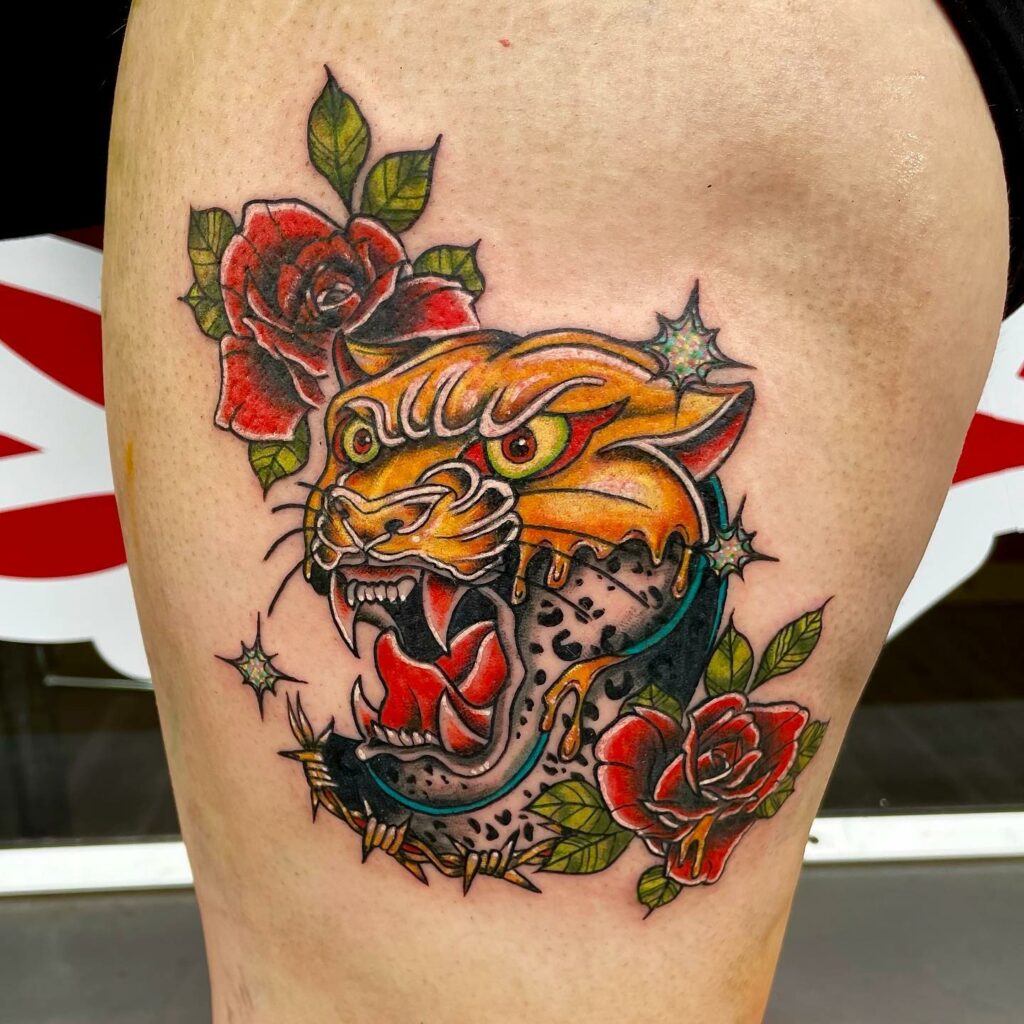 Now, who can ignore the timeless charm of the barbed wire rose tattoo? The rose, with its layered symbolism of love, beauty, and even mortality, when juxtaposed with the harsh reality of the barbed wire, can convey a myriad of meanings. This ink artistry could illustrate a person's resilience, like in the case of David, a reformed man who bore the mark of a rose piercing through barbed wire, symbolizing his transformative journey from a troubled youth to a beacon of positivity.
Barbed wire arm tattoo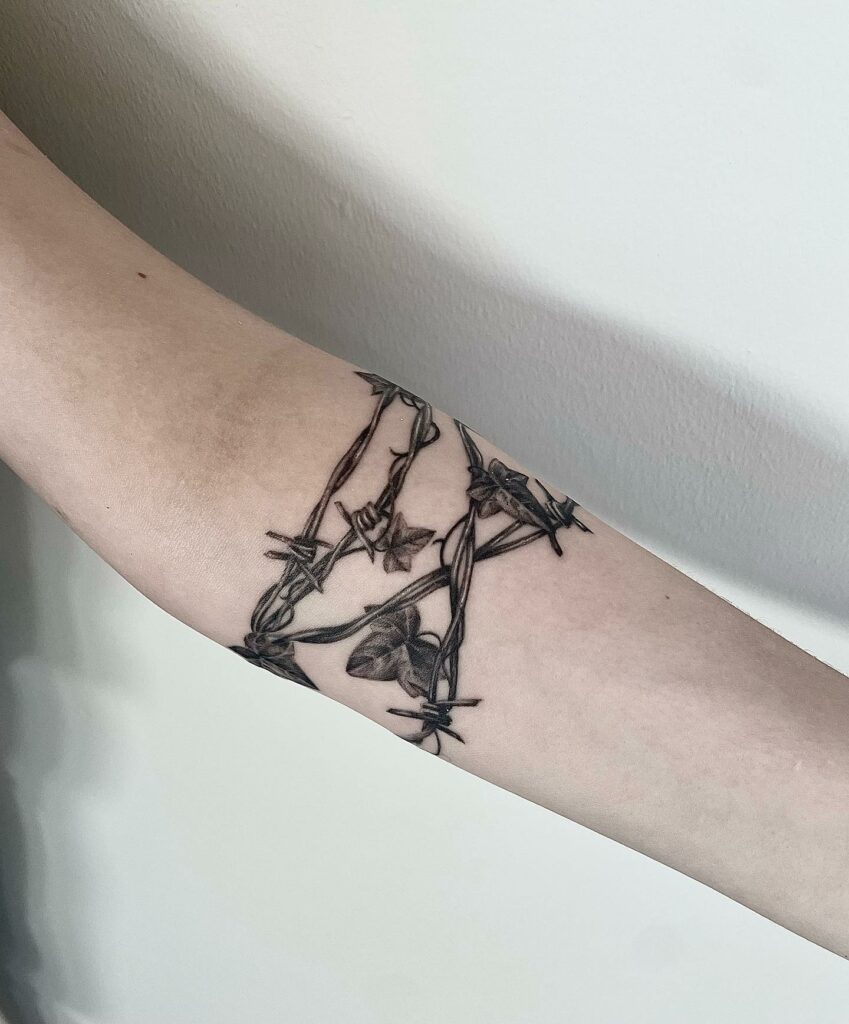 Barbed wire arm tattoos, whether on the biceps or the wrist, are versatile and popular among both genders. Military men like Sergeant Rodriguez often pair barbed wire with emblems of national pride, a constant reminder of service and duty.
Barbed wire On Wrist Tattoo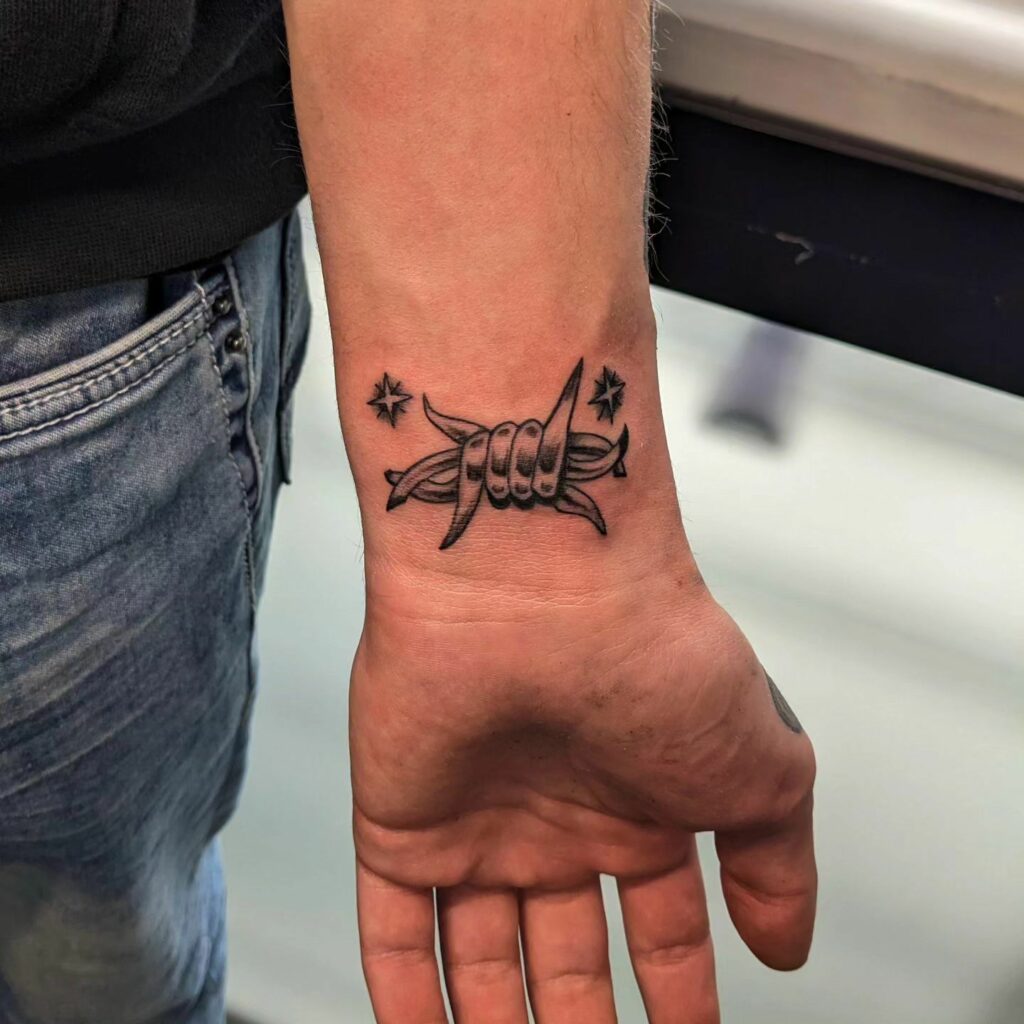 For others, it can represent deep-seated faith. A strip of barbed wire around the biceps or wrist can symbolize the crown of thorns donned by Jesus, serving as a daily reminder of the spiritual journey and the trials endured by their savior.
Barbed wire neck tattoo
Lastly, let's glance at the barbed wire neck tattoo. One of my acquaintances, Marcus, sported this distinct piece, symbolizing his break from past inhibitions, illustrated by the snapping wires. Others might use it to articulate their fear of mortality or a poignant reminder of a shackled past they've escaped.
Each barbed wire tattoo, regardless of its specific design, is a compelling narrative etched on the canvas of human skin. It's a dynamic fusion of personal experiences and universal symbolism that allows us to share, empathize, and learn from each other's journeys. So, the next time you encounter a barbed wire tattoo, remember – there's always more than what meets the eye.
History Of Barbed Wire Tattoos
The roots of barbed wire tattoos are largely intertwined with the criminal and prison subculture. Historically, these tattoos were worn by inmates to signify their time spent behind bars – each barb representing a year served. It was a language coded in ink, an unspoken bond that unified convicts and symbolized their time 'paid to society'. The heavy connotations of restriction, struggle, and resilience that defined these early tattoos still echo in modern renditions.
In the latter part of the 20th century, barbed wire tattoos began to seep into the mainstream, largely credited to popular culture. Movies, television shows, and even high-profile celebrities, like Pamela Anderson, sporting a barbed wire armband in the movie "Barb Wire," played a significant role in catapulting this design into the limelight.
Subcultures, too, embraced this tattoo motif. The Punk and Goth movements adopted the barbed wire tattoo, attributing it to themes of rebellion, non-conformity, and defiance against societal norms.
Simultaneously, it started resonating with military personnel and veterans as a symbol of their service and the trials they faced. Interestingly, it also found a spiritual dimension, especially among the Christian community, where the barbed wire tattoo represented the crown of thorns worn by Jesus.
As tattoos became more widely accepted, the meaning of the barbed wire began to diversify, reflecting the evolving dynamics of society and individualism. Today, it can symbolize a plethora of meanings – struggle, survival, freedom, resilience, transformation, and more – each nuanced by the wearer's personal experiences and interpretations.
Through the tides of time and culture, barbed wire tattoos have transcended their origins, becoming a versatile symbol that reflects the multi-faceted narratives of human life. It's a testament to the fact that in tattoo artistry, like in life, meanings are not static, but evolve, much like the stories they embody.
Conclusion
In the wide panorama of tattoo art, the humble barbed wire holds a unique, symbolic position, blending stark contrast and personal narratives into a poignant visual testimony. It's a testament to the resilience, defiance, and complexity that life unfurls, and, like every great story, it deserves the perfect setting. Be it the bicep, wrist, or neck, the placement of your tattoo should resonate with your personal comfort and aesthetic sense, keeping in mind professional and societal considerations.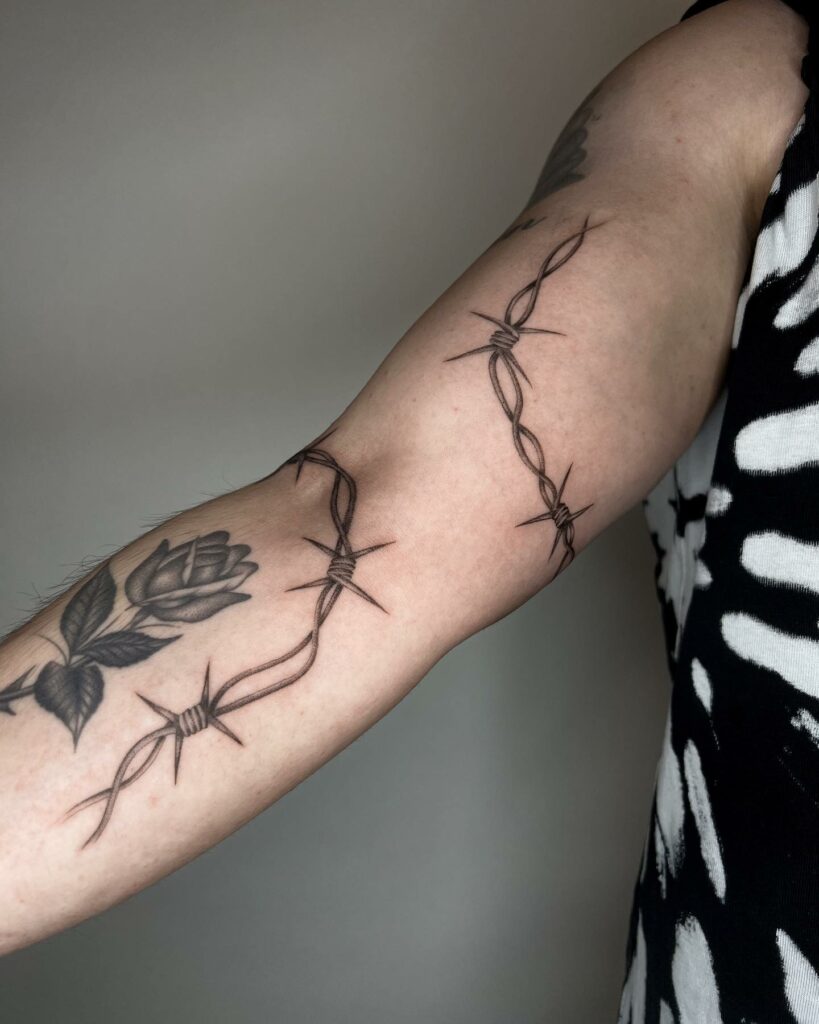 As for the cost, the price range can vary widely, depending on the complexity of the design, the reputation and skill of the artist, and your geographical location. It could range anywhere from $100 for a basic design, upwards to several hundreds for intricate or larger pieces.
However, while the allure of these meaningful tattoos is undeniable, it's essential to be aware of the potential pitfalls. Ensure you approach a licensed and reputable artist to minimize the risk of infection or poorly done artwork. Allergic reactions to certain ink types are also possible, so it's recommended to discuss any allergies with your tattoo artist.
Remember, tattoos are an enduring testament to our life's journey, so give it the thought and respect it deserves. After all, the story you're about to ink is as beautiful and complex as the barbed wire tattoo you choose.