Butterfly tattoos are the go-to tattoos for anyone who want to get inked for the first time. Check out the beautiful butterfly tattoos inspirations below!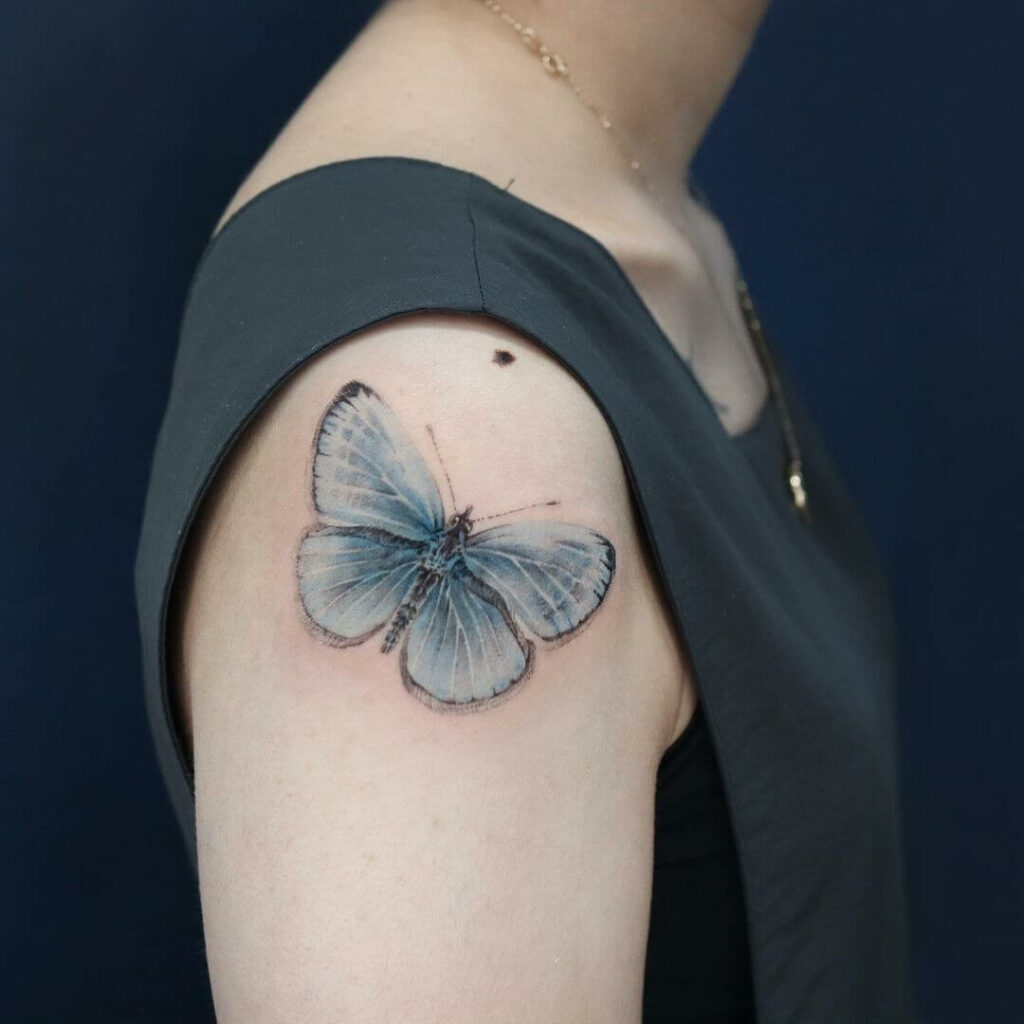 Although common, butterfly tattoos can be in all shapes, sizes and colours and have different and remarkable meanings.
A butterfly is known for its bright coloured, magnificent wings and can signify a lot of different, beautiful meanings. A butterfly tattoo can indicate comfort, transformation, freedom, positivity and good luck among other things.
A butterfly goes through the metamorphosis where the caterpillar slowly grows wings and turns into a butterfly, that symbolizes the powerful significance and journey of life. Every person can interpret the symbol of butterfly according to what they are experiencing in their life. The blue and black butterfly are the largest butterfly species and are gaining more and more popularity. They have become the favourite of many tattoo artists as well as clients. A black and blue butterfly tattoo is the perfect way to start your tattoo journey.
The Butterfly Effect
This beautiful blue butterfly tattoo is the one to beat for all the tattoo lovers out there. The strokes in the tattoo are thick on the outside and fine lines on the inside. The colour scheme of this butterfly tattoo is amazing. There are two different shades of blue nicely blended together. Not only this, there are little stars and planets to give it a magnificent effect of space. This type of body art is quite famous among people who are looking to ink something that will show the symbolism between life and the universe. There is no specification as to where you should get the tattoo, or what your skin colour should be, it is a great choice no matter what!
The One With Two Butterflies
This is a very pretty and not an over the top design. It may have a different meaning for the person who made the tattoo but it sure gives the sense of calm. It is composed of realistic colors of different shades of blue and white. It has a black outline which makes it a neat and clear design. To give it a more realistic look, there are little white spots on the wings of the insect just like in a monarch butterfly! The wings of the butterfly on the bottom are not equal in size which shows that it is flying. A flying butterfly symbolizes freedom. If you are looking to create something delicate yet unique, this is the look to go for!
The Morphinae
A beautiful black butterfly tattoo with a splash of blue and a sprinkle of other colors. Doesn't this one look magical? This beautiful tattoo design is based on the blue morpho butterfly that inhabits Central and South America. It has a very beautiful deep meaning to it, it signifies that the life is in our hands and we are the ones who decide what we do with it. It can also represent new beginnings. This tattoo artist makes sure to give a little mystical and magical look to it. It reminds you of the beautiful butterflies that used to appear in Disney movies. If you want to ink something that will show that you are starting afresh, this tattoo is the one for you!
The One With The Shadow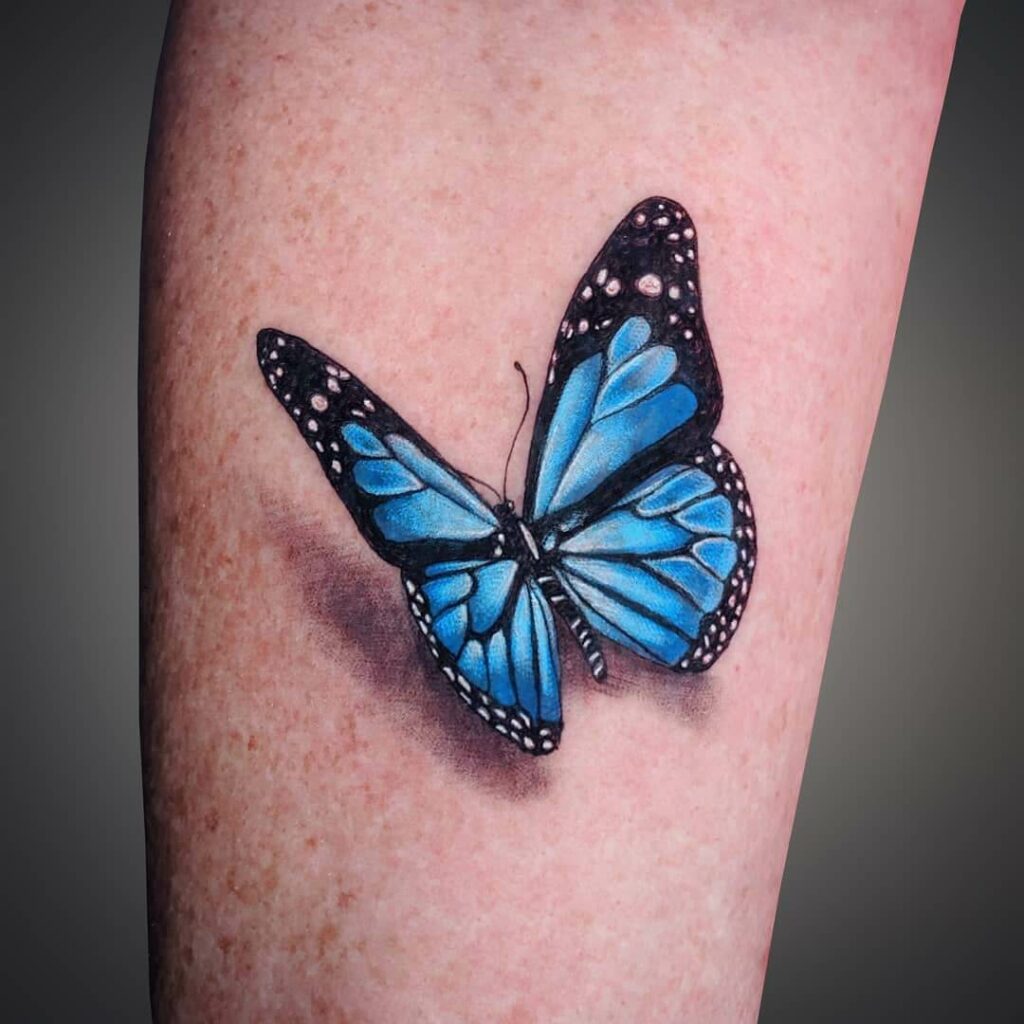 This tattoo design is unique in its own way. It is very similar to the monarch butterfly that is black with splashes of blue in its wings. This tattoo has a very realistic look. The blue butterflies are considered the symbol of love. Blue is a fresh and calming colour and because of the color, blue butterflies send us vibes of love, joy and happiness. It can be a reminder of maintaining peace in your life. Blue is a color that looks good on every skin color and still looks amazing. If you look carefully, there is a little shadow under the butterfly that shows that it is perched on the skin and ready to fly!
The Simplistic Butterfly
This is the most minimalistic design that you can find. the tattoo has 3 little butterflies with black outline and a little bit of blue in them. This tattoo does not require much commitment, so if you are starting out, this is a great way to do it. The 3 butterflies are flying around and that symbolizes freedom. Many people like to get this tattoo close to their heart, on their chest, their wrist, shoulder, behind the ear or near the ankle. Those areas have enough space to place the small butterfly tattoos separately and the look that it gives is a beauty in itself.
The Tiny Butterfly
This is a beautiful design is a very simplistic design of a butterfly. It's a small butterfly tattoo and does not require a lot of space to fit it. It is small and cute and is filled with a bright blue color. This is a butterfly design is similar to the blue morpho butterfly. It usually signifies good fortune and bliss in life. You can make changes in this tattoo according to your taste. You can add a little blue flowers around it. Since it is a small butterfly tattoo, you can get it inked on your thumb or collar bone or even behind your ear without much commitment. It is chic and adorable!
The Magical Butterfly
This is a beautiful black butterfly tattoo that has a magical effect. It could be interpreted as the same butterfly flying or it could be 3 different butterflies. If you look carefully, this design is very intricate and all black. The strokes are in fine lines and there is no colour in them. However, you can make the required change in the tattoo, if you want it to be filled with colour. The butterflies are also surrounded by blue sparkles which can be omitted or you can replace them with flowers or object of your choice. A flying butterfly tattoo implies that freedom and the beginning of a new life. This could be a great way to bring about any change that you are going to bring in your life.
A Butterfly In The Garden
What a beautiful tattoo, isn't it? This is one of the best blue butterfly tattoo designs there is. The butterfly that is similar to a monarch butterfly has placed a garden between flowers. Now, this is not a very traditional design, it has a deep meaning to it. You will notice that the flowers are colourless and the only colour there is, is in the butterfly. This could signify the passing of someone beloved. The beauty of this tattoo does lie in the eyes of the beholder because anyone can perceive it in the way they want to. This could be a great way to dedicate a tattoo to a loved one in tough times.
The Blue Butterfly
This tattoo is a little bold compared to the other ones. It is not just outlines of black or splashes of blue, this one is a fully coloured tattoo. This is actually very similar to the orange butterfly tattoo that Mariah Carey has on her back. Up until now, you must have understood the significance each type of blue butterfly tattoo can have, this one is no different. The artist has filled it with bright colours. The wings of the butterfly are dark blue, almost black on the outside and go on to become light blue towards the inside. The wings have intricate strokes of black within them which gives it a very realistic look. You can get this tattoo inked in various shapes and sizes according to your choice and have a wonderful start to your tattoo journey!
The Perfect Butterfly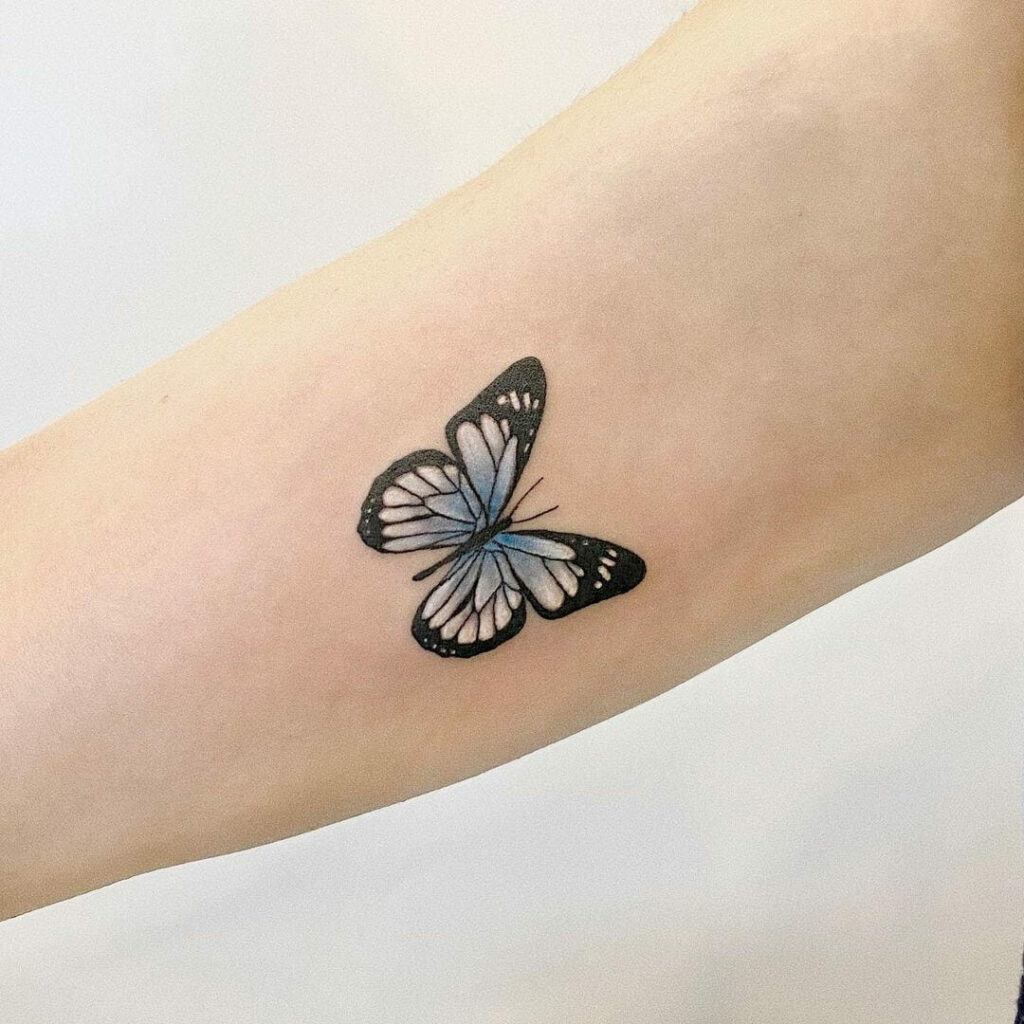 This tattoo is not like the rest of the traditional blue butterfly tattoos. This one has a little bit of white in it. A white butterfly tattoo is the symbol of purity, salvation and good fortune. It provides a sense of calm in a person. This tattoo can vary in size. You can pair this butterfly tattoo with a flower or two and give it a new beautiful meaning. If you look carefully, the artist has added a little shine to the tattoo to make it look more life-like and magnificent. A butterfly tattoo with a beautiful meaning is maybe what you need right now!
When it comes to butterfly tattoos, each and every one has a significant meaning and the meaning changes with the colour of the butterfly. They could be used to commemorate special or significant events in your life that hold special meaning to you. The symbolism of a blue butterfly tattoo is rich in eastern cultures and values and the beauty of the design is such that all you can do is marvel at it. When it comes to making a tattoo, be it first or one of many, a blue butterfly tattoo is something that you should definitely try!
Feature image from Pinterest – Want your tattoo to look brighter? Try "Tattoo Balm"