Looking for beautiful full sleeve tattoo designs but can't find them anywhere? Here's the list of the best full sleeve tattoos for women for you. Check it out!
Sleeve tattoos are those, that has a single theme running through the whole piece of work; whereas a normal arm covered with many different styles of tattoos without any interconnected theme is not a sleeve tattoo.
A full sleeve tattoo is a single or a cluster of tattoos, which cover your entire arm from the shoulder to the wrist. There are also other types of sleeve tattoos, like half-sleeve tattoos and quarter sleeve tattoos, which only covers half and/or part of the arm.
Sleeve tattoos are usually a collaboration between the tattoo artist and the customer to come up with a personal and unified artistic theme for the customer. It takes a lot of time and lots of appointments with the tattoo artist to come up with a design that expresses your deep feelings and innermost values through the tattoo artwork and designs. It takes an even bigger time period to actually get the tattoo done on the body in its entirety, it takes weeks to months to even years.
Beautiful Floral Full Sleeve Tattoos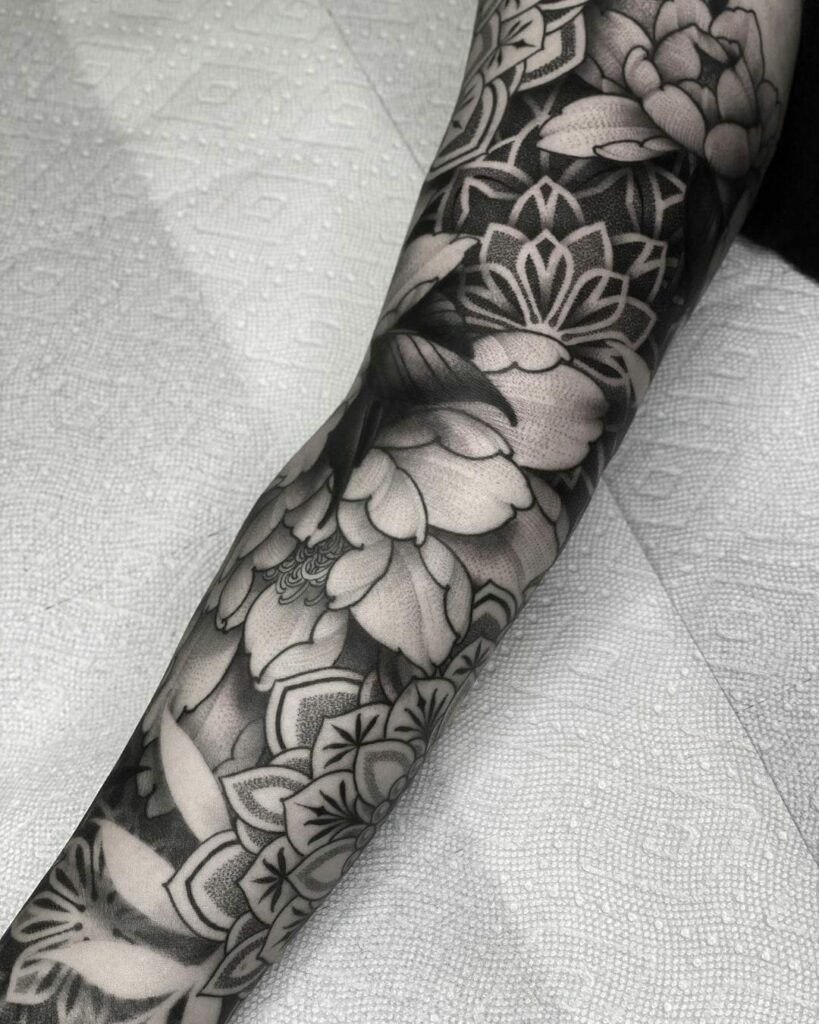 Flowers have always been an important symbol of natural beauty. Delicate and colourful floral tattoos often represent life, love, spirituality and femininity. In modern tattoo designs, flowers often represent the love between two people.
Floral sleeve tattoos look both feminine and sensuous on any womens' arms. They exude confidence and power. The tattoo artist has done this exceptionally beautiful tattoo in a beautiful black and white shading. There are various shapes and sizes and patterns of different flowers in the tattoo, all interlocking with each other and at the same time giving this tattoo as a whole, a nice woven flower-basket feels. If you want to tattoo your flowers in very vibrant and bright colours, then you check out this eye-catching tattoo as well.
Different types of flowers represent different kinds of things to different sorts of people. It depends on you, about what you want to show people through your floral full sleeve tattoo. You can choose a Gladiolus flower that symbolises strength or a red rose that represents love and passion.
Half Sleeve Tattoo Inspired By The Squid Game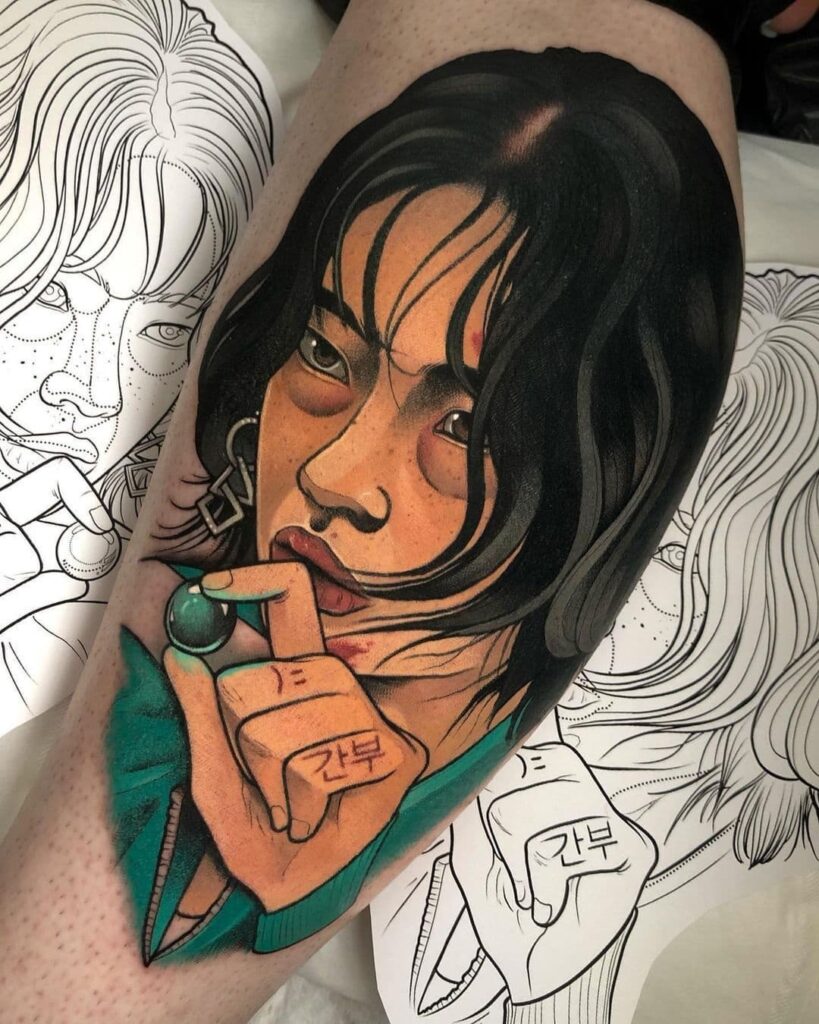 This massive Netflix hit series has inspired fans from all over the world. And, as a result, a lot of tattoo artists have come up with beautiful Squid Game inspired tattoos in the tattoo community also.
Squid Game was released on Netflix on September 17, 2021. It is a South Korean survival, thriller and horror drama TV series. The tattoo in the picture is of one of the main characters in the web series, Kang Sae‑Byeok, aka Player 067, played by the popular South Korean actress Jung Ho‑Yeon. The tattoo artist has used bright pastel colours to bring out the tattoo's rich 3D look.
You can also try other half sleeve tattoos of some other characters from the show, that you liked a lot, e.g. Seong Gi‑Hun, Player 456, played by Lee Jung‑Jae or Cho Sang‑Woo, Player 218, played by Park Hae‑Soo or Police Officer Hwang Jun‑Ho played by Wi Ha‑Joon. If you are not interested in the characters then you can tattoo the creepy doll from the first episode, or the guards with their head-masks. The possibilities are endless here, really. So, are you in or are you in?
Tribal Tattoos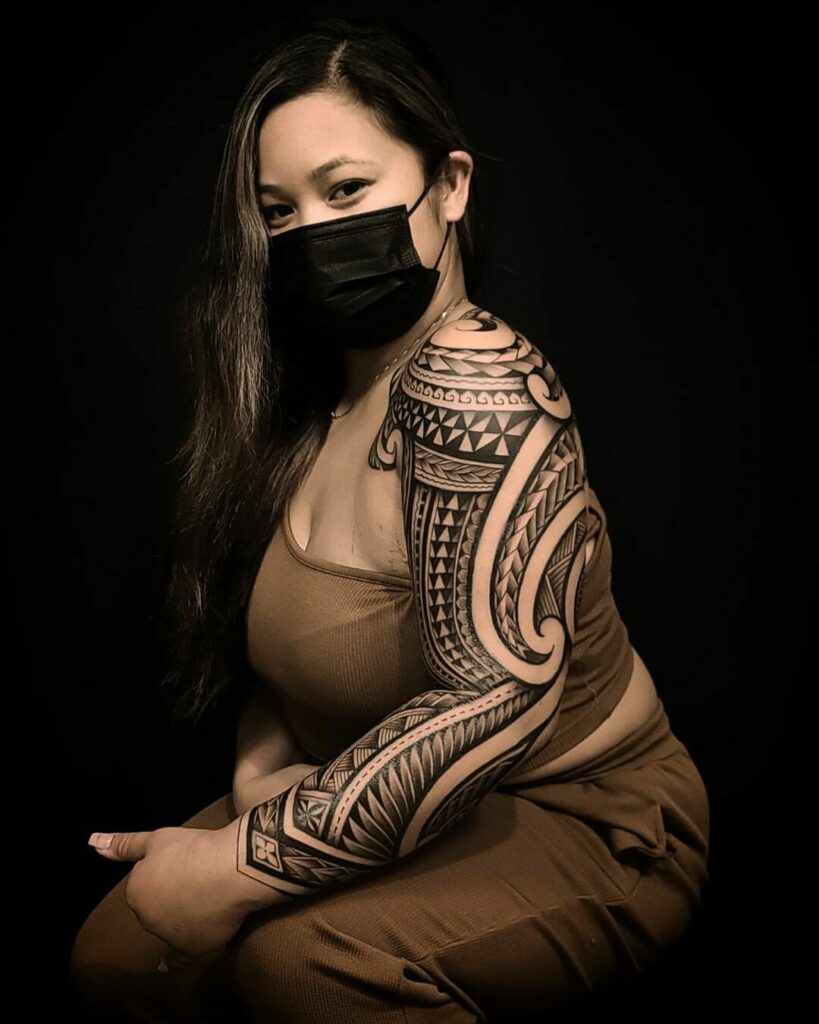 The meaning of tribal tattoos differs from culture to culture. Tribal tattoos of such kinds tell the story of the tattoo wearer's heritage and culture story. They can also be a symbol of protection, power, and strength to the person wearing them and to their families.
The tattoo in the above picture is of a Native American full sleeve tattoo with very intricate designs and patterns on the arm. The tattoo artist has only used the colour black to outline and then fill in and shade the whole tattoo. Tattoos of this scale can easily take up to two or more days of work for the artist to complete.
Though keep in mind, getting a Native American tattoo or any of the Native American symbolism like Indian headdress, dreamcatchers, and spiritual animals like eagle or bear, without actually belonging to the culture, heritage, and tradition is oftentimes considered to be offensive and disrespectful towards that culture.
A Beautiful Black And White Full Sleeve Tattoo On Gothic Surrealism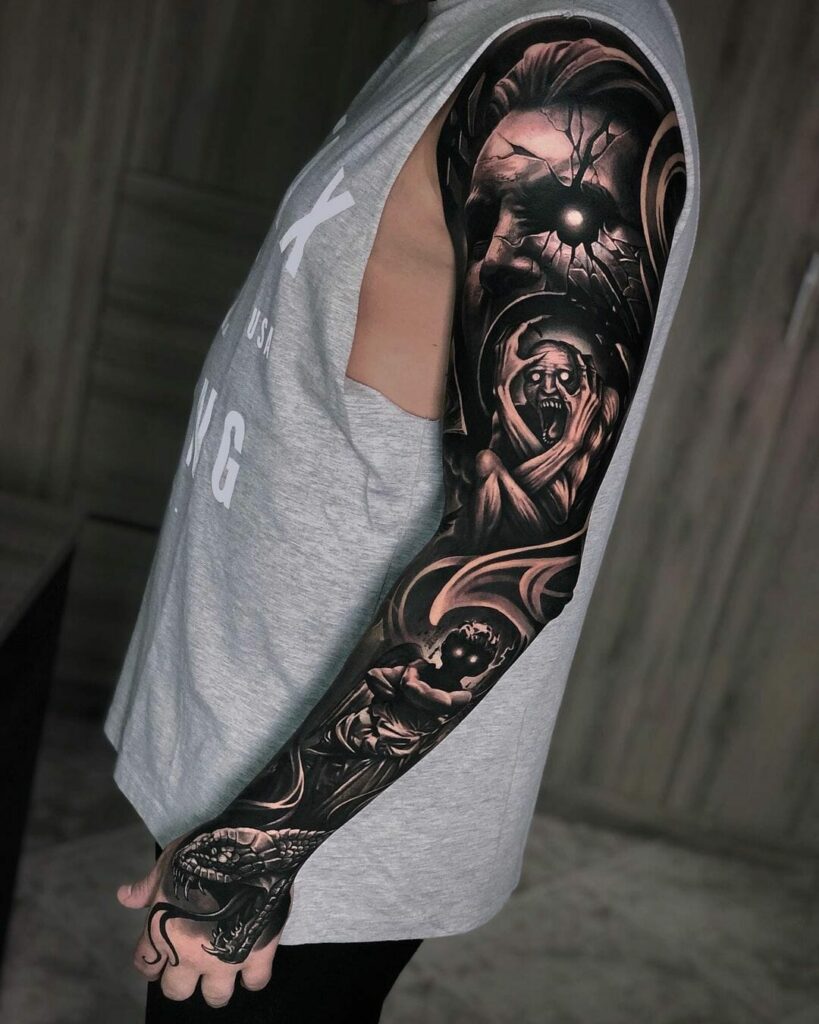 Skulls tattoos are a cult favourite among gothic tattoo lovers. These kinds of dark-themed gothic surrealism tattoos are very popular in gothic culture as well as in mainstream tattoo-works nowadays. Tattoos like devils, demons and fallen angels are some of the most common themes in these kinds of tattoo genres.
The tattoo in the picture depicts a cracked skull with light points in the eye socket at the very top, and then a howling demon screaming onto the dark night while cradling its head. Then there is a tattoo of a dark angel in at last the tattoo finishes off with a hissing snake with its forked tongue out ready to attack. This tattoo can be interpreted in various ways, for example, the individual elements in the tattoo can mean separate things to different individuals. But as a whole, the tattoo stands for the classic good versus evil storyline, or you can look at it along the protector vs destroyer theme.
His And Hers Couple Tattoo With Some Asian Mythological Twists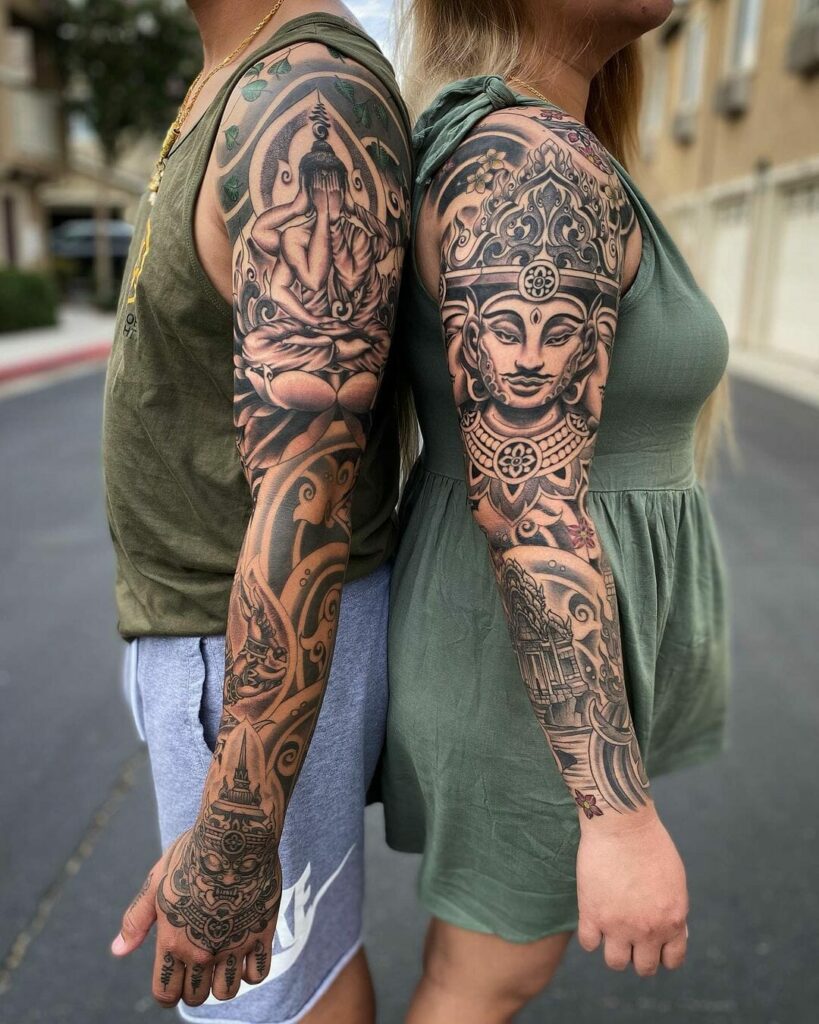 If you are looking for a matching sleeve tattoo to get for yourself and your partner, well look no more. This is a great tattoo to get together if you like spirituality themed tattoo designs.
Buddha is a God in the Buddhist religion and it is customary in that religion and culture to hang pictures of Buddha at the highest place in the house and treat it with respect.
The tattoo in the image depicts only the face of Buddha on the woman's arms and the whole body of him sitting on a lotus flower while meditating on the man's arms. The rest of the hands are covered with beautiful cityscape tattoos and interesting swirl-like patterns.
Bird Wings Sleeve Tattoo
Wing tattoos are very popular among women. Wing tattoos generally mean freedom, breaking away from your shackles, be it something physical, mental or emotional.
The tattoo in the picture depicts a bird wing that covers the whole arm, as well as the shoulder area and the chest area as well. The artist has drawn the bird's feathers very meticulously and with great detail. The primary colour black is used here with various types of light and dark shadings. If you want, you can add your own mix of colours to this design as well.
You can try the tattoo in other forms as well, like angel wing tattoos, fairy wing tattoos or other bird's wing tattoos like a peacock or kingfisher.
Webtoon And/or Manga Inspired Sleeve Tattoos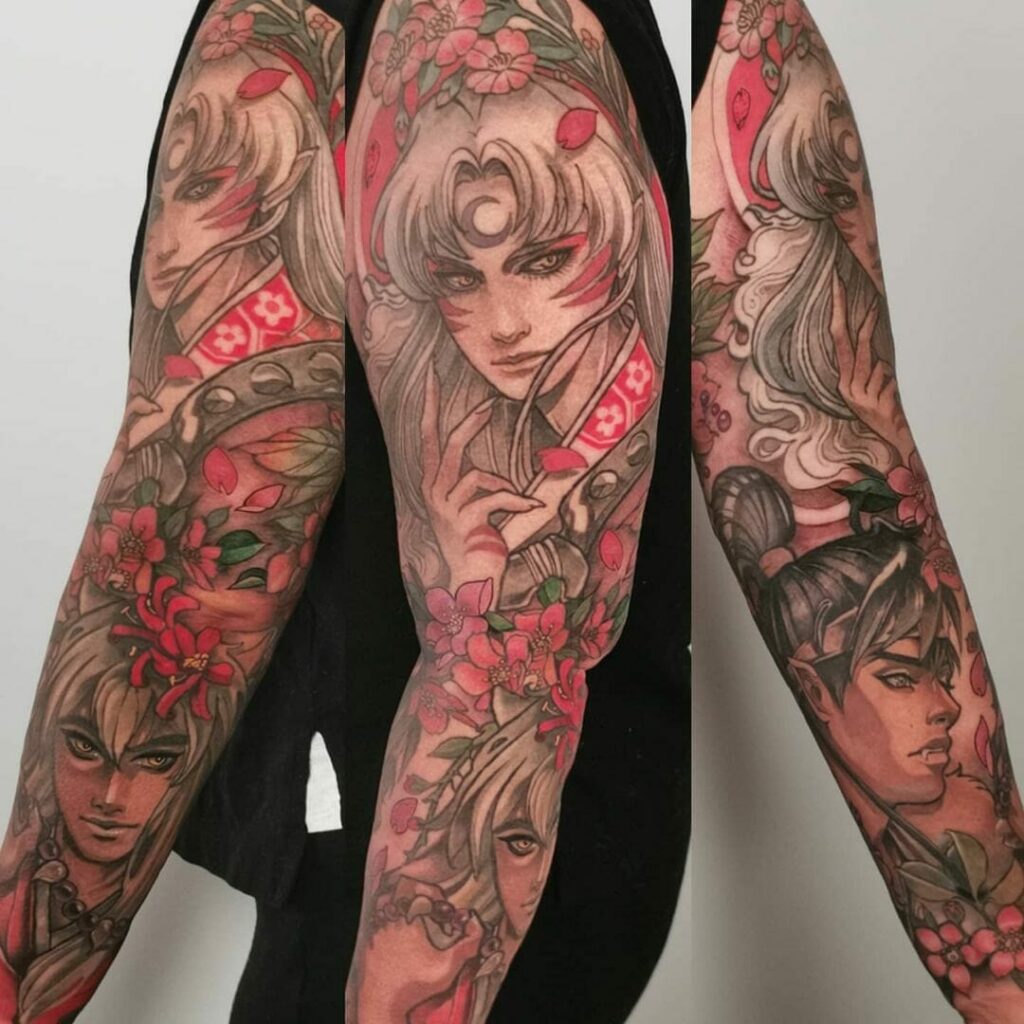 In this age of rising popularity of Korean movies, dramas, and songs, which is lovingly called "The Korean Wave" by fans; webtoon is another platform that has gotten very famous. This tattoo is inspired by manga which means comic book.
The artist has used bright, sensual pastel colours to draw out the beautiful faces of the characters within. This full sleeve tattoo features a lot of flowers drawn in-between the faces in bright pink and red colours.
Religious Sleeve Tattoo With Budha And Cobra
Buddha is the one who has attained Bodhi, which means wisdom. Buddha represents the idea of an enlightened being, a knower, a wise one. Religious sleeve tattoos of Buddha usually means love, devotion, peace, life and spirituality.
The tattoo depicts a meditating Buddha sitting on a lotus flower with his eyes closed, while a huge venomous snake has gone all around him and is getting ready to attack with its mouth open, and fangs at the ready. The tattoo has a deep meaning and symbolises concentration and focus. If you want something in life, then go for it no matter what. Do not look back or stumble, even though there is a huge snake (metaphor setback of distractions), just go for it and fight against all odds with your inner strength like Buddha.
Half Sleeve Tattoo Inspired By Japanese Surrealism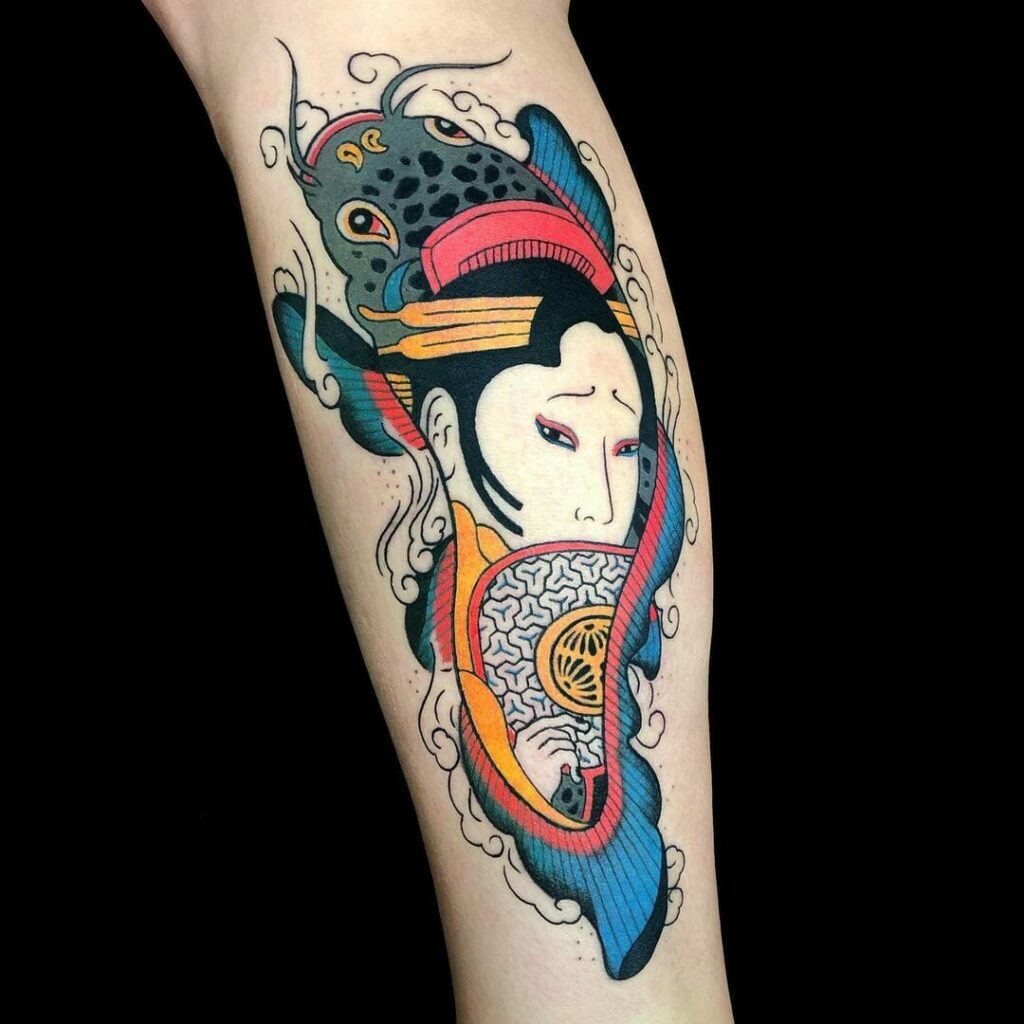 Japanese tattoos are one of the oldest tattoo styles in the world. Japanese tattoo artists can choose to keep the tattoos black and white or they can have beautiful bright colours on their designs. But one thing that's common for all Japanese tattoos is that it always has their subject matter rooted in Japanese heritage and culture.
The beautiful tattoo in the above picture is of a geisha, who are a class of female Japanese performing artists and entertainers trained in traditional Japanese performing arts styles, such as dance, music and singing, as well as being proficient conversationalists and hosts. Geisha tattoos are very popular in the Japanese tattoo genre.
Some other popular Japanese tattoos are Koi fish tattoos, dragon tattoos, samurai tattoos, and tiger tattoos.
Full Sleeve Tattoo With Depicting A Powerful Social Message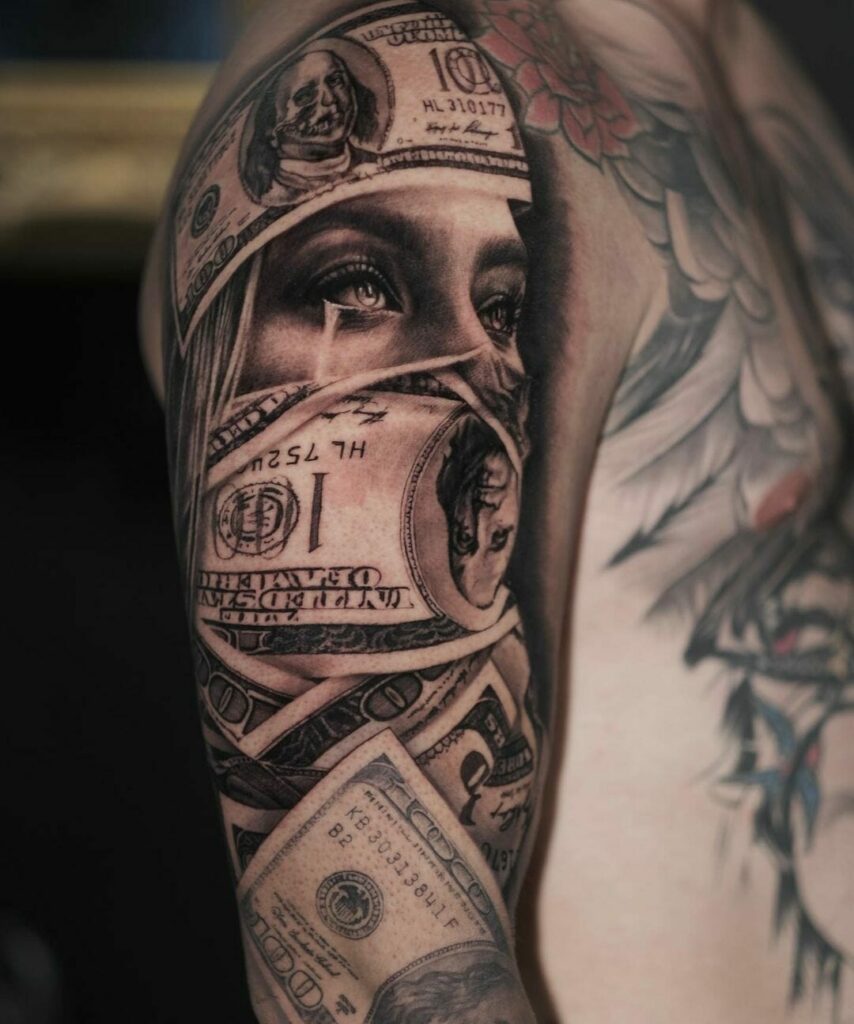 Tattoos have always been a source of standing up for yourself, what you believe in, your passion, values and feelings and things like that. By tattooing, something on your body that you truly believe in is the ultimate form of rebellion you can do. It is true that in this world in today's day and age, everything seems inequal and corrupt or just negative; but if you are one of those brave souls who more often than not likes to mess with authorities and the age-old corrupt world order, then these kinds of tattoos will impress you a lot.
Sleeve Tattoo Design For Women
The tattoo in the picture shows a woman completely surrounded by money, only her eyes and eyebrows are visible and she seems to be crying. The design has hauntingly kept her mouth shut and invisible with the cloak of money. It is like even if she wants to say something, she can not and hence the tears of silence. It powerfully depicts the daily struggles of women in this world and the amount of inequality they face. This tattoo can also be used to symbolise oppression, inequality, feminism, class differences and various other socially important messages.
Feature image from Pinterest – Want your tattoo to look brighter? Try "Tattoo Balm"
Last reviewed and updated on March 17, 2023