Thinking about getting a tattoo similar to your idol, Lady Gaga? We have a list of some fantastic Lady Gaga Tattoo ideas perfect for your next body art!
Since the beginning, even before becoming famous, Lady Gaga has been known for embracing her body with a lot of pride.
Lady Gaga, the pop artist or the queen of pop has had a great love for body art for a very long time. She has had many tattoos over the years, each meaning something different and personal to her.
She has had many tattoos on her body. Some pay tribute to her loved ones, some for her famous songs. She was 17 years of age when she got her first tattoo. The exciting thing about her tattoo is, that most of them are on the left side of her body. The reason behind this is her promise to her father. When she was getting her first tattoo, her father asked her to keep it on one side of her body, she chose the left side. Although most of them are on the left, she also has a few on the right. Over the years, she has gotten a total of 24 tattoos and seeing her unpredictable career and love for tattoos, we are sure that there are more tattoos coming.
We have created a list of her most known and prominent tattoos and the meaning they hold in the star's life. If you are looking to pay tribute to the artist, these bold and beautiful designs are the way to go! Check out the tattoos below and select your next body art.
La Vie En Rose
La Vie En Rose is probably Lady Gaga's most special tattoo. This tattoo is made on her back, along her spinal cord. She got the statue on her right before she was nominated for another Oscar for her role in a star is born. Not only is this tattoo a tribute to that movie, it is also what got her this role. This was the song that convinced Bradley Cooper, the director of a star is born that Lady Gaga would be perfect for the lead role of Ali. In the movie this is also the song that Gaga sings for Jackson name, which was Bradley Cooper's character, when they encounter each other for the first time. This is a sweet and simple rose tattoo made with fine line work in black ink. It has the words La Vie En Rose, written on either side of the rose.
Musical Notes Tattoo
The day that Lady Gaga got tattoo artist Daniel Winter to make her love you and Rose tattoo design, she also asked him to make a small musical note tattoo, which is placed on her right forearm. While making the initial design, Gaga made a small mistake which Winter quickly fixed later on, and now the musical notes spell out Gaga. There are also many rumours attached to this tattoo. Some fans had earlier notice that the notes in this design, spelled out by CBC, which were Bradley Coopers initials in bass Clef. Some rumors also suggested that this was a sign of her next upcoming album. Although she made this tattoo public by posting it on her Instagram page, she has not confirmed to any rumors.
Lady Gaga Trumpet Tattoo
Lady Gaga has a trumpet tattoo on her right bicep. To make this tattoo, Lady Gaga had to go against the promise that she made to her dad that she would stick to the left side of her body for all kinds of tattoos. She had once stated that the inspiration behind this amazing tattoo was the accomplished and famous painter and the musical legend Tony Bennett. Under the tattoo, you also see the small signature of Bennett.
This tattoo was made with fine strokes of black ink and some shading of black within the design. It is placed on the inside of her right bicep and it looks amazing.
Lady Gaga Dad Tattoo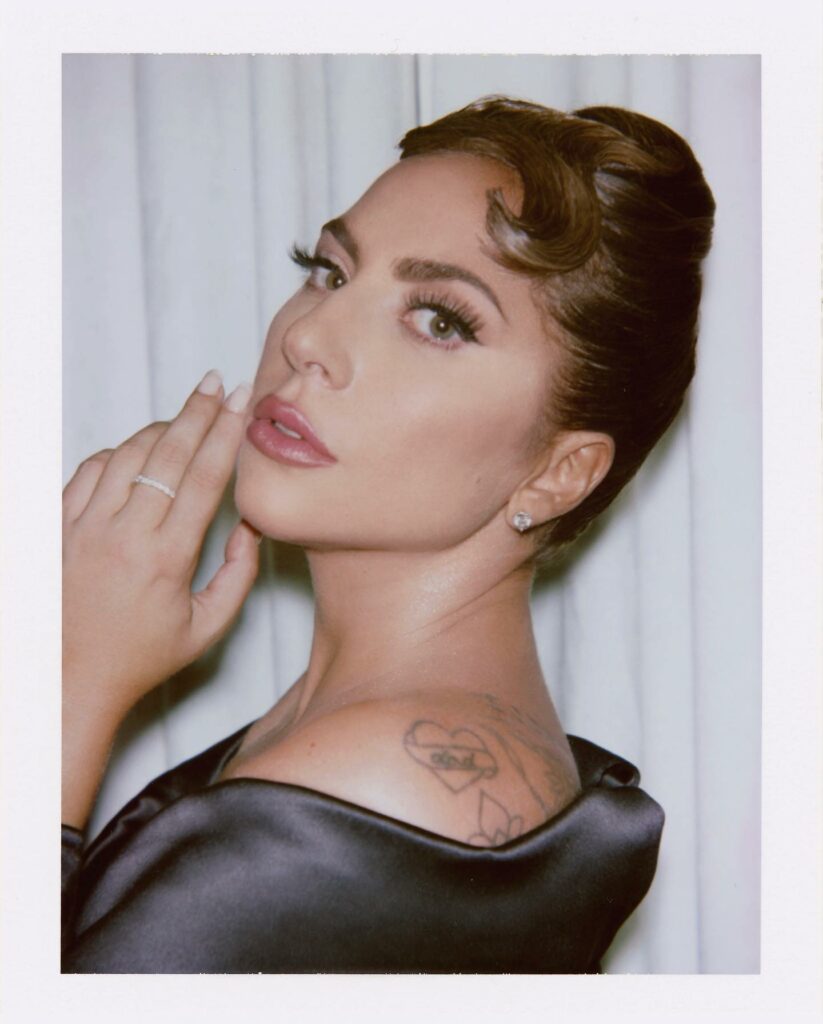 Lady Gaga has a small heart on her left shoulder with the word dad written within it. She has always been very close to her dad and this tattoo was her emotional tribute to him. She got the statue made in October 2009, when her dad had gone through an open heart surgery and came out successful. The story behind the surgery is that her dad had refused to go for it, however she was successful in persuading him by saying that she would never write or love again. Her song, speechless, was also for her dad and how way of trying to convince him to go for the surgery. Her dad got very emotional and teary eyed it after seeing the tattoo.
If you are looking for a way to pay tribute to a loved one, then this is the way to go. This tattoo is small and simple and can be very impactful.
Lady Gaga Monster Claw Tattoo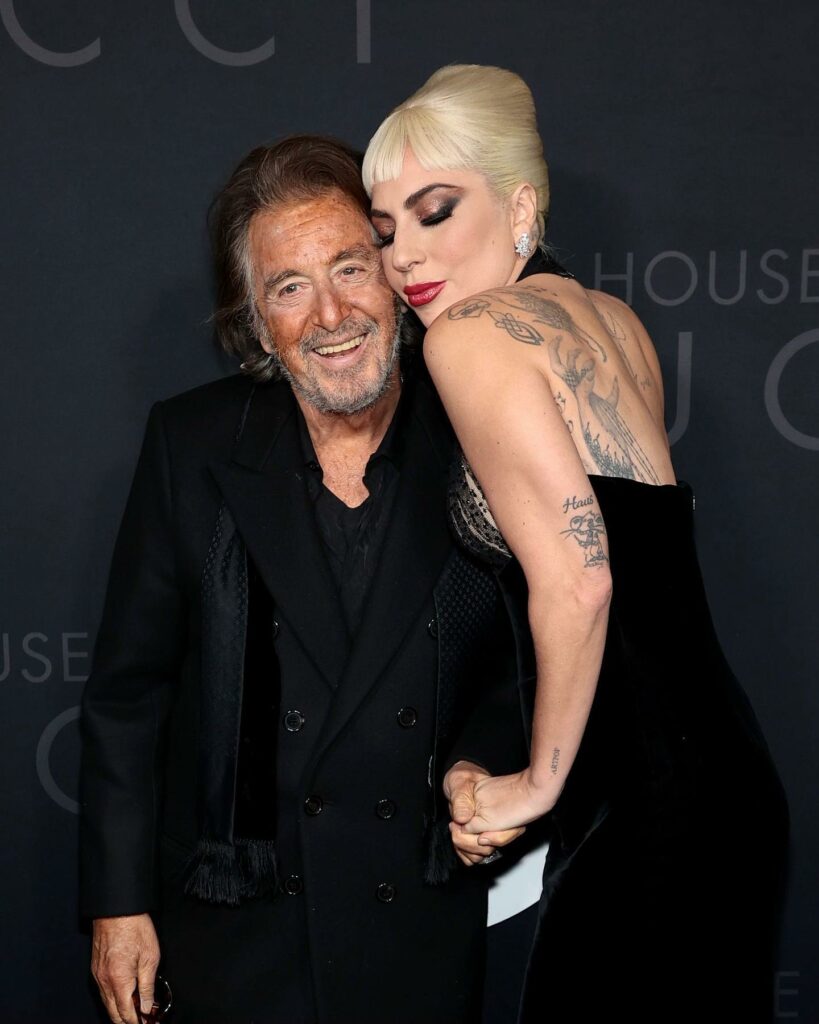 On the left side of her back, Lady Gaga has a monster claw tattoo. In an interview, she had said that this tattoo was made for her fans inspired by them. Mother Monster is a nickname given to her by her beloved fans. So this tattoo is a tribute to them. It has a monster paw which is made in red ink with scales and long scary fingernails. She says that this is the reminder of her fans, also known as 'little monsters' for her. She said that the placement of the tattoo was such that it was right over her heart.
This is a beautiful and emotional tattoo and if you are a part of her fan group then you can get this tattoo to show your love for the mother monster.
Lady Gaga Peace Tattoo
Lady Gaga has a peace sign tattoo placed on the left wrist. She got this tattoo in the year 2006. This tattoo is inspired by John Lennon, who was an English songwriter, singer and an activist of peace and equality. In one of her interviews, she had stated that she was a huge Beatles, ohn Lennon, Yoko Ono fan. She got this tattoo upside down deliberately so that it was a constant reminder that even though she writes fun music which is always about money and fame, she will make sure to keep her mind towards the things that are important.
This is a small and impactful design and if you want to stay in support of Lady Gaga, this is the design you should go for.
Lady Gaga Artpop Tattoo
On her left forearm, she has the words ARTPOP tattoo. This tattoo is a tribute to her famous album art pop. It is similar to the tattoo that she got, which was a tribute to another album of hers Born This Way. The exciting thing about this tattoo is that she had revealed it in August 2012 to her fans, which was very early because the album wasn't released until the November of 2013. Not only is the word ARTPOP the name of the album, but it's also a way of Lady Gaga to express herself, her lifestyle, and her career to her fans.
Lady Gaga Treble Clef Tattoo
Lady Gaga has a Treble Clef tattoo placed on her lower back. This was her first tattoo and she got it when she was 17 years old. Since it was illegal for her to get a tattoo at such a young age. Gaga revealed, she had used a fake ID and got a very small Treble Clef tattoo on the back. When she turned 22 in 2008, she got beautiful modification of the tattoo by adding several roses to it. This was done by tattoo artist Kat Von D based in Los Angeles.
This beautiful design has been made completely in black ink and the roses that were added later are also made with thin strokes of black. It starts in her lower back and goes to the left side of rib cage. It is one of her larger tattoos and the most beautiful one.
Tokyo Love Tattoo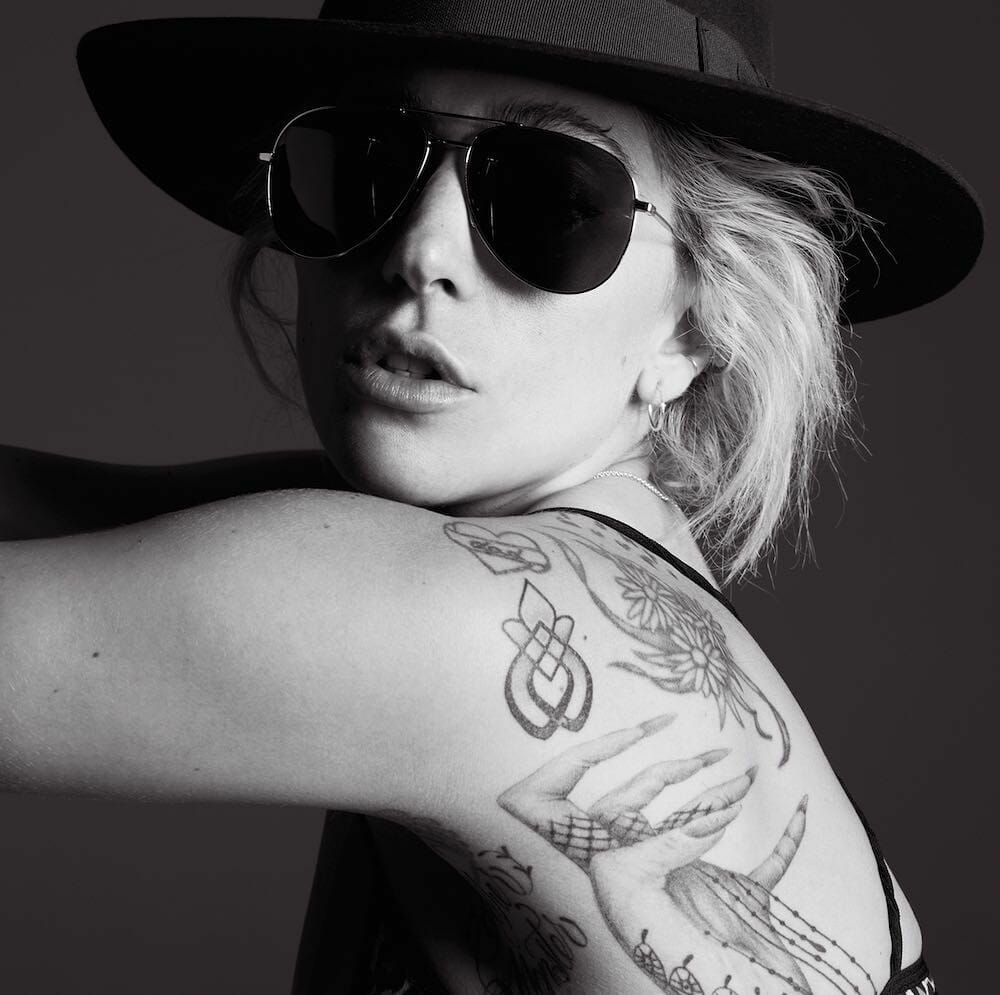 The Tokyo Love Tattoo of Lady Gaga was added to her left shoulder when she was on a trip in Japan in 2009. This tattoo was made to commemorate and celebrate the first time Haus Gaga, which is her creative team had worked with the famous Japanese photographer Nobuyoshi Araki. In an interview, she stated that she was the first American woman he's photographed, and only the second pop star after Bjork. He signed the Polaroids Tokyo Love, and to mark this, her entire team got tattoos made. This tattoo is extremely special to her, and a great way to build team bonding.
German Tattoo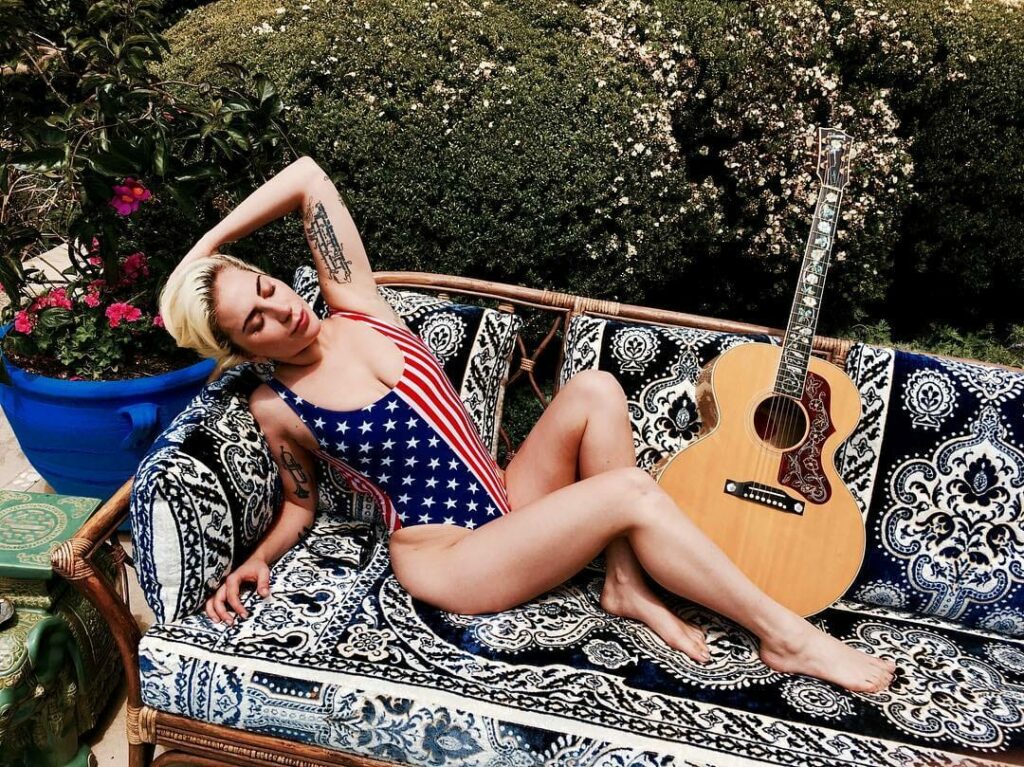 While her trip in Japan in 2009 continued, Lady Gaga got another tattoo. On the inside of her left arm, she has a German court from Rainer Maria Rilke's 'Letters To A Young Poet' tattooed. The quote literally translates to 'Confess to yourself in the deepest hour of the night whether you would have to die if you were forbidden to write. Dig deep into your heart, where the answer spreads its roots in your being, and ask yourself solemnly, Must I write?' This beautiful design is a constant reminder to the songwriter to dig deep into herself and keep writing beautiful songs!
In one of her Instagram posts, Lady Gaga stated that tattoos are a girl's best friend. She feels like they are an amazing way to express your feelings that you may not be able to say out loud. These tattoo designs are great, however, if you want to explore further, you can check out some other designs like –
feature image from Pinterest – Want your tattoo to look brighter? Try "Tattoo Balm"
Last reviewed and updated on March 16, 2023